Breaking news! Adsterra experts leave the stage to let our wonderful publishers speak out. We interviewed a blogging star from Nigeria who has been running a multi-topic news blog since 2017. You will learn how he manages to make $50 a day (up to $80 actually) with Social Bar and learn some tricks for your own monetization strategy.


Adsterra Team
Hi, Emmanuel! It's great to have you here today as our expert. Could you please tell our blog readers about yourself?


Akerele Oluwatobiloba Emmanuel
Hi, my name is Akerele Oluwatobiloba Emmanuel, and I'm a blogger in Nigeria. I've always loved the idea of being a famous person, and to hit this goal is either to be a film actor, a show presenter, or a blogger. So here I am. I founded my blog in 2017 as a news website in Nigeria. I'm here to share my story with you, Adsterra blog readers, and maybe help you with your goals as well.


Adsterra Team
Cool! that's why we're here today. But first — why a news blog? Why this niche?


Akerele Oluwatobiloba Emmanuel
Actually, today my blog covers lots of hot topics from sports to entertainment. But I started with the news. These were celebrities' stories. I chose a news website because I'm very good at turning celebrities' social media pictures into fully readable and viral news. And that's a winning move in the 21st century.


Adsterra Team
Right, viral is vital. And how do you manage your blog and decide which topic to post and which to put aside?


Akerele Oluwatobiloba Emmanuel
I'm a full-time blogger, so I post every day. Managing an entertainment blog in Nigeria is not easy, especially when being the only writer of the blog. It can be stressful and time taking. But it is fun when you like what you do, even if it is stressful.

Finding a topic is not that hard. As said earlier, I can convert celebrities' videos or pictures to news and stories which users like. Celebs' relationship issues are one of the most read news on Entertainment websites. Recent break-ups and new celebrity couples are always on top.

How do I decide if a piece of news will be a hit or not? I often use Twitter trends and Google trends to check what users are currently talking about. You can find, say, a sports event and create several posts based on it, adding some spicy pictures and catchy headlines.


Adsterra Team
You are a true pro of addictive news! But how about making money on your blog? Was it a smooth process or rather a challenge?


Akerele Oluwatobiloba Emmanuel
Earning from a newly created website was hard due to low traffic and engagement. I used to spend a lot on hosting and domain every year without any earnings from advertisements or promotions…

Adsterra Team
Well, that's far from making $50 a day from blogging…What did you do to start earning?


Akerele Oluwatobiloba Emmanuel
Yes, that's a story, too. Throughout the years, I was applying for AdSense. But the winner gets it all: on AdSense, low traffic results in low earnings.

By 2019, I got a deal from Opera News for publishers, which increased my blog's traffic, but my earnings on AdSense were not enough due to the low rates for Nigerian traffic. Just for example: 10,000 visitors a day will return you less than $5, which is very poor to meet the minimum payout.

Adsterra Team
But you didn't give up, did you? How did you manage to make $50 daily on your blog?


Akerele Oluwatobiloba Emmanuel
It was in June 2021 when I saw an alternative to AdSense, which is Adsterra. The story changed entirely when I started monetizing with the Adsterra ad network, with as few as 10,000 visitors daily. The same traffic that made me $5 on AdSense now returns me up to $80 daily on Adsterra. On average, I make $50 a day.

In less than a month of using Adsterra ad network as a publisher, I earned more than I used to gain a whole year earlier! Here I made some snapshots of payouts I got in April.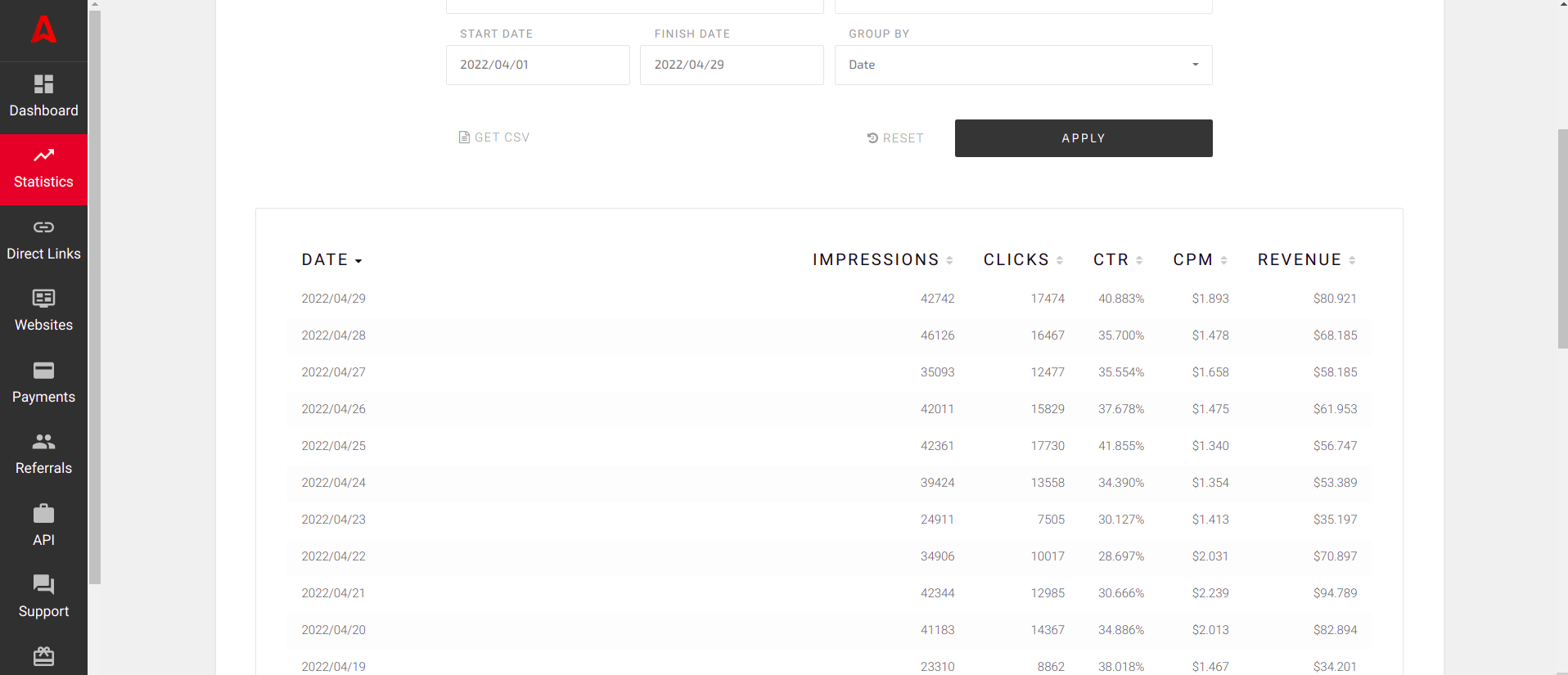 Adsterra Team
Sounds fantastic! We know you picked the Social Bar format. How do you feel about it?


Akerele Oluwatobiloba Emmanuel
Like many other bloggers, I started with Popunders. They're nice when we speak about payouts. You can make pretty much money with popunders. But it took some time to find out that my blog niche works better when ads don't come in a new tab. Visitors read more pages when ads are inside the blog, not outside, which drags their attention.

So I chose Social Bar. It works best for my income and for my readers' pleasure. Ads look something like notifications, but they are not all the same. Users can click them while hopping from page to page.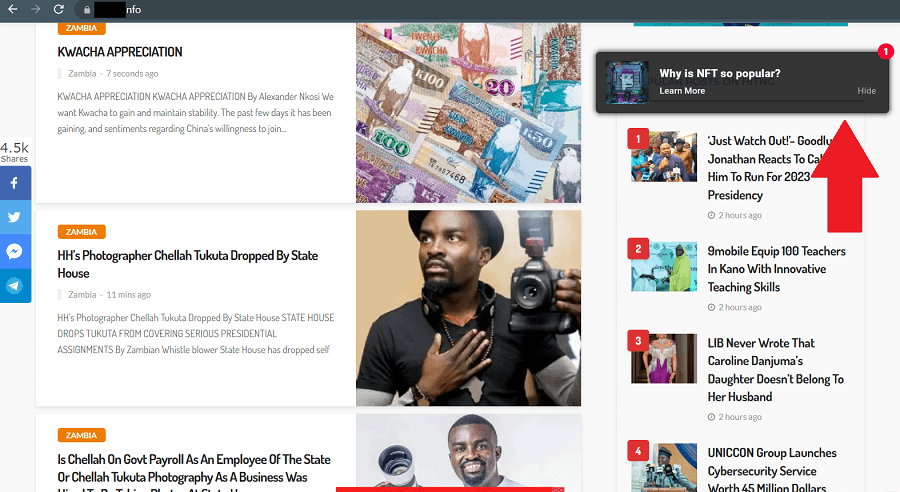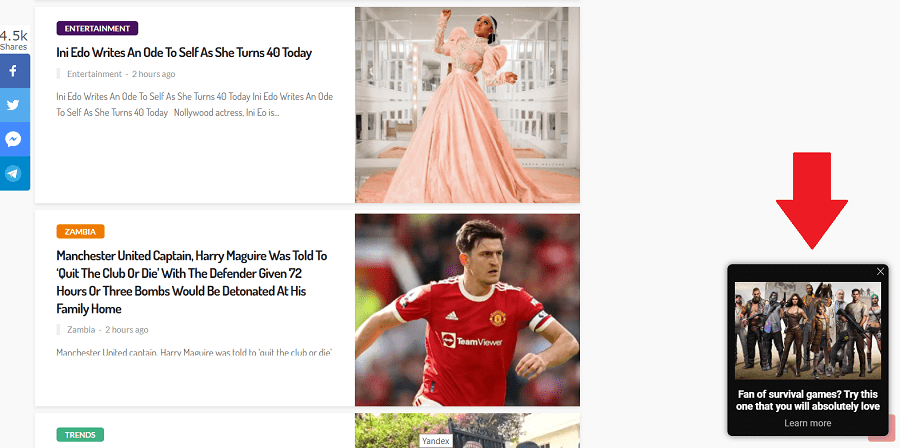 Adsterra Team
Thanks for sharing these insights! Of course, every blog is a unique story, and it is better to test several ad formats. One more question for you then. Many bloggers now reading this are willing to learn your SEO strategy and your methods to get more organic traffic. Please tell us about this.


Akerele Oluwatobiloba Emmanuel
Thanks for asking. It is a very important question. To start with, I don't buy traffic. I use only organic traffic that I drive in several ways.

Getting 10k visitors is not easy, but as I said earlier, I'm very good at making social media content viral. That helped me much with running Facebook and Twitter fan pages. I have over 30K followers on Facebook and over 20K followers on Twitter. I can direct this traffic to my blog posts.

Search engine optimization brings me about 2M impressions monthly. And I've got a life hack to share with you. I have a collab with the Opera News app. What they do is simply copy news from my blog crediting me so the app's users can continue reading news on my website.

What's important about being a blogger is to stand out with news, making viral and very attractive content. That's how I managed to grow traffic on all my platforms, including my blog, Facebook, and Twitter pages.

Adsterra Team
That's true. Your blog is addictive. Those teasing headlines and images — it's impossible to drag yourself over. And to end up with our session, maybe, you would like to advise something to other bloggers?


Akerele Oluwatobiloba Emmanuel
Sure! It's not easy to create a blog from zero, and you should get ready to work hard. That's why you should choose something you really like, something that inspires you, or something you want to learn more about. A couple of months later, you will find it much easier to be a full-time blogger.

Always think of what will get the readers' full attention. Write about it teasingly, leak some facts, but keep most of them in secret until users come to your blog.

Use images. Lots of images with people. Emotions are everything. Readers love learning about celebs going wild or else.

Test different images and headlines. If you don't know how to test, simply analyze the traffic volume after several posts are published.

Catch up with the trends. You can either use Google Trends like I do or try Reddit, GFY, and other platforms.

And try Adsterra, of course 🙂 What I like here, along with payouts, is customer service: managers are here to help when I have questions!
We're sure Akerele Oluwatobiloba Emmanuel has just inspired you to double your efforts and hit any monetization goal, whether it is to make $50 daily, $100…or $1000 or more. Stay strong and make your dreams come true!