When advertising a business, Google Ads and Facebook are the first two networks that come to mind. And there are some reasons for this. According to the Global State of Digital 2022 report, the average Facebook user spent 19.6 hours per month on the platform in 2021.
However, savvy marketers and moneymakers know for sure that "the biggest" does not always mean "the most suitable and profitable." That's why both parties diversify their profit sources. But how? Which display ad networks do they switch to? Keep reading to find out! We've selected the most prominent networks for advertisers to pick in 2022.
To begin with, let's figure out some vital definitions.
What is a display advertising network?
Display advertising refers to visual advertisements that are placed on websites, social media networks, or apps. They are usually images, texts, or videos that, when clicked, redirect the user to a website or landing page. Display advertisements commonly appear at the top, sides, or bottom of websites and apps.
A display ad network is a collection of many websites and apps where advertisements can be served. Through the display network, website owners give advertisers portions of their websites in exchange for payouts. Advertisers will be able to show their ads in these portions based on various targeting criteria.
These networks match available ad inventory (e.g. websites or apps) with appropriate demand, making it easier to run ad campaigns and maximize advertising revenue.
How to choose the right display advertising network?
Choosing the right ad network for your company requires careful thought, time, and money. Don't be afraid to pivot and choose a more appropriate ad network if the one you're using isn't delivering great results.
Mobile or desktop ad network?
We live in a world dominated by mobile devices. So advertisers must consider how and when people use their phones and tablets while deciding whether to serve mobile or desktop ads. Consider that many people will use desktop computers during working hours. Meanwhile, people use mobile devices in the evenings and on weekends.
But bear in mind that since 2020, the world has turned upside down. Mobile phones have become the main gadgets for shopping, gaming, education, and communication. So, you might need a decent amount of mobile traffic even if running a traditional campaign for, say, insurance, automotive, or property vertical.
Consider your target audience
Ad networks today provide sophisticated targeting options, such as geolocation, demographics, device, income, and various other factors. Some networks also have retargeting tools, which allow advertisers to place ads in front of customers who have previously visited their website.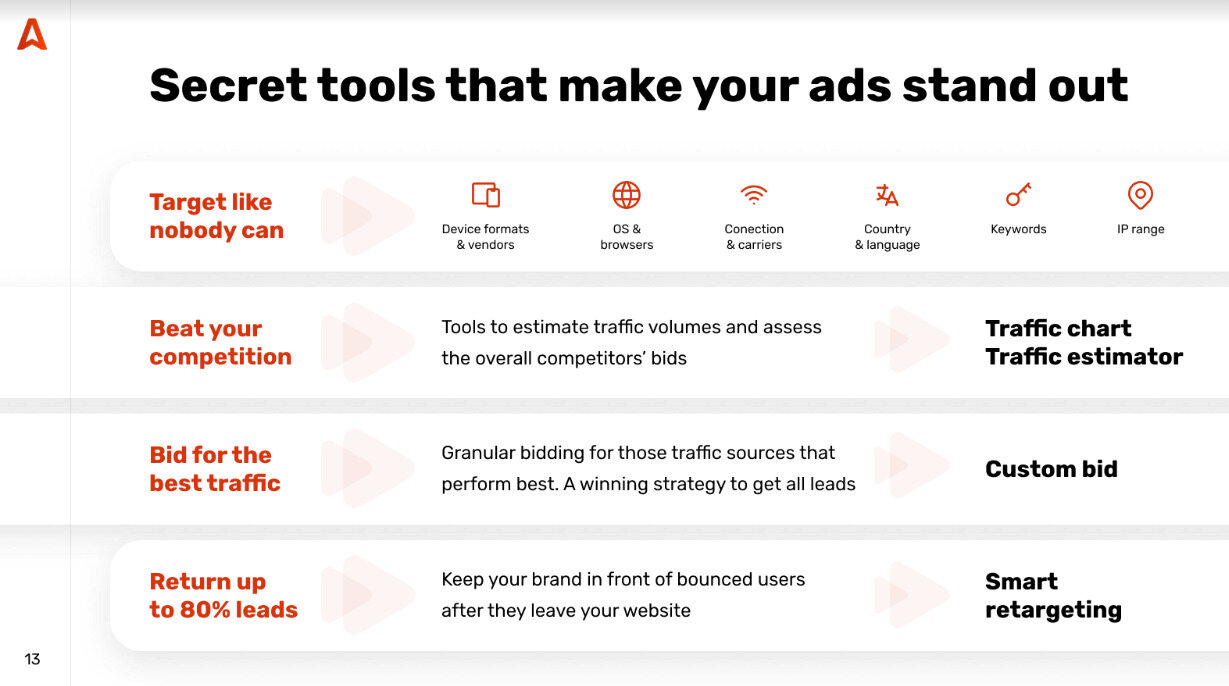 Advertisers evaluate their target audience to determine which targeting options they prefer for their business and what other functions ad networks can provide.
Define your traffic sources
Most advertisers fall for enormous numbers of ad impressions promised by an ad network. Billions of ad views is a competitive advantage, for sure, but one must define how direct and genuine the traffic is. Some ad networks sell remnant traffic, which was unsold by others. Though it's the cheapest deal, the traffic sent will be of poor quality.
How to evaluate a display ad network
There are multiple types of networks available. Some are large and have a broad online presence, while others specialize in specific markets or categories. Some are more hands-on, while others are self-service. Ask yourself the following questions about each possible network and how it might fit into your business:
1. What is the ad network's profile? Does it cover a wide range of verticals and traffic sources?
You should select an ad network that best supports your business strategy. Explore the ad network's website and media kit. You need to find what verticals the network works with, i.e., what kind of traffic it provides.
Pay attention to traffic sources. It's great if the ad network works with direct traffic and doesn't re-sell residual traffic.
2. What are the pricing options? Is there minimum spending? What are the pricing models: CPC, CPA, or CPM models?
Ask about any minimums, what they are, and whether they can be adjusted to fit your budget. Furthermore, compared to CPM (cost per mille), CPC (cost per click) models might be more appealing because you only pay for clicks. We provided an excellent breakdown of the various ad pricing models if you're not already familiar with the differences.
3. What are the different types of ad formats? Are there any unique ad formats or ad placements available?
Larger advertisers are more likely to benefit from this because they have the resources to create unique advertising pieces, but checking out the various ad formats may be beneficial to others as well. Amazon allows you to place ads next to specific products or at key buying stages, such as the checkout page. This provides a unique placement versus a standard banner ad, which may benefit you depending on your offering.
Adsterra makes ads stand out by wrapping them in creative visuals that users engage with about 30 times more often than with standard push notifications. Get more customers and generate leads with Adsterra!
4. Does the ad network help optimize your account, or is it a self-service platform?
Some networks provide a dedicated manager to help you make the most of your campaigns. These will be more expensive than other self-service networks that are currently available. If you have someone assisting you, ensure they understand your objectives and how they'll help you achieve them.
You can also find combo options: ad networks that combine self-service and managed accounts. You can either set up campaigns yourself or ask for complete support.
5. Do they have any knowledge base or help center?
A knowledge base or help center is a valuable feature that includes FAQs, manuals, how-to guides, and troubleshooting tips. Each resource provides an answer to a frequently asked question. As a customer, a well-written knowledge base can help you solve whatever problems you encounter on the company's platform without having to contact and wait for their support team's answer.
Nowadays, good networks provide 24/7 customer support via chats to help you at any time of the day, irrespective of your location. That's a valuable feature, especially if you often work at late hours or travel across time zones.
6. Do they have any other built-in services related to bidding, targeting, and tracking?
Running a successful ad campaign starts from the processes involved; selecting GEOs, ad formats, and traffic types. With tools like Adsterra Traffic Chart and Traffic estimator, you can check the average daily volume of impressions for any geo and target. Traffic Chart is a universal tool for advertisers who care about their campaign launch speed and strive to optimize reach and spending.
Traffic estimator simplifies campaign setup by allowing you to set up campaigns as precisely as possible and predict the outcome. Estimator forecasts how much traffic you will receive for the campaign based on your settings, bids, and current market competition. It applies to all ad units and both CPM and CPC campaigns.
In addition, some networks offer server-to-server (S2S) tracking. It is an effective method of tracking information about the user and what they clicked on. This method generates a click ID value for tracking via a postback HTTP request. When a conversion occurs, the ad network sends the value and information to your tracking dashboard, where you can view detailed information about everything.
It is a very accurate tracking method that provides a wealth of information about the user's activities. It is also extremely safe and dependable.
7. Do they have a CPA affiliate network?
It might seem over the top, but many advertisers underestimate the power of CPA affiliate marketing. Fortunately, some ad networks don't. CPA marketing, or cost-per-action marketing, is an affiliate marketing model where the affiliate receives a commission when their traffic completes a specific action. By traffic, we mean users that visited the advertiser landing page or website via the affiliate's link.
Ad networks like Adsterra offer CPA marketing via Adsterra CPA to help you diversify your marketing efforts and get better results.
6 trending display ad networks for advertisers
We know that there are hundreds of ad networks, but only a few are worth your time and money. So we have compiled a list of leading and trending networks for helping business owners choose one that suits their needs:
1. Google Ads
It is one of the world's most popular display ad networks. There are nearly 2 million advertisers and billions of users on the platform. Advertising via Google Ads is a straightforward way to get website visitors.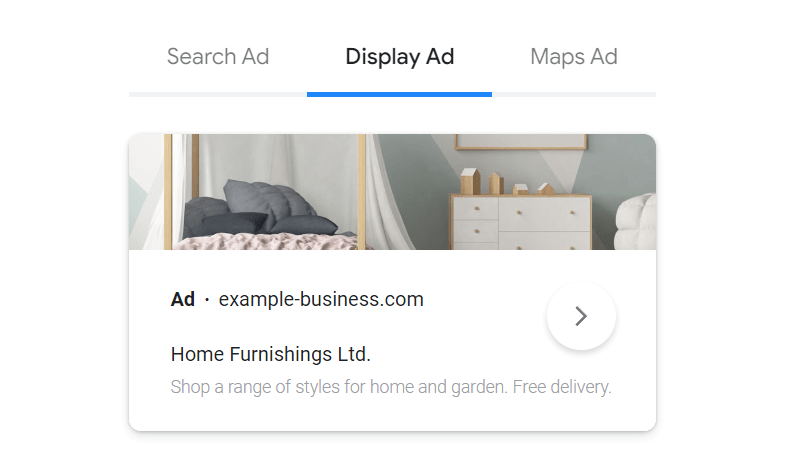 As a prestigious global ad network, Google holds its advertisers to unusually high standards. Those stringent requirements may appear unreasonable at times, as advertisers face complex restrictions for some ad types. Lots of marketers have to seek alternatives because they can't comply with the terms. But still, Google Display Network is one of the most used platforms and one of the trending ones.
In addition to websites, Google also serves ads to apps and other mobile-based programs so you can reach the broadest possible audience.
To begin advertising with the Google Ads program, visit Google's website and follow the instructions. You'll need to create high-quality ads to entice people to visit your website.
2. Adsterra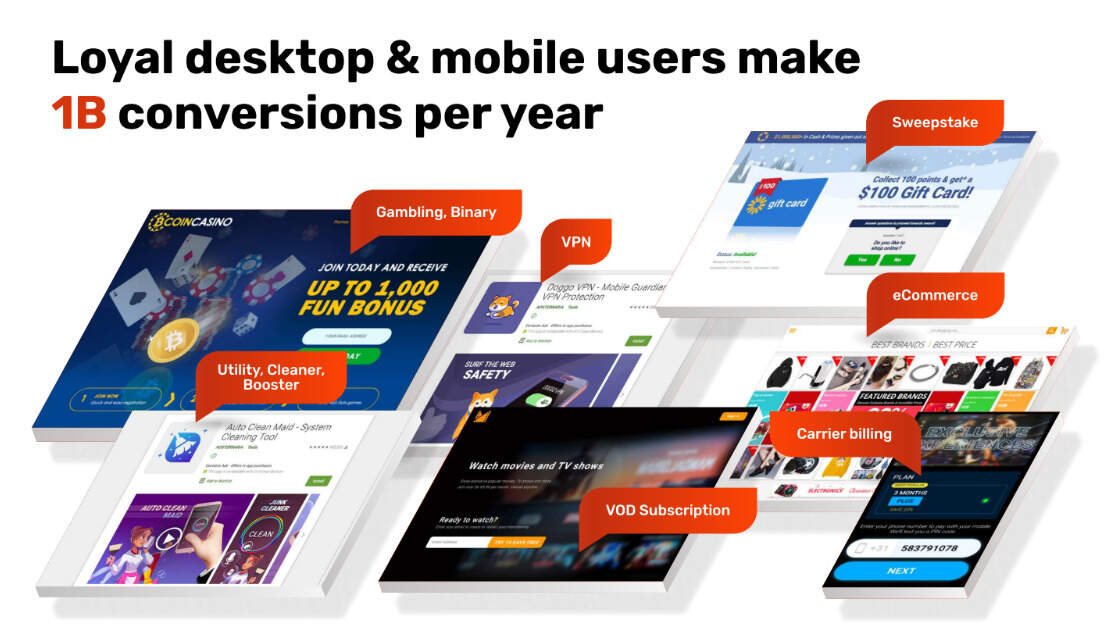 Adsterra is a vast yet partner-oriented display ad network available to advertisers and publishers. You can buy CPM, CPC, or CPA traffic, from desktop/mobile website traffic to social traffic.
Use any available ad format, such as Popunders (or Pop-Under ads,) In-Page Push notifications, Native Banners, Display Banners, and VAST ads.
Advertisers and publishers have either self-service or managed accounts. However, every self-serve platform user has access to live chat support.
Along with being a tech-driven platform where users generate over 1BN conversions per year and webmasters earn about $55M, Adsterra is famous for its Partner Care program. The support team helps with onboarding and troubleshooting, while managers advise on the best advertising or monetization strategy. Sign up with us and grow your business today!
3. Apple ads
Apple advertising is a rising mobile display ad network. Apple's control of the world's largest app store makes it simple for its businesses to advertise their apps.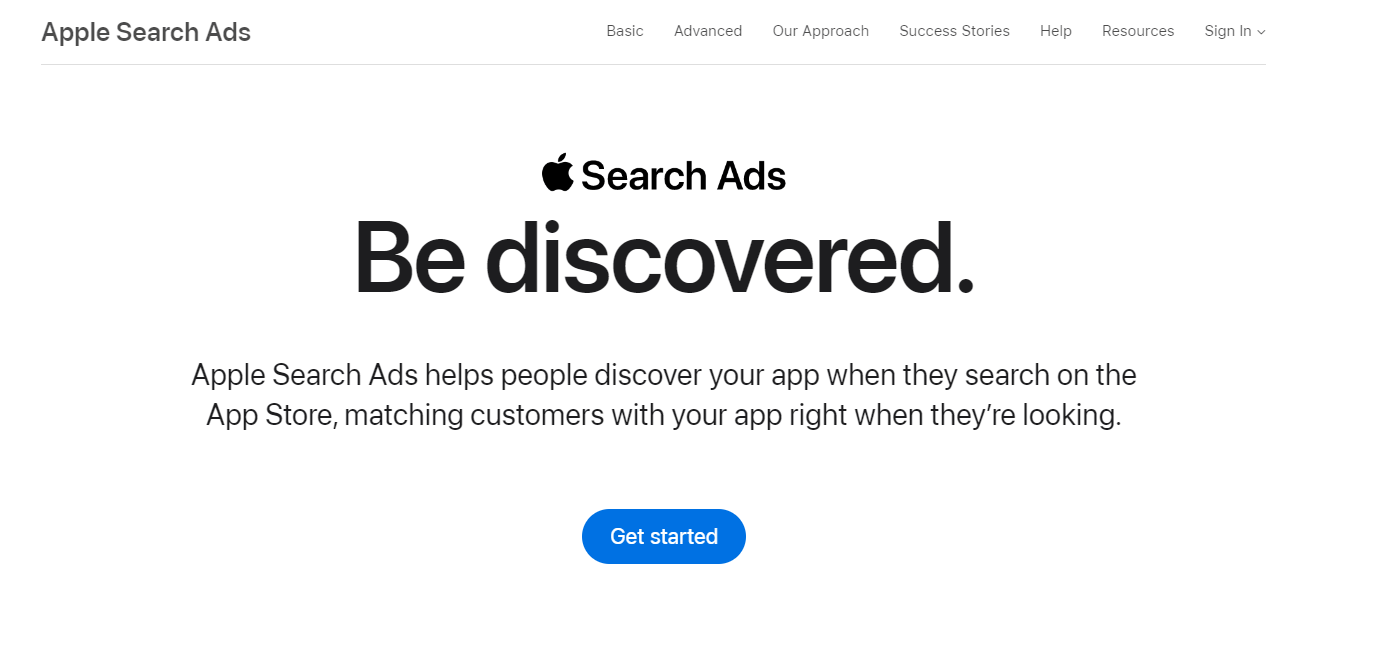 This simple system allows iOS app publishers to make money while also allowing you to reach out to new customers who wouldn't have come across your business on the web. Apple Advertising also has a user-friendly bidding and targeting system that allows advertisers to customize how their ads appear. Overall, it's a tightly controlled system that almost exclusively displays ads in mobile apps.
4. Airnow media

Airnow is a mobile-only advertising network that supports over 150,000 different apps. It's one of the world's most transparent display networks, which means it'll tell you almost everything you need to know about the company.
They also operate on an opt-in basis, meaning all their apps want to display Airnow ads. As a result, app users should be more receptive to advertisers like you, particularly when compared to display networks, which developers are contractually obligated to use.
5. Leadbolt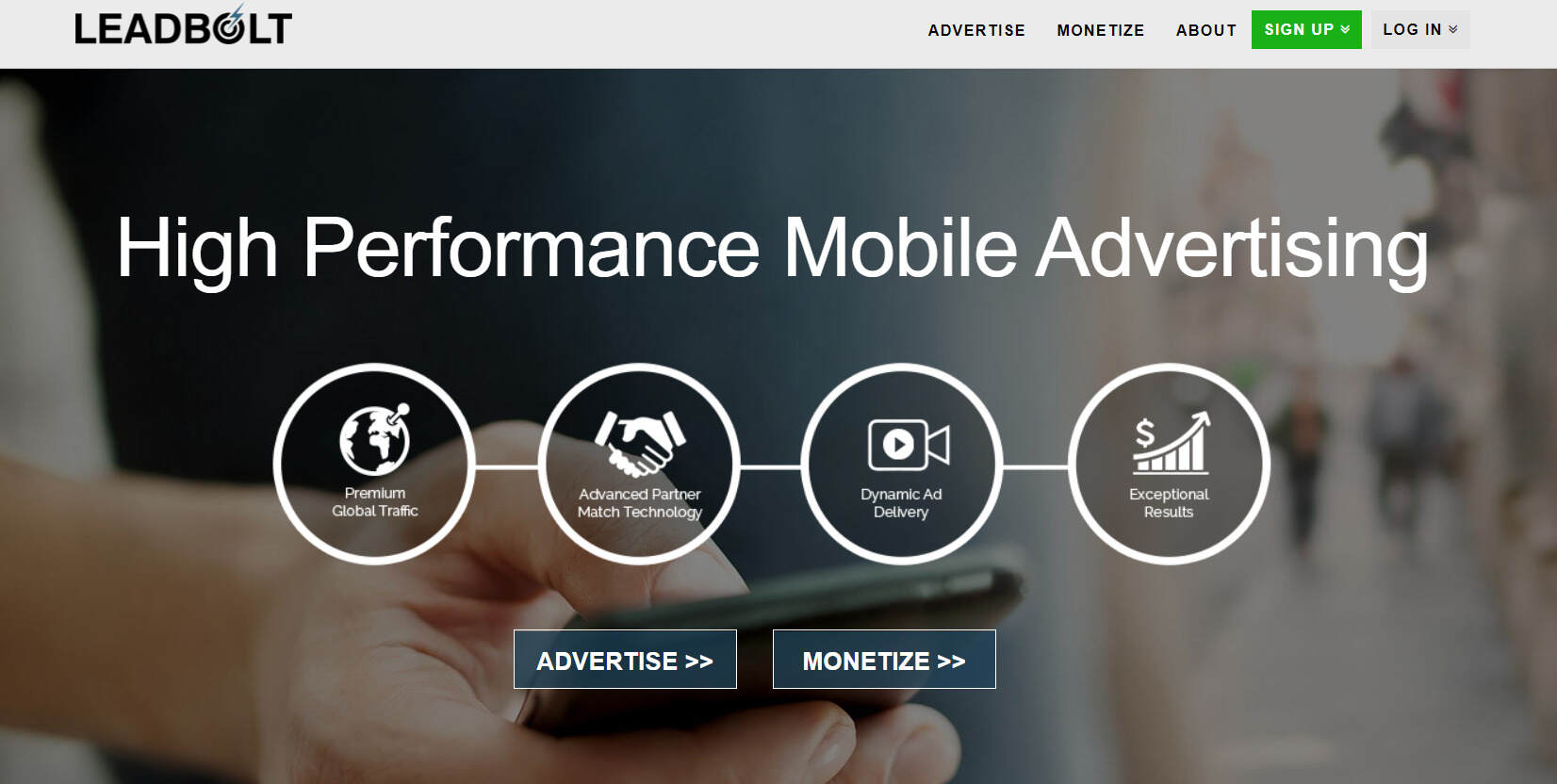 Advertisers can choose between self-serve and full-service ads on Leadbolt's mobile display network. Leadbolt also has a real-time bidding feature for obsessive users, allowing you to change your bids for different ads.
This level of control makes Leadbolt one of the most advertiser-friendly platforms available. You can have full control over your ads or entrust them to one of Leadbolt's account managers.
6. Epom

Epom is a cross-platform ad network that connects advertisers and publishers across 15 verticals in over 40 countries. It serves over 13 billion ad impressions per month. Epom supports various ad formats, including standard banner ads, in-text ads, video ads, and mobile-specific ad units, all of which can be targeted by category to increase eCPM rates.
Suppose you are an advanced marketer looking to automate the purchase of advertising as well as the analysis of its effectiveness. In that case, the Epom programmatic platform is a good option.
Сonclusion
Many digital marketing strategies include ad revenue models, and finding the right ad network is critical to achieving a successful marketing campaign. When selecting the best ad network, there are numerous factors to consider for advertisers.
You must take into account not only your target audience but also their device usage and the best business model for you and your team. After that, you can get down to narrowing down the best networks. You'll need to consider how easy it is to get premium ad slots, your budget, and your preferred pricing model.