Google AdSense is a popular platform for monetizing website content by placing ads on your website or blog. It helps thousands of webmasters monetize their website traffic. But due to Google's strict rules and inconvenient terms of service, thousands of publishers seek out better AdSense alternatives to make money.
It's no secret that not every publisher can comply with so many rules. So what will you do if your website falls short of AdSense requirements?
For example:
You don't have an enormous, multi-page website with over 100K impressions daily.
You can't wait for a minimum of $100 on your account to get paid.
Or you still need additional passive income from your blog.
The only option we see here is using better Adsense alternatives to generate revenue.
What is Google Adsense, and how does it work?
Adsense is a popular Google advertising program that's perhaps the most popular online advertising network for bloggers and webmasters trying to monetize their websites.
Google AdSense can be used on any website, including:
Blogs: Most bloggers that consistently produce high-quality content for their readers/followers often use Adsense to monetize their content.
Forums: Forums are a great way to have people interact with each other on any given topic.
Free Online Tools: Most free online tool websites get returns on their investments by placing ads on the websites via Adsense.
To Contents ↑
6 Reasons for using an AdSense alternative
Some of Google Adsense's drawbacks make it ill-suited to some types of websites. Here are some good reasons to use a competing ad network instead of AdSense:
1. Eligibility requirements
Before becoming a partner, many networks, including AdSense, require applicants to meet certain metrics on their website. If Google refuses to approve your blog for an AdSense account, you'll need to find a network with less stringent approval requirements.
Your AdSense account may have been disabled as a result of the platform's strict click fraud control. For example, you may have placed an ad on a page where it wasn't supposed to be, or you may have unintentionally clicked one of your own ads. If you're not paying attention, it's easy to break the terms of service, and you might need a more forgiving option.
To Contents ↑
2. Split revenue
Publishers receive 68% of ad revenue on their website using AdSense. Although this is a competitive rate, some alternative networks offer a higher percentage. To qualify, you'll need a top-notch website with consistent and high traffic, but it'll be worth it if you make the cut.
3. Ad customization
Some ad networks allow you to customize the look of your ads to match the theme of your website, making them blend in more naturally with your original content. Customization varies by service, but many allow you to change the color and size of a unit, which is more flexible than AdSense.
4. Payout minimum
The minimum payout for a network is the amount in revenue required before you can receive payment. The minimum payout for AdSense is $100, which is higher than some alternatives. If your website is newer or less established, reaching $100 in revenue may take longer than you'd like. You might be better off partnering with a company that has a lower minimum payout requirement.
5. Designed specifically for your blog
Large ad networks like Google AdSense are designed to serve any type of content-heavy website, including blogs, news sites, video publishers, and more. It makes sense to look for an alternative to AdSense if you want an ad provider who will work directly with you and can create a custom-fit solution for your blog.
6. Additional revenue
Instead of replacing AdSense, you might want to consider a companion network that works alongside AdSense to provide an additional revenue stream. As long as you follow the AdSense terms of service, there's nothing wrong with it.
If any of these scenarios apply to you, there are a number of worthwhile alternatives to consider. Let's take a look at the best of them.
If you are interested in this topic, read our article on google ads alternatives.
To Contents ↑
15 Alternatives to Google AdSense
Let's review some of the finest Google AdSense alternatives to see how you can monetize your website or blog even more: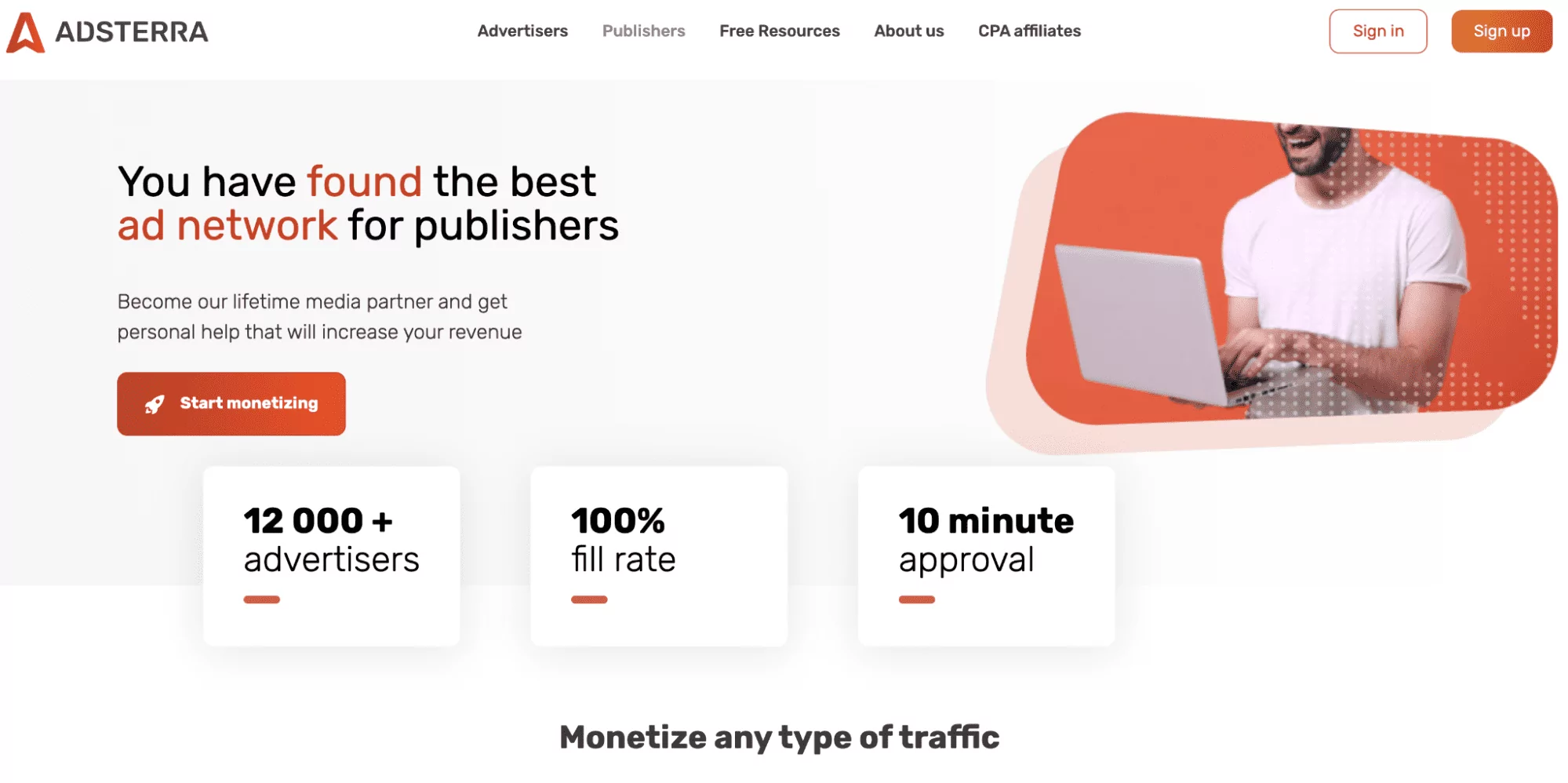 With Adsterra, you can maximize your revenue as a publisher via a variety of ad formats and sizes. Adsterra is a super-friendly advertising network for any type of publisher seeking a serious Adsense alternative. It's also the most caring advertising network for publishers as it offers 24/7 human customer support.
Publishers can earn a lot here by putting Popunder, Social Bar, Native, and many other ad formats on websites and blogs.
With over 20K campaigns running at a time, it currently serves over 30 billion unique ad impressions per month. Each of these ad impressions is geo-targeted, meaning they appear in different parts of the world. It currently works with publishers and advertisers from more than 248 GEOs.
Adsterra specializes in creating unique and innovative advertising displays on both web and mobile and combining them with intelligent ways to monetize those ads.
Advertisers and publishers who want to profit from a variety of effective ad formats, including:
Although Adsterra offers a variety of ad types, they are best known for their popunders.
Payment
Adsterra accepts a variety of payment methods, making it simple to use regardless of the payment processor you use.
Payout Minimums:
Webmoney, Paxum: $5
PayPal, Bitcoin, Tether (USDT): $100
Wire transfer: $1000
To Contents ↑
Why you should try Adsterra as a passive income source:
Lots of direct and reputable advertisers from all verticals: Ecommerce, Games, Apps, VPNs, Subscriptions, Finance, Dating, Sweepstakes, etc. 20K+ campaigns run at a time.
High CPM rates thanks to AI-powered optimization. Adsterra selects and sends you advertising offers that are more likely to convert with maximum bids.
Ad formats that bypass AdBlock and run on all OS including iOS.
A 3-level security system that protects against malware and viruses.
Bi-weekly payment calendar and a variety of payment options.
5% extra income with Referral Program.
Here's a couple of Adsterra reviews from industry experts:
MonetizePros Review (with payment proofs)
"Adsterra is a great ad network to use for publishers with any amount of traffic (both large or small). If you have a heavy source of US or European traffic, this ad network is going to be a great choice for you. It provides high payments that are comparable to AdSense, which makes it a great alternative. Adsterra crashes down tightly on publishers that violate their terms of service."
Stream SEO (by Servando Silva)
" I have been working with Adsterra for a few years already, so I'm pretty confident to say they have paid me on time every single month. I'm pretty happy with Adsterra, their performance and ads have been consistent for the years I've been using them. Their support is very friendly, and I'm proud to say I have even made some good friends and connections with the managers on both the publisher and advertiser side of Adsterra."
A deep overview of Adsterra as a Google Adsense Alternative made in Hindi by Akash Manhas (Co-Founder WebBeast, Host, Digital Marketer) and Rohit Manhas (Co-Founder WebBeast, Digital Marketer). A step-by-step video guide for those who would rather check a YouTube than read an article.
To Contents ↑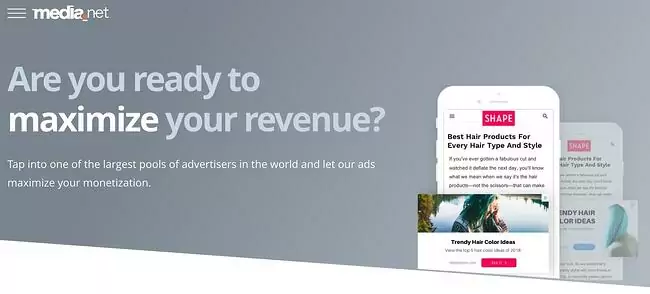 Yahoo and Bing's Media.net is a direct AdSense competitor. It is one of the largest contextual ad networks globally, and it is used by well-known brands all over the world.
Media.net is one of the highest-paying contextual ad networks. They are always working with high-end publishers, and they only accept websites with high-quality content. If you need to make more money quickly with a lower-quality blog, Media.net is unlikely to help you.
The contextual ad network has many rules that publishers must follow to be accepted into the program. They also allow websites that only have premium content. Here's a checklist to help you determine whether or not your website is suitable for Media.net ads:
The Media.net program is only open to websites with native English content and receives the majority of their traffic from the United Kingdom, the United States, and Canada.
Website content must be updated regularly with original content.
Have a large number of website traffic.
It does not infringe on other intellectual property rights.
Have a substantial amount of content and a user-friendly design.
To Contents ↑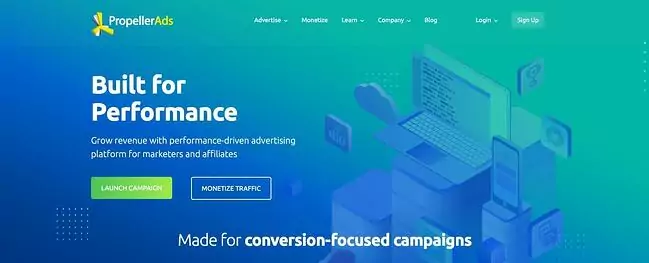 PropellerAds is a popular ad network that offers various ad placements, including banners, sponsored links, and push notifications.
With a simplified ad creator, the PropellerAds intuitive platform allows you to get your campaigns running quickly. You can improve your campaigns with a variety of targeting options and real-time performance measurements.
PropellerAds also offers AI-assisted ad optimization, which fine-tunes your settings to give you the highest number of conversions for each ad without requiring manual intervention.
To Contents ↑

For a long time, bloggers and other website owners have relied on Amazon's affiliate program to supplement their income, but Amazon Native Shopping Ads are a new lucrative means of monetizing your site.
Amazon Native Shopping Ads, like AdSense ads, are contextual, meaning they show relevant products based on the page's content and keywords.
When a visitor clicks on one of these ads and buys anything on Amazon, you get a commission. Your visitors are more likely to buy from Amazon than from its competitors due to Amazon's e-commerce reputation.
Amazon pays 60 days after the end of each month, and the minimum payout is low at $10 via direct deposit.
To Contents ↑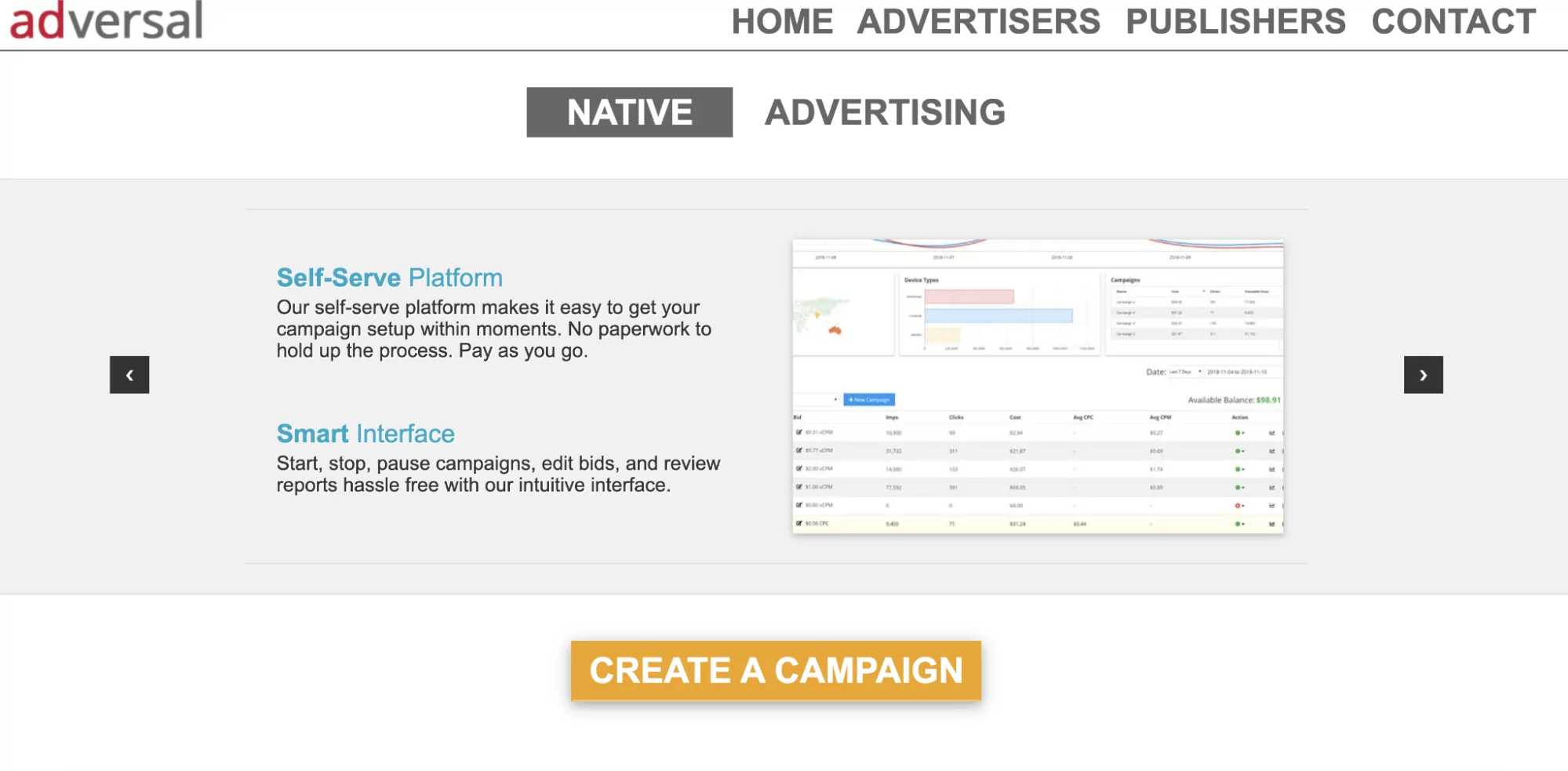 Adversal is a self-serve ad network that lets you place ads on your website in minutes. Its user-friendly interface makes it easy to start, stop, and pause campaigns. To be eligible for Adversal ads, your website must have its domain name, at least 50,000 monthly pageviews, and not be password-protected.
Adversal's CPM payout rates are calculated in real-time and dependent on the source of your traffic, the type of content, and the bounce rate on your site. It also depends on how much an advertiser is willing to pay for your niche.
Adversal offers a variety of other ad types, such as; Medium Rectangle Ministitial Pop-under Skyscraper Wide Skyscrapers Banner Leaderboard.
Adversal has a very low payout percentage. If you reach the minimum payment threshold of $20, you will be paid on a NET35 basis. This means that if your account reaches the minimum payout amount in August, you'll have to wait 35 days starting September 1st to receive your payout, which would be on October 5th. All unpaid balances are rolled over each month until you reach the minimum payment amount paid via PayPal, Bank Wire, or check.
To Contents ↑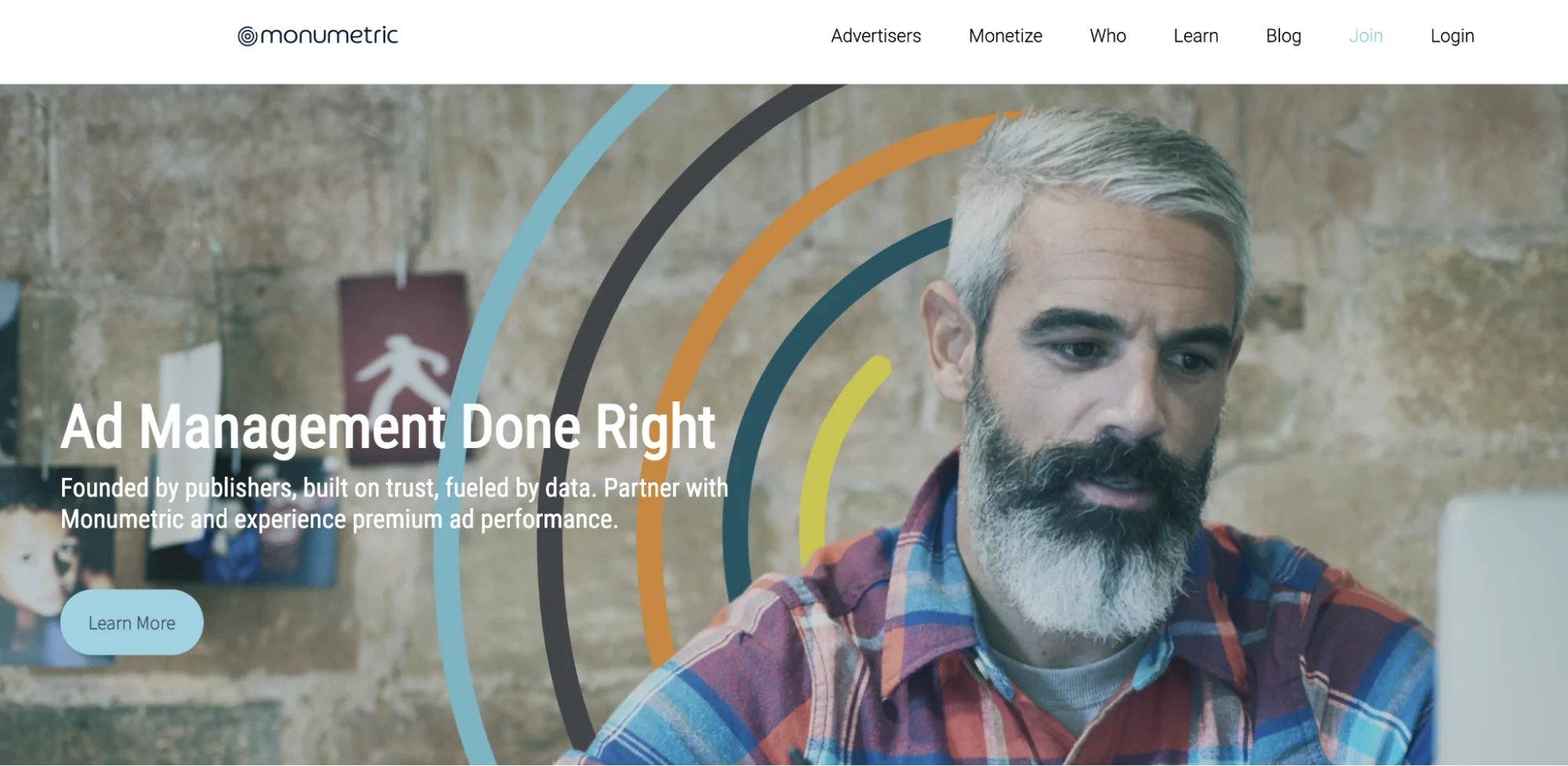 A blogger-focused advertising network that prioritizes content creators and ensures that high-quality, relevant ads are displayed on your site.
Monumetric uses the CPI model rather than CPC. While impressions pay less than clicks, they compensate for this with hyper-targeted ads.
They're also famous for their four monetization programs, which are tiered based on monthly page views. Your site must have a minimum of 10,000 monthly page views. Also, blogs with fewer than 80,000 monthly pageviews must pay a $99 setup fee upfront.
Monumetric's minimum payout is $10 via PayPal or direct deposit.
To Contents ↑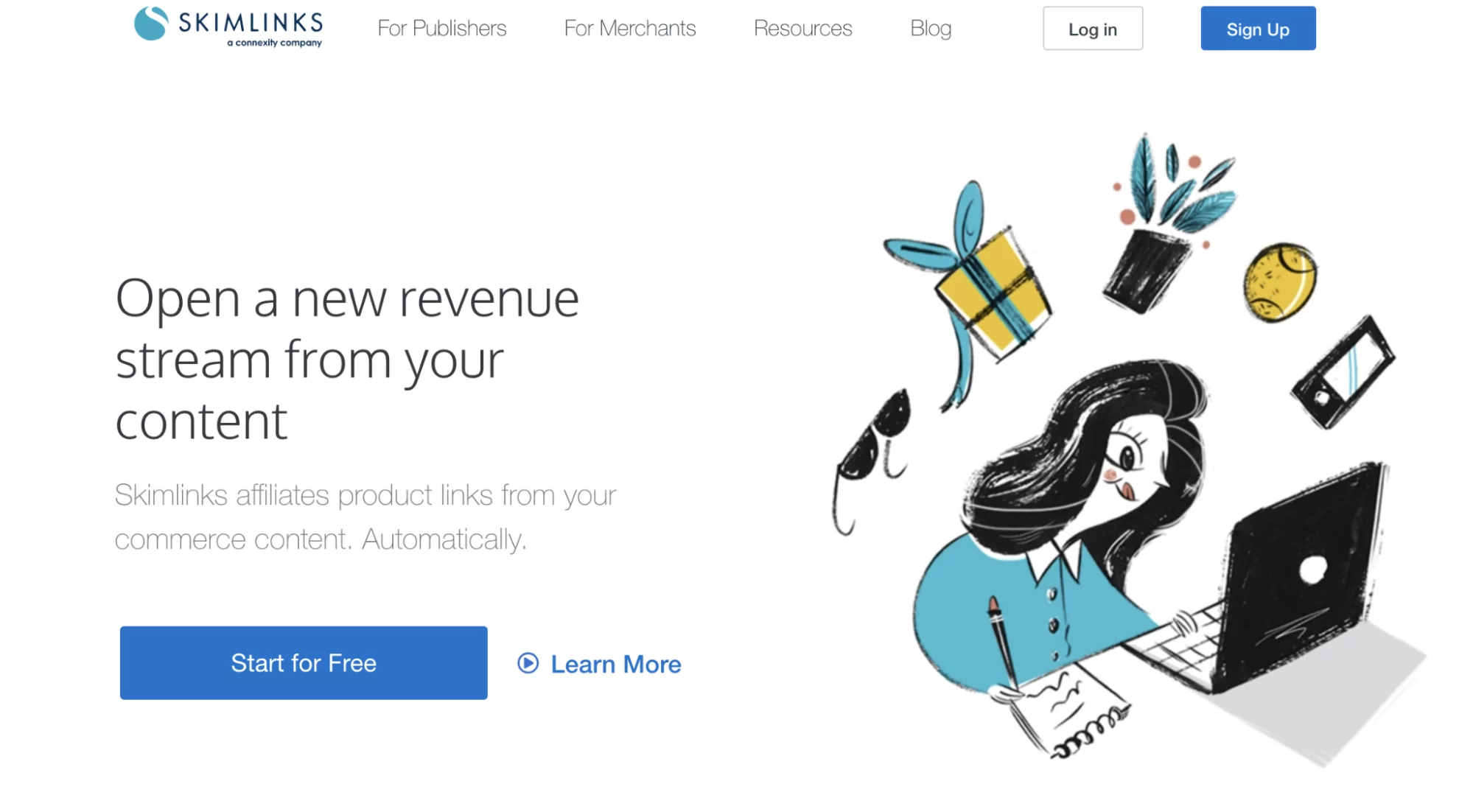 Skimlinks is unique because it focuses on affiliate marketing. It works by looking for links to other websites in the text of your blog. When a visitor clicks on a link that leads to one of Skimlinks' advertising partners, the link is converted into an affiliate link, and you receive a 75% commission. When users purchase products through your affiliate links, you earn more money.
Skimlinks is perfect for publishers seeking to monetize their text content without (or in addition to) display ads. It also works well for product review articles, which often include names of brands. Skimlinks offers a very low minimum payout of $10. However, it only sends payments every 90 days.
To Contents ↑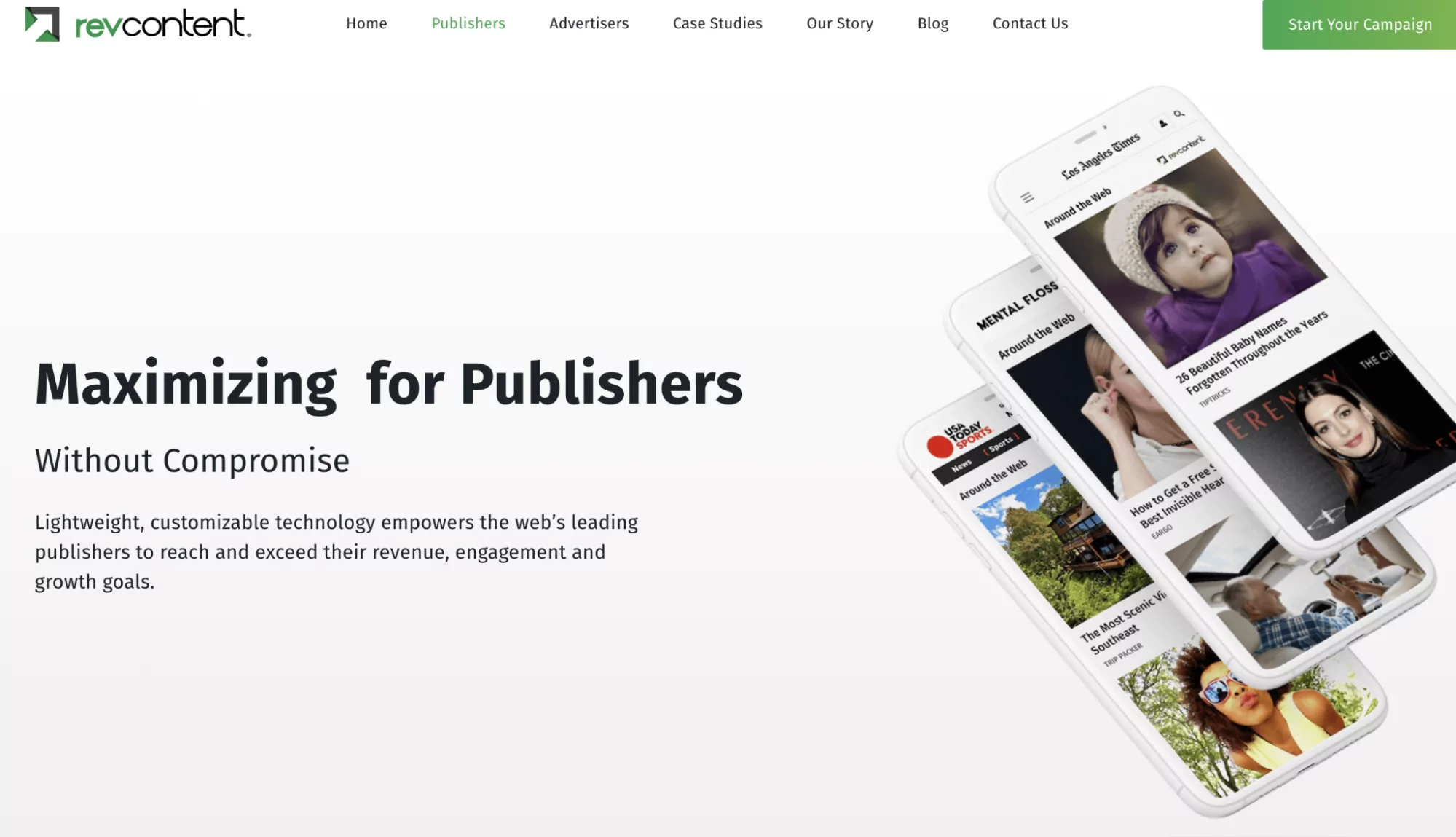 Revcontent offers Native ads designed to match the look and feel of your website's content. They also offer ads in other formats, including display, mobile, and video.
They collaborate with publishers who are likely to generate a high volume of ad clicks, thus attracting advertisers willing to pay higher commissions.
Unfortunately, Revcontent is even more selective than Google AdSense in terms of eligibility. To be considered, your site must have at least 50,000 monthly visitors and produce valuable content regularly. There's a chance you'll be rejected, but for Revcontent's promise of higher engagement rates, it's worth a shot. Publishers are paid every month, with a $50 minimum payout.
To Contents ↑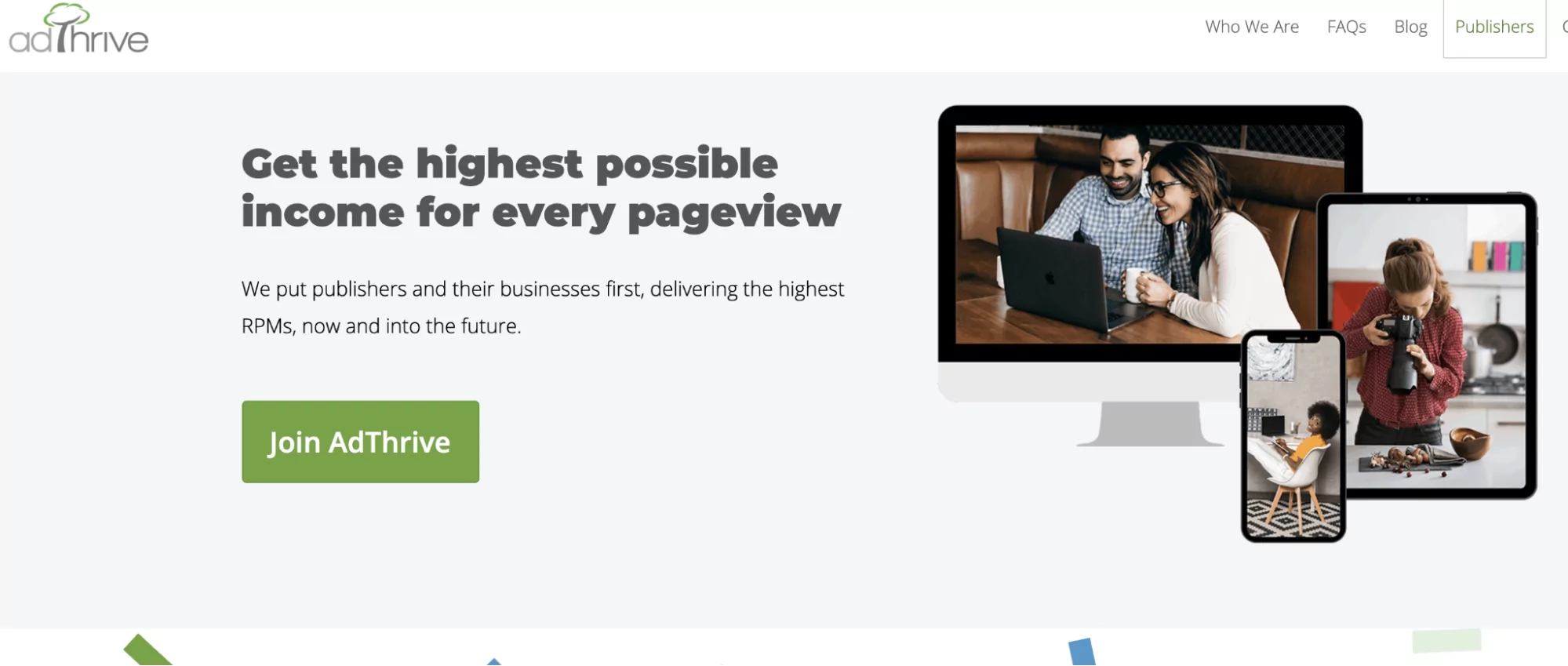 AdThrive is a CPI network that works closely with both its publishers and advertisers to ensure that ads for exceptional products by exceptional businesses appear on your blogging site. The AdThrive team will collaborate with you on a monetization strategy and assist you in placing ads in the most effective positions.
AdThrive's payment guarantee — you'll always be paid in full and on time, even if they don't receive payment from its advertisers on time — is perhaps the best reason to join them.
Unfortunately, it requires at least 100,000 monthly pageviews, with most traffic coming from the United States. Established blogs, on the other hand, should think about using this well-known service. The minimum payout is $25, and they pay via PayPal and direct deposit.
To Contents ↑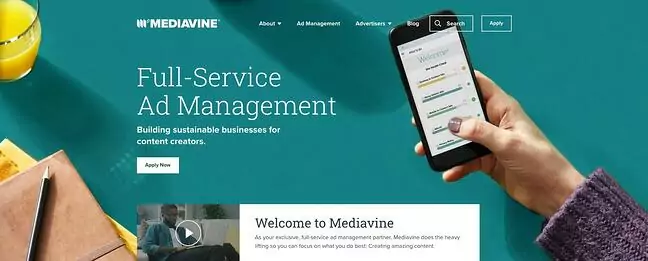 Mediavine is comparable to AdThrive in terms of revenue share with bloggers and highly-tailored ad placements. However, it only requires half the number of monthly page views (50,000). This ad network works with many lifestyle advertisers, so it's geared toward lifestyle bloggers.
It was founded by bloggers who recognize the importance of fast-loading, high-quality ads, and transparency. For PayPal and direct deposit, Mediavine's minimum payout is $25 (or $200 for international direct deposit).
To Contents ↑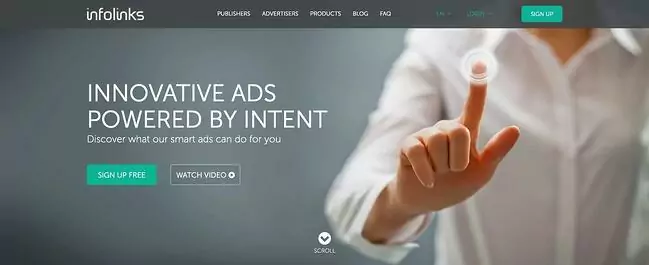 InfoLinks offers an excellent alternative to display ads because they specialize in in-text ad placement. They associate ads with relevant text snippets by searching for keywords in the body of the text. So a relevant ad appears next to this special text when a visitor hovers over it.
In-text ads work better on blog pages with a lot of words because there are more opportunities for relevant ads.
You can monetize any old or new article with InfoLinks. There is no setup fee, and there are no minimum page view requirements. You can quickly implement in-text ads (or targeted display ads, if you prefer) and gain insights from the reporting dashboard once everything is set up.
InfoLinks pays every 45 days via PayPal, Western Union, and Payoneer (minimum payout is $50).
To Contents ↑

Bidvertiser operates on a bidding campaign system. Rather than placing ads automatically, Bidvertiser sells display ad space on your website to whichever advertiser pays most.
There are pros and cons to a system like this. If your site brings in enough traffic, advertisers will try to outbid each other for space, and you might end up earning much more from the auction than you would from AdSense. But, if advertisers are unaware of your site, you might not receive any bids at all.
Before trying Bidvertiser think about which of these categories your blog falls into. If the bidding system works for you, you'll benefit from Bidvertiser's easy ad customization tool, zero approval restrictions, and payment for both clicks and conversions.
Bidvertiser users are paid monthly, and the minimum payout is $10 through PayPal.
To Contents ↑

A relative newcomer to the industry, RevenueHits is gaining traction as a reliable monetization platform. RevenueHits highlights its advanced ad optimization tool, which learns from your ad performance and shows you where to best place ads on your site.
There's no minimum traffic restriction to get started with RevenueHits. However, it's important to note that ads through RevenueHits are performance-based, not cost-per-click. This means that you won't earn money from clicks alone.
To generate revenue for your blog, visitors need to click your ad, then complete specific actions on the advertised website. These actions vary by advertiser, but are always less attainable than a simple click. Common examples include making a purchase or subscribing to a service on the website.
RevenueHits pays on a 30-day basis via PayPal and Payoneer. The minimum payout is $20.
To Contents ↑

Adcash serves more than 200 million active users and 850,000 app installs each month. It supports nearly all ad formats, from standard display ads to more premium units like pop-unders and instream video ads. It's easy to place and customize any ad unit, and you can view real-time reports of your ad performance via the admin panel.
Like RevenueHits, Adcash also follows a pay-per-action model. It offers payouts through PayPal, Payoneer, Skrill, and WebMoney. As an added perk, the $25 minimum payout is fairly low.
To Contents ↑

If your blog generates consistently high traffic, consider BuySellAds, a self-serve ad portal for publishers. BuySellAds is highly exclusive — you'll need at least 100,000 page views per month to join, and it only accepts English-language websites with excellent content and design.
If you can reach this high bar, you'll enjoy a 75% commission per click. This is very competitive for the industry and significantly higher than Google's commission rate of 62% per click. And, the minimum payout is just $20 with PayPal.
Ad formats include banners, text ads, native ads, RSS feed ads, email ads, and content sponsorships. Unlike other solutions, BuySellAds does not display automated or targeted ads. Instead, publishers sell the ad space available on their site to advertisers via a marketplace.
To Contents ↑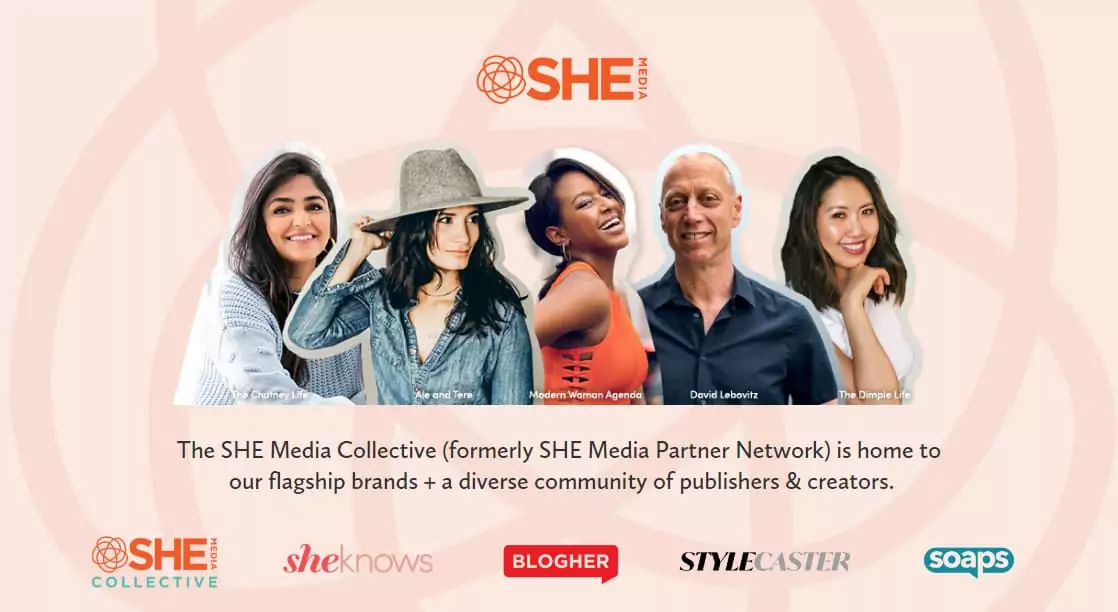 SHE Media is another alternative to Google Adsense. This network was established to generate income from blogs and websites targeting women. This network boasts 50+ million monthly individual visitors, supplying publishers with a broad reach.
In comparison to other Google Adsense alternatives, SHE Media has a comparatively low traffic requirement of 20,000 viewers per month. However, they may make exceptions for sites with lower traffic if they have interesting content that is consistently and frequently published and show potential for growth.
Additionally, sites must be brand safe and around 90 days old with a higher concentration of US-based traffic and no more than 5% invalid traffic. As for the payment, the minimum payout is set at $20.
To Contents ↑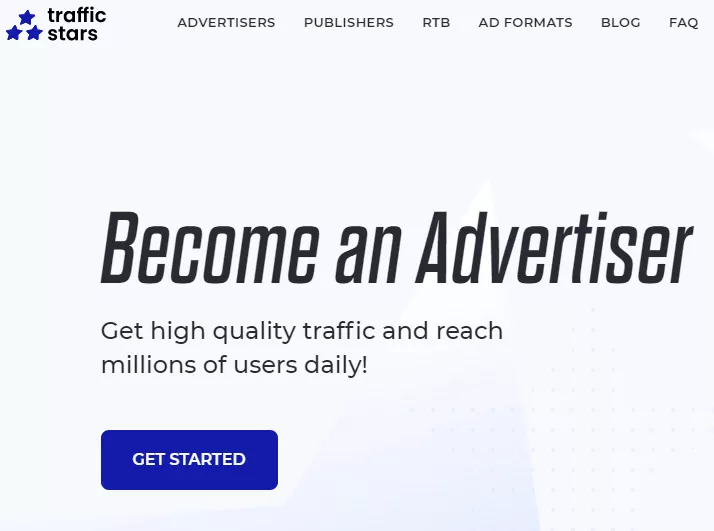 TrafficStars is a popular contextual advertising alternative to Google AdSense. It's a self-serve ad network with 4 billion impressions daily. The platform works with almost all the top verticals, like Dating, Gambling, Gaming, E-commerce, Finance, and Sweepstakes.
It gives advertisers and publishers access to high-quality exclusive traffic sources. It also generates detailed and real time statistics providing you with insights to optimize campaigns. Payments are based on the CPC and CPM models.
Tired of searches and comparisons? You can always opt for Adsterra and start earning right away!
To Contents ↑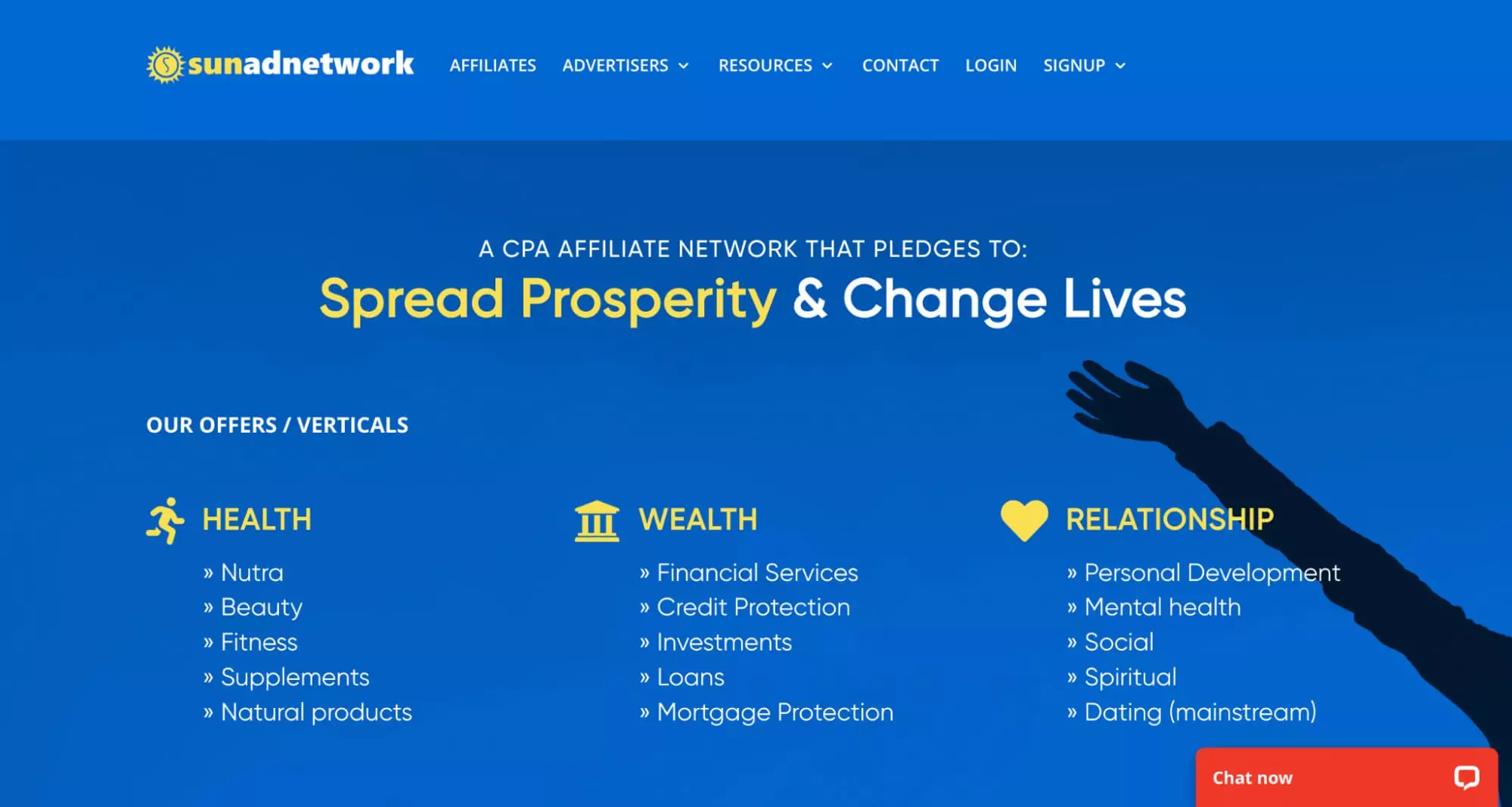 This is one of the best Google AdSense alternatives. It was started in 2009 and recently changed its name to SunAdNetwork. The platform has decent CPM rates and pays ads on CPC. This AdSense alternative works with 21 verticals including Health, Relationship, Wealth, etc.
SunAdNetwork provides detailed analytics and ROI reports to the publishers. It has great targeting options and a low threshold of traffic. The chances to join the media are higher if you have a custom domain.
To Contents ↑

SetupAd is another great and profitable alternative to Google Adsense. This is a contextual advertising network that allows content creators to increase their revenue by displaying programmatic ads. It uses header bidding technology, connecting publishers' ad inventory to over 15 supply-side platforms.
Publishers will only receive payment when they meet the €100 minimum threshold, and the first payment will happen 60 days after, with subsequent payments every 30 days. If the minimum threshold is not met, Setupad will carry the earnings to the next month.
To Contents ↑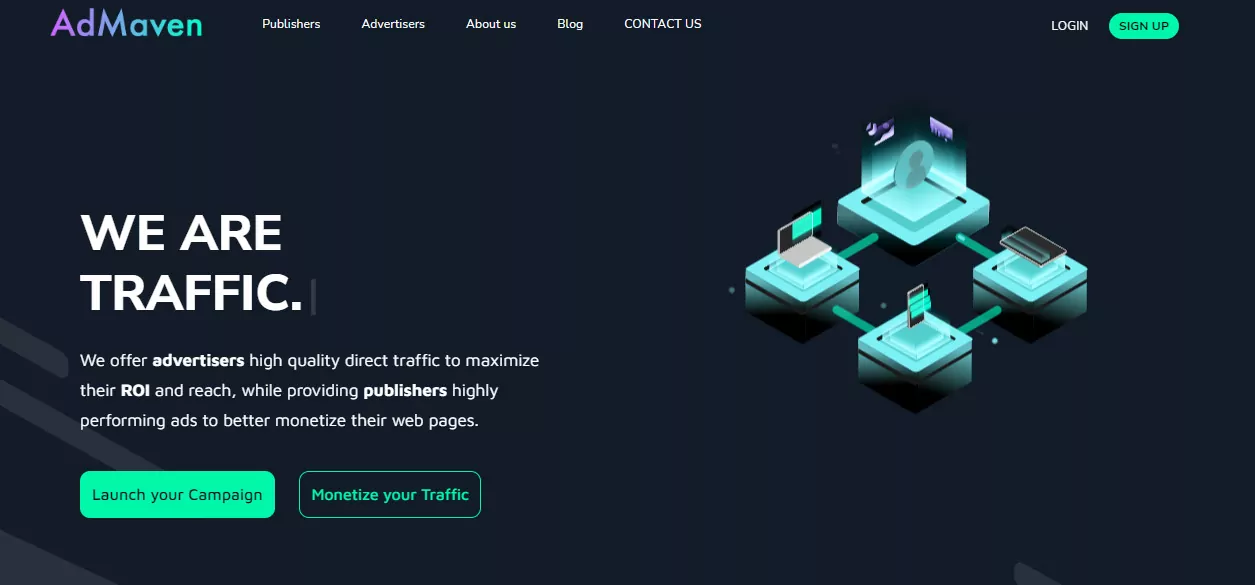 AdMaven is an AdSense alternative network that sells over 5 billion impressions daily across multiple platforms. More than 25 000 publishers are using AdMaven.
The ad formats include Banners, traditional Popups, lightbox ads, and interstitial ads. This solution allows you to show ads even when your visitors are using ad blockers. There is also a selection of different payment methods, including PayPal, Payoneer, bank wire transfer, and Paxum.
To Contents ↑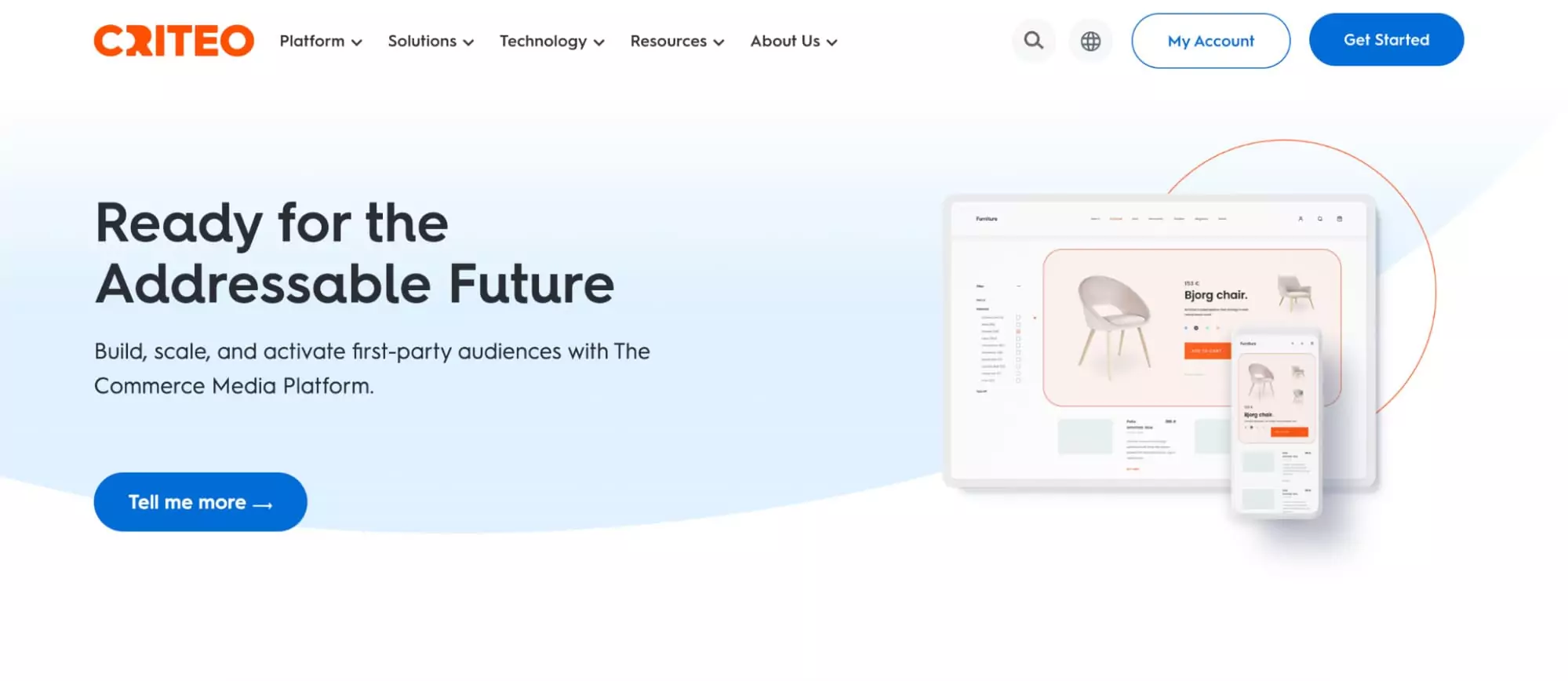 Criteo network operates internationally in more than 30 markets with thousands of publishers. It is a valid substitute for AdSense but its requirements tend to be quite rigorous. So it's not the most suitable selection for smaller websites or blogs.
It can display various ad formats such as display, native, and video ads, as well as bypassing ad-blockers. Payments are made on a monthly basis.
To Contents ↑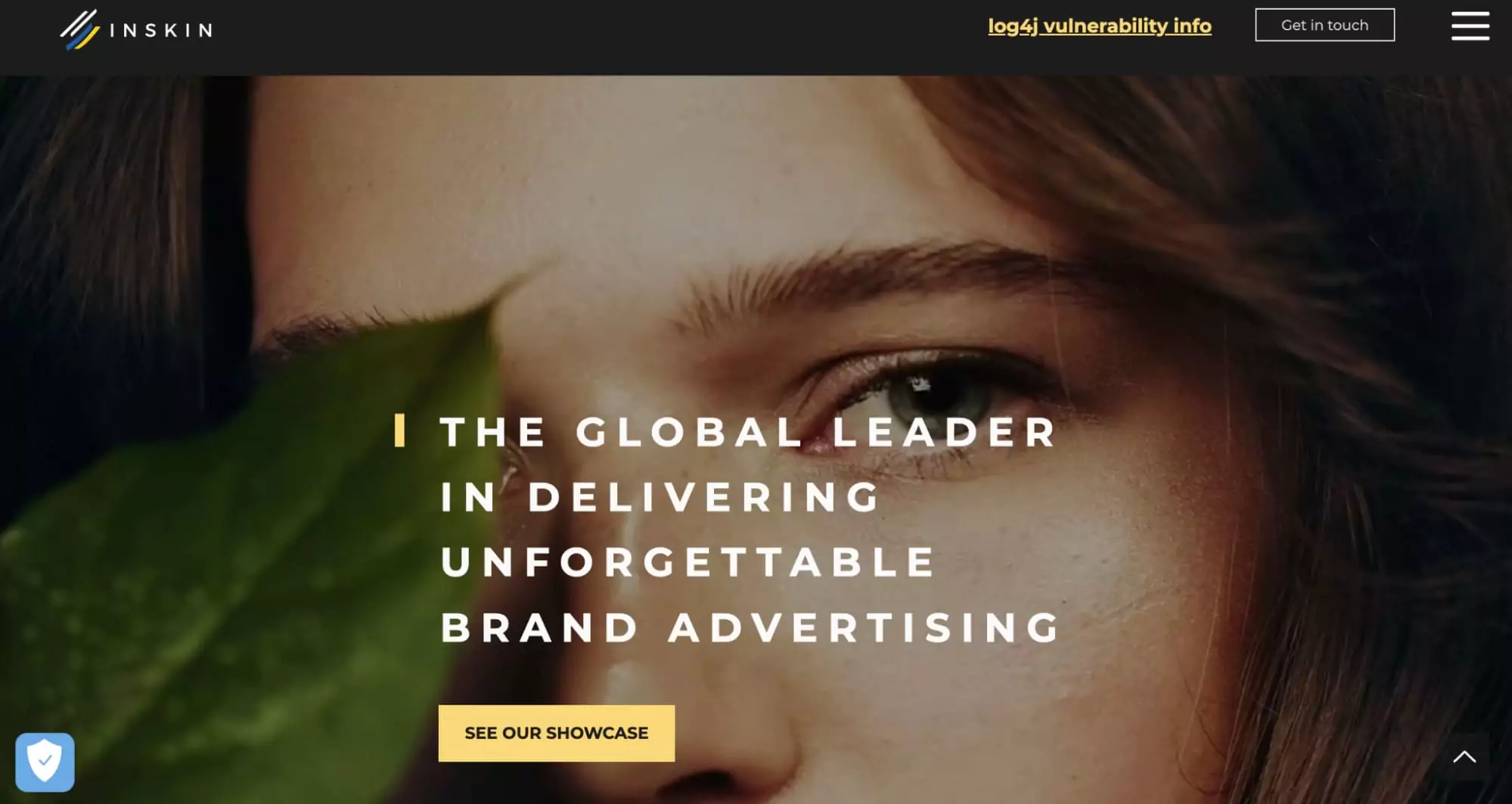 Inskin Media works with 260 publishers across 2 000 premium websites globally. Unlike Google AdSense, it aids in design and arrangement. By utilizing HTML 5, their framework permits custom mobile and desktop ads with exclusive designs and multimedia formats. This means that you do not need to take any additional steps to draw in customers.
This network works with publishers of various niches and sizes, and pay out monthly. The CPM rates can reach as high as $20.
To Contents ↑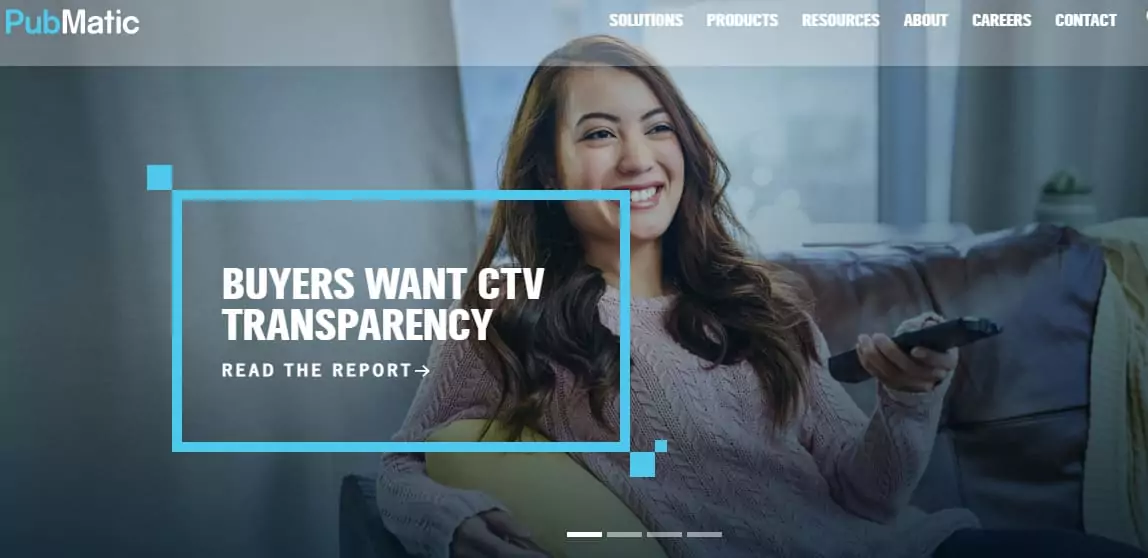 Pubmatic was created in 2006 and now produces 100 billion ad impressions every day and 15 trillion bidders requests each month. Furthermore, it can be used to create private marketplaces, so publishers have control over their advertisement space.
To Contents ↑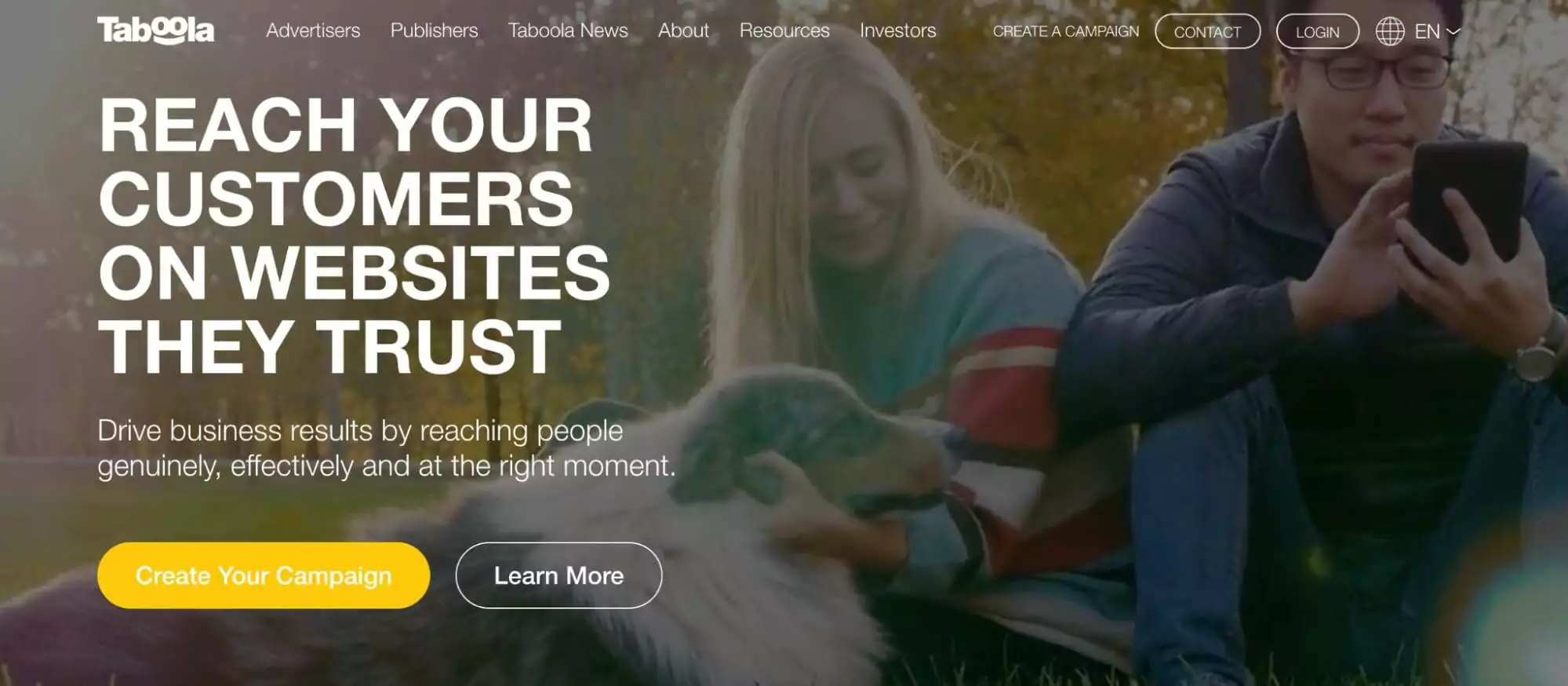 Taboola is one more alternative to Google AdSense that specializes in native advertising. This network can be used in conjunction with other advertising tactics, meaning it can increase your current earnings without having to replace any of your strategies.
To get access, publishers must have a minimum of 500,000 visitors per month. The minimum payout for Taboola is $50.
To Contents ↑
Ezoic is a company based in California that is a Partner of Google Publishing. It is known for its AI monetization system — Ad Tester — which boosts income from a website's ads.
This isn't a typical ad network as the ads that are tested come from a variety of sources. Publishers can include their current ad networks to Ezoic and with the help of the AI they can compete against all other providers.
To Contents ↑
Choosing an ad network similar to Adsense FAQs
Here are some answers to the alternatives of Adsense.
1. How many advertisers/ad campaigns does an ad network have?
You should check how many advertisers work with an Ad company before choosing them. Adsterra has over 13,000 advertisers in different niches and over 20K campaigns on the platform simultaneously.
2. How fast is the website verification process?
Some ad networks take so much too long to verify your website is eligible. Google Adsense activation process can take between a few days to four weeks. Meanwhile, Adsterra has a 2-to-10 minute approval. Note that some parts of the verification process require actions on your end, and your account can only be activated after you complete them.
3. How fast do they respond to your requests, and how can you contact them?
Seamless communication between you and your ad network is very important. When it comes to fixing a software error, or a code malfunction that could disrupt your flow of income, you want to deal with a fast and competent customer support service. The bigger an ad network is, the harder it is to get quick responses. Fortunately, Adsterra has a reputation for having the best customer service amongst growing ad networks. With 24/7 customer support, you can get instantaneous replies to any question you may have.
4. What ad formats do they have for your niche?
There are over a dozen ad formats and some are better suited to different niches. Here's a guide on choosing a suitable ad format for your website and niche.
5. What new ad formats (like in-page push) to avoid banner blindness?
In-page push ads are displayed directly on a webpage similar to banner and native ads rather than as a device notification. This gives them the same non-intrusive ad visibility and is more compatible with all browsers and platforms, including iOS.
Unlike web push, Adsterra's in-page push ads don't require opt-ins; they run on all OS and browsers. You can either use the built-in animated templates or design a customized ad.
6. Do they protect their publishers from malware?
Malvertising delivers malicious code through legitimate ads and advertising networks. Most Ad networks serve ads from millions of advertisers and display them dynamically according to real-time bidding, making it very difficult to test all the ads that are actually shown to users.
Adsterra's Three-Level Security ensures an effective combination of innovative in-house and reliable third-party fraud detection systems. In addition to human checks, we provide a safe experience.
7. What solutions do they use to bypass AdBlock?
With web push ads being under pressure, publishers need both next-gen ad formats and powerful solutions to cope with losing traffic and revenue due to AdBlock software.




Turn to those ad networks that have competitive ad units like in-page push. Also, ensure they have in-house tools to save your traffic. On Adsterra, for instance, you're offered a Request Anti-AdBlock feature that helps you save up to 30% of traffic that could be otherwise be swallowed by ad-blockers.
8. Does the ad network match your needs?
Check if the ad network's UI is intuitive.  It must have a statistics dashboard with all the key indicators: CPM, Impressions, and Revenue. Ideally, you should control ad volumes, frequency, verticals, and formats. However, not every ad network gives publishers such levels of control.
Make sure you understand the ad network's TOS, how often you get paid, and what payment systems they use.
To Contents ↑
Conclusion: Which AdSense alternatives are the best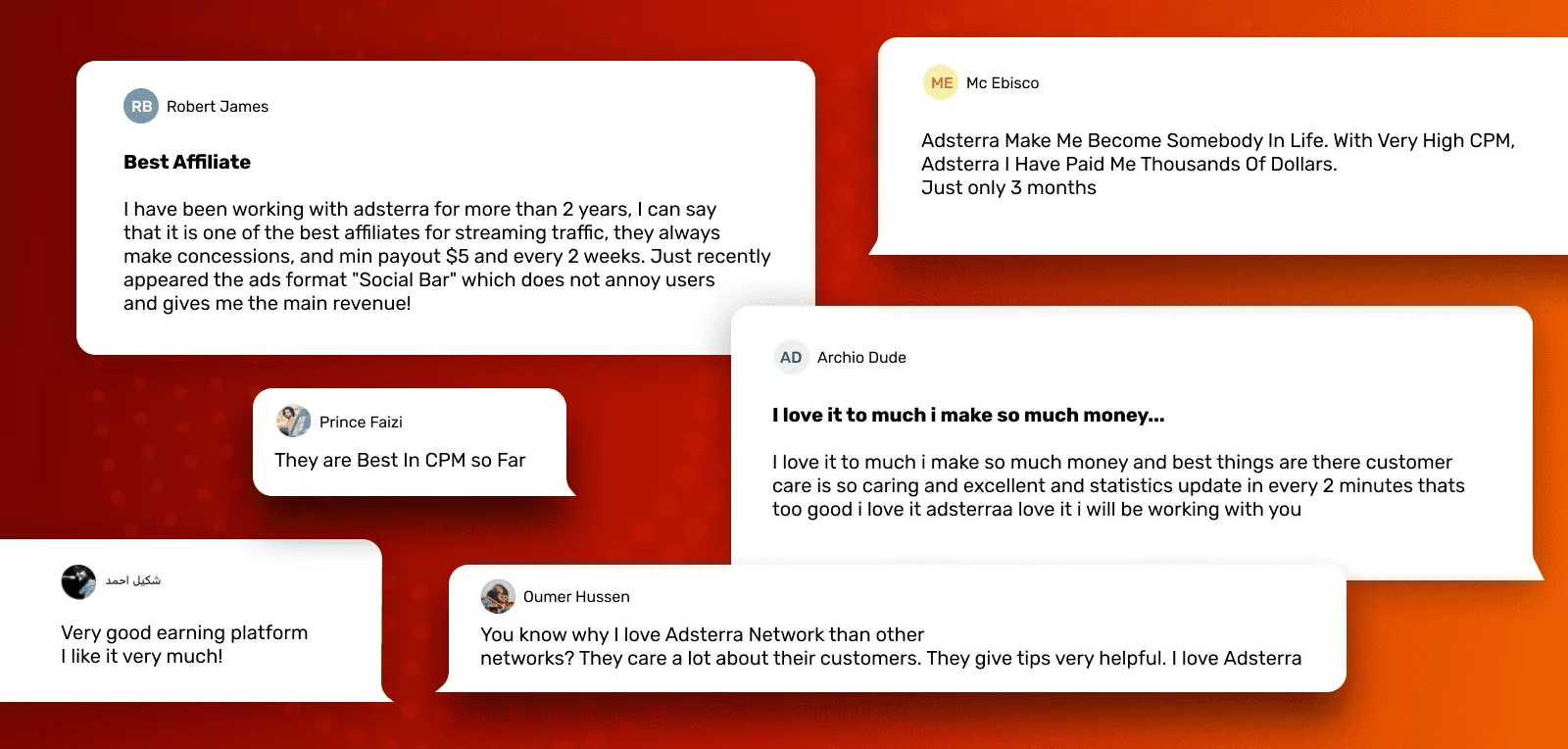 If you're looking for an ad network, why not choose one that actually caters to your needs and help you maximize earnings from ads? A high-quality AdSense alternative should either provide an additional revenue stream or help you earn more than you did with Adsense.
With Adsterra, you get enhanced security, an automated Self-Serve platform, top-tier support, an innovative Anti-Adblock solution, and multiple payment options.
Make sure to test at least a few different ad placement options over some time. Then figure out which ones generate the most passive income without damaging the user experience on your website.