Bloggers and publishers can monetize Quora content leaving expert advice and answering questions. You know that. But what if you could add some hundreds or thousands to your earnings? Our publisher, Muhammad, has generously shared his strategy of Quora monetization with Adsterra Popunders that has resulted in over $18K revenues in total.

You'll learn how to win Quora readership's trust, how to create best-ranked content for your web blog, and what you really need to get higher CPM rates.
---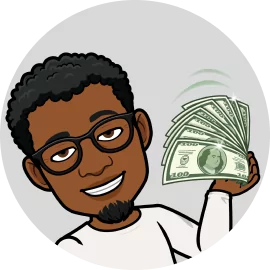 Muhammad, Quora blogger,
Health&Relationships expert
---
My journey to high revenues with Adsterra: Combining quality Quora content, blogging and Pop Under ads
It all started with a passion for two topics close to my heart: health and relationships. As a WordPress developer and customer care service professional, I knew I had a unique perspective to share with the world. Little did I know that this passion would lead to a successful revenue stream through Adsterra and a Quora monetization strategy with a pleasant outcome of $18,400 total revenues.

It turned out that Adsterra ads run smoothly on WordPress websites, so I didn't have to waste time adjusting my code. You will now learn about my path to higher earnings from the very beginning.

I will unlock several content creation hacks for Quora and your blog in the bonus part.
Part 1: Building my content
My journey began by creating a blog where I could share my insights on health and relationships. I poured my heart and soul into every article, ensuring that they were informative, engaging, and relatable to my audience: male and female readers in their twenties or thirties looking to build strong bonds with their partners. With each post, I aimed to offer valuable content that readers could apply to their own lives.

Organic reach was my first and main priority, but soon I realized I could expand my audience. Quora was the platform I decided to opt for mainly because its community is always in search of good advice about how to live their life 😉
Part 2: Getting more traffic with Quora
To expand my reach, I turned to Quora. This platform allowed me to share my expertise and connect with a broader audience. Whenever I published a new article on my website, I also shared it on Quora, enriching my answers with valuable insights. But the real game-changer was including a link to my website in those answers. This simple strategy created a traffic funnel from Quora to my blog.
Part 3: Partnership with Adsterra
As my blog gained traction and a steady stream of visitors, I began to explore monetization options. Adsterra caught my attention with its pop under ads, which seamlessly integrate with my website. I didn't want any aad to be placed inside my content, and Pops run outside the web page area. They open up an ad page once per user session activated by a click or a mouse hover.

The transition to Adsterra was remarkably smooth, and I saw immediate results. My revenue started to climb, and I was thrilled to see my passion project transform into a profitable endeavor.

Within a month, I now can make up to 500 dollars while my total earnings with Adsterra.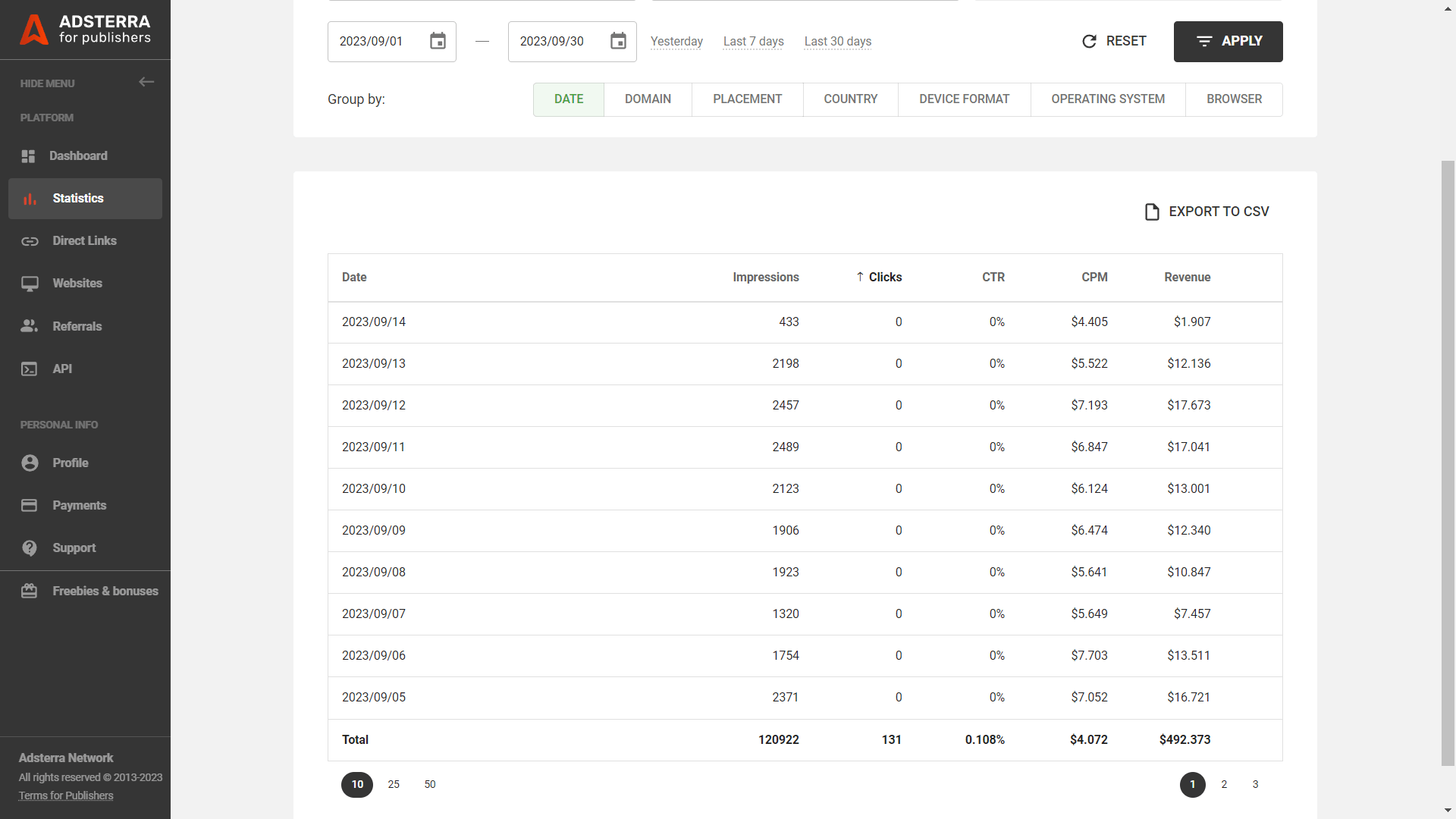 Bonus 1: Dos and Don'ts about Quora content
One common mistake bloggers make on Quora is being overly self-promotional. Instead of focusing solely on promoting their content or website, they should provide genuinely valuable answers to questions. What do I mean by that? Not only should you engage readers to visit your website, but provide answers that will be enough to solve a problem right there, in the Quora comment. Building trust starts with being helpful.
Top-5 tips for building trust on Quora:
Provide value with detailed and well-researched answers, not general truths.
Share personal experiences to connect on a human level.
Engage with comments and discussions on your answers; this will give you lots of ideas for your next posts.
Consistency matters, so answer questions regularly, staying nice and providing extra advice.
Use a friendly, approachable tone to build a rapport with readers.
If you disagree, appeal to facts and provide evidence but avoid being sarcastic about users' beliefs or misconceptions.
As I usually build a channel between my posts on Quora and blog, it doesn't take much time to craft a value-rich, unique post: about 10 to 30 minutes. However, any reader can ask about some peculiarities of any of my posts, and I will need to delve into new topic research. That's the price of being a trusted expert: you work for your audience.
Bonus 2: How to craft SEO-friendly content
I focused on an SEO strategy above all. On my WordPress website, I optimized web content with relevant keywords, improved page load speed, and crafted engaging meta titles and descriptions. I also encouraged user engagement by creating compelling content that kept visitors on my site longer, reducing bounce rates and increasing page views. This combination of SEO and user experience improvements contributed to the growth of my blog's traffic. Why do I need all that? The longer my readers stay, the more likely they are to engage with advertising on my website.
Hacks for running an SEO-friendly yet user-oriented WordPress blog:
Quality content:
Create high-quality, informative, and engaging content that meets the needs of your audience. Look for what readers need by searching for the same articles on your competitors' blogs, or use SEMRush tools for making a thorough competitor research.
Keyword research:
Research relevant keywords and use them strategically in your content, titles, and meta descriptions. To automate this stage, use powerful tools like SEMrush. This platform allows you to meet Google's SEO criteria while serving top-quality content. Include words and phrases recommended by SEMrush, providing in-depth answers to what people are interested in.

On the screenshot below, SEMrush lays out the most searched key phrases and even the words you need to include in the copy to master a relevant post.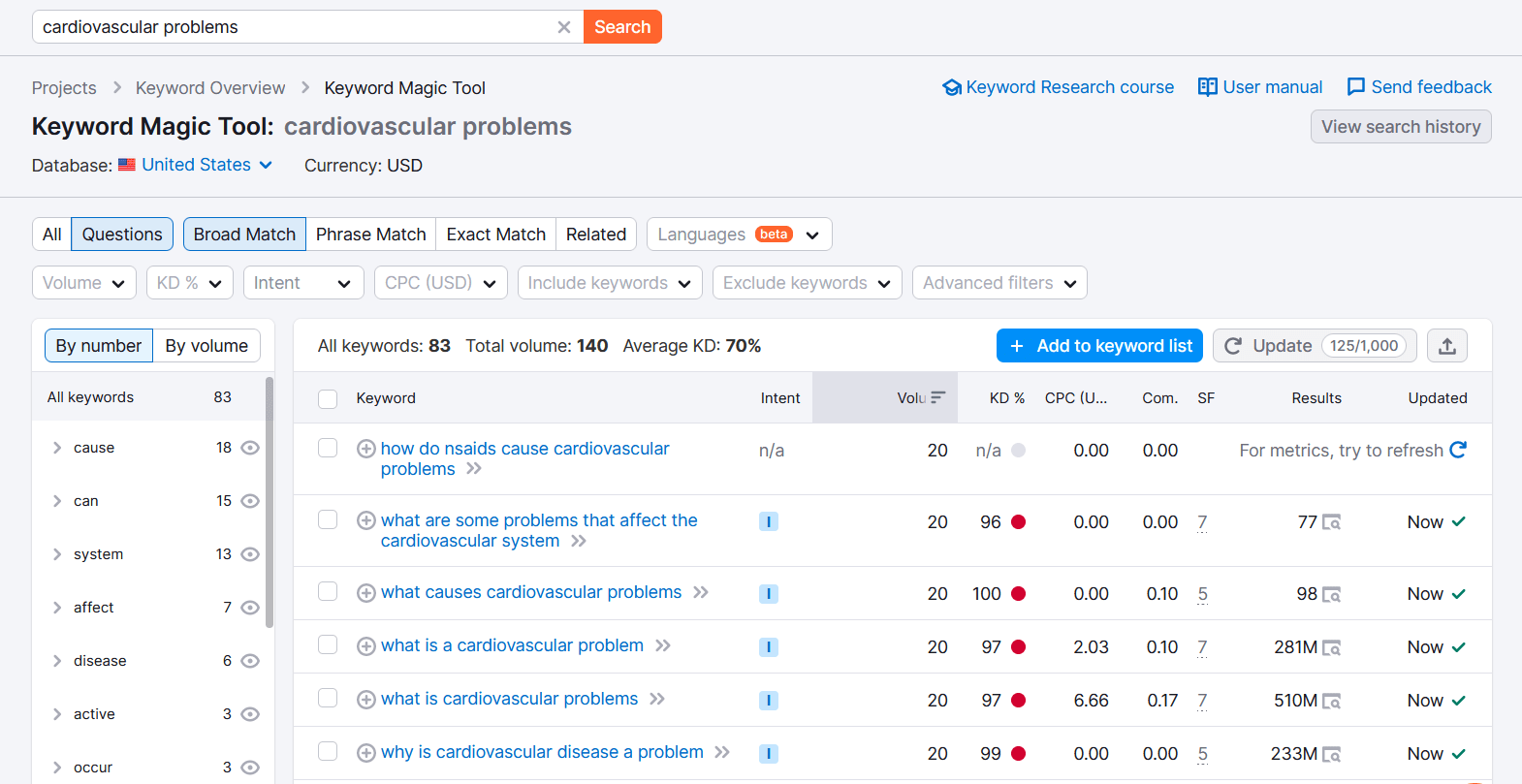 Optimize images:
Compress and properly name your images, and use descriptive alt tags for SEO and user experience. One of the latest tools on the market is Shrink.media. They enabled high-power image compression along with keeping the initial media's quality.
Mobile optimization and site speed:
Ensure your website is mobile-friendly for a better user experience and SEO ranking. If you own a WordPress website, lucky you! There are lots of plugins to optimize for mobiles. You can try Lazy Load or Jetpack, they're one of the most-advised.

While optimizing your website for fast loading, you'll need to check all images sizes and install a caching plugin.
Internal and external linking:
Link to relevant content within your blog to keep users engaged and improve SEO. That's called internal or cross-linking.

Link to authoritative sources to enhance credibility and SEO: this is called "external linking". While linking to external sources, add a "no-follow" attribute, which will keep you safe from sharing your domain authority.

Keep an eye on your links and remove the broken or unexisting ones.
Social sharing:
Add social sharing buttons to encourage readers to share your content. You might think it's only vital for expanding your reach, but that's only a half of the story. The more users are sharing content, the more Google and Bing tend to move this content higher in the search results.
Regular updates:
Publish new content consistently to keep your blog fresh and relevant. You will even have to update the oldest piece of content that ranked highly in the past just to keep up with the user's demands.

By implementing these hacks, you can strike a balance between SEO optimization and a user-friendly experience on your WordPress blog.
Bonus 3: Getting high CPM rates
Adsterra tries its best to connect you with advertisers who are in search of the traffic you send. You only need to take care of the traffic quality yet renewability: expand your audience adding Quora monetization techniques or Facebook traffic, or, maybe, X (Twitter) audiences.
My audiences come from Africa, Europe, and Saudi Arabia, and the most common misconception about these tiers is that traffic from Africa or Eastern Europe is underpaid. That's a bit outdated. My average CPM for Kenya is $8.7, for Chad it's $9.2, while for the UK the average rate is $8.
I must note that I send higher volumes from African countries than from the EU, but still, you can hit solid CPMs if your volumes are massive enough.
The highest CPM rates come from Pop ads, as I mentioned. I have tested their potential, and couldn't be happier with the results.
Final thoughts
What started as a passion project in the realms of health and relationships soon turned into a reliable source of income, thanks to the power of Adsterra and my Quora monetization strategy. I couldn't imagine it will turn out in such a partnership!

Thank you, Adsterra, for helping me realize the potential of my passion and for considering the possibilities beyond revenue. Together, we can explore new horizons.
---
Quora monetization FAQs:
How does the monetization on Quora differ from that on Reddit?
If you monetize Reddit, you'll find it interesting how to alter your strategy on Quora. Quora is more focused on Q&A, often with longer, more detailed responses, while Reddit features a wider variety of content and shorter interactions.
Can I monetize my Quora account?
You should monetize it! If you're expert enough, you can easily build trust with the Quora community by posting valuable content and providing exhaustive answers. You may opt for the in-build Quora monetization tools or try alternative strategies like driving traffic to your website with Pop under ads from Adsterra.
What answers on Quora have the most upvotes?
Try crafting a comment that will gain traction without thinking of the upvotes. You may have to create several high-quality answers related to the same topic to get noticed. However, you can't predict how the community will react.
The most upvoted answers usually align with the agenda or appeal to existential questions like "What is being happy?" or "How to get rid of a bad habit of procrastination?" However, you can find unexpected interest peaks for answers like "What's the funniest joke about software engineers?"
Getting upvotes is like getting viral on Instagram: you should first engage with the audience and address its pain points with the most valuable content possible. And afterward, upvotes won't be long in coming.