From e-commerce stores to blogs, every website needs backlinks to survive—especially in the competitive world of search engine optimization.
However, the sources of these backlinks are just as important, if not more important, than the backlink itself. To rank at the top of the search engine results pages, you must have backlinks from authoritative, trusted, and relevant websites. On the other hand, to avoid being dragged down by spammy backlinks.
Fortunately, there is a simple way to discover who links to your site—and it will take you no more than five minutes.
Why do I need to know who links to my site?
Finding out who links to your site can provide you with a lot of information to grow your website. The data can help you evaluate your achievements and indicate specific issues that you should address, correct, or avoid in the future.
Here's a rundown of what you might find in your backlink profile:
Your backlink profile can show which blog posts are the most interesting.
Identifying any underlying issues with your backlink profile, as well as identifying spammy links, and ensuring that your link profile is natural and varied.
To Contents ↑
How to find who links to your website
1. Google Search Console links report
Google Search Console (GSC) is an excellent tool to start with because it is free. Here's a guide on adding your website to GSC for free. To find out who has linked to your website, go to Search Console > Choose Your Property > Links > External Links > Top Linking Sites.
This report includes a list of the top 1,000 websites that link to your site and also shows the number of:
Linking pages (the number of times their pages link to yours).
Target pages (the number of your web pages to which they link).
NOTE: By default, it's sorted by linking pages, but you can also sort by target pages.
Select any website from the list to view the individual web pages to which it links and the number of times.
Select one of these pages to view the referring pages on the target website link.

A report in the Search Console also shows your most linked pages. Go to Search Console > Choose your property > Links > External links > Top linked pages.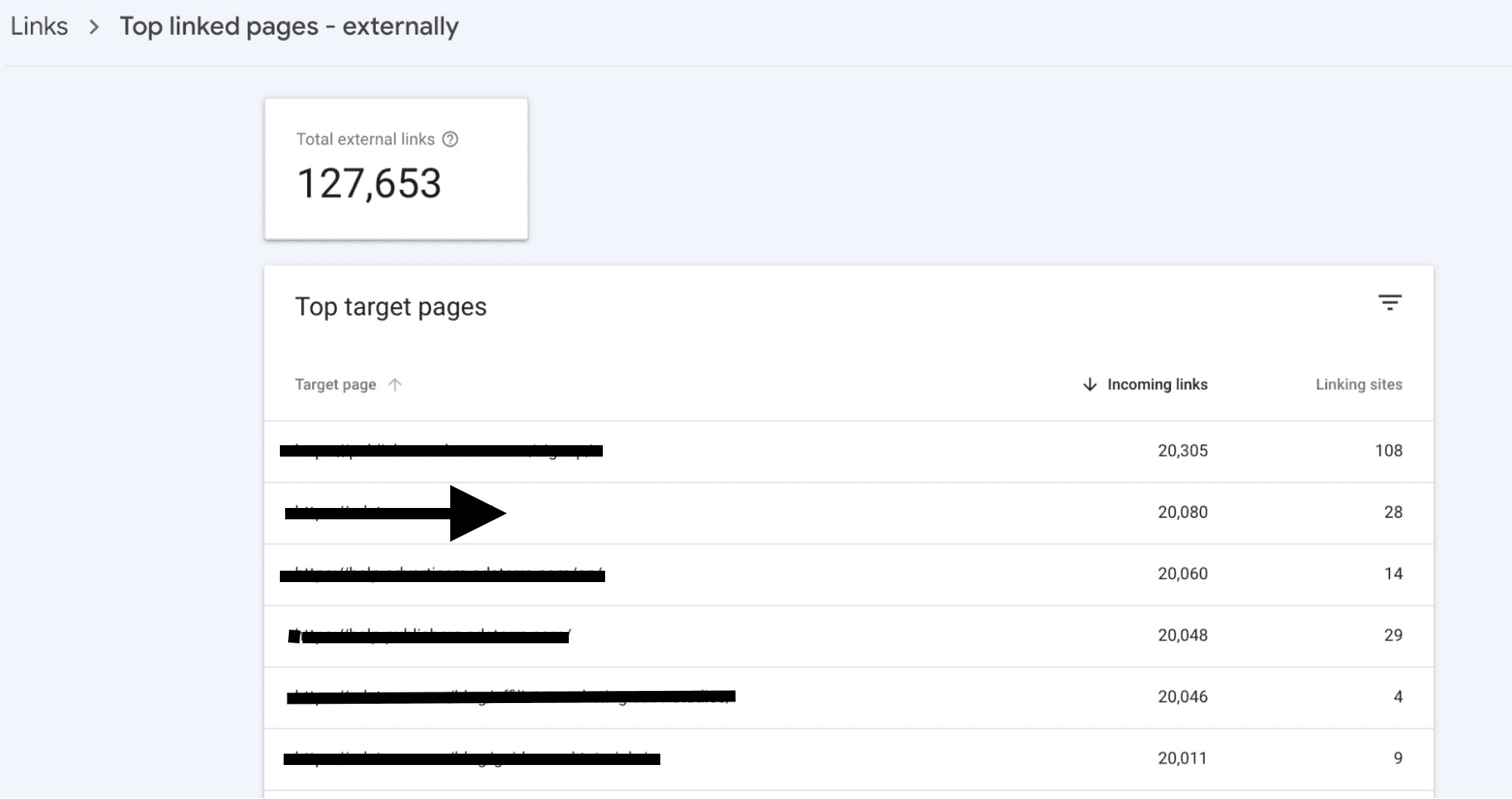 The report sorts the Incoming links by default. It shows the pages with the most backlinks.
Sort by Linking sites to see which pages have unique links. You can click on any web page to see its top linking sites and the number of backlinks by clicking on it.

To see all of the linking pages, click any of the sites. Click "download" to get any of the reports.
To Contents ↑
2. Bing webmaster tools backlinks report
You can compare multiple websites to quickly analyze their backlink profiles using the Bing Webmaster Tools Similar Sites report. Find the information by navigating to the left menu, selecting SEO > Backlinks, and selecting the "Similar Sites" tab.

When you first open the report, it automatically selects your website as the first to compare. You can compare up to three websites (including yours) at once. When you choose a referring domain, it directs you to a sub-report containing every unique URL that links to the target website and the specific page to which it links.
The following section displays the top 10 domains and anchors and the number of backlinks they have. The referring domain or anchor text can be used to pivot the numbers in the detailed report, which the webmaster can view. The tool considers the top 500 Referring Domains and Anchors (based on the number of backlinks) to create this list.
On top of this data, webmasters can apply three filters:
Show all data (default).
Show only common domains: Only the domains where all selected sites and your own site have at least one backlink from that domain.
Show domain not linking to my site: Only the domains that don't have a single backlink.

The same filters apply to anchor texts as well.
To Contents ↑
3. SEMRush backlink analysis tool
SEMRush offers a full suite of digital marketing tools, including a Backlink Analysis tool for checking links to your site or any other website on the internet. When you enter your website, it shows a tab with your authority score, referring domains, and backlinks.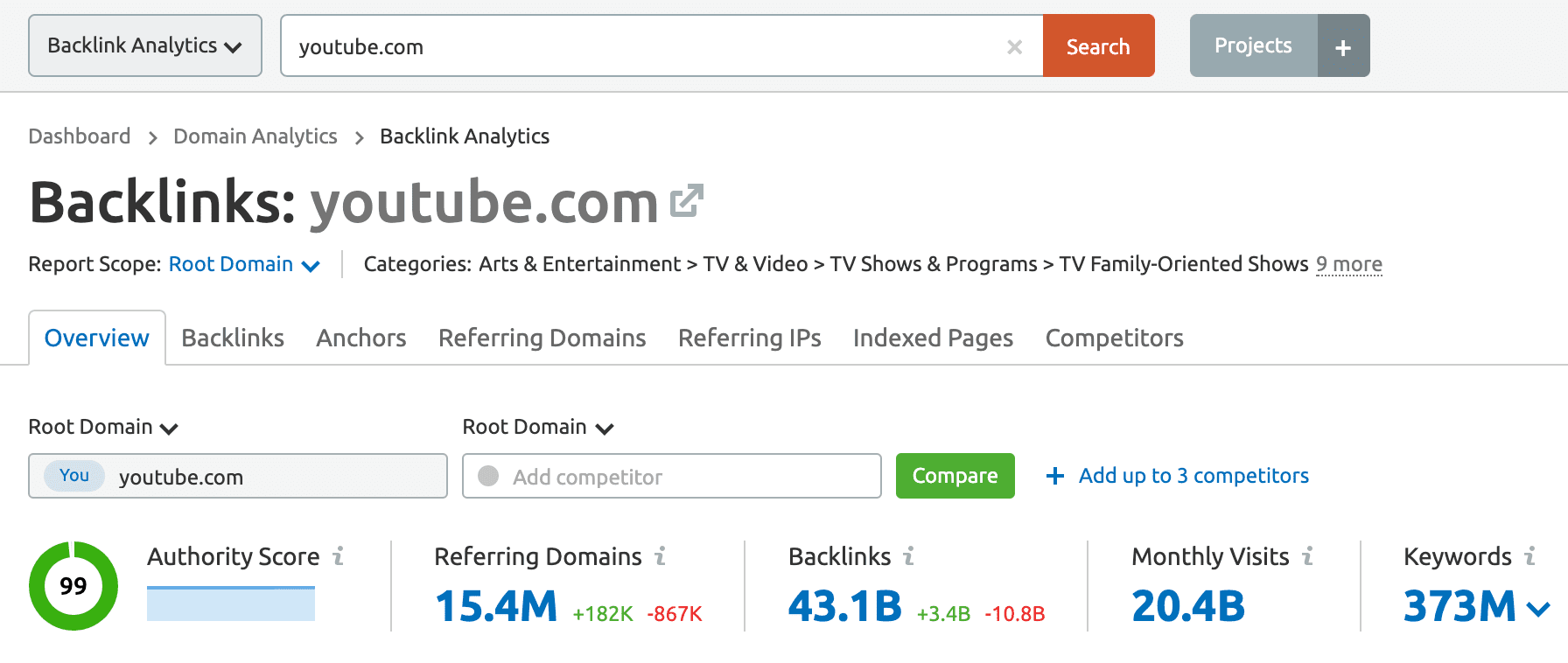 For a more comprehensive analysis, go to the referring domain tab to view a list of all the websites that link back to you. The table also shows the authority score of each website, the total number of backlinks received, and its IP address.
SEMRush users can use the Backlink Analysis tool for free. However, there's a limit to the amount of data you can view. You'll need to register for a paid plan to get full access to all of the backlink data.
To Contents ↑
4. Ahrefs site explorer
Ahrefs site explorer maintains the world's most extensive live backlink index. It updates with new data every 15–30 minutes as their robots constantly crawl and re-crawl the whole web. Using Ahrefs Site Explorer, you can check the number of referring domains and backlinks (links from different websites) for any website, subfolder, or web page.
Site Explorer > enter website, web page or subfolder > select mode > Overview

To Contents ↑
How to find links to a specific page
In Google Search Console Links Report, you can find links to a specific page by clicking on a URL from the top linked pages report. It will direct you to a list of all the domain links to that page, and you'll be able to see the complete links generated from that site.
When you click on that domain, a list of all the specific URLs with links directing back to your target page appears. You can also view the links to a particular page using the Bing Webmaster Tools Backlinks report by visiting the domains or pages sections.
Depending on which section, you'll see a list of domains or specific pages that link to your website. You can export the information to a spreadsheet and search for a particular URL to quickly scan all of the links that lead to that page.
You can also use the SEMRush Backlink Analysis tool to look up a specific URL and see the backlinks' total number and sources. When you search for a specific URL, the report is prepared similarly to when you search for a domain, with the exception that it only shows results for that page, not the entire website.
To Contents ↑
Why are links important in SEO?
Domain authority
Domain Authority (or domain score or domain rating) of each website increases in direct proportion to its authoritativeness. This score is significant for SEO because Google is more likely to rank a page from a website with a higher DA.
It also plays a significant role in link building, as backlinks from authoritative sites perform far better than connections from small, non-authoritative sites.
In theory, when one website links to another, it transfers some of its authority to the linked site. Therefore, links from higher authoritative websites are more valuable, as they are the ones that lead to significant improvement in search results ranking.
To Contents ↑
Dofollow vs. Nofollow Links
Backlinks get their worth from conveying Domain Authority and PageRank to the target website. A link's ability to convey this "link juice" to the target site is determined by whether the link is a dofollow or nofollow link.
Backlinks with the rel= "nofollow" attribute are considered nofollow links. This HTML tag instructs search robots to avoid that link and not transfer the referring site's page rank to the target site.
Although nofollow links do not affect SEO results, they are still beneficial. If you post an article on a reputable publication such as Forbes, the links will be nofollow, but they will still generate referral traffic.
To Contents ↑
Anchor text
The anchor text is the visible and clickable part of a link visible to the user. It is good for SEO since it informs search engines and people about the linked page. It is vital to avoid over-optimizing the anchor text for links because this may lead to a penalty from Google. Why? Search robots often use anchor text to determine which keywords rank a page.
Additionally, it's a good habit to have a backlink profile containing various anchor texts (branded, domain name, naked URL, partial match, generic, etc.). It gives your link profile a more natural appearance and protects you from penalties.
To Contents ↑
What to do next
The truth is that simply knowing who links to your website isn't particularly insightful or helpful. Let's look at a few practical ways to use link data to boost your SEO and increase organic traffic.
1. Analyze your link profile and remove potentially dangerous links
In the same way that low-quality links can harm your website, high-quality links can help it grow. It is vital to monitor your link profile continuously to ensure it is free of these harmful links.
The following are some examples of harmful links that can harm your site:
Excessive random nofollow links
Forum links
Public blog network links
Guest post links with spammy anchor text
Blog comment links
After compiling a list of undesirable links, the first step toward removing them is to contact the web admins of the sites that contain the unwanted links and request that they remove the links or apply a nofollow tag.
You can delete the pages receiving poor links, but this is not a smart option, especially if some of your most important pages receive terrible links.
Alternatively, you can use Google's disavow tool. It allows you to upload a file containing a list of URLs that you do not want Google to evaluate.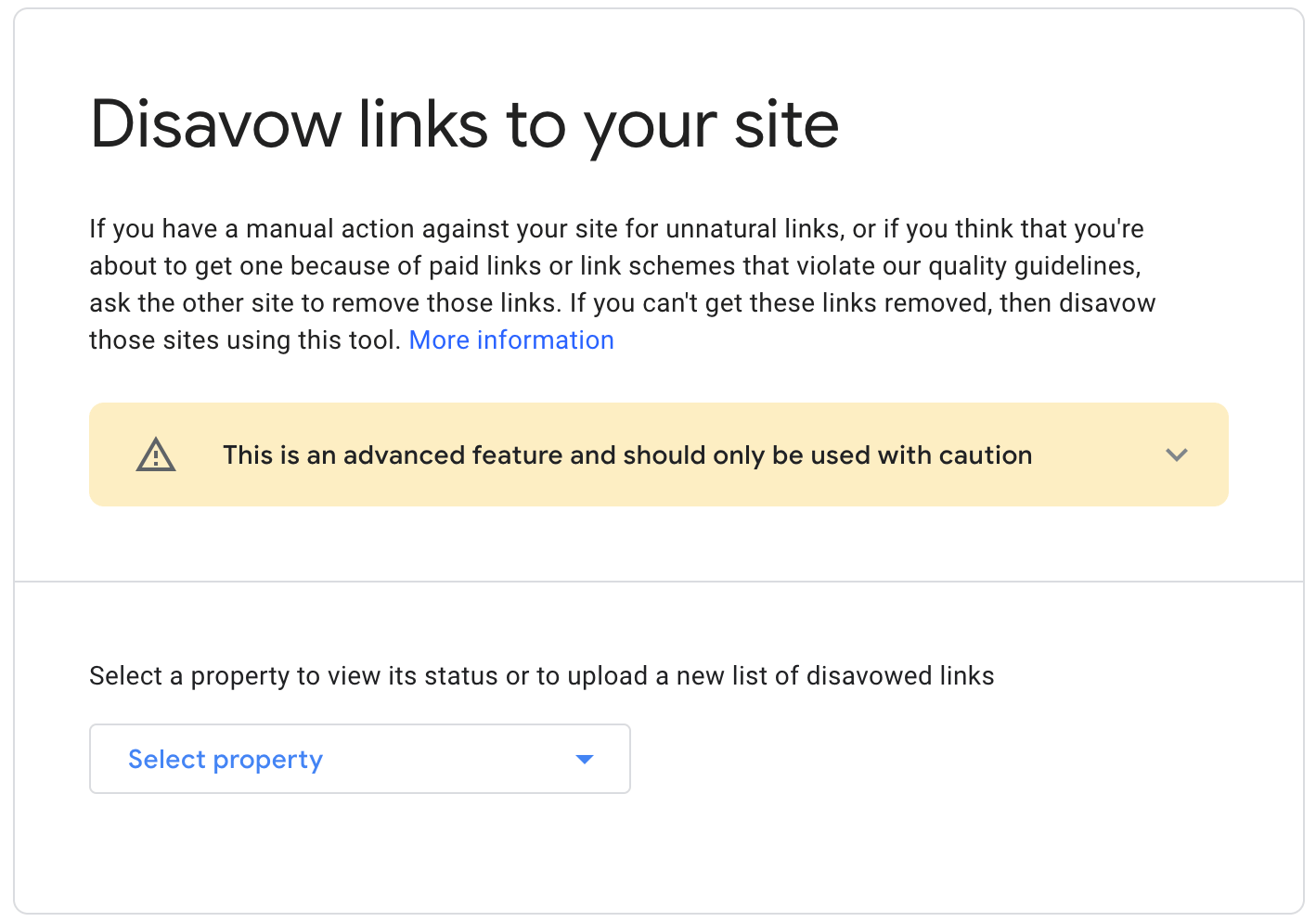 You must be careful when using this tool, as Google notes that it can cause more harm than good if not used properly.
To Contents ↑
2. Build and nurture relationships with serial linkers
Serial linkers are people who repeatedly link to your website. These are usually publishers with whom you already have a positive relationship. You can find out who they are in Google Search Console; go to the top linked sites report and rank the target pages from high to low.

Ignore social networking sites (facebook.com, etc.) and forums (reddit.com, etc.). The key is to maintain relationships with the people who run websites, as they may link to you again in the future.
However, here is a practical approach to expand on this concept: determine your competitors' serial linkers and then develop ties with them as well. To do so, go to Ahrefs Site Explorer and paste a competitor domain into the Competing domains field. Then, navigate to the Referring domains report.
Site Explorer > Competitor domains > Referring domains > add "dofollow" > sort by amount of dofollow links to target (high to low).

Check links from well-known websites or ones that appear to be industry blogs. To see the backlinks from each website, click the caret. Look for the website that matches the bill in your website's referring domains report and determine if the site already links to you. If that site has no links, or simply one or two, it may be worthwhile to pursue a relationship with them.
To Contents ↑
3. Learn from your most linked content
Link building is most effective when you have quality content that people want to link. However, infographics do not always generate more links than blog posts, studies, interactive quizzes, or any other type of content. Niche-specific content types tend to vary.
Look for correlations between your most linked pages to better understand what works and doesn't in your niche.
Search Console > select property > Top linked pages > sort by Linking sites.
To Contents ↑
4. Reclaim the value from links you already have
Broken pages aren't just bad for users. They're also unfavorable to SEO, so it's best to fix them. Backlinks effectively boost your website's authority, which flows through internal links to other pages on your site. If an internal link directs to broken pages, this PageRank is lost. You can use a coverage report to get notified about broken pages in Google Search Console.
Navigate to Search Console > Coverage > Errors tab to view the broken pages notification.
Search for 4XX errors as shown above. Click on the error to view which pages are affected.
Unfortunately, this Search Console report doesn't indicate if the affected pages have backlinks. You can find out by looking at the top linked pages report and filtering for the broken page.
Search Console > Links > External > Top linked pages > filter > Target page contains > broken URL.
To Contents ↑
5. Analyze your competitor's link profile and identify link opportunities
Getting links from websites that link to competitors with similar content is an excellent strategy. You can get links from these sites by creating quality pages similar to your competitors. Scan your competitors' link profiles for backlink opportunities using one of the aforementioned tools (SEMRush, Ahrefs, Linkscape). Look for referring high authority domains with lots of dofollow links.
Also, keep track of the types of pages that are receiving links so that you can create similar linkable content in the future.
To Contents ↑
6. Build more links to your most important pages
After identifying profitable link opportunities, you'll want to launch link-building campaigns to build links to your most important pages. There are lots of practical link-building strategies. Guest posting and outreach campaigns are two effective techniques for gaining links to your most important pages.
Guest posting
Guest posting allows you to give something valuable to a referring website for free. When running your guest posting campaigns, make sure to reach out to websites that permit you to link back to your website within the post.  It will provide you with high-quality links to your most important pages, which will improve your SEO rankings.
Outreach campaigns
Using this technique is another way to quickly generate high-quality backlinks by compiling a list of high authority websites similar to your business niche and contacting them to request a link.
The skyscraper technique is another way to improve the effectiveness of your outreach campaigns. You'll find a competitor's page with many high-quality links similar to yours here. Improve your page to make it noticeably better, then contact the referring sites and request that they link to your higher-quality content.
Conclusion
Backlinks are an essential component of off-page SEO because they serve as a sign of confidence from one website to another. Google uses them to rank pages for relevant search phrases. Finding out who links to your website is an excellent place to start, but it won't improve your SEO—understanding how to compare with your competitors and learning from successful SEO experts. It's also impossible to grow traffic by following only Google's best practices. Your first analysis using GSC can provide multiple insights, but practice is the best teacher. The same applies to the ability to earn money by placing ads on your website.