Over 15% of Google's daily searches are for new terms that users have never looked up before. Context is now the most critical factor to consider when creating great content.
This is precisely why related keywords have become an essential part of Google's ranking factors. Using LSI keywords can improve the context of your content and your search visibility.
In this article, we'll cover everything you need to know about LSI keywords so you can improve your SEO, attract more readers, and drive more relevant traffic to your website. You'll learn why LSI keywords are so crucial for content marketing and SEO and how to use them in your own strategy.
What is LSI?
LSI is an acronym for Latent Semantic Index(ing). This is a computer program that learns many synonyms based on their context. It's also a method for determining relationships between words and concepts in a piece of content that employs mathematical techniques. This is all bogus and has little to do with our topic, remember we're here to discuss Keywords.
What are LSI keywords?
LSI keywords are terms that are semantically related to the page's target keyword. Like synonyms, they bolster the keyword usage, providing more context and making it easier for users and search engines to understand the page content.
For this post, our primary keyword is "LSI keywords. But after doing our initial LSI keyword research, we came up with this list of words that Google expects to see in this article.
| | | |
| --- | --- | --- |
| LSI | google | words |
| results | related | phrases |
| rankings | meaning | polysemic |
| entities | search | keywords |
| pages | technology | semantically |
| relevant | example | synonyms |
| latent | rank | semantic |
| autocomplete | index | contexts |
As you can see, each word can be appropriately used in this article in conjunction with the main keyword. Don't worry if this sounds confusing. We'll go over how to find LSI/related keywords quickly and how to use them in your content to rank higher and more frequently.
| | |
| --- | --- |
| Putting an awesome lot of effort into growing website traffic, you simply can't miss any opportunity to make it return you good money. | |
To Contents ↑
The differences between LSI keywords and synonyms
Not all synonyms are LSI keywords, and not all LSI keywords are synonyms. Most LSI keywords are closely related words and phrases to your primary keyword.
For example, "coat" is a synonym for "jacket." But words like winter, feather, warm, padded, puffer, and fur are LSI keywords related to "jacket".
A quick Google search can show you the difference between synonyms and LSI keywords. The latter often appears in the drop-down menu as suggested searches: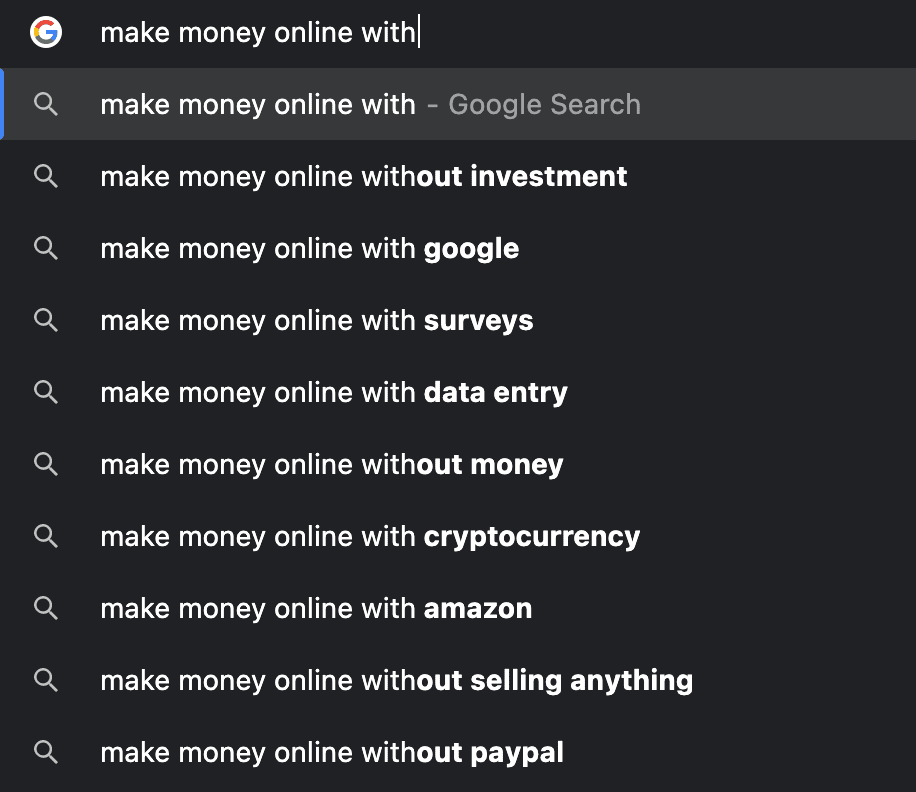 To Contents ↑
What are the advantages of adding LSI keywords?
With millions of Google searches every day, Google has upgraded its algorithm to account for context to understand the content better and direct its users to pages that will most likely satisfy their queries. Using LSI keywords in your article improves its contextuality and provides SEO advantages:
They help your webpages rank higher in SERPs: Using up to 10 LSI keywords in your web copy enables search robots to understand the page better. If all is well with your technical and off-page SEO, chances are you'll rank higher than a competitor who fails to incorporate LSI;
Semantic keywords add relevance to your content: Using related words helps avoid keyword stuffing while meeting the required keyword density;
Boosts traffic to your content: By using words related to the main keyword, you'll capture a portion of searchers who often use obscure search phrases. For example, if someone searching for a [winter jacket] uses the term [winter fur coat], a webpage with the fur, feather, coat LSI terms will rank before other pages that focus on just [winter jacket].
To Contents ↑
What does Google say about LSI?
Considering how latent semantic words improve your content, Google representatives have clearly stated that they don't use LSI technology.
Furthermore, we see evidence that Google understands synonyms and polysemy daily. The best way to put it is as Bill Slawski puts it:
The LSI technology was not designed for something as big as the Internet […] Google has developed a word vector approach (used in Rankbrain) that is more modern, scales better, and works on the web. Using LSI when Word2vec is available is like racing against a Ferrari in a go-cart.
Google tries to index synonyms and alternative meanings for words. But it isn't doing so with LSI technology. So It can be misleading to call it LSI. Since at least 2003, Google has offered synonym substitutions and query refinements based on synonyms, but this does not imply using LSI.
To Contents ↑
Can you improve rankings using related words, phrases?
Most SEOs consider "LSI keywords" to be nothing more than words, phrases, and entities contextually related to the page's main keyword.
Yes, using some words and phrases in your content can certainly help improve SEO if we go by our definition of LSI.
Here's how Google hints at it:
Consider this: if you're looking for 'cars,' you probably don't want a page that contains the word 'cars' hundreds of times. With this in mind, algorithms look to see if a page has other relevant content besides the keyword 'cars,' such as car pictures, videos, or even a manufacturer's list.
Google recognizes individual manufacturer names as semantically related on a page about cars. But why do these pages assist in the ranking of relevant terms?
Simple: They help Google determine the overall topic of the page. Here are two pages that each has the same number of keyword appearance of the word "cars":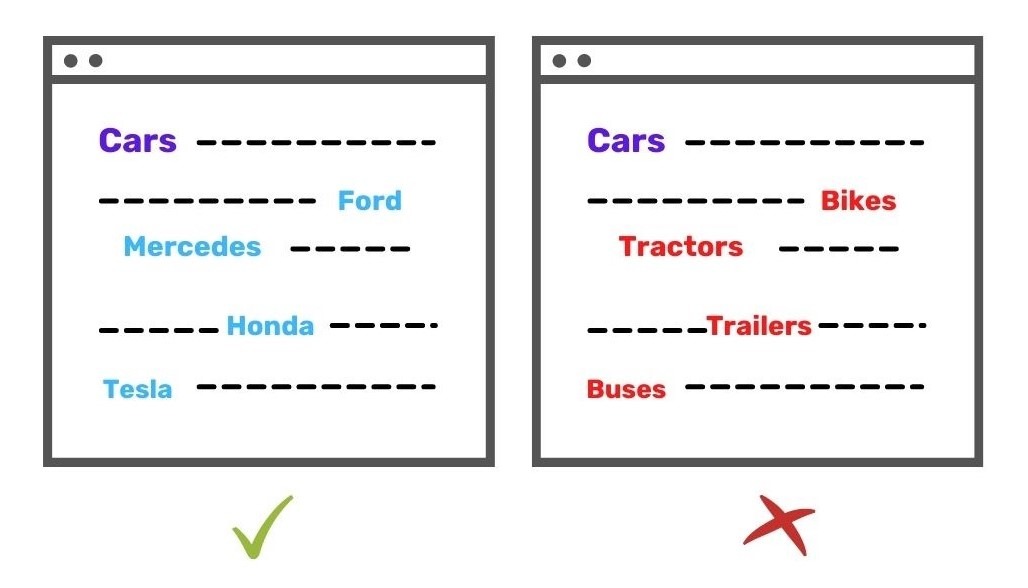 Only the first page, based on the other important words and phrases on each page, is really about cars. The second is primarily concerned with vehicles in general. So which page do you think should rank higher for the query [cars]?
To Contents ↑
How to find words that are semantically related to your content
So, how do you come up with semantically related words to use in your content? When conducting keyword research, there are five ways you can take to find words that you'd expect to see in an article on the topic:
Investigate Google's Related Searches
Go to Google and type in the main keyword for your page. We'll use [make money blogging] as an example.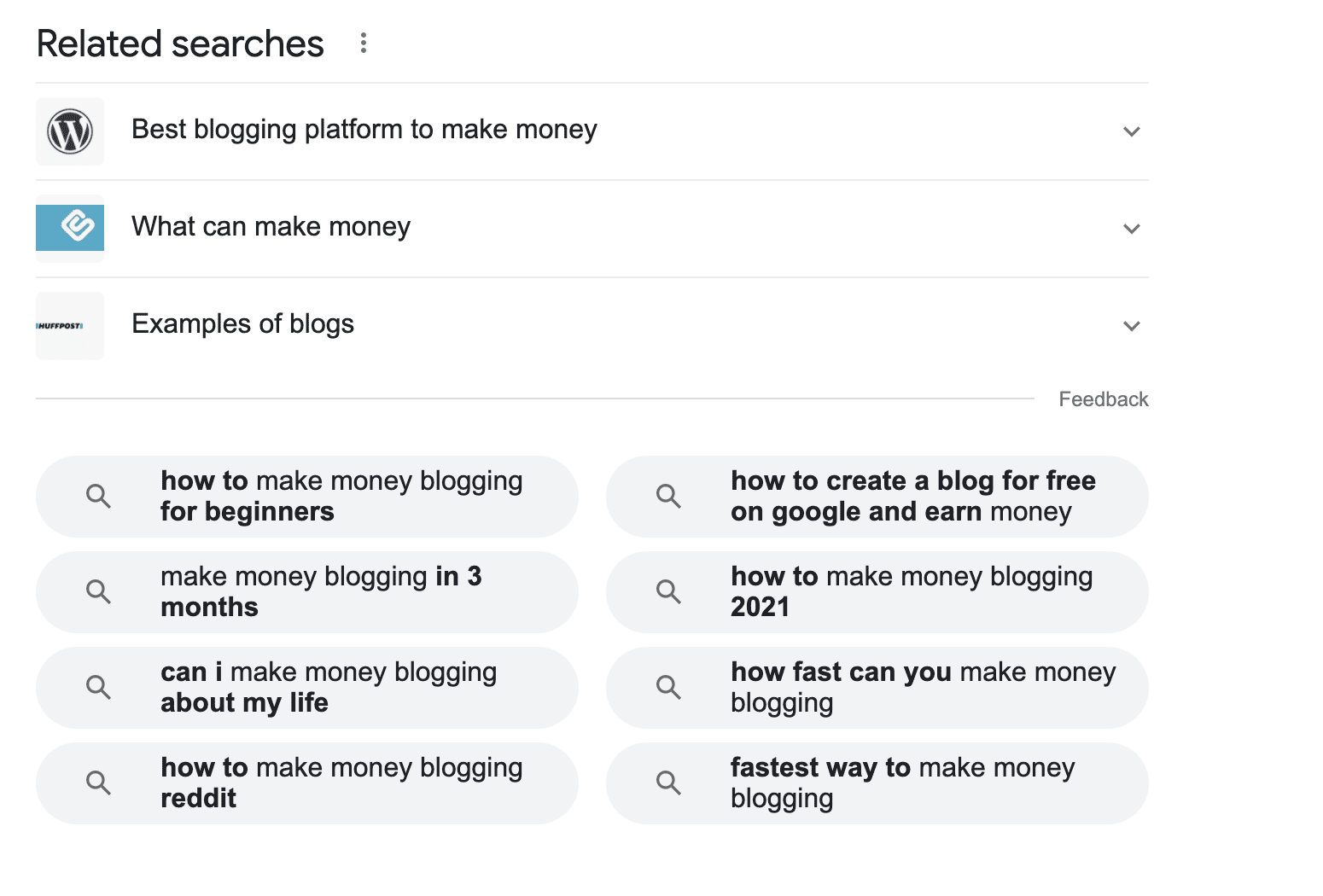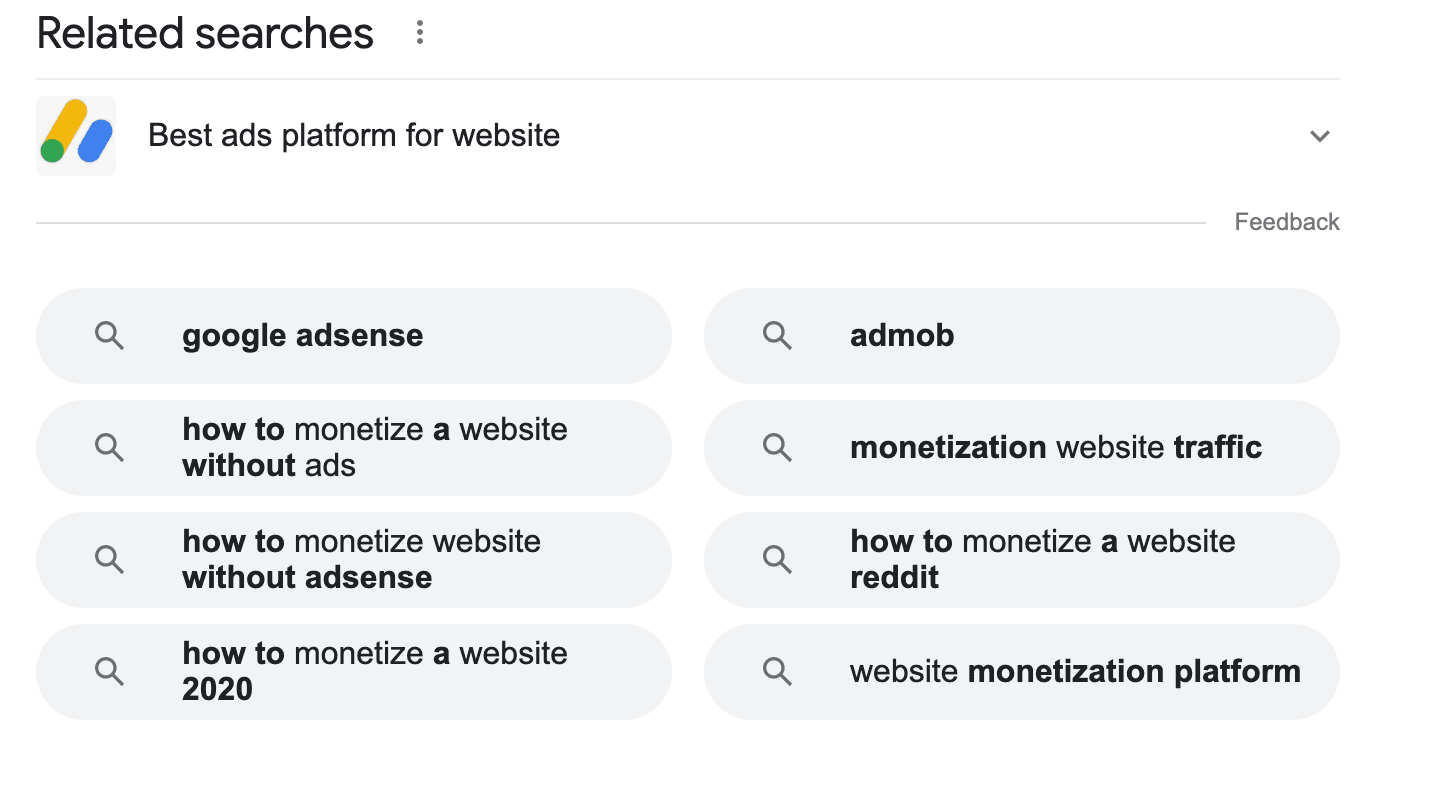 You'll see the "Related searches" at the bottom of the first SERP. If we do the same thing for 'monetize a website,' we get:
Use these topics and highlighted words as a starting point for new topics to discuss in your content.
Of course, use your common sense and only include those that make sense in your content. If your target audience is in the United States, you wouldn't want to include references to 'Canada.'
To Contents ↑
Use the Google Autocomplete feature
Another quick and easy way to find related keywords for your content is to use Google Autocomplete feature. Go to the Google search bar and enter your main keyword, but don't press the search button. You'll see that an autocomplete list drops down.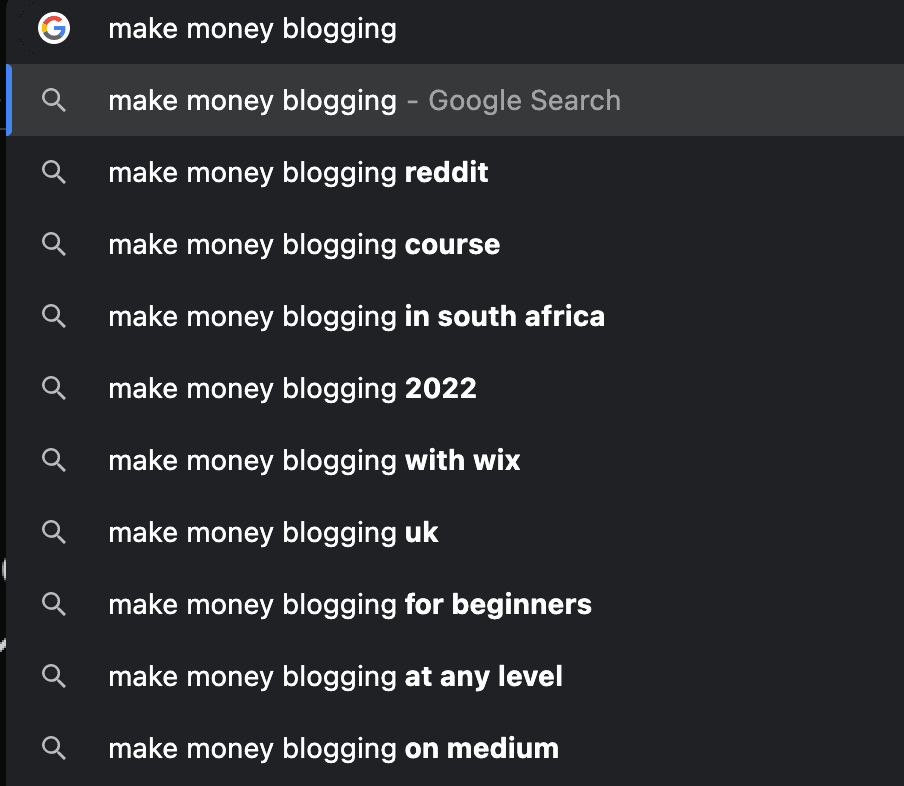 To Contents ↑
Analyze people also ask (PAA) results
You can use the People Also Ask results to get more ideas, just like you can use related searches on Google to find related keywords to include in your content.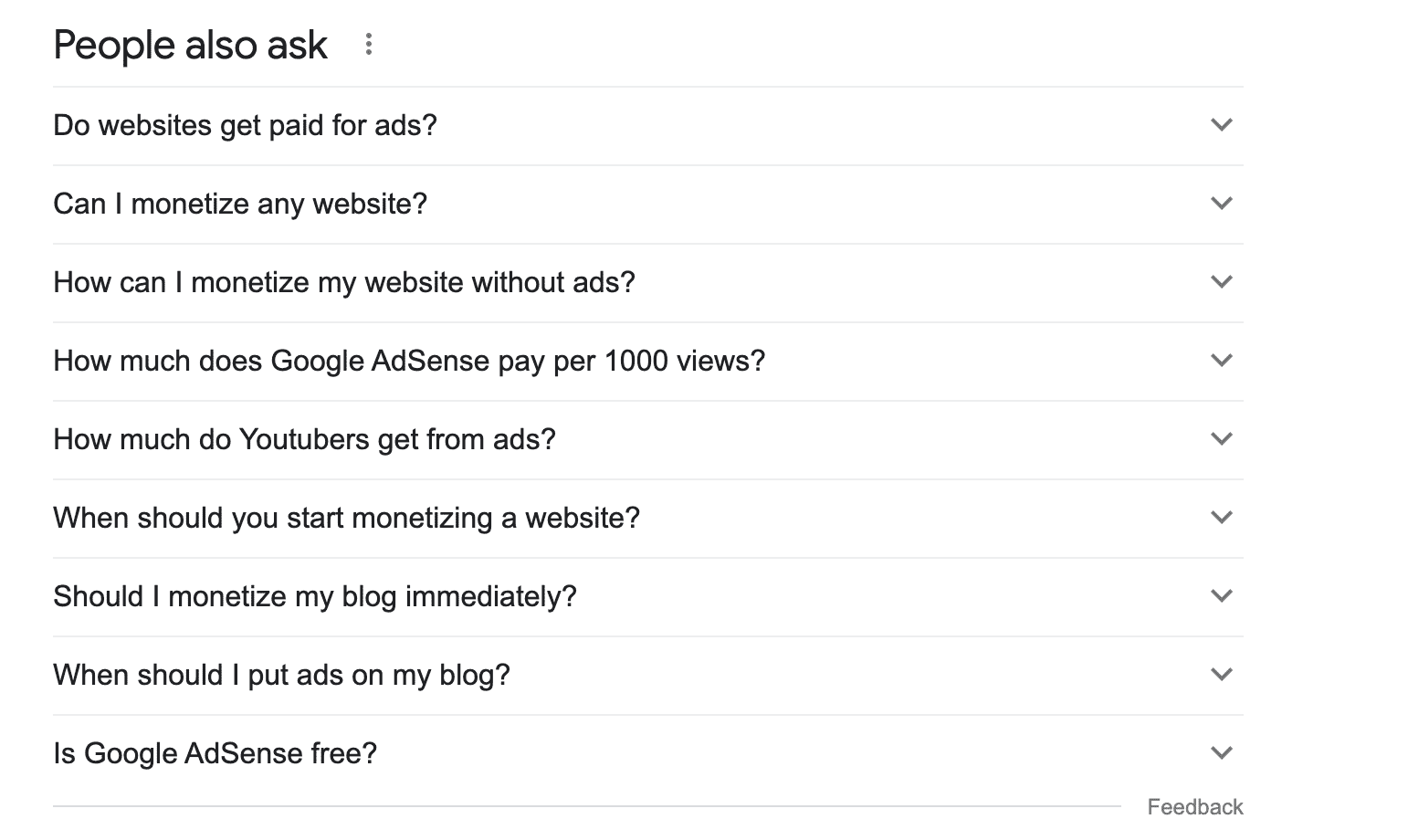 "Google's People Also Ask box is an interactive, universal search result that shows a box of questions that other people have asked concerning your original search."
Type in your main keyword, and the PAA boxes will expand, giving you suggestions for semantically related words to use.
Use the Keyword magic tool from Semrush
Enter your main keyword into the Semrush Keyword Magic Tool to get a list of keyword ideas. Go to the' related' tab to view a list of keywords similar to the seed keyword.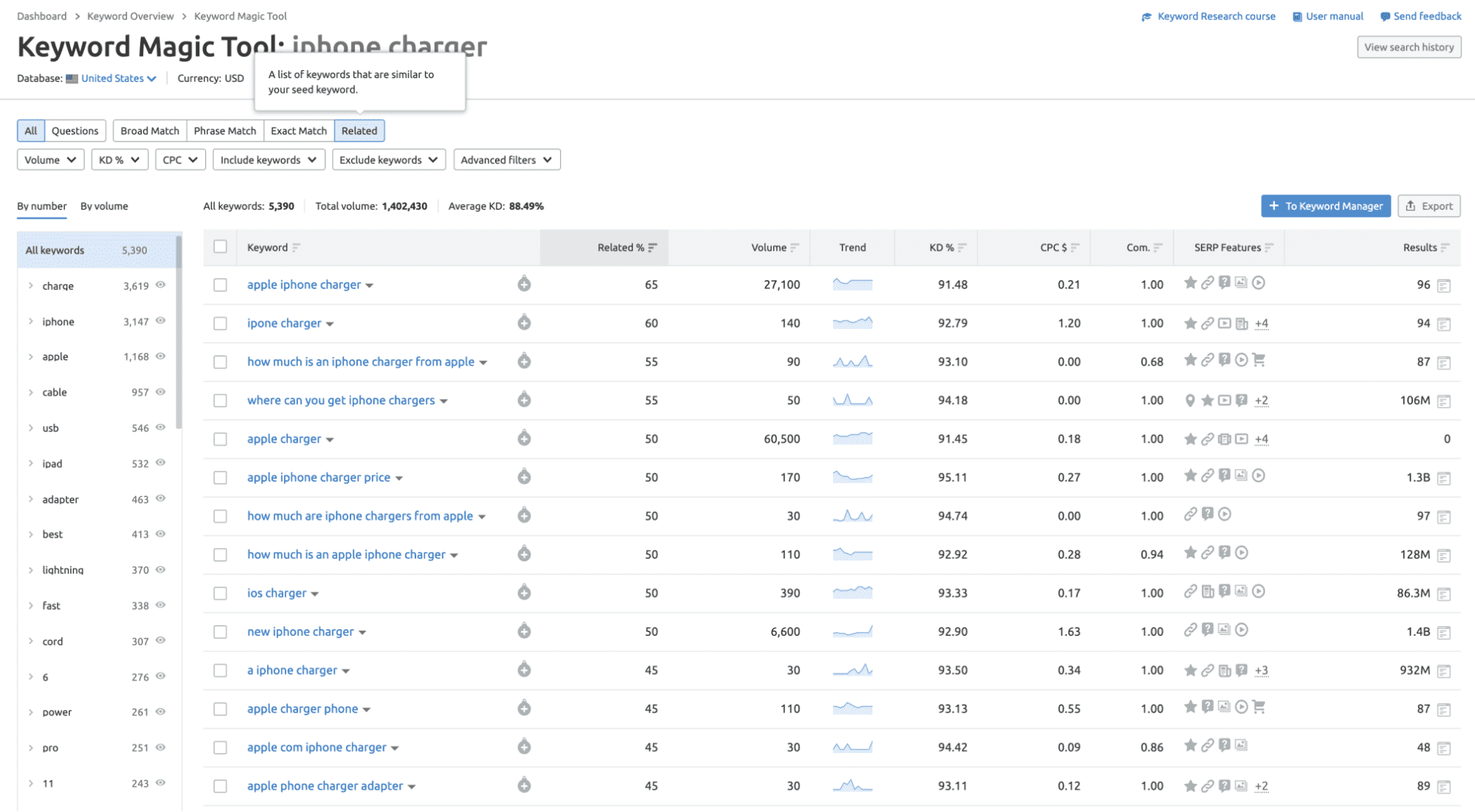 To Contents ↑
Use the SEO Content template tool from Semrush
Another excellent tool for finding the main semantically related words based on your target keyword's top pages ranking is the Semrush SEO Content Template Tool.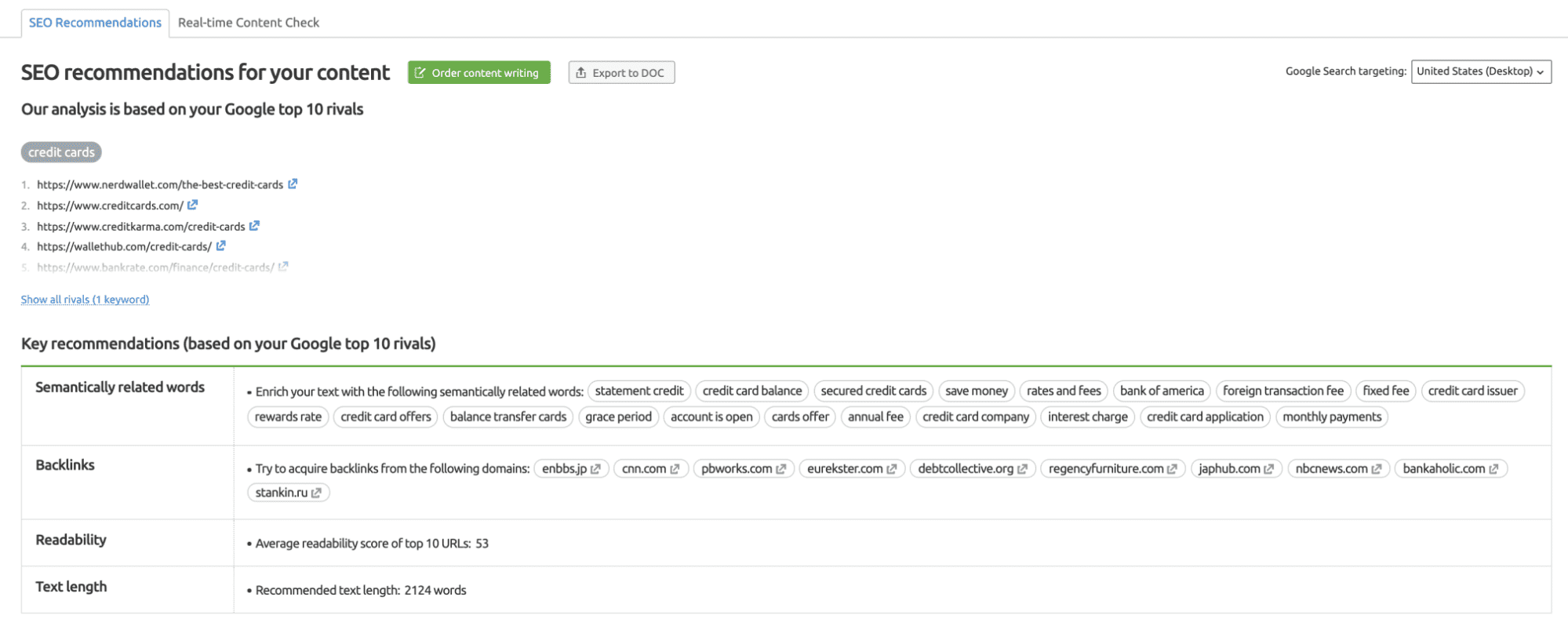 Go to the 'key recommendations' box and the semantically related words section for more information.
These keywords are often extracted from your top 10 rivals on Google. Please include them in your content to ensure that you're discussing the same topics and using the exact words as the pages already ranking.
Despite the SEO community's ongoing debate over whether LSI keywords are real, there's no denying that you should use semantically related words in your content. Include steps to find these in your keyword research process, and provide these to your writers as related phrases to use. Just make sure to explain what they are and how you'll use them to improve the topical relevance of your content.
To Contents ↑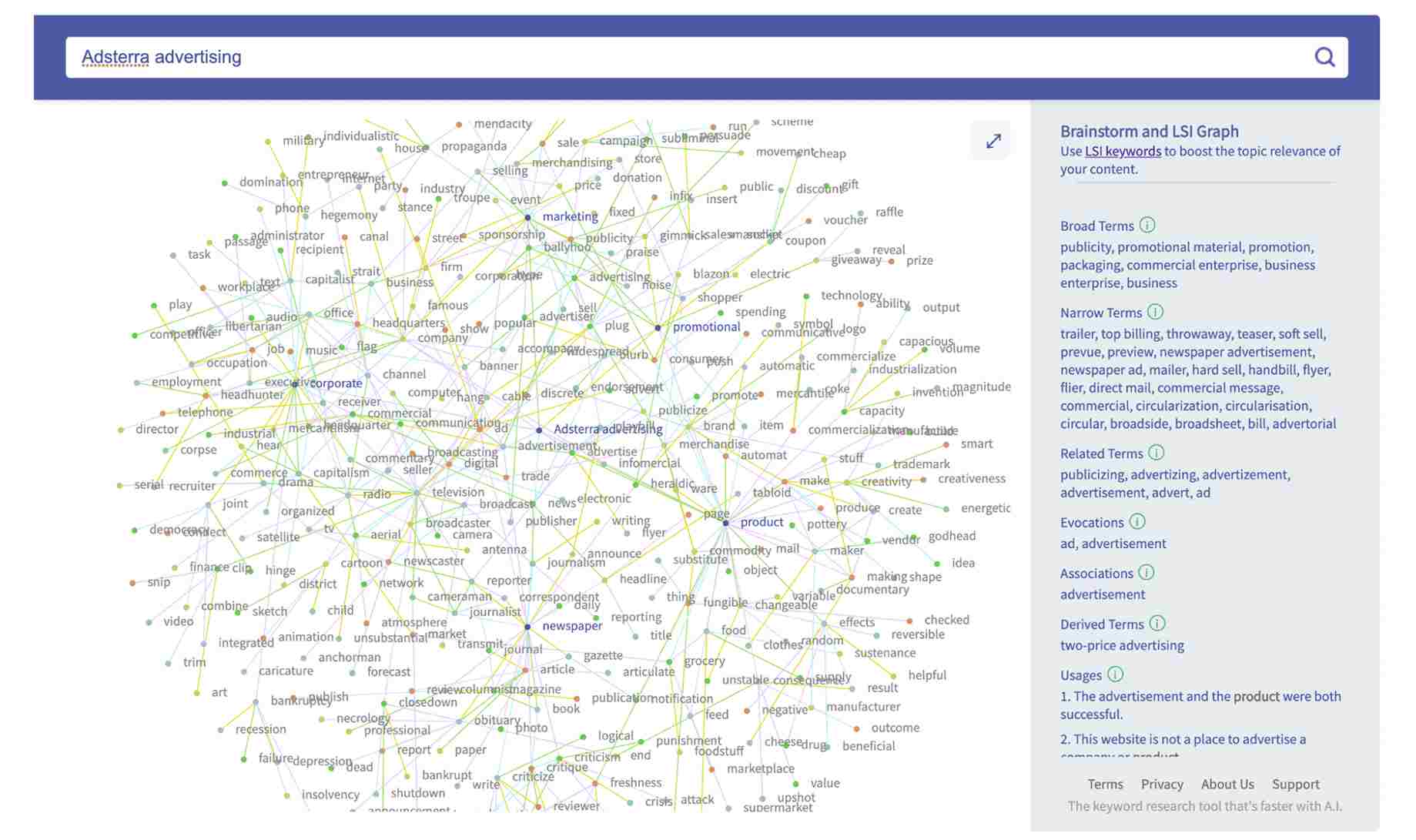 A free LSI keyword generator that helps you quickly find all the terms related to your primary keyword. Just enter your page's target keyword, and the tool provides a list of LSI terms to choose from.
To Contents ↑
Serpstat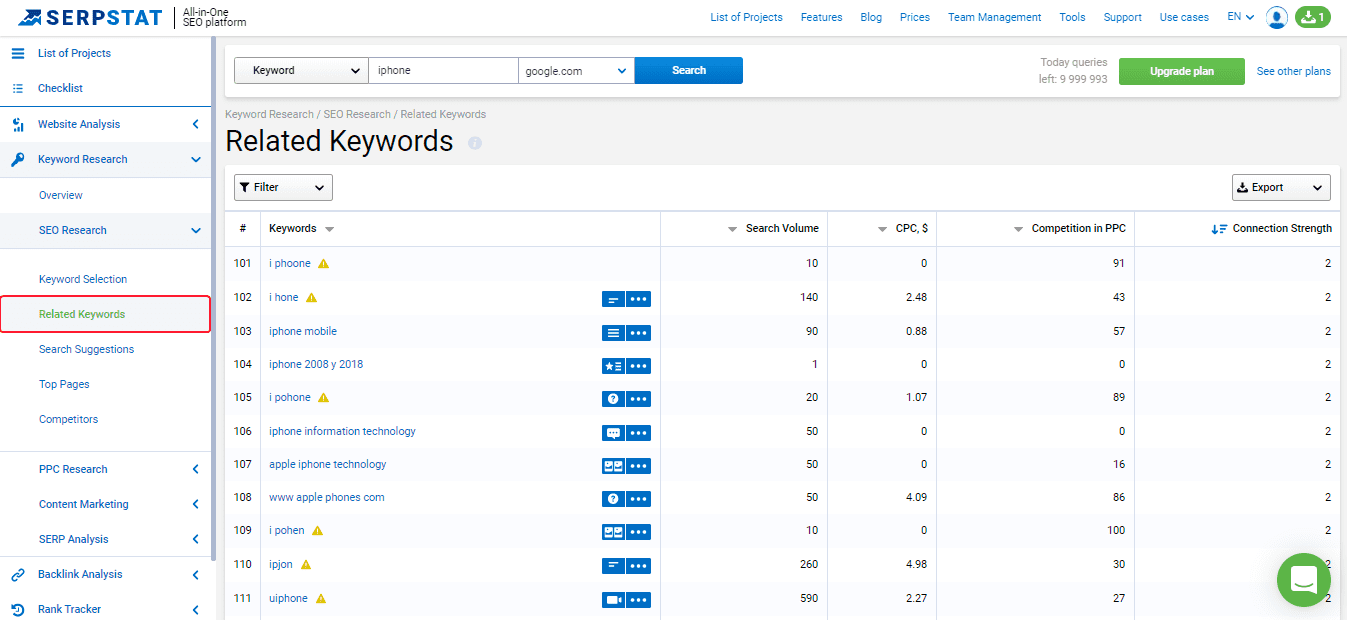 Another useful tool for finding semantically related phrases for your posts is Serpstat. Simply enter your primary keyword and select SEO Research > Related Keywords from the drop-down menu. You will be given a long list of words and phrases from which to choose.
Of course, there are a variety of other keyword finders available, such as Ahrefs and Moz SEO tools. These are useful because they provide a comprehensive list of related keywords and filter them based on the search volume and the cost per click.
Let's examine the best ways to use LSI keywords in your content and SEO strategy now that you know how to find them using free keyword research tools.
To Contents ↑
How publishers should use LSI keywords
The keyword generators mentioned above will give you a long list of LSI keyword suggestions for your content. So let's discuss how to use them in your content and reap the benefits.
Choose the LSI keywords that are most relevant to your topic.
First, you have to determine which keywords are best for your topic. For example, if you're writing a blog post about "Affiliate Marketing Cost," the tool you're using might provide a long table, such as:
| | | | |
| --- | --- | --- | --- |
| affiliate | marketing | payout | advanced |
| budget | advertise | expensive | verticals |
| campaigns | beginner | affiliates | invest |
| traffic | revenue | spend | GEOs |
| offer | costs | profit | optimize |
| prices | earnings | competition | conversions |
And many more.
Most of these are excellent LSI for an article about the costs of affiliate marketing (depending on the context). When writing a blog post for Adsterra about the benefits of affiliate marketing, we'd use phrases like "How Much Money Should You Invest in Affiliate Marketing?" in addition to the main keyword.
To Contents ↑
1. Consider monthly search estimates
Finding the best LSI keywords for your copy can sometimes be challenging because some suggestions may be better suited for a completely different post. Look at the total monthly search estimate to decide whether it's worth incorporating the suggestion into the original article.
Your tool's keywords will work in different contexts, and you'll need to figure out which ones will work best for the page you're creating.
If you encounter keywords that don't fit your page during your research, you can still make a note of them to use on other pages to improve your website's overall SEO.
To Contents ↑
2. Use LSI keywords in the same places as your primary keyword
You can use your LSI keywords in the meta description and meta title, Table of Contents (H1, H2, H3), image alt tags, and throughout the body text. Make sure to use natural-sounding related words and phrases throughout your post.
3. Prioritize user experience
Don't overuse LSI keywords in your content. While these aren't technically your keywords, it's still very easy to overuse them—and if you do, you'll be penalized. Add just enough related words to help Google and other search engines quickly understand your page's context, but don't detract from the reader's experience.
You must include related keywords while maintaining a consistent, natural-sounding, and easy-to-follow tone in your content to do this effectively. This will help you avoid penalties, improve your visitors' experience, and make you money while blogging.
Here are some general guidelines for including related words in your content to help with SEO:
Don't use too many synonyms in your writing;
Write in the same conversational tone. Don't use words people rarely say in real life;
Use a fixed ratio of related terms (e.g., one LSI keyword for every 200-300 words).
To Contents ↑
Final thoughts
Regardless of how frequently you use LSI keywords, your primary goal should always be to provide readers with clear, concise, and valuable information that helps them find the answers and solutions. While also assisting in your business goal of converting readers into paying customers).
If you write to provide value first, you'll find that you naturally use related keywords throughout your text without even realizing it. Our article has covered everything you need to know about LSI keywords, including what they are, why they are essential, where to find them, and how to use them to improve your web copy.
Do you know how much you can earn with ads on your website? With Adsterra, you can generate revenue from even little volumes of website traffic today! While offering better terms than all other ad networks out there (including Google AdSense), we safeguard against fraud and are here to support you 24/7!