The main difference between "ad network vs affiliate network" is in the way you use them for turning a profit. You can use both platforms to advertise offers and capitalize from advertising. Many beginner publishers and affiliates find themselves a bit confused trying to choose between them. This "Ad Network vs Affiliate Network 101" is packed with vital definitions and examples that will make the whole topic crystal-clear. Let's gallop through all of them!
First, what's affiliate marketing?
The key to understanding affiliate networks is learning what affiliate marketing is. So it'll be helpful to drop a short definition here.
Doing affiliate marketing means getting commission from promoting someone else's products or services. In its classic representation, affiliate marketing demands its main actors — affiliates — to take a unique link to a product's page and then prepare a promotional article.
Affiliates can create landing pages, reviews, ratings, tutorials, and articles with links inside. They get payouts when a user purchases the product via these links.

In its more lightweight but not less powerful state, CPA affiliate marketing is about buying traffic. Affiliate marketers are professionals who agree to purchase traffic to advertise third-party products. They get a commission for every approved conversion their traffic performs. In most cases, they need to make as many conversions from the traffic they buy as possible: purchases, orders, leads, installs, downloads, and others.

Well, don't you think something is missing here? If so, you're right! Where do affiliates get the products to advertise? How will they know how much they will earn and which traffic to buy? That's when they turn to affiliate networks.
To Contents ↑
Ad Network vs Affiliate Network | Definitions
The right way to get the point about how advertising and affiliate networks are different is to lay down their definitions. How will you define them?
An ad network is a platform that brings together two groups of users: advertisers (aka merchants) and publishers (aka webmasters). The first group comes here in the search for massive quality traffic. The second group provides traffic.
An affiliate network is a kind of marketplace where advertisers place lots of offers seeking affiliate marketers who will promote those offers for commission.
Roughly speaking, ad networks are focused on traffic; they're traffic sources for advertisers and income sources for publishers who send traffic 🙂 In the meantime, affiliate networks are about offers; they hold offers for promotion and attract skilled marketing pros who are ready to promote products.

It's time to move on and find out how both platforms worlk.
---
Whichever way of growing earnings you choose, you can rely on a trusted partner that sends generous payouts for traffic
---
To Contents ↑
How does an advertising network work?
In a few words, these networks provide algorithms to deliver the most relevant ads to the most interested users. Ads are represented by several standard and non-standard visual formats. You probably heard of Native Banners, In-Page Push, Popunders, or VAST Videos. Yes, these are ad formats.

Ad networks develop multi-functional accounts for merchants and marketers who run campaigns so they can select which advertising format they need, which audiences they want to get, from which countries, and at which price (aka bid). These prices or bids become publishers' payouts.

On the other hand, ad networks must furnish publishers' accounts to help them choose which ad formats they can put on websites and control the commission they get. Publishers then register, generate ad scripts, and place them on any website: HTML, WordPress, Blogger, or other CMS.

Basically, if you're a website owner, you will take the ad script and put it on your website. Visitors will watch different offers while advertisers will pay you. To cover the topic of making money with ad networks, let's jump into the next section.
To Contents ↑
How can you use an ad network to earn money?
Last but not least comes the question of moneymaking. How do you grow earnings with advertising networks? As we said earlier, advertisers are eager to deliver their ads to millions of users. Publishers fulfill this demand by exposing banners, popunders, and push ads on their websites.

You can become a Publisher by offering your website traffic to advertisers. You will need to sign up and put one or several scripts on web pages. Payouts will come from ad views, usually a specific rate for 1,000 impressions (CPM), but also clicks (CPC) and conversions (CPA).

CPM rates vary depending on your traffic volume, quality, geo, season, and other factors. See them listed with powerful life hacks to CPM improvement in our guide.
To Contents ↑
How can you use an ad network to promote your services?
The way millions of marketers leverage Google Display Network to run campaigns targeted by tens of parameters, they turn to alternative global ad networks, too. On Adsterra, for instance, they can set up over 15 targeting parameters to deliver ads to various segments of users from 248 geolocations. With over 20K publishers using Adsterra, it is feasible to reach any traffic segment.

To ensure advertisements match user interests and patterns, ad networks either compare campaigns and traffic sources manually (that's pretty old-school but still in use) or develop intelligent algorithms. For instance, Adsterra uses AI-powered, in-house solutions to deliver offers to the most ready-to-act users.

Now that we've outlined the principles of working and making money with ad networks, we are moving to the very same topics concerning affiliate networks.
To Contents ↑
Affiliate networks. How they work
As you have learned before, affiliate networks are a kind of marketplace where merchants place their offers (aka orders). Offers may come from various niches and verticals like Mobile Apps, Ecommerce, Home Improvement and Security, iGaming, Software, etc.

An offer is a set of criteria describing:
the product (name, images, landing page);
target audience;
country or countries,
traffic type (desktop or mobile);
user characteristics: device, OS, browser, etc.;
a type of action users need to perform so that an affiliate gets paid for traffic: fill up the lead form, sign up to some services, subscribe to a paid service, place an order.
the amount of payout that can vary depending on the lead value.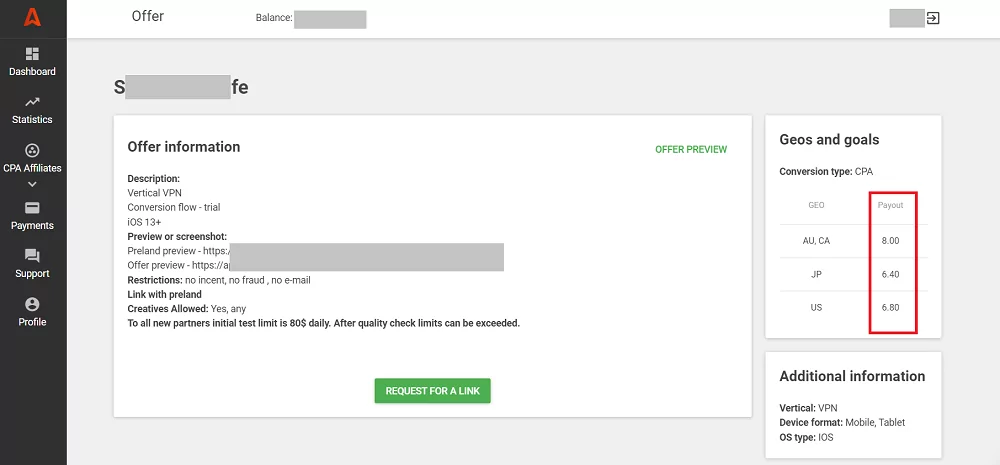 Many product owners, merchants, and agencies use affiliate networks because they need expert marketers to run their offers. But how do affiliate marketers make money? The following section will break down the basics.
To Contents ↑
How to earn with affiliate networks?
Affiliate marketers pick one or several offers on an affiliate network. They will then need to get as much quality traffic and make as many conversions as possible.

Earning with an affiliate network means getting payouts for conversions. Advertisers check and send to verification every conversion. If approved, an affiliate receives money on their accounts.

Affiliate networks ensure all approved conversions are paid and transfer commissions to affiliates. Some unique ones take all financial risks and send payouts without getting approval from advertisers.
Where do affiliate marketers take traffic from?
If an affiliate network is a source of offers, where can a marketer find traffic to advertise an offer? The most obvious answer is an…ad network! As said earlier, ad networks serve rich traffic to fulfill any demand. But they're not the only traffic source. Affiliate marketers are experts in buying:
Search traffic (Google, Bing, etc.);
Social traffic (Facebook, TikTok, Instagram);
Niche traffic (ad networks that accumulate specific traffic sources);
Organic traffic (it's about using their websites as traffic sources).
CPA affiliate marketers need to buy enough traffic to get enough conversions and make a profit from promoting an offer. In other words, the payouts they get must be higher than the price they spent on promotion.

It's no secret that CPA marketing can be costly, but it also pays off well. There is no upper-income level; it can amount to hundreds, thousands, or tens of thousands of dollars.
To Contents ↑
Summary
All differences between "ad network vs affiliate network" have become clear by now, and you can easily decide which way to use to amp your earnings in 2022 and later.

In a nutshell, ad networks are best for website owners or publishers who can put Popunders, Banners, or other scripts on their website and enjoy a passive income that comes from ad views.

Affiliate networks are sources of offers. Skilled marketers hunt for offers to advertise and get paid commissions for conversions.

Adsterra Ad Network has been among the highest-paying CPM ad networks for publishers. 21K website owners earn about $55M yearly with us.

Adsterra CPA Network is a source of tested and high-converting offers for affiliate marketers that streams luxury payouts. Stay with us, and your earnings will come fluently!