While February starts spraying love vibes with Valentine's cards💌, we believe that good deals speak better than words. From now on, all Adsterra advertisers and publishers can benefit from special offers delivered by our partners. You can check current Adsterra bonuses and promo codes kindly provided by reputable software platforms and expert communities right in your Advertiser's or Publisher's account.

Keep reading as we're going to share how to cherry-pick bonuses and extras in your account revealing all benefits you can enjoy with the Adsterra Community.
All special offers by Adsterra partners in one place
Adsterra collaborates with lots of top-notch platforms and services worldwide. But what if you could profit from this collaboration? You now will! We opened a whole source of special offers and promo codes for all of our advertisers and publishers who use software or other smart tools to boost sales and measure KPIs.

Tadaaa! Here it is!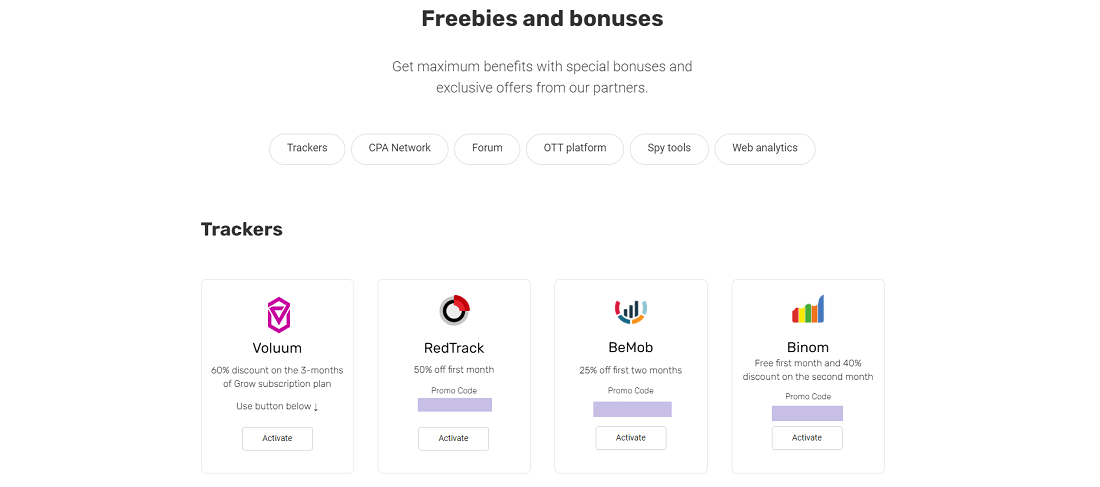 Here you can find freebies, promo codes, and special deals by market-leading players:
Tracking services and tools;
Web analytics platforms;
Forums and Communities;
OTT platforms;
Retargeting platforms;
CPA Networks;
…and we're going to enrich this list.
For instance, advertisers can now get 50% OFF the first month of any RedTrack plans, while publishers will enjoy a 30% OFF the SiteChecker's services.
To Contents ↑
How to activate Adsterra bonuses provided by the network's partners?
You need nothing but having an Advertiser's or Publisher's account. Here you will regularly catch freebies and promo codes, which we promise to refresh. You have a new Freebies and Bounses tab on your vertical menu/toolbar.

That's how to access Freebies and Bonuses from an Advertiser's account.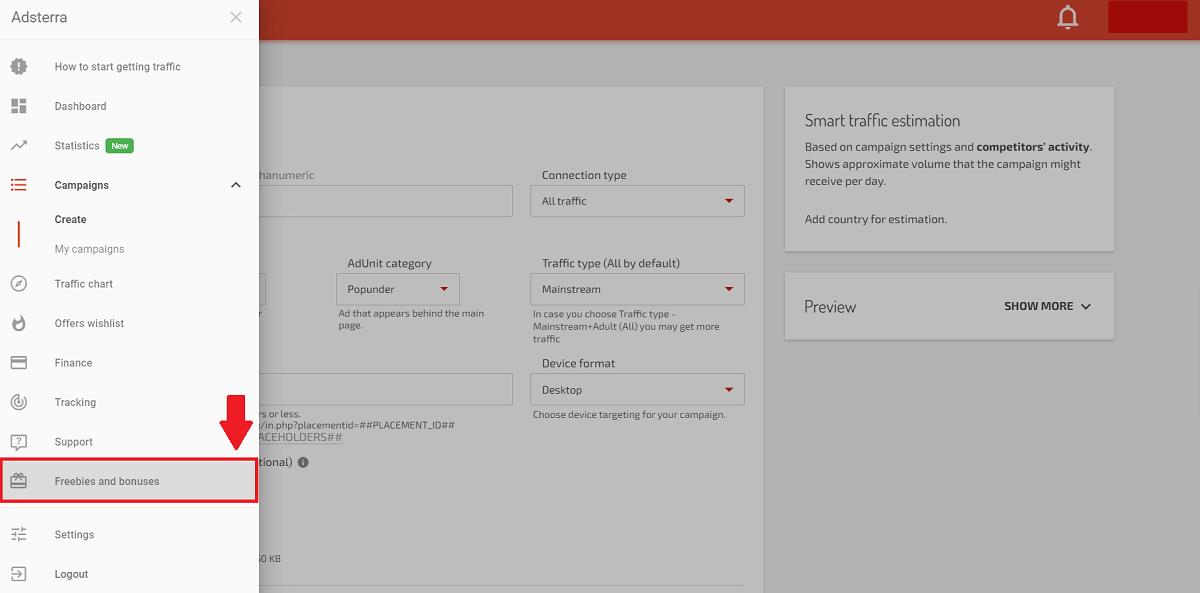 That's how to access Freebies and Bonuses from an Publisher's account.

To Contents ↑
The big idea behind: Adsterra Partner Care Program for advertisers and publishers
The idea to collect and share Adsterra bonuses stems from the mission we undertake with our Partner Care program. We don't range the Platform's users to important and unimportant, making our best to help every publisher and advertiser. Each year, Adsterra managers upgrade their skills and pass the in-house exams that evaluate their empathy, market expertise, and product knowledge. All Adsterra users get live support regardless of their status or earnings.

Adsterra experts trendwatch and digest tons of insights to deliver them in the form of actionable tips. These are tutorials for publishers like this one by our, or guidelines to campaigns' setup and optimization like these two on getting loads of traffic without raising bids (by Adsterra Head of CPM & RTB) and the Guide to Blacklisting by our Head of the CPA dept.
To Contents ↑
Partner Care Program for publishers includes:
Super-fast account approval.
SEO, traffic boost, and monetization tutorials.
VIP live support (24/7 live chat).
Anti-malware solutions.
Anti-Adblock solutions.
Partner Care Program for advertisers includes:
Friendly live support.
Dedicated managers (managed accounts).
Blacklists, whitelists, and top creatives shared on demand.
Anti-fraud protection.
Top Popunder offers in your account.
Top traffic slices shared weekly.
Adsterra bonuses and promo codes that can increase payouts or bump deposits
Let's talk numbers, real numbers that can bump your accounts. Publishers and advertisers can regularly use Adsterra money bonuses by joining special giveaways and contests.

Freebies are excellent, but real profit-makers treasure challenges the most. Achieving a goal of making $$$ in a specific period can ramp up your gusto for competition and bring unbelievable results. Here is why Adsterra partners willingly join seasonal profit marathons challenging themselves to achieve specific KPIs.
So, where do you get the latest leaks for Adsterra bonuses, promo codes, and challenges? By following us on any of your fav social networks. We're about to list them.
To Contents ↑
The Community of passionate pros
Connectivity is the key to a strong partnership. That's why we're staying in touch somewhere where our advertisers and publishers feel comfortable.

Join the Community of passionate pros and moneymakers to stay updated with the best CPM rates for geos and to discover top-traffic sources to rev up your campaigns.

Don't miss a single giveaway or raffle, as we announce all contests and exclusives.
Adsterra promo codes also spark on several pro forums like Afflift, STM, Wjunction.
To Contents ↑
Wrapping up
We could say "stay tuned," but we will shout "keep your profits high!" instead. We're happy to have you enrolled and will keep seeking the every single opportunity to make your way to higher ROI and earnings as smooth as possible. Red-hot promo codes await in your account. Go get them!