Oh, yet another guide to affiliate marketing for beginners! Why not if it still makes 6-figure revenues? Today, you will find out what affiliate marketers do to earn, how they connect with merchants, the mistakes to avoid, and many more. We'll also clarify the specifics of CPA marketing and spotlight the difference between affiliates and publishers.
If you're a beginner or pro, you need a trusted partner in growing revenues. Adsterra serves two powerful digital platforms for affiliates willing to buy traffic or pick offers to promote. Join the community of pros!
What is affiliate marketing?
Let's start with the affiliate marketing definition: It's a way of earning money online. It means you earn a commission an advertiser pays for promoting a product or service. Promoting how?

Way 1: You place affiliate links in your content where people can click them and visit the web page you promote.
Way 2: You purchase traffic and lead it to a website you're promoting.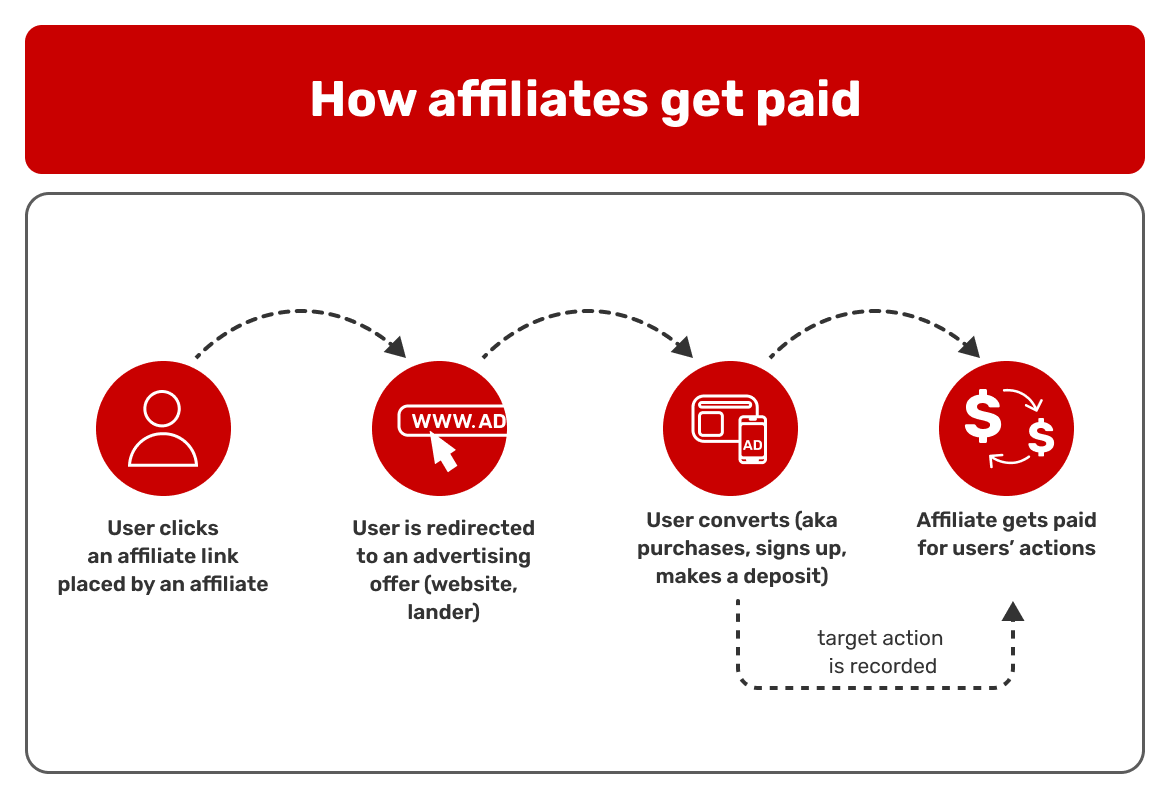 Okay, so we've got four unknown terms. Let's deal with them.
An advertiser (or merchant) is a brand or agency that hires you to promote their product.
Traffic is every type of user activity that can be valuable to the advertiser: page views, clicks, and sales. These are typically sales that matter.
Affiliate links are unique URLs provided by your advertiser that allow you to monitor how many users clicked them and bought something. You might have seen or even clicked them when reading product reviews and listicles. Usually, the article's author will disclose that the post contains promo links.
Purchasing traffic means paying for user views, clicks, or specific actions like subscriptions to a paid plan or else.
And in case you're about to type in Google "affiliate meaning," here it is: to partner closely or connect a product with the best-matching audience. These are not all new words we will cover today. Let's now see from the inside little magic.
To Contents ↑
How does affiliate marketing work?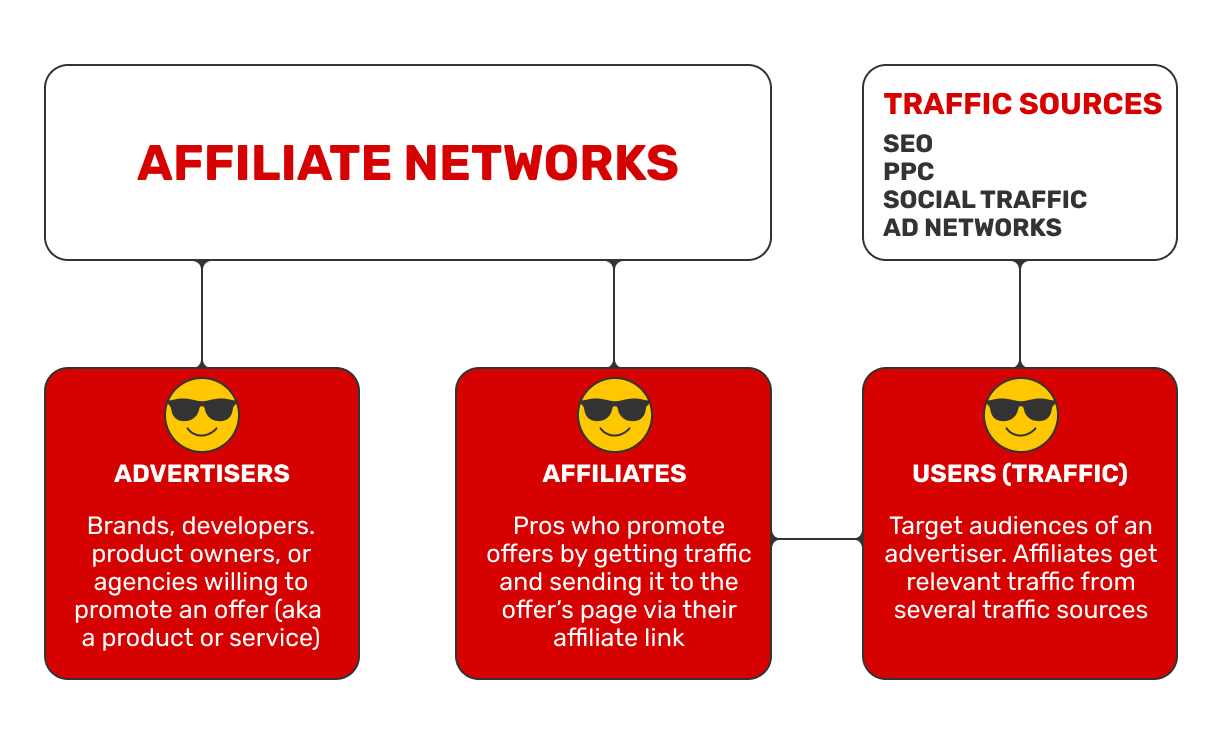 We've made the affiliate marketing meaning a bit clearer. Now let's see who and what makes it work full blast. These are three central powers that make this planet turn:
To Contents ↑
The Advertiser
Businesses, vendors, merchants, product creators, or retailers with a product to market fall under the "advertiser" category. Whether they're a sole proprietor or a large corporation doesn't matter. They could, for example, be a VPN provider, an App developer, or an iGaming platform. 

What do advertisers need? Lots of sales. They're in search of new markets. Here is why they hire affiliates to run campaigns in new countries or for a new audience. Both sides agree on a commission to be paid, a target audience, and other terms. All these conditions form an offer. Affiliates have to comply with the terms to get payouts by advertisers.
To Contents ↑
The Publisher or Affiliate Marketer
A person or team who promotes an advertiser's product to potential customers so that customers buy, sign up, download, or perform other actions. When the customer purchases the product, the affiliate receives a percentage of the sale. Masters of powerful promotion become entrepreneurs with 6-figure passive income. Well, we all know that one should be very active to achieve this "passive" level.
Difference between publishers, affiliates, and webmasters
Market actors argue about who exactly "publishers," "affiliates," and "webmasters" are. In general, they all are the same: those who make money from publishing quality content and engaging users in reading this content and clicking some promo links.
They get commissions when users click the link and buy something from an advertiser. But the meanings of these terms can change if you enter a domain of traffic buying. Take a look at the picture below where we tried to outline the main actors within Adsterra CPA Network and Adsterra Ad network.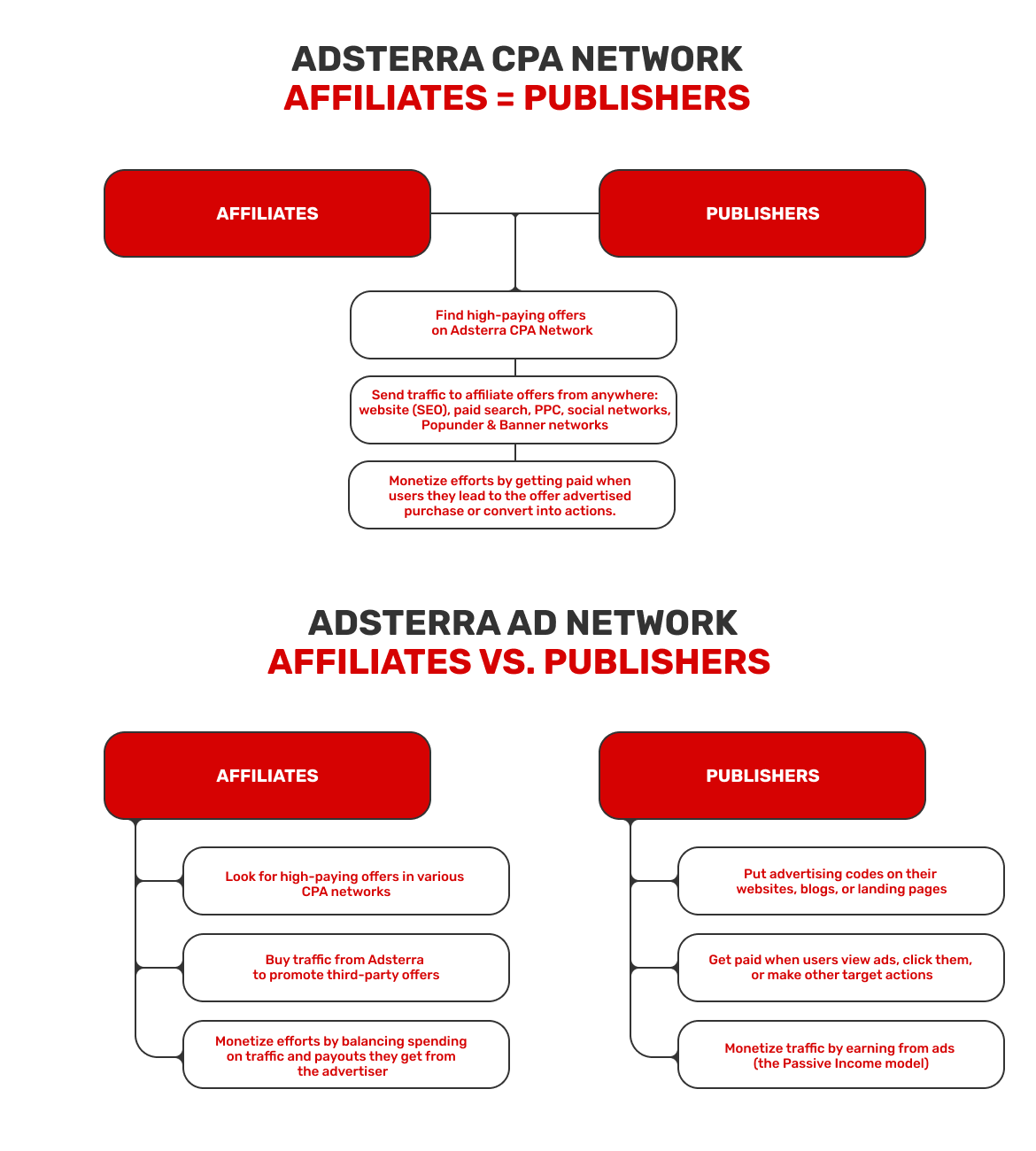 To Contents ↑
The User / Consumer (also: Traffic)
Users or consumers are internet users who navigate websites searching for helpful content. They are the most desired audience of online merchants. Merchants willingly pay those pros who can deliver traffic to their websites and make users buy goods or services.
The Affiliate Network or Program
A platform that connects advertisers and affiliates. Such networks usually host hundreds to thousands of offers from merchants. Affiliates pick favorable offers and then plan how to drive massive traffic to these offers.
Types of affiliate marketing
Unattached Affiliate Marketing involves promoting products unrelated to your business, website, or blog. 
Related Affiliate Marketing is when you promote products directly related to your business or field of expertise. 
In Involved Affiliate Marketing, you may have used the product in the past or are currently using it. As a result, you can recommend it to your audience as if you were a brand ambassador but without a long-term contract.
CPA marketing vs. affiliate marketing?
CPA marketing (cost-per-action) is an affiliate marketing model. Its main difference is that you receive a commission when your traffic completes a specific action. This "completed action" could range from installing an app and subscribing to a paid license to purchasing or filling out a form, not only a sale.

E-commerce, Software, iGaming, and Finance advertisers willingly pay for user actions, and they know affiliates are superpros in sending quality traffic to their offers. CPA Networks act like providers. These large platforms allow you to pick an offer, set up conversion tracking, and receive payments, of course.
If you're skilled in driving paid traffic, you've found your perfect monetization partner. Adsterra CPA Network hosts lots of premium offers. You can send SEO, ASO, PPC, or social traffic and be sure to get paid highly.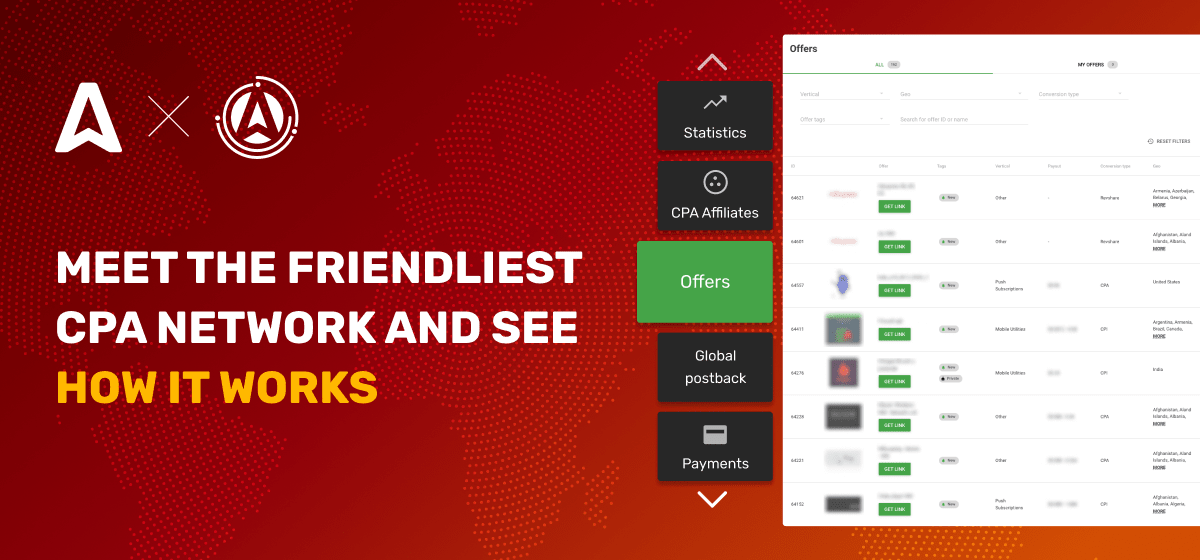 To Contents ↑
Is CPA marketing better?
The CPA model is very viable when a pro knows where and how to buy the necessary traffic to direct him to the advertiser's landing page with the product/form. You won't have to deal with SEO or spend long hours creating a product review or another piece of long-read content.

One can't claim which way of earning is better; it all depends on your online marketing skills. For seasoned pros in growing organic outreach, classic and CPA marketing can become a source of passive income.
Additional terminology you may encounter
Affiliate manager: A person in charge of communication on behalf of a merchant. It's a well-versed pro with a deep knowledge of products who can advise on a promotion strategy.
Category: The same as niche. It's a market to which you can apply this offer (iGaming, Apps, Beauty, Health, etc).
Commission: The flat rate or percentage paid once a successful conversion is tracked.
Conversion rate: The number of successful conversions divided by the total traffic received.
CPA (cost per action): An online advertising strategy in which an advertiser pays for a specific action a target customer takes.
Earnings per click (EPC): The amount earned on average each time a user clicks an affiliate link.
Landing page / Lander / Offer page: Where the conversion takes place after a visitor completes the required action.
Return on investment (ROI): The amount of money made after a campaign, calculated by multiplying the revenue by the ad spend by 100.
To Contents ↑
How to start affiliate marketing?
Starting out as an affiliate marketer always requires some introspection. It will help if you come up with:
Which products or offers are you going to promote?
How much knowledge do you have about these products?
How will you drive traffic to these offers (e.g., will you focus on SEO and organic traffic or deal only with paid outreach?)
Whether you need a website or not.
Where will you take links, or which platform or network will you join?
All these steps above form a set of actions for a beginner. Let's outline the most cornerstone ones.
To Contents ↑
What is the best way to begin an affiliate marketing website?
A gentle reminder: You may not need a website to put affiliate links if you opt for CPA marketing. This moneymaking model involves buying views, clicks, and conversions from anywhere and sending them to the offer you promote. But if you want to develop a powerful source of content with massive readerships and earnings, building a website or blog is a must.
The best way to begin an affiliate marketing website is to monitor trending topics. Search through Google Trends if you are willing to write about events, markets, technologies, or celebrities. 

The screenshot below illustrates the popularity of cricket in India. The interest soars before significant series or The World Cricket Cup matches.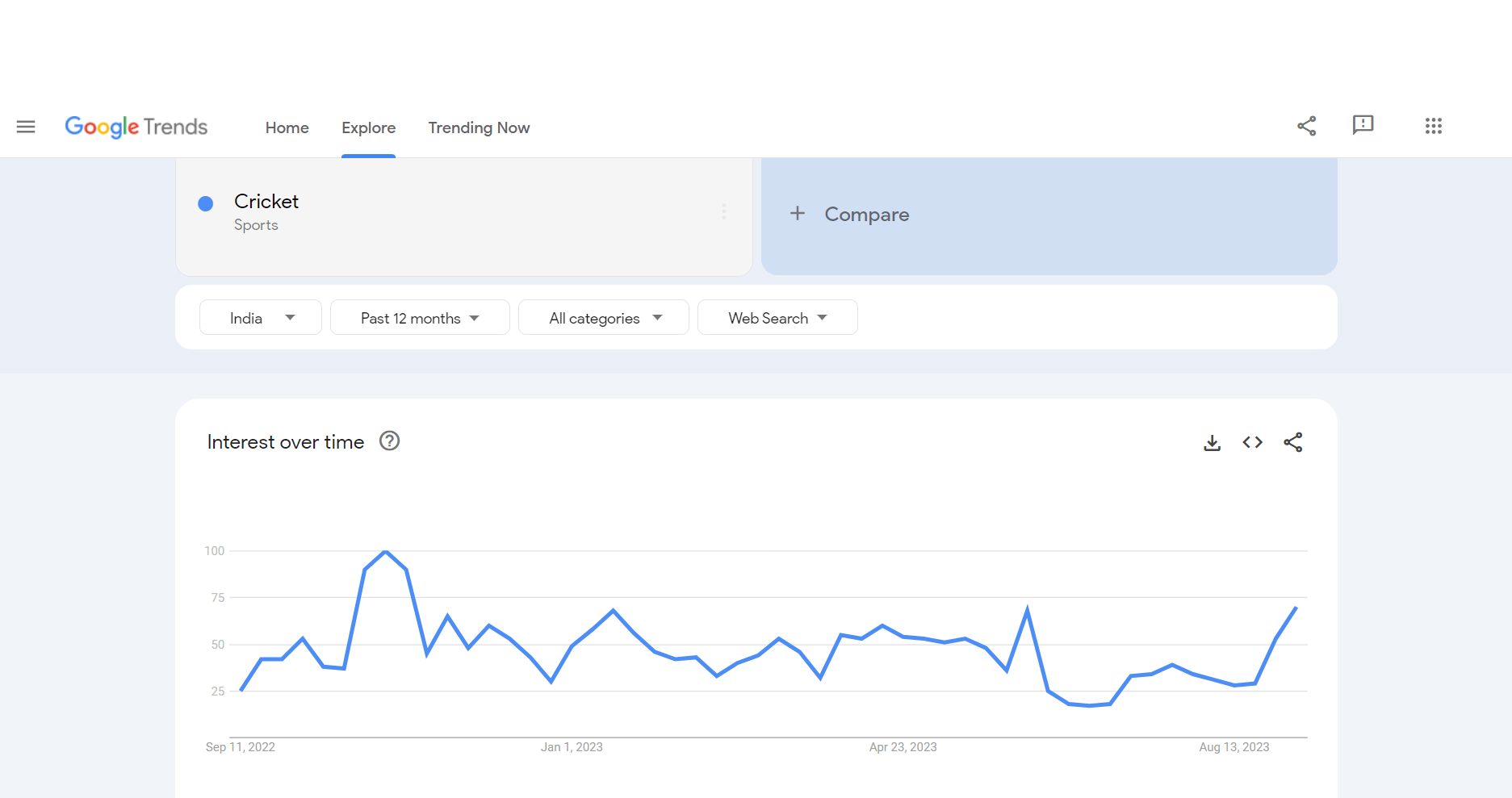 You surely noticed that the example above demonstrates seasonal interest. This factor must also be considered: Will you opt for evergreen topics or prefer seasonal ones? It will be easier to decide if you know the niche.
Step 1. Pick a niche
Niches are market segments with unique advertising rules and the audience's specific interests. For instance, you won't advertise an online Gaming platform like you promote language courses.
You will typically select a niche based on several factors:
What is the level of competition? Competing and driving traffic and conversions in a crowded niche is more challenging.
How well do you understand your market? It's best to stick to niches you're already familiar with. For example, if you're a tech geek, your product reviews can attract many readers.
Can you create quality content for this niche massively? When choosing a niche, keep in mind that you will be spending a lot of time on it, so pick something you are interested in or passionate about. Furthermore, if you have a lot of personal experience in the niche (e.g., a product or service that you use and enjoy), it will be much easier to promote it effectively. That doesn't mean you have to choose something you're very knowledgeable about; it just makes things easier.
Finance (i.e., making money online, investing), iGaming, Health (diet, fitness, sports), Dating (online dating, dating advice), and Utilities are some of the most popular niches among affiliates. All of these are centered on high-demand products and services. We've written a guide to the most popular niches here.
To Contents ↑
What is the best affiliate marketing niche?
The best niche balances four factors:
Competitiveness
Potential target audience size
Your ability to promote it
The number of offers from advertisers
For example, a broad niche like "finance" is very lucrative yet competitive and skill-demanding. If you find the balance, you're the winner!
Step 2: Decide on a content platform
Building a website starts with finding a powerful content platform. It's where all your posts, reviews, or landing pages will live. It's better to opt for an SEO-friendly platform, as you will need to optimize content anyway.

One of the most-used and friendly platforms is WordPress. It offers a bunch of helpful zero-code tools to upload and format long reads. Millions of blogs are WP-powered because this CMS allows the addition of plugins for content optimization: multi-language translation, lead forms building, content sharing, and so on.
Step 3: Find affiliate programs to join
This step comes after you pick a niche and decide where you will drive traffic from.
Some prefer choosing platforms with the offer range narrowed down to a single niche, and it may be a wise choice. This way is perfect if you're a seasoned pro leading traffic within this niche. Among the most reliable affiliate platforms of that kind are Kinsta, Semrush, Bluehost, and others.

CPA networks and affiliate programs can be vertical-specific, hosting only iGaming, Dating, Finance, or other offer types. On the contrary, multi-vertical networks like Adsterra CPA place offers from 12+ verticals.
Unlock up to 200 verified offers on a high-paying platform for those who love making money from traffic.
Step 4: Create great content
Easier said than done, right? Still, powerful content is based on several formulas or algorithms you will only need to learn and polish your mastery. Previously, we shared a guide to creating catchy posts.
CPA marketers don't typically have to write articles but must perform the finest craft of making landing pages (one-page websites aimed at selling a product). Even without a website or landing page, you must add some magic to making ad creatives.
Advertising creatives are a type of content that consists of a short copy and engaging images or videos. You have seen tons of banners or YouTube trailers — these were ad creatives.
Step 5: Drive traffic to your affiliate site
You have a website and an affiliate link placed inside a perfect piece of reading. Nothing will happen until users visit your web page, click the links, and buy something from your advertiser.

Driving quality traffic is a well-paid skill, and you can become one of the highest-earning pros if you know how to:
Optimize content for search engines to make it hit top rankings
Buy ad traffic from Google Ads or other platforms
Buy traffic from advertising networks like Adsterra
Boost social traffic
Send high-converting emails
Step 6. Get clicks on your affiliate links
Users come to your website and… don't click affiliate links. It's a nightmare, especially if you have paid for this traffic. A must-know skill is making visitors click the links without cheating or being too pushy.

Put links in the most viewable places of the article. If your audience is sensitive to ads, insert a disclaimer stating they can meet affiliate links, and you get commissions for placing. Honesty is the best way to win hearts!

When you promote a product, highlight its features or functions that users value the most. It's perfect if your advertiser offers a bonus for new users — you can mention this in the article to boost clicks.

If you're designing a banner or In-Page Push ad creative, appeal to emotional (e.g., fear of missing out, exclusivity) or rational patterns (e.g., excellent bargain, robust functionality).

Step 7: Convert clicks into sales
Multiple clicks are worthless if your advertiser gets zero sales or conversions. This mistake typically happens in these cases:
Ad messages in creatives and on a target landing page don't match
A target lander loads too slowly
Lead or conversion forms don't work properly or it's too long
Your advertiser requires a very complex conversion
You promised a discount or bonus, and the advertiser removed this part from the lander
Users don't understand your message properly; you misled them by mistake.
To Contents ↑
The reality of affiliate earnings
We need to mention why it's worth the cost to ensure our affiliate marketing 101 is complete. Various strategies form affiliate earnings. You can focus on growing, say, several niche blogs with lots of links inside. Or, you can start a career as a media buyer. Regardless of the strategy, you can be sure that your chosen realm is the most rewarding job ever.
Is it possible to make money through affiliate marketing?
Sure! Affiliate marketing can boast of having a $17B value. The industry is expected to reach $27.78 billion by 2027, indicating a 91% growth if compared to 2020. Any way you look at it, the industry is thriving and growing, which means there are many opportunities to profit as an affiliate marketer.
91%
That's how the market sector will grow by 2027 compared to 2020
To Contents ↑
How much do affiliate marketers make?
The income volumes vary greatly. It's difficult to say exactly how much they make, but we can examine some case studies.
Adsterra serves two platforms: a CPA network and an ad network. Affiliate marketers come to the latter to buy traffic. One of them shared a case study of getting $3,000 in pure profit from just one deal. Imagine you promote several such offers simultaneously!
Another example won't impress with such a result — $247 in profits — but the initial spending was $43. Quite an affordable cost, right?
To Contents ↑
Which affiliate marketer is the most successful?
We allow ourselves to assume that the most successful affiliate marketer is a pro who stays in the black, earning more than they spend. Also, these pros know profitable niches and have viable strategies to keep their revenues high even during the recession. These folks have a pool of traffic sources where they get target traffic, as well.
How quickly can you make money in affiliate marketing?
There is no one-size-fits-all solution. As you may have guessed from the examples above, one can obtain $3,000 in several days. Still, such fast money comes only when you invest in traffic. However, if you're focusing on building a website, polishing SEO, or creating compelling content, earnings will take time to come.
How do you get started with affiliate marketing without a website?
You can start online affiliate marketing without a website. And you already know how if you've scanned the above part of the guide 😉 But let's revise a little. Here are three alternatives to using a website:
You can email affiliate offers if you have an email distribution list.
YouTube: Instead of creating a regular website, you might want to create an active YouTube channel and add affiliate links to your videos.
If you have a large social media following or are active online in communities, you can post affiliate reviews and links to products you recommend.
Or, you can harness CPA marketing, which requires the knowledge of buying traffic and directing it to an advertiser's landing page.
To Contents ↑
Affiliate marketing mistakes and strategies to avoid
Typical mistakes beginners make include:
Choosing a hard-flow offer: It means you picked an offer that requires specific user actions that are very hard to achieve: credit card submissions, deposits, long lead form filling, etc. Beginners can easily overspend, waiting until users start to convert.
Opting for an unreliable CPA network: Avoid following suspicious links or joining CPA networks that don't disclose terms and refuse to provide clear offer descriptions. 
Waste time on low-quality products: shady affiliate networks usually host tons of poor-quality offers users won't convert from.
Misleading or cheating on users. Many newbies use deceptive techniques like promising a product for free while it's paid to boost clicks on affiliate links.
Not tracking your performance: Conversion tracking is a must for every affiliate, as it allows for checking how well your traffic works and how honest your advertiser is.
To Contents ↑
Important affiliate marketing statistics for 2024
Is the industry you're looking at a promising one? Let's unlock some stats to find out.
The Affiliate Marketing topic keeps creating a stir
In the US only, Google Trends marks a steady growth of interest for this topic. This rise surely stems from the post-pandemic trends of buying online. Users prefer to shop, play, and learn online. This trend reveals an unprecedented potential for tailored digital marketing, specifically targeted ads and expert product reviews.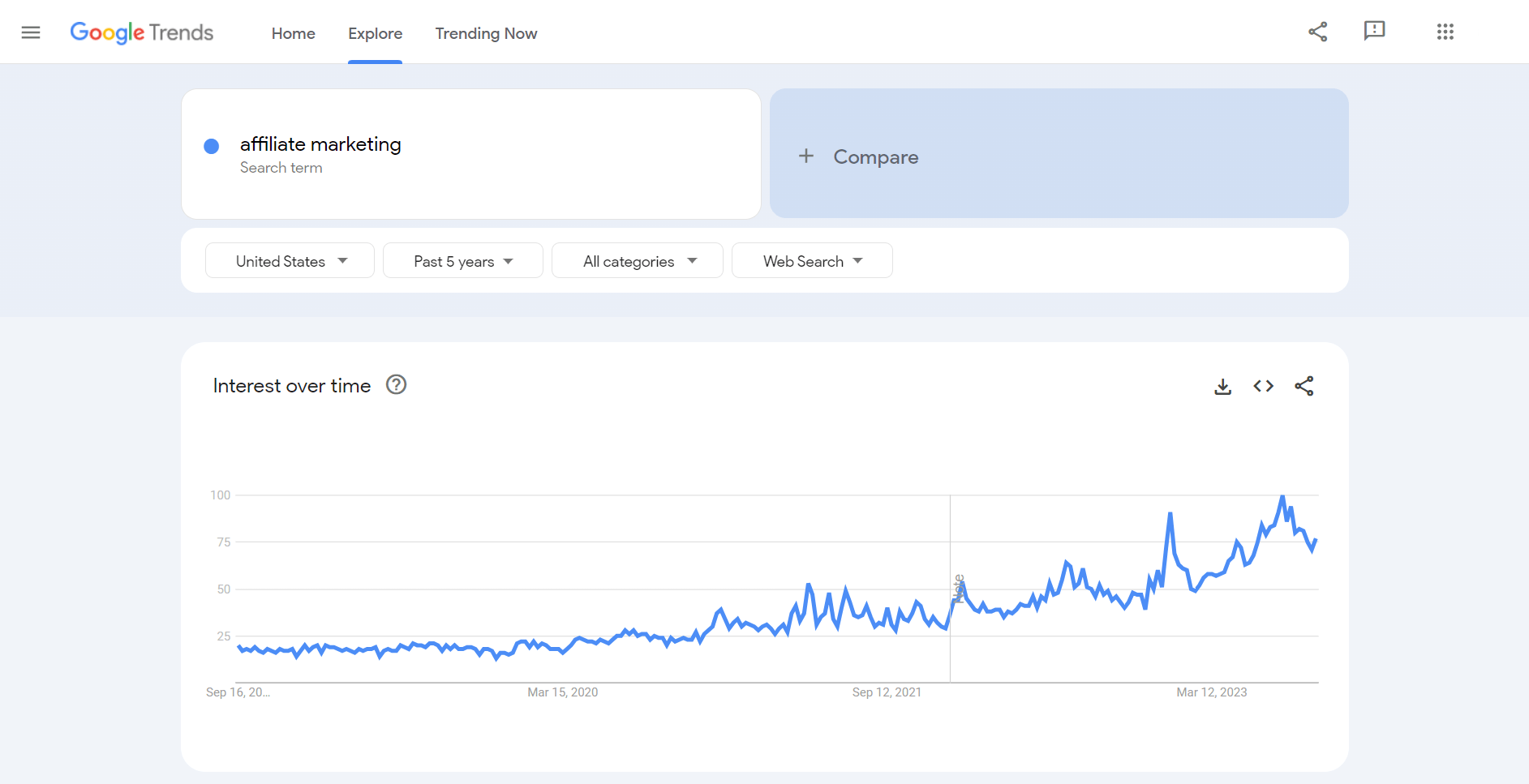 The overall income will keep growing
One of the most evident affiliate marketing benefits is revealed by global stats. This market is expected to grow up to $15.7B in 2024 (as of InfluencerMarketingHub, with credits to Refersion). That's a significant soar compared to 2013 when this figure could not hit $3B. Half of the surveyed brands prefer to pay their partners a percentage of sales (42.4%) rather than a flat rate.
Revenues mostly come from E-commerce but not only
THosting Tribunal's research found out that over 40% of affiliates prefer to advertise consumer electronics, 39.8% will take their chance with clothes and apparel, and 29.8% are virtuously promoting online services. But that doesn't mean there exist no alternative niches. Marketers skilled in buying traffic can succeed in advertising iGaming, Software, or Financial platforms, like this guy, who earned $4,000 with an ROI of 326%.
To Contents ↑
Myths about affiliate marketing
Easy affiliate marketing is about something other than some get-rich-quick techniques. But your online business can grow fast, though. So what's true and false about this fantastic field of knowledge?
MYTH: You need a website to start 
Actually, you can do without a website. Many affiliates opt for CPA marketing, acquiring traffic to send to the advertiser's landing page. These pros are also called media buyers, as they foster online marketing skills by purchasing ad views, clicks, and conversions from multiple sources: ad networks, search engines, social networks, apps, etc.
A MYTH FOR NEWBIES: High payouts always mean high profits
We don't recommend rushing for CPA offers with the highest payouts if you're a beginner. Such offers typically require you to deliver complex conversions like deposits for 3-figure sums. To meet such requirements, you will need to prepare a solid budget. 
MYTH: Affiliate marketing is dead
With so many products and services appearing daily, affiliates can be sure their skills will stay in demand. And for those who're afraid of robots, fear not! Your ability for tailored and personalized promotion is irreplaceable. However, you can use ChatGPT to speed up content creation.
MYTH: You must be pushy and use sneaky methods
You will often come across the question, "is affiliate marketing a scam?" on Google or Quora. While some actors use such shady techniques, it doesn't mean the whole market is saturated with cheaters. The bottom line is that affiliate marketing sells value and problem solutions. True pros appeal to emotions or rational user behavior patterns and achieve record CTRs and conversion rates.
MYTH: You can only earn with Amazon Associates
Though Amazon Associates is a trusted platform named the most prominent market player in its segment, you can find many alternatives. We have even created a list of the best CPA networks. It will help if you're searching for CPA offers from VPN, iGaming, Antivirus, Dating, Sweepstakes, or Gaming verticals.
To Contents ↑
Affiliate marketing for beginners — FAQs
What is the best way to make money with affiliate marketing?
So, how do you do affiliate marketing as if it's your main job? You will have to evolve your skills and polish your mastery every day—practice matters. And the best way to become a true pro is to allow yourself to make mistakes. Lots of mistakes. Pitfalls are your best friends, as they give you insights into unique techniques and moves you will apply in the future. But play safely: we advise starting with easy-flow offers such as Sweepstakes or VPNs.
Another important tip is to learn the traffic source you'll be working with. If you choose the Adsterra ad network, we've got some good news. We have a free Crash Course for you!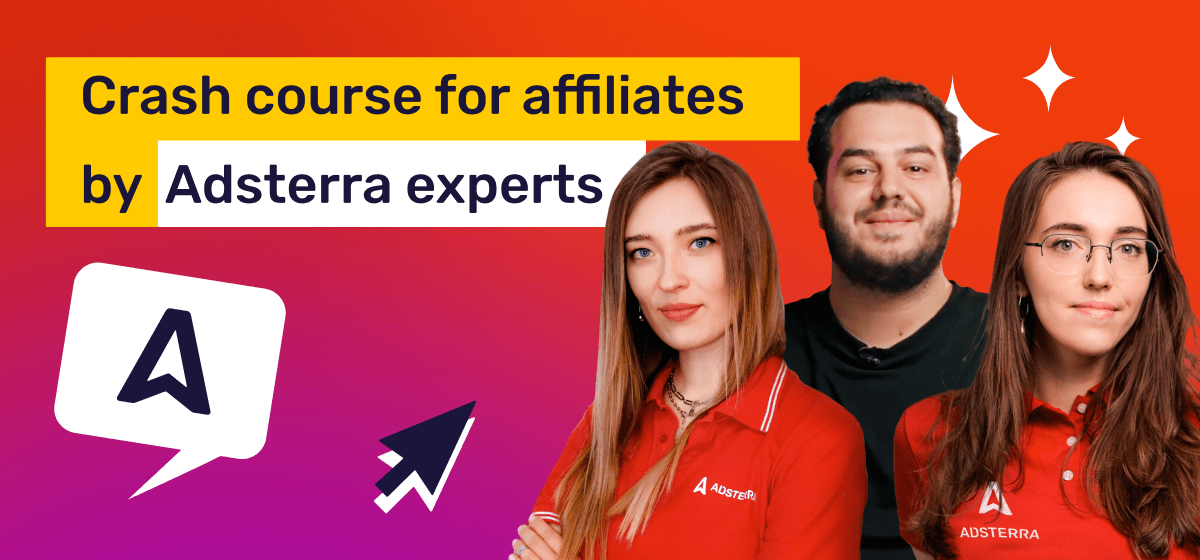 How do you make affiliate marketing content?
You will have to deal with various types of ad messages. One of the most known is a product review or listicle. Affiliates create in-depth overviews of the products they test and share their opinions or craft detailed "how-to" tutorials.

Another type of content is a landing page. To make such a page, you must stick to the classic structure, add unique selling propositions, provide value, add testimonials, and so on. If interested, read this guide to creating powerful landers.

Advertising creatives are the most-used types of content among CPA marketers. These folks create visuals and catchy captions for Banners, Native ads, and In-Page Push notifications. Want to make your creatives rock? We've got a set of pro tips for you!

What is EPC in affiliate marketing?
The EPC (earnings per click) is a helpful metric advertisers and affiliates use. EPC enables affiliates to evaluate their campaigns' performance and mark the most rewarding offers and strategies. Advertisers use this metric to assess how well this or that affiliate performs. To calculate your earnings per click, you must divide total earnings from a campaign by the number of clicks.
How can you promote your affiliate business with social media?
With 4.8 billion active users on social media worldwide, affiliate marketers must be active not only in getting social traffic but also in promoting themselves as personal brands.

To begin with, figure out which platforms your potential advertisers use the most to form connections. For example, LinkedIn is the place to be if you're looking to sell B2B affiliate products in the future or collaborate with big B2C brands.

Another critical point of using social media for your affiliate marketing business is to create a reputable and well-known online profile that attracts followers and connections for further networking.
How can native ads be used to promote affiliate products?
Native advertising is a true hit among affiliates. It's dedicated to seamlessly engaging users into further conversion. It's because native ads are designed to match the content they're placed in.

Readers consume native ads as editorial content. If you're promoting a streaming platform, a dating offer, or a food supplement, you should try this format. You only need to find a highly noticeable picture and pair it with a triggering heading. But ensure you don't mislead users because if users click but don't convert, you risk wasting your money.

Is affiliate marketing the best option for me?
You won't know if you don't try 🙂 But what is an affiliate marketer, a true one? They love taking risks, keeping their feet on the ground even when the markets shake, and knowing that earnings can come and go while proven methods become useless. If you've been to SMM or traffic management, you're half-ready! However, this job won't fit those who look for stability, zen, and narrow focus.
Is affiliate marketing a legitimate business?
Totally legitimate. Those who still doubt this have read about black-hat techniques like cloaking, bot traffic, or false clicks. Indeed, these methods are used by some advanced pros, but who said we can scale these examples to the whole industry? Leading world clothing, apparel, electronics, and software brands grow profits with affiliate marketing.
One vital tip for those who value their reputation: avoid joining shady affiliate networks or collaborating with teams who offer you dubious products to promote. Look for legitimate CPA networks of programs; they're all mentioned in listicles and ratings available on Google.

What does an affiliate marketer do?
It's easier to list what they don't have to do 😉 But if we want to outline some typical tasks and challenges of an affiliate marketer, these will be:
>> Learning about products and brands in a chosen niche
>> Cherry-picking trending offers to promote
>> Forming a pool of traffic sources
>> Creating high-value content: product reviews, listicles, ratings, tutorials, landing pages
>> Optimizing content for search engines: on-page & off-page SEO, technical SEO and content updates
>> Advancing skills in buying traffic: PPC ads, display ads, social traffic, in-app traffic, etc. 
>> Setting up advertising campaigns on multiple platforms
>> Using analytics and conversion tracking systems.
What do you need for affiliate marketing?
Starting out in affiliate marketing requires the following:
>> Decide on a niche or market segment you will focus your activities on: Will it be E-commerce, Finance, iGaming, or else?
>> Come up with the best way of promoting this niche: Will you drive organic traffic to your quality content, or will you only buy traffic and lead it to an offer you advertise?
>> Choose your affiliate platform: Find the most reliable program or network with multiple offers from your niche.
>> Create valuable content, whether these are SEO-optimized web pages with affiliate links inside or advertising creatives with engaging messages.
>> Develop a strategy for getting traffic: to get paid by your advertiser, you will have to prove the traffic you send converts into sales.
What's the difference between digital and affiliate marketing?
Affiliate marketing is an online marketing strategy based on performance. Businesses hire individuals or teams to promote their products and services. Affiliates earn a commission for each sale or conversion made.

Digital marketers are using a more comprehensive range of instruments and are not only paid for completed actions. For instance, they can launch campaigns aiming at brand awareness growth or supporting brand loyalty.

Is affiliate marketing worth it?
Getting into affiliate marketing can be an advantageous option for those who want to invest time and effort into building a sustainable online business. 
You can transform your passion into profit, achieve financial independence, and enjoy the freedom of working on your own terms.

It's important to keep in mind that affiliate marketing success requires dedication and commitment. Therefore, it's crucial to be willing to put in the necessary work to achieve your goals. With the right mindset and approach, the rewards can be substantial. Start with learning the basics by completing this free course by Adsterra experts!
To Contents ↑
Wrapping up
Congrats on completing this extensive affiliate marketing 101! 🎉 Remember that your primary skill to train is a passion for learning and practicing. Begin by selecting your niche, creating valuable content, building your audience, and exploring various marketing channels. Embrace the exciting journey ahead with two robust solutions for affiliates: one for picking top CPA offers and another for buying great traffic.