If you want to become an affiliate marketer or you're looking to expand your business by partnering with affiliates, you've probably seen a lot of sketchy articles. It's often difficult to tell what's true and what's just hype and outline the whole picture. In this comprehensive article, you get the entire concept of affiliate marketing. You'll understand what it means to be an affiliate marketer and why CPA affiliate marketing can become your top choice in 2022.
What is affiliate marketing, and how does it work?
Affiliate marketing simply means earning a commission by promoting another company's product or service online. Affiliates drive traffic to advertisers' websites aiming at making lots of conversions. Advertisers pay the affiliates for each click or conversion earned.
Advertisers are always looking for ways to promote their products or services. Search ads and email marketing are quite effective, but they can only go so far. So what's next? Advertisers seek professionals who will spread the word about their products. These can be digital marketers who are skilled in purchasing traffic, or publishers who will write some sponsored content.
Meanwhile, publishers are looking to profit from their online businesses: blogs, vlogs, online courses, etc. They will willingly write a product review with an affiliate link and get paid if someone clicks it and buy something from an advertiser. Affiliate marketers are also looking for advertisers. But unlike publishers, they prefer buying traffic and sending it to the advertiser's landing page.
So, what do we have here? We need an offer (this one comes from an advertiser), someone to promote this offer (a publisher or an affiliate), a platform to bring together advertisers and affiliates (an affiliate network or program.)
Start your new day with the most caring ad network that delivers A-class services for advertisers and affiliate marketers
To Contents ↑
How does affiliate marketing work in 2022?
Affiliate marketers often run websites where they promote offers on behalf of businesses and brands in various ways, including blogs, videos, reviews, ads, product links, and more. Affiliates are paid on a set schedule, usually when a customer clicks on a link (hence Pay-Per-Click), but occasionally only when the customer buys the product.
Let's look at the relationship these three parties have.
1. Advertisers and businesses
Vendors, merchants, product creators, or retailers with a product to market fall under the "advertiser" category. It doesn't matter if they're a sole proprietor or a large corporation.
They could, for example, be a VPN provider, an App developer, or an Online Casino looking for new markets and fresh audiences.
2. The publisher or affiliate
An affiliate is a person, team, or company that promotes a seller's product to potential customers in an appealing manner. In other words, the affiliate promotes the advertiser's product to persuade customers of its benefits to them and to persuade them to buy it. When the customer purchases the product, the affiliate receives a percentage of the sale.
Affiliates often market to a very specific audience, generally adhering to that audience's interests. This approach creates a distinct niche or personal brand, which helps the affiliate attract users who are most likely to respond to their ads.
To Contents ↑
3. The end-user/consumer
Users or consumers are the general public interested in products/services. We want to point out that purchasing via an affiliate's link doesn't influence the price of the product or service. Most advertisers have already factored in the cost of promoting a product into its end price.
What is CPA affiliate marketing?
CPA marketing, or cost-per-action marketing, is an affiliate marketing model where the affiliate receives a commission when their traffic completes a specific action. By traffic, we mean users that visited the advertisers landing page or website via the affiliate's link.
This "completed action" could range from installing an app and subscribing to a paid license to making a purchase or filling out a form.
Ecommerce, Software, Gambling, Crypto websites worldwide use CPA marketing to create various offers and online marketing campaigns. At the same time, CPA networks use affiliates to promote these campaigns.
If you're skilled in driving paid traffic to landing pages, you've found your perfect monetization partner. Adsterra CPA Network hosts lots of high-paying offers from trusted advertisers.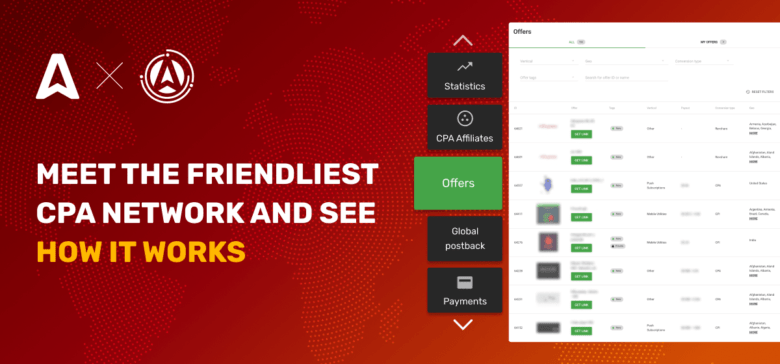 To Contents ↑
How does CPA marketing work?
It's a simple concept when you break down how the CPA model works and who is involved.
Affiliate

: a digital marketer or a team who promotes an advertiser's products to drive traffic to their website and convert customers.

CPA Network

: A platform connecting affiliates who want to make money by promoting products with companies who wish to promote their products.

Advertiser or business

: A company that wants to work with an affiliate to increase sales, generate leads, or boost conversions by driving quality traffic to their website.
To Contents ↑
CPA marketing example
Greg (our affiliate) is a popular financial manager with solid experience in media buying: search ads, Facebook ads, and advertising networks' traffic? He learned a lot about finance from working with financial institutions like exchanges and banks.
Then there's QuickPay, our theoretical company. QuickPay provides high-quality services for people like Greg and his audience gadgets from stock management to tax filings. They want to grow their marketing reach, and Greg's audience would be ideal.
QuickPay and Greg are connected through a CPA marketing network. To find and partner with publishers like Greg, eCommerce businesses like QuickPay use CPA networks.
CPA networks can help publishers find companies willing to pay them to use and promote their products so they can earn money doing what they love while also engaging their audience.
Greg buys traffic and directs it to the company's website, where he earns a commission for every sale or lead conversion. As a result of Greg's referral traffic, QuickPay earns money.
The network brings them together, and the audience is given the opportunity to try new products and learn about new brands. It's a win-win situation for both parties involved.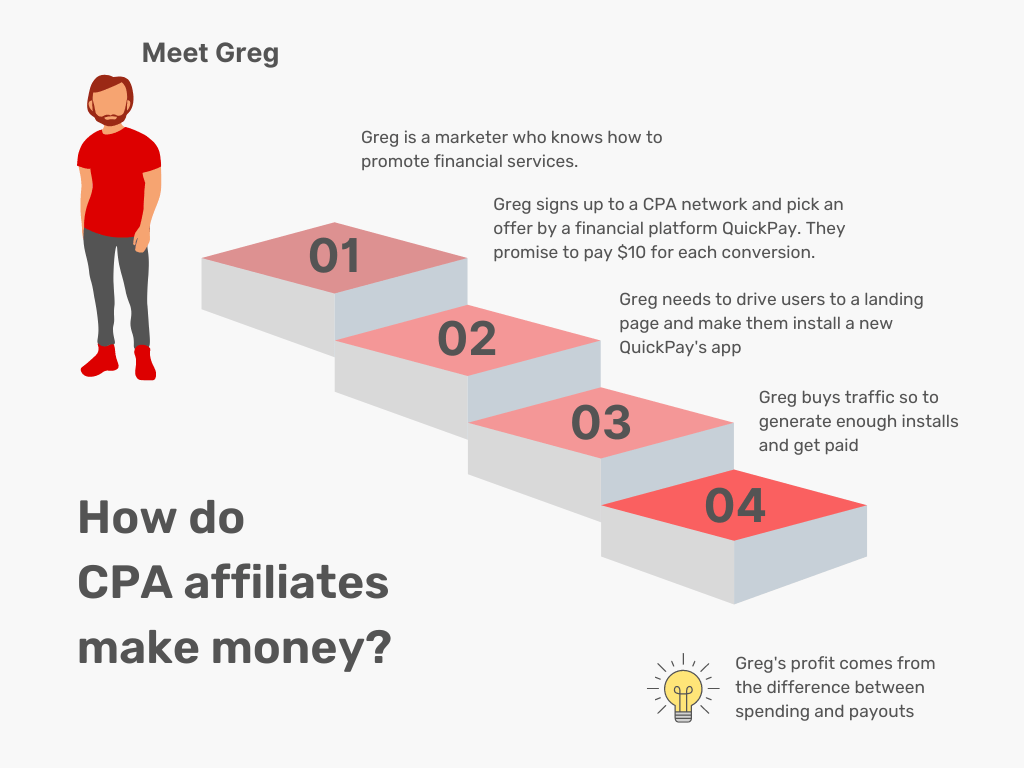 To Contents ↑
Is CPA marketing better than classic affiliate marketing?
CPA affiliate marketing is very viable when the affiliate knows where and how to buy the necessary traffic to direct him to the advertiser's landing page with the product/form. Like we mentioned above, CPA affiliates get paid for conversions (not necessarily for purchases) which is significantly better.
Businesses benefit from CPA affiliate marketing because they don't have to pay unless they make a successful conversion. The payouts in each vertical vary depending on the level of competition and the average commission rate.
The cost per action formula is a low-risk method for advertisers because they only pay for the desired actions after they happen, as opposed to paid traffic, where you only pay to get people on your site through ads.
To Contents ↑
CPA networks terminology
Although most CPA network terms aren't overly complicated, there are a few key terms to be aware of as you get started.
Affiliate manager

: A person who oversees a seller's affiliate program. They are in charge of affiliate recruitment, engagement, and revenue generation for the advertiser.

Category

: The CPA offer's niche or market to which it applies (sports, fashion, beauty, health, etc).

Commission

: The flat rate or percentage paid to an affiliate once a successful conversion is tracked.

Contextual link

: A text link that points to the advertiser's website from an affiliate's website.

Conversion rate

: The number of successful conversions divided by the total traffic received.

Cookies

: In affiliate marketing, they're used to assign a unique ID to a user who has visited an advertiser's site via an affiliate link for a set period. The affiliate will be credited for the conversion in this predetermined window, typically 30-90 days

.
CPA (cost per action)

: An online advertising strategy in which an advertiser pays for a specific action taken by a target customer.

Earnings per click (EPC)

: The amount an affiliate earns on average each time a user clicks on an affiliate link.

Offer page

: Where the conversion takes place after a visitor completes the required action.

Return on investment (ROI)

: The amount of money made after a campaign, calculated by multiplying the revenue by the ad spend by 100.
To Contents ↑
How do you get started with Affiliate marketing?
The first step is to learn everything you can about affiliate marketing, including the various tools and strategies available and recent trends and tactics employed by successful affiliate marketers.
The most important question you should ask yourself at the start of your affiliate marketing career is: what niche do you want to be involved in? That's when you should start thinking about a niche.
How do you pick an affiliate niche?
There are a lot of product niches ––or categories –– to choose from when it comes to affiliate marketing. Affiliate marketers typically select a niche based on several factors:
What is the level of competition?

It is more challenging to compete and drive traffic and conversions in a crowded niche.
How well do you understand your market?

It's best to stick to niches you're already familiar with. For example, if you're a fitness fanatic, you could promote fitness products.
Do you have any personal experience or expertise in this field?

Promoting products that you use will be easier and more natural.
If you haven't done so before, will you devote yourself to learning about a niche?

You don't have to be an industry expert. You can brush up on a niche that looks promising and gain the knowledge you need to succeed if you find one.
Most affiliate marketers run one or more websites. You can promote your affiliate products via several digital marketing channels and platforms like TikTok. But, if you're starting, you might want to devote some time to developing a website or a landing page at least. Learn more on how to create an affiliate website here.
To Contents ↑
The reality of affiliate earnings
The most crucial goal for affiliate marketers is to make money and how much money you can make depends on some factors. But first, let's get into the specifics of what affiliate marketers can expect to see in their bank accounts.
Is it possible to make money through affiliate marketing?
Yes. Affiliate marketing spending in the United States is expected to reach $8.2 billion by 2022, up from $5.4 billion in 2017.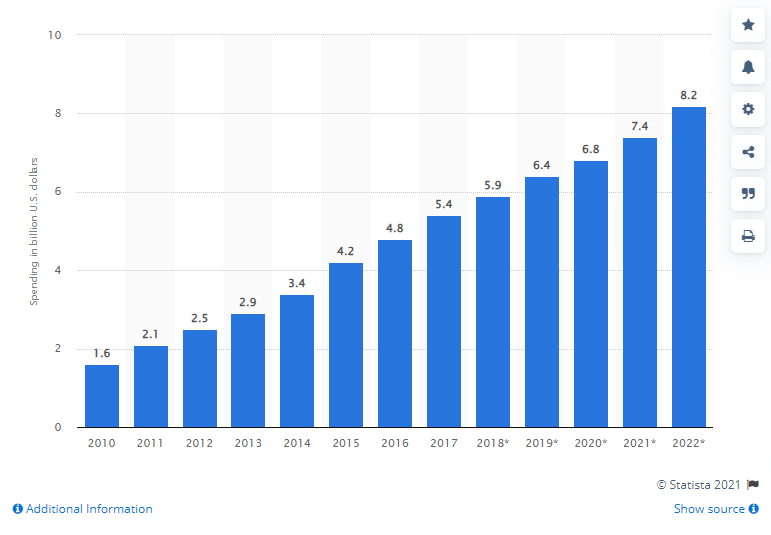 Furthermore, affiliate marketing is used by 84% of publishers. Any way you look at it, the affiliate marketing industry is thriving and growing, which means there are many opportunities to profit as an affiliate marketer.
To Contents ↑
How much do affiliate marketers make?
Affiliate income varies greatly. It's difficult to say how much exactly, but here's a rough estimate based on the available data: Almost half of the affiliate marketers earn under $20,000 per year. Affiliate marketers make more than $20,000 per year in 35% of cases.
Which affiliate marketer is the most successful?
There are several successful affiliate marketers we've learned about, but not all of them openly disclose their earnings.
How quickly can you make money in affiliate marketing?
There is no one-size-fits-all solution. The rate at which affiliate marketers make money or even grow their business to the point where it resembles a full-time job varies. For example, Tom Dupuis blogged about how he went from a $20K annual income to an $80K annual income in two years.
What is the best way to make money with affiliate marketing?
To make money with affiliate marketing, you must find a product with a potential market in a niche or category. Then, to drive traffic to the advertiser's product page or store, you must promote it through a blog, videos, emails, or display ads.
In a nutshell, it takes a combination of determination and persistence to do this successfully and profitably.
What is the best way to begin an affiliate marketing website?
You don't need a flashy, expensive website to get started with affiliate marketing. It is more than enough to encourage conversions if it appears attractive and professional, is easy to navigate, and contains interesting content and compelling sales copy. Of course, you'll need to purchase a domain and design a basic website layout, but this is simple with platforms like WordPress, Wix, and Weebly. Here are some tips on creating a professional-looking website.
How do you make affiliate marketing content?
Content is your primary source of revenue as an affiliate marketer. Content is the 'bait' that attracts the target audience's attention and encourages them to click on your affiliate links, generating revenue.
In affiliate marketing, you can use various types of content. Blogs are one of the most popular. Setting up a blog is easy, and if you're familiar with the product or niche, you'll be able to naturally share your knowledge and enthusiasm, making for compelling content. You can also make videos, reviews, ebooks, landing pages, and other types of content with it. Take a look at these affiliate content marketing suggestions.
You can always outsource content creation if you're not a natural writer or don't have the time to do it yourself. Numerous content writing services offer high-quality content at affordable prices.
To Contents ↑
Although most affiliate marketers have their own websites or landing pages (and sometimes more than one), you can start affiliate marketing without one. You don't need your website to have an online presence and generate leads. Here are three alternatives to using a website for affiliate marketing:
You can send affiliate offers to your subscribers via email if you have an email distribution list.

YouTube: Video is one of the most powerful marketing tools, and many affiliate marketers use it to promote their products and increase conversions. Instead of creating a regular website, you might want to create an active YouTube channel if you are a video wizard.

If you have a large social media following or are active online in communities, you can post affiliate reviews and links to products you recommend.
To Contents ↑
Which affiliate niche is right for you?
You must choose a product or service to promote as an affiliate marketer. This means deciding on a "niche," such as health and fitness, money and finance, hobbies, pets, and so on. We've written a guide on affiliate marketing niches here.
Which affiliate marketing niches are the most profitable?
Finance (i.e., making money online, investing), Gambling, Health (diet, fitness, sports), Dating (online dating, dating advice), Utilities are some of the most popular niches among affiliate marketers. All of these are centered on high-demand products and services. These niches are highly competitive due to the many affiliate marketers who target them.
How do you choose an affiliate marketing niche?
When choosing an affiliate marketing niche, keep in mind that you will be spending a lot of time on it, so pick something you are interested in or passionate about. Furthermore, if you have a lot of personal experience in the niche (e.g., a product or service that you use and enjoy), it will be much easier to promote it effectively. That doesn't mean you have to choose something you're very knowledgeable about; it just makes things easier.
It's also a good idea to pick a more specialized niche that's less competitive. While the audience will be smaller, ranking higher will be easier. Alternatively, narrow your focus to a specific niche so you can come up with new and exciting topics to discuss. This will help you stand out from other affiliates focusing on the "same old" and help you achieve higher rankings and traffic.
To Contents ↑
What is the best affiliate marketing niche?
The best affiliate marketing niche balances three factors: competitiveness, potential target audience size, and your ability to promote it.
For example, a broad niche like "finance" is far too competitive; you'll need to narrow it down to find current hot products and topics in the finance niche. Then you can concentrate on providing a more specialized offer to a smaller audience. Finding the best affiliate marketing niche necessitates extensive research into what people are talking about and purchasing online and keywords and monetization potential.
Dropshipping vs. Affiliate Marketing
Dropshipping and affiliate marketing are similar in that they both involve marketing and selling a product. In affiliate marketing, you don't have to ship the product to the buyer, and your revenue is based on the advertiser's commission. Furthermore, because you do not set the product's price, your earnings are based on the merchant's pricing. Your sole responsibility is marketing.
With dropshipping, you're in charge of marketing a product and shipping it to customers. You get to set the product's price, and you get paid in full.
Affiliate Performance Marketing
There's a common misconception that it's all about SEO in affiliate marketing. But PPC is an essential and effective tool for affiliate marketers. Let's take a look at what's going on.
What is the best way to use PPC for affiliate marketing?
PPC, or pay-per-click advertising, helps you get traffic and boost performance more quickly when SEO and organic strategies aren't getting you the results you want. While SEO is free, PPC entails paying in advance to have ads served on search, social, display, and native ad networks. On the other hand, because you can use targeting and optimization tactics to reach your best audiences, you have more control over who sees your ads.
CPA and EPC are two popular affiliate marketing concepts in PPC. Let's take a look at what they are:
To Contents ↑
What is a cost-per-action (CPA) in affiliate marketing?
CPA is a marketing term that refers to the cost of acquiring a customer or lead. The CPA payment model compensates the affiliate marketer for each lead generated for the advertiser. When you send a customer to an advertiser's website, and they take action, such as filling out a "Contact us" form or taking a survey, you've created a lead.
What is EPC in affiliate marketing?
Earnings Per Click, or EPC, is a standard metric in affiliate marketing. It measures all affiliates in an advertiser's program's average earnings per 100 clicks. It's a good way for affiliate marketers to check how well a seller's affiliate program is doing.
How can you promote your affiliate business with social media?
With 3.5 billion active users on social media worldwide, affiliate marketers must be active there or risk being left out.
However, before you start advertising on social media, you need to figure out which platforms your target audience uses the most for better budget allocation. For example, LinkedIn is the place to be if you're looking to sell B2B affiliate products.
Another critical point of using social media for affiliate marketing is to create a reputable and well-known online profile that attracts followers and connections. This will boost traffic to your pages and ads. You can join or create communities and groups and actively participate in them.
Learn how to make promote links on Facebook with Adsterra's direct link.
To Contents ↑
How can native ads be used to promote affiliate products?
Native advertising is one of the most underutilized affiliates marketing tactics, but it produces excellent results.
Native ads blend in with the look and feel of a web page, so they don't appear to be ads. That's why native ads get 53% more attention than other types of display ads. Many internet users have "ad fatigue"; they're sick of pop-up ads and distracting banner ads. Native ads get around this problem by allowing people to discover new products and content in a more natural way that doesn't interrupt their browsing experience.
Affiliate marketers often benefit from native advertising because it allows them to use advanced targeting techniques, several ad types, such as video and carousel, and the cost-effective CPC payment model, which only charges for clicks rather than impressions.
To Contents ↑
6 affiliate marketing statistics for 2022
The statistics below show how affiliate marketing affects different industries today and where it's going in the future. This data can help you determine how to begin or continue to engage in affiliate marketing activities.
Affiliate marketing spending is expected to increase in the next five years
According to Google Trends, worldwide searches for "affiliate marketing" have steadily increased over the last five years, peaking at 100% in June 2021. The steady rise could be attributed to the rise of eCommerce after the pandemic.
Affiliate marketing is a multibillion-dollar industry that spans the globe
According to the same statistics, the affiliate marketing industry will be worth $12 billion by 2022. As eCommerce grows in popularity, businesses are discovering affiliate marketing as an effective way to connect with end-users and promote their brand to consumers via the internet.
Affiliate marketing spending is expected to increase in the next five years
According to Statista, affiliate marketing spending in the United States alone could reach $8.2 billion in 2022, up from $7.4 billion in 2021. Affiliate marketing spending has increased year over year since 2012, when it was only $2.5 billion, indicating that more businesses are incorporating affiliate marketing into their campaigns.
Affiliate marketing is also taking up a significant portion of marketing budgets in other countries. Spending in the United Kingdom is expected to reach $828 million in 2020, up 10% from the previous year.
To Contents ↑
Affiliate marketing accounts for 16% of all eCommerce sales in Canada and the United States
Affiliate marketing accounts for about 15% of all revenue generated by digital marketing channels. It has surpassed email marketing, paid search, and social media marketing as one of the most effective digital advertising techniques.
Brand affiliates allow companies to reach out to customers without being too intrusive. Because brand affiliates have followers who trust their content, they may find it easier to persuade or persuade people to buy products from the brands they promote.
Most publishers use affiliate marketing to supplement their income
Affiliate marketing is used by over 84% of publishers. 94% of publishers participate in two or more affiliate marketing programs, while 39% and 20% use three or more and five affiliate marketing programs, respectively.
Publishers can work with brands directly or join affiliate networks such as Amazon Associates, AWIN, and eBay Partner Network (EPN). Affiliate networks connect brands to publishers and make account management, commission payouts, and reporting easier.
There are over 100,000 affiliates in the top affiliate networks
Affiliate marketing allows startups and small businesses with limited marketing budgets to bring their products and services closer to customers. Hundreds of thousands of brand affiliates cater to a specific audience through affiliate networks.
Myths about affiliate marketing
Will I be able to make money while I sleep?

Is affiliate marketing on its way out?

Is becoming an affiliate marketer really that simple?
Let's start by uncovering the truth about affiliate marketing and nothing but the truth.
Is affiliate marketing simple?
Myth: Anyone with a computer can become an affiliate marketer.
Reality: Many try to become affiliate marketers, but only a small percentage of those who try will succeed.
Becoming a successful affiliate marketer requires knowledge, experience, and persistent work. It is not a quick or easy path to success, but it can yield substantial profits when done correctly.
To be a successful affiliate marketer, you'll need the following qualities:
A passion for or expertise in a specific niche

Consumer research and internet skills

Skills in website design, graphics, SEO, PPC, and analytics
To Contents ↑
Is affiliate marketing a viable career option?
Myth: This is a question with a definitive answer.
Reality: Affiliate marketing can be a full-time job, but it isn't for everyone.
Some affiliate marketers have successful careers in the field, while others work full-time jobs and supplement their income with affiliate marketing. Multiple people began affiliate marketing as a side hustle but became so successful that they turned it into a career.
Can I become wealthy through affiliate marketing?
Myth: You can make money with affiliate marketing while you sleep.
Reality: You can become 'rich' through affiliate marketing, but not by sleeping!
People love to think of affiliate marketing as a money-making machine. Create a website, turn on the faucet, and watch the money roll in while you play video games.
While this is a pleasant fantasy, it is not the truth. Persistence is one of the most important aspects of affiliate marketing. Your obsession will be driving traffic to your websites and getting users to click and convert, and it will need your constant attention, optimization, and effort.
After you've built a successful website, the cash may start to flow in. However, it could take months of hard work before that happens.
To Contents ↑
I'll need to invest some money to get started
Myth: It costs a lot of money to start an affiliate marketing business.
Reality: You don't need a large sum of money; you need time.
One of the best parts of affiliate marketing is providing a level playing field. Starting an affiliate business does not require a large financial investment. All you need is a computer, access to the internet, and success skills.
While you won't need to spend a lot to get started, you will need time. Affiliate marketing requires skill, and learning the ropes can be a long and difficult process. So, at the start of your affiliate career, be prepared to invest a lot of time.
To Contents ↑
Myth about affiliate marketing and pay-per-click advertising:
Affiliate marketing is all about SEO
If your goal is to drive traffic to websites and encourage visitors to click and convert, organic traffic has the advantage of being free, and SEO is a major tool for this. However, SEO isn't enough to keep affiliates going in such a competitive online environment where organic reach is hard to get. Affiliates who buy ads are the most successful affiliate marketers, often reaching the largest audience and gaining the most conversions for the least amount of money.
Is it possible to be an affiliate without having a website?
Myth: To be an affiliate marketer, you need a website or blog.
Reality: You can be an affiliate even if you don't have a website, but you must have an online presence.
While most affiliate marketers have at least one website, you can set up your affiliate business without one. Remember, your goal is to get people to click on affiliate links on the internet. Other than hosting your own website and filling it with links, there are other options.
Is affiliate marketing the best option for me?
Only you can determine whether affiliate marketing is a good fit for your skills and personality. Here are some things to think about before making a decision:
You don't need to spend a lot of money to get started.

T

ry to

be analytical and creative, with a desire to learn new online tools and strategies.

You must exercise patience. It takes time and effort to build a successful affiliate marketing business (months).

You must devote time to optimizing and tweaking your online activities and regularly analyzing the results.

If you are passionate about your chosen niche, you'll do better.

You must be able to establish a trustworthy online presence. This is what will drive traffic to your affiliate link.
To Contents ↑
Is affiliate marketing a legitimate business?
Affiliate marketing is a perfectly legal way to make money despite a shady reputation among those who aren't familiar with it. Affiliate marketers have achieved levels of success ranging from reasonable to unbelievable with the right skills and attitude. Why can't you take part in it as well?
On the other hand, some niches are considered less "wholesome." We always advise choosing only trustworthy and ethical products and companies.
Adsterra has strict content guidelines concerning certain categories on the network as an ad network. Preventing fraud and maintaining safe, legitimate, and ethical advertising practices are in affiliate marketers' and ad networks' best interests.
To Contents ↑
Advantages of CPA marketing for advertisers
When you target the right audience (as an affiliate) and network with high-quality publishers, CPA marketing can be extremely profitable (as a business). The cost per action formula has several advantages over other marketing channels, such as:
It's very simple to put together
You just need a website and a CPA network to launch CPA marketing. Using this marketing strategy requires very little initial investment. There's no need to guess how to get started when working with a reputable CPA affiliate network.
Pay after conversion
You don't pay for traffic that doesn't convert. If an affiliate's referrals consistently provide low-rate conversions, diversify your affiliates and shift your focus to a more successful influencer.
Excellent return on investment
Affiliate marketing accounts for 16% of all online traffic. According to Conversant's Affiliate Customer Insights, customers spend more money when they buy something recommended by an affiliate. This means that these marketing campaigns generate higher-quality traffic and are more cost-effective than most other traffic sources.
Increase your marketing reach
CPA marketing provides scale and distribution. You have the opportunity to scale your brand message to the largest possible audience faster and more consistently. Every business vertical, including fashion, electronics, home and garden, pet supplies, beauty, uses CPA marketing. A good CPA affiliate network has an affiliate website that can be partnered within almost every vertical.
To Contents ↑
Best practices in CPA affiliate marketing
Affiliate marketing via CPA isn't a "set it and forget it" strategy. To help you succeed in your CPA marketing campaign, consider the following suggestions:
Join a reputable CPA network
You'll need a dedicated affiliate manager to get the most out of your CPA marketing efforts –– someone who can recruit new CPA affiliates, engage with website owners, send them new promotions, and ensure that your website generates consistent revenue.
Affiliate Managers can help affiliates by performing the following tasks:
Providing insight into strategic changes and reviews affiliate offers.

Providing tips for the best types of affiliate links or ads to boost conversions.

Offer advice on creating content that will effectively promote the merchant's goods.
Affiliate managers in CPA networks can also help advertisers by implementing the following strategies:
Connect you with high-performing affiliates in your niche and help you recruit them.

Come up with new product promotion ideas.

Send a consistent message to the CPA network about your brand and product updates.

Negotiate affiliate contracts, monitor ROI, and compare your affiliate program to others to stay competitive.

Showing you how to come up with creatives that work well with the most popular affiliate programs and websites.
Stay away from CPA networks that have a lot of negative feedback
The disadvantage of CPA marketing (as with any other online money-making opportunity) is the presence of shady networks. Read the reviews before deciding to join any CPA affiliate marketing network. Remember that no network can claim to have a 100% satisfaction rate, so a couple of complaints shouldn't deter you.
Look into payment issues
Even highly reputable CPA marketing networks may withhold payment for specific reasons, so read the network's policies before signing up).
To Contents ↑
Why affiliates should take a look at Adsterra CPA Network
With battle-tested, hand-picked offers from direct advertisers, Adsterra CPA Network welcomes its partners. Offers will only be available on the platform after they have been obtained directly from reputable advertisers and tested on Adsterra traffic to ensure conversions.
Our network can brag about having exclusive offers that aren't available anywhere else, as well as private offers that are only available after pre-moderation.
Despite the platform's many exclusives, it is open to all affiliates, regardless of their level. Here, advanced monetizers will find private offers with higher payouts, while beginners will find tested public offers.
Let's get on board right now. We'll walk through the main steps of registration, offer selection, and tracking settings in the next section.