After the devastating 2020 has ended, we all are longing for changes. And here is when affiliate marketers can catch a truly big fish…if they notice the trends first. Forewarned, forearmed! We collected top affiliate marketing trends for 2021 that can help you find your prospective niches and ad formats.
---
Contents
What are the trends for affiliate marketing verticals in 2021?
– E-commerce
– Sweepstakes
– Dating
– Non-mainstream business and entertainment
– Travel
– iGaming and Sports
– Subscriptions
– Utility/VPN/antiviruses
– Finance
– Education and online business courses

Ad formats in affiliate marketing: trends for 2021
– In-page push to replace web push
– Native ads but only banners
– Combo: high-quality popunders creatives and landings

Affiliate marketing insights for 2021
– Personalization of ads will help beat rivals
– Mobile broadband traffic continues to grow
– Customization of ad formats come at the forefront
– Interactivity gains higher CTRs
– Social traffic is booming
– Voice search reveals what users want

Conclusion
---
What are the trends for affiliate marketing verticals in 2021?
verticals will continue to generate leads, while some laggards can uplift their spirits. So which offers you should focus on?
E-commerce
After the pandemic struck, the world began to reshape much faster. Online shopping in some regions became the only way to buy goods and appliances. E-commerce players have quickly adapted to the situation. The US nonstore sales grew by 31,3% in December compared to November 2019. So, in 2021 this trend will keep gathering pace. Seasonal sales are on their way, and nothing seems to dim their success.

COD (cash-on-delivery) offers are still one of the most doubtful, but according to the media, countries like India have successfully returned to this payment method and managed to deliver goods safely.
Sweepstakes
The Sweepstake vertical is called 'evergreen', and it will keep this status in 2021. Regardless of income, people are eager for easy money or expensive gadgets. Gift cards and vouchers will also be on top. Keep your eye on those offers with really significant prizes; people will more likely opt in for iPhone 12 than for some home appliances.
Dating
The dating vertical stays among the strongest in all affiliate marketing trends' listings. Again, no surprise here. With Valentine's Day as a warm-up, dating offers will keep attracting people who are tired of being imprisoned at home. And if the anti-COVID vaccine succeeds, we will see people going out more often.
Non-mainstream business and entertainment
These are probably the most successful offers on the market. Streaming, VOD offers, camsites have shown incredible growth in demand year by year. In March 2020, when Pornhub decided to encourage all those staying at home and offered its Premium for free, traffic increased by 24.4%.

And guess whose traffic jumped up to 6,2% during the major Zoom outage in August 2020?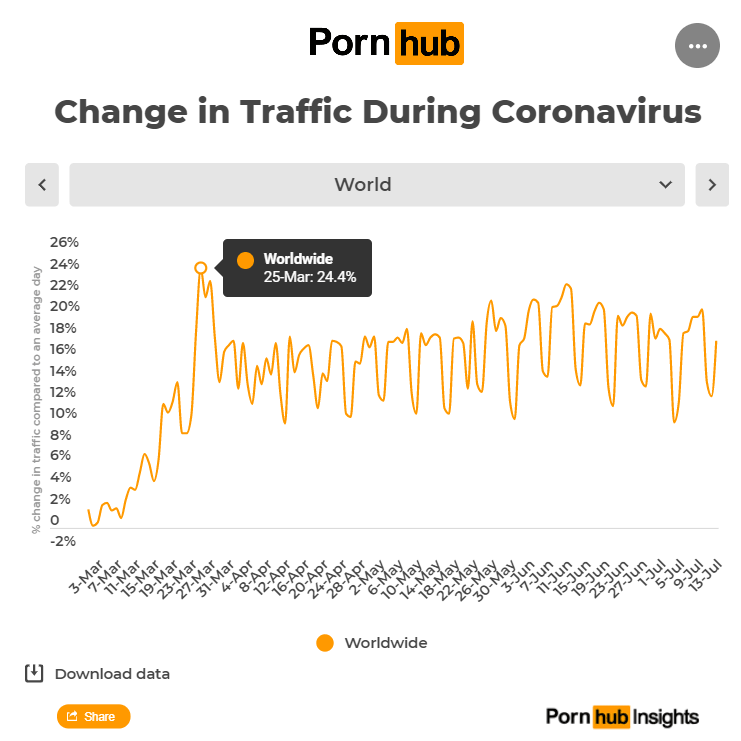 Along with juicy opportunities, the competition among affiliate marketers in non-mainstream niches will be challenging as well. To stay ahead of it in 2021, try exploring new formats that are more eye-catching compared to classic banners and popunders. We'll return to interactive ads a bit later.
Travel
The tourism industry has been one of the most affected with a shocking 80% fall. It seems like nobody believes it can thrive within the affiliate marketing business.

On the other side, many countries were actively developing domestic tourism in 2020. In the EU, by July 2020, domestic tourism almost recovered and reached the level of 2019.

These local travel offers are quite specific and demanding to targeting and optimization skills, but if they appear, pros can make real dollars on them.
iGaming
2020 has put the iGaming vertical on top. Actually, it has taken 20% of the whole niche's revenue.

In Australia, 79% of new accounts were created by men aged between 18 and 34 (according to the Australian Research Centre (AGRC) with their median monthly spend grew from $687 to $1,075. American players also went online.

Sports niche seems to be very prominent, too. Starting with Super Bowl and UFC fights in 2021, the industry will attract millions of dollars.
Subscriptions
Being stuck at home with a monotonous work-eat-sleep schedule can drive mad anyone unless they can entertain themselves. In April 2020, we at Adsterra fixed a surge in Subscriptions. Those Amazon Prime offers brought large profits to affiliates targeting Tier 1 and Tier 2.

Mobile carrier traffic also converts heavily with Subscription offers. PIN Submits, despite its non-trivial flow, are accelerating with Adsterra traffic, for instance.
Utility/VPN/Antiviruses
Utilities, VPN, and Antivirus offers have been growing over the last few years. In 2020, this vertical became one of the TOP-5 making tons of conversions. The trend is here to stay.

While workers stay indoors, they are mostly using desktop devices, which means that offers with VPNs and antiviruses will target desktop traffic.

However, with mobile traffic on the rise, people will strive for more privacy and safe browsing on mobiles and tablets. And we are witnessing lots of offers from VPN players on Google Play and AppStore.
Finance
Since 2020 left all of us wondering WHY we hadn't invested in BTC, this niche will carry on surprising us. Recent tweets by Elon Musk have fanned this flame.

There is a strong possibility that CPA Finance offers will soar in 2021. However, people will be more selective about such offers. Promoting offers, pay attention to prelanders and landing pages. They need to be credible, non-misleading, and action-prompting.

Education and online business courses
Having gone working remotely, many of us realized that we could boost skills by staying at home. This year will prompt educational platforms even stronger. And don't forget about "making money online" or "start your online business" offers. The past year was so unfair to many hard-working people who lost traditional jobs: taxi drivers, shop assistants, waiters, artisans. They're determined, persistent, and willing to earn.
---
Ad formats in affiliate marketing: trends for 2021
Affiliate marketing still has workhorses like banners and popunders, which will stream massive traffic from all Tiers. But users who continue to turn to mobile apps and WebViews leaving us no choice but to change advertising strategy. So what are the three main affiliate marketing trends for 2021 in advertising formats?
In-page push to replace web push
Needless to say, how web push ads have suffered over the past year. But the traffic seems to start migrating to its next-gen successor – in-page push. These ads don't require subscriptions and are AdBlock-friendly.

Moreover, you get a wider reach with in-page push as they are available on all devices, desktop, and mobile, including iOS. Chrome restrictions can't harm your traffic volumes, as well.
Native ads but not only banners
Native advertising is not new, but as users continue to install ad-blockers, won't you prefer adopting native ads that will blend into the content without annoying your audience?

Banners that blend in the context are good but are not the holy grail. Being native means being responsive, staying visible but non-intrusive, and melting into the familiar interfaces, especially mobile ones. Hence, in 2021, we will see a surge in ads that look like our favorite Instagram stories or chat messages.
Combo: high-quality popunders creatives and landings
No stats are required to admit that pop ads will stay in affiliate marketing trends in 2021, 2022, and so on. Vast audience outreach, billions of impressions, and a catchy but practical format made it our favorite.

But the more advanced the audience is, the more credible and sophisticated the pops should be. What's changed? People still want to get rich but are much more cautious; they want to bet on sports but have different motivations (compare: excitement and thrill VS get some easy money for life).

Running a pop campaign in 2021, please pay attention to what benefits it states and how credible and appealing it is to your target audience. And make sure the landing for your offer is also perfectly designed and written.
Affiliate marketing insights for 2021
Getting closer to affiliate marketing trends for 2021, we need to point out some global shifts in tech, user behavior, and content consumption that will have a tangible impact on attracting leads and running campaigns.
Personalization of ads will help beat rivals
When users meet ads, they measure how relevant they are to them at the moment. What can you do to personalize ads with fewer efforts? First, add special tags that will make your creatives less generic and more targeted: country, city, language. These tags replace particular pieces of text depending on the target.

The CSA's Can't Read, Won't Buy Research has revealed that 65% of customers prefer content in their language even if it is of poor quality.
Second, use native ad formats that fit users' OS and don't intrude UX. And finally, add personal attitude and live communication elements. We have mentioned before that brand-new ad formats allow for chatting with users and entertaining them.

Mobile broadband traffic continues to grow
With 4G LTE covering more and more GEOS and 5G is about to gain 80% of all mobile subscriptions in North America by 2026, users inevitably shift their daily activities to mobile devices.

Reports hold that more than half of all internet traffic is accounted for by mobile phone users. Moreover, there are roughly 3.5 billion smartphone users in the world today.

And many of them prefer to make quick orders using their mobile devices, play games, switch VPNs, download antiviruses, and make dates.
Customization of ad creatives come at the forefront
Just like people adore personalized content, they fall for unusual customized ads. A spinning wheel of fortune or an animated protagonist of a video game appeal to users much more than a simple banner. See our full expert guide on making super-engaging ad creatives.
Interactivity gains higher CTRs
As said above, customized ads win longer eye contact and collect more clicks. One way you can reach higher CTRs is by making your ads interactive. In other words, if your creatives and texts communicate with users and respond to their actions, you hit the jackpot.

One of such interaction types is the conversational scenario. With Social Bar, you can transform your creatives into mini chats with users. Those chats will react to users' answers according to the logic you put inside.
Social traffic is booming
One of the evident affiliate marketing trends for 2021 is the growing demand for social traffic. If you can buy quality traffic on Facebook and match it with offers, you're the winner. In 2020, publishers streaming social traffic got record payouts along with traditional leaders.

TikTok is obviously going to accelerate. With 689 million users monthly (WW) it showed unprecedented growth in 2020 becoming an alternative platform for sharing creative content. Affiliate marketing trends point to TikTok as an excellent opportunity for making money online.
Voice search reveals what users want
Voice search trends don't relate to affiliate marketing directly. However, voice tech is emerging with supersonic speeds, and we can't ignore it.

"Hey, Google, how much is fitness tracker with heart monitoring?"
"Alexa, where to buy jute yoga mat?"

Searches like these two are particularly good for affiliate marketers as they give you insights on how users think, what words they use in real life. And one of the targeting tricks, as we all know is targeting by keywords.
---
Conclusion
Can we call this list of affiliate marketing trends for 2021 definitive? Hardly. There are dozens of factors that affiliate marketers take into account each day, and the agenda changes too fast.

You can add to these trends the anti-cookie mission by Google, the all-increasing need for smart campaign tracking, emerging 4G LTE and 5G traffic, etc. But the point is that no one can embrace all factors and trends.

Your winning tactics is to make the most of those you feel you have skills and potential to harness. And keep an eye on the rest. One is clear: your next year must be much better than the previous one ☺️ With Adsterra, you see the market through and win in speed by getting top traffic slices, professional tutorials, and expert tips.
Join Adsterra and enjoy handpicked traffic sources and expert support from a dedicated manager.