Are Backlinks Important for SEO Rankings, Website Viewability, and Organic Traffic?
One of the aspects of website prosperity that demands lots of thinking is Search Engine Optimization (SEO). It is the only way that leads to steady traffic gains from search engines, and no one can dispute the significance of Google search. When trying to achieve the best SEO, a strong website backlink strategy comes into play. Search engines calculate the relevance of a website to a keyword, by considering the number of high-quality backlinks to that site. Website backlinks have been key ranking signals for years and they don't seem to drop in importance anytime soon.
The more relevant the content of the site referring to yours, the higher the quality your inbound links will have. So, the number of backlinks is important, but their quality matters even more.
---
Contents
---
So, what exactly are backlinks?
A backlink is one site leading to another, and it's sometimes called an inbound link (IBL).
The value and reputation of your site depend on the number of backlinks leading to it. These links are not your normal ranking factor. They are key parameters that refer people to your site and help spread the word about what your brand or site is all about.

Creating backlinks for SEO is as simple as it looks. You just place a link to another site within your content and that site, in turn, places a link back to yours upon contract. It is a great way to enrich your backlink profile, which affects the reliability of the links that point to your website.
A little history: Search Engine criteria for high-quality links have become even stricter because of short-sighted webmasters trying to achieve inbound links with deceptive or sneaky techniques. Methods like hidden links or automatically generated pages with the sole purpose of providing inbound links to websites. Such actions provoked Google to develop new rules and algorithms which are now able to spot these fraud actions.
---
Top-3 reasons for the true importance of backlinks
There are other advantages to building backlinks that may be less obvious but still deserve our consideration. Let's look at what they are.
Reason #1. Prompt higher SEO rankings
Google and other search engines see backlinks as votes for reputation. According to statistics and research provided by Ahrefs, the number of backlinks obtained from distinctive websites directly correlates with organic search traffic.
So, the more backlinks or "votes" your website has, the higher your website ranks for relevant search queries.
Reason #2. Direct referral traffic
You get referral traffic when someone reaches your site from another website. The sole purpose of backlinks is to direct people to other valuable resources on the internet; that's why they are hyperlinked.

A good link from an authoritative site can lead to an increase in not just traffic but relevant traffic that could convert into sales. This stresses the fact that the value of a link doesn't only affect SEO but the customers directly.

And when forming your backlink strategy, you should seek for backlinks from significant, quality sites that have a high search engine ranking score. Domain Authority (DA) metric could help here. Moz has developed the DA a 0 to 100 metric to predict how search engines will rank this or that website. Websites with DA over 40 are prominent partners for backlinking.
Domain Authority is not similar to the Domain Rating metric introduced by Ahrefs. Domain Rating measures the quantity and quality of backlinks to a website. With DR, it is better to check your website backlinking strategy health.
Reason #3. Build your brand
Proper link building can assist in building the authority of your brand within your niche. Old and new audiences will be able to see the expertise of your business and assure themselves of the quality of your content, which goes a long way towards branding.
Finally, quality backlinking affects everything from the engagement levels of your social media pages to sales and customer retention. It helps turn your audience into loyal customers and create a consistent brand experience for all customers.
---
5 fundamentals of a good backlink profile
A backlink profile is a description of the sites that link to yours. It's an integral part of building good SEO because monitoring helps you learn how to increase your website's credibility and position in the search.

There are a lot of components that make up an excellent backlink profile. But unable to list them all, we will give you the essentials that you can follow to improve your backlink portfolio.
1. Authoritative links
Add more value to your profile by both linking to high-authority websites and accumulating backlinks from them. Think Wikipedia, Forbes, The Guardian, LinkedIn, and so on.

These websites usually have a safe link portfolio themselves, accentuated by highly-engaging web content and high traffic. News blogs and informative websites are perfect examples of these.
The idea is to find an efficient way to get such websites to link to your web pages. To save some time, you can consider hiring one or more freelancing authors with established profiles on popular publications. Check out Fiverr, Upwork, Freelancer, etc.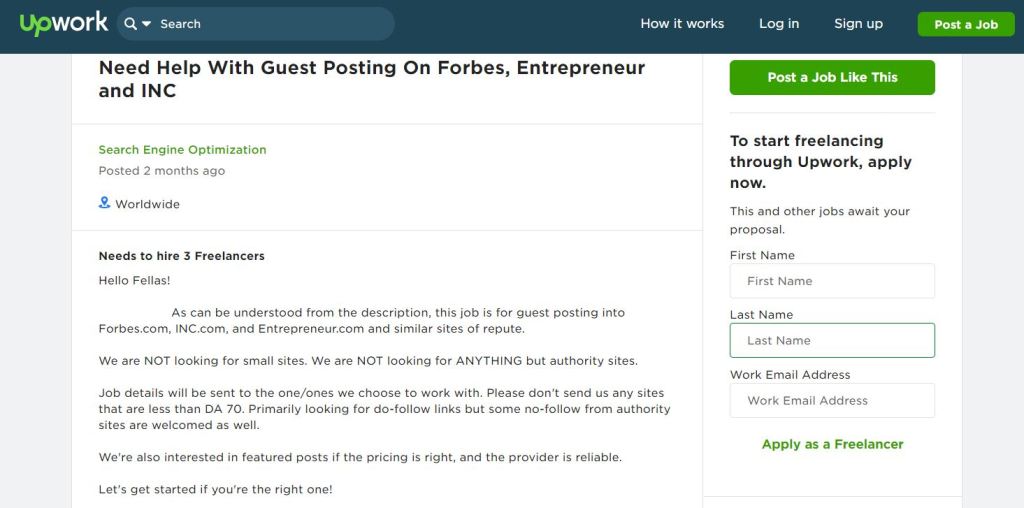 2. Anchor texts
Instead of the URL, your backlinks should always use anchor texts that blend naturally with the sentences they're in. You can also get penalized for using exact-match anchors (i.e., your key phrase is an exact match for your anchor text) and for using the same anchor text across different sites.

Below is an example of a so-as-called link scheme that is not welcomed by Google. You can check them all by reading Google Webmaster Guidelines.

It is much favored if the anchor texts are natural keywords, have variations, and fit into their content perfectly well. Try brand anchors and key phrases mixed into the anchors.
3. Do-follow links
A link needs to have a "do-follow" tag before it can be valuable in your backlink profile. "No-follow" links aren't useless, though. Balancing both "do-follow" and "no-follow" links is a formula for a backlink portfolio that looks genuine. (As long as both are natural backlinks.)

So mind to ask your partner not to put a "no-follow" parameter to the backlinking URL.
4. Varied and natural
For one, if all your backlinks come from news site comments, you will get flagged and penalized by Google and the like. Using backlinks in natural contexts and sourcing them from a variety of websites; that's the only way to go.
5. Relevant to your content
Search engines can spot links that have no natural relevance to the content. It won't make any sense if the majority of a sports blog's links come from a tech-based discussion board.
---
How to make your backlink profile strong and safe
Now, here are some of the effective ways to get more quality backlinks to your site, thereby improving your profile:
1. Start guest blogging
Guest blogging involves writing a blog post on a guest site and linking keywords back to related web pages on yours. With this content marketing technique, you get to control your backlinks, attract new readers or viewers, and increase your popularity and authority. Remember, you should ask for the same favor when invited to guest blog on someone else's website.
2. Create shareable content
When you consistently deliver compelling and unique content, your audience won't find it hard to share it. This evergreen approach not only strengthens your backlink profile, but it also affects your overall branding and SEO efforts.

Make the most of analytical tools to find out the types of content that are generating the most traffic, most shares, and most backlinks. After analyzing the data, you should then center your attention on making content within those brackets.
3. Seek reciprocal linking opportunities
One route is to form alliances with different sites and brands, and then set up partner pages that link out to them. Don't hesitate to "vote" for them on other pages, too — like your homepage, Resources page, blog posts, etc.

As long as you pick the right partners (and they link back to your website), this process can drive massive traffic to your website while improving your backlink profile.

You can also offer your customers, friends, and other trusted contacts such reciprocal backlink opportunities.
Try to avoid interlinking with several sites that are on the same IP with you. this won't work for SEO, nor will it improve the value of your link portfolio.
4. Include subtle backlinks in conversations
From blog comments to conversations on social or discussion platforms, never seize these wonderful opportunities to share your expert opinion. It's perfect for creating backlinks for SEO; just do it with subtlety.

Do-follow or no-follow, they can do wonders to your backlink portfolio. But blog comments are to be done with care. Black hatters used to bombard comment sections with backlinks, that's why they're of low value. They can even get your website flagged and penalized, so don't go overboard here.

Join relevant discussions only and make your anchor texts blend in naturally.
---
Tools for monitoring your website's backlink profile
Such tools help you check website backlinks and how the anchor text of each backlink includes keywords relating to your web content. Below are some of the best SEO tools recommended for backlinks monitoring and for boosting your backlink portfolio. Moreover, you can determine some nasty or undesirable backlinks that you should steer clear of.
SEMrush
Amongst their many exciting features is the Backlink Audit tool that provides you with a detailed assessment of your backlink profile for easy management. A great perk is the option to select and submit links that are toxic for removal.

You can also keep an eye on your competitor's fresh and lost links, stay updated on their backlink building strategies, analyze your progress against a wide variety of competitors, and get more backlink building prospects.

Of course, SEMrush comes with a pretty hefty price tag. The least plan starts at $99.95 per month, with the full package at $399.95.
| | |
| --- | --- |
| Pros | Cons |
| Extensive backlink research and competitors' backlinks monitoring | Doesn't capture all website backlinks in a company's profile (weak metrics) |
| Boasts the largest keyword database with extensive keyword research apps | Slow customer service |
| Quite easy to use | Frequent technical issues and the site can be down for hours |
| Fairly fast when you consider the amount of data its numerous algorithms and scripts have to process | Costly for small or solo businesses |
Ahrefs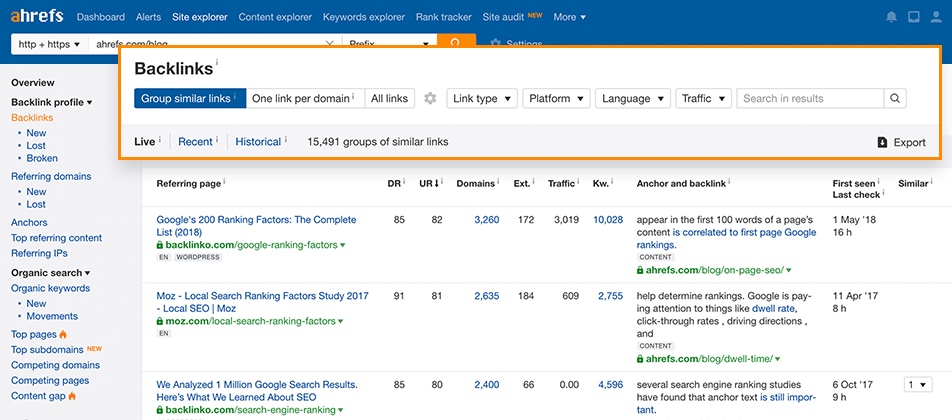 If you're looking for the best SEO tool, most experts will argue that the debate is between Ahrefs and SEMrush (with more tilting towards the former). Armed with a free, limited backlink checker and a $7 trial for both Lite and Standard plans, Ahrefs goes from $99 to $999 monthly (or $82 to $832 annually).

In addition to data-driven backlink management, Ahrefs helps you track SERP ranking, analyze the competition, audit your site, and recommend the best SEO practices for maximum organic search traffic.
As for the backlink feature, the tool helps you find robust backlink opportunities in your niche and even notifies you whenever someone mentions your brand online. It's perfect for analyzing backlinks and finding your competitors' backlinks.

| | |
| --- | --- |
| Pros | Cons |
| Massive database of website backlinks that quickly tracks new links, accentuated by ample competitor monitoring | Some tools can be quite complex, needing you to spend some time learning how to use them |
| Helps find keywords, create optimized content, and leverage Google features like Featured Snippets | Just as costly as SEMrush |
| Provides robust and easy-to-use reports | Site can run slowly when requesting intense or massive link results |
Moz
Discover diverse SEO opportunities and learn more about the backlinks that are working for competitors with the Moz Link Explorer tool. It's free to use, though the results are quite limited.

Also, make use of the collection of SEO resources offered to advance your marketing skills. In case you still have questions about their tools and features, you can make use of the Learn & Connect tab to ask the different industry experts in the Moz community.

For the full package, you can access Moz Pro Medium for 30 days without paying anything. After which your credit card starts getting a monthly bill of $149 along with applicable tax.
| | |
| --- | --- |
| Pros | Cons |
| Has an open community for you to get answers to your questions | Seems to be a tool made for web developers rather than marketing directors |
| Offers lots of great free resources on SEO training, best marketing strategies, and many more | The design layout is not intuitive and can be a bit tricky to use for those new to it |
| | Very expensive when compared to its other counterparts |
Choosing a tool to check and manage your backlink profile will help and make your backlinks to be of high-quality, though most aren't free. Remember, your traffic is your income! Spending some money to get the much-needed traffic your website deserves would not hurt.
---
SEO tools suitable for backlink research and backlink profile monitoring
---
How to get high-quality backlinks to your website
It is now without a doubt that backlinks remain search engines' top three ranking factors and that does not seem to change anytime soon. With this, lots of business owners and marketers plunge into deep thinking on how to get quality backlinks to their sites.

Backlinks should come from relevant and authoritative websites without being paid for. Below are some ways to consider to start getting the right links.
1. Earning backlinks
Earned backlinks are organic. It is when individuals learn about your content through search engines like Google, social media platforms, or when others tell them and they decide to link to your website. To increase your possibility of earning more quality backlinks from unknown folks, focus on creating spot-on and highly-engaging content your readers would love to link to.
2. Creating backlinks
Here, you create and add links to content on your website from other sites. Instances include leaving blog comments, sending replies to forum threads, and submitting to business directories. I.e., you're hoping for other sites to link back to yours.
3. Building backlinks
This involves approaching different editors, site owners, webmasters, and writers to ask them to link to your site. Your link building strategy comes into play here, if you want this method to work.

Some link-building strategies that are worth considering include the popular Skyscraper Technique, Unlinked Brand Mentions, Resource Link Building, and others.
---
Conclusion
There you have it. A clear backlink definition, its importance to SEO, and how it increases website traffic. We can additionally say that not all backlinks are equal, with attributes such as relevance, placement, and value contributing to a link's usefulness and quality.

Also, putting together a solid backlink building strategy can help you discover tactics that best suit your website, brand, content, and resources, and then plan out exactly how you can gain an advantage over your competitors.

With the traffic and authority gained from a proper backlink strategy, monetizing your website is as simple as joining a publisher-friendly advertising network. Adsterra offers various ad formats to serve high-converting ads to your audience and generate passive income.