Whether you're just starting as a marketer or consider yourself an expert, staying current on market trends is vital to ensure you're doing the right thing. Sometimes, you find yourself experimenting with various landing pages and ad copies to get the optimal solution. This means that you end up investing a lot of time, money, and effort into your work with no guarantee of success.
Rather than experimenting, a more effective strategy is to monitor your competitors' strategies. You can use various ad spying tools and research your competitors' ads to identify successful campaigns. We're going to share some of the best advertising spy tools with you in this post to help you hone your marketing skills.
Display ad spy tools
This section contains spy tools for display marketing on desktop and mobile. These tools tell you which of your competitors are running display ads and on which websites or publishers they appear. You can see which ads are running successfully and which websites are performing the best, helping you save a lot of time and money determining what works best.
How about testing ad creatives in real-time? You can set up a campaign with up to 15 In-Page Push or Native Banner creatives and pick the most converting one.
To Contents ↑
Using WhatRunsWhere, you can get the most thorough intelligence on your competitors, which can help you excel in your native ad campaigns. You can obtain all essential data regarding your competitors' advertising activities.
WhatRunsWhere serves both the web and mobile advertising industries. Learn about more effective advertising techniques and new high-traffic sources.
See top brand and affiliate ads
See the top ads from across the web, segmented by large brands and affiliate campaigns. Filter by keyword, ad type, country, and date range.
Unrivaled depth and breadth: A total of 90k advertisers across five countries. 60M+ ads at your fingertips;
Discover winning strategies
View detailed advertiser, category, site, and network profiles to see the A-Z of their campaigns.
See competitor's top ads, traffic sources, landing pages, and networks used. Simply click to reveal profitable new buying strategies.
To Contents ↑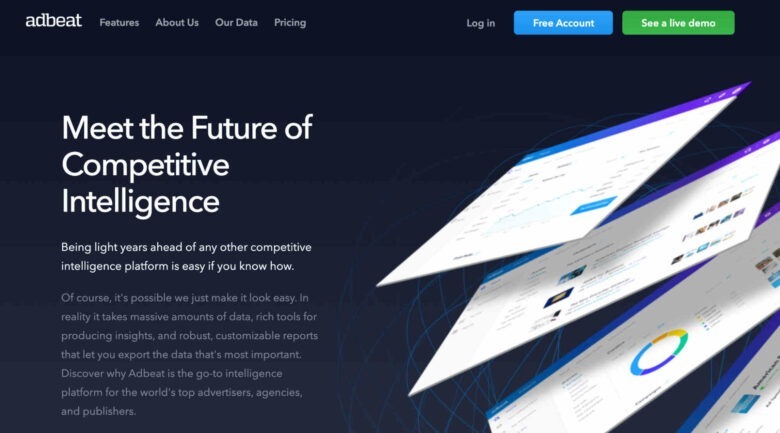 Adbeat is a platform for monitoring your competitors' native ads. Additionally, it provides competitive intelligence for mobile devices. It features an extensive advertising intelligence database from which you can benefit if you understand how to maximize the capabilities and functions of this robust native ad spy tool.
Data: Adbeat offers high-quality data and coverage across 120+ top ad networks;
Reporting: Create reports in multiple formats. Set up Alerts to never miss anything;
Insights: See media buying strategies, top creatives, landing pages, and ad spend estimates;
Advanced: In just a few clicks, you can compare advertisers, dive into campaigns, and get detailed publisher data.
To Contents ↑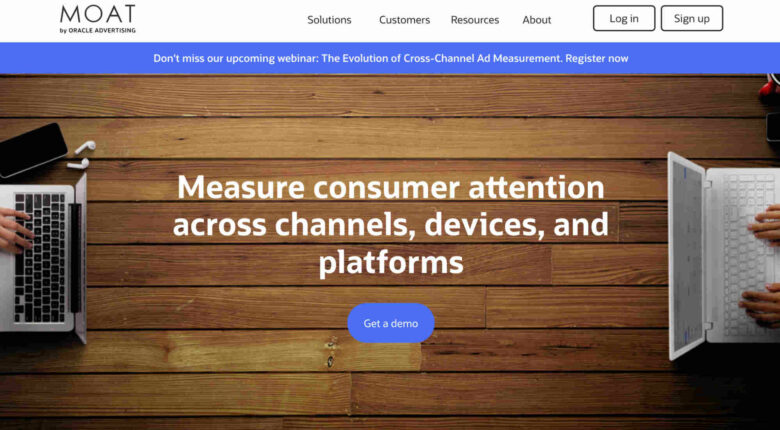 Moat specializes in locating ad creatives that have been used for a specific brand. You can later use it as inspiration for your own advertising placements or simply stay current with the competition. Each entry includes information about the dimensions of a specific creative and the period during which the advertisement ran. MOAT helps you access metrics like viewability, brand safety, and measured impressions. Additionally, MOAT includes a fantastic mock tool, which allows you to upload creatives and see how they appear on potential publisher websites.
Connect TV and digital data to ensure you're reaching the right people and getting a full picture of your prospects.
Catch consumers' attention
Beyond standard verification, advanced metrics can help you gauge consumer engagement and whether your message is being heard.
Measure ad effectiveness and business outcomes to understand the impact of your ad spend.
To Contents ↑
4 Push Ads Spy Tool
A push spy service (also known as a spy tool or a push notification monitoring service) allows you to spy on what competitors are launching in certain ad networks.
In other words, push spy service is the database of all advertising that is currently running in a specific traffic source. For example you can monitor Push notifications or Popups, for example, in Facebook.
To learn more about push notifications and especially about web-push or in-page push you can read our article: Will In-Page Push Knock Down Web Push and How to Earn on This Fight?
These services help you understand what is currently in the top, oversee creatives, and landing pages. Moreover, some of the services allow you to see campaign settings.
To Contents ↑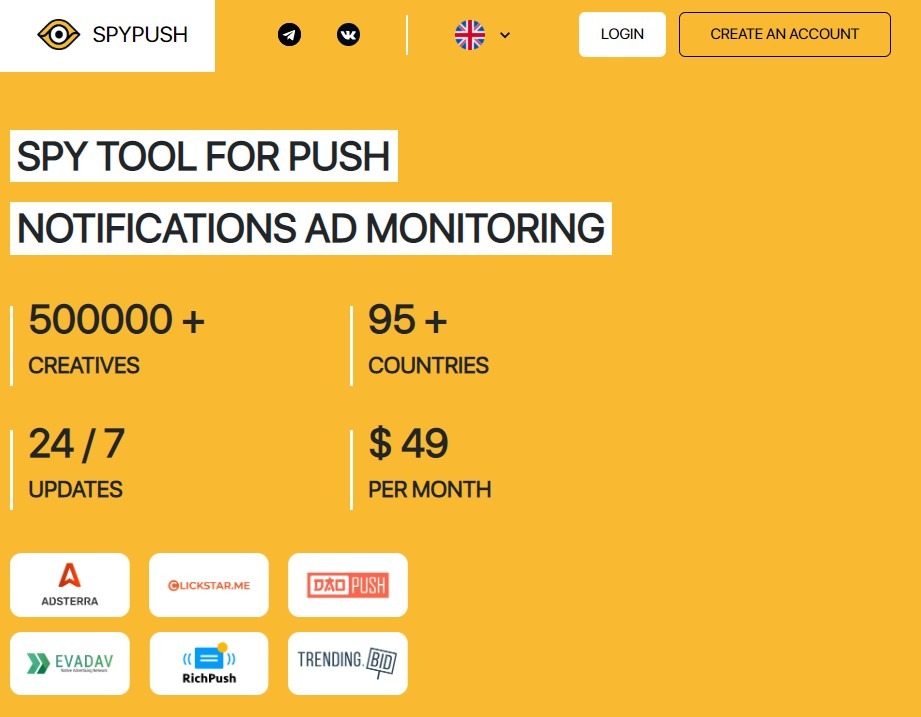 Push.spypush.com is a spy tool for push notifications ad monitoring. The tool allows you to find profitable advertising campaigns fast and easy. You can filter campaigns by keyword, by advertiser, by language or by country or OS. The detail page helps to analyze ad campaigns with such features as ad service life, target devices, similar ads and allows you to download all landings in one click.
Also, the tool allows to analyze thousands of successful ad campaigns from all main push traffic sources and you will be able to:
Analyze ad network & trackers;
Look at similar ads;
Find all profitable campaigns of your competitors.
Push.spypush.com works with the largest native ad networks such as:
Propellerads;
RichPush;
ClickStar;
Adsterra;
Trending Bid;
AdMaven;
Daopush;
Evadav.
To Contents ↑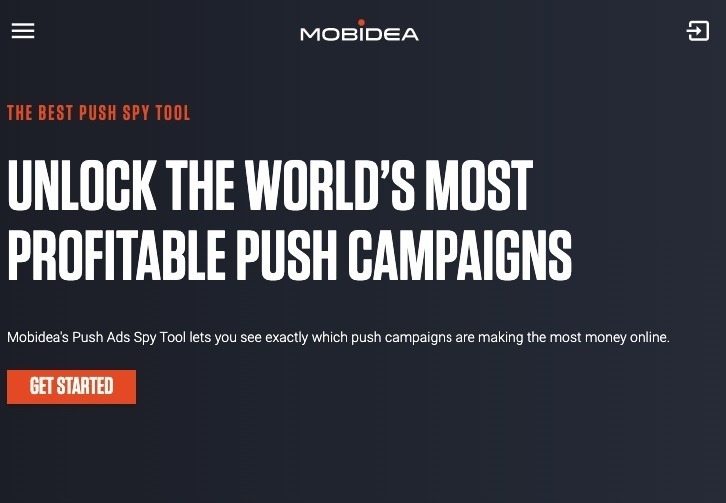 The Mobidea advertising network has its own spy service, and it is one of the leaders in push spying. This Push notification monitoring service has more than 19 million advertisements from 92 countries.
What's good about the service? There is an option to download reports about efficiency of landings, division into mobile and desktop campaigns. It will be useful to know what CPC bids competitors are making in real time.
But perhaps the most valuable tool that collects data on which push traffic source works best with a particular offer.
Benefits of Mobidea:
Real-time bidding history;
Deep insights into data;
Enhanced search options;
Landing page ripper and editor;
New campaign alerts;
Affiliate offer wall.
To Contents ↑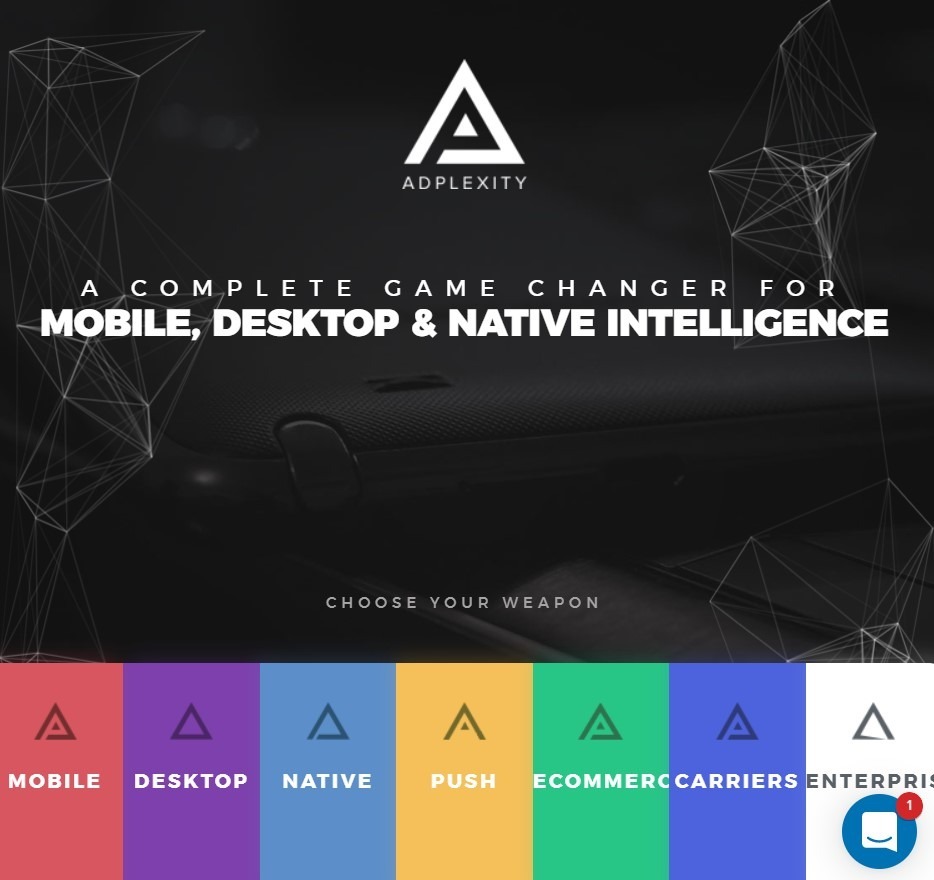 Adplexity is a tool that allows you to keep track of your competitors' ad campaigns on push traffic sources. The tool helps you to see campaigns running in over 80 countries, download every landing page, uncover hidden campaigns that run on mobile carrier traffic, and find ads promoting affiliate offers from more than 100 affiliate networks. Also, you will be able to search by keyword, advertiser, publisher, affiliate network and so on.
Adplexity gives you the opportunity to analyze every piece of a campaign with such features as ad trend, services targeted, traffic sources used, and publishers.
Also, you will be able to find successful campaigns fast and easy. Adplexity allows you to:
See affiliate network & tracking tool;
See outgoing URLs;
Find all campaigns;
Download every landing page.
Adplexity works with main push networks such as:
Mgid;
PropellerAds;
DatsPush;
LeoCash;
EvaDav;
Adsterra;
TeaserNet;
PushAds;
Izooto;
PushAd;
AdMaven.
To Contents ↑
Megaspy is a platform for monitoring advertisements in the MegaPush and DatsPush networks with the prospect of replenishing this list.
It has more than 100 countries, including the countries of North America and Europe. The platform offers a set of tools for monitoring ads with flexible targeting options and filters for sorting the received selections.
Using the service is absolutely free, and registration takes no more than a few seconds. The platform will be useful when developing your own push marketing strategies, as it allows you to track the latest trends and test the effectiveness of your own ideas.
Platform Benefits:
Free use of service tools;
Works with two top ad networks;
Wide GEO coverage;
You can find ads by titles/descriptions/links;
The selections are sorted by status and geo;
The service has its own chat in Telegram, where users can leave their wishes and suggestions for improving the platform.
To Contents ↑
Native ad spy tools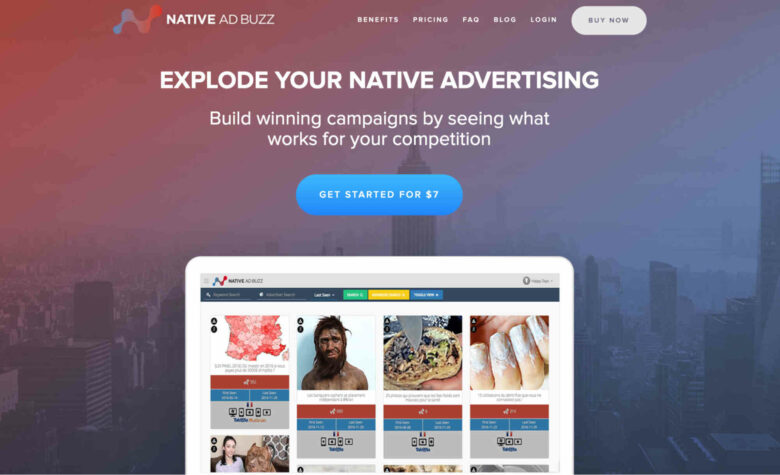 Native Ad Buzz is for marketers looking to spy on their competitors but are constrained by a limited budget. You can quickly analyze your competitors' native advertising and create successful advertising campaigns. With NativeAdBuzz, you can:
Launch successfully: Use the products, ad text, images, and strategies currently working online to launch your campaigns with a bang;
NAB mastermind forum: Take advantage of NAB's exclusive mastermind forum and learn from other successful internet marketers;
Find out what's hot now: Condense hours of tedious research and analysis into minutes;
Save your favorite ads: Create a library of your favorite ads and campaigns so you can quickly reference them later;
Spy on competitors: Filter ads by advertisers to stay five steps ahead of your competitors;
Avoid expensive mistakes: Others have paid to test what works. Learn from their mistakes;
Discover successful business models: Find out where and which ad networks your competitors use to set up successful converting funnels, ads, and landing pages;
Mobile and desktop ads. Filter ads by five device types, including iPad, iPhone, tablet, Android, and desktop.
To Contents ↑

​​
AdVault provides coverage for 13 advertising networks, and the search field on the dashboard is linked to the Spylog. Here, you can browse through the AdVault ad database. However, it's easier to search for advertisers, domains, and keywords that are relevant to your business.
The advanced search feature enables filtering by the engine, date range, country, ad run duration, device, ad strength minimum, minimum impressions. While AdVault will not reveal conversion or click-through rates (as that information is private), you can see which ads are most likely to succeed.
To Contents ↑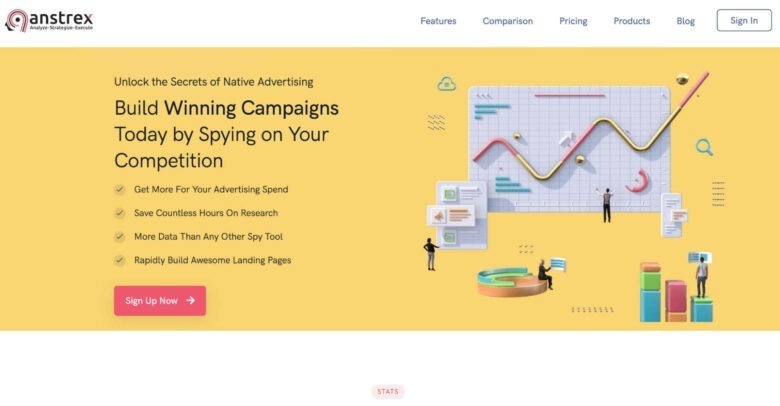 Anstrex provides all competitor intelligence data that you can use to improve your marketing efforts. This tool lets you instantly preview landing pages, get ad network info, and filter ads by ad strength and days running. It provides vital information such as how long a specific ad was active and on how many platforms it was active on.
This native ad spy tool saves time by analyzing hundreds of ads in seconds across languages and categories. So you can see what works for them and copy it. You can use your competitors' tried-and-true methods rather than risking something new.
Anstrex covers 27 ad networks so that you can spy on them all. It also provides search criteria alerts to keep you ahead of the competition. Anstrex notifies you when it detects an ad that matches your alert criteria.
To Contents ↑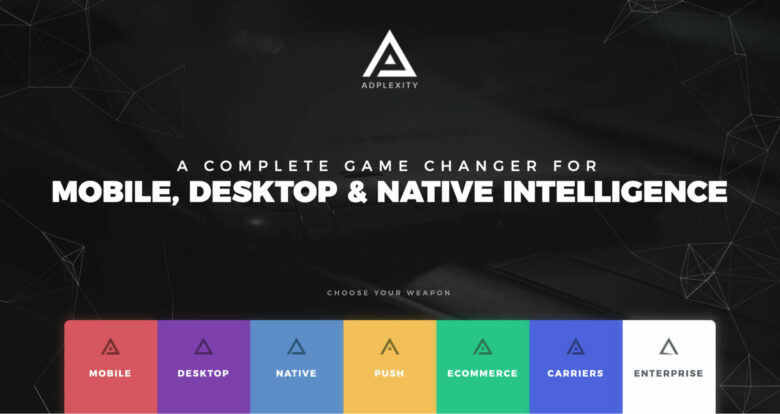 Adplexity is a large and valuable resource helps you learn about campaigns that use mobile carrier traffic. The tool covers every major country, as well as several low-competition countries. You can use this tool to identify ads that promote affiliate offers and download each landing page that appears in the search results from the UI. You get filtering options and detailed information about each ad campaign. Adplexity also provides information on the duration of an ad campaign's activity and the landing pages.
To Contents ↑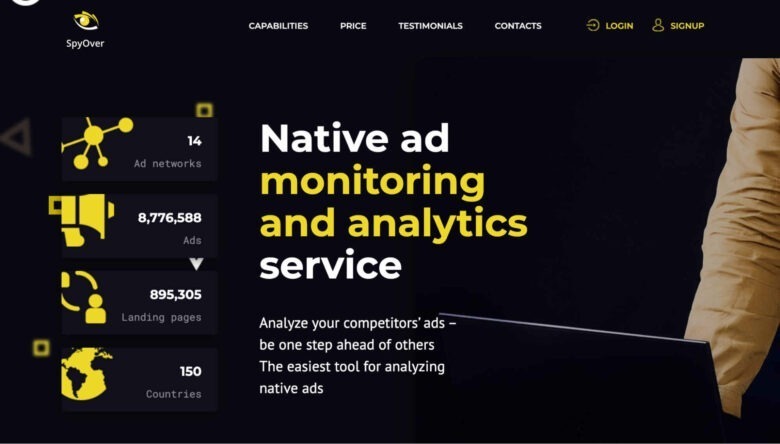 SpyOver monitors 15 ad networks and 70 affiliate networks in 115 countries and offers up to 7 million ad impressions. One of SpyOver's advantages is its segmentation feature.
You can sort and filter data by device, GEO, browser, network, and track, allowing you to quickly access detailed statistics, graphs, and data for each creative and browse landing pages by text, copy the title, or even URL.
SpyOver allows you to download competitors' landing pages and multiple creatives at once. Your primary objective is to identify winning creatives and landing pages and apply these strategies to your campaigns. You'll be able to use it to discover trending offers and use the advanced filters to determine what's hot right now versus what's worked overtime.
To Contents ↑
Other top ad intelligence solutions (combines search, display & app spying)
These solutions are equally important because while they are all unique, they have one thing in common: they can completely transform your advertising game.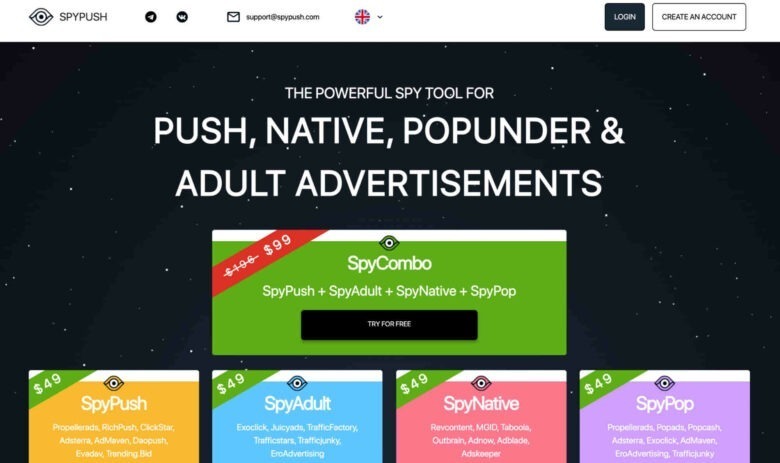 SpyPush is a well-known push notification monitoring service that integrates with several ad networks, including Adsterra. Media buyers and affiliates will appreciate the platform's clean interface and ease of use, as well as the data from over 500,000 push ads.
You can navigate to an advertiser's landing pages and view similar creatives to understand better what's trending in your niche. Filter creatives by country, language, device, and network, as well as sort them by time and activity. You can also add creatives to your favorites list.
To Contents ↑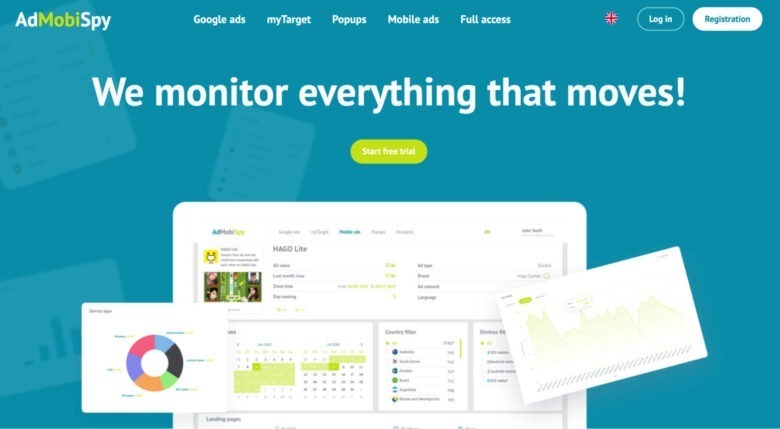 AdMobiSpy continuously monitors over 6 million ads in 183 countries, including 23 ad networks. This is the tool for you if you're looking to discover new sources of profitable traffic for your campaigns. AdMobiSpy takes this a step further by allowing you to drill down into the specifics of your competitors' campaigns.
While the interface will be familiar to those who often use spy tools, the data presented is impressive, providing instant visual feedback on the creatives available.
To Contents ↑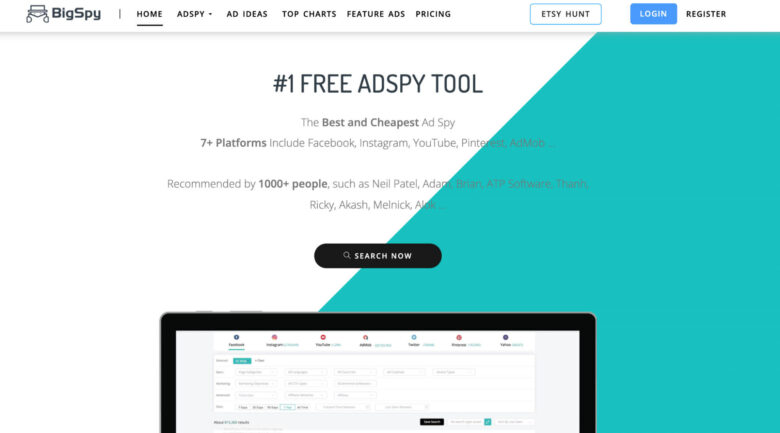 There are two primary reasons why BigSpy is ideal for beginners: it is free and simple to use. This ad spy tool helps you conduct searches based on marketing objectives, call-to-actions, and creatives for a specific market segment. Additionally, the platform notifies you of particular brands and businesses. Compared to paid ad spy tools, BigSpy lacks detailed statistics and analysis.
To Contents ↑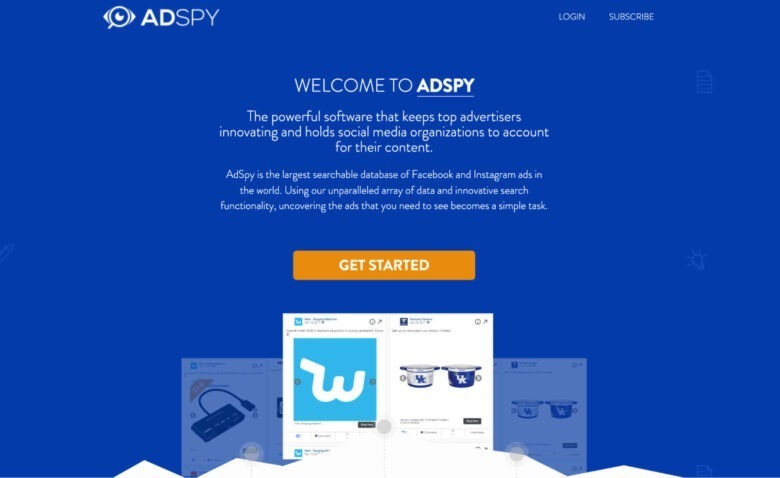 AdSpy should be your go-to ad intelligence solution if you specialize in running Instagram ads. It locates hidden ads on Facebook and Instagram, allowing for a more in-depth analysis of less popular ads.
To Contents ↑
5. iSpionage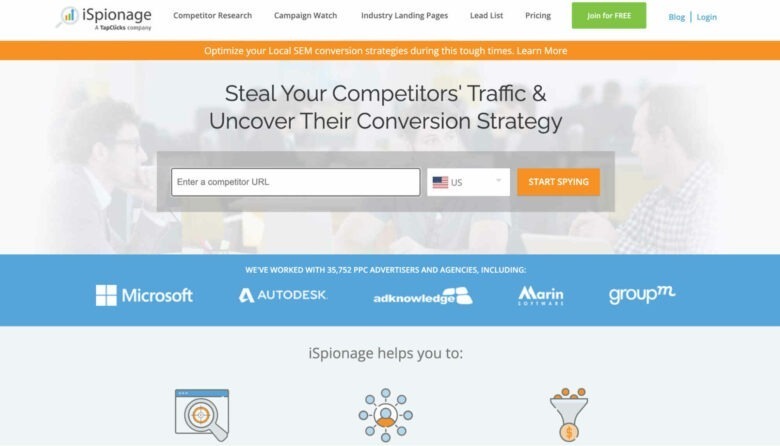 iSpionage is a highly effective platform that allows advertisers to gain insight into their competitors' traffic and conversion strategies. It gathers information about your competitors through their Google Ads activities and keywords and then generates detailed reports.
iSpionage features a landing page gallery where you can skim through top landing pages or search for landing pages relevant to your industry. Additionally, its competitor alerts are an excellent feature. They send you an email monthly notifying you of any changes to your competitor's keywords or ad copy.
To Contents ↑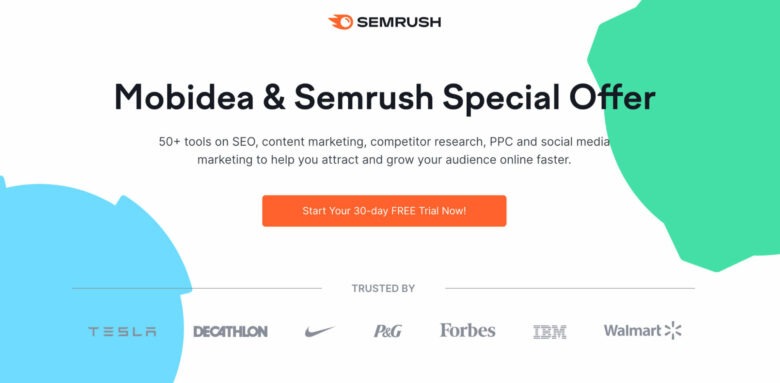 SEMrush is a well-known SEO tool for marketers, but it's also a handy tool for monitoring your competitors' PPC campaigns. You can use this tool to identify new competitors in Google Ads and analyze their advertising budgets and keywords. SEMrush's team constantly adds new features, such as the CPC map, which helps you optimize your spending in specific geographic regions and localize your ad campaigns.
One of the platform's best features is its ability to identify competitors' ad copy in real-time and export the results for future reference. This simplifies the process of creating new ad copy for split-testing campaigns. You can use this tool to uncover keywords that your competitors may have overlooked, as well as low competition and high demand keywords.
To Contents ↑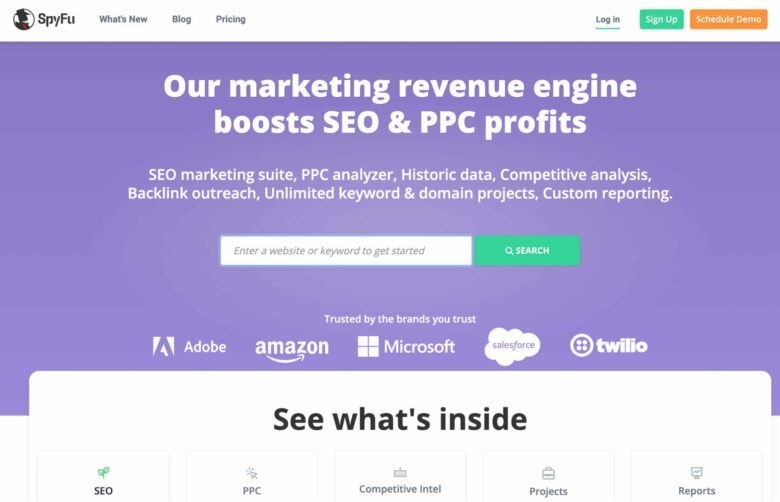 Like SEMRush, SpyFu compares domains based on keywords, organic SERP traffic, and ad variations. The primary disadvantage is that the platform collects data only from custom domains. So you'll need a third-party tool to access data from your competitors' social media channels.
To Contents ↑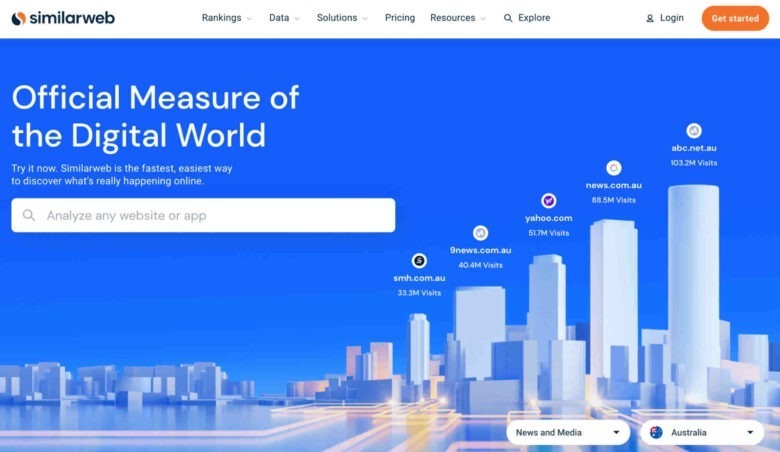 SimilarWeb is a solution for traffic intelligence. It collects data from a variety of websites and apps. The tool focuses on SEO and SEM, resulting in more detailed and precise data collection. One disadvantage of this ad spy tool is that it doesn't allow you to cross-reference your competitors' traffic with your own. As a result, you end up downloading massive spreadsheets to perform these tasks manually.
To Contents ↑
Conclusion
The first step toward developing successful display ad campaigns is determining what works already. Your competitors have spent millions choosing the best methods to reach the right audience and develop the most effective messages. Make every effort to achieve the same level of quality as the leading brands in your market, and then improve from there.