The 2022 holidays are almost here; now is your chance to activate your holiday ad campaigns before your competitors. Affiliate marketers have a lot to look forward to in the last three months of the year. Now that it's the holiday season, it's time to find Christmas offers and make money from them.
Read the tips on increasing affiliate marketing sales for Christmas and put them to use.
Сhristmas affiliate marketing tips to increase your traffic in 2022
You can increase revenue during the holidays by knowing what to promote, when, and what traffic to use. Let's look at strategies to get traffic and set up the right campaign for the holiday season.
1. Black Friday is your Christmas marketing friend
Thanksgiving—a uniquely American celebration—marks the start of the festive season. With this event comes the famed Black Friday, which occurs on the first Friday after Thanksgiving. This year (2022), Black Friday will occur on November 25th, signaling the beginning of the holiday shopping season for consumers and marketers!
But what often started as a one-day shopping event evolved into a 4-day shopping weekend that ends on Cyber Monday. According to our experience, people are looking for gifts for their friends and family, so now is the time to ensure your ads are visible as online spending increases.
Ad impressions are usually higher during the pre-holiday season, with CTRs rising by 100% and conversion rates increasing by 60%. You should capitalize on the trend and increase ad spending to reap the rewards. This is a busy time, and you need to get more targeted traffic from your competitors.
To Contents ↑
2. When do I start getting ready?
At first glance, this question seems easy, especially for people who live in places where Christmas is on December 25th. Affiliate marketers often start campaigns with products for the New Year at the end of November or December to make the most money at Christmas. But you can still start and win the jackpot in the middle of the month.
Since everyone is rushing to empty their shop before the economic crisis worsens, it looks like Christmas ads may start much earlier than they used to.
We recommend starting at least two weeks ahead of Christmas day. A superprofessional affiliate can start a week before Christmas, but it's still a very competitive period, and you need time to prepare.
To Contents ↑
Take into account different holidays in various GEOs
Besides, Christmas isn't just about December 25th. People start exchanging gifts on December 1st. Christians exchange Christmas gifts on December 25th. The same is true for Brazil, one of the best countries for affiliate marketing. Indonesians know the exact date, but they also have their traditions. On December 25th, Indonesian Christmas, people give gifts to each other. However, people in Japan exchange gifts on December 31st.
Pay attention to the novelty days
By paying attention to more minor, niche holidays, you can engage a smaller niche of followers and keep them loyal. On Single's day, for example, more international marketers put effort into capturing the attention of China's over 600 million internet users to ensure that consumers spend at least some of their money on cross-border shopping.

Furthermore, some affiliate marketers are betting that Single's Day will become even more of a global phenomenon, causing an international target audience to go on a collective buying spree on November 11th. Make sure to include Single's Day in your ad activities next year.
To Contents ↑
3. 2022 gift trends
Marketers may guess what will be popular this year, but real buyers may think differently. Every year, things change, and financial recessions can also change global trends.
It's smart to look at the numbers from the big players on the market, which can be the most important tip for affiliate marketers at Christmas. It helps to know what the people who live in a certain area want. The good news is that Google actively collects this kind of information.
Google just launched its Google Shopping trends for 2022, which lists the most-searched-for gift ideas for the coming holiday season. The company says people want to buy games, fragrances, tech, health and beauty, sports and wellness, kitchen gear, and toys for the holidays this year.
Interestingly, gadgets, toys, and game consoles are the top three categories on the list. Use this info to decide which offer to promote.
To Contents ↑
4. What offers can you promote for Christmas?
Paid subscriptions, consumer electronics, smartphones, and clothes come first in mind. This is a vast market sector, and you will find many CPA offers here. The competition is rather stiff, while the conversion flow is complex. All ecommerce offers will require payments or orders at least. Let's look at less obvious offer types, then. You will find secret paths to larger profits!

Money, gift cards, clothes, shoes, food, smartphones, jewelry, watches, cosmetics, and books are some of the most wanted gifts for Christmas 2022. And there's a place for an affiliate marketer to turn around.
People still believe in miracles and hope that getting a significant sum of money on New Year's Eve will help them get out of debt. Affiliates can promote things like Sweepstakes, Freemiums, and Nutra during this period.
To Contents ↑
Streaming platforms' freemiums?
The best last-minute Christmas gifts are another idea for something to promote. We're talking about gift cards for streaming services that can also be bought in January, like a subscription to Netflix, Apple, Disney+, Amazon, HBO Max, or software and apps.
Sweepstakes
Find out what the most wanted gifts are and use that to choose a Sweepstakes offer. It might be something other than an iPhone 14, AirPods, or a PlayStation. Promoting an Air fryer and the newest Nike Air Jordans can be a good idea. Remember that people who want gift cards or vouchers are also possible buyers.
VPN and Utilities
Seems weird? VPN providers are very screwed at inventing special holiday offers. For instance, NordVPN launched a very appealing Black Friday campaign offering huge discounts for paid subscribers. Dig through your affiliate network and check if there are such seasonal offers.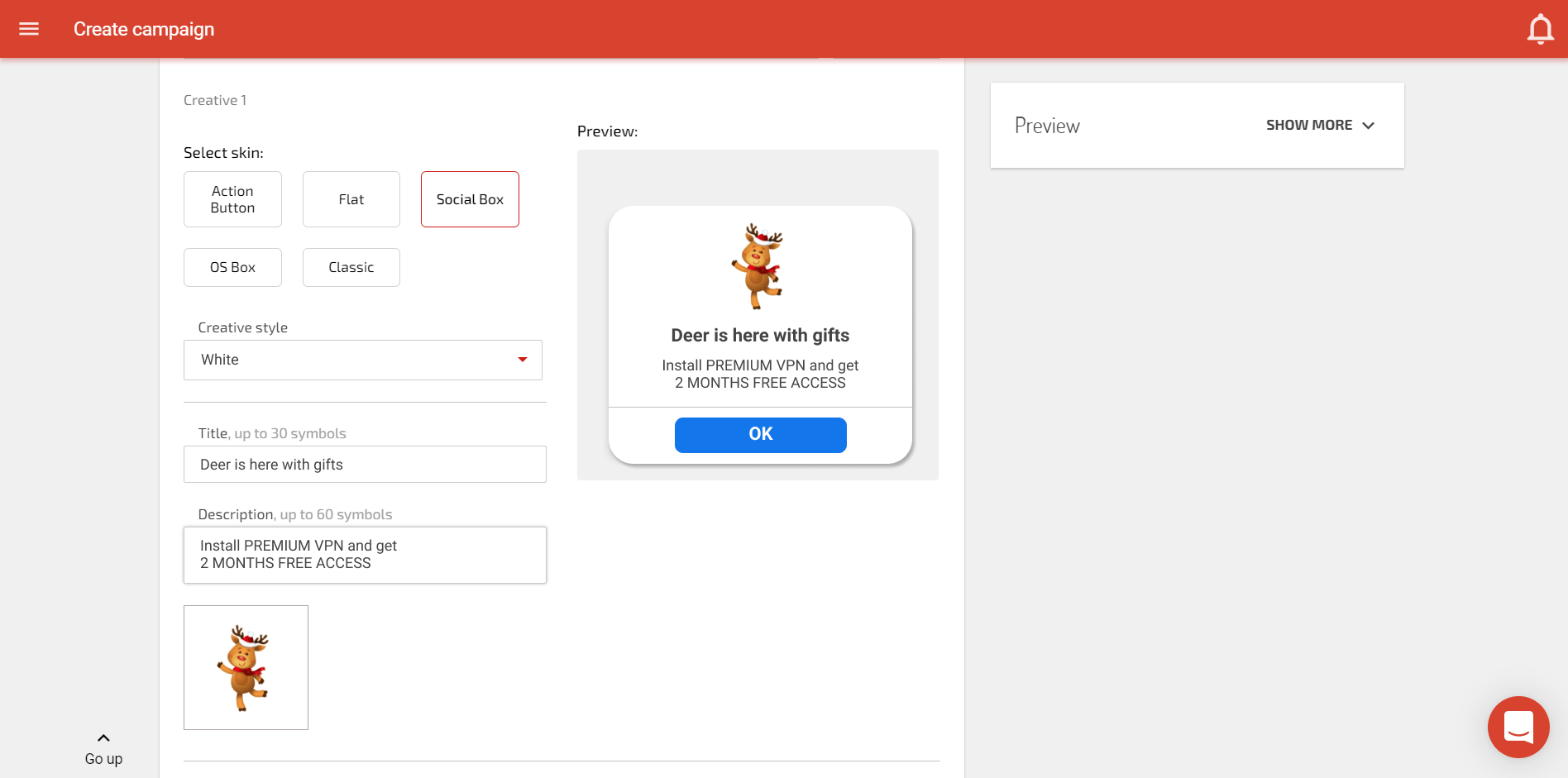 To make a truly engaging ad, you must add some holiday spirit to your creatives. Check Social Bar templates where you can add Christmas designs and adornment.
To Contents ↑
iGaming and Betting
These verticals are active throughout the year. And since it's a festive season, people are full of expectations. They see good signs all around. Even during the unfortunate 2020-2021 season, this magic still works. You can ramp it up by adding holiday designs and wishes to your ad creatives. Moreover, some betting platforms and direct advertisers (online casinos, for instance) will offer increased payouts for players during the holidays. Take advantage of such offers.
Nutra
Different kinds of Nutra products often perform well in December. Affiliate marketers can also promote products and courses for losing weight or apps for sports. Marketers can keep running their advertising campaigns in January if they choose Nutra offers. People often make resolutions like "lose weight in the new year" or "learn something new." Because of this, online educational projects can also be thought of as a product to promote.
5. The best kind of traffic for Christmas offers
Popunder ads are usually good for promoting Sweepstakes and Gambling. In comparison, Push notifications are ideal in areas where personal appeal and privacy are important, like Dating, VPN, Antivirus, and Nutra offers.
Try Popunders if you choose an Ecommerce offer. Set up pre-landing pages with the most interesting products for users. This strategy shows that the website has the things they need, which can fetch a lot of conversions.
Let's give you some advice concerning CPM traffic. It's preferable to buy CPM traffic instead of CPA. But we will discuss this issue a bit later. So keep on reading!
In-Page Push ads (IPP) can be useful on pre-landers if you want to invite users to win money, a gadget, or hang out with someone. IPP ads are unrivaled when it comes to teasing users and prewarm them before leading to a landing page. With Adsterra, you can test up to 15 different In-Page Push templates.
To Contents ↑
Have you ever heard of gamification?
Gamification is when you use game elements in your marketing strategy, either by making ads that look like games or by making your product look like a game.
Pre-landers that look like games, like lucky wheels, scratch-offs, and slot machines, are good examples of gamified marketing strategy. There are many benefits to this approach, including the following:
Customers want to play your games to find out what will happen next. For you, that means getting a lead or sending the customer on the sales journey.
Customers are more likely to buy from your offer if they enjoy your gamified content.
Gen Z is a good fit for gamification: 73% of Gen Z grew up playing video games, and gamified marketing speaks to their competitive nature and desire for rewards.
You can use ShortStack to gamify your pre-landers and landing pages.
To Contents ↑
6. Don't forget post-Christmas campaigns
Shopping doesn't stop after Christmas. As the post-Christmas and New Year sales begin, people will have more time to shop online for bargains. However, some advertisers turn off or reduce their online campaign activities just before Christmas Eve. That's a huge mistake and a bad idea in one! They often miss out on the New Year traffic because the days between Christmas and New Year's Eve are just as busy as the start of December.
Fortunately, this means that there'll be less competition: lower CPMs, CPCs, and CPAs for those that keep their campaigns active. This is a massive opportunity for you! Now is not the time to restrict your marketing budget; it makes sense to boost your ad spending while more people are online.
Before New Year's, most advertising campaigns focus on three main ideas: discounts and special offers, limited-time offers, and the idea that a miracle could happen. Choose one or use them all together.
You can't put a GIF or a countdown on a web push notification, but you can do that in our In-Page Push ads. In addition to numerous niches, In-Page Push ads are compatible with all GEOs, devices, browsers, and OS. Adsterra will provide multiple high-converting templates that users will never get tired of, yielding massive clicks and conversions for your campaign.
To Contents ↑
Other helpful affiliate marketing tips
1. Incite urgency
To increase urgency, include a time-sensitive copy in your creatives, such as "today only," "before Christmas," "24-hour flash sale," Only for first 20 users", "The offer only lasts for 2 days", "final hours," "ends tonight," and "for a limited time only." You can change the creatives and the products you promote so that there are multiple flash sales throughout the month.
2. Create multiple ad creatives
Regularly update your ads with the most recent promotions and special offers. The more diverse your images are, the better. However, remember to test, optimize, and use more of the offer that converts the best.
3. Use your ad creatives to spread the holiday spirit
Be creative with your ads and landing pages to increase engagement and conversion rates. People are more likely to click on Christmas-themed ads during the holidays, so design your creatives accordingly. Adsterra allows you to test up to 15 In-Page Push (Social Bar) creatives per campaign, each of which can be unique and engaging.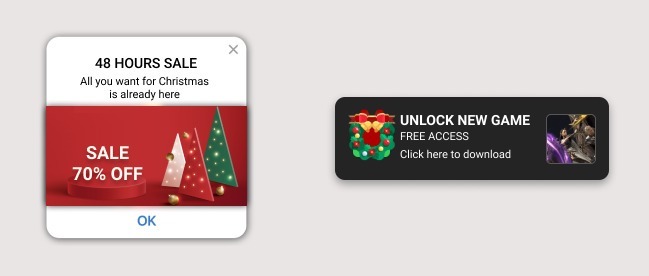 To Contents ↑
4. Mix and match different ad formats
We recommend trying out different ad formats because each has its advantages. You can also combine them to achieve maximum reach. On regular occasions, you could start with Popunder ads and broad targeting, slowly moving from one traffic slice to another.
But the holiday season is way too different. You can act more aggressively to scale your campaign. Add Native Banners or In-Page Push formats with Christmas-themed designs. Traffic varies according to the ad format, so you'll see an influx of new traffic. Campaign scaling is an art you can master quickly with this guide written by our expert:
To Contents ↑
5. Target mobile traffic
Mobile holiday purchases account for more than 58% of all web traffic. Don't miss out on this opportunity, and make sure to run mobile-friendly ads too. Mobile shoppers are most active at night or on weekends; make sure your ads are active during those times. Cover all your bases, and don't focus on a single device type.
6. Use the CPM pricing model for eCommerce offers
Christmas promotions are often about buying. However, a purchase is a long process; most users do not complete it quickly. So if you pick the CPA model, traffic will flow but won't convert immediately into a purchase. Your campaign may stop because there are no conversions, and you'll realize that you have no data to analyze while your budget is vanishing.
CPM is cheaper. You get more reach, test a bit and select the traffic you want. As a result, you'll get conversions without paying a lot for the conversions themselves.
7. Remove budget limits
As a general rule, we recommend setting up a minimum budget. However, this season, an advertiser or affiliate should increase the minimum limit or remove it and spend without restrictions. If your targets are set up properly, the main strategy is to get as much quality traffic as possible.
8. Bid more than the average for the region
To get more eyes on your ads, your ad campaign needs to win as many auctions as possible on the ad network. Even if you usually start campaigns with medium bids, you should increase your bids during this period. Remember, you're competing with thousands of other advertisers and affiliates who want to win big in the Christmas and New Year sales.

Note:
When testing, it is okay to bid as AI algorithms recommend (Adsterra uses its in-house AI solution to estimate traffic volumes and recommend competitive bids). If you increase the bid a little, it's also great. But when you're done with testing, start spending more. You found your ideal traffic source, so spend and stay ahead of your competition.
To Contents ↑
9. Use built-in tools to optimize automatically
Affiliates have a lot to do during the last week of December. This is especially true if you want to earn money and spend time with your family. You can get the most out of this situation using the advertising network's auto-optimization tool. This feature can cut the time it takes to optimize by a lot.
How brands can enhance their Christmas marketing activities in 2022
1. Decorate your website, logo, and accounts
Like Adsterra does every holiday season, you can spice up your landing pages with festive graphics or design that focuses on the current holiday.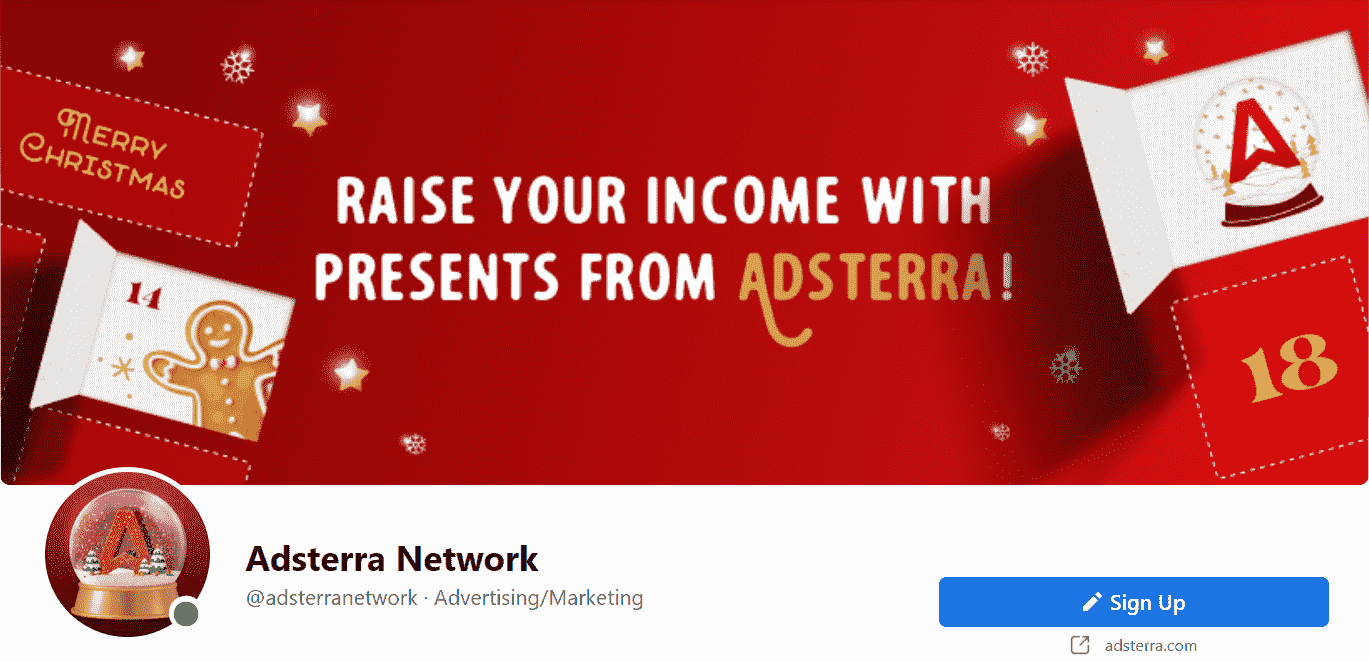 For example, Adsterra has replaced its ordinary Facebook header image with a festive photo of its offer. You'll notice that the image has a special holiday appeal. Do something similar with your social media accounts, but make sure the "décor" is brand-related.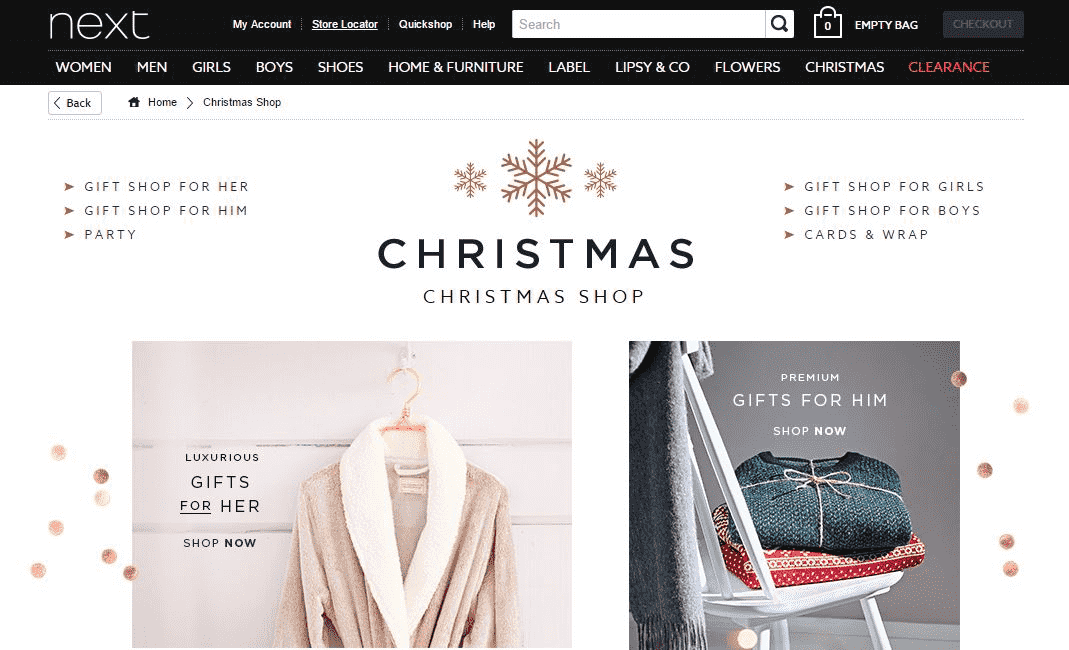 Most people also expect to see seasonal decorations on websites during the holidays. Update content throughout your site with themed photos, graphics, and messaging as needed. You can take the following actions:
Use holiday-themed images and messaging in your homepage hero image or slider.
Replace generic product photos with holiday-themed images.
Include holiday graphics in sale banners and Popups.
Change call-to-action buttons from "Shop Now" to "Shop Gifts."
Add a Santa hat to your profile pictures for a festive touch.
Make fancy newsletters, deck them in red, gold, and silver, and send them to your email list.
To Contents ↑
2. Host a holiday giveaway
The holidays are the perfect time to host a festive giveaway. Your customers will be delighted to know that you are giving them gifts. In addition, giveaway posts are highly engaging (who doesn't like free stuff?) and may help you grow your audience and generate leads.
Luckily, running a social media giveaway is easier than it seems. Here's a general 7-step guide:
Compile a few prizes. A prize pack with items from other affiliates can be included.
Choose prizes that people will want to win (ideally with some cash value).
Make a post about your giveaway. Use an appealing image of the prize to help draw attention to it.
Post your giveaway rules (for instance, ask that people follow you and like the post to enter the contest). Set a deadline for entries and specify when you'll announce the winners.
Pick a winner(s)! The Good Luck Fairy can help you pick them at random.
Create a new post to announce the winner(s). To ensure the winners are notified, tag them and send them a direct message.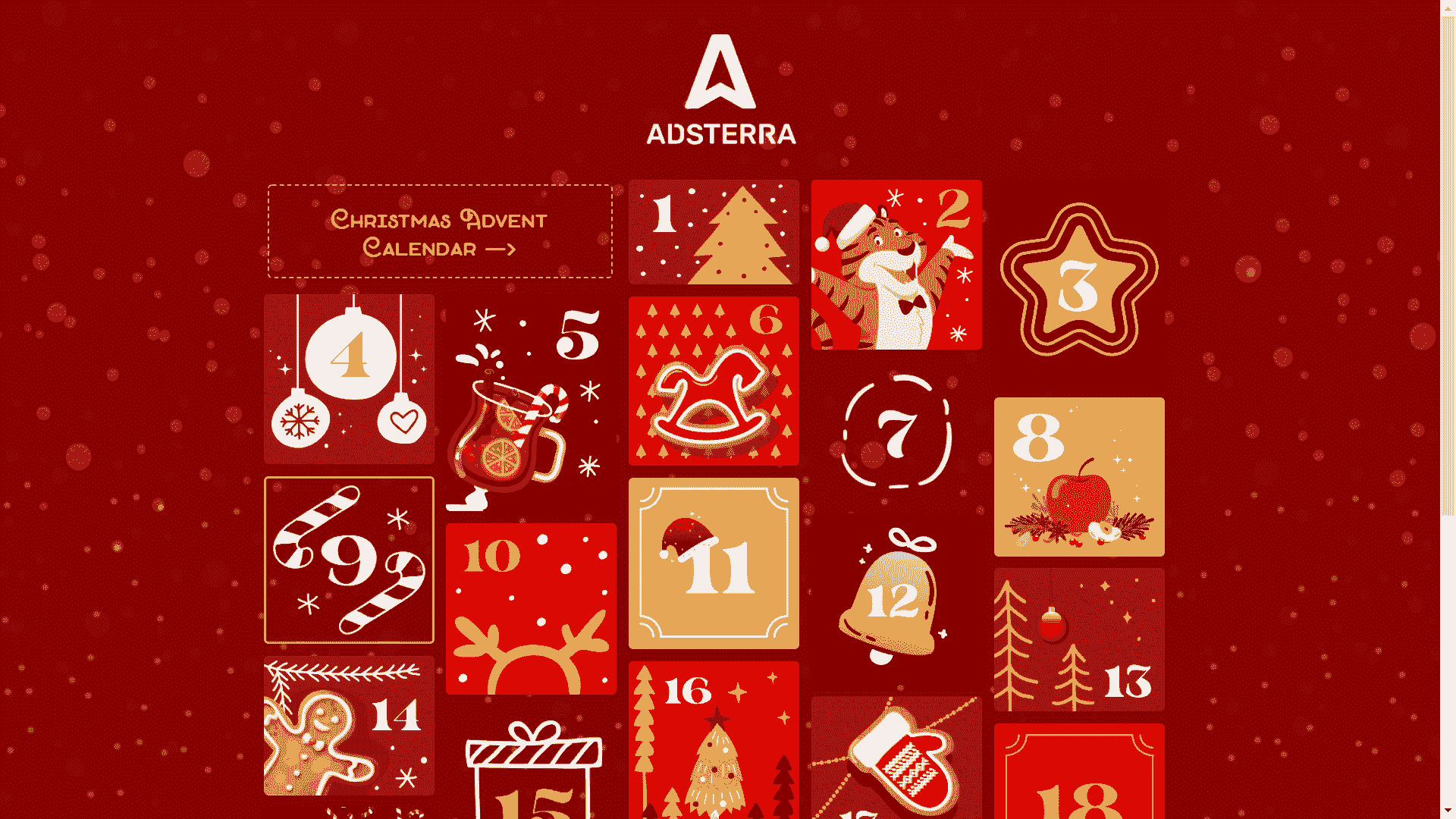 You can do a giveaway more than once to prolong the pleasure of waiting for gifts for 14 to 24 days by giving customers small prizes and bonuses. Finally, hold a mega drawing for the main prize.
To Contents ↑
3. Create and share a gift guide
If you sell products, you're in a great position to promote them as gifts during the holiday season. Create a blog post with lots of images and links. Include your products and other brands' products that fit the list. You can also mention some of your favorites and ask them to share your post. Finally, share the guide on your social media accounts. Remember to tag or mention other brands in your blog.
4. Use email marketing to generate leads
The affiliate link (offer) you choose to promote must be profitable, and you should first calculate the return on investment (ROI). Although there is usually no additional cost involved in adding affiliate links to your email, the effort and time spent are also valuable, which is why you should only focus on affiliate links with a worthwhile earning potential.
Send bi-weekly or weekly email newsletters containing valuable and relevant information to your target audience during the holidays. Send personalized emails to specific interest groups. Personalization makes emails more relevant to recipients, which increases click rates.
You should also add festive elements to your email's design.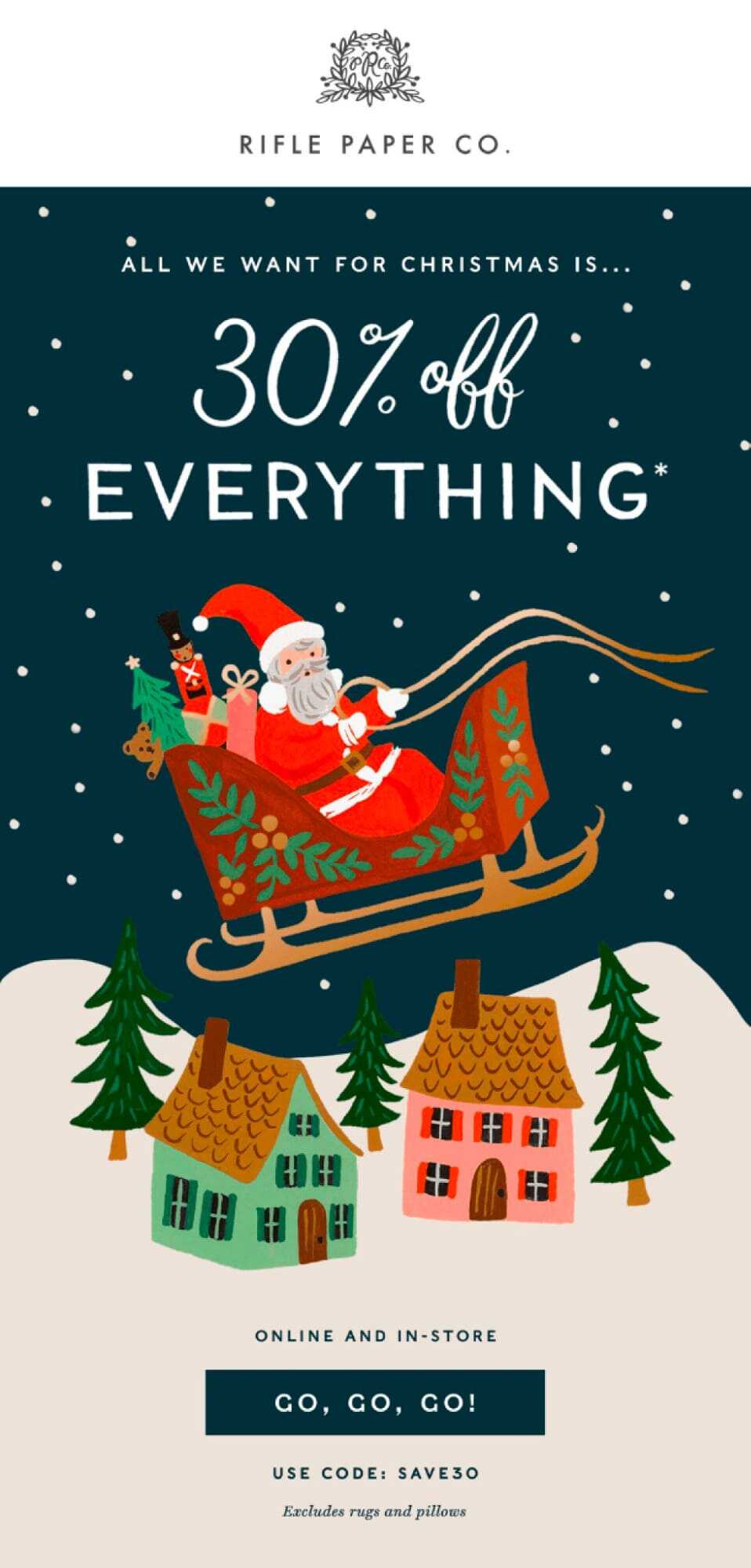 Rifle Paper used an interactive Christmas-themed email to announce an additional discount and promo code. If you want to build an email list for the holiday season, with Adsterra's 15 tactics, you'll get email subscribers faster.
To Contents ↑
Christmas content: how should it be?
Christmas designs should be the basis of your content and the foundation of your Christmas campaign. You must ensure that your posts, titles, and every other content is enticing enough for readers to share on their social media. Remember that "Ho Ho Ho" is not enough; you need to look into more puns and greetings to attract attention.
Images
Plan ahead and ensure you have a design tool to create professional photographs and "photoshop" them in Christmas backgrounds. These photos can be used in your Christmas campaign, allowing you to share the unique holiday spirit with your site's or page's visitors.
Social media
Now you have to share your content with your potential leads. Make colorful and festive cover photos and outfit your Instagram and Facebook profiles. Create unique ads targeting your audiences and driving more traffic and sales to your offer by using creative messages and engaging images.
Conclusion
Many affiliate marketers at Adsterra earn enough in the Christmas season to last them several months. You can be one of them. We hope this article has been very informative, and here's a summary to help you grasp the quick facts.
Be creative with your ads and landing pages to increase engagement and conversion rates. People are more likely to click on holiday-themed ads, so design your creatives accordingly.
Increase the minimum limit on your ad budget or remove it. The main strategy is to set your targets properly and get as much quality traffic as possible.
Besides the overcrowded eCommerce vertical, you can make a lot of revenue by promoting offers from Sweepstakes, VPN and Utilities, iGaming and Betting, Freemiums, and Nutra verticals this season.
Use our In-Page Push ad format when trying to tease users and prewarm them before leading to a landing page. With Adsterra, you can test up to 15 different In-Page Push templates.
Gamify your pre-landers using lucky wheels, scratch-offs, and slot machines.
Don't forget post-Christmas campaigns. People worldwide are online and ready to spend until the third week of January.
Adsterra is here to help you close out the year with more profits and success. Get exciting offers and start setting up your Christmas campaigns today.