Rather than experimenting, a more effective strategy is to monitor your competitor's strategies. You can use various ad spying tools and research through the most effective unique selling points, visuals, and messages. This post will share some of the best ad spy platforms for affiliate marketing to help you hone your creatives >> campaigns >> ROIs.
Why use spy tools in affiliate marketing?
Tools for spying are not for copypasting one's competitor's ads, though many affiliate marketers tend to use them this way. But today's goal extends much further than just reusing the best ideas.

So why do affiliates utilize native, push, and display spying platforms?
Get a clue on what to add to your USP (unique selling proposition)
Compare your creatives to the most successful creatives
Learn from the best examples of ad creatives
Upgrade your CTAs (call to action)
Diversify visuals
Change color palette
Add details you didn't figure out at first
Differentiate your USPs from those of your competitors
To Contents ↑
Display ad spy tools
Display ads are a digital marketing format that combines text, images, and a clickable URL that leads the customer to a website where they can learn more about the offer and/or purchase something. Advertisements are displayed on web pages in the form of Banners, Native Banners, In-Page Push, and other formats. 
Affiliates usually need to alter and optimize dd strategies for display campaigns several times while traffic keeps running. Spy tools help them test and deploy new moves on the go, freezing campaigns only for several hours.

For instance, you can update your set of up to 15 creatives and relaunch a Social Bar, In-Page Push, or Interstitial campaign on Adsterra to grab more traffic and clicks.
To Contents ↑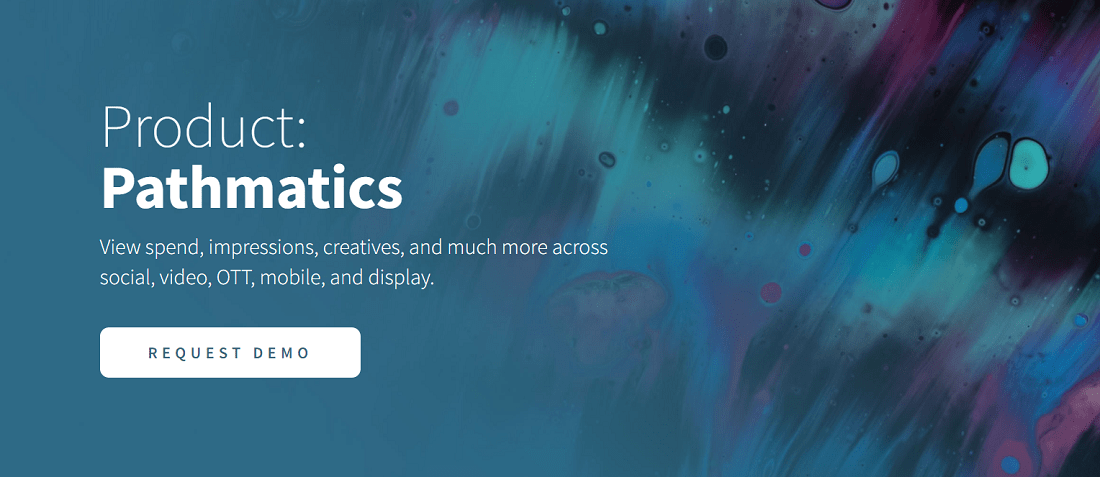 Pathmatic by SensorTower steps forward as a fine-tuned digital intelligence tool to help affiliate marketers and advertisers. The platform offers a range of powerful options to allow users to drive business growth. Pathmatic can boast the industry's broadest channel coverage, including Facebook, Instagram, YouTube, Snapchat, TikTok, OTT, display, and video.
Trends and spending analytics
Track spend and impressions across social, display, video, and mobile, including seasonal trends.
Cherrypicking of ad creatives that resonate
Access ad details: creatives, messaging, CTAs, audience, targeting, spending, volumes of impressions, and flighting.
Competitive intelligence
Get detailed insights on your competitors' share, rankings, and ad spend, adjusting multi-filter comparisons and cross-channel views. See the top ads from across the web, segmented by large brands and affiliate campaigns. Filter by keyword, ad type, country, and date range.
To Contents ↑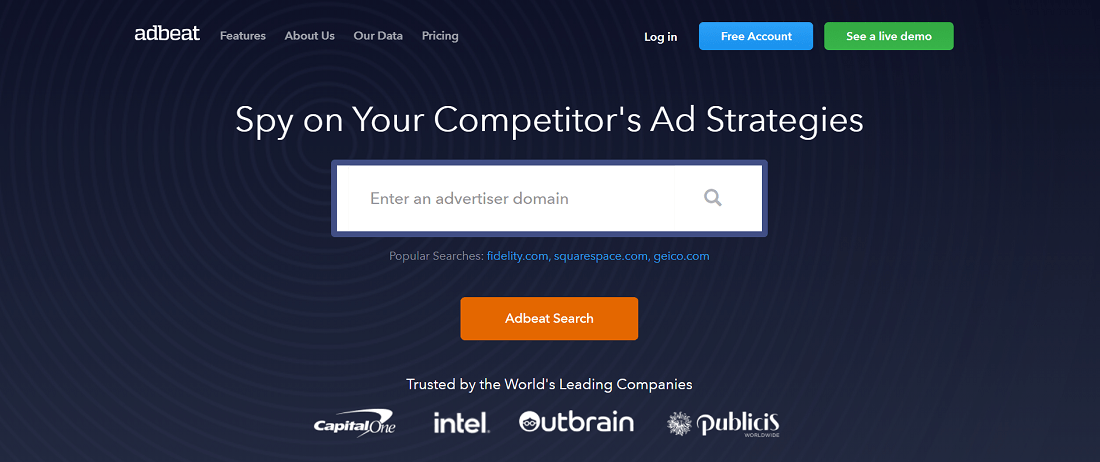 Adbeat is a platform that provides competitive intelligence across multiple formats, including standard display ads, native advertising, video formats, interstitials, and page takeovers. It comprises assets from 15,000+ advertisers and publishers. Let's gallop through its main features.
Monitoring
Gain a competitive edge by accessing valuable insights into your competitors' ad strategies. You can monitor your rivals' creatives, ad networks, publishers, and landers, gaining a deeper understanding of their target audiences.
Comparisons
Use Adbeat's tools for spying to identify key differences between your approach and your rivals' moves with powerful visualizations. Compare advertising expenses, share of voice, and other essential metrics.
Stats reports
Export and share the complete data sets in various report formats. Choose from CSV, PDF, and PowerPoint slides to meet any specific reporting need. Reports are designed to provide a comprehensive view of your data, making it easy to analyze and interpret the information. The platform also ensures flawless report sharing, so you can add your peers or clients to view all stats.
To Contents ↑

Adspyder broke into the market of ad spying tools relatively lately, in 2021, but managed to gain impressive traction among affiliates and advertisers. Apart from offering a monthly free trial and a 7-day satisfaction guarantee for new subscribers, it provides free support for every user.
Ad cost intelligence
Track how much affiliates in your niche spend on advertising and get clues from Adspyder's smart tools for allocating your budgets properly. Diversify spending or focus your bidding strategy on a specific channel to outbeat the rivals.
Audiences insights
Gain valuable insights into the target demographics of other campaigns beyond just age, gender, traffic source, and conversions. Effortlessly navigate through display ad messages from 10 global ad networks, including big names like Taboola and GDN. Investigate and understand global ad trends, ensuring you stay one step ahead.
Strategic planning
You can filter and sort ad copies based on parameters such as date range, country, and relevance to analyze ad copies more effectively. This way, you can tailor your analysis to meet your specific needs. Delve into details, such as ad creatives' visuals, texts, dimensions, and destination URLs, to craft strategies that resonate with your target audience. Inspire from the best in the business and develop tailored ad strategies that will grab your target audience's attention.
To Contents ↑
Push Ads spy tools
A push spy service (also known as a spy tool or a push notification monitoring service) allows you to spy on what competitors are launching in certain ad networks.
In other words, push spy service is the database of all advertising that is currently running in a specific traffic source. For example you can monitor Push notifications or Popups, for example, in Facebook.
To learn more about push notifications and especially about web-push or in-page push you can read our article: Will In-Page Push Knock Down Web Push and How to Earn on This Fight?
These services help you understand what is currently in the top, oversee creatives, and landing pages. Moreover, some of the services allow you to see campaign settings.
To Contents ↑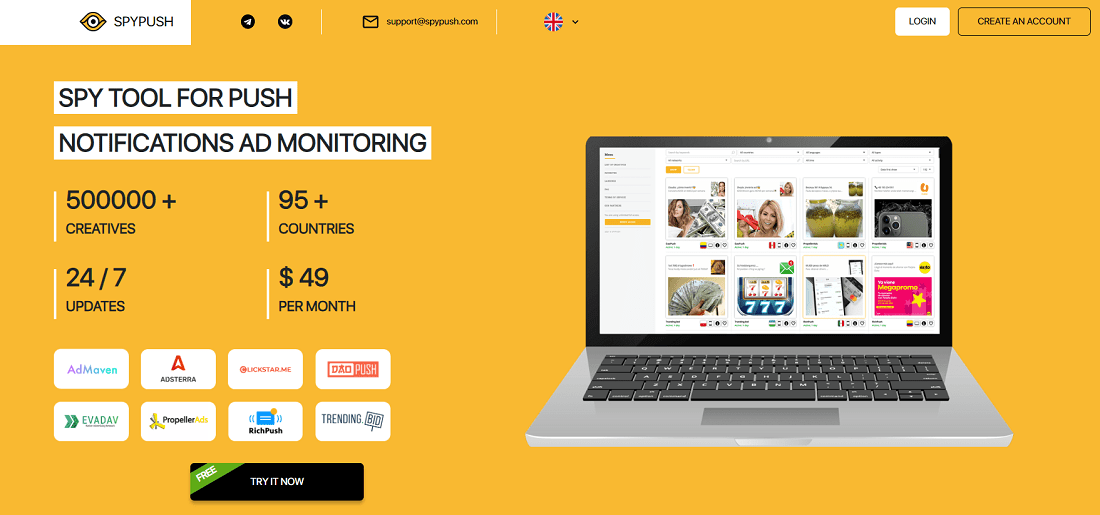 Push.spypush.com is a spy tool for push notifications ad monitoring. The tool allows you to find profitable advertising campaigns fast and easy. You can filter campaigns by keyword, by advertiser, by language or by country or OS. The detail page helps to analyze ad campaigns with such features as ad service life, target devices, similar ads and allows you to download all landings in one click.
Also, the tool allows to analyze thousands of successful ad campaigns from all main push traffic sources and you will be able to:
Analyze ad network & trackers;
Look at similar ads;
Find all profitable campaigns of your competitors.
Push.spypush.com works with the largest native ad networks such as:
Propellerads;
RichPush;
ClickStar;
Adsterra;
Trending Bid;
AdMaven;
Daopush;
Evadav.
To Contents ↑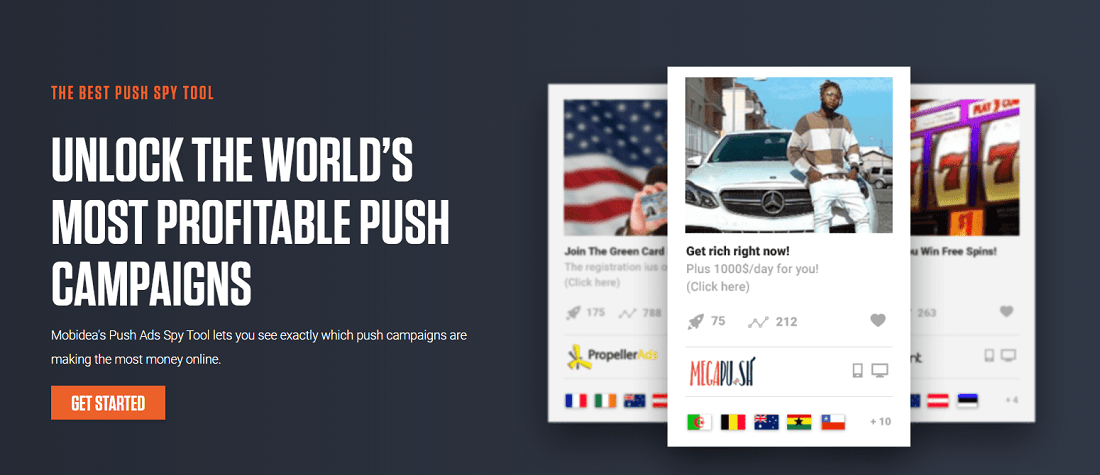 The Mobidea advertising network has its own spy service, and it is one of the leaders in push spying. This Push notification monitoring service has more than 3+ million advertisements from 90 countries, covering 40+ countries.
What's good about the service? There is an option to download reports about efficiency of landings, division into mobile and desktop campaigns. It will be useful to know what CPC bids competitors are making in real time.
But perhaps the most valuable tool that collects data on which push traffic source works best with a particular offer.
Benefits of Mobidea:
Real-time bidding history;
Deep insights into data;
Enhanced search options;
Landing page ripper and editor;
New campaign alerts;
Affiliate offer wall.
To Contents ↑

Adplexity is a tool that allows you to keep track of your competitors' ad campaigns on push traffic sources. The tool helps you to see campaigns running in over 80 countries, download every landing page, uncover hidden campaigns that run on mobile carrier traffic, and find ads promoting affiliate offers from more than 100 affiliate networks. Also, you will be able to search by keyword, advertiser, publisher, affiliate network and so on.
Adplexity gives you the opportunity to analyze every piece of a campaign with such features as ad trend, services targeted, traffic sources used, and publishers.
Also, you will be able to find successful campaigns fast and easy. Adplexity allows you to:
See affiliate network & tracking tool;
See outgoing URLs;
Find all campaigns;
Download every landing page.
Adplexity works with main push networks such as:
Mgid;
PropellerAds;
DatsPush;
LeoCash;
EvaDav;
Adsterra;
TeaserNet;
PushAds;
Izooto;
PushAd;
AdMaven.
To Contents ↑
Native ad spy tools
A native ad spy tool gives access to leading ad networks like Taboola or RevContent, covering at least 20 countries. Affiliates can track ad creatives and strategies across multiple devices (desktop and mobile) and OS, comparing their messages and visuals to those of their competitors. The search and monitoring function support sorting and filtering by numerous combinations, such as Publisher, Advertiser, Title, URL, Dates, Devices, Countries, and Network.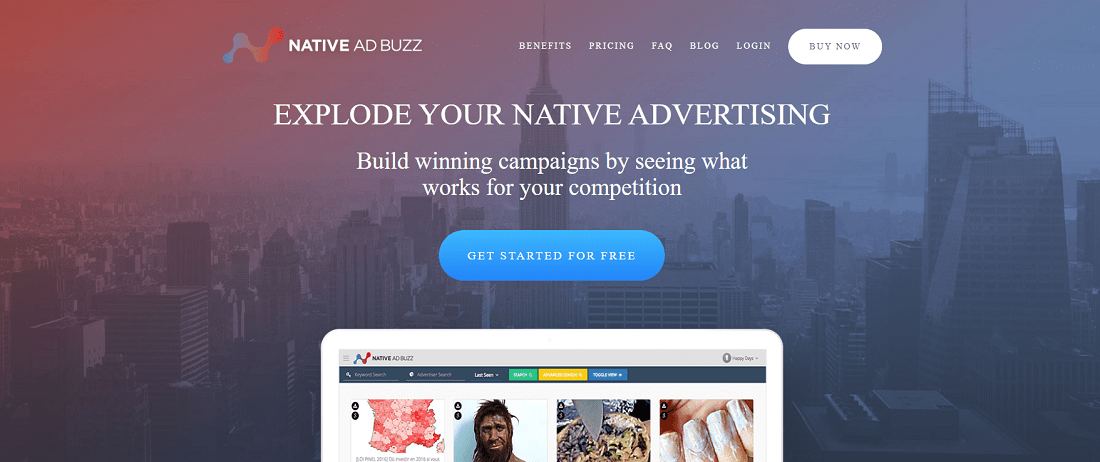 Native Ad Buzz is for affiliate marketers looking to spy on their competitors but are constrained by a limited budget. You can quickly analyze your competitors' native advertising and create successful advertising campaigns. With NativeAdBuzz, you can:
Launch successfully: Use the products, ad text, images, and strategies currently working online to launch your campaigns with a bang;
NAB mastermind forum: Take advantage of NAB's exclusive mastermind forum and learn from other successful internet marketers;
Find out what's hot now: Condense hours of tedious research and analysis into minutes;
Save your favorite ads: Create a library of your favorite ads and campaigns so you can quickly reference them later;
Spy on competitors: Filter ads by advertisers to stay five steps ahead of your competitors;
Avoid expensive mistakes: Others have paid to test what works. Learn from their mistakes;
Discover successful business models: Find out where and which ad networks your competitors use to set up successful converting funnels, ads, and landing pages;
Mobile and desktop ads. Filter ads by five device types, including iPad, iPhone, tablet, Android, and desktop.
To Contents ↑

Anstrex provides all competitor intelligence data that you can use to improve your marketing efforts. This tool lets you instantly preview landing pages, get ad network info, and filter ads by ad strength and days running. It provides vital information such as how long a specific ad was active and on how many platforms it was active on.
This native ad spy tool saves time by analyzing hundreds of ads in seconds across languages and categories. So you can see what works for them and copy it. You can use your competitors' tried-and-true methods rather than risking something new.
Anstrex covers 27 ad networks so that you can spy on them all. It also provides search criteria alerts to keep you ahead of the competition. Anstrex notifies you when it detects an ad that matches your alert criteria.
To Contents ↑

Adplexity is a large and valuable resource helps you learn about campaigns that use mobile carrier traffic. The tool covers every major country, as well as several low-competition countries. You can use this tool to identify ads that promote affiliate offers and download each landing page that appears in the search results from the UI. You get filtering options and detailed information about each ad campaign. Adplexity also provides information on the duration of an ad campaign's activity and the landing pages.
To Contents ↑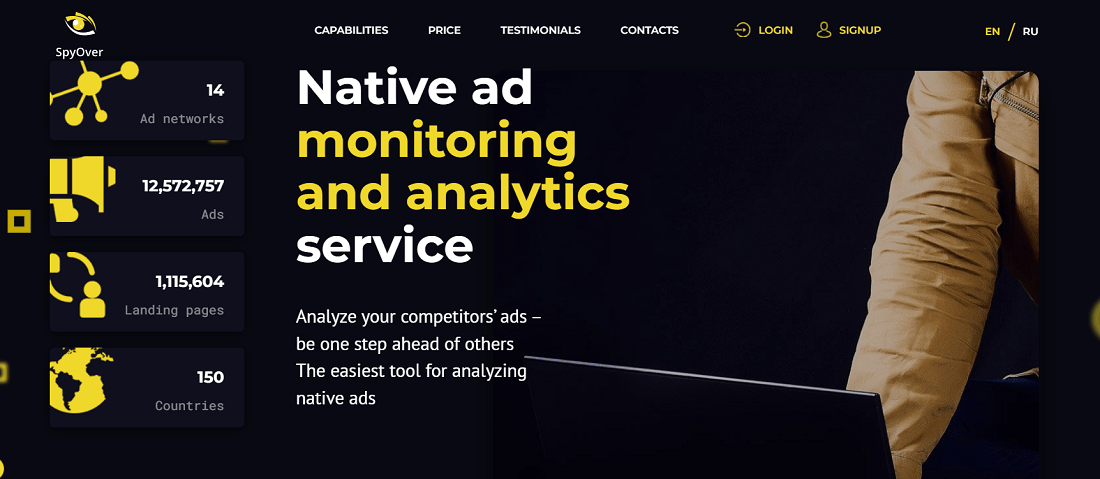 SpyOver monitors 14 ad networks and 70 affiliate networks in 150 countries and offers up to 12+ million ads. One of SpyOver's advantages is its segmentation feature.
You can sort and filter data by device, GEO, browser, network, and track, allowing you to quickly access detailed statistics, graphs, and data for each creative and browse landing pages by text, copy the title, or even URL.
SpyOver allows you to download competitors' landing pages and multiple creatives at once. Your primary objective is to identify winning creatives and landing pages and apply these strategies to your campaigns. You'll be able to use it to discover trending offers and use the advanced filters to determine what's hot right now versus what's worked overtime.
To Contents ↑
Other top ad intelligence solutions (combines search, display & app spying)
These solutions are equally important because while they are all unique, they have one thing in common: they can completely transform your advertising game.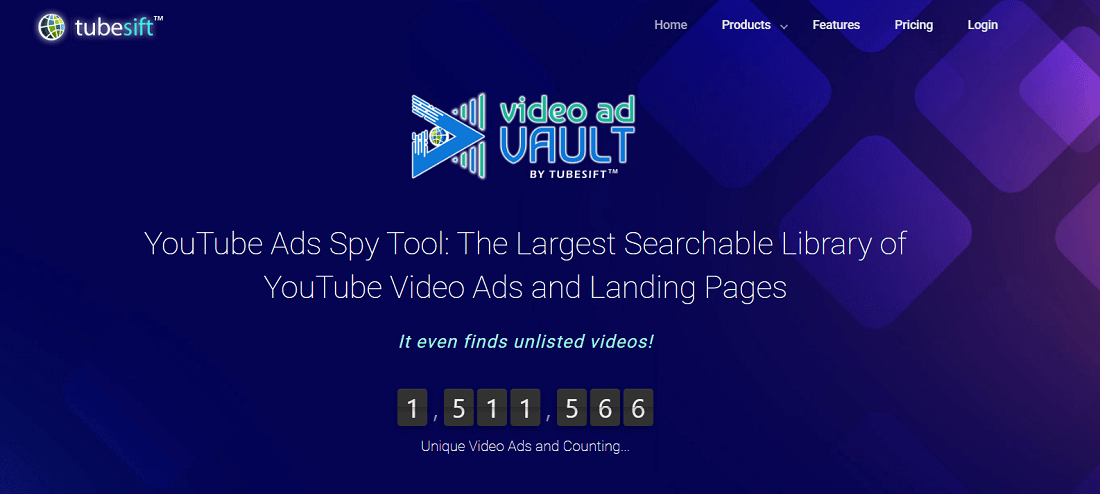 This tool for spying YouTube ads provides access to a vast collection of videos and landing pages. Reach 1M+ commercials and filter them according to your niche and product.

One of the latest innovative features added – AI Script Assistant – is aimed to save you hours on writing scripts that will compel viewers. Video Ad Vault's developers finetuned this tool so you could create high-converting scripts just after answering a couple of questions.

Video Ad Vault offers a powerful search option. You can search based on the titles, descriptions, channels, domain names, or even the URLs of their landing pages. Use the browse mode to quickly go through recently viewed and newly published ads, those with the most views, and more. The geotargeting option and advanced exclude filters will help you refine the search and ensure that you get exactly what you are looking for.
To Contents ↑
SpyPush is a well-known push notification monitoring service that integrates with several ad networks, including Adsterra. Media buyers and affiliates will appreciate the platform's clean interface and ease of use, as well as the data from over 500,000 push ads.
You can navigate to an advertiser's landing pages and view similar creatives to understand better what's trending in your niche. Filter creatives by country, language, device, and network, as well as sort them by time and activity. You can also add creatives to your favorites list.
To Contents ↑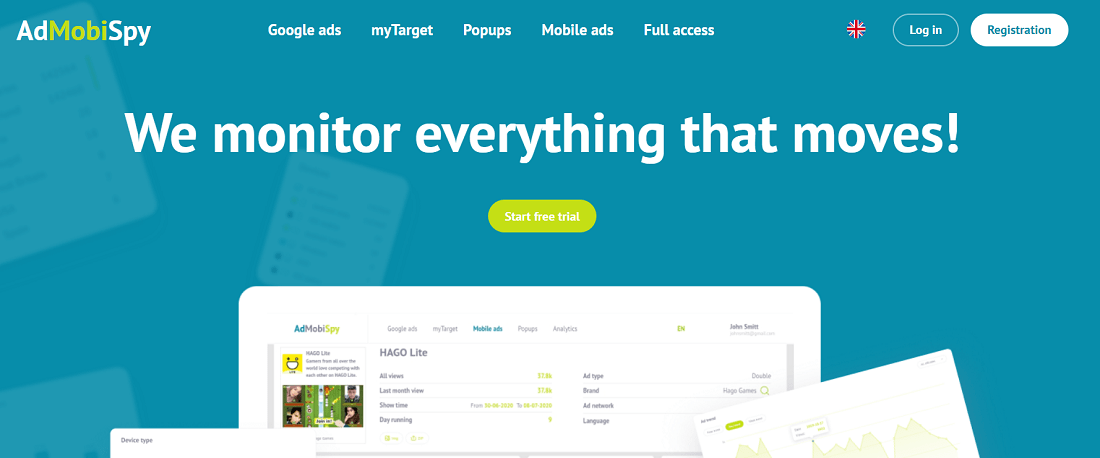 AdMobiSpy continuously monitors over 6 million ads in 183 countries, including 23 ad networks. This is the tool for you if you're looking to discover new sources of profitable traffic for your campaigns. AdMobiSpy takes this a step further by allowing you to drill down into the specifics of your competitors' campaigns.
While the interface will be familiar to those who often use spy tools, the data presented is impressive, providing instant visual feedback on the creatives available.
To Contents ↑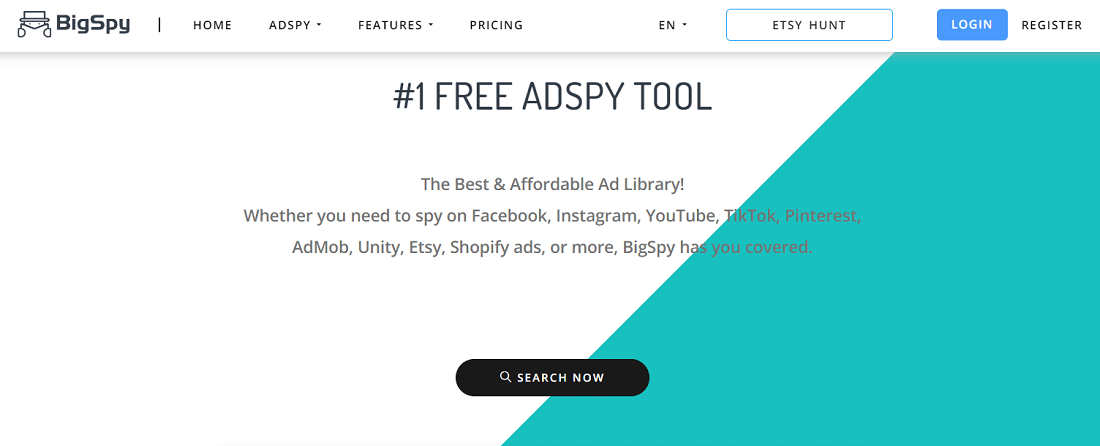 There are two primary reasons why BigSpy is ideal for beginners: it is free and simple to use. This ad spy tool helps you conduct searches based on marketing objectives, call-to-actions, and creatives for a specific market segment. Additionally, the platform notifies you of particular brands and businesses. Compared to paid ad spy tools, BigSpy lacks detailed statistics and analysis.
To Contents ↑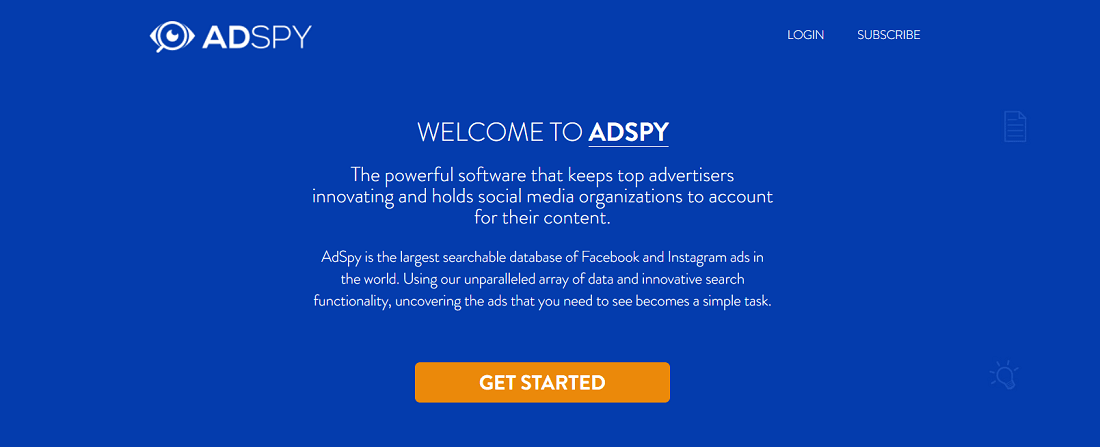 AdSpy should be your go-to ad intelligence solution if you specialize in running Instagram ads. It locates hidden ads on Facebook and Instagram, allowing for a more in-depth analysis of less popular ads.
To Contents ↑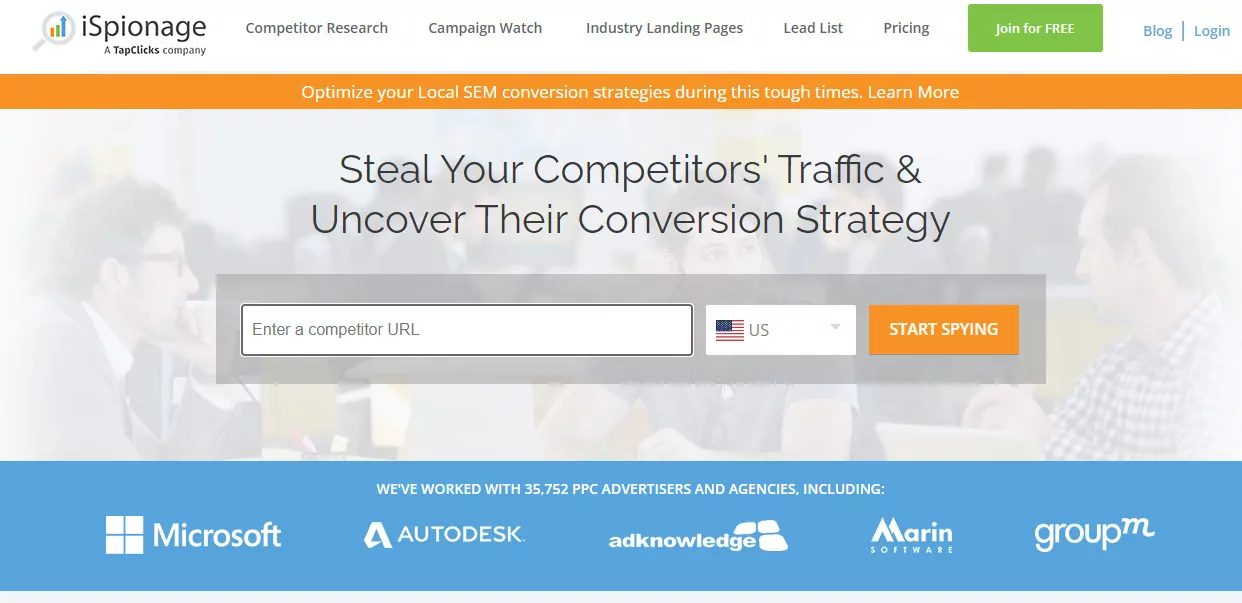 iSpionage is a highly effective platform that allows advertisers to gain insight into their competitors' traffic and conversion strategies. It gathers information about your competitors through their Google Ads activities and keywords and then generates detailed reports.
iSpionage features a landing page gallery where you can skim through top landing pages or search for landing pages relevant to your industry. Additionally, its competitor alerts are an excellent feature. They send you an email monthly notifying you of any changes to your competitor's keywords or ad copy.
To Contents ↑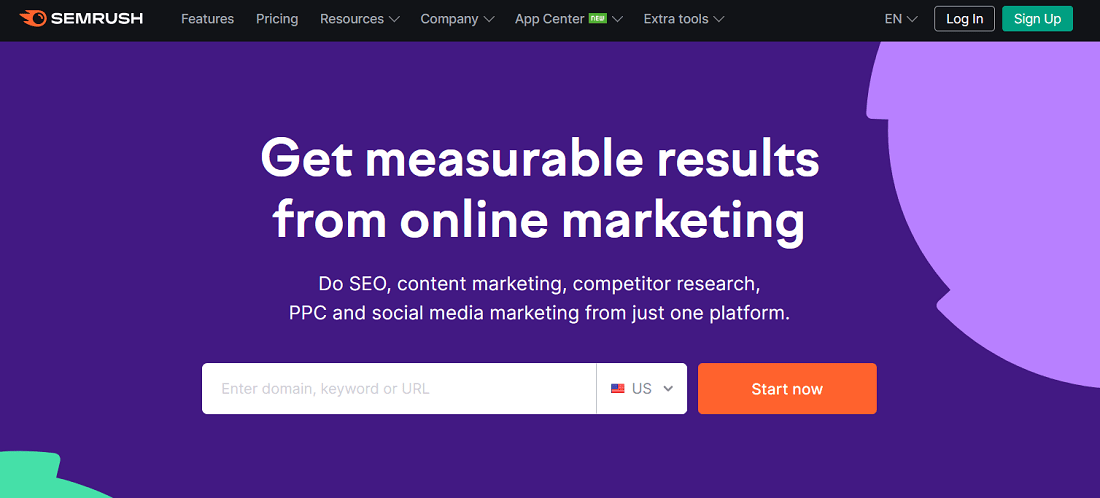 SEMrush is a well-known SEO tool for marketers, but it's also a handy tool for monitoring your competitors' PPC campaigns. You can use this tool to identify new competitors in Google Ads and analyze their advertising budgets and keywords. SEMrush's team constantly adds new features, such as the CPC map, which helps you optimize your spending in specific geographic regions and localize your ad campaigns.
One of the platform's best features is its ability to identify competitors' ad copy in real-time and export the results for future reference. This simplifies the process of creating new ad copy for split-testing campaigns. You can use this tool to uncover keywords that your competitors may have overlooked, as well as low competition and high demand keywords.
To Contents ↑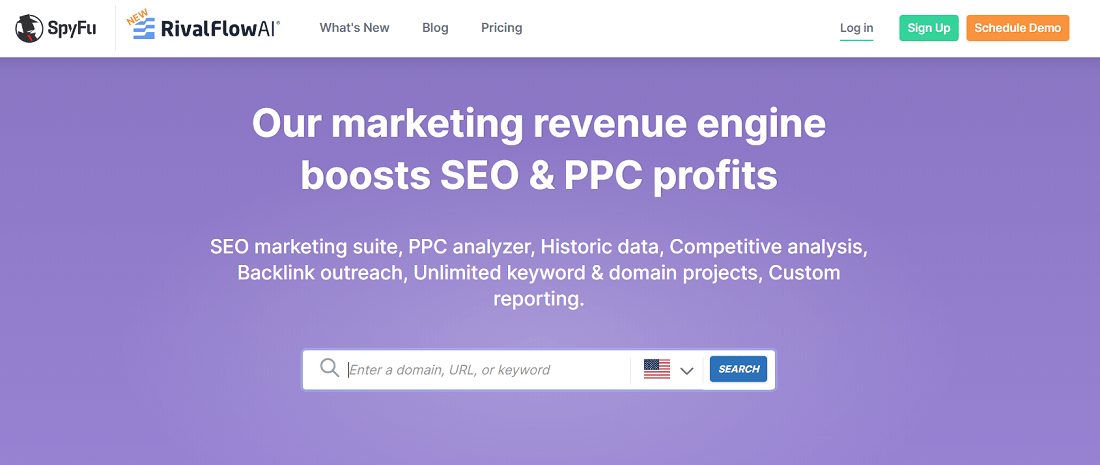 Like SEMRush, SpyFu compares domains based on keywords, organic SERP traffic, and ad variations. The primary disadvantage is that the platform collects data only from custom domains. So you'll need a third-party tool to access data from your competitors' social media channels.
To Contents ↑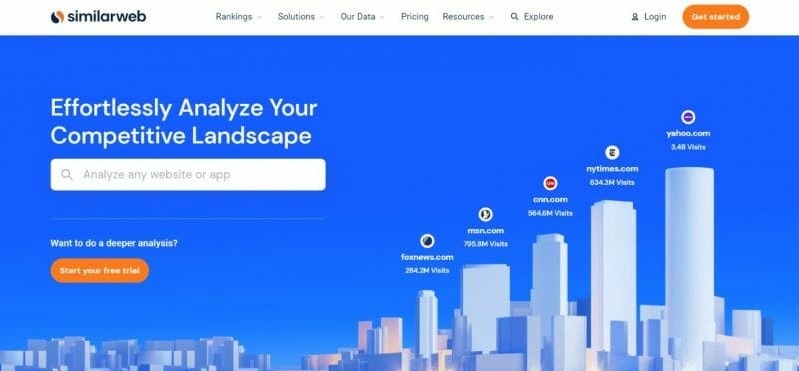 SimilarWeb is a solution for traffic intelligence. It collects data from a variety of websites and apps. The tool focuses on SEO and SEM, resulting in more detailed and precise data collection. One disadvantage of this ad spy tool is that it doesn't allow you to cross-reference your competitors' traffic with your own. As a result, you end up downloading massive spreadsheets to perform these tasks manually.
To Contents ↑
Ad spying solutions FAQs
How to spy on native ads competitors?
Using a native advertising tool is an excellent way to gain insight into your competitors' best moves. Most of these tools use intelligent algorithms to help you discover and compare the best ad networks and associated pricing. They will provide you with millions of advertising messages from multiple countries, allowing you to filter ads by device, date, advertiser, publisher, and URL.

Platforms like Adspyder can track campaigns on Taboola, Outbrain, RevContent. The best way to spy on competitors is to have a definite and tangible goal. Example: You might need to only ensure your USP looks more convincing or get insights into how to design your message.

Always check the target landing page of an ad. Many creative strategies won't suit you since your target lander offers specific benefits and USPs.
How much does ad spy cost?
Well, most ad spy tools are pretty costly, but when you set up and run dozens of campaigns, they save you much more money than take. You can opt for a free trial, available on several platforms. But when the trial ends, you'll be paying 50 to 199 dollars per month.

There are more affordable tools like BigSpy, offering a minimum package for 1 user and 20 daily queries for FB and Instagram ads for only $9 per month. Or, you can try Adspyder with its free monthly trial.

And remember about Black Friday deals. Some platforms cut down prices from, say, $49 to $13 per month!
Is ad spy worth it?
Ad spy tools are worth it, at least because you can't embrace the whole market alone, analyzing all ad strategies overnight. With competitive intelligence platforms, you ensure you've chosen the right way to promote a CPA offer or address your target audience. For the start. The next level is reducing your ad costs or gaining an advantage by increasing bids and getting the most engaged users.
To Contents ↑
Conclusion
The first step toward developing successful display ad campaigns is determining what works already. Your competitors have spent millions choosing the best methods to reach the right audience and develop the most effective messages. Make every effort to achieve the same level of quality as the leading brands in your market, and then improve from there.