So many advertising channels now exist that using them all at once would dry up any advertiser's budget. So the need for a more indirect and effective marketing structure that favors all parties involved, especially advertisers and affiliates, arises. Advertisers can use affiliate marketing, and CPA offers to outsource some of their marketing efforts. Moreover, the structure minimizes risk for advertisers, as they only pay when an ad yields the desired conversion.
Even though CPA marketing has many benefits, navigating CPA offers available today can be challenging. Here is a guide that explains the cost-per-action model and how to choose the most profitable CPA offer for your platform.
What is a CPA ffer?
A CPA offer is a cost-per-action model advertising offer. In other words, a CPA offer is a marketing offer that measures actual user actions—signups, downloads, service subscription, or purchases—rather than clicks or impressions.
The affiliate marketer receives the reward payout if this action is completed.
CPA offers come in all forms and amounts: some involve email signups, others include sales. Offers are also divided into verticals based on the business's product or service. For example, a dating offer might ask for new signups to an online dating app, whereas an eCommerce offer might ask for purchases of a product like USB cords.
An offer's performance and profitability can vary greatly depending not only on the product or service. The conversion flow also matters as well as the traffic type and GEO. That's how CPA marketing rolls. Let's dive into the details of affiliate marketing.
Conversion rate (CR) is the percentage of visitors who took a specific action on the website compared to total visits. It helps make accurate predictions and create effective campaigns.
Common conversion types:
SOI (Single Opt-In) — one target action. This type of conversion is completed when a user leaves an email address, fills out a credit card form, registers a profile on a dating site, or submits a free sample request;
DOI (Double-Opt-In) — two target actions. The user has to send the application and confirm it by clicking on the link in the email. Complex conversions require even more effort. For example, users need to download the app on their mobile phone, reach the 5th level, or purchase it within the mobile app;
CPS (Cost-per-Sale) — payment is made upon sale. It has a fixed value or a percentage of the product's cost;
CPI (Cost per Install) — target action is installing a mobile app;
CPL (Cost per lead) — target action is gathering any user data.
To Contents ↑
How CPA marketing works
CPA marketing is a term that refers to businesses that want to outsource some of their marketing efforts profitably. These businesses would pay affiliates or publishers to drive conversions in exchange for a commission on each conversion.
When an affiliate or publisher can obtain a conversion for less than what the company pays them per conversion, they can profit from the difference (which sometimes can be huge).
Additionally, both parties are satisfied. The company (provider) can generate more leads reasonably without marketing difficulties. At the same time, the affiliate can use their marketing skills to carve out a profit for themselves.
Affiliate marketing is successful as long as the affiliate can generate conversions at a lower cost than the offer pays out.
To Contents ↑
Types of affiliate programs and CPA networks
Affiliates, publishers, advertisers, CPA networks, and consumers are the leading players in this industry. As previously stated, advertisers want to boost conversions, while publishers do most of the marketing in return for commissions.
CPA networks, which act as middlemen between affiliates and advertisers, play an essential role in the growth and popularity of CPA offers.
However, there are two options for CPA offers: a direct affiliate program or a CPA network.
Direct Affiliate Programs (aka In-house Affiliate Program)
Large companies are more likely to start their affiliate programs with a unique CPA offer. This means that affiliates and advertisers work together without an intermediary. Joining a direct affiliate program has advantages and disadvantages. Direct affiliate programs have several benefits, including but not limited to:
Higher Rates: Working directly with an advertiser eliminates additional fees, resulting in higher rates for affiliates in many direct CPA offers;
Popular platforms that create their own CPA offer aim to provide affiliates with everything they need to succeed, including a responsible support department that provides personalized assistance;
Advertisers who provide their own affiliate structure aim to build long-term relationships with publishers who provide high-quality traffic.
Working directly with a brand may appear to be a fantastic idea, but there are some drawbacks to consider:
Fewer Payment Options: Compared to CPA networks, many advertisers offer a limited number of payment options;
Only one or a few products/offers are available;
Registration/joining is more complicated. Companies are typically picky about the partners with whom they collaborate;
Even the biggest advertisers have a limited budget, which means they have fixed payout systems that may force affiliates to wait for specific cycles to cash out.
Most companies have a special page on their website called "Partner with us" or "Affiliates," where you can find all their offers' details.
To Contents ↑
CPA Networks
Some affiliates prefer to join a CPA network. As we mentioned above, CPA networks act as intermediaries between affiliates and advertisers. Furthermore, many advertisers only launch CPA offers through reputable networks, which attract quality publishers to join.
CPA networks also connect affiliates to advertisers automatically, offering terms that benefits affiliates:
They provide access to hundreds and thousands of offers in various verticals;
Appoint a dedicated manager to help with technical questions, suggest what's hot now, activate private offers, and increase payouts;
Affiliate networks allow for quick cash flow. They pay weekly and sell frequently. Advertisers typically pay monthly;
They accept the risk of the advertiser failing to pay. If the advertiser decides to terminate the partnership without paying the due amount to the affiliate program, the affiliate will still be paid the amount earned.
The affiliate networks earn the difference between the advertiser's revenue and the affiliate's payout. The commission could vary from 15% up to 80%.
Most networks have offers in various verticals. Some networks specialize in one thing only: physical goods, games, financial services, etc.
Adsterra CPA Network will be the first choice for affiliates looking for direct offers. The network provides higher payouts to add to your earnings significantly. You won't find 100,000 offers here, but the team has double-checked the ones available, and they're highly rewarding.
What's under the hood of the platform:
A set of clean offers from VPN, Antivirus, Dating, Software, Games, Gambling, Forex, Videostream, and more verticals;
Private offers with higher payouts (available after pre-moderation);
Neat statistics dashboard with key metrics;
A global postback to apply to a group of offers and multiple postback functions to add to one offer*;
Backlinks to save traffic that didn't match the targets;
24/7 personal support.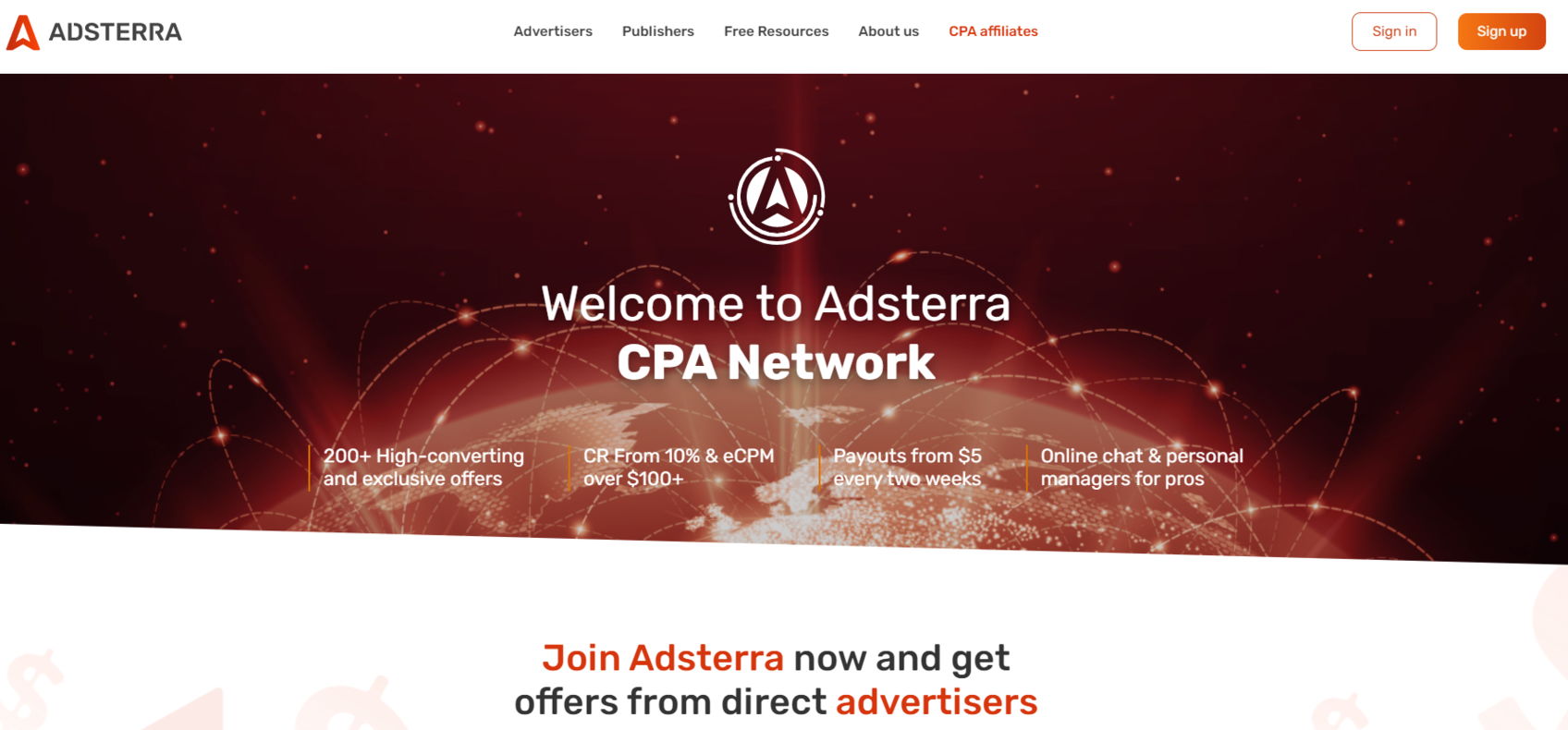 To Contents ↑
Types of verticals in CPA marketing
The prospect of running questionable campaigns sometimes puts off many people interested in joining the affiliate marketing space. However, you can still earn good money using white hat tactics.
White Hat
White Hat offers are simplest and always relevant. You'll have no difficulties getting traffic for them, but there's the issue of immense competition.
Offer types: VPN, Mobile Utilities, Games, Mobile Subscriptions, Shops, Nutra, Internet Services, Software, Dating;
Conversions: Registration, account activation, first payment, selling a product, activating discounts, sign-ups, installs, downloads, credit card submits, first deposits.
Gray Hat
Offers: Gambling, Betting, Crypto;
Conversion flow: Sign-ups, deposits, opt-ins.
Gray offers are legal, but there can be legal restrictions to running them on some GEOs. Like, for instance, Gambling offers are prohibited in several countries. The same is for Crypto products: there are many difficulties with advertising them on FB. But you can use ad networks to promote them.
If you have Gambling, Nutra, and dating traffic in your portfolio, it opens up excellent income generation opportunities for you. Some affiliate networks pay up to $70 for some offers for free registration.
Of course, this affiliate niche also has its downsides. Social networks and search advertising could ban such traffic. These offers go against strict advertising rules on search engines and social networks. But the basis of successful advertising is finding the right traffic source and getting excellent ROAS. We recommend that you try this type of affiliate offer with payment for registration and estimate your potential income.
Each search engine, social network, or advertising network restricts goods/services that cannot be advertised per their internal advertising rules. Before launching such campaigns, be sure to read their rules to avoid wasting time.
To Contents ↑
Black Hat
This kind of offer is deliberately aimed at tricking users. These offers can involve fraudulent approaches to scamming money, selling or buying credit card data, or other valuable personal information. Black offers include malware offered to the user to install under the guise of harmless apps. Payouts on such offers are significant, but you need to understand that this is entirely illegal. Most CPA networks don't work with such products, while ad networks ban advertisers trying to run them on their traffic.
Private offers
These offers are hidden from outsiders or newbies: you can access them after passing a traffic quality check. Affiliate networks grant exclusive offers to the most successful affiliates with the highest traffic.
Some may have exclusive conditions for current offers, such as changing the payment model or opening a new Geo. If you want to get access to a private offer, you have to maintain good contact with your manager at the affiliate network and spend a lot of money on offers.
CPA offer testing techniques
Now let's talk about the parameters and techniques that help you select an offer that will not drain your budget. After registering in an affiliate network, you have to choose an offer with an excellent conversion rate to bring you the best results.
In other words, choose the right offers in the most profitable niches.
But how do you know if the selected offer will be profitable?
The answer is testing.
After choosing an offer, you have to send traffic to test it. Testing involves spending some money on advertising until you're convinced that the offer generates conversions and income. Search advertising is the most effective and fastest way to test white hat offers.
But what does the test look like?
You create an ad, lead visitors to the landing page, and see how the traffic converts. If visitors don't perform any actions on the offer website, we reject the offer. Then you choose the next one. If visitors sign up and show a reasonable conversion rate, you will select another traffic source to drive traffic and keep testing.
To Contents ↑
How to choose offers and verticals in affiliate marketing
What are verticals in affiliate marketing: types and examples
A vertical is a group of similar offers. The vertical defines how you'll get the online traffic you will work with and the advertising materials and approaches you will use when promoting products/services.
Tips to choosing an offer
Important rule #1
Beginners should start testing cheaper offers and apply the most efficient operating models to expensive ones.
If you pay 20 cents per click/lead during your marketing test, you can attract 100 leads for 20 dollars only.
But if the price goes up to $100, and you will need 100 leads, your marketing test could cost you $10,000.
Important rule #2
You should choose your marketing strategy carefully when choosing the right niche or niches.
Focusing on a narrow, specialized niche can be better if you're experienced in this market segment and know the target audience's issues.
But in most cases starting with general and evergreen offers is the best tactic. For instance, Sweepstakes pays off well and easily converts with CPA pricing.
IMPORTANT: The niche should be related to fields where people are willing to spend money. To see what is popular right now, create a free account on Quantcast.
Important rule #3
Not every vertical is suitable for working with every traffic source. To understand which traffic source is good for you, you need to analyze:
The amount of traffic available;
The overall quality of the traffic source (With ad networks, you can use such platforms as Trustpilot to evaluate the quality of traffic);
The targeting options available: Each traffic source has different specifications and user targeting.
Read through guides and tutorials provided by your traffic source as large advertising and social networks are interested in teaching you how to advertise and monetize to the fullest.
To Contents ↑
Cost of acquisition
When we choose an offer and the source of traffic, we need to think about where to attract ads and calculate the difference between the cost of acquisition and pay-per-conversion.
There are a lot of expensive traffic sources where cheap offers won't convert. For example, you'll not get a conversion from a reasonable mobile offer on expensive branded sites.
Conversion Flow
You should pay attention to the potential of your traffic source, whether it can deliver top conversions with the flow you have chosen. Thanks to Adsterra experts, you know how to make any traffic convert.
This offers guide will help you run eCommerce offers with complex conversions (spoiler – choose the CPM pricing).
This tutorial will walk you through mobile apps' advertising tricks.
To Contents ↑
Advertising policy
Policies impose significant restrictions on advertising offers on specific traffic sources. Many large ad networks like Google and Facebook prohibit targeting particular product categories. For example, alcohol or gambling. Some other ad networks may also ban advertising such products.
Types of paid traffic sources
Social Traffic: Facebook, Instagram, etc. Targeting is possible by age, interests, geography, and more;
Search Traffic from paid search sources: Google Ads, Bing (Microsoft), and others. The main advantage here is targeting users' search queries;
Push traffic. While web push ads keep fighting back Google's restrictions, their most ambitious successor — the In-Page Push — is already bringing billions of impressions;
Mobile Traffic
Sources: Admob, Adsterra
Sources: Adsterra, MGID, Taboola
Native advertising involves blending ads naturally with the site's layout and content. It's an effective way to capture audiences with banner blindness.
The primary sources are the following advertising networks: Adsterra.com, TrafficJunky.
Adult traffic today accounts for about 30% of all Internet traffic. This niche is very competitive due to prominent players on the market, making it difficult for newcomers to join this vertical.
To Contents ↑
Types and descriptions of CPA verticals
Nutraceuticals (Nutra)
This vertical offers various products from the beauty and health industry, including anti-aging creams, multi-purpose drugs, diet pills, and nutritional supplements.
Main traffic sources: Push notifications, Organic traffic, Social networks, Advertising networks.
Product offers
Almost everything can be attributed to this vertical in affiliate marketing, including gadgets, clothes, accessories.
Main traffic sources: Social networks, Advertising networks, Push notifications, Google Ads.
Financial offers
The financial services vertical in affiliate marketing includes many offers: microloans, credit cards, binary options, forex, cryptocurrency, insurances, and more.
This vertical offers very high payouts.
Traffic sources: Cashback, Email newsletters, Search ads, Advertising networks, YouTube, Social networks, etc.
Dating
Dating is one of the most popular verticals in CPA marketing.
There are three types of dating:
Casual dating,
Mainstream dating,
XXX dating.
Traffic sources: Social networks, Ad networks, Email newsletters, Push notifications, Search ads.
Mobile Installs
This popular vertical pays affiliates when users install apps or games from various app stores.
Traffic sources: Target/public in social networks, Advertising networks, Mobile advertising networks, YouTube.
Games
Similar to the mobile installs verticals. The primary conversion goal is to install a game, register, and reach a certain level in some cases.
Traffic sources: Social networks, Email newsletters, Info sites, YouTube channel, Search ads.
Gambling/Casinos
Gambling is the most famous vertical among affiliate managers.
This niche includes casinos where payouts can start from $100 per lead/deposit.
There is also a RevShare payment system, which allows you to receive a certain percentage of clients' losses in the long run.
Traffic sources: Messengers, Social networks, Thematic sites, Search ads, YouTube.
Sweepstakes
Contests, sweepstakes, and lotteries. In this vertical, the affiliate gets paid for every subscriber they bring. Sweepstakes are a great vertical for newbies.
Traffic sources: Push, Search ads, ad networks.
Non-mainstream
This vertical is an 18+ niche in affiliate marketing, which includes dating for sex, all kinds of adult toys, porn sites, and erotic computer games. It's a popular vertical like dating.
Traffic sources: Push, Pop-under.
Sports betting
The betting niche is very popular among affiliates and bloggers because it offers very high payouts. While betting weakened a bit during the pandemic, it is gradually recovering its position in affiliate marketing.
Traffic sources: Facebook, Messengers, Social networks, YouTube, Info sites, Push.
To Contents ↑
Where can you find reliable offers?
Look them up on the internet
Although it may seem obvious, searching remains one of the most effective methods of locating offers. Although the chances of finding something unique are slim, you can still see if a brand has a partner program. For example, searching for "Wargaming affiliates" usually yields positive results.
CPA Aggregators
CPA aggregators work in the same way that search engines do, but for CPA offers. These platforms allow affiliates to look for offers based on specific verticals or conditions. Affiliates can find, analyze, and compare different offers by searching for particular industries and other elements before making a final decision.
Using a CPA aggregator is beneficial because they:
Provide a comprehensive list of programs to choose from in one place;
Make it possible for you to compare CPA offers: Aggregators not only provide a collection of offers, but they also usually provide tools to help users compare them and decide which one is best for them.
If you're looking for "green coffee," for example, you can compare the terms of this offer across various CPA networks – they may differ.
There are dozens of different aggregators promising high-quality CPA offers and other perks.
However, we recommend sticking with well-known CPA aggregators that are currently offering attractive deals:
OfferVault: provides a large variety of CPA offers in a simple, intuitive platform. They also offer excellent support and premium tools to help affiliates succeed.
Affbank: goes a step further by providing powerful tools to assist affiliates in making the best decisions. Affbank also has dedicated spy tools that publishers can use to monitor the performance of their competitors.
To Contents ↑
Factors to consider when choosing CPA offers
Offer viability
Before picking offers, you should always consider their viability first. Some offers sell better (usually from more reputable companies), making your job as an affiliate easier. It's also worth seeing how many other affiliates are running the same offer and whether or not it's working for them.
Legal concerns
Another thing to keep an eye out for is any potential legal issues. Different countries have different advertising regulations for some products, such as cryptocurrency trading, making running campaigns more challenging.
Language and country
Always take note of the language and country of your offer at all times. People usually start with the countries and languages they are familiar with, but if you decide to run an offer in a different language or country, make sure you adapt your ads and landing pages to that audience.
Conversion flow
The most important aspect of an offer is the conversion flow. As a beginner, you should be interested in SOI (Single Opt-In) and DOI (Double-Opt-In) offers. These conversion flows are easier to convert and tend to pay less.
Beginner affiliates should choose lower payout offers because they are easier to convert. They usually only require the user to share some personal information. Other offers, such as carrier billing or FTD (first-time deposit), will appeal to a much smaller group of people. This is because they require funds, which the average internet user may be hesitant to do.
High payout offers may be appealing due to the potential for large profits, but such offers are difficult to convert because the conversion process is complicated.
To Contents ↑
Geo-targeting
The second crucial factor is targeting. You should target offers with Tier 2 and Tier 3 countries as a beginner for the two reasons below. In comparison to Tier 1 GEOs, these GEOs are relatively unsaturated. Second, these GEOs are less expensive than Tier 1 GEOs.
Choosing cheaper GEOs allows you to test a large amount of traffic for a low cost. Tier 1 countries are generally not recommended for beginners due to their high volume and high cost, but they are also highly competitive. Tier 1 is best for you if you have a lucrative offer and a sizable budget. Otherwise, stay in Tier 2 Southeast Asia (SEA) and Latin America (LATAM).
To Contents ↑
Seasonality
The time of year is the last thing you should consider. While some products and services (such as Finance, Sweepstakes, Dating, Gambling, and Games and Apps) are profitable all year round, others perform better depending on the season. For example, Nutrition, health, and travel perform significantly better in the summer than the rest of the year. Always consider what you're promoting and whether now is the best time to do so.
Payout
The payout, or the amount of money you get per conversion, is always one of the first things you look at. Sometimes the best offers aren't always the ones with the highest payouts.
Withdrawal minimum
If you come across two offers in affiliate networks that are nearly identical, choose the one with the lower withdrawal amount. The withdrawal amount is critical for both new and experienced affiliate marketers. It is not the best option if you need to accumulate a large amount of money in the CPA network before receiving earnings. Why is it bad? Paying for traffic and constant traffic tests are part of an affiliate's job. It's risky to agree to work under significant withdrawal minimums. What if the campaign requires more money and you cannot obtain it through an affiliate network?
Don't rule out the possibility that you won't make enough money to meet the minimum withdrawal requirement.
To Contents ↑
Ad formats
Even though you can start with any ad format and succeed with it, some are simply easier to learn with. That's why it's best to start with pop traffic because it's the simplest and most cost-effective way to perfect your CPA marketing skills and test a chunk of traffic before moving on to other ad formats. You only need a landing page (which is usually provided by the affiliate network) to get started.
In-Page Push is the next recommended ad format to try. It's only a little more expensive, and it only necessitates a little more ad creative preparation. Another suggestion is to try domain redirect traffic as a next step. It costs a little more, but it allows for more precise keyword targeting and only requires a landing page.
To Contents ↑
Conversion limits
Capping means restricting the number of conversions you can make on a given day. It's okay for the CPA network to set a cap on the primary conversion volume. If you send high-quality traffic and conversions, they'll quickly remove this limit.
Offer limits
An offer may be subject to several conditions that you should consider. There could be limitations on:
Traffic type,
Geo or region,
Specific promotion approaches (how the creatives look like);
Age or gender of leads (mostly in Gambling and Betting);
Native language on a banner (in Gambling).
If you break their rules, you risk losing everything you've earned. Traffic types are important to affiliate programs and networks. But they can ignore geo-restrictions on occasion. Please be aware of these limitations and select offers with fewer of them so that you have enough room to spread out.
To Contents ↑
Affiliate marketing benefits
Remote work. You can work from anywhere in the world. You only need a laptop, internet and some money to spend on traffic. A profitable campaign generates income 24 hours a day, seven days a week, 365 days a year;
There is no need to purchase goods, rent an office, warehouse space, or reward employees;
There is no need to look for suppliers, sign contracts, or have business trips;
No need to deal with clients, complaints, and claims. The affiliate focuses only on attracting convertible traffic.
Affiliate marketing downsides
The affiliate does not create assets. They only earn when they launch campaigns;
Affiliate marketing is only suitable for generating revenue and building skills. Many marketers consider it a stepping stone towards bigger plans;
Offers can be unstable. You can make $5,000 one week and nothing the next one. The advertiser might decide to stop the offer, or new rules limiting your promotion opportunities come into effect;
The affiliate has to spend money to buy traffic.
Conclusion
Choosing the best CPA deal isn't all that difficult. You have a good chance of making money after testing your first offers if you follow the general recommendations and do some research.
Always read the offer description before making a decision. This tip is especially beneficial for newcomers. It's not enough to find a suitable offer or a set of offers. You'll also need to drive traffic to it, and the worst thing you can do is score conversions from traffic that isn't relevant to the offer.
With Adsterra CPA Network, you are armed with battle-tested offers from evergreen and niche verticals.