While bitcoin volatility continues to surprise experts, the crypto vertical has held tightly its place in all affiliate marketing trends' listings. Talking is one thing, doing is another. How about running a cryptocurrency offer? What new GEOs are there? Which flow to choose? Run it with pop ads or pick a new in-page push format? Our partner is here with a crypto case study with all data you need.
Trying a totally new GEO.
Deciding on the conversion flow.
Traffic types: mobile, desktop, or both?
Crypto pre-lander: best practices.
Ad format: getting more with Social Bar.
Optimization and post-optimization: adding new targets, targeting by OS and language, etc.
Crypto case study data
Traffic type: SocialBar by Adsterra.com

Offer: Mainstream Cryptocurrency

Time period: January 14–20

GEO: RU

Spent: $158

Income: $580.88

Profit: $422.88

ROI: 267.65%
Hello everyone! 
Today I decided to make the long-awaited crypto case for beginners. The offer will run on the format proven successful — the Social Bar.
Let's begin!
Choosing an offer
Our offer is DOI registration on crypto, where the user needs to enter his name, surname, email, phone number and verify his account afterwards. The payout is $3.36 for each registration.
Screenshot of the final landing:
The strategy
Having pre-tested this offer with two separate campaigns, I noticed: 
A large amount of available and inexpensive traffic.
An option to use wider targeting.
The CPC payment model fits perfectly.
No special instructions on device format were given in the offer.
So I decided to go with mobile devices, since the desktop did not perform as well as I expected.
This time I decided to take advantage of a feature Adsterra offers and see the amount of traffic the system calculates for me, depending on the payout I set. In my case these numbers were quite good but I decided to go further and set payout higher to cut off possible competitors.
It's worth mentioning the point that I already had the blacklists I got from the two test campaigns I ran earlier at launch. Be careful not to forget to run pre-tests.
As a result, I decided to go with $0.006 per click payment.
Creatives
Following my tradition, I'm going to start with the selection of the prelands. Like I always say, this is the most important part of the campaign creation process, and it determines how smoothly and successfully everything will go.
Historically, the most compelling and convertible creatives for crypto and binary have always been the success stories of people who have invested their money in one platform or another. 
These creatives should have detailed stories about a person's earnings, that they used to be poor, and everything was bad for them. But after a while, the latest investment began to yield a profit and the person became successful. 
People start comparing themselves to the person on the preland and register on the platforms where that preland leads.
Here is one of the prelands I used: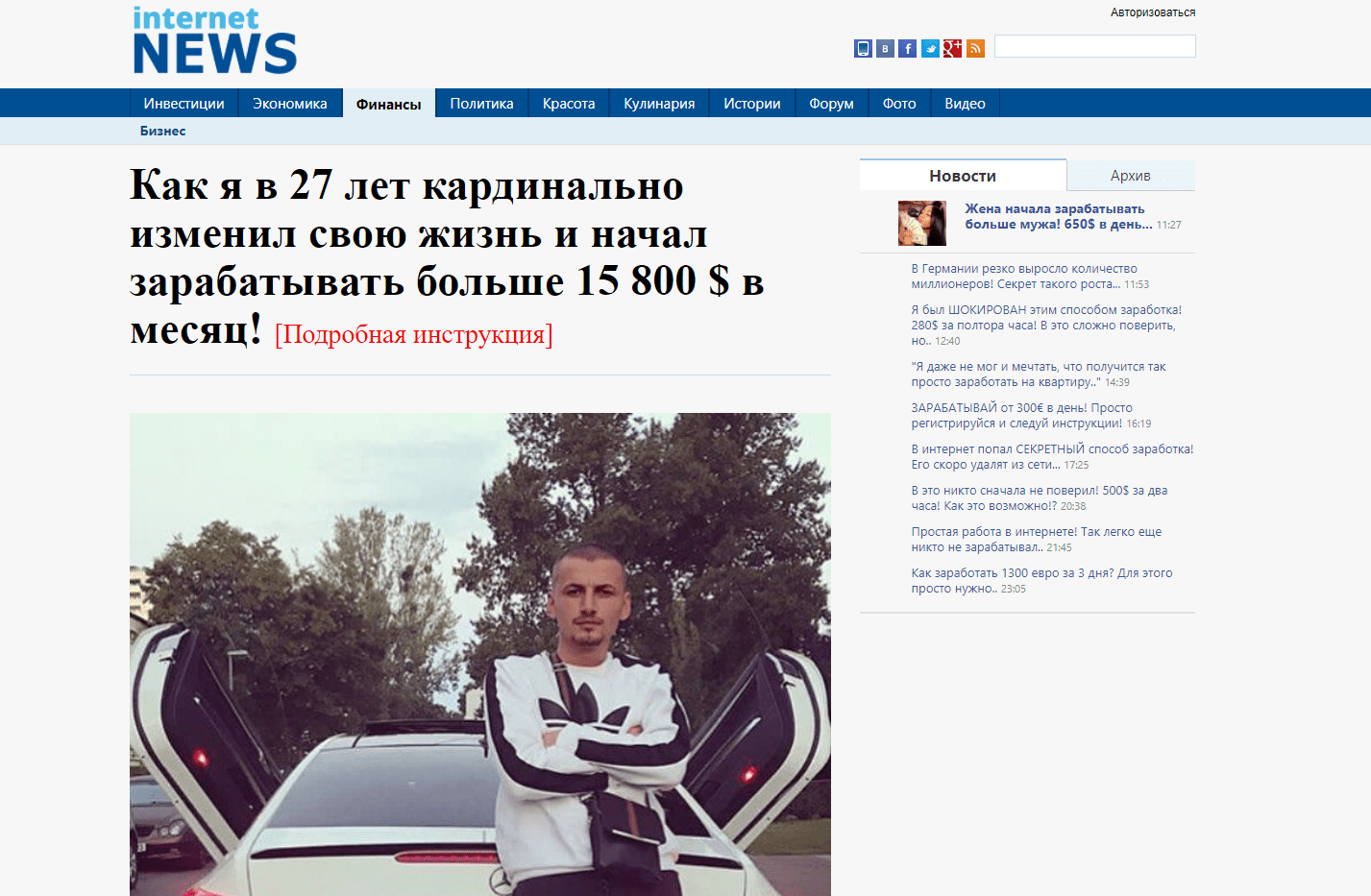 As you can see, this is a story about how a person made an investment in cryptocurrency and became rich.
Such prelands are quite time-consuming, but they inspire confidence in all those who visit them. And they look friendly and informative. So if your advertiser provides you with testimonials, or you find those on your advertiser's website, use all this posotive feedback for prelanders.
Let's get to the design of our notification. You can use any creatives, including misleading ones. But beware, moderators still may reject your creatives if they are too aggressive, the rules of the game are still the same.
Here's what I got:
First creative is an in-page push subformat of Adsterra Social Bar.
TITLE: Increase your savings
DESCRIPTION: You only need to register
Second creative is a Chat Bubble ad, also one of the Social Bar's layouts.
TITLE: Make money with minimum investment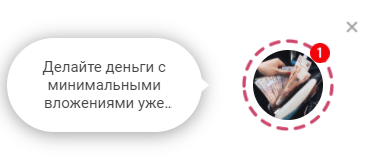 The beauty of the format is that you can do almost anything, turn this notification into any form you find interesting and appealing.
Kind of the same story for the text — you can use any bundle that seems great and profitable. Experiment, come up with something new and unusual. 
By the way, Adsterra has a special post about Social Bar, which you can read as well. 
Optimization
Stage 1 (Adding targets)
Some time ago, a manager told me that you can add another device format to go with mobile devices, if you deem it necessary. These are the tablets and they are referred as such in the system. If you want to increase the amount of incoming traffic — this feature may be useful for you.
Stage 2 (Custom Bids on Placements)
Don't forget to take advantage of the extensive feature set and various tools that the platform provides. As for me, there is an improved version of white list, where you can set increased bids on placements that are performing well statistically. This important feature will help you save money.
Post-optimization
As a result, we have a target for all of the OS, mainstream traffic, for mobile devices and tablets and Russian language.
Screenshot of the final settings: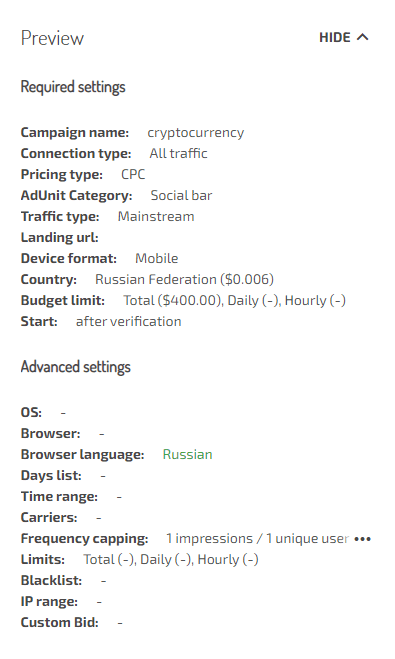 Campaign results
Total spent in Adsterra for all days ~$158.
Screenshot from Adsterra:

Screenshot from my affiliate program:
Conclusion
Total income $580.88.

Profit 580.88$ – 158$ = $422.88.

ROI 267.65%.
I think that this case is very successful. As you can see, even though the offer may not be very fresh or popular —  with the right approach, it will work. You can get your well-deserved money with a high ROI. 
This combination works wonders, you are welcome to try the Social Bar format with other binary or cryptocurrency offers. 
Don't forget to follow tips, ask your manager for help and read articles that Adsterra offers, there is plenty of useful information there.
It seems like this crypto case study can prompt affiliate marketers to experiment with new GEOs and traffic types. By the way, mobile carrier traffic is a very promising income source. You can make sure by reading our previous case study of running an antivirus offer.
On Adsterra you always enjoy quality traffic for crypto offers. Start with a CPM or CPC pricing, and you will discover tons of insights!