Practice worth thousands of tutorials. For this reason, we're proud to share a new success story kindly provided by one of Adsterra's partner affiliates. A perfect example of carrier traffic acquisition, this Mobile Subscriptions case study will be helpful for all who want to drive high-quality leads to SOI offers.
In this case study of running a campaign for Mobile Subscriptions offer, you will learn to:
use Social Bar creatives' layouts to gain more user attention;
create convincing pre-landers;
tweak targeting options and cut off the traffic you don't need;
optimize your mobile subscriptions campaigns.
Case Study Data
Traffic type: SocialBar by Adsterra

Offer: Mainstream Antivirus

Time period: October 05–12

GEO: ID

Spent: $1061.8

Income: $2444.4

Profit: $1382.5

ROI: 130%
Hey everyone! Once again we're going to revisit a new popular format from Adsterra — Social Bar. In today's case I'll show you how to achieve high ROI with low investment in just a week! I think that you will be pleasantly surprised with the outcome and will definitely want to try the format. Let's roll!
Geo, offer, and traffic type selection
First of all, let's start with the offer selection. The offer was taken from Affbank for Indonesia (ID).
Our offer is a SOI antivirus subscription with CPI model, which means $0.3 per installation
Flow: Click to SMS
KPI: no KPI
Restrictions: no incentive
Allowed carriers: Telkomsel, Indosat, XL
Screenshot of the final landing page: 
The strategy
So, having pre-tested this offer with two separate campaigns we discovered that: 
There is a large amount of available and inexpensive traffic.
There is also an option to target all OS and two languages.
Traffic on three carriers is more than enough.
The CPC payment model proved to work wonders.
The offer is for mobile, so I decided to cut off the operating systems that can easily eat our traffic. I'll get back to that in the "Post optimization" chapter.
There is quite a lot of cheap traffic in Indonesia, so I decided to go with $0.001$ per click. Such GEO as IN and ID are great for minimal payout, but if you raise it two or three times — that would be great.
The language is Indonesian, because most Indonesians speak it. There are also a lot of people who speak English, so we include them in the targeting too.
Creatives
Let's start with the preland. I already covered prelands on utilities in previous cases, you can get some helpful information there. 
"Fear-inducing" prelands that claim or assume the presence of a virus prove to be the best on such offers. These prelands encourage the user to get rid of the threat as quickly as possible and he begins to frantically look for the install button.
Combine this with an alert and a blinking recommendation message to make your preland even more impressive and effective.
My preland looked like this: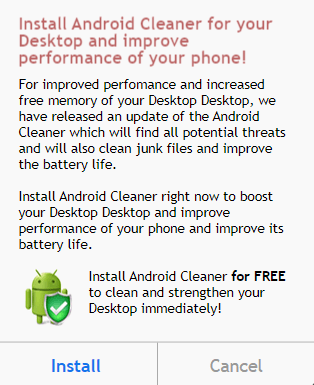 Such preland tells our user that installing antivirus will increase the speed of his phone, his battery will last longer and all that kind of stuff. It's important not to intimidate the user too much, because it won't lead to anything good.
Don't forget that when you buy a domain, you have to choose a domain name which will represent the essence of the offer. No numerical values in the URL, please, or it will negatively affect the convertibility.
Let's proceed with the construction of our notification. Initially, I took images that can be associated with the preland, otherwise confusion may arise and the user will close the page without seeing the desired utility. Here are the examples of my creatives: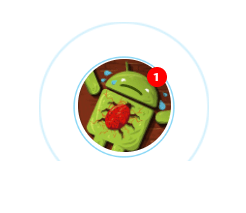 When creating a banner, remember not to make it too native! It should look like a system alert, that's the whole point of the format.
IMPORTANT: follow the rules of the platform and don't use the logo of Google, Android or anything of that kind. It can lead to your campaign being declined, and you'll have to look for new creatives.
Some examples of good combinations:
TITLE:
Lindungi ponsel Anda
Protect your phone
DESCRIPTION:
100% perlindungan virus
100% virus protection
BUTTON:
Periksa telepon mu
Check your phone

Don't forget that the ban on misleading aggressive creatives also applies to the text of your Social Bar.
Optimization
Stage 1 (Custom bids on placements)
Custom bid is an incredibly handy tool that helps you arrange bids in more detail and make some sort of a whitelist. It's a great option for those who like to carefully compose their whitelists with maximum efficiency. But the most important thing is preliminary tests and constant monitoring of new converting playcements.
Stage 2 (Changing creatives)
Be sure not to overlook creatives rotation. You can always update the banners with new ones, and disable the old ones that are not converting. A variety of banners and templates will allow you to create a creative that converts well. I advise you to upload several dozen banners at once, so that later some of them can be removed.
Post-optimization
As a result, we have a target on all OS except Blackberry, IOS and WP (most of the traffic is on Android), CPC pricing, mainstream+adult traffic, mobile devices, ID GEO, Indonesian+English languages, with operators specified in the offer.
Screenshot of the final settings: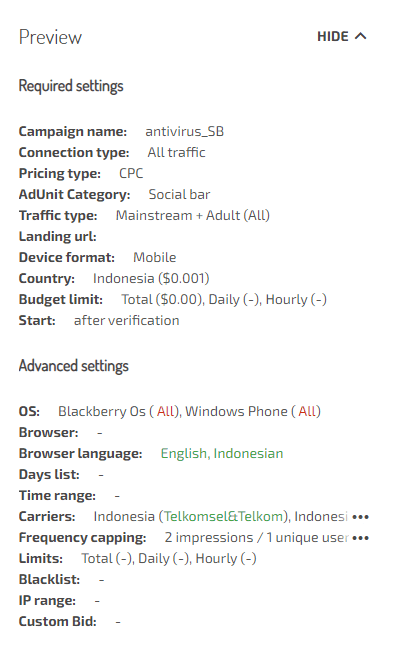 Social Bar campaign results
Total spent on Adsterra for all days : $1061.86.
Screenshot from Adsterra:

Screenshot from affiliate program:

Conclusion
Income: 2444.4 $

Profit: 2444.4$ – 1061.86$ = 1382.5 $

ROI: 130%
In this case study, I described my way of rolling out a campaign on the Social Bar format. As you can see, it is quite good at making profit. I like the new format because of its variability, option to use different templates and creatives, and the ability to do things differently. 

Give the new format a try, I think you'll like it.
It's about time to give the go-ahead for all these instructions and insights. How to make the most of this Mobile Subscriptions case study? Run a very similar offer on Adsterra. Or, find a DOI, SOI offers for utilities, VPNs, battery boosters, or phone cleaners on your affiliate network and set up a campaign using Adsterra traffic. These offers always perform brilliantly with Social Bar and other our ad formats. Earlier, we shared a case study of a Utility campaign with ROI of 190%.


Just pick the offer with the convenient flow and see how Adsterra traffic brings you loads of conversions!