Blogger is one of the first blogging platforms to appear on the internet. It's home to millions of bloggers, and its market share in the content publishing platform list has remained relatively stable over the years. So it's no surprise why you're looking for free Blogger templates.
Most publishers pick Blogger for the following reasons:
It's easy to set up;
Google backs and supports it;
Lastly, you can monetize Blogger with third-party ad codes.
It might fall short compared to WordPress, but your decision is final, and we're here to help you. So if you're looking for the best free Blogger templates, we've described a lot of them in this article. We'll choose the ones that are best suited for placing advertising banners, Social Bar, and other ad formats: a selection of optimal templates for improving earnings on advertising impressions.
Why is blogging relevant?
Blogging evolved to become the most popular activity on the internet. Both small and large website owners have long recognized that blogging is an excellent tool for driving traffic, increasing sales, gaining free exposure, and creating a community around content creation.
Its advantages outweigh the cons of having to set up and maintain a blog. From increased search engine visibility and branding opportunities to domain authority and conversion rate improvement, blogging offers something for everyone.
So your blog must look the best it can. Finding great templates can be hectic because there are so many options. We've compiled a list of the best free Blogger templates, updated and optimized with the latest features, widgets, and ad code placement standards.
To Contents ↑
What are Blogger templates?
In a nutshell, a Blogger template is an XHTML design that includes CSS, XML, and JavaScript code. But what features should you look for in a Blogger template?
Factors to consider when selecting a Blogger template
Users access your blogs on devices with different screen sizes, such as desktops, laptops, mobile phones, tablets, and more, thanks to 100% responsive designs. It helps provide the best user interface possible for any device type.
Ideal templates should have SEO-friendly designs and features built-in to help rank your website on a search engine is easier.
To furnish your blog with a Blogger template, you don't need to be a professional developer or even know how to code. It should be simple to use and handle all of the code for you. Good templates include stunning but simple layout builders that help you change the layout by quickly dragging and dropping elements.
Minimalism is trending, and most users appreciate a clean template design. We agree, and you should pay special attention to the clean and user-friendly Blogger template designs.
Fast website > better user experience > higher SERP ranking > more organic traffic > more ad impressions and clicks > more revenue. The importance of choosing a fast template cannot be overstated.
Other features include:
Cross-browser and multi-language compatibility;
HTML5 and CSS3 development;
Google font library integration;
Social media integration, and much more.
To Contents ↑
Best free Blogger templates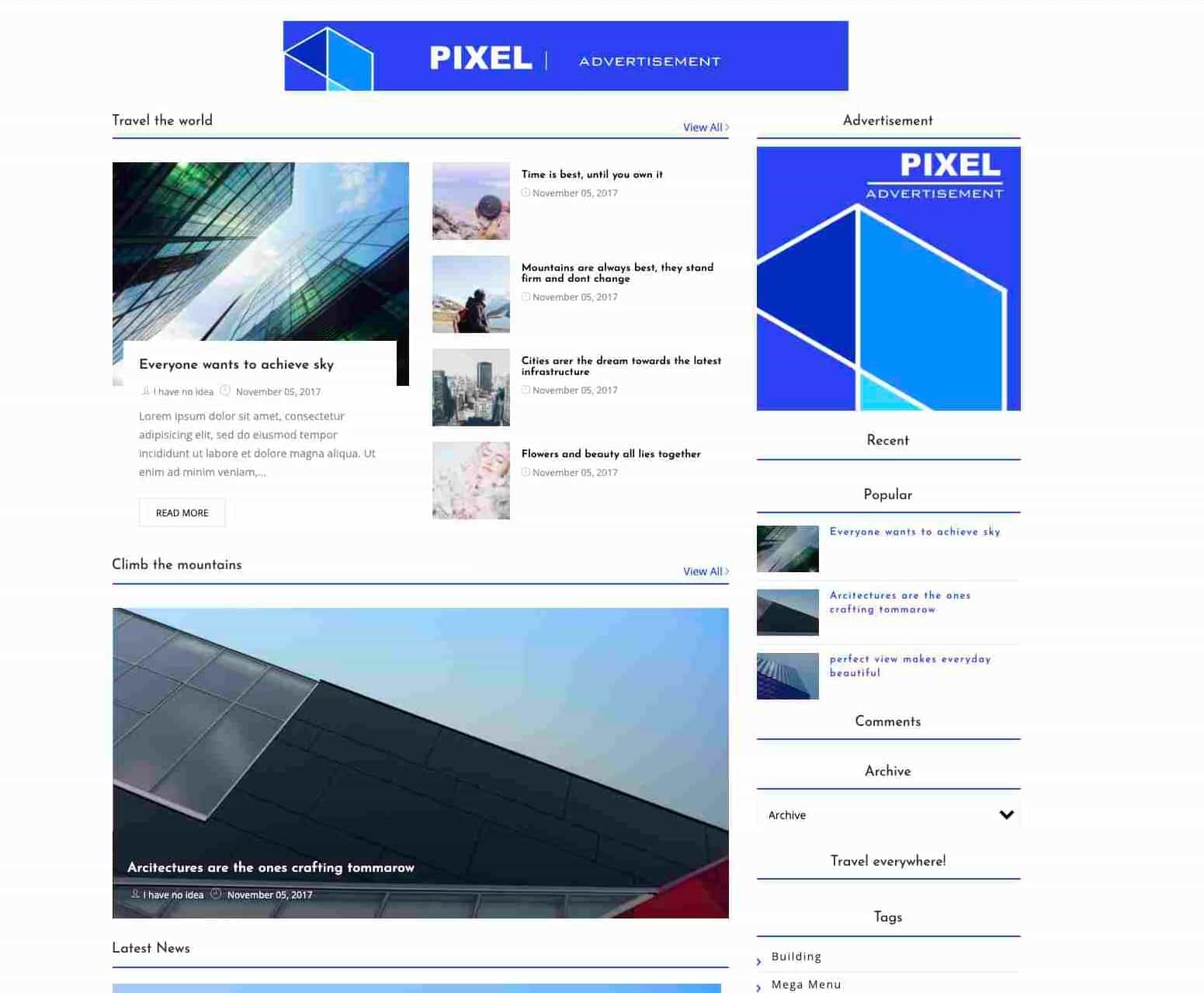 Pixel is a new Blogger template by Colorlib, available for both personal and commercial use. It has several areas and widgets where you can put ad codes from AdSense, Adsterra, or their alternatives. This theme is also trendy, with thousands of downloads in its first two weeks.
To Contents ↑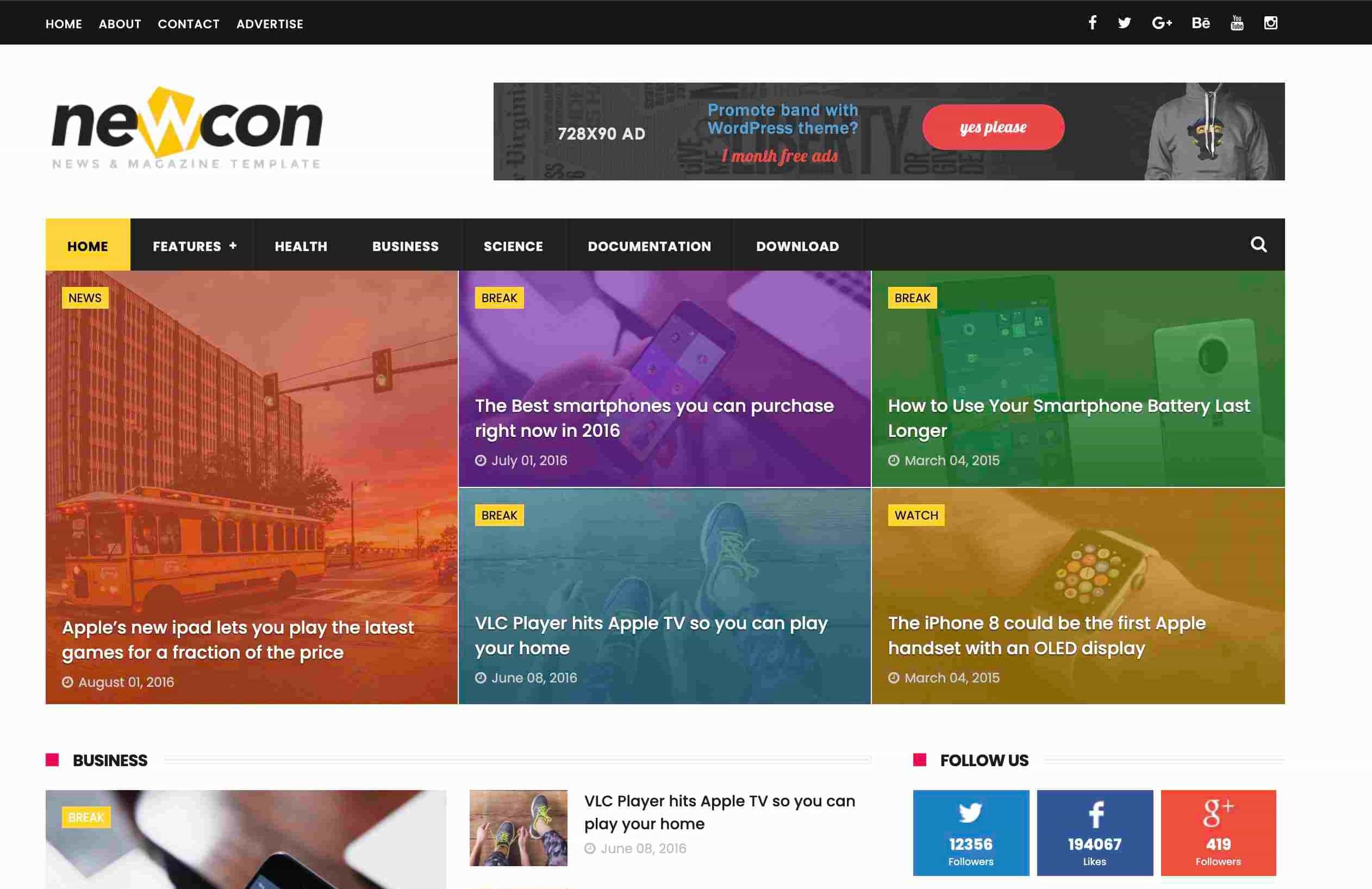 Newcon is a free Blogger template for online magazines and news pages, as the name suggests. It's versatile, adaptable, and pleases even the most discerning users. Even though it comes with a sophisticated layout that everyone will appreciate, you can still do things your way by customizing Newcon to meet your needs.
This template is mobile-friendly and retina-ready, and search engine optimized, making the traffic driving part a little easier for you. So you just need the combination of a great website and your powerful content to help you win the online game. Newcon also has a tabbed menu, newsletter subscription, error page, user-friendly admin, and is ad-ready.
To Contents ↑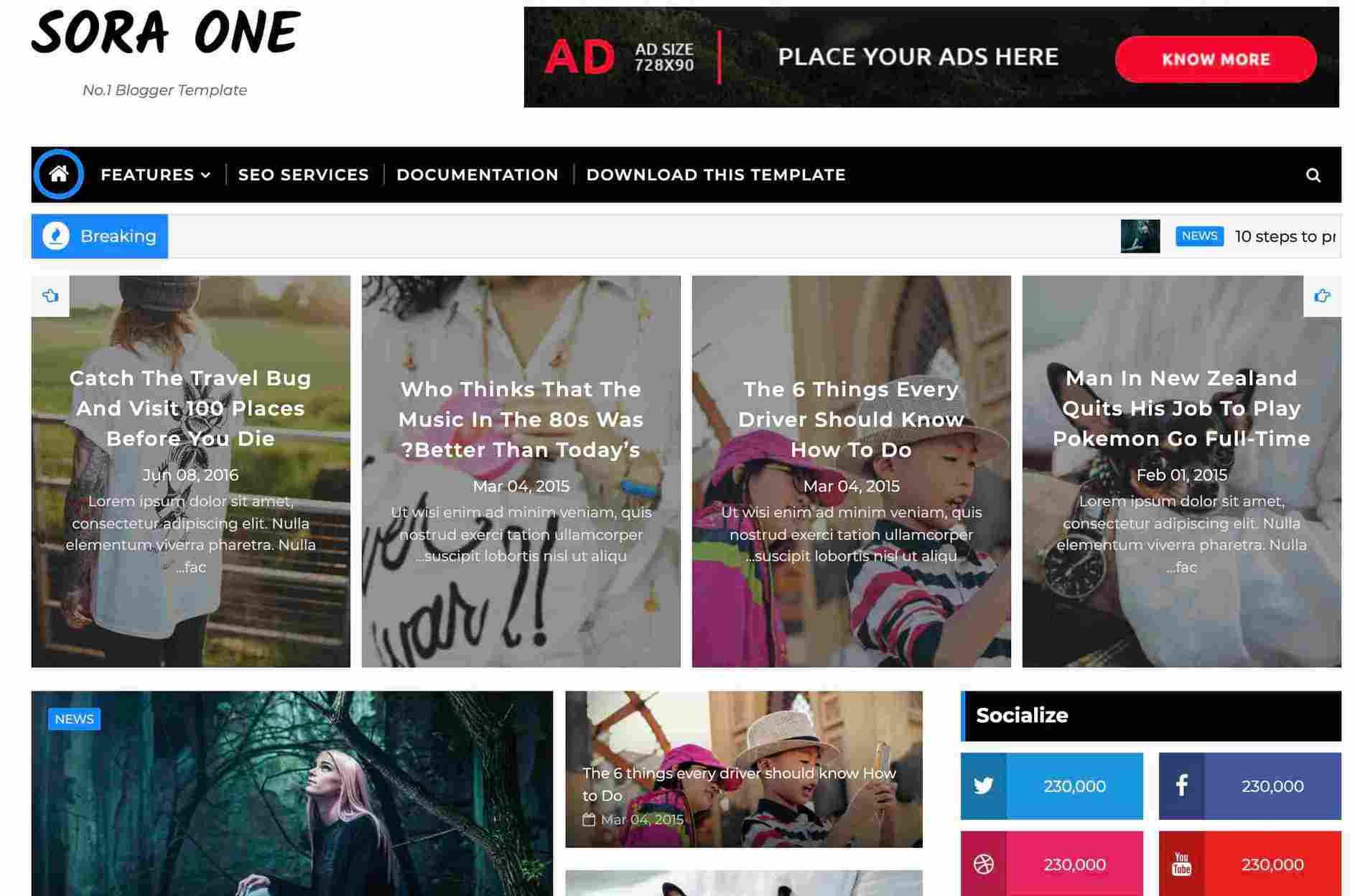 Sora One is a free Blogger template for creating online magazines. It offers many features that will help your blog grow, including a modern look that will appeal to your readers.
Sora One loads fast, is responsive, retina, and mobile-ready. It also has a contact page with a form, social media icons, ad placement spots, a drop-down menu, among other cool and useful features. This template is search engine optimized and fully compatible with all major web browsers.
To Contents ↑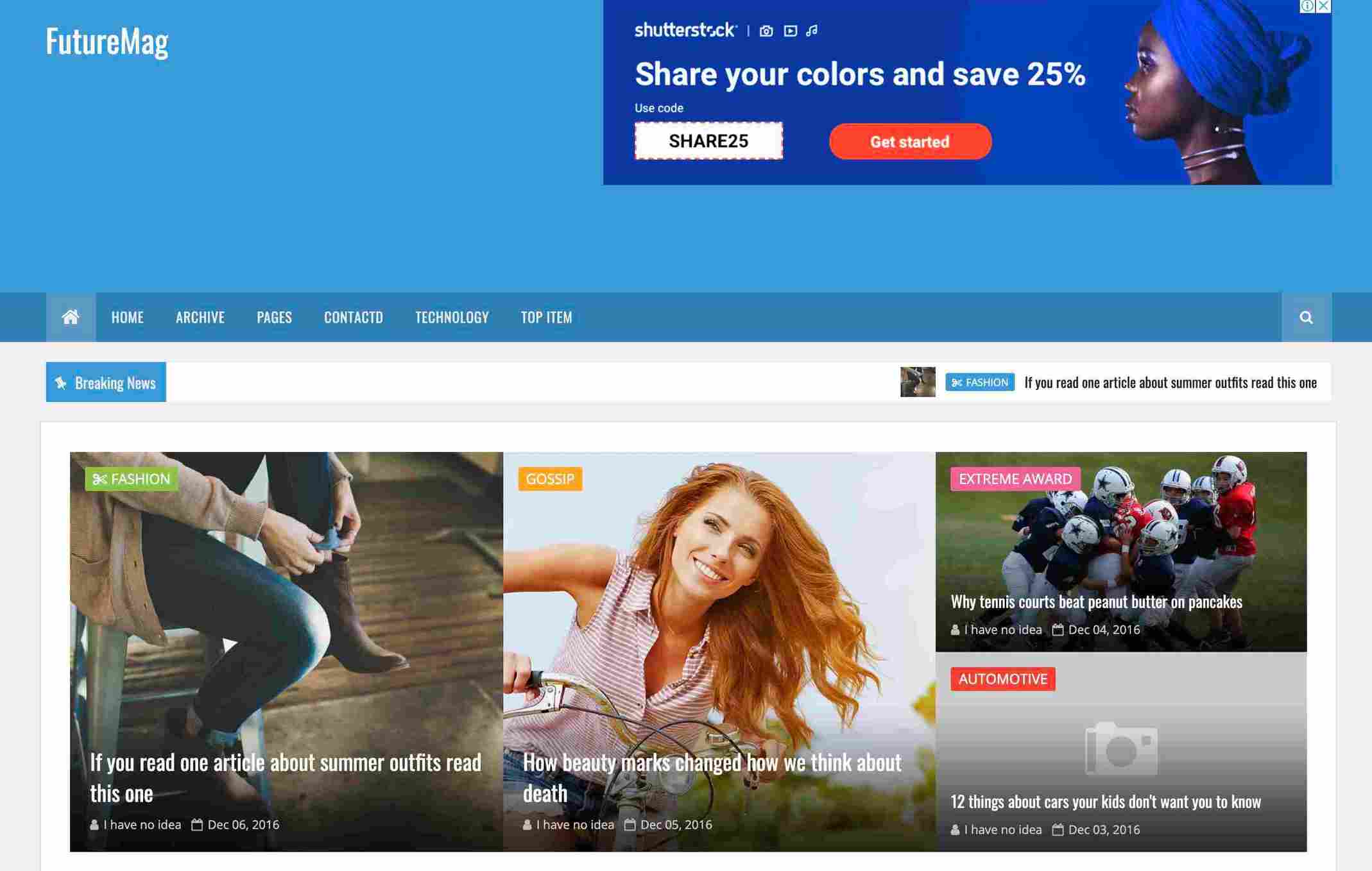 This is by far the best free blogger template for taking your website to the next level. It's a basic magazine-style theme with ad spaces, custom widgets, an image slider, and a premium appearance.
To Contents ↑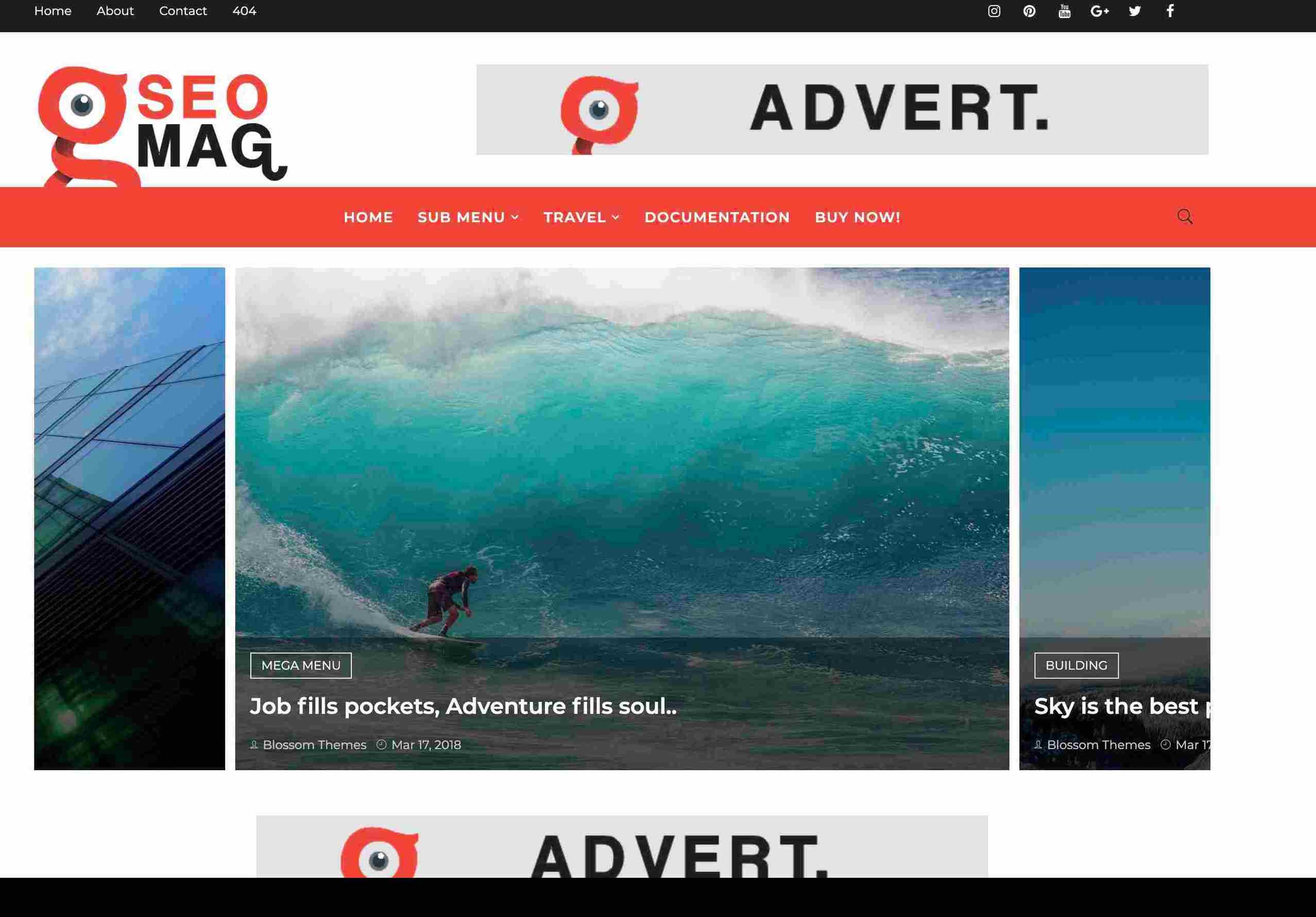 SEO MAG works for all niches: travel, fashion, food, marketing, sports, and lifestyle. Like the rest, it is mobile and retina-ready, and compatible with all major web browsers. It also has a carousel slider, an infinite mega menu, a sticky sidebar, and a widget-rich footer, among other things. When your blog has reached a certain amount of monthly organic traffic, you can start monetizing it with SEO MAG's integrated ad placements.
To Contents ↑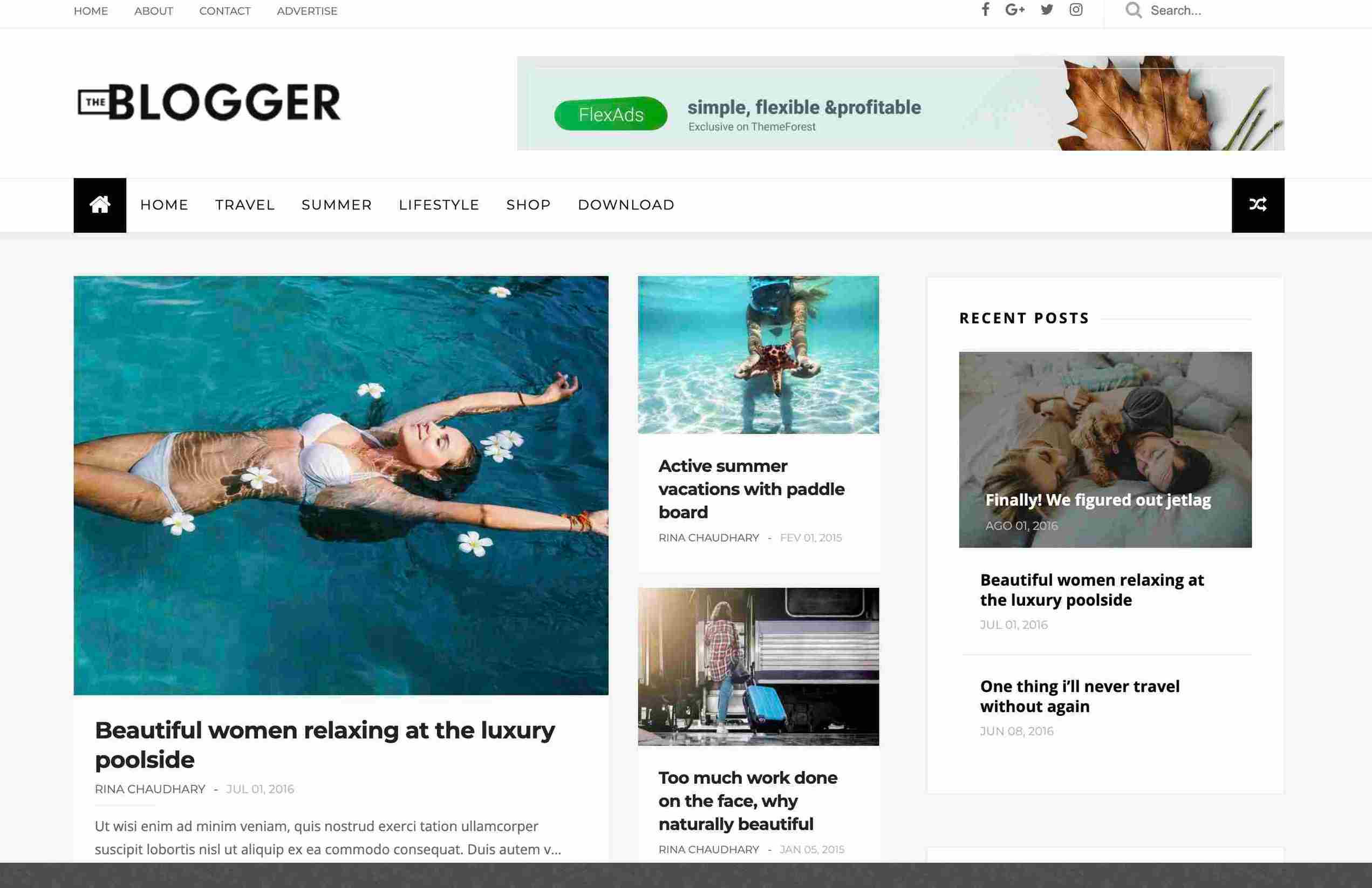 TheBlogger is a free Blogger template for all types of blogs and magazines. Its cool and practical navigation helps you create a generic online magazine; users choose a topic to read about, and all related articles will appear before them.
This blogger template comes packed with a list of valuable features. It has a responsive and mobile-friendly design and advanced SEO optimization, a newsletter subscription, and well-written documentation. TheBlogger also includes pre-defined ad placements to help you profit from placing ad codes.
To Contents ↑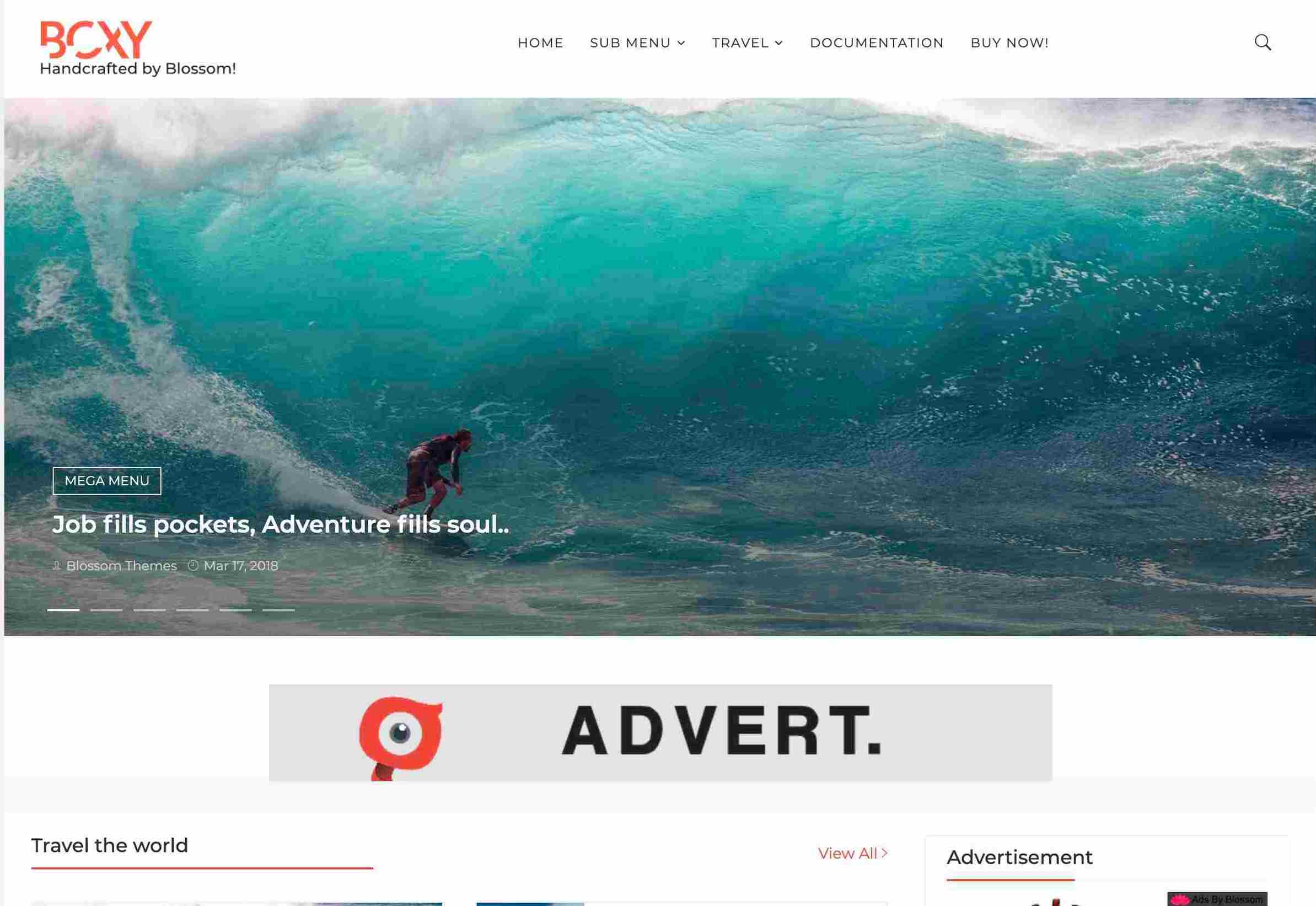 Boxy has a creative and fun boxed layout. The design is already there; all you need to do now is modify it to match your branding, and you're ready to go. Boxy has a nice slider, a multi-level drop-down, mega menus, a completely customizable header, and many custom widgets. You can keep the exact page available in the live preview or change it; the result will always be a high-quality, appealing mobile-ready page.
To Contents ↑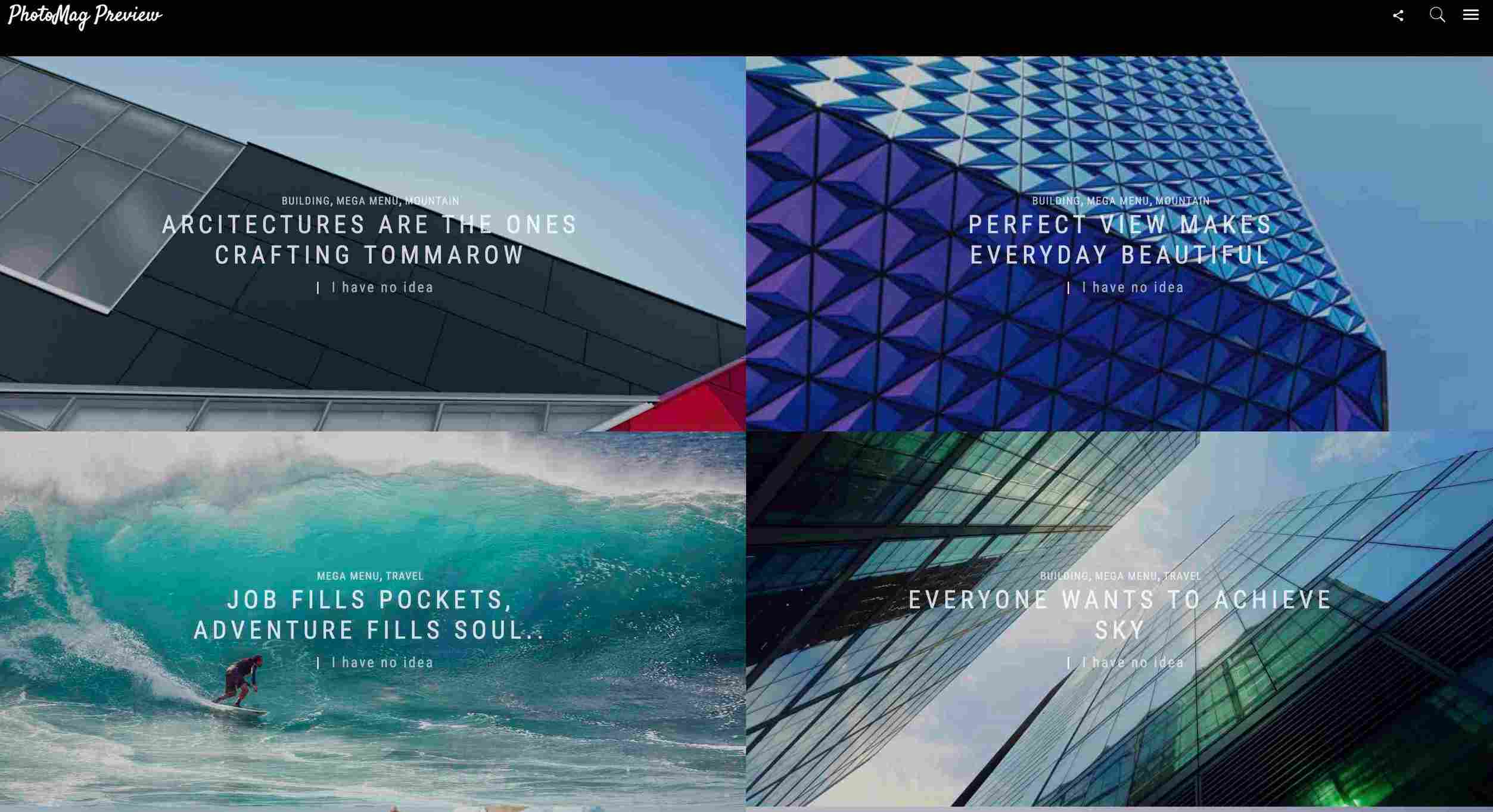 PhotoMag is a free, attractive, and sophisticated Blogger template. It's the best choice for any photo or picture-themed blog. You can also place ads codes in this theme to start earning, potentially turning your hobby into a full-time business.
This template has a full-screen slider with clickable text, sticky navigation, multi-level drop-down navigation. PhotoMag's web design is dark, which makes your work appear even more elegant and polished. It has several widgets, a responsive layout, and numerous advanced assets to enhance user experience.
To Contents ↑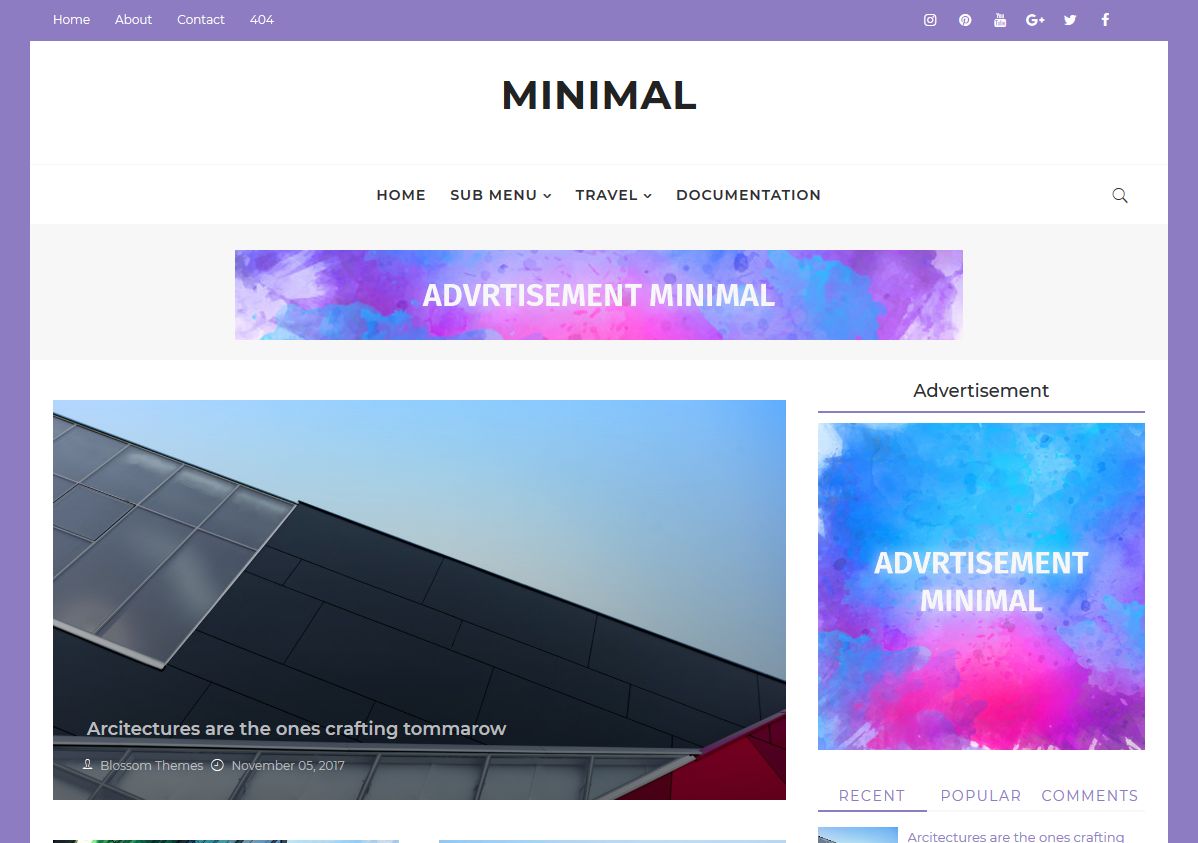 Minimal is a minimalistic Blogger template with no decorations, but it gets the job done and looks simply stunning.
To Contents ↑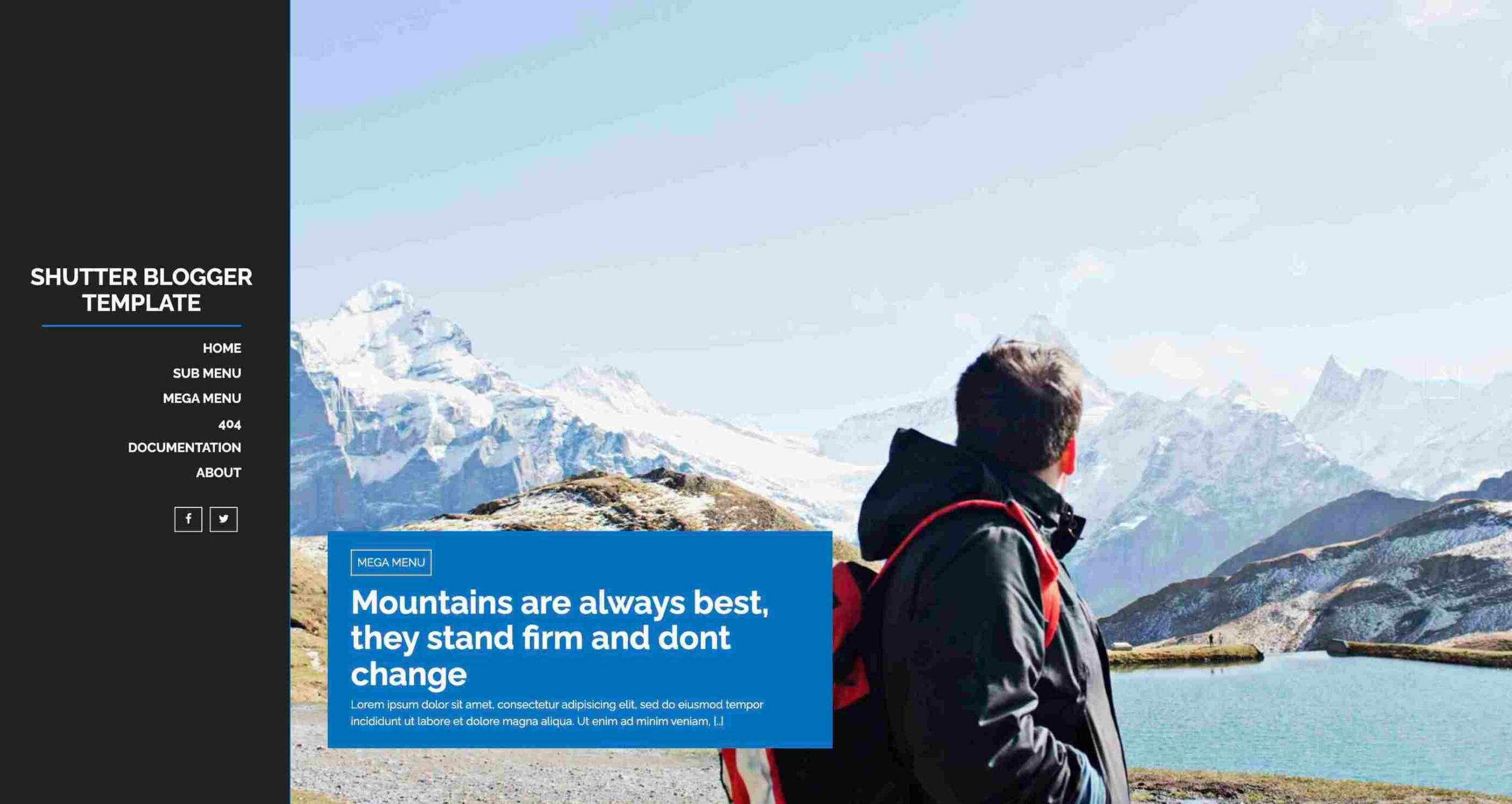 Shutter is another Blogger template for a creative photoblog with a large slider area on top. It has all of the features you'd expect from a premium template, except it's free.
To Contents ↑
You can enhance your blog's appearance with Alpha even if you have no prior experience with coding or website development. It's a free Blogger template that offers what you'll because it adheres to current technology and web standards.
You won't have to worry about technical aspects like mobile and retina compatibility, SEO, and cross-browser compatibility.
To Contents ↑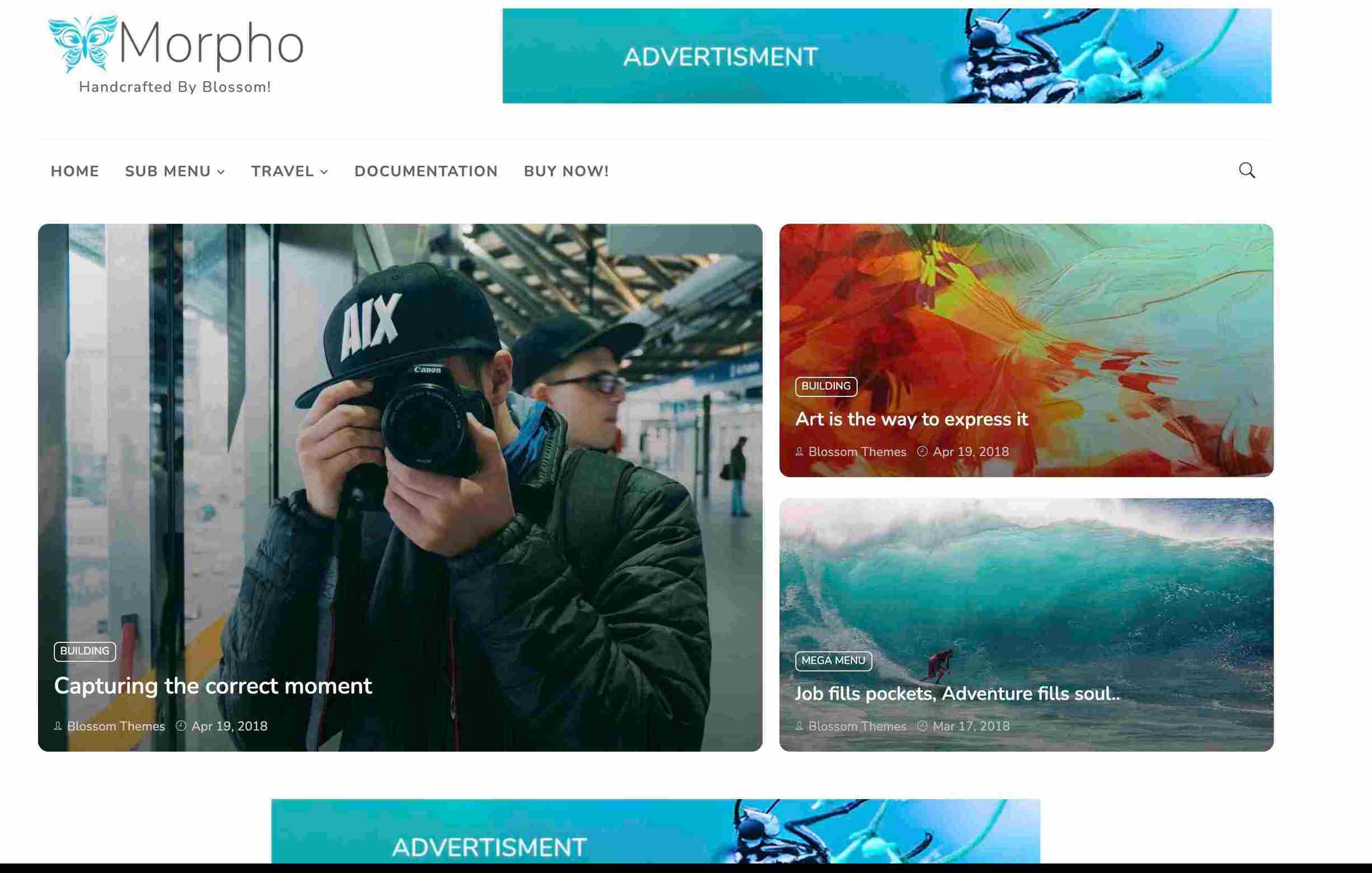 Morpho is a free Blogger template for anyone looking to get started with their online projects. It has a very modern and refined appearance that is ideal for modern mobile users. Morpho is fully responsive and works flawlessly on all devices.
This template ensures that your content is delivered in a flexible layout, ensuring that every visitor has the same amazing experience with your content and the overall website.
To Contents ↑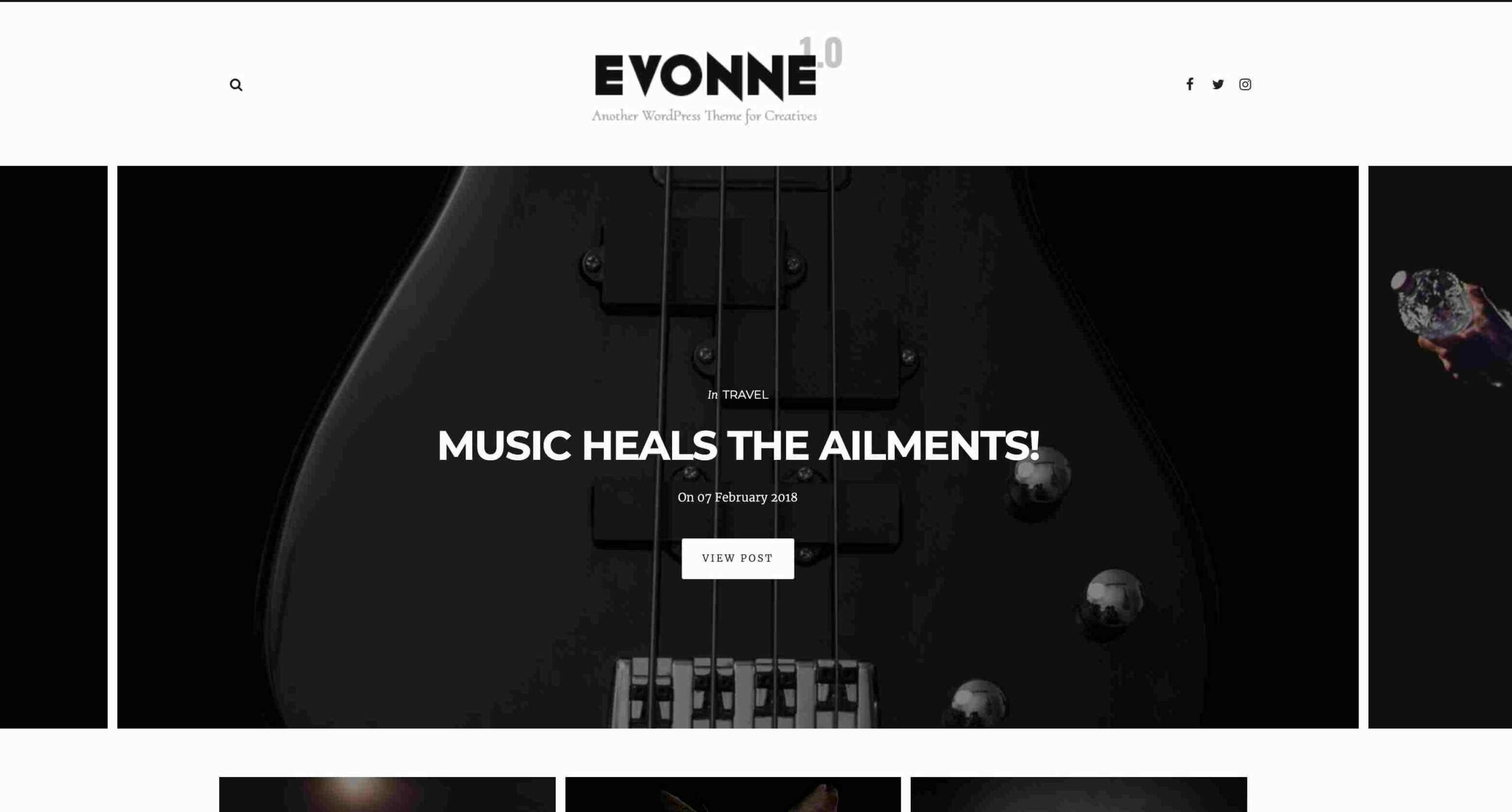 Evonne is probably your best bet if you're looking for a super minimalist and contemporary Blogger template. This template excels at minimalism and frugality because Evonne is an online magazine and blog hybrid.
Evonne has a mobile-friendly design, compatible with retina displays and web browsers. It's also optimized for search engines, allowing your page and articles to rank faster (and higher).
To Contents ↑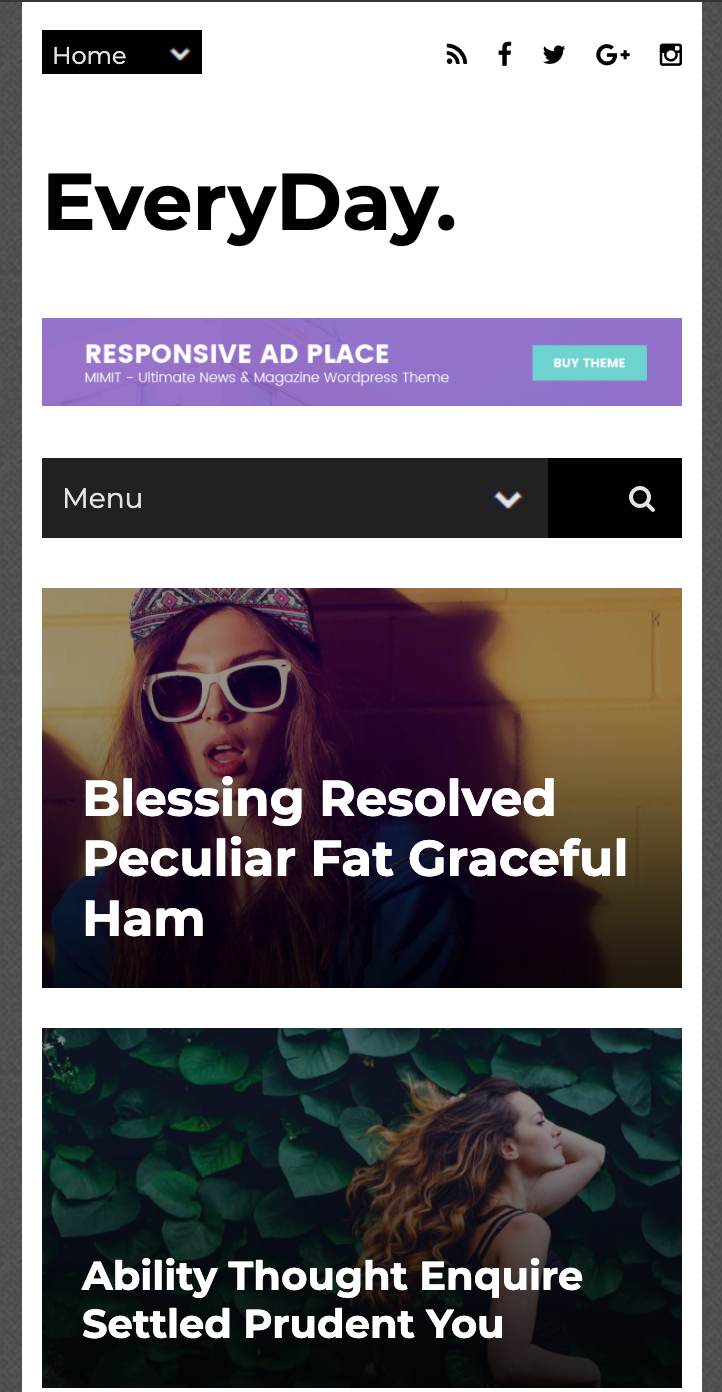 Everyday is a free Blogger template for online blogging projects. Built for both beginners and experts, you can quickly improve and enhance it to fit your expectations.
To Contents ↑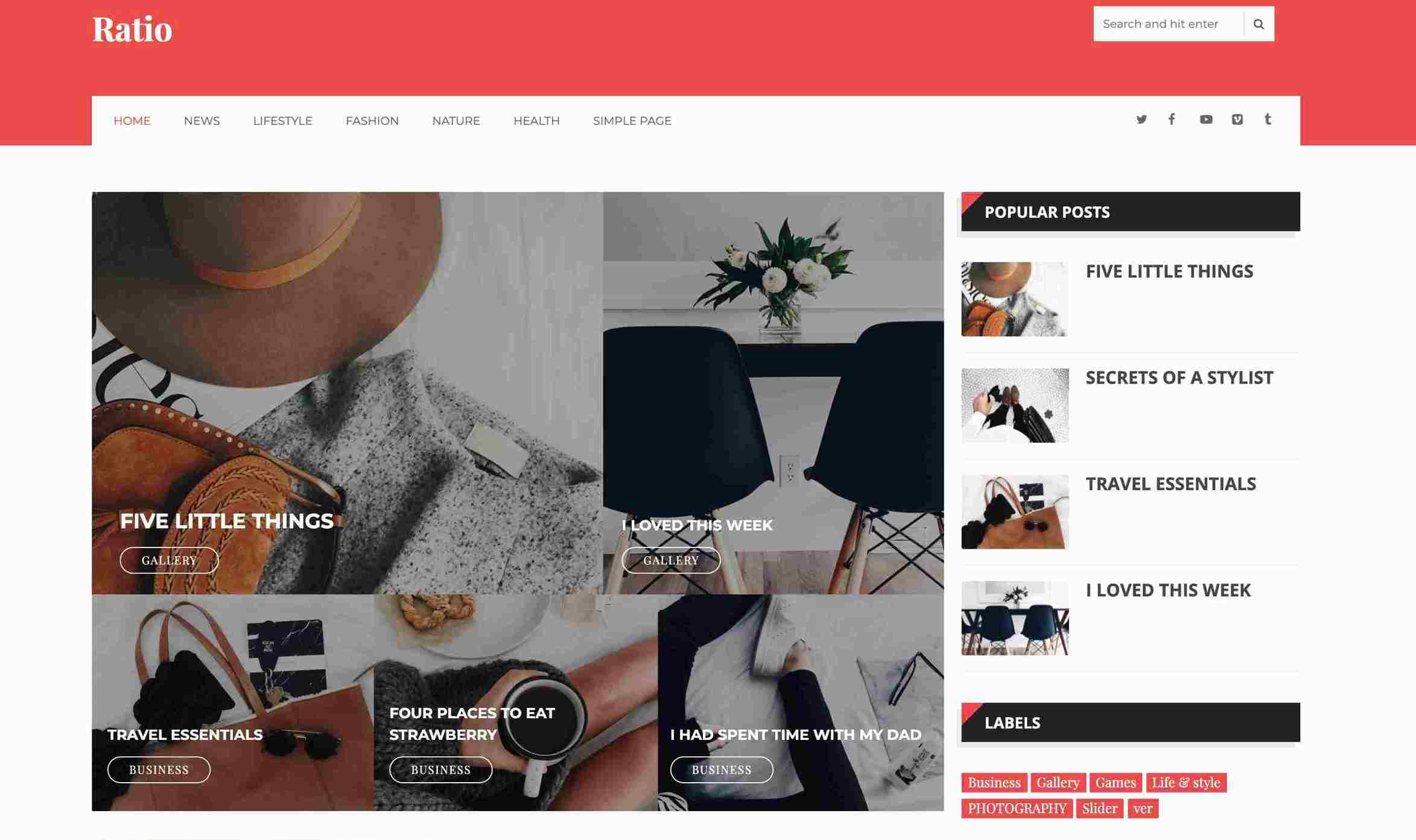 Ratio is a great blogger template for health, lifestyle, beauty, and fashion. This free Blogger website template has everything you need to create a stunning online space. It doesn't take much effort or time to set up the desired page.
Ratio makes it easy to manage a niche blog or a news page. It's all very self-explanatory. Ratio is also SEO-friendly, mobile and retina-ready, and cross-browser compatible. Ratio's stunning and engaging minimalist design showcases your texts and images on any device.
To Contents ↑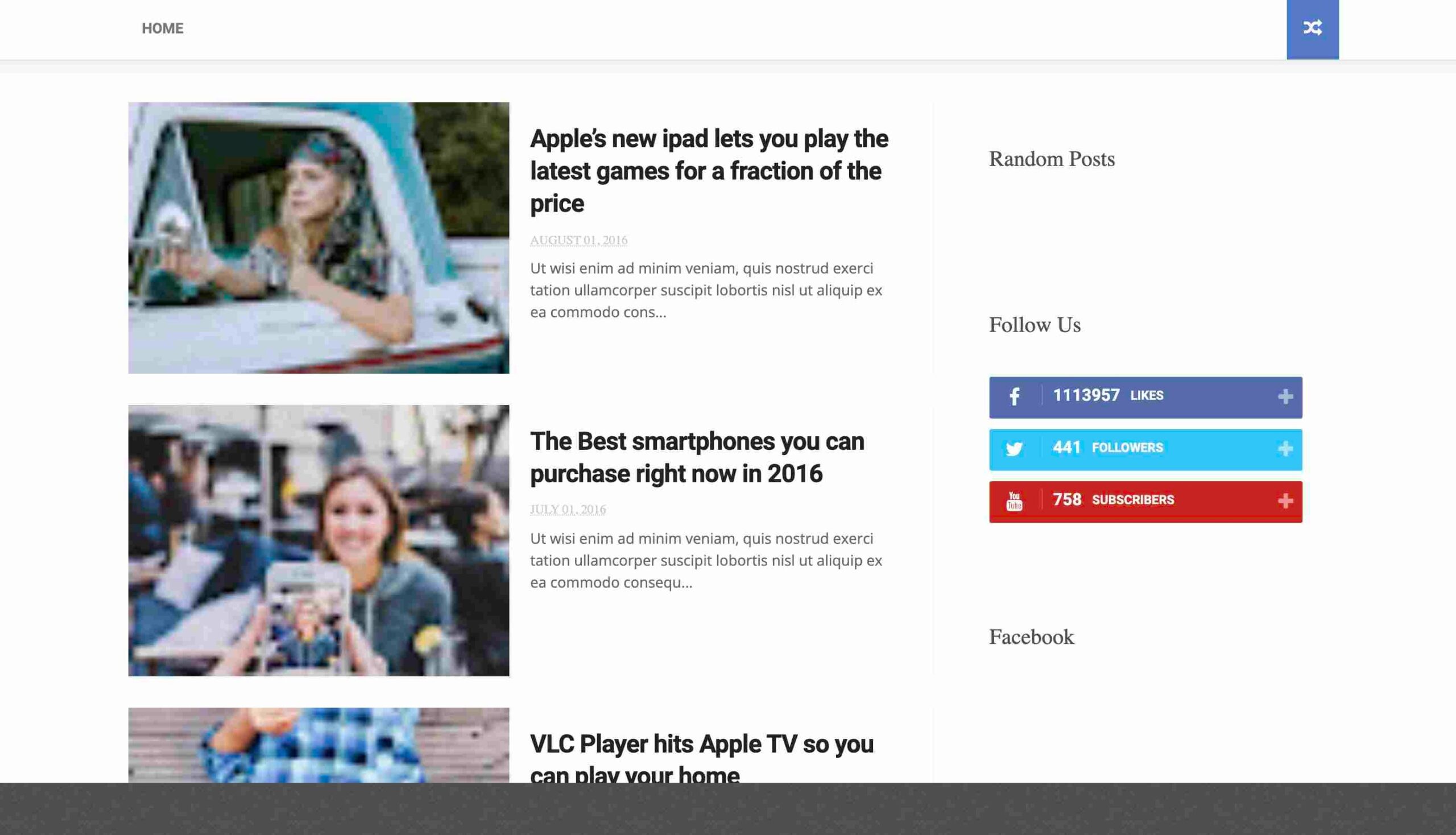 A free, responsive blogger template that allows you to write about whatever you want. WriteUp is fully functional and requires no coding knowledge. It's search engine and browser friendly and loads quickly.
To Contents ↑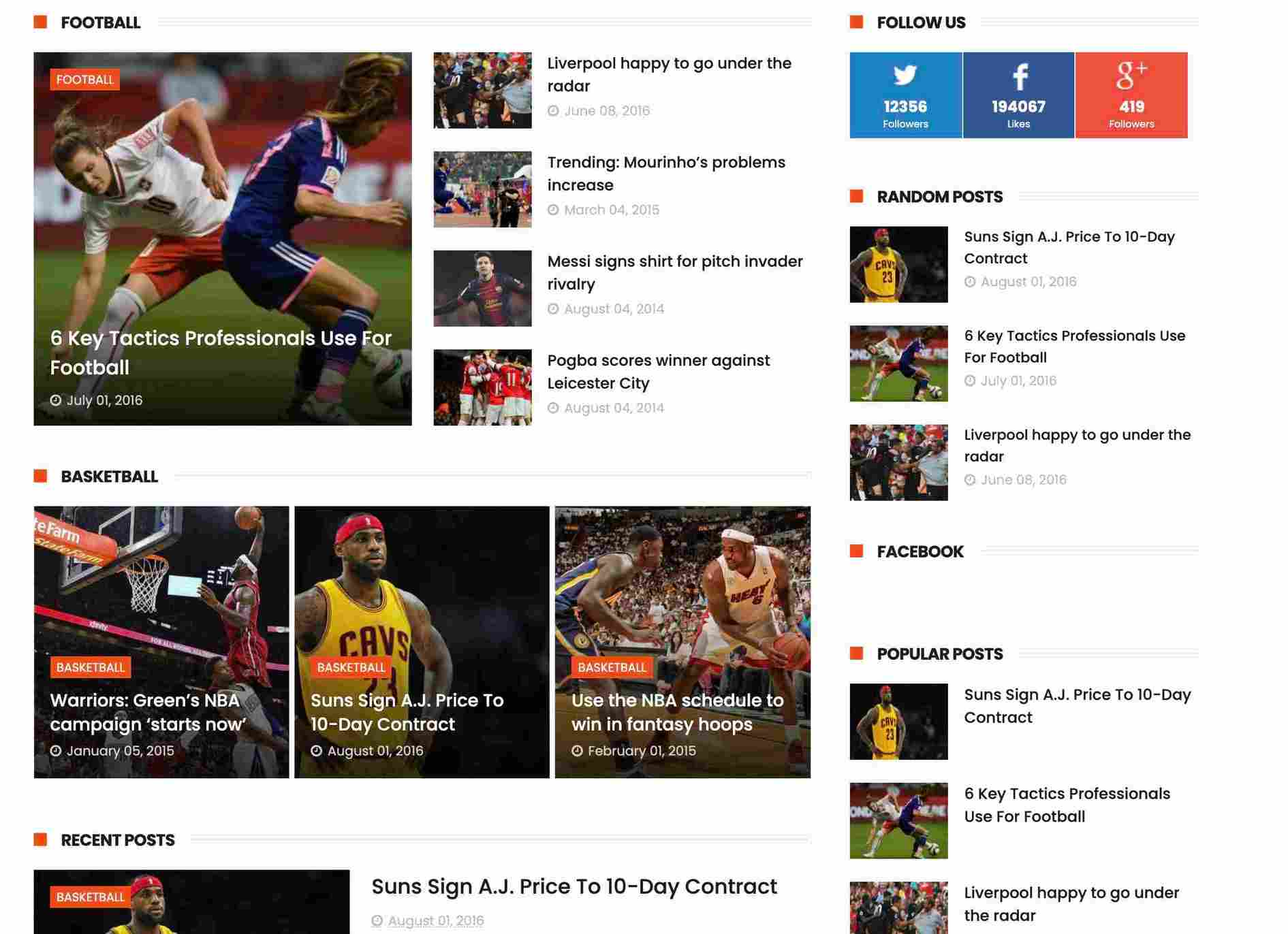 There are a few niche-specific free Blogger templates in this collection. These web designs can all be tweaked and used for something entirely different. SportsMag can be used for sports news pages but also modified for other niches. Distraction-free reading is an important feature of a successful blog or news page. SportsMag prioritizes readability and performance, ensuring your users' satisfaction. It also includes SEO, mobile, retina, and browser compatibility. SportsMag has a premium version.
To Contents ↑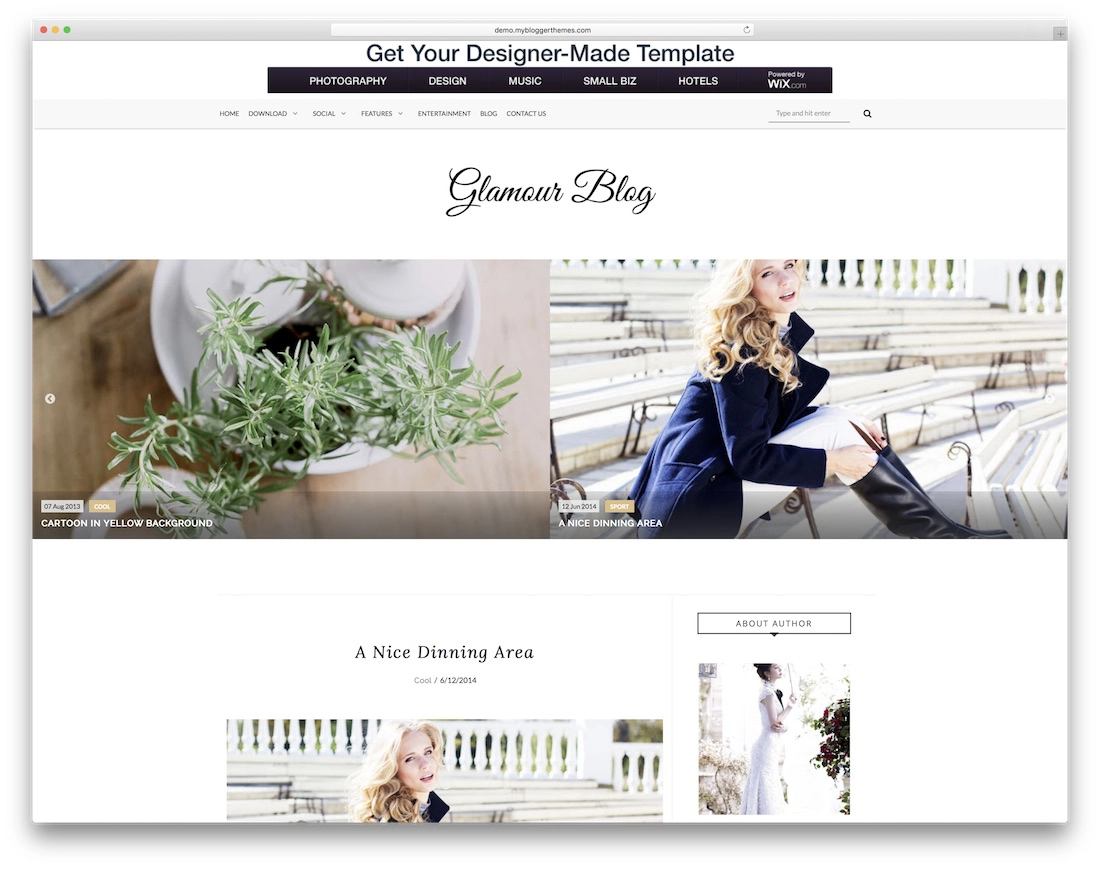 Glamour has a glamorous look and provides a charming blogging experience for both the blogger and the blog visitor. Its slow scrolling feature may be irritating to some people, but the charming fluidity of typography and text style is what makes Glamour the top choice for fashion, food, and travel sites.
To Contents ↑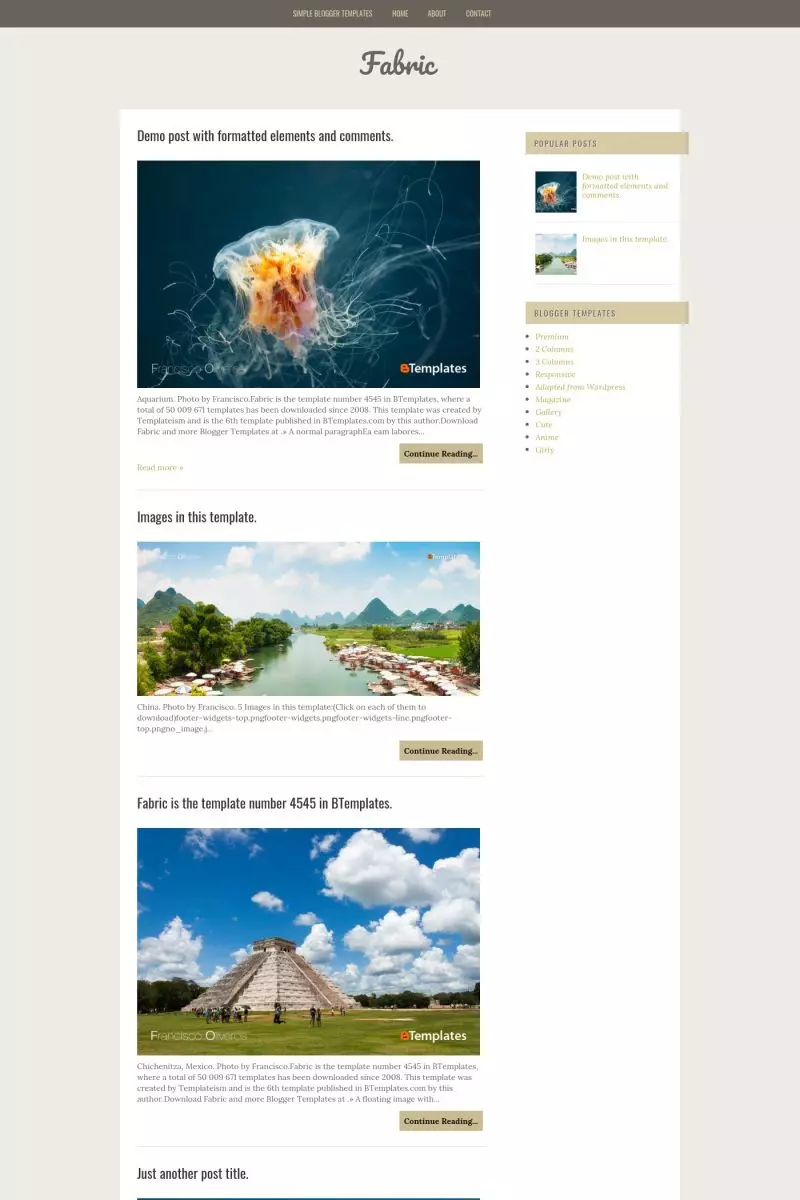 Fabric is bringing back the two-column layout ideal for blogs that publish tutorials, lists, and other similar content. Fabric's most important feature is perhaps its ease of navigation. Bloggers who want to maintain a regular posting schedule will love Fabric; its design complements any type of content.
To Contents ↑
Papersheet is a no-sidebar template for writers and storytellers that allows readers to immerse themselves in your stories without having to click away. It's also light, with a color scheme that prioritizes written content.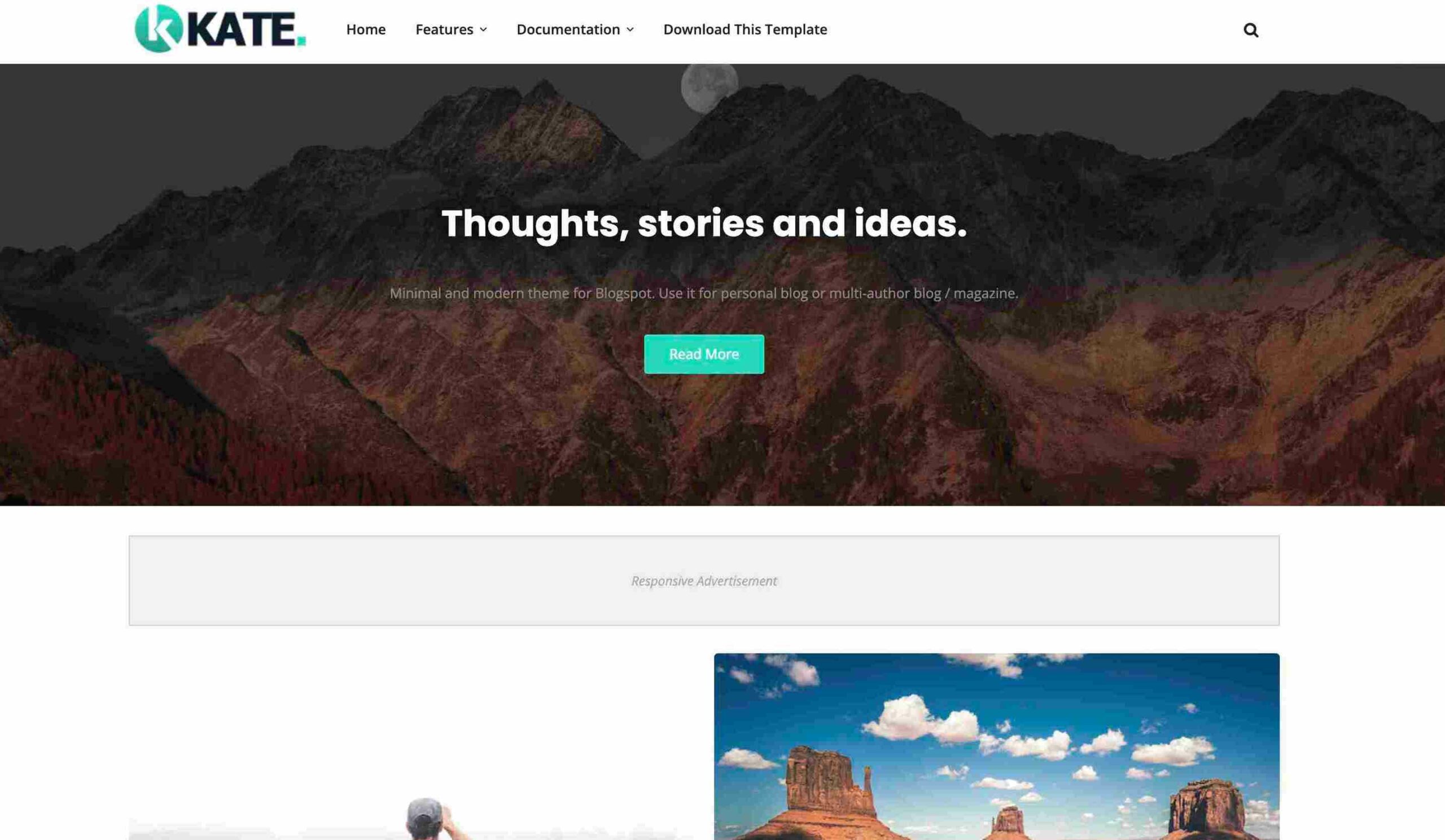 The Kate Blogger Template is a high-quality, responsive, and flexible theme. It's ideal beauty, fashion, nature, travel, or other similar blogs. It is fully responsive and works perfectly for you whether you use a desktop computer or a smartphone.
To Contents ↑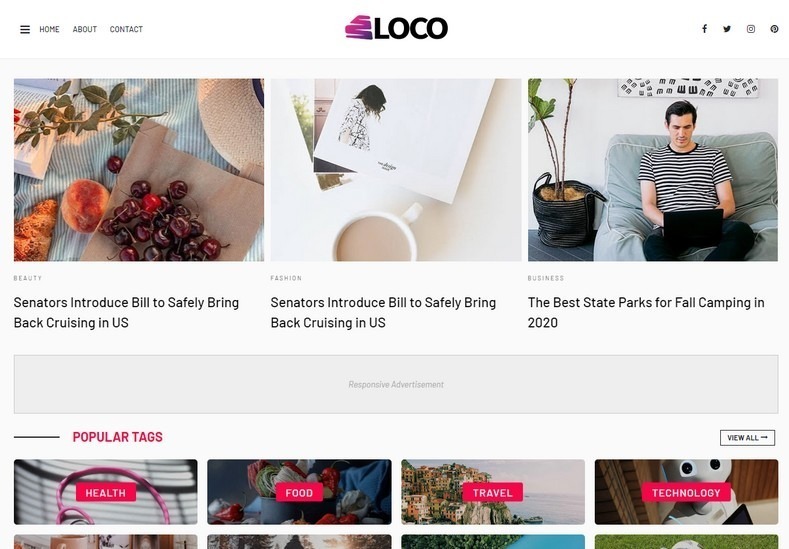 Loco Blogger Template is a professional template designed for bloggers looking to increase their reader count. It's ideal for travel, lifestyle, sports, inspiration, food, health, nature, technology, and more. This template is well-optimized and incorporates updated technologies and trends.
To Contents ↑
23. Ui Moderate
This is unlike any other Blogger template. It was created to look like a dashboard's user interface. Ui Moderate is designed for educational, technological, informational, documentary, and other niches. The theme's readability and intuitive layout make it one of the best templates. It's fast, SEO-friendly, and Adsterra-friendly. Ui moderate has many new and improved features in its latest version.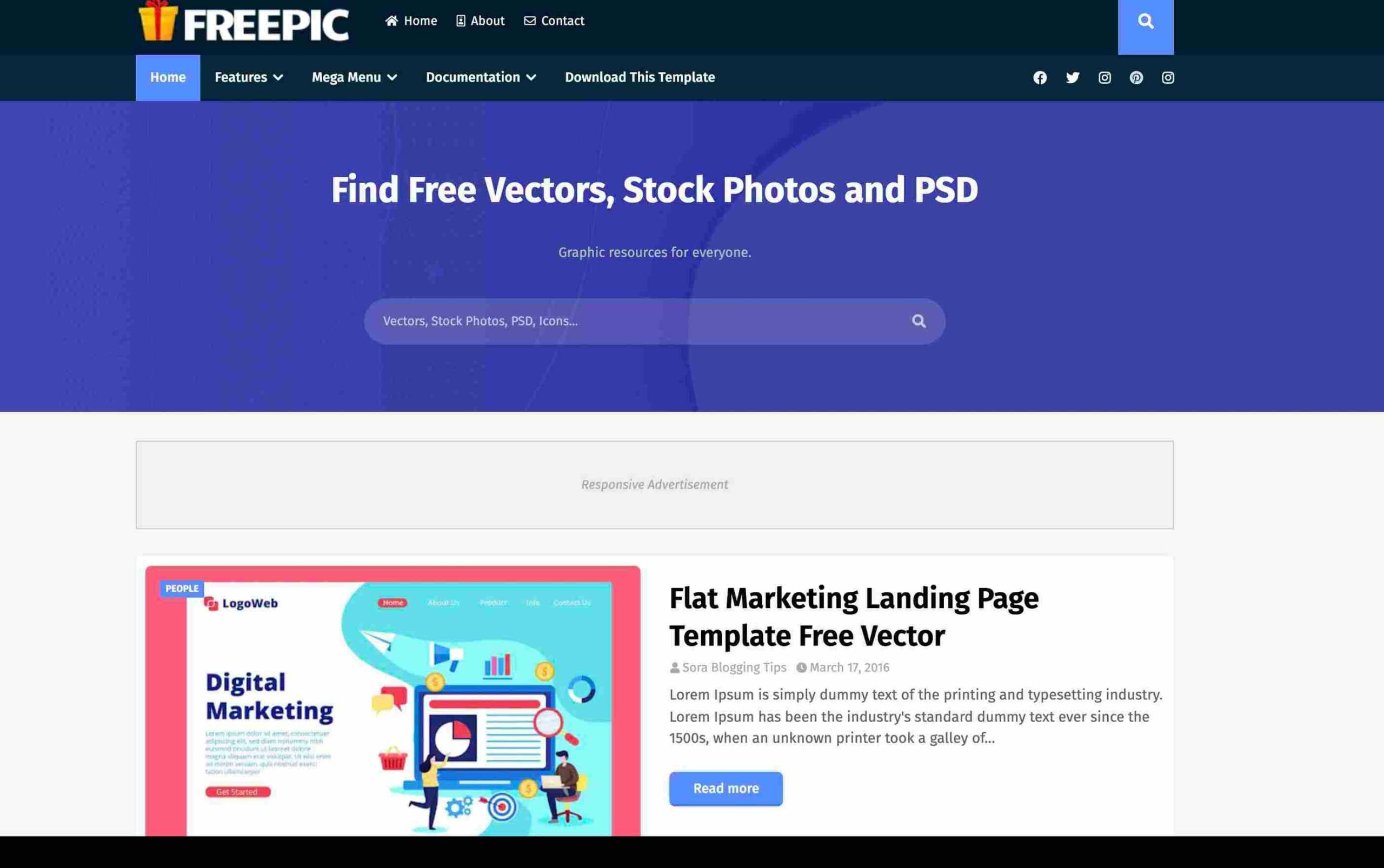 Freepic Blogger template is a modern one-page portfolio theme. It has a hero header with a background image and plenty of room for author information, hobbies, skills, facilities, and more. It's ideal for freelancers, small businesses, and blogs. This template is extremely responsive and flexible, and it will appeal to a wide range of users.
To Contents ↑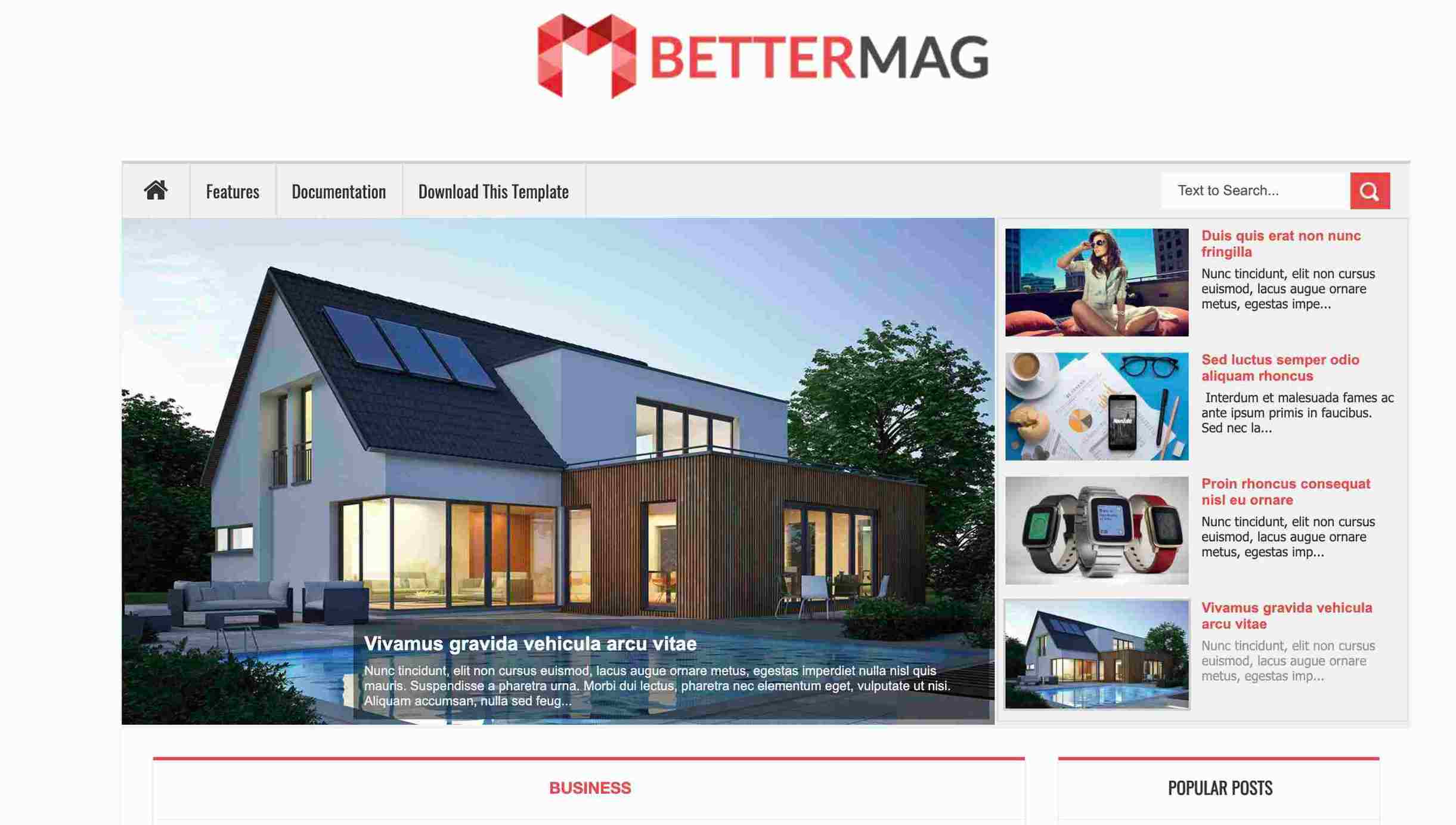 Want to start a magazine blog but aren't sure how to do it? Don't worry; Better Mag has you covered. Better Mag is a fantastic Blogger magazine template that can be used for news sites in any niche, including health, technology, and science. The full-width header logo is awesome for making a strong statement about your project.
To Contents ↑
FAQ : Free Blogger templates
What is Blogger?
Blogger is a fantastic platform for quickly creating a blog. It has a simple and intuitive interface that provides you with just enough features for sharing your knowledge and experiences with the world through your blog.
How do I change my templates?
It's easy to replace or change an existing blogger template with a new one. Simply go to the Dashboard section > Layout > Template Designer > Advanced to get started. It is easy to make changes directly into the template code using CSS and XML.
Can the credit link in Blogger templates be removed?
Most of the templates are licensed, and it's important to credit the creator. Removing the credit link forms the impression that you are violating the template's ToC. You can change the look of the credits or move them to a different location, but you can't remove them. Premium Blogger templates often come without the credit link if you purchase them.
Is Blogger a free service?
Blogger is a Google-owned platform that is entirely free to use. It does not require hosting, and Google's server hosts all of your data. However, you will need to buy a better domain name if you want users to take you seriously.
How do I purchase a Blogger domain name?
First, you must register with Blogger. Blogger will immediately provide you with a web address with a subdomain, blogger.com. For example, if you choose Adsterra, you will find adsterra.blogspot.com. You can only remove the subdomain when you buy a domain name.

Go to Settings > Basic; you can quickly add your new domain. You'll find domain options under Publishing. Click Set up third-party URL for your blog, and Blogger will show you an option to edit the domain. When you're done, click Save.
What is the best way to translate my Blogger templates into a different language?
You'll need to open the template code for this. Go to Dashboard > Theme > Open the menu by clicking on the three dots > and then edit HTML.
To Contents ↑
Can I place banners on my Blogger website?
You can get increased earnings from placing various ad formats, not necessarily banners. Some of them – Popunders and Social Bar – won't even require changing the web page layout. See our definitive guide to getting paid for ads on your Blogger website: How to Monetize a Blogspot (Blogger) Website with Adsterra