With Halloween spending expected to rise worldwide this year, website owners and affiliate marketers could earn more by focusing on innovative Halloween marketing ideas. That's why we're here with our annual roundup of the best Halloween campaigns. How about a Halloween 2022 marketing handbook? You've got one. A pinch of statistics, a dash of tried-and-true methods, and a gallon of inspiring ideas and lifehacks to make your ads for Halloween specials stand out.
Stats to help you plan your best Halloween campaign
Do people still wait for Halloween? When is it reasonable to start your campaign? Do men shop less than women on Halloween? Find out with this breakdown of Halloween marketing by the numbers:
Total planned spending is expected to hit $9.1 billion, up from $8.4 billion last year. Costumes will account for the majority of spending, accounting for roughly $3.4 billion. On average, men ($96) plan to spend nearly $20 more than women ($77).

While 64% of celebrants intend to wait until October to begin shopping, more than a third will begin in September or earlier.

How much do a few bags of Halloween candy cost? In 2017, more than two-thirds of Americans (70.6%) distributed it, with each recipient spending around $25. Since 2013, after asking this question, the number of people who shop this early has increased by 11%.

Men (24%) are more likely than women (17%) to postpone their holiday shopping until the last two weeks of October.
According to Experian Marketing Services, 49% of marketers plan to launch a holiday campaign before Halloween. According to them, the first 15 days of November are the most popular time to launch holiday campaigns.

158 million people are expected to take part in Halloween festivities.

The total TOT +0.05 percent spending on costumes is expected to be $2.6 billion, based on the 43.6 percent of people who plan to dress up (NRF). Adult costumes are expected to bring in $1.22 billion, while children's costumes are expected to bring in $1.04 billion.

The estimated cost of greeting cards is $360 million.

According to the ADRs, 29% of people plan to shop at a department store for Halloween (and other holidays).

Depending on your target audience, September is usually the best time to start your Halloween marketing, but don't be afraid! You still have till the night of October 31st.
To Contents ↑
When should you start marketing for Halloween?
When it comes to marketing holidays, we like to work with data. So let's go straight to the source to learn when the Halloween "rushes" begin.
For Halloween blog posts and general interest
When it comes to Halloween marketing, people have different "intents." Some people are looking for ways to raise awareness and attract seasonal traffic. Food or family-style bloggers, authors writing articles, and other types of people fall into this category. This will take longer to prepare, get on people's calendars, or get indexed in Google. According to Google, Halloween searches begin at the end of August and early September. Pinterest says it starts in August and ends in November.
This niche is the closest to "deadline." It is better to catch users when they're pre-warmed by Halloween sales and taken aback by the mood of the holiday.
Halloween won't be a flagship event here, but you still can engage users into trials and installs of your apps by halloween-izing your ads and making them totally captivating (see all tricks further on).
For eCommerce and Halloween shopping
If you're selling Halloween decorations, costumes, or food, you'll want to be visible when people make plans for the holiday. The search term "Halloween Costumes" peaked in September rather than August, whereas "Halloween Decor" started in August but peaked in September and October. Knowing this type of information for a specific product type is useful for determining when to begin promoting your items.
For services business
Service businesses will enjoy Halloween as well, but don't expect a huge increase in sales as a result. It's more about personalizing your brand and connecting with your customers. You can "record" the enjoyable activities you are participating in as you prepare for the holiday. Make some Instagram or Facebook stories about your holiday costume selection. Take a quick photo of you taking your child pumpkin shopping or of your house designed with witches and pumpkins!
Halloween marketing ideas and examples
Halloween Hashtags
Pinterest, Twitter, and Instagram are the three most popular social media platforms that heavily use hashtags (LinkedIn appears to be among them, so worth putting them in there).
#halloween
#halloween2022
#happyhalloween
#halloweendecor
#halloweencostume
#halloweenmakeup
#trickotreat
#pumpkin
#scary
#spooky
#halloweenparty
#jackolantern
Halloween graphics for social media
Using alt tags in your social media Halloween posts is a good way to appear on people's explore feed. You may not be aware that algorithms read our posts and use our words and hashtags to decide what to show our followers. The best part is that you can pick a fun, obviously "Halloweeny" picture like this cute graphic witch from Shutterstock that is already formatted correctly and download it to "celebrate" Halloween.
Halloween newsletters
Sending an email to your newsletter list for Halloween is a great way to participate in the holiday. You can use one of the clever headlines or something relevant to your industry. The nice thing about "holidays" is that you can catch up if you haven't sent a message in a while.
Halloween marketing ideas to grow your traffic
Marketers can use Halloween-themed campaigns to spook, spellbind, or scare their customers into engaging more with their brand this holiday season. The possibilities may be endless. So, let's look at some Halloween marketing ideas for your company this holiday season.
Halloween-ize your products
If your business doesn't sell Halloween items, you're probably wondering how to increase revenue this holiday season. Don't worry! You can still celebrate Halloween.
Even if you're not into Halloween, you can "Halloween-ize" your products or services to attract Halloween shoppers. Offer Halloween desserts if you run a restaurant. Launch a line of Halloween-themed shirts or items if you sell clothing online. A gym can host a fitness event that raises money for local charities and requires costumed participants.
If you're a tech company, make content about how something "bytes" with vampires on it and hold a Halloween photo contest to see who can use your products best.
The only limit is your imagination.
Halloween isn't just about masks, candy, costumes, and harvest. You can easily adapt the holiday to your products and business to get people involved and excited!
To Contents ↑
Organize a themed social media campaign
Changing your social media branding requires changing your social media marketing strategy to include a Halloween-themed campaign.
That goes for other major holidays as well. If you haven't already done this for Halloween, then now is the time to do so.
Again, since Halloween is a smaller holiday than Christmas, you don't need to make every social media post-Halloween-themed, but one or two posts per week in October is great.
Prepare posts highlighting your products that can be used to defend against zombies, vampires, and witches. Depending on your target market, you can be edgy or humorous.
Retailers can share mini-tutorials on how to make a Halloween costume.
Unique Halloween treats or popular baked goods can be modified for Halloween and shared on social media.
Grocers can share Halloween treat recipes and pumpkin carving supplies using ingredients they sell.
To Contents ↑
Organize a themed email campaign
Small-themed changes to your email campaign can boost sales or drive brand awareness, especially for service-related businesses. Connecting your services to a holiday like Halloween is difficult for many. Still, at the very least, you can share valuable content with your audience that has a slight Halloween theme.
Health websites can post about the dangers of eating too much Halloween candy or the types of candy your children should avoid. A security website can post about staying safe while participating in a scavenger hunt or hosting a trick-or-treating event.
Include an image for sharing on Facebook or Instagram that features one or two of these tips, making it easy for people to share with their family, friends, or neighborhood group.
Just remember to incorporate some branding. Give an exclusive discount offer for one or more of your products or services in your Halloween-themed email marketing if you want to do more than raise brand awareness.
However, it's important to remember that you shouldn't change the frequency of your email marketing or introduce new mailing all of a sudden.
People who signed up to receive your email marketing did so with the expectation of a certain level of frequency, and abruptly changing that could turn them off rather than encourage them to continue supporting you.
To Contents ↑
Give your ads a Halloween makeover
Halloween is also a good time to tweak your ad copy for any active ads campaigns. Here are some tips for tweaking your ads for this Halloween:
Promote special offers – Create Halloween promotional offers or even Halloween-themed products. Make sure to mention them in some of your ads. Convey a sense of urgency by stating the number of days until the promotion ends or including the expiration date.
If you haven't tried an ad campaign specifically for Halloween, now is the time to do so so you can learn what works and what doesn't. Try ad formats that can help you get in the spooky spirit and give visitors a chilly spine.
If you use ad networks to reach users, you've probably faced a lack of design capabilities. Well, there's good news for you. Some ad formats have evolved, and now you can turn your creative power to full blast.
Here's an example of Halloween themed ads with Adsterra's Social Bar: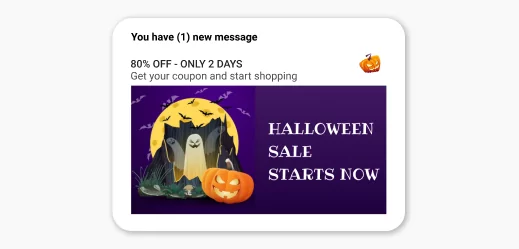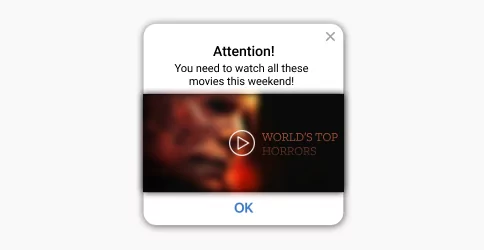 With these creatives, you pitch your offer before leading users to a landing page. They will boost your CTR and conversions when done correctly, sending you the most interested and engaged users.
To Contents ↑
So how do you create these types of ads with Social bar?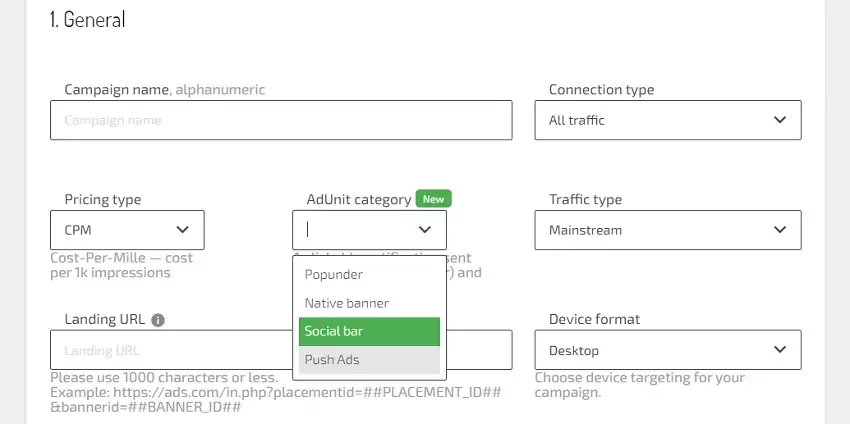 After registering, go to Campaigns → Create.
Find the AdUnit category and select Social Bar.
Choose between CPM or CPC pricing (the Pricing type field).
Scroll down to the Creative section.
There are three main templates to choose from. Choose the one that most closely resembles your marketing objective. Each type has a brief description.
After selecting a creative type, select a creative skin. If you first chose In-Page-Push, you can now choose Simple Bubble, Text Bubble, or Live Message.
You must decide on the skin's final style: user interaction, effects, primary colors, etc. This is where you upload images and text.
Save the creative before switching skins and types.
You can send up to 15 different creatives for the A/B test to pick the most fruitful ones.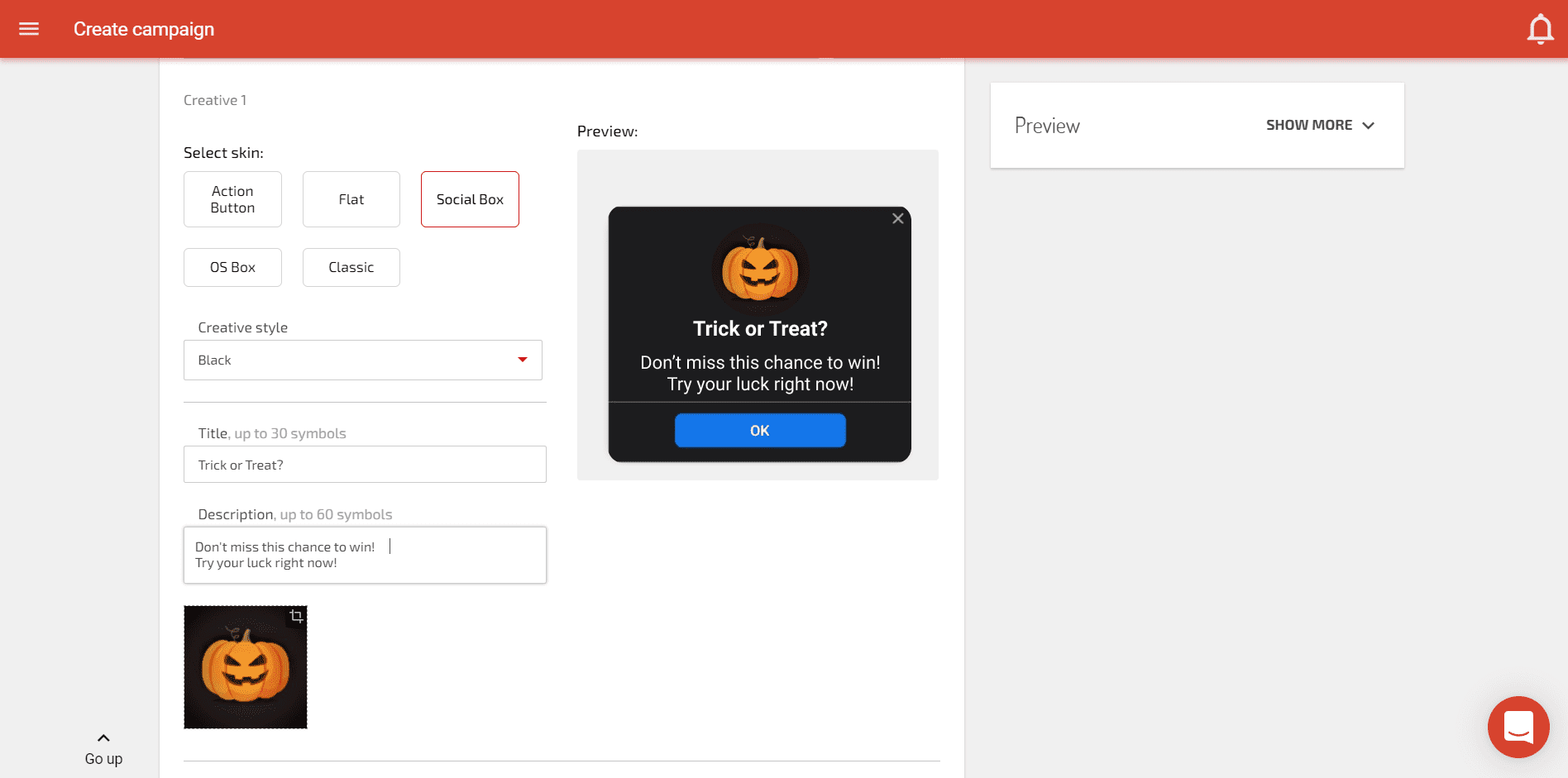 To Contents ↑
Make your mobile app spooky
Halloween, like Christmas, is an excellent time to add holiday season elements to your mobile app or Progressive Web App (PWA).
Consider giving your app icon a Halloween look as well. The slightest tweak to your app's icon could entice users to open it and see what's new.
Of course, you shouldn't just redesign your app. Include offers, promotions, and content for Halloween.
Halloween-themed content from email or social media can be adapted for your mobile app, as well as general promotions.
But if you want to drive mobile app-specific business, include exclusive offers or promotions.
To Contents ↑
Restore the fun with a Halloween Contest
While large corporations and brands have secured the power of UGC, it is ideal for small and medium-sized businesses with limited marketing budgets and resources. Running a themed contest is simple. Halloween is about dressing up, decorating, and trick or treating.
Encourage customers to enter your Halloween costume photo contest or send photos of their pets dressed up for Halloween.
Run contests on your top social media platforms, requiring participants to use a specific hashtag and like and share the post.
The idea is to get user-generated content for future posts and expose your brand to a new audience, which shared posts do better.
You can either give the top one to three entrants a prize or give everyone a discount coupon or voucher to use in-store or online.
To Contents ↑
Conclusion
The majority of the holidays celebrated throughout the year are focused on family and friends, but Halloween is for everyone. From small children trick-or-treating to adults dressing up for a Halloween party.
Keep this in mind for future Halloween marketing ideas: the goal is to bring in traffic and promote your offer, but being too aggressive in your approach will not win you any customers.
Just because you're a small business doesn't mean you should ignore big brands' and multinationals' Halloween marketing campaigns.
You may not have the same resources or budget as they do, but you can still learn a lot from them and implement some of their ideas on a smaller scale and with a much lower budget.