Quality traffic is a game-changer: it is the fundamental difference between a successful publisher and a struggling one. The competition becomes stiffer as affiliate marketing evolves with more participants, tools, and strategies. Publishers and webmasters are now striving to improve their game with several strategies to get massive traffic to their websites.
If you're looking for answers to the question "How to grow my website traffic ?" You're in the right place! This simple guide discusses how to boost your web traffic with safe and verified methods.
But first, let's quickly run through the basics.
What is web traffic?
Web traffic refers to the volume of visitors you drive to your website. And fake traffic does not count here. Actual users are the ones that count. Each time someone visits your site, they hope to find some valuable info or a solution to a particular problem. The time a visitor spends on a website is termed a session — it could be a few minutes or half an hour or more!
Why do you need more website traffic?
Website traffic is essential for a variety of reasons. The more visitors your site receives, the more potential customers you will have. The amount of visitors to your website equals the number of opportunities for you to make an impression, get leads, broadcast your business, and build relationships with people. While any publisher or webmaster needs enough website traffic to start seeing a difference in revenue, you can start little with Adsterra.
Being a popular and secure AdSense alternative, Adsterra accepts publishers with any traffic volume. Start growing your business with us today while increasing the traffic to your website using the tips below.
To Contents ↑
How to drive traffic to your website?
No tool automatically generates free, high-quality website traffic for your website constantly. Instead, a variety of marketing channels are available that combine to drive traffic. Some require work, some demand time, and others cost money.
You can increase website traffic, produce more leads, and boost ROI by using the list below:
1. Write the "Inverse" guest post
The majority of readers usually skip the author bio section when reading your guest post. This is a major issue because readers won't visit your website if they ignore the link in your author bio.
Fortunately, there's an easy fix:
Write a normal guest post;
Add an "additional resources" section in your guest post;
Lastly, include links to your content among the "useful resources."
2. Upgrade old blog posts
Even if you are at the top of the search results for your desired keyword because of a blog post, that position is temporary. Competitors might attempt to "steal" your position, and Google might reduce your rankings if your content is outdated.
If you've been blogging for a while, you likely have posts in your archives that need attention to become relevant again and generate search traffic. In Google's search results, pages lingering at the bottom or top of the first or second page serve as excellent models for improvement.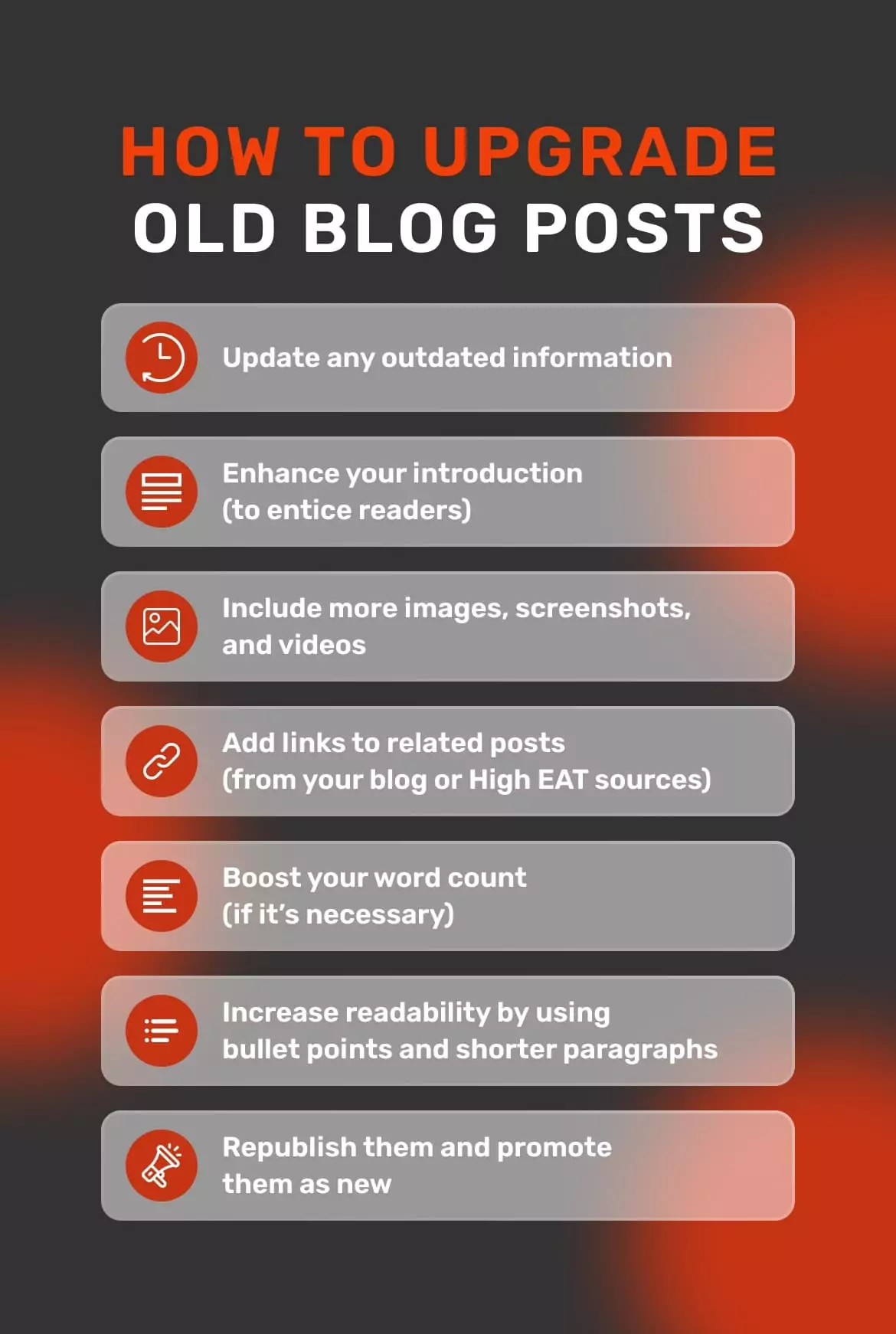 To Contents ↑
3. Use "Click to Tweet" links
A large number of people use Twitter. Approximately, 46% of its users are regularly on the service. When you promote your blog on Twitter, people can easily find content, resulting in a huge inflow of traffic.
How to use "Click to Tweet":
Look for content that is "tweetable";
Create a link to Twitter's Tweet button;
Include the link within your content.
To Contents ↑
4. Optimize your content with LSI keywords
Latent semantic indexing, or LSI refers to words and phrases that are associated with your primary keyword. Since the release of Google Hummingbird, search engines have increased their emphasis on a thorough understanding of a topic.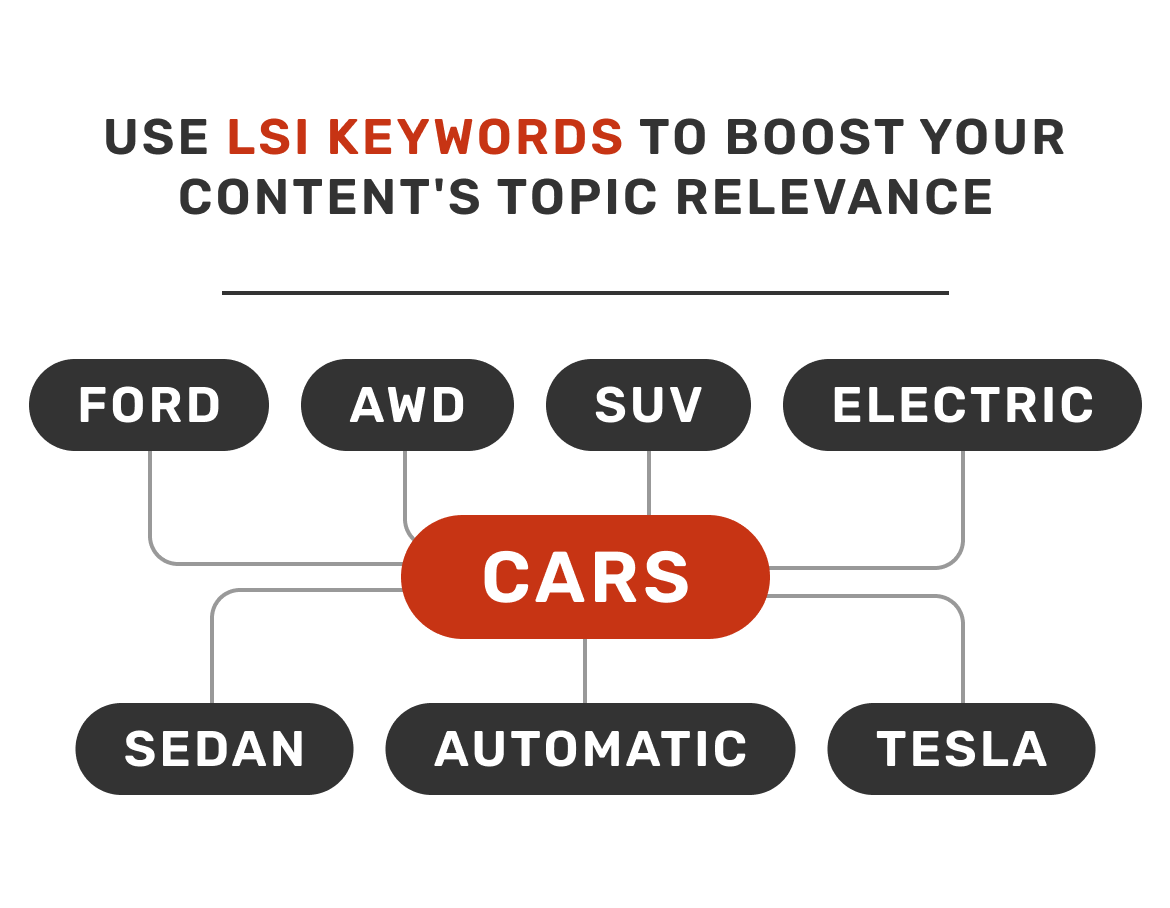 Your blog posts can benefit from the use of LSI keywords. You can find such keywords using a tool like LSI Graph: type in your keyword to get a list of terms associated with your topic. Learn more about LSI keywords and how to find them.
To Contents ↑
5. Repurpose old content
Having trouble generating content ideas but need it to promote your website? Repurposing old content is an excellent approach to overcoming this barrier. Content transformation is easy. You change the format of one of your blog posts.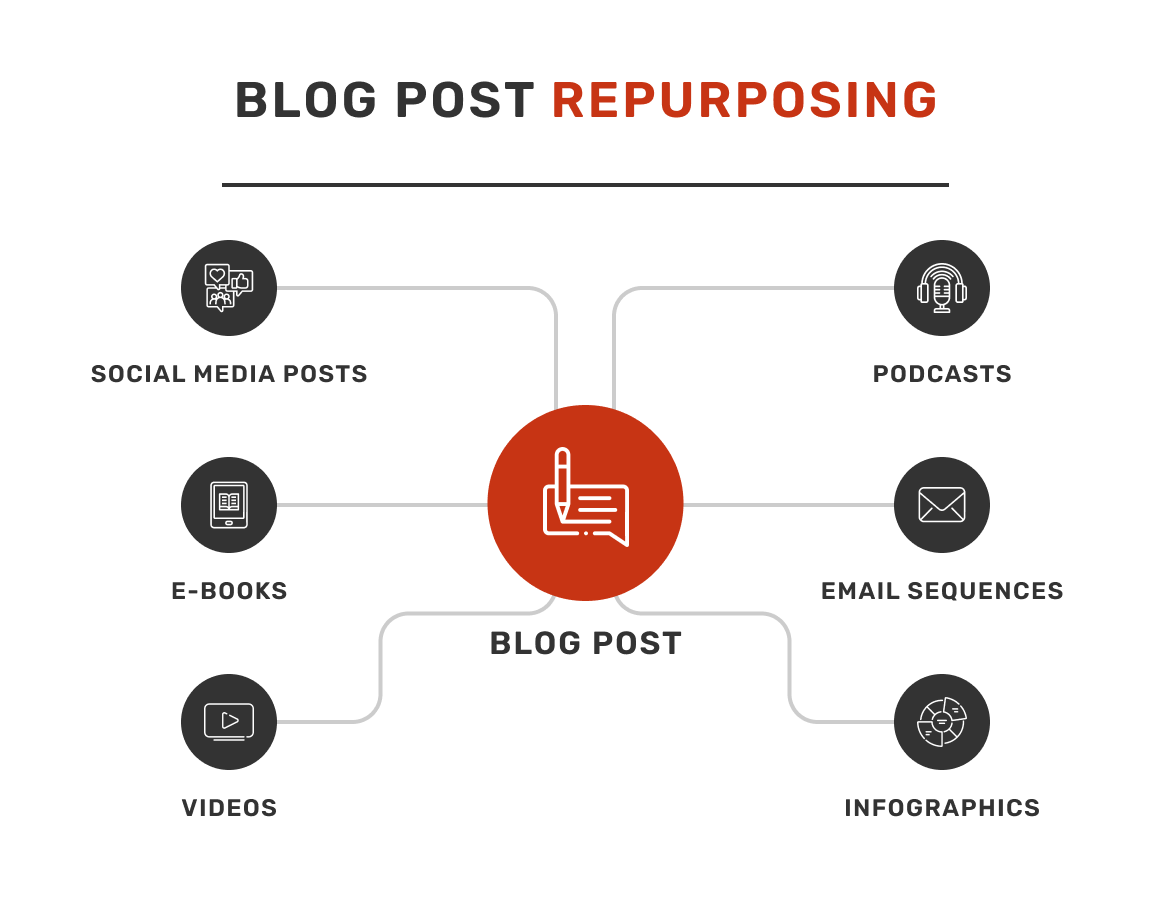 You can create a video using a popular blog post or write a blog post about one of the successful episodes of your podcast. Utilizing content that previously performed well will increase website traffic.
Did you know that you can earn from any type of content? Facebook posts, Instagram, Tiktok, and even small blog posts can be monetized effectively. Take advantage of Adsterra's Direct link; a smart URL that automatically selects the most relevant landing pages for your traffic.
To Contents ↑
6. Get more traffic from social networks
Social media platforms, like Twitter, are a great place to get high-quality traffic that converts. So why don't everyone take advantage of it? The answer is that it's not very easy. You'll need a solid strategy based on a viable concept.
Here's a little case study on how social media traffic worked wonderfully for an Adsterra affiliate marketer.
Mr. Augustine is a hard worker with extensive blogging, web design, and server administration experience. He shared how he attracts and monetizes Twitter traffic with Adsterra.
Check his interesting story here:
To Contents ↑
7. Go on podcasts
Conducting podcast interviews can be a powerful traffic generator. Currently, there are 850,000 active podcasts. Podcasts need guests. So why not offer to join them? You get both good suggestions on the podcast.
You also gain a new audience when you feature on a podcast that targets your particular market. Searching for "top [your niche] podcasts" in Google is the quickest way to find podcasting opportunities. If you are still looking for podcasts to feature on or have a strong desire to share content, why not create your podcast?
How to launch a podcast immediately:
Choose a topic(s);
Create a title, description of the show, and some artwork;
Install and test your recording equipment;
Schedule your episodes;
Record them;
Edit and publish your episodes.
To Contents ↑
8. Promote your site with blogger outreach
Blogger outreach is the process of identifying important blogs and sending a personalized email to them, thereby promoting your website, service, product, etc. First, discover blogs to contact, especially blogs that have been highlighted on your website or those that have published articles on the same subject.
Secondly, find the blogger's email address before contacting them. Then, compose your outreach email and send it. One easy way to find a blogger's valid email address is by using an email lookup service like Hunter.io.
9. Create content that appeals to influencers
Influencers are people with large fan bases that appear to receive a lot of likes, shares, and links to their content. Writing content that directly appeals to the audience creates room for influencers in the particular niche to share them.
Here's a quick process for generating content that influencers will find interesting:
Use influencer research tools to find decision-makers in your field, or perform a quick search to find their email address.
Examine the topics of their discussions.
Search for a unifying theme.
Develop content on this subject.
Obtain the influencer's attention with your content.
To Contents ↑
10. Share videos on LinkedIn
LinkedIn is the site people use to connect with others in their industry, learn more about it, and share relevant content. More people are now sharing video content on LinkedIn compared to a few years ago. One good aspect of LinkedIn's capacity to generate huge traffic is that you don't need to start from scratch when creating content. You can repurpose your previous content.
11. Host a giveaway contest
Contests and giveaways are an easy way to increase traffic to your website. It can provide you with an immediate boost while rewarding your followers. Giveaways can be run via your email list, on social media, or both. To enter the contest, people can enter their email addresses, which builds your email list.
12. Add "Share Triggers" to your content
Share Triggers significantly boost the chances of readers that readers will link and share your content. Integrating the "Click to share" functionality increases your online visibility because people share the pages and posts they like on social media.
13. Retarget visitors with ads
Ad retargeting is the process of directing ads to individuals who have previously visited your website or social media platform but have not made any purchases. Retargeting ads appear on websites and social media. For Facebook ads, you need to set up your Facebook Pixel and monitor website events and traffic.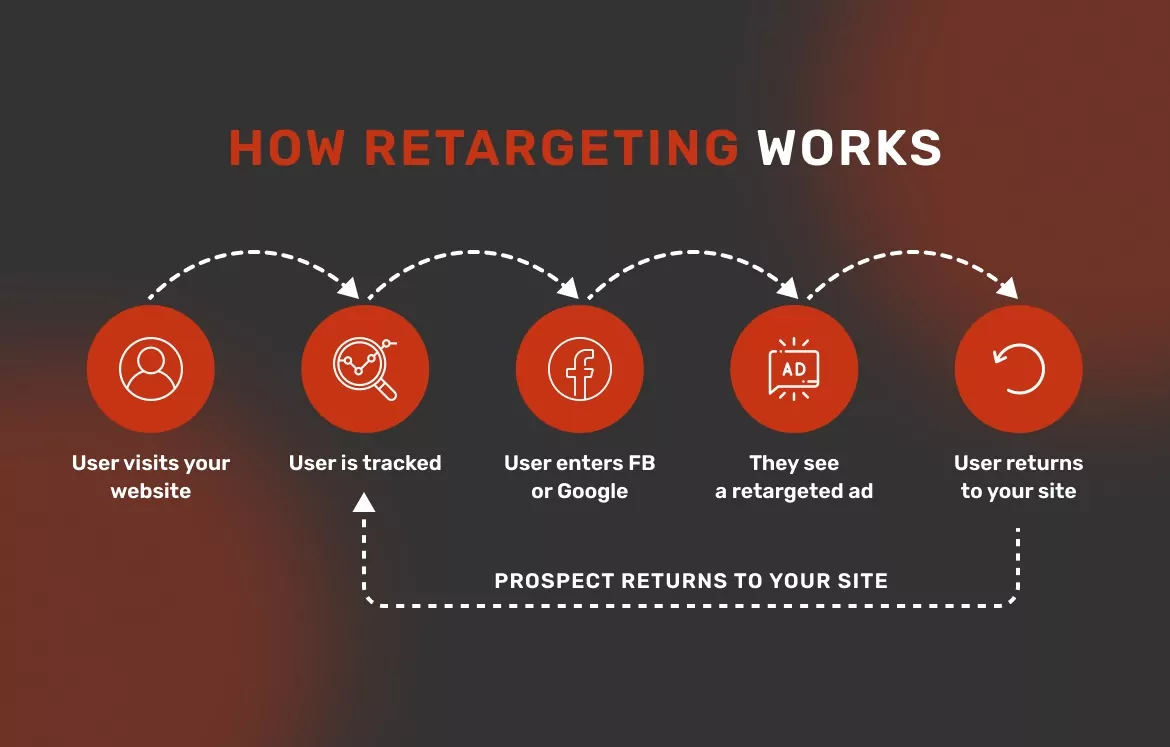 To Contents ↑
14. Reduce your bounce rate
A high bounce rate affects pageviews and conversions on your website. Also, it may harm your SEO. Bounce rate is now a crucial ranking signal because of Google's RankBrain algorithm. The good news is that decreasing your bounce rate is simple. Our previous article covered Bounce rates and how to improve them.
15. Target topics with search traffic potential
SEO is one of the most effective ways to bring regular traffic to your blog. But, you need to rank high with the right keywords if your visitors come through Google. In other words, you should focus on keywords that have the potential to drive traffic. To accomplish this, you must write about subjects that readers find interesting.
How to find such topics via Ahrefs: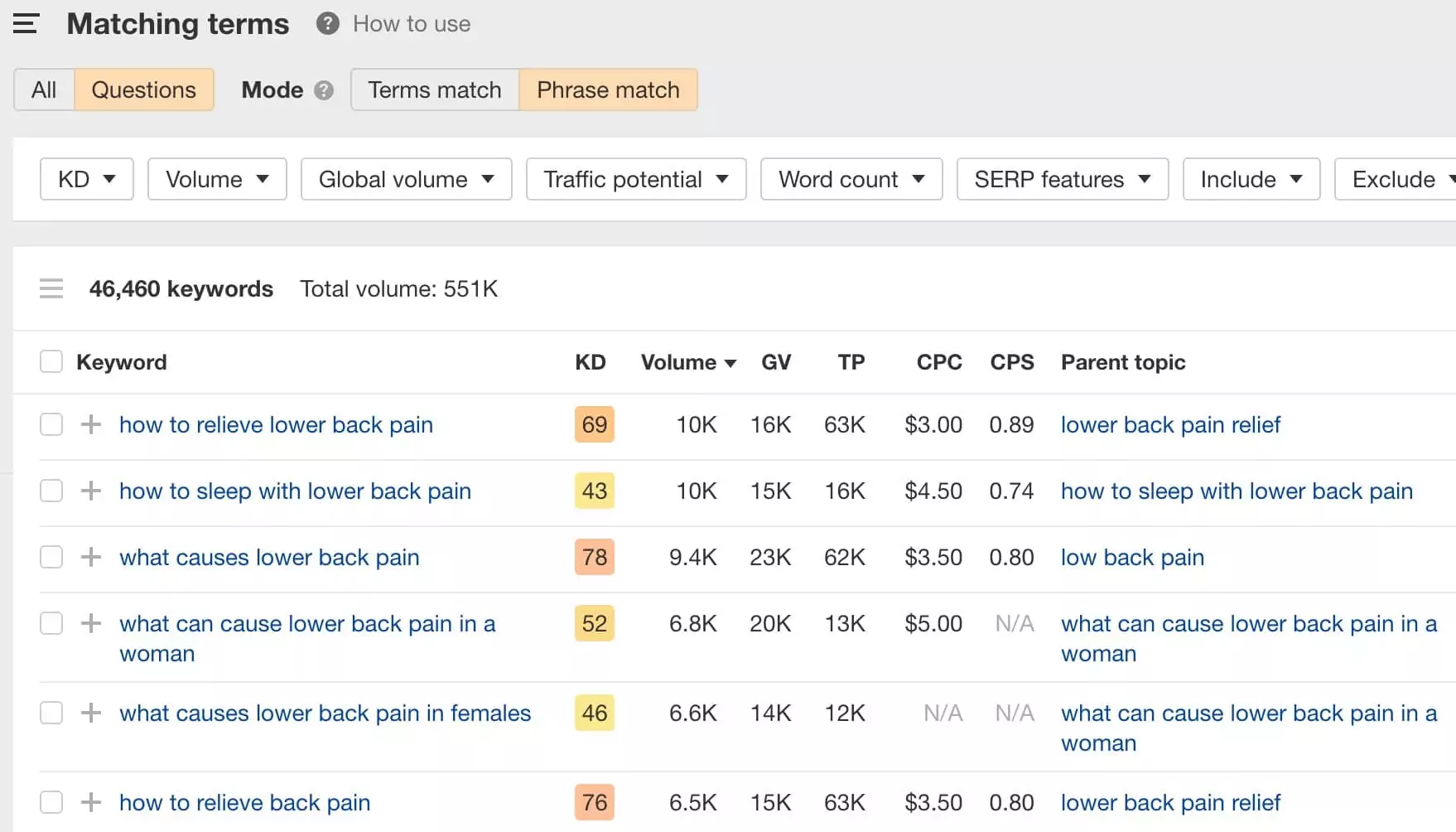 Go to the Matching terms report;
Switch to the Questions tab;
Select any topic according to its potential level.
To Contents ↑
16. Publish long-form content
There is no ideal length for content. The optimal word count for your article is the one that adequately covers the subject. Long-form content is important for various reasons; longer content ranks higher than shorter content and converts readers into potential customers.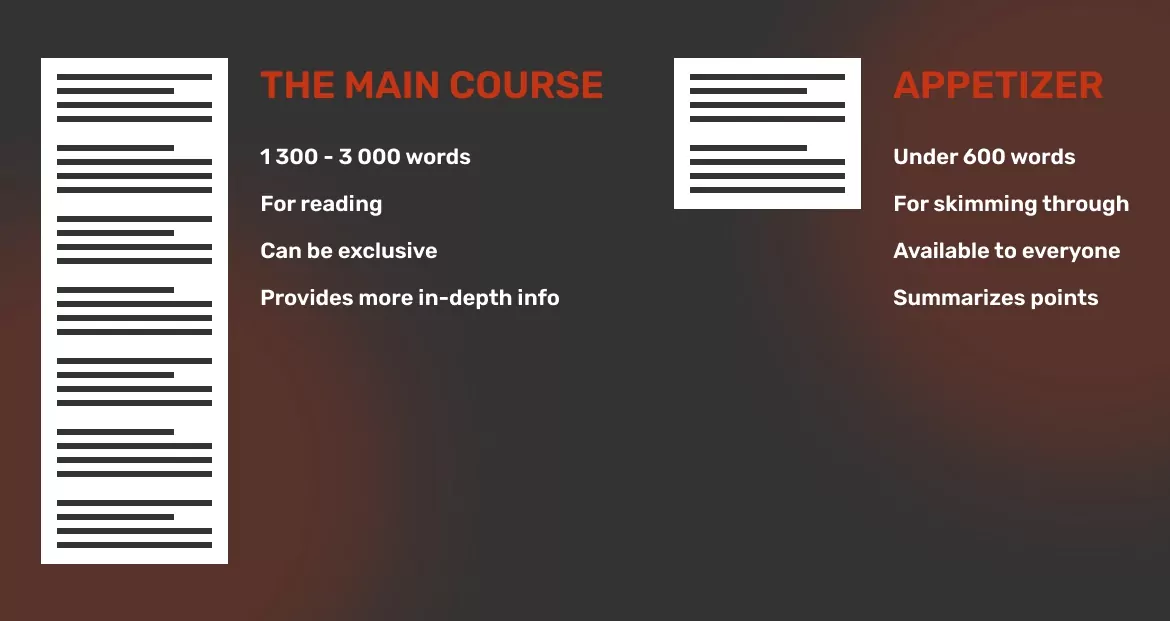 Additionally, longer content receives more social shares. Although longer content does seem to rank higher, there are other factors to consider.
To Contents ↑
17. Write eye-catching headlines (using headline analyzers)
The headline is one of the most crucial components of your content. They are probably among the first items people see in Google Search results. Even the most in-depth blog post may not be read without a captivating headline.
You can use a headline analyzer like Sumo's headline generator to create eye-catching headlines. Some guidelines for writing captivating headlines:
Conduct customer research;
Examine the headlines of your competitors;
Avoid jargon and use audience-friendly words;
If possible, start your sentences with numbers;
Make use of strong words like "secret," "untold," and "hidden";
Track your CTR and make necessary adjustments.
To Contents ↑
18. Create pillar pages for topics
A higher Google ranking will boost your website's organic traffic. To establish yourself as an authority, you can create pillar pages, which are longer blog posts that broadly cover all elements of a topic.
Then, create "cluster content," or supplementary blog posts, focusing on long-tailed keywords that demonstrate your thorough understanding of a student. Concentrating on long-term traffic will increase your search engine ranking.
19. Optimize for Google's Mobile-First Index
You may have heard that Google released its "Mobile-First Index." As a result of this update, Google now prioritizes your website's mobile version. Furthermore, it implies that Google mostly disregards your website's desktop version.
How do you determine if your website is mobile-friendly? Google has a free tool called The Mobile-Friendly Test to accomplish such a purpose. This handy tool evaluates your website's mobile device optimization and offers recommendations on how to improve it.
To Contents ↑
20. Create an active YouTube channel
If you want to increase traffic to your website, YouTube must be among your plans because YouTube ranks second most visited website worldwide behind Google.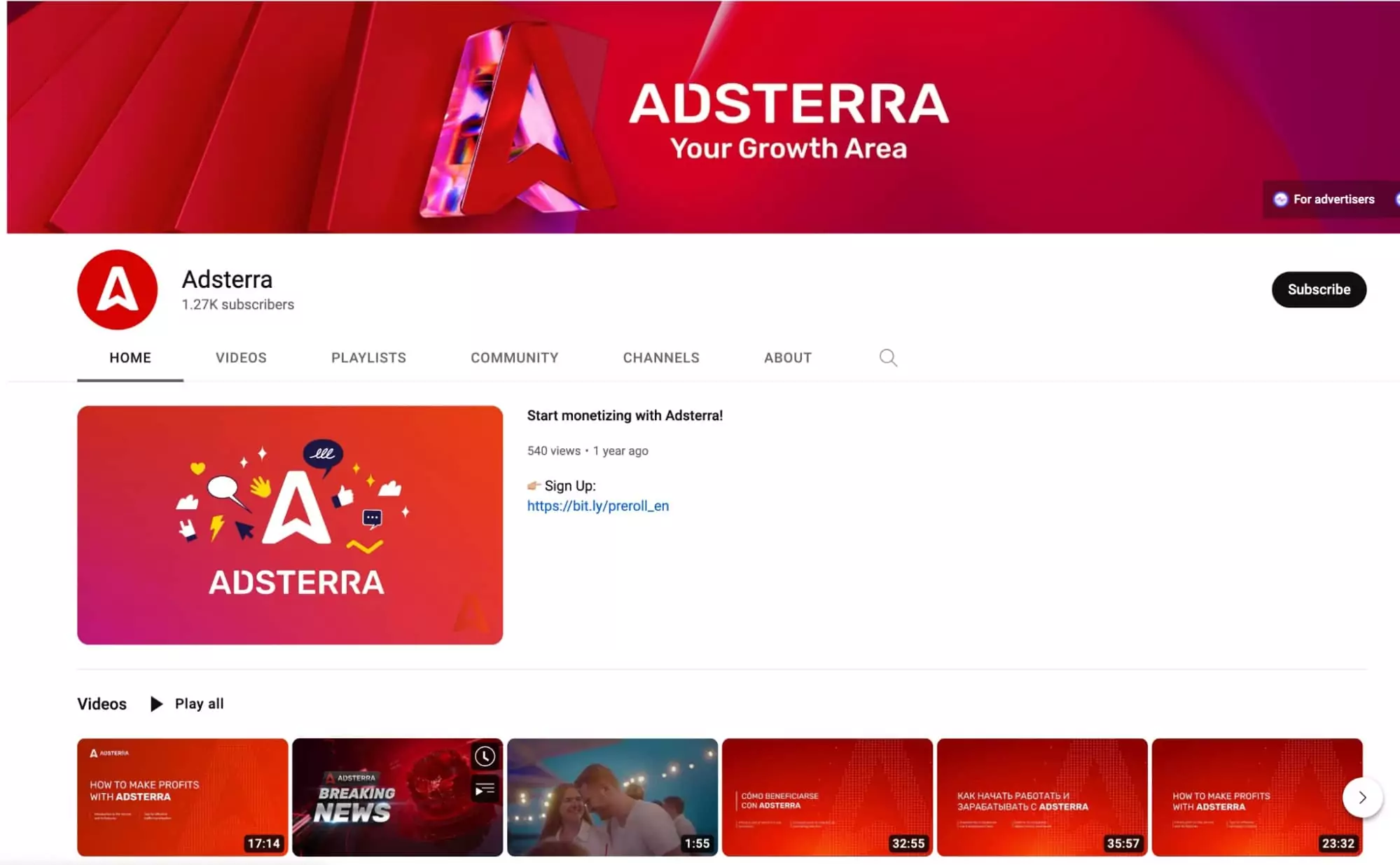 Are you still finding it hard to set up and promote your YouTube channel? You can learn more about this topic from our YouTube Marketing Tips article.
Stay updated on the latest trends in advertising and affiliate marketing. Don't miss out on our special offers, news, and occasional fun. Follow us on social media here:
To Contents ↑
21. Publish viral content
There is no secret recipe for making popular online content. But there are three things you can do to improve the likelihood that your content will go viral.
Popular content frequently includes images or videos.
"Utility" ratings for viral content are frequently high; especially practical content.
Finally, viral content requires a "push" to start spreading.
22. Promote blog posts and videos on Quuu
Quuu is a premium tool that can increase your website's traffic by automatically promoting your content to the appropriate audience. How does Quuu promote content?
You write a post on social media, attached with a link to your content;
Quuu shows the post to subscribers in your niche via recommendations;
A few subscribers might post it to their social media profiles;
You attract more visitors.
Don't forget to earn from your blogging efforts by running high-paying ads. Adsterra allows you to install an ad code in minutes and begin receiving payments for every 1,000 impressions.
To Contents ↑
23. Republish old articles on LinkedIn
You can use LinkedIn's publishing platform to connect with its huge audience. Reposting articles on LinkedIn is a good way to drive traffic to your website and reach a new audience.
Two things your article should contain before publishing:
A brief bio at the end of your post to direct readers to your website or blog;
A CTA that will direct visitors to a particular resource that might be useful.
24. Post useful content on Reddit
Reddit is a vast and active online community. Your website's niche probably already has a subreddit. When you utilize Reddit correctly and avoid becoming overwhelmed by the volume of discussions, it can drive traffic to your website.
You can also use a tool like "Notifier for Reddit" to follow Reddit discussions. However, advertising on Reddit can be challenging. Some recommendations on how to leverage Reddit potential:
Become a member;
Contribute more than you receive;
Post unique content and engage sincerely;
Avoid creating a false account.
To Contents ↑
25. Use a "Question Analyzer" to create useful content
Question Analyzer is an amazing way to improve your content and generate more traffic. First, research online questions from your target market. Then respond to those queries in your content, either in your existing content or as a new post.
You can use tools like Buzzsumo's Question Analyzer or Answer the Public to find questions that people are asking.
To Contents ↑
26. Add enticing content to social media posts
A lot of people make the mistake of posting content without giving users any reason to open and read when they share their content on social media. Your CTR can increase when you add content to your posts, including a bulleted list of features.
27. Improve your organic click-through rate
Click-through rate (CTR) is the percentage of searchers who visit your website after clicking through from the Google search results. Writing engaging and appropriate meta descriptions and titles improves click-throughs and drives traffic to your website.
To write effective clickable meta tags, ensure that your titles are brief and direct and your description entices readers to read more. Google Search Console is a helpful resource for monitoring your organic CTR.
To Contents ↑
28. Publish more list posts
A list post is an article with a numbered list of items in the headline. There are numerous list-based articles on the internet. List posts are effective at increasing website traffic because numbers serve as a psychological trigger.
They are eye-catchy and simple to scan when reading. Though list posts are useful for driving traffic to websites, there are better types of content for turning visitors into users or customers. You need to use other formats (through guides, comparison landing pages, etc.)
To Contents ↑
29. Drive traffic to your website from forums
Forums have existed since the internet's earliest days. It has been a very underrated source of traffic. Since then, individuals have used them to increase traffic to their websites.
Even though some forums may appear to be out of date, when you are a respected and active forum user, you have built a funnel that drives visitors back to your website.
Adsterra is your guide and partner when it comes to increasing your passive display advertising income. We're offering you high CPM rates and consistent payouts. Join to learn more!
To Contents ↑
30. Syndicate your content on Medium
Medium is a user-generated website that prioritizes and recommends articles based on users' reading preferences. Medium is one of the best places to share your content. It can generate consistent website traffic and boasts a preexisting, attentive audience.
31. Post on social media at strategic times
The best time to publish your post depends on your audience and the platform you're using. There have been numerous studies on the best times to post on social media, including those from Hootsuite and Sprout Social.
According to Post Planner, the following are the ideal times to post on social media.
| | | |
| --- | --- | --- |
| Social Network | Best Day | Best Time |
| Facebook | Thursday | 8 pm |
| Twitter | Thursday | 5 pm |
| LinkedIn | Wednesday | 9 am |
| Instagram | Friday | 7 pm |
| Pinterest | Friday | 1 am |
To Contents ↑
32. Find more keywords with "Keywords Everywhere"
Keyword research is one of the most crucial aspects of SEO. You can find keyword suggestions using the Chrome extension Keywords Everywhere. After installing the extension, you will see its search volume and CPC data the next time you conduct a Google search using any keyword.Here's our in-depth article on keyword research.
To Contents ↑
33. Local SEO: optimize your free Google business profile
Optimized Google business listings get 7X more visits than incomplete ones. Remember that your listing contains a link to your website, making it a fantastic way to increase traffic there. Google's results pages are becoming increasingly smart. Potential customers may choose to contact or visit your business directly if your listing contains all the information they require to make a decision.
Advantages of setting up a Google business profile:
It is free;
It enables you to appear in searches that are relevant to your industry and location;
It makes you more visible on a platform where users are actively looking to buy;
It provides customers the chance to post reviews and increase your visibility.
To Contents ↑
34. Perform on-page SEO
Your website can rank higher and receive more traffic by utilizing on-page SEO. Some on-page SEO elements are the page title, header, meta description, alt-text for images, and URL. Your website will receive more traffic if it appears in search results because users are more likely to click on a link when they are aware of the page's brief details.
These on-page SEO techniques are free, but they do require time. Check out our comprehensive article about on-page SEO.
To Contents ↑
35. Engage in internal linking
Interlinks are links that lead from one page on your website to another page on the same website. Interlinks, also known as internal links, typically happen naturally when you reference previous content or related pages in your writing.
When someone visits your blog, your goal is to encourage them to read more posts on your website. That's why linking to other parts of your site (internal links) is crucial. Visitors who browse further on your website are more likely to become customers and support your brand.
To Contents ↑
36. Get listed in online directories
Adding your website to free online directories and review websites is another way to increase website traffic. Your profile will typically include a link to your website on most of these platforms, so updating these listings frequently and obtaining favorable reviews is likely to increase website traffic.
Additionally, many directories, including Yelp, have high Google domain authority. There is a chance that the free Yelp page for your business will rank highly for relevant searches.
To Contents ↑
37. Build backlinks
Backlinks from related companies or influential people in the industry will increase your company's visibility and drive targeted traffic to your website. You can gain free visibility on Google with quality backlinks.
Furthermore, Google recognizes backlinks and will place more trust in your company if it discovers that other reputable websites are linking to yours. Higher rankings result from Google's increased trust, which increases traffic. Some link-building tips from Adsterra for you.
To Contents ↑
38. Include hashtags in your posts
You can expand your network and be visible to people looking for your products and services by including hashtags promoting the pages and blog posts on your website. Your website will receive more free traffic as more people click on your links.
39. Optimize for voice search
To attract visitors to your website, it is essential to appear in search results. Ranking well in voice search is becoming more critical. Google says that 27% of online users globally use voice search on their mobile devices. Furthermore, according to ComScore, half of all smartphone users use voice search technology daily. Therefore, it's essential to optimize your content for voice search.
To Contents ↑
40. Use landing pages
Another direct way to drive visitors to your website is through landing pages. These are pages specific to your promotions, like using a coupon code, downloading a free book, or starting a free trial.
They contain the information users need to proceed and convert, and they concentrate on a single call-to-action, increasing its likelihood of success. Since landing pages are so concentrated, you can be extremely direct with your messaging, boosting traffic (and conversions) to those pages.
To Contents ↑
41. Target long-tail keywords
Long-tail keywords are three or more word phrases that are extremely specific to the products or knowledge you are offering on your blog. Even though people frequently search for short-tail keywords, ranking them in search results takes more work.
On the other hand, focusing on long-tail keywords increases your chances of appearing higher (even on the first page) for searches related to your goods and services.
To Contents ↑
42. Start email marketing
Email is a requirement for any online activity. Emailing your audience is essential regardless of the size of your company or website. Regular newsletter distribution and email offer promotion are great ways to stay connected with your customers and can drive traffic to your website.
Provide important details and links to your website's pages where visitors can learn more, such as blog posts and landing pages for specific offers. Also, be careful to constantly flooding your readers with emails; if you do, they might stop reading, delete, or unsubscribe from them.
To Contents ↑
43. Use paid traffic
Using paid traffic to promote your content can be successful. It's also very scalable (depending on your budget). You can always purchase paid traffic from websites like Adsterra, Google, and Facebook.
Depending on the ads you're buying, you could pay-per-click (PPC), pay-per-view (PPV) or pay-per-acquisition (PPA). Some top paid traffic sources to consider:
Display ads (through Adsterra),
Paid search results (Google),
Promoted content (via influencer blogs).
To Contents ↑
44. Community engagement
The greater your brand recognition, the more visitors you will attract to your website. Active participation in the market is one method for achieving brand recognition. You can start practicing engagement strategy by participating in your niche group discussions, responding to questions on open forum websites, and interacting with your followers on social media.
To Contents ↑
45. Promote content in relevant online communities
Online communities are places where your target audience hangs out on the internet, including Facebook groups, Reddit, Slack channels, and forums. Being part of a niche makes it simple to locate relevant online communities.
To Contents ↑
46. Steal your competitors' traffic sources
The best way to increase traffic is occasionally to observe what is already effective and then replicate it. "Stealing" your competitor's traffic is one of the simplest ways to achieve it.
Two quick methods for monitoring your competitors;
Visit SimilarWeb and enter the URL of your competitors in the search field. In the Referrals section, you can see exactly their traffic sources.
Visit Ahrefs' backlink analyzer. Enter the domain of a competitor and select "Check backlinks." Now you can see your competitor's top 100 backlinks and the amount of traffic they send.
To Contents ↑
Expert tip: avoid instant website traffic generators
Free website traffic does exist, but there needs to be a button or tool that can generate it for you without your involvement. Here are three reasons you should avoid using paid or free automatic website traffic generators for your business.
The use of automatic website traffic generators can hurt your ranking
Google can detect spammy activity, become suspicious of activity spikes, and monitor how visitors interact with your website. Using an automated traffic generator or bot risks attracting Google's unpleasant attention, damaging your ranking and reputation.
Your traffic won't be targeted
The ultimate goal of increasing website traffic and improving your Google ranking is to increase the number of visitors interacting with your website. If your visitors are not target oriented, they are unlikely to interact with your website, and your lead and conversion rates will likely decrease.
Your site could get banned
Your website may be banned from online advertising networks or, worse, removed from Google if it receives traffic from bots. Cheap website traffic isn't worth it. Rather, spend quality time generating dependable, high-quality traffic for your website.
Сonclusion
Driving traffic is a job that never ends, but it's also a job that gives you results long after you've started. There are numerous ways for potential customers to find your website; you need to determine one that is optimal for your business.
If you're a webmaster, publisher, or blogger looking for website traffic monetization, Adsterra can become your long-term partner. You don't need to get massive website traffic right now to join us and earn. The primary requirement is quality. But with the tips listed above, you're ready to boost your audience and gain more fantastic payouts. Create an Adsterra account and start earning from your website today.