Quality traffic is a game-changer. It marks the key difference between a successful publisher and a struggling one. As affiliate marketing evolves with more participants, tools, and strategies, the competition becomes stiffer. Publishers and webmasters are now striving to up their game with several strategies to get massive traffic to their websites.
If you're on the wrong side of the contest, you may be tempted to use outdated or shady methods like buying bulk traffic or resorting to bot traffic. This move might cost you your audience and perhaps your business. You don't need these techniques, for there exist clean and proven ones!
Looking for answers to the question 'how to grow my website traffic ?' You're in the right place! This simple 123 guide will discuss how to boost your web traffic with safe and trusted methods.
But first, let's quickly run through the basics.
Contents
Web traffic explained
Web traffic refers to the volume of visitors you drive to your website. And fake traffic does not count here. Actual users are the ones that count!

Each time someone visits your site, they hope to find some valuable info or a solution to a particular problem. To do this, they interact with the website for a while. The time a visitor spends on a website is termed a session — it could be a few minutes or half an hour, or more!
Types of website traffic
What are types of web traffic? These are the channels through which people get directed to your website. It is important to understand which type(s) work best for you and learn how to maximize them.
1. Organic search
Organic search means natural search. So this way challenges you with getting to know what your audience wants…or what your competitors' visitors want — to lure them away 😉

Relevant posts will eventually gain your website massive traffic, but only if: 1. you choose meaningful topics that solve problems, 2. you know HOW your users search for a solution to their problem, what keywords they use.

Every time someone uses the exact or related keywords in their search query, search engines are more likely to crawl your website and rank it high so more users can see it and click.

Please keep in mind that it's not your website that should contain all the keywords; these are web posts and pages you need to saturate with a unique set of search queries.

Don't forget that multiple reputable websites that refer to you (a strong backlink strategy) also invest in organic search results.
2. Paid search
You drive paid search traffic while using targeted ads on search engines such as Google and Bing. With Google Adwords, you can bid for a place on the ad section of the search results page (or SERP).

The goal is to make your website stand out from the competitors in the organic search results section, making it much easier for users to locate. This kind of traffic could be highly effective; the trick lies in making your keywords as relevant as possible. Other factors apply, too.
3. Paid social media ads
Statistics show that 53,6% of the world population uses social media while an average user spends about 145 minutes daily on social platforms. That's more than enough time to deliver your ad to the right audience and increase web traffic.

Social media is highly effective — with Facebook, Twitter, and Instagram taking the lead as prime locations for publishers to use paid social ads to increase website traffic.

Ad services on social media platforms are fast, targeted, and use AI algorithms to match your profile with users' needs. Before start monetizing, lots of website owners buy social traffic to win a more genuine and massive audience. Earlier, we shared definitive guides on how to make profit with Instagram, TikTok, Facebook users, and Snapchat traffic.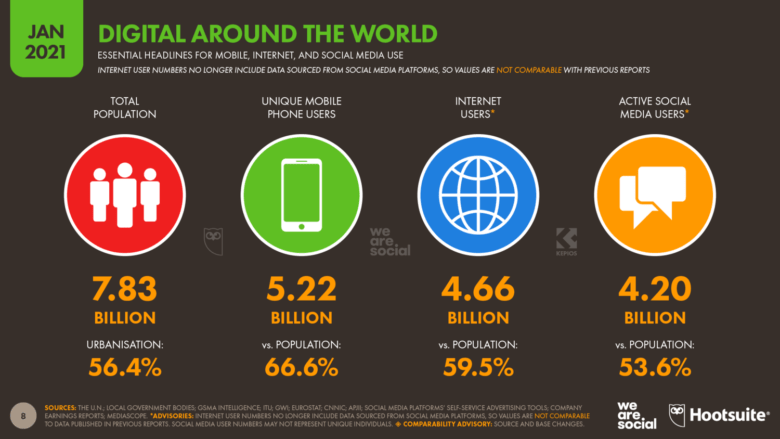 4. Referrals
Using other blogs, forums, and websites to promote your website could be an exceptional technique to surge reach and generate awareness. As long as the sites are related to your niche and content, they can attract traffic to your site by showing your ads, affiliate links, or social media posts to the relevant audience.
5. Backlinks
These links work like references. Getting other website owners, bloggers, and publishers to link to your page boosts your credibility, which in turn helps your whole site rank higher on search platforms. But remember that quality always comes first. To get massive quality traffic to your website, the backlinks should be relevant, credible, and authoritative. This guide on creating a backlink strategy will help you out.
6. Email marketing
This classic form of marketing is trusted to foster a relationship with your potential visitors and turn them into regular customers. They become a prime target because they have already shown interest in your content, niche, or products/services.

For some bloggers, generating highly beneficial newsletters has become a primary business. If doubting, subscribe to Morning Brew, an ingenious example of the content curation.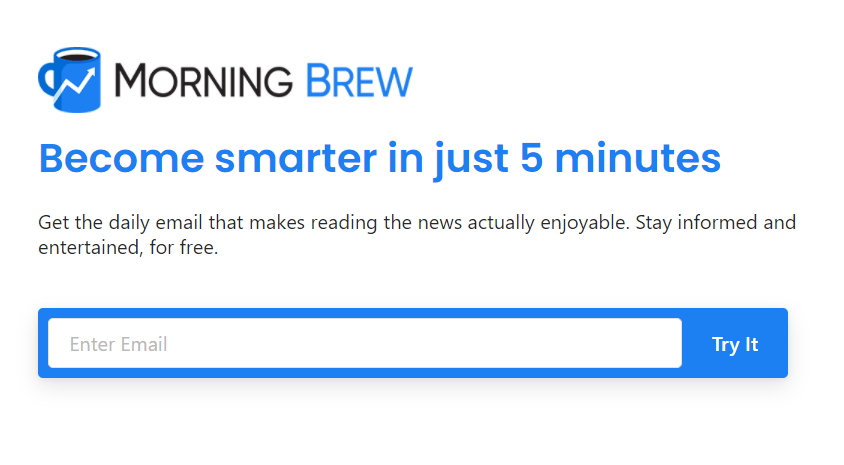 You can include a section on your site inviting first-time visitors to subscribe to your mailing list to stay updated on your posts, services, and offers. On the other hand, if you don't have an existing email list, you can start by creating one or buying a space on a relevant site.
---
21 Ways to get massive traffic to your website in 2022
If you're looking to get more users, we have identified helpful tips and strategies both for beginners and advanced publishers. Here are top free and paid methods to get massive website traffic:
1. Quality copy
The starting point of your attempts to reach massive and quality traffic is well-directed content. Bear in mind that you want real users to visit your blog/site. So you have to give them something engaging and helpful enough to keep them coming back for more. You should offer value and shape it in the most edible form. To do that, use clear illustrations, write short and simple sentences, and avoid content scraping. Pay attention to your tone and word length, and also use paragraphs where necessary.
2. SEO strategy
After quality content, you should focus on making the content visible. There are simple practical on-page and off-page SEO tips to help you achieve that:

1. Use relevant keywords but avoid keyword stuffing.
2. Carefully create apt and rich meta titles and descriptions.
3. Do not leave your images unlabeled; add alt-tags with relevant keywords.
4. Use your key phrases as naturally as possible.
5. Target long-tail keywords.
6. Research search phrases before using them.
7. Make your title tag as relevant and inviting as possible.
8. Use keywords in your headings, subheadings, paragraphs, bullet points, etc.
9. Use helpful tools and plug-ins like YOAST SEO for Wordpress to help you build stronger content.
SEO trends for 2022
2022 is not only about the "content is king" concept. Google is about to roll out its Core Web Vitals, and some of the industry experts recommend making sure your blog or website comply with this algorithm. It's all about technical SEO, but it puts user experience first, so no one can ignore it. Cyrus Shepard, MOZ's SEO expert, recommends paying attention to the page signals that Google is going to assess. To WordPress bloggers, he advises using CloudFlare to speed up the WP-based websites.

The FirstPageSage team who has been conducting Google's algorithms research for over 10 years, has scored the weight of ranking factors. Here are the most influential:
3. Email list building
Email marketing is one of the effective ways to retarget your visitors and convince them to come back to your site using diverse strategies such as bonuses, discounts, and festive offers. A good email list could also earn you their trust and possibly turn them into referrals! To get massive website traffic through your email list:

1. Focus on offering value
2. Use pop-ups to capture emails
3. Use clear CTAs in your mails
4. Create subject lines that arouse curiosity but never mislead
5. Ask visitors to specify how frequently they want your mails
6. Add a feedback form asking what topics your subscribers would like to see
7. Calibrate your mailing frequency; try sending 1 newsletter per week, 2 weeks, 2,5 weeks and then check open rates and click rates.
4. Social media marketing
To make the best of your large social media audience, use hashtags and post your content and links at target periods of the day. Keep in mind the agenda, as current events and trends may change your top-spot timing. You could also collaborate with your fellow webmasters and exchange posts recommending each other's websites.
5. Cross-promotion
Cross-marketing is a super-smart approach to promote one product or service on all possible platforms. It helps expand the reach of your products/services, particularly if you network with big brands and wide audiences. To get the right set of people that can generate web traffic for you, ensure that the partnering brands or websites are relevant to your niche.
6. Paid search traffic (pay less, gain more)
Search engines allow web owners to bid for spots on the ad section of the search results page, but the secret is not in making the highest bid. It would be best if you concentrated on keyword relevance while bidding. With tools like SEMrush, you can discover relevant keywords with less competition so to come up with a rational bid. It is also worth checking keywords that your niche competition pays for.
7. Ad networks
Advertising channels like Adsterra are great opportunities to boost your web traffic. In this case, you become an advertiser, for you need to buy traffic first. Ad networks are responsible for strategic ad placements and have a trusted pool of platforms that help you reach the right audience at the right time.
8. Posts on LinkedIn
LinkedIn provides a professional Publishing Platform where you can directly network with your target audience and create awareness for your website or brand. Unlike other social platforms, LinkedIn provides a conscious audience.
9. Make your site mobile-friendly
Over 50% of internet users access the web via their mobile devices. So make your website responsive and smart enough to adjust favorably to all device types and OS'. Web users who get value on your site and enjoy a good user experience are bound to find their way back.

Consider using Accelerated Mobile Pages (AMP). It's an open-source project aiming at helping webmasters cope with page speed issues and integrate mobile-first UX.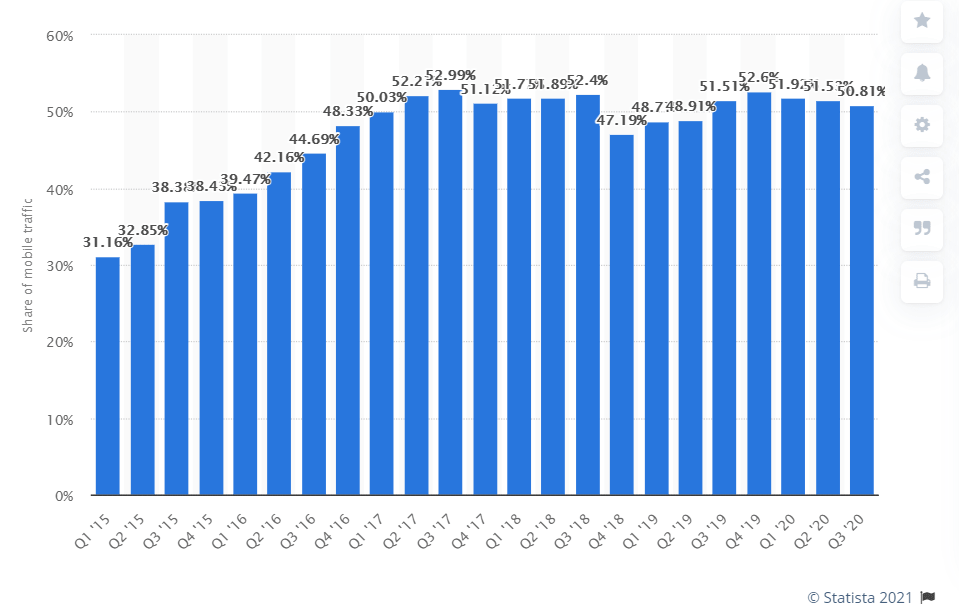 10. Influencer marketing
Microblogging platforms such as Twitter and Instagram are rich with influencers who have large to medium-sized viewers. You could look for those fellow webmasters who run blogs in a similar niche and agree on posts exchanging.
11. Get your site listed in major online directories
Popular online indexes have massive traffic that you can leverage to expand your business. Typical examples are Google My Business, Bing Places, Yelp, and Yahoo.
12. Encourage your audience feedback
The comment section on your website is not reserved for your visitors only. Provide prompt responses and encourage interactions every chance you get. Interacting with your audience also applies to your social media accounts.
13. Retarget your visitors
Retargeting helps to remind your clients of your services or products and encourages them to check back. Irrespective of what ad type you use, retargeting your visitors could be highly productive for pushing traffic because these web users were initially attracted to your site for a reason. Understand the points of attraction and re-present them to them.
14. Practice guest-posting
Guest-posting works both ways, whether you are the one posting on some other person's website or you encourage others to post on yours. It helps if your existing customers guest-post on your site because it generates legit backlinks and boosts your credibility.
15. Add visuals to your posts
Images communicate information faster than text and capture viewers' attention. So, adopt images where necessary, both for your ads and in your web content. Correct alt tags added to images also help grow your website traffic if you use relevant keywords, of course.
16. Design a plan to promote your content regularly
A concrete plan to guide you on promoting your content from time to time is a surefire way to capture as many readers as possible. Notwithstanding the metrics you put into consideration, it is impossible to reach all your target audience at the same time. So there's no harm in resharing links to posts published earlier.
17. Focus on topics with value
Viewers are constantly on the scout for value. A post without substance is bound to do little good to your traffic. Carefully research the topics in your niche that are likely to draw web users' attention. A truly valuable topic comes from your actual audience. You can find what users are willing to know on forums, by reading their email feedback, by checking their comments on Facebook or Instagram, by spying on your competitors.
18. Stay updated on trends
Smart webmasters and publishers are on their toes for the latest trends and developments in their niche, not excluding the digital circle at large. Instill the trends into your content or ads, and your chances of garnering more traffic increase.
19. Answer questions on Quora (and other forums)
This is an uncomplicated but powerful strategy. Answering questions on Quora and other top-traffic discussion boards is a way to strengthen your authority in your niche. You get to take advantage of the enormous traffic to chip in minor and modest links to your website. Users who find your answers intelligent, relevant, or informative will be self-motivated to visit your website for more.
20. Keep your eyes glued to your web analytics
Get an analytics tool that provides you with the basic features you need to understand how your website performs and how it stirs your traffic. Watch your traction closely to see which strategies are most effective and make well-informed decisions.
21. Host a live webinar
Out of all video options, webinars are most effective for boosting website traffic. You get existing and potential customers interested in your product, and all you need is a topic that is relevant to your audience and possible for you to simplify life.

But how exactly do webinars increase website traffic? Well, the idea is to host a live session that engages your audience and refer them to your website for extra details. Needless to say, anticipated info that is truly valuable to the visitors converts well.

And your webinars could use some free marketing to attract as many attendees as possible.
---
Summing up tips on how to get massive website traffic
Building a solid traffic base takes calculated steps and efforts, not to mention trials and errors. Refrain from actions that could jeopardize your efforts to grow your paid or organic traffic. Avoid fake numbers and truly invest in driving quality traffic to your site or blog.

If you're a webmaster, publisher, or blogger looking for website traffic monetization, Adsterra Ad Network can become your long-term partner. You don't need to get massive website traffic right now to join us and earn. The primary requirement is quality. But with the tips listed above, you're ready to start boosting your audience and gaining greater payouts.