Quality traffic is a game-changer: it is the fundamental difference between a successful publisher and a struggling one. The competition becomes stiffer as affiliate marketing evolves with more participants, tools, and strategies. Publishers and webmasters are now striving to improve their game with several strategies to get massive traffic to their websites.
If you're looking for answers to the question 'How to grow my website traffic ?' You're in the right place! This simple 123 guide discusses how to boost your web traffic with safe and verified methods.
But first, let's quickly run through the basics.
Web traffic explained
Web traffic refers to the volume of visitors you drive to your website. And fake traffic does not count here. Actual users are the ones that count! Each time someone visits your site, they hope to find some valuable info or a solution to a particular problem. The time a visitor spends on a website is termed a session — it could be a few minutes or half an hour or more!
Main sources of website traffic
Web traffic types are how users get directed to your website. It is important to understand which types work best for you and learn how to maximize them.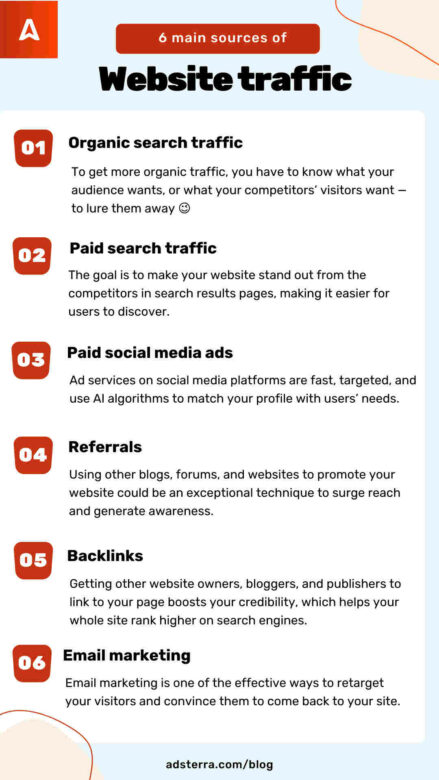 Whichever traffic source you're using, it can (and should) be monetized! Count on Adsterra when it comes to increasing passive income from advertising.
To Contents ↑
1. Organic search traffic
Organic search traffic means natural traffic that comes freely from search engines, mostly because they saw your website or webpage after searching for something. To get more organic traffic, you have to know what your audience wants, or what your competitors' visitors want — to lure them away 😉
Your strategy will focus on posting valuable SEO-optimized content. This means you already know:
sore topics that users want to learn more about;
keywords they use to google these topics.
Every time someone uses the exact or related keywords in their search query, search engines are more likely to crawl your website and rank it high so more users can see it and click.
To Contents ↑
2. Paid search traffic
You drive paid search traffic when you use targeted ads on search engines like Google and Bing. With Google Adwords, you can bid for a place on the ad section of the search results page (or SERP).
The goal is to make your website stand out from the competitors in the organic search results section, making it easier for users to discover. This kind of traffic could be highly effective; the trick lies in making your keywords relevant.
3. Paid social media ads
Statistics show that 58,7% of the world's population uses social media, while an average user spends about 147 minutes daily on social platforms. That's more than enough time to deliver your ad to the right audience and increase web traffic.
Social media is highly effective — with Facebook, Twitter, and Instagram taking the lead as prime locations for publishers to use paid social ads to increase website traffic.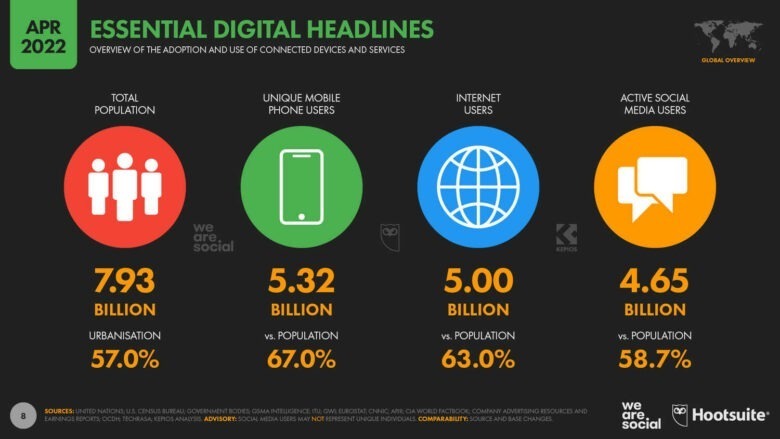 Ad services on social media platforms are fast, targeted, and use AI algorithms to match your profile with users' needs. Before starting monetization, lots of website owners buy social traffic to win a more genuine and massive audience. Earlier, we shared definitive guides on making a profit with TikTok and Facebook users.
To Contents ↑
4. Referrals
Using other blogs, forums, and websites to promote your website could be an exceptional technique to surge reach and generate awareness. As long as the sites are related to your niche and content, they can attract traffic to your site by showing your ads, affiliate links, or social media posts to the relevant audience.
5. Backlinks
These links work like references. Getting other website owners, bloggers, and publishers to link to your page boosts your credibility, which helps your whole site rank higher on search engines. But remember that quality always comes first. The backlinks should be relevant, credible, and authoritative to get massive quality traffic to your website. This guide on creating a backlink strategy will help you out.
6. Email marketing
This classic form of digital marketing is trusted to foster a relationship with your potential visitors and turn them into regular customers. They become a prime target because they have already shown interest in your content, niche, or products/services.
For some publishers like Morning Brew, generating highly beneficial newsletters has become a primary business.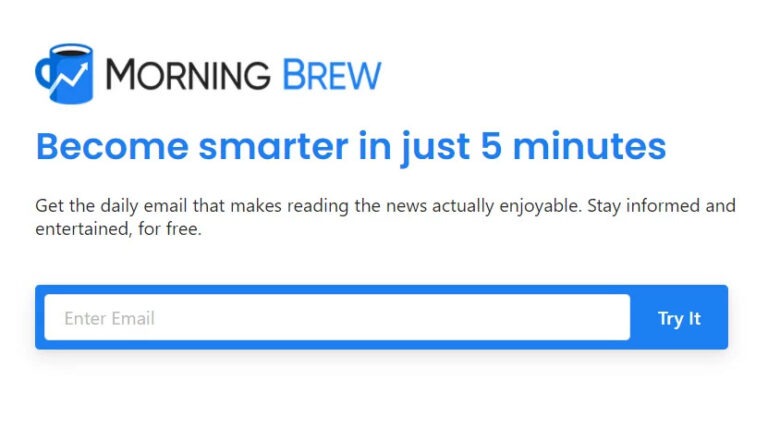 You can include a section on your site inviting first-time visitors to subscribe to your mailing list to stay updated on your posts, services, and offers. On the other hand, if you don't have an existing email list, you can start by creating one or buying a space on a relevant site.
Your caring partner in growing passive income from display advertising, Adsterra serves you high CPM rates and regular payouts. Join to discover more!
To Contents ↑
33 ways to get huge website traffic in 2022
If you're looking to get more users, we have identified helpful tips and strategies both for beginners and advanced publishers. Here are top free and paid methods to get massive website traffic:
1. Update and republish old blog posts
Thousands of posts are written, and they disappear into the blog post graveyard. You're drastically reducing your ROI if you're not driving traffic to your old blog posts. It doesn't make sense to put in a lot of time and money to write a new blog post, only to let it die once it's off your blog's home page. Older posts should still provide search results and search engine optimization for your content marketing. Here's what to do:
Find an outdated post on your website.
Improve the post by adding new information, fixing old grammar errors, refreshing key search phrases, and adding new screenshots.
Update the new post to make the changes live.
To Contents ↑
2. Publish quality & evergreen copy
Well-targeted content is the starting point for achieving massive and high-quality traffic. Keep in mind that you want real people to come to your blog or website. So you must provide them with something interesting and valuable to keep them coming back for more. You should provide value and present it in the most palatable way possible. Use clear illustrations and short and simple sentences, and avoid content scraping.

Some content, such as news articles, becomes obsolete quickly. On the other hand, Evergreen content has the potential to generate a steady stream of search traffic, leads, and social shares over time. In addition, it ensures long-term (and compounding) value and helps inform new customers, clients, and readers.
How to discover your evergreen content
View your website analytics for the previous year and the year before it. Your most relevant and popular materials are always in the first place (the most visited blog pages). You can also use Buzzsumo to search for topics that resonate with your target audience on social media.
To Contents ↑
3. Create content that appeals to influencers
What kind of content can you create to reach out to influencers? If you don't have a large audience and want to promote your blog content, adding many influencers to your content and effectively leveraging their audience can help.
Interviews
Listicles
Expert roundups
You can also ask for quotes from your niche's influencers and use them in an infographic or a SlideShare presentation. Or request advice from experts and compile it into a single blog post.
4. Create captivating headlines (using headline analyzers)
Your blog post's headline is the first thing people see when searching on Google. Even the best blog article might not attract traffic if it lacks a compelling headline. You can use a headline analyzer like Sumo's headline generator to help you write catchy headlines.
Here are a few pointers to writing attractive titles:
Copy and rewrite the headlines of your best competitors.
Use language that your audience will understand, and avoid jargon.
If at all possible, start with numbers.
Use words like "secret," "untold," and "hidden."
To Contents ↑
5. Publish more list posts
A list post is an article with a headline that features a numbered list of items. Websites like BuzzFeed primarily publish list posts because they effectively drive traffic to your website. Keep in mind that while list posts effectively drive traffic to a website, they aren't the best content format for converting visitors into users or customers. You'd have to use other formats to accomplish this (through guides, comparison landing pages, etc.).
6. Merge similar articles
Consider merging your pile of articles with similar topics and keywords. Cojoining similar posts into one page will likely improve your Google rankings while also cleaning up your website architecture.
Why?
The page 'authority' won't be spread across multiple articles. Instead, you have a single, well-written post. Additionally, you'll have one long post that delves deeper into a topic, increasing traffic.
Here's how you can combine two or more articles into one:
Determine which URLs should be kept and which should be removed and redirected.
Copy and paste all of the content you want to keep from the old articles into the new one.
Format, edit, and double-check the new article.
Set up 301 redirects to the new page.
Get rid of the old pages.
To Contents ↑
7. Repurpose content for use on other platforms (and in different formats)
Repurposing content is all about finding new ways to reuse your existing content. It helps reach new audiences through various mediums, revitalizing old content and making the most of your content efforts.
The point is to squeeze as much value out of a single piece of content as possible by repurposing it.
Here are some examples of content repurposing:
Videos > Webinars
Old Blog Posts > Downloadable Guides
Images > Board on Pinterest
Interviews > Blog posts or Ebooks
Q&A on Quora > Infographics or blog post statistics
8. Publish long-form content
There is no such thing as a perfect content length. The word count for your content that best covers the topic in-depth is the ideal word count. However, experts discovered that longer content is more effective, and there are four primary reasons for this:
Shorter content is generally ranked lower than longer content.
The more time spent on a piece of content, the more social shares it receives.
Content is more topically relevant (a Google ranking factor) and can help convert readers into customers (through things like content upgrades).  This article is an excellent example of long-form content.
To Contents ↑
9. Leverage ad networks
Advertising networks like Adsterra are great opportunities to boost your web traffic. In this case, you become an advertiser, for you need to buy traffic first. Ad networks are responsible for strategic ad placements and have a trusted pool of platforms that help you reach the right audience at the right time.
10. Use email marketing
Email marketing is one of the effective ways to retarget your visitors and convince them to come back to your site using diverse strategies such as bonuses, discounts, and festive offers. A good email list could also earn you their trust and turn them into referrals! To get massive website traffic through your email list:
Start building a subscriber list.
Select the right email marketing software.
Embed social sharing buttons in your emails.
Ensure that your email template works on mobile devices and does not get marked as spam.
Use pop-ups to capture emails.
Use clear CTAs in your mails.
Create subject lines that arouse curiosity but never mislead.
Ask visitors to specify how frequently they want your mails.
Add a feedback form asking what topics your subscribers would like to see.
Calibrate your mailing frequency; try sending 1 newsletter per week, 2 weeks, 2,5 weeks and then check open rates and click rates.
To Contents ↑
11.  Use lead magnets to get more subscribers
Lead magnets are resources you offer in exchange for a reader's email address. If you offer the right magnet, your audience will gladly sign up for your email list to receive the free content.
But you must first know your target audience and discover what they like. Perfect Keto does an excellent job with this:
Some lead magnet examples you can use include:
Free courses
Cheatsheets
Checklists
Templates
Quick-start guides
Ebooks
To Contents ↑
12. Submit your content to aggregator websites
A content aggregator does not create its own content; instead, it "gathers" content from various websites into a single location.
Aggregators are popular among users because they allow them to access a wide range of content in one location. On the other hand, Publishers get their content in front of people interested in seeing it.
Here are some suggestions for content aggregators:
Reddit
Designer News for Web Designers
Growth.org (formerly Inbound)
Mix
Hacker News (formerly StumbleUpon)
Panda
Hackers
AllTop
Managewp.org
Groups on Facebook
Groups on LinkedIn
Zest
To Contents ↑
13. Use blogger outreach to promote your website
Blogger outreach involves finding relevant blogs and sending them a personalized email highlighting your website, service, or product.
Step 1. Look for blogs to contact. You could contact bloggers by sending an email to:
websites that have already been featured on your website
people who have written about the same subject
Websites that have linked to similar topics in the past
Step 2. Find the correct contact information for them
You'll need to find the email address of the blogger. If you can't find it on the website contact page, use an email lookup tool like Hunter.io.
Step 3. Compose your outreach email
Check out HubSpot's email outreach templates if you need some help writing your email. Now all you have to do is press the "Send" button.
To Contents ↑
14. Invite other publishers to post on your blog
Remember that guest posting is a two-way street. Don't believe you can only write for other websites. Invite others to contribute to your blog as well. Of course, they must submit a high-quality, original article relevant to your target audience. You get new content on your site, and the guest blogger is likely to promote it, resulting in increased traffic.
15. Drive traffic to your website from forums
Forums have been around since the dawn of the internet. Since then, people have been using them to bring traffic back to their websites.
Niche forums may be hideous and with lousy UI, but they can help your website gain good (and relevant) traffic. Even if specific forums appear outdated, they can be a valuable source of relevant traffic if they have a loyal following.
Here are some suggestions for promoting your website on message boards:
Choose the appropriate forum for your niche.
Pick a professional username.
Include a link in your signature.
Fill in your profile details professionally.
Start new threads.
Post and participate frequently.
To Contents ↑
16. Improve your website's SEO health
Search engine optimization is a relatively simple process. Most benefits come from adhering to best practices to ensure that your website is healthy and has everything Google expects to see. Getting these things in place can significantly impact the amount of traffic that comes to your site.
Here are the SEO basics you'll need:
A SEO-friendly CMS like WordPress.
Good mobile and a responsive WP theme.
A valid SSL certificate is required.
A fast, secure, and reliable web host.
Quality content.
After creating quality content, you should focus on making the content visible. There are simple, practical on-page and off-page SEO tips to help you achieve that:
Use relevant keywords but avoid keyword stuffing.
Carefully create apt and rich meta titles and descriptions.
Do not leave your images unlabeled; add alt-tags with relevant keywords.
Use your key phrases as naturally as possible.
Target long-tail keywords.
Research search phrases before using them.
Make your title tag as relevant and inviting as possible.
Use keywords in your headings, subheadings, paragraphs, bullet points, etc.
Use helpful tools and plug-ins like YOAST SEO for WordPress to help you build stronger content.
To Contents ↑
17. Follow technical SEO best practices
Optimizing your site for Google's crawlers is also known as technical SEO. It's called "technical" SEO because it's more about your site's infrastructure than the content. It's a crucial step in increasing traffic to your website. If Google can't find, crawl, and index your site, you won't rank. And without a good ranking, you won't get much organic search traffic. Technical SEO is a broad topic. But, in terms of best practices, here's what you should do:
Choose a domain (www or no www?) that you prefer.
Make improvements to your Robots.txt file.
Improve the structure of your website's URLs.
Maintain a logical website structure and navigation.
Use breadcrumbs To improve the user experience.
Add structured data markup to your page.
Create canonicals.
Create and optimize 404 pages.
Use of 301 redirects.
Have a sitemap in XML format.
Make sure your website loads quickly.
Create a Google Search Console account.
This is not a comprehensive list. But if you can check off all of the boxes above, you're on your way to a healthy website.
To Contents ↑
18. Make your site mobile-friendly
Over 50% of internet users access the web via their mobile devices. So make your website responsive and smart enough to adjust favorably to all device types and OS'. Web users who get value on your site and enjoy a good user experience are bound to find their way back.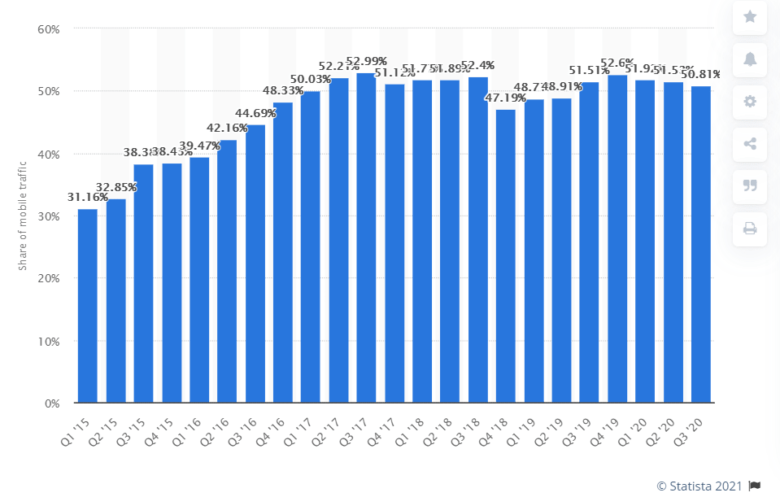 To Contents ↑
19. Submit your website to search engines
Don't you want updates to your website to appear on Google and Bing ASAP? Technically, search engines do not require you to submit your site. However, there are numerous scenarios where it makes perfect sense. Manually submitting your site to Google and other search engines should reduce the time it takes to be appropriately re-indexed, resulting in more organic traffic flowing your way.
You can submit your website to search engines by submitting your sitemap.
Find your sitemap at any of these URLs:
yourwebsite.com/sitemap.xml
yourwebsite.com/sitemap_index.xml
If you can't find your sitemap there, check your robots.txt file at yourwebsite.com/robots.txt

Log in to Google Search Console.
Go to Sitemaps on the left menu and paste your sitemap URL.
Click Submit.
NOTE. Before submitting, make sure you've added and verified your website in Google Search Console. If you have multiple sitemaps, repeat this process.
To Contents ↑
20. Embed social sharing buttons on your website
Don't forget to make sharing your content on social media as simple as possible. At Adsterra, we use social share buttons on our blog posts to increase its online exposure because users share pages and posts they like on social media sites. You can achieve this by setting up a WordPress social media plugin for your site.
21. Take advantage of social media marketing
To make the best of your large social media audience, use hashtags and post your content and links at target periods of the day. Keep in mind the plan, as current events and trends may change your top-spot timing. You could also collaborate with your fellow webmasters and exchange posts recommending each other's websites.
22. Influencer marketing
Microblogging platforms such as Twitter and Instagram are rich with influencers with large to medium-sized viewers. You could look for those fellow webmasters who run blogs in a similar niche and agree on exchanging posts.
23. Get your site listed in major online directories
Popular online indexes have massive traffic that you can leverage to expand your business. Typical examples are Google My Business, Bing Places, Yelp, and Yahoo.
24. Encourage audience feedback
The comment section on your website is not reserved for your visitors only. Provide prompt responses and encourage interactions every chance you get. Interacting with your audience also applies to your social media accounts.
25. Add visuals to your posts
Images communicate information faster than text and capture viewers' attention. So, adopt images where necessary, both for your ads and in your web content. Correct alt tags added to images also help grow your website traffic if you use relevant keywords.
26. Design a plan to promote your content regularly
A concrete plan to guide you in promoting your content from time to time is a surefire way to capture as many readers as possible. Notwithstanding the metrics you put into consideration, it is impossible to reach all your target audience at the same time. So there's no harm in resharing links to posts published earlier.
27. Focus on topics with value
Viewers are constantly on the scout for value. A post without substance is bound to do little good to your traffic. Carefully research the topics in your niche that are likely to draw web users' attention. A truly valuable topic comes from your audience. You can find what users are willing to know on forums by reading their email feedback, checking their comments on Facebook or Instagram, and spying on your competitors.
28. Stay updated on trends
Smart webmasters and publishers are on their toes for the latest trends and developments in their niche, not excluding the digital circle. Instill the trends into your content or ads, and your chances of garnering more traffic increase.
29. Answer questions on Quora (and other forums)
This is a simple but powerful strategy. Answering questions on Quora and other top-traffic discussion boards is a way to strengthen your authority in your niche. You can take advantage of the enormous traffic to chip in minor and modest links to your website. Users who find your answers intelligent, relevant, or informative will be self-motivated to visit your website for more.
If you want to get the most out of Quora, fill out your profile completely, choose questions that are relevant to your audience, and include links where appropriate. You can use the same principles to try out these other Q&A sites.
To Contents ↑
30. Keep your eyes glued to your web analytics
Get an analytics tool that provides you with the basic features you need to understand how your website performs and how it stirs your traffic. Watch your traction closely to see which strategies are most effective and make well-informed decisions.
31. Host a live webinar
Out of all video options, webinars are the most effective for boosting website traffic. You get existing and potential customers interested in your product, and all you need is a topic that is relevant to your audience and possible for you to simplify life.
But how exactly do webinars increase website traffic? Well, the idea is to host a live session that engages your audience and refer them to your website for extra details. Needless to say, anticipated info that is truly valuable to the visitors converts well.
And your webinars could use some free marketing to attract as many attendees as possible.
32. Cross-promotion
Cross-marketing or cross-promotion is a marketing strategy when publishers or website owners come together to help each other increase traffic and audience. It helps expand the reach of your services, particularly if you partner with big websites and broad audiences. But to get the right set of people who can generate web traffic, make sure that you're partnering with websites that are relevant to your niche.
Unlike guest posting, cross-promotion actively involves encouraging your users/visitors to check out your partner's website. This promotion may be via joint Instagram posts, special banners on both websites, or even a video.
33. Paid search traffic (pay less, gain more)
Search engines allow web owners to bid for spots on the ad section of the search results page, but the secret is not in making the highest bid. It would be best if you concentrated on keyword relevance while bidding. With tools like SEMrush, you can discover relevant keywords with less competition to come up with a rational bid. It is also worth checking keywords that your niche competition pays for.
Conclusion: tips on how to get massive website traffic
Building a solid traffic base takes calculated steps and efforts, not to mention trials and errors. Refrain from actions that could jeopardize your efforts to grow your paid or organic traffic. Avoid fake numbers and genuinely invest in driving quality traffic to your site or blog.
If you're a webmaster, publisher, or blogger looking for website traffic monetization, Adsterra Ad Network can become your long-term partner. You don't need to get massive website traffic right now to join us and earn. The primary requirement is quality. But with the tips listed above, you're ready to start boosting your audience and gaining more fantastic payouts. Create an Adsterra account and start earning from your website today!