Sweeps have been around for a long time and are still in demand. Why so? Because Sweepstakes offers are about high conversion, low cost, and excellent results, which makes them perfectly suitable for newbies. Read further to learn how to advertise Sweepstakes using the latest trends and hacks from marketing pros.
What is a Sweepstake affiliate offer?
Sweepstakes are a wide array of advertising offers that promise some reward to users for performing specific actions. It looks like a literal sweeping wheel or mechanically similar object that uses its game element as a main attractor.
Sweepstakes can be placed on any step and layer of the site, be a part of a purchasing process or not. When a user clicks on a wheel or button, the object usually spins or moves another way imitating a real lottery. Rewards can be literally any. The most common are electronic devices, tickets to a dream vacation, music festival, or another type of event, shopping vouchers, and even vehicles.
Some features differentiate Sweeps from other affiliate marketing offers. For example, such contests or giveaways don't require an entry fee. However, they need to perform some actions before or after the draw. 
Requirements can include: 
Entering a valid email address
Filling out a form
Performing other actions on the website.
To Contents ↑
How does Sweepstake affiliate marketing work?
Action to perform shows the Sweepstakes mechanics the best. So the main thing is that a user will have to enter their email or fill out a form to take part in the raffle. 
Sweepstakes can even use surveys as a necessary action. Advertisers use it to collect users' data to target campaigns more accurately. So, Sweeps mostly give users a chance to win something valuable in exchange for personal information.
Sweepstakes affiliate marketing offers are evergreen and profitable no matter the season. However, there are still some timing issues to consider. For example, if you're using popular Apple gadgets for such giveaways, it is better to do it around the brand's events, such as a new model release.
Another nice thing is that Sweepstakes are very newbie-friendly due to an easy conversion process and mutual all-year-round benefit to both advertisers and affiliates.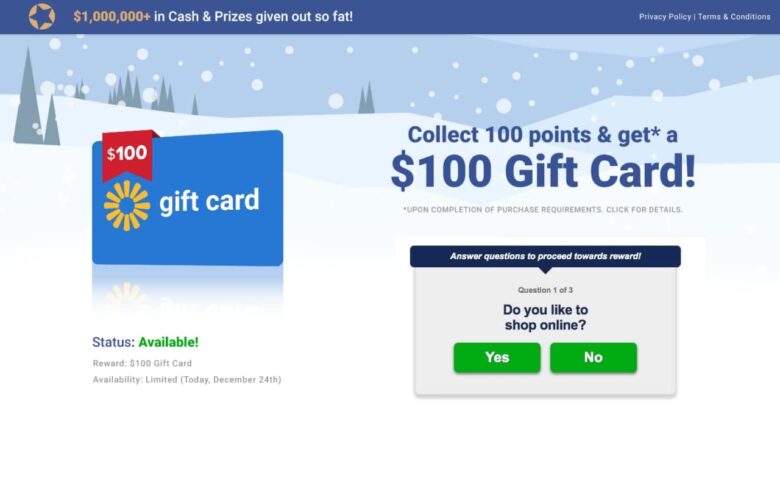 To Contents ↑
Types of conversions in Sweeps campaigns
Let's clarify all advertising offers by dividing them into groups based on the actions they require users to perform. This clarification will also show how hard it is to convert the users and overall how to promote the Sweepstakes campaign.
SOI (single opt-in) offers (or email submit offers). SOI offers require users to perform just one simple action, like entering their email address and first name. Personal data is all-important for Tier-1 advertisers.
DOI (double opt-in) offers. These offers demand performing two-step authentication. As a rule, these offers have a lower conversion rate, but each conversion is more profitable.
Credit card submission (CC Submit). One of the most challenging to convert; it requires users to enter their credit card information. CC Submit offers may require payment and provide a free product trial (e.g., an app).
PIN Submit (Mobile Carrier) offers. This type is something special. The conversion flow does not require credit card submission. These mobile operators charge users, so they must submit their PINs first (read more about mobile carrier traffic). The range of offers is impressive, from TV series to horoscopes.
IVR. The IVR stands for Interactive Voice Response. Simply put, these are computer-operated phone systems. Payment is based on the Click2Call model. In some cases, the payout is fixed. In others, it depends on the duration of the call.
To Contents ↑
Which type of Sweepstakes offer is the best?
Only your experience and financial resources will help you choose the best offer. Here are some tips about available options:
SOI (Single Opt In). Perfect for beginners and multi-vertical players. It asks the user only to enter a name, age, gender, email address, or phone number, and it does not require confirmation. Possible pitfall: you'll need to watch the auditory to be solvent and of legal age. Otherwise, the revenue and advertisers' feedback may upset you.
PIN Submit. This one confirms registration via a paid SMS or subscription to an email newsletter. It's also an excellent option for a newbie, although it is a bit more complex. For example, a user must buy a subscription to win something. 
IVR. Considered the most difficult because motivating people to make phone calls takes a lot of work. As you see, in this type of offer, you get payouts for generating phone calls from users. Here the profit is usually calculated through the eCPM. The average ROI in IVR offers 90%, fluctuating depending on the platform.
Note: GEOs also have their impact. For instance, Tier-1 countries promise high payouts. But does it make them perfect for Sweeps? Don't make this mistake, and remember: only a super-appealing offer will do here. Today Tier-3 countries show the fastest growth for Sweepstakes directly. So use it wisely to get up to 400% ROI in Tier-3 via cheaper traffic.
To Contents ↑
How to choose a Sweepstakes offer
If you need to know where to start, here are some first steps for choosing a suitable offer. 
Decide on the conversion flow.
The most rewarding for beginners is the SOI flow. So don't let the CC submits payouts allure you: if you can't guarantee conversions, you will end up with zero or even negative profit.
Visit the landing page.
Check the page's download speed. If it loads slowly, you may lose much.
Check the landing page's credibility and the value of the prize.
Users should believe they are giving away their data to get a real chance to win. Be cautious with home appliances and off-season Sweeps: they may not work.
Ensure you can send the traffic.
The most demanding combo is Tier-1 traffic + iOS devices. You can also go for the Tier-2 or Tier-3 (as we know it works for Sweeps) or see if Android usage is allowed.
Start with Popunders.
Choose offers that run on Popunder. Also, it is traditionally the most abundant. The second best is Sweepstakes push ads from Social Bar. They look natively on all OS and have higher CTRs.
To Contents ↑
What are the best traffic sources and ad formats for Sweepstakes?
Sweepstakes are cheap traffic. Therefore, the best choice would be Push Ads, Pops, and their varieties: for example, In-Page Pushes. Calendar push notifications are also a thing you can find in some other networks, as they work well and have yet to become boring. But they are quite expensive and complicated, so the optimal choice with low risk is still a Push.
Talking about sources, let's say there are better options than social traffic in this case. It is reliable but too expensive and not suitable for beginners. If you're a pro with big budgets, you can give it a try, but it's still a risky experiment. Another argument against social traffic is the hostile attitude of the networks towards the Sweeps.
Therefore, choose native traffic, and, of course, do not forget about affiliate networks. Even if to omit direct advertising, networks are convenient, accessible, and as safe as possible in the context of this vertical.
Long story short, the best Sweeps offer is to be:
Push, Popunder, or Social Bar
SOI or DOI
Tier-1 or Tier-3 GEO
Believable visually (better seasonal or dedicated to some event).
Advertise using ultra-new social media patterns. Create visuals that will inspite users to convert into leads. With Social Bar ad format, you get up to 30 times higher CTRs.
To Contents ↑
How can you benefit from sweepstake affiliate networks?
A good point is there is no completely bad or only good season for Sweepstakes, as they are evergreen. The only timing work you can do to increase the profit is to catch up with some events like the new iPhone release and attach your ad to it to gain more profit. 
The average payout here is $0.50-$40, depending on the offer type. So, SOI offers are generally on the lower end of commissions. Therefore, they are much easier to get. 
CC submits, and mobile subs have higher payouts but can be a bigger challenge for newbies. Also, the format is essential in terms of getting profit. For instance, the landing pages are truly crucial as they help prepare the users to share their personal info. Be as creative with them as possible, and it will do!
To Contents ↑
How to advertise Sweepstakes offers with Adsterra
There are simple steps you should follow to start working with Sweeps via Adsterra. We've prepared some related materials like this successful Sweepstakes case for even easier diving. So here are the steps in this example:
Choose the offer and determine the GEO and the traffic source. In our case, it's South Africa and PIN Submit offer, aka iPhone giveaway 
Determine the bidding strategy. Your spendings and payouts need to be really balanced if you want some profit. In the above case, the reasonable bid price was $0.90 per reg. 
Tip: If you're a newbie and don't know how to set a bid (or don't want to spend extra time searching for data), use our recommended bids from Adsterra estimation algorithms.
Decide if your users need to be pre-warmed. High-converting landing page doesn't need a middle page, so it depends on how well your creatives are. The case we discussed in our review needed some prelands, so the dynamic ones were chosen.
Keep optimization in mind. One of the Sweepstakes' special features is that they should be changed whenever the result goes down. In the example case, Adsterra custom bid feature was used.
By fulfilling all the steps, the campaign we reviewed gained $482.40 from the $361.80 investment, meaning 33.3% ROI. 
To Contents ↑
Promote Sweepstakes like a pro: a checklist from experts
This checklist is your secret weapon. Before you start advertising, look at it and ensure you're not to face some common struggles. 
Highest bids ≠ highest results
The more isn't always the better, so start by picking the recommended bid instead of trying to win all with the highest one. After you start getting conversions, you'll be able to manipulate bids and outcompete other advertisers.
Tip: use test campaigns. You'll get the recommended bid for each slice on your account. Another helpful piece of advice is to ask your manager about average bids.
Sweeps give immediate conversions
Your CPA conversions as opt-ins and sign-ups will come in the first hours. That means something went wrong if you don't see the results in the first few hours. In this case, change your offer's messages and values. CTRs are excellent, but keep them from fooling you: these are conversions that matter.
Broad targeting is the best start
No matter your experience with lookalike campaigns, try targeting broad on a new source. This is how you exclude over-optimization and loss.
We recommend no black- or whitelists on the untested traffic. Rely on statistics.
New GEO = new campaign
Each new GEO you add requires a new ad campaign. Multi-geo campaigns blur the results making it hard to guess which source you should exclude and which to send to a whitelist.
Fast reaction saves you money
As Sweepstakes are about immediate conversion, the point of reaction speed means a lot here. Have you noticed the source that brings you conversions? Raise your bid on it. You can do it yourself through the Custom Bid tool. But feel free to use the help of a manager, so you can surely get ahead of your competitors. After finding out the rate, increase it to the best placements (you can also lower it to the worst ones). After you get the best bid and update it, please keep it for a while until the conversions start pouring down.
Tracking capacities
Conversion tracking is a must for Sweepstakes CPA offers. So please add the tracking tags required by Adsterra.
Example: https://ads.com/in.php?placementid=##PLACEMENT_ID##&action=##SUB_ID_SHORT(action)##
The ##PLACEMENT_ID## token puts a unique ID to each source.
The ##SUB_ID_SHORT(action)## token tracks all conversions.
Alternative traffic types
Traditionally, Sweepstakes promotion campaigns run on mainstream traffic. But try launching a test campaign with a non-mainstream type: there are many impressions there, and users' behavior patterns are the same: they want to gain something valuable for free. 
Additional ad formats
Vary formats for different GEOs. For instance, smaller countries often stream fewer impressions for Popunders. So try picking another ad format like Social Bar that sends significant mobile traffic volumes. Remember to consult with your manager about the formats. By the way, you already have the creatives' templates with Social Bar, so that the launch will take a little time. If you are doubting, check this guide to making stellar visuals that convert.
Prelanders
Prelanders are recommended for almost every vertical and campaign type. You can discover the most successful on Adplexity or similar platforms. However, with Sweeps, you can go without prelanders if you are ensured the target landing page is credible enough.
Communication is key
Stay in touch with Adsterra managers. They can advise you on the payout amount and bidding tactics and share the most successful affiliate marketing Sweepstakes offers rotating on the Network. Our CPA Sweepstakes advertisers also get access to our in-house prelanders and can apply for custom creatives.
To Contents ↑
Sweepstakes advertising trends for 2023
Being evergreen doesn't mean having no trends. Sweepstakes have shown impressive livability through the last couple of years, and now it's the best time to actualize your campaigns and find out how to promote Sweepstakes offers in 2023.
Technology use is going up
Be it AR or AI technologies gain more and more popularity every year. It helps make content more personalized and make campaigns more effective, though. Use this issue both as a newsbreak and a way to increase content engagement.
Eco-sustainability 
You can tie any current trend to the content of your campaign. Eco-friendly projects are in high demand today so you may use related prizes for your Sweeps. May it be electric cars or a week's trip to eco-friendly camping. It'll also allow you to expand the variety of suitable platforms for placement.
Personalized approach
In terms of Sweeps, personalization may create a more accurate connection with the audience and increase trust in your campaign. Any personal info that technologies can determine raises the chance to catch the user's attention for real. A great example is social media, which allows targeting ads via particular criteria such as users' birthdays.
Tiered pricing
The basis of this strategy is changing the prize pool based on the number of participants in the contest. The more people are registered, the better (or just more) prizes there are. It's better for budget management, as you spend more only if you gain more. But note that this strategy generates a sense of community in participants and a better chance of them becoming brand advocates.
Advanced gamification algorithm
Gamification is still a thing when it comes to Sweepstakes. It makes the content and ads more engaging and exciting to participate in. One of the major examples of additional gamification is the use of leaderboards. When advertisers integrate leaderboards into landing pages, they allow users to see their immediate competitors in the race for a reward, thus engaging them and encouraging them to do more. It will generate additional traffic and overall increase the excitement around the campaign.
Partnership with expert ad networks
The regulations around the contests keep changing, so the traffic behavior also changes very fast. To reach out to many users, you need a well-oiled traffic machine. That's where advertising networks come into play. Advertisers and affiliates can run campaigns on their own (self-serve platforms) or apply for managed services.
Believable mechanics and prizes
Users are getting more and more sophisticated when dealing with ads. It is better to avoid using misleading headings and call-to-action buttons like "You won!" or "Send your shipment details to get the prize!". So if you carry out an iPhone or similar giveaway to collect emails for marketing purposes, come up with plausible reasons for asking questions like "What's your age" or "What's your gender."
Trending creatives
Today creativity means everything. Only it should be productive creativity that brings you high CTRs. In the mobile-first, TikTok-boosted world, interactive and OS-friendly creatives can invest decent cash into ROI. That's when pros in Sweepstakes marketing promotions turn to Social Bar ad format for advertising Sweepstakes. It allows for adding custom creatives that will stand out on a publisher's page.
To Contents ↑
Conclusion
Sweepstakes advertising is a hot niche that is easy to get into. Trends in this niche require attention and timely content updates, but fast conversion makes it worthwhile. Sweps have a low barrier of entry and high conversion levels, which makes them perfect for beginner advertisers. 
Remember: a good Sweep is a profitable Sweep, so make it work with the best traffic from over 28K direct publishers' websites!