Sweepstakes have been around for a long time, and they have not lost their popularity. In addition to high conversion rates, Sweeps advertising is easy to set up for newbies in the field, is a relatively low-cost method, and has shown excellent results. Read further if you want to learn more about how to advertise Sweepstakes using the latest trends and hacks from marketing pros.
Content
What are Sweepstakes in advertising and affiliate marketing?
Sweepstakes is a term used to describe a wide array of advertising offers that have a common feature of promising some reward to users who perform specific actions.
You might have seen these contests or giveaways that don't require an entry fee. However, there are other requirements to become a participant, like enter a valid email address, fill out a form, or perform some other action on the website. Surveys also are often included under this terminology.

Among the rewards are electronic devices, tickets to a dream vacation, music festival, or another type of event, vouchers that cover shopping expenses, and even vehicles.

In affiliate marketing, Sweepstakes offers are evergreen and profitable regardless of the season. Lots of advertisers are willing to collect users' data so to target their campaigns more accurately. So, Sweeps are mostly used for getting information about users in exchange of giving them a chance to win valuable products.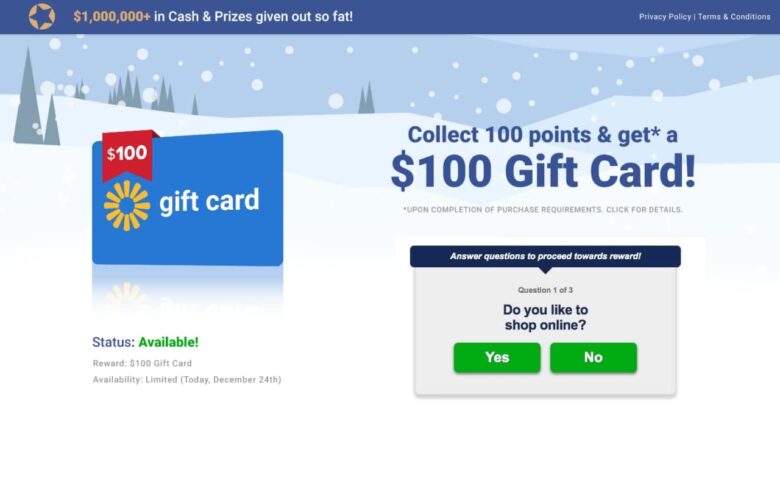 Types of conversions in Sweeps campaigns
To make the core principle clearer, let's divide all advertising offers to groups based on the actions they require users to perform. This will also help you define how hard it is to convert the users and overall how to promote sweepstakes offers:
SOI (single opt-in) offers. You may also meet Email Submit offers. SOI offers require users to perform just one simple action, like entering their email address and their first name. Traditionally, personal data are all-important for Tier-1 advertisers.
DOI (double opt-in) offers – offers that demand from users to perform some form of two-step authentication. These offers usually have a bit lower conversion rate, but in turn, each conversion is more profitable.
Credit card submission (CC Submit). One of the most challenging offers' type to convert; it requires users to enter their credit card information. CC Submit offers may require payment and may just provide a free trial of a product (e.g., an app).
PIN Submit (Mobile Carrier) offers. This type is something special. The conversion flow does not require credit cart submission. These are mobile operators who charge users, so they must submit their PINs first (read more about mobile carrier traffic). The offer range is impressive, from TV series to horoscopes.
IVR. The IVR stands for Interactive Voice Response. Simply put, these are computer operated phone systems. Payment is based on the Click2Call model. In some cases, the payout is fixed, in others it depends on the duration of the call.
Why are Sweepstakes still the go-to offers to advertise?
There are multiple reasons why sweepstakes continue to be an effective marketing tool. Firstly, it's an opportunity to gain free stuff, which is alluring to many people. Secondly, it is a game of chance. It will attract people just like casinos, and other Gambling offers have been drawing people willing to take a risk.

Companies can encourage users to indulge and enter the contest as they gain visibility, expand their mailing list, promote their website and social media, and conduct necessary market research. The benefits they gain from giveaways usually far outweigh the price of the prizes.

Affiliate marketers who are willing to profit from advertising Sweepstakes need to choose the right offer and the suitable campaign method to benefit from sweepstakes. This includes selecting the appropriate conversion flow, GEO, platform (mobile or desktop), and considering all the conditions. We will also go over it but a bit later.
Which type of Sweepstakes offer is the best?
SOI (Single Opt In) is the simplest offer for which it is enough to enter a name, age, gender, email address or phone number, and it does not require confirmation. Then the user is able to participate in a Sweepstake. 
PIN Submit provides confirmation of registration via a paid SMS or subscription to an email newsletter. For example, a user needs to sign up for a subscription to win something. 
IVR: in this type of offer you get payouts for generating phone calls. For example, the user needs to make a call to win something like an IPhone. When we are talking about conversion or leads in IVR Sweepstakes, the profit is usually calculated through the eCPM. Different platforms use different ways to calculate eCPM and other indicators. The average ROI in IVR offers is 90%.
To choose the best offer consider these two factors: your experience and financial resources. IVR offers are the most difficult because it is hard to motivate people to make phone calls.
The best Sweepstake offers for beginners are SOI or those that have few fields to enter. But keep in mind that you need a proper audience: solvent and of legal age.

First of all, you need a solvent audience because advertisers appreciate such an audience and pay more. Secondly, an audience of legal age will increase your revenue.
Both SOI and DOI offers are a great type of offers for the affiliate marketing beginners. They pay a little for a lead so you can drive any type of traffic.
Tier-1 countries promise high payouts, which is why almost all affiliate programs include them. But the main issue is that Tier-1 countries are very difficult to allure into Sweepstakes, and you will need a super-appealing offer.
Tier-3 countries are becoming the fastest growing market for Sweepstake offers. Most of the advertisers set themselves the task of collecting a customer base, and they will pay for any Tier traffic. That's why you can get a profit with 200–400% ROI in Tier-3 countries (because the traffic here is cheaper).
Sweepstakes advertising trends for 2023
Let's take a look at how sweepstakes advertising works and the most popular trends in 2023.
1. Tiered pricing
The basis of this strategy is changing the prize pool based on the number of participants in the contest. The more people are registered, the better (or just more) prizes there are. This encourages users to spread the information, sharing the sweepstakes on social media, and engaging their friends and family.

The obvious benefit of this approach is that it's better for budget management, as you spend more only if you gain more. However, it is also important to note that this strategy generates a sense of community in participants and a better chance of them becoming brand advocates.
2. One campaign — several triggers
Engaging the consumers at the right place and at the right time brings more benefits to the business. That's why this one of the sweepstakes advertising ideas focuses on engaging the users based on their preferences. For example, a chance of winning a coupon or a shopping voucher will trigger those who shop online but they may not react if they're not intending to buy right now. Then comes the next trigger – a "WIN GADGET" offer.

Anothe example is when advertisers launch a Sweepstakes campaign offering to win free courses: they can change the landing page headings depending on the audience's preferences and search history. When a user comes to a lander they see a "Get a Free Photography Course" or "Get a Free Graphic Design Course," or " Get a Free Marketing Course," and so on.

In affiliate marketing, there is usually one Sweepstakes offer with one landing page.
3. Reward social behaviors
In this day and age, social media can make or break the success of the company's marketing campaign. It is also true when it comes to sweepstakes. Fortunately, you can use social media platforms to your advantage.

If you want to employ your users as brand ambassadors, you can provide them with sweepstake points for performing such actions as sharing your posts, watching videos, leaving comments, etc. Keep the tasks simple and make the rewards worth it.
4. Advanced gamification algorithm
Gamification is a popular tool, but it has only recently been applied to sweepstakes. It makes the content and ads more engaging and makes it more exciting to participate. This will not only increase the conversion rates but generate more buzz around the brand as a whole.

One of the major examples of additional gamification is the use of leaderboards. When advertisers integrate leaderboards to landing pages, they allow users to see their immediate competitors in the race for a reward, thus engaging them and encouraging them to do more. It will generate additional traffic and overall increase the excitement around the campaign.
5. Partnership with expert ad networks
The regulations around the contests keep changing, so the traffic behavior also changes very fast. To reach out to a vast number of users, you need a well-oiled traffic machine. That's where advertising networks come into play. Advertisers can run campaigns on their own (self-service platforms) or apply for managed services.
6. Believable surveys and prizes
Users are getting more and more sophisticated when dealing with ads. Advertisers should avoid using misleading headings and call-to-action buttons like "You won!" or "Send your shipment detail to get the prize!"

If you carry out an iPhone or similar giveaway to collect emails for marketing purposes, come up with plausible reasons for asking questions like "What's your age" or "What's your gender."
7. Prize trends
While the prizes you choose should depend on the offer, some rewards are still more popular than others. For example, Apple products have been the most wanted prize for a long time. The rewards that have also gained momentum are shopping vouchers, gift cards, Android gadgets (premium), laptops, smart speakers.
8. Trending creatives
As in any other niche, in Sweepstakes, creativity means a lot. Only it should be productive creativity that brings you high CTRs. In the mobile-first, TikTok-boosted world, interactive and OS-friendly creatives can invest decent cash into ROI. That's when marketing pros turn to Social Bar ad format for advertising Sweepstakes. It allows for adding custom creatives that will stand out on a publisher's page.
Advertise using ultra-new social media patterns. Create visuals that will inspite users to convert into leads. With Social Bar ad format, you get up to 30 times higher CTRs.
How to choose a Sweepstakes offer if you're an affiliate marketer
1. Decide on the conversion flow
We have covered this topic earlier. For beginners in affiliate marketing, the most rewarding is the SOI flow. Don't let the CC submits payouts allure you: if you can't guarantee conversions, you will end up with zero or even negative profit.
2. Visit the landing page
Firts, you will need to check the page's download speed. If it loads slowly, you may lose a substantial percentage of your traffic.
3. Check if the landing page is credible and the prize is valuable
Remember that users should believe they are giving away their data to get a real chance to win. Be cautious with home appliances and off-season Sweeps; they may not spark.
4. Ensure you can send the traffic
When just exploring affiliate marketing, be cautious with this combo: Tier-1 traffic + iOS devices. They're the most demanding. You can go for the Tier-2 or Tier-3 traffic or see if Android traffic is allowed.
5. Start with Popunders
Choose offers that run on Popunder traffic. Also, pop traffic is traditionally the most abundant. Next, come Social Bar push ads that look natively on all OS and have higher CTRs.
How to advertise Sweepstakes offers with Adsterra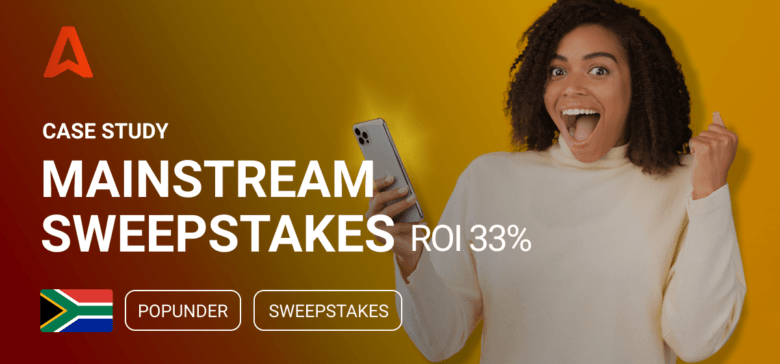 Firstly, you need to choose the offer, determine the GEO and the traffic source. In this case, it's a PIN Submit offer (iPhone giveaway), and the GEO is South Africa.
The next step is to determine the bidding strategy. You will need to balance your spendings and payouts so to profit in the end. For this project, it was reasonable to place a $0.90 bid for each registration. If you're a beginner affiliate, choose the bid recommended by Adsterra estimation algorithms.
After that, you need to decide whether you need to pre-warm users or not. If the landing page is high-converting you may not need a middle page. Well-designed creatives will allow you to increase conversions and get rid of unnecessary traffic. For this case, the dynamic prelands have been chosen.
Optimization comes next. For the sweepstakes, it's essential to change the prelands whenever anything is going down. Another thing employed in this project is the Adsterra custom bid feature.
With all the steps done, this campaign's result was the income of $482.40 from the $361.80 investment, meaning 33.3% ROI.
Advertise Sweepstakes like a pro: a checklist from experts
Before you start advertising with Adsterra traffic, you may look at this checklist with common issues affiliates face and struggle with. Adsterra experts have shared tips on how to emerge victorious in this contest for traffic and conversions.
Highest bids don't guarantee highest results
Pick the recommended bid instead of trying to win all traffic with the highest one. After you start getting conversions, you'll be able to manipulate bids and outcompete other advertisers.
On your account, you get the recommended bid for each traffic slice you target. Use it for a test campaign. You can also ask your manager to share average bids within your niche. This will help you a lot.
With Sweeps, conversions come immediately
Keep an eye on your CPA conversions as opt-ins and installs will come in the first hours. If you don't see the results in the first few hours, consider changing your offer's messages and values. CTRs are excellent, but don't let them fool you. These are conversions that matter.
It is better to start with broad targeting
Even if you have launched dozens of lookalike campaigns with other networks, we recommend you to target broad on a new traffic source to exclude over-optimization and traffic loss.

Similar to the previous point, avoid using blacklists and whitelists on the untested traffic. Wait until you have informative statistics.
New GEO — new campaign
Each new GEO you add requires a new ad campaign. Multi-geo campaigns blur the results making it hard to guess which traffic source you should exclude and which to send to a whitelist.
Fast reaction saves you money
Noticed a traffic source that streams top-level conversions? Reach out to your manager to check at which level you should increase your bid.

Once you have updated the bid, keep it at this level for a while until the conversions start pouring down.
Use the Custom bid tool after you have collected enough information on the best and worst placements.
Tracking capacities
For CPA campaigns, conversion tracking is a must. So please add tracking tags required by Adsterra.
Example: https://ads.com/in.php?placementid=##PLACEMENT_ID##&action=##SUB_ID_SHORT(action)##
The ##PLACEMENT_ID## token puts a unique ID to each traffic source
The ##SUB_ID_SHORT(action)## token tracks all conversions
Alternative traffic types
Traditionally, Sweepstakes campaigns run on mainstream traffic. Try launching a test campaign with a non-mainstream type (niche and XXX traffic). There are tons of impressions there, and users' behavior patterns are the same: they want to gain something valuable for free 😉
Additional ad formats
Some GEOs (smaller countries) may stream fewer impressions for Popunders. Try picking another ad format like Social Bar that sends significant volumes of mobile traffic. Your manager will assist in distributing traffic between the formats chosen. With Social Bar, you already have the creatives' templates so that the launch won't take long. If doubting, check this guide to making stellar visuals that convert.
Prelanders
Prelanders are recommended for almost every vertical and campaign type. You can discover the most successful on Adplexity or similar platforms. However, with Sweeps, you can go without prelanders if you ensured the target landing page is credible enough.
Communication is key
Stay in touch with Adsterra managers. They can advise you on the payouts amount and bidding tactics and share the most successful offers rotating on the Network. Moreover, our CPA advertisers get access to our in-house prelanders and can apply for custom creatives.
Final thoughts
Sweepstakes advertising is a hot trend that is easy to get into. Sweps have a low barrier of entry and high conversion levels, which makes them perfect for beginner advertisers. At the same time, CC submits offers are perfect for experienced marketing specialists, as they provide better payouts. A good Sweep is a probitable Sweep, so make it work with the best traffic from over 18K direct publishers' websites!