Assume you have a profitable business idea and you've created a website and filled it with good content. Now it's time to promote it to reach your audience and ensure your idea survives. But at this stage, advertising on Google and social media are too expensive and risky. So what do you do? You go for cheaper business marketing options, and there are lots of them on the internet—you just need to know where to look.
In this article, Adsterra provides as many as 14 business advertising and marketing tips for new entrepreneurs like you. Let's dive in!
1. Sign up with online business directories
A business directory is a website that lists businesses in specific niche categories. Businesses can be classified according to their niche, location, activity, or size.
Registering your new business with Google My Business is the first step. Why? It's free, and it puts you on the map instantly.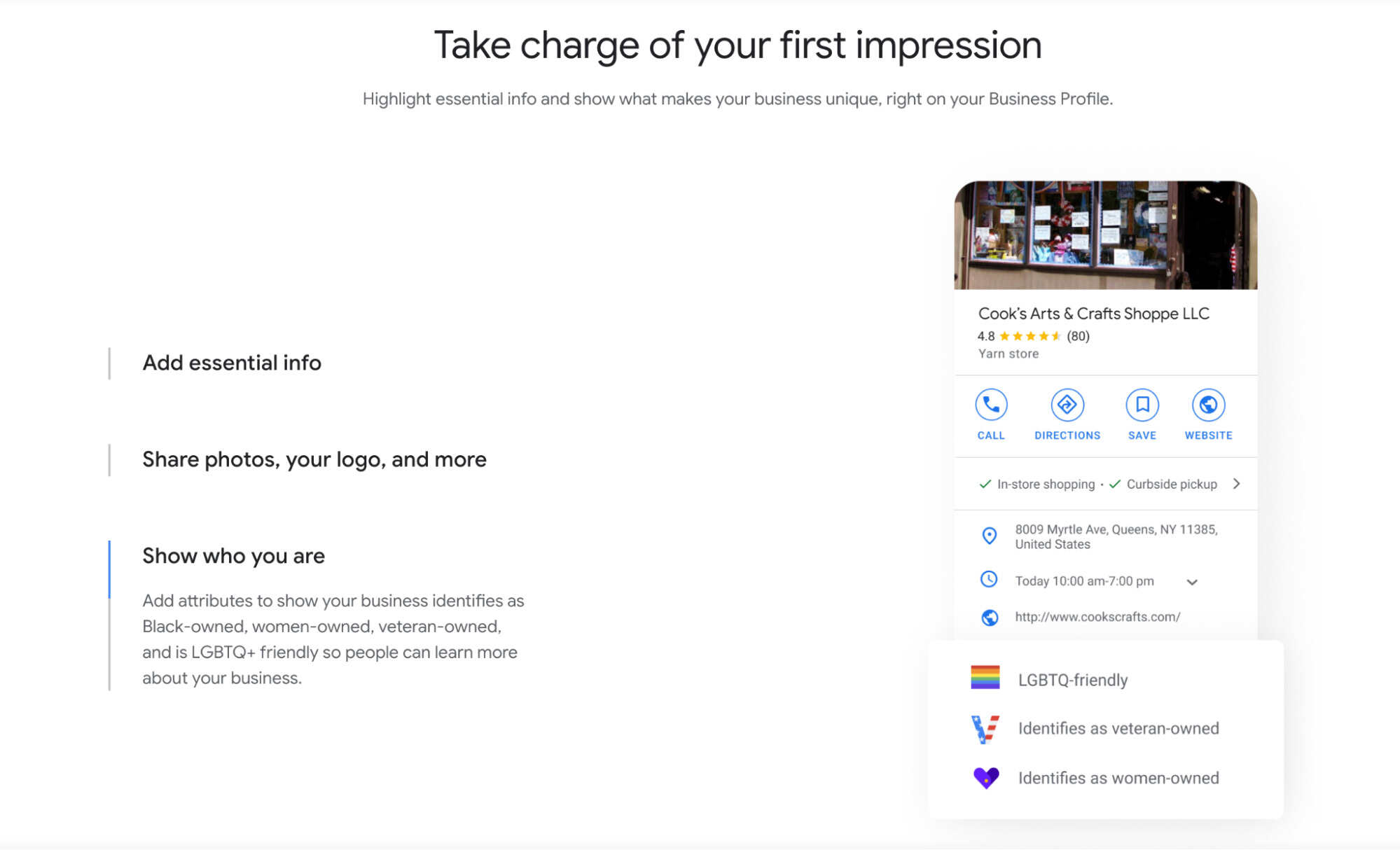 Even if you are an online business, you can fill in your contacts and add a nearby business center as a location during the registration process.
Trustpilot is another very popular business directory. You can sign up for a free Trustpilot account to promote your business and interact with customers. People can also leave ratings, reviews, and proof of their interactions with your company, which helps boost traffic and trust in your business.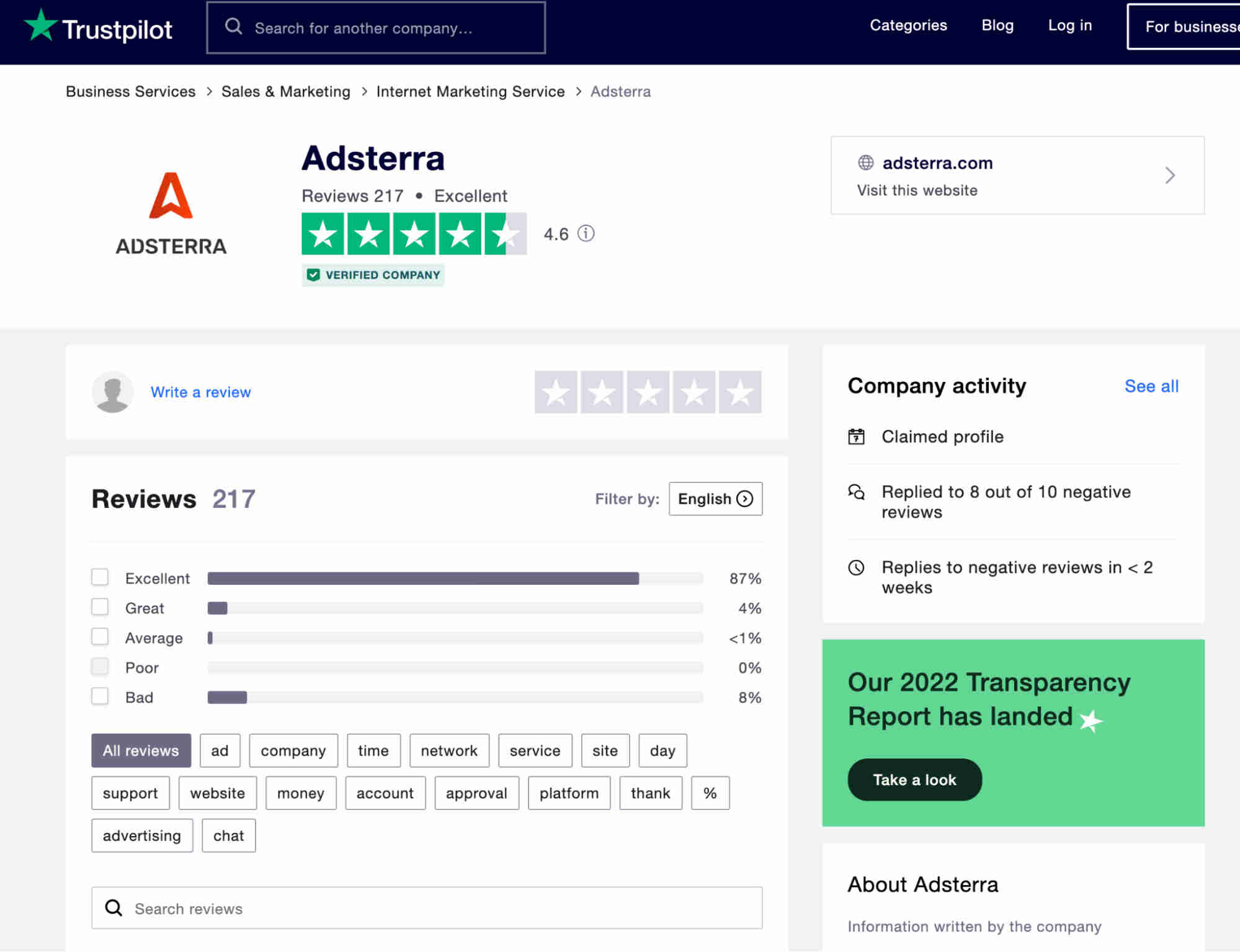 Most directories are niche-based, so make sure you find a directory that reviews all other sites in your niche.
Trustpilot can become a source of reliable platforms for marketing your business. Read through the feedback from real users and choose the best-matching solution.
In case you wanted to turn your website into a side hustle, you can take a look at the ad networks' ratings. Adsterra has one of the most credible reviews.
To Contents ↑
2. Promote your company on social media
Every business must have a social network presence because it puts you ahead of your competitors who are not on social media. To connect with prospective customers, you can upload regular updates and behind-the-scenes content. You only have to post at least once a week, so new followers will understand that you have an active and honest business.
We recommend signing up to these platforms: Facebook, Instagram, Twitter, and LinkedIn. Just make sure you're on the media that are relevant to your target customers and focus your efforts there.
If you already have a big social media page with a core audience, then expand your social platform calendar. Start posting frequently and dedicate more time to creating rich visual content.
Increasing engagement with your followers boosts the likelihood of them telling others about you. That's why ask them for honest reviews and post the most detailed and useful ones. And don't forget to encourage sharing of your posts. Here's a guide on how to run social media for businesses.
To Contents ↑
3. Create a business blog
A blog allows your business name to spread and enables you to connect with your audience more directly, for example, through discussions in the comments. You can run your blog on platforms like Medium, Blogger, or your own website (if possible). Let's give you a few tips on how to do it successfully:
Write better content than your competitors: add more valuable details, including graphics and videos, write long-form content, etc;
Post regularly, at least one article a week;
Ensure that articles contain a URL that links back to your business website;
Once in a while, write blog posts that tell your story and answer potential customers' questions.
Here are some excellent blog post ideas:
Instructional posts and how-tos;
Strategies and resources list (top 10, 5 best, three crucial, etc.);
Interview or Q&A with an industry expert;
Guest posts from other bloggers;
Case studies or customer testimonials;
Seasonal articles (such as Christmas articles).
We recommend picking content ideas that aim to showcase your product or service best and help your target audience solve their problems.
To Contents ↑
SEO helps optimize your website for search engines so that customers can easily find you. Search engine optimization gives you an advantage in marketing your business; it increases website traffic and gives you a higher authority in your domain. We can recommend several online resources on how to promote your business with SEO:
They will teach you to find proper keywords and write SEO-friendly blog posts.
To Contents ↑
5. Participate in an online community
Every niche or vertical has an online community. But simply joining a forum and occasionally posting doesn't help anyone and may even annoy people. Contribute actively and build relationships with the community while keeping your business out of it. Passively promote your company by including a link in your signature or mentioning it only when appropriate.
You can find your community by searching via Google or Facebook: it's as simple as searching for a recipe or video to watch.
6. Advertise online via ad networks
While SEO can help you get to the top of search engine results pages, it is a long-term process that can take months to start showing results. For more immediate exposure on a reasonable budget, choose display advertising.
A display ad network like Adsterra gives you an army of well-established websites that will direct traffic and conversion to your business. As an advertiser, you won't have to do much. Just ensure your website is optimized and you aren't offering fake products or services.
Adsterra only displays your ads on high-end websites and only in regions where you want to sell. We even let you calculate your ROI using whatever payment plan is best for your company.
For example, pay for every thousand times your ad appears online (CPM). You can pay for each click on an ad we have displayed (CPC). Most importantly, you can choose to pay when a user converts on your website due to an ad we've placed (CPA).
Adsterra gives you total control over your campaign, allowing you to track your ROI down to the penny. Sign up and fast-track your business to success.
To Contents ↑
7. Make your website's content shareable
Everything on your website should be shareable, whether you're writing long-form blog posts, making engaging videos, or simply introducing a new update. Add quick links to help visitors share the information via social media, email, or text message.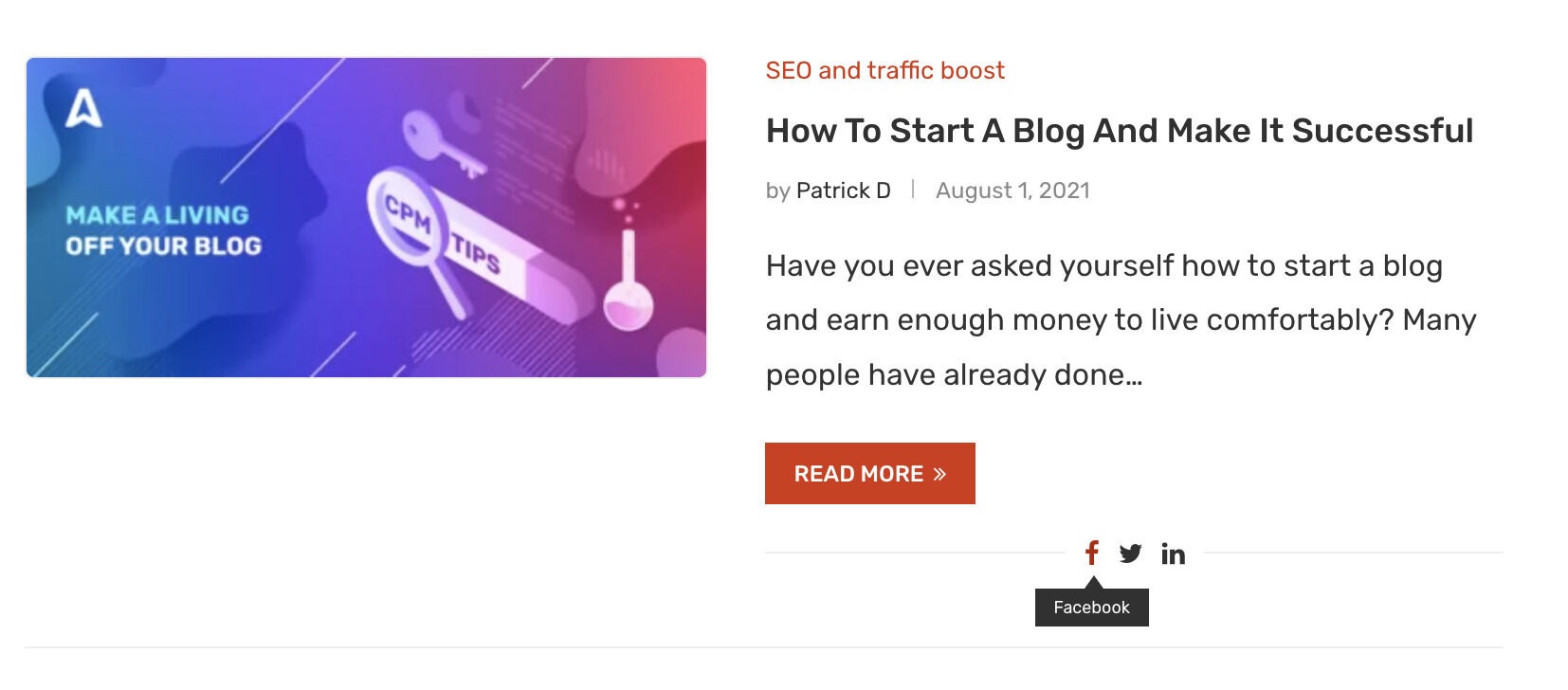 To Contents ↑
8. Try out email marketing
Email marketing has been around for a long time, but it's still as charming as a vintage Ferrari. Here's why email is a popular marketing channel for both consumers and businesses:
People like to be updated;
People often check their email;
You can segment your email lists to send targeted, personalized messages;
The average return on investment for email marketing is 30x;
Email marketing platforms provide versatility, creativity, and usability;
Email bounce rates are lower than display ads or social media.
Get email subscribers faster with the tips provided in this guide.
To Contents ↑
9. Advertise on social media
Social media might be an excellent place to focus your ad spending. For instance, if your target audience spends a lot of time on Instagram, you should consider advertising there.
Facebook ads are not free, but they provide a great opportunity to reach the right demographics for your business. If you know your customer well, you can use interests, geographic location, marital status, age, and others to identify potential customers and send them to strategically-targeted landing pages or squeeze pages.
Experiment with different ad copies and squeeze pages to generate the best responses for funneling customers into your sales funnel. Finding the right mixture or recipe for Facebook might take some time, but you can scale your campaign when it becomes profitable.
Additional resource: a comprehensive guide on Social media advertising
To Contents ↑
10. Collaborate with similar businesses
Make cross-promotional partnerships with other brands. Find a company with a similar target audience but a different product; for example, a tourist company partnering with an airline. As a result, each business partner reaches an entirely new and relevant audience.
Cross-promotion methods vary, and there are ways to do it at every level of the funnel. Both businesses can co-sponsor a promotional video, a blog post, or a gift guide. You could also do bottom-of-funnel promotions, such as offering a discount on one product when customers purchase another product. For example, a car wash can provide customers with a discount when buying spare parts from a collaborating spare part shop.
To Contents ↑
11. Consider marketing with influencers
Influencers are people with a large online audience and the ability to "convince" their audience to do something. Working with the right influencer can expose your business to many potential customers. Just ensure that your chosen influencer's audience is similar to your target audience.
They can write a blog post about your product, review and demonstrate your product/service on social media, or discuss them at an event. Of course, you will have to give them a unique promo code to share with their audience.
12. Collaborate with popular bloggers in your vertical
Reaching out to famous bloggers sounds like influencer marketing, but you have to contribute something valuable to their posts.
Offering a guest post is a great way to make this collaboration happen. You'll need to pay an excellent writer to produce this post, but it's worth a shot if you eventually place your guest post on a high-traffic blog. This post must contain at least one URL linking back to your website.
13. Give customers a free product or service
Why not offer your customers a free service or product for their contact information? If you provide a free service, you have an immediate opportunity to upsell those customers to your paid services later. When people accept something for free, they are more likely to feel loyal to you.
14. Make useful TikTok and Youtube video tutorials
In today's digital world, video is essential. Consumers expect video media when researching products and services, using it to make decisions and learn about features.
87% of businesses use video marketing to combine images, text, music, and more to tell customer success stories. If a picture is worth a thousand words, then a video is worth millions.
93% of marketers say they've gained new customers from a video, so you can't ignore it in your own business. Know your audience, plan, and create a promo video story.
TikTok is an excellent platform for video marketing your company on the internet. While building your audience may be difficult at first, if you focus on reposting and creating engaging meme-like videos, you'll eventually reach many people.
YouTube is also a fantastic resource for tutorials because it allows you to teach people almost anything in an easy-to-understand format. Just make sure the recording and overall content are of high quality. Also, add a link to relevant content on your site in the description.
To Contents ↑
Marketing your business online: FAQ
How can I promote my small business?
·       Create an active and devoted social media following;
·       Build referral partnerships with businesses that cater to your target audience;
·       Engage with your current customers;
·       Constantly engage with your current customers.
How can I advertise my business for free?
·       Write guest posts for other blogs;
·       Answer Quora questions;
·       Publish content on LinkedIn;
·       Offer to do interviews on other business' podcasts;
·       Promote your website on your email signature;
·       Send email newsletters;
·       Do a free product giveaway or contest;
·       Create YouTube videos.
How do I attract and keep customers?
·       Provide high-quality products;
·       Improve your interpersonal skills;
·       Recognize your customers;
·       Follow up with old customers regularly;
·       Make a loyalty program.
How do I decide which marketing strategies are best for my online business?
There are many ways to market your business, but the best strategy depends on your business and goals. If your offline brand has an email list, start email marketing. If your product's audience is on social media, focus on social media marketing. Do you want to reach new customers? SEO and content can boost organic traffic.

How do I gain more organic traffic to my website?
SEO increases organic website traffic and makes your site easy to find for users who don't know your brand. Ensure all website content follows SEO best practices and consider producing more content.

Which SEO best practices help my online business? 
A SEO strategy should include keyword research, site architecture, on-page and technical SEO, content marketing, link building, and success measurement. When starting with SEO, it's tempting to stuff keywords everywhere, but write for humans too. Ensure meta tags, descriptions, and URLs accurately describe the page's content.

To Contents ↑
Conclusion
Use free online business directories to appear in search results for your services. Use a blog on your website to share valuable resources and important company news. When combined with a solid SEO strategy, these content efforts will increase traffic to your website. But above all, a well-targeted ad campaign launched on a leading display ad network like Adsterra will drive your ROI well above your expectations and to the moon. The choice is yours!