If you've ever downloaded a free app after seeing its ad on your Instagram feed, you've surely noticed some ads in it. Of course, it costs money and time to develop these apps, so even though they're free, they must be monetized somehow. In addition, most people have asked us how much apps make because the free apps keep outperforming the paid app market (in terms of profits and downloads).
Before we get into how free apps make money, we'd love to point out that according to Techcrunch, the app boom hasn't ended (and won't). Although the percentage of paid app revenues has dropped from 75.9% to 37.8%, the mobile app market is still valued at billions of dollars.
In this article, we'll look at how to monetize apps (especially android and APK files) profitably, and we'll go over how to do it with Adsterra in detail.
What are APK files, and what do they do?
Each Android app is contained within a single.apk installation file. Developers can give the app's file any name, but it must end in.apk. For example, file TempleRun.apk. The Android operating system uses APK files to store application packages and install various apps on Android devices. The APK package contains a compiled android application and all the resources needed to run the program.
Free and paid apps statistics
According to Techcrunch, over 90% of apps on the market are free. In addition, revenue from paid apps is expected to decline in the coming years. So what are the major differences between free and paid apps?
| | |
| --- | --- |
| Free apps | Paid apps |
| Attract targeted users and increase visibility and downloads. | Paid apps have fewer downloads, you will lose potential customers unwilling to pay. |
| These apps are a great way to optimize your app store by obtaining positive reviews. | Higher user expectations- you'll need to ensure your app runs smoothly and has a comprehensive set of features. |
| They are less expensive than the paid ones because they are not as complex. | The cost of developing and designing paid apps is quite high, and there are only a few monetization options available: monthly and yearly fees. |
| They help create a brand's image and reputation in the online world. | Even if an app has a lot of positive reviews, people are less likely to buy it if they can't try it out first. |
| In the future, there will be multiple monetization options. |   |
There are many different ways to make money by developing an app, but what are the best options here? How do these people make money from free apps?
Use this free app monetization strategy from a list of options: advertising, subscriptions, in-app purchases, sponsorship, referral marketing, data collection and sale, freemium upsell, transaction fees, and crowdfunding.
Let's look at the top and most popular revenue models for how to make money on free apps if you're curious about how apps make money or want to learn how to make money from apps.
To Contents ↑
APK monetization in 2022: where to start
To monetize APK files, you must first place them somewhere where users can see them, download them to their mobile device, and start using them. The Google Play Store, pre-installed on every Android device, is the most popular channel for distributing Android apps with almost global coverage.
However, many other alternative app stores are on the market. Some stores specialize in specific genres (games, business, utilities, dating, financial, and so on) and a specific target audience or geographic location.
There are several reasons for this specialization. The fierce competition on Google Play Store makes it difficult to promote apps there and even pass moderation. That Google may choose to block specific smartphone manufacturers or that the Google Play Store may not be available in all countries.
To Contents ↑
Google Play Store alternatives for APK and app developers
Let's review some Google Play Store alternatives that include games and apps in genres such as dating, music, business, news, weather, education, books, and design.
CodeNgo ─ distributes your app to over 30 stores, including Google Play, Amazon, and Samsung. It's also compatible with the most popular Chinese app stores.
AppBrain ─ an online android browser store. It can be installed directly on the user's phone.
SlideMe ─ focuses on Android apps aimed at a specific demographic. In terms of user coverage, it comes after Google Play and offers developers an opportunity to sell their apps worldwide.
1Mobile ─ provides a collection of mobile apps, games, and videos.
Aptoide ─ offers categories like games, dating, entertainment, music, audio, business, education, family, and more.
There are also cross-platform app stores: Amazon, Getjar, Mobile Store Opera, Appszoom, Appolicious, Nexva, Kongregate, Appland, etc.
You can start monetizing your app once it's available in a store and users have downloaded it to their devices.
So, how do you make money off of an Android app?
To Contents ↑
How to monetize APK files and Android apps
It's essential to decide on a strategy for monetizing your Android app before making it available on app stores. Are you planning on selling ad space or in-app purchases as a source of revenue? Maybe you'll combine both strategies. You'll most likely try out new features and monetization methods as time goes on.
Whether you choose to promote your app with ads or opt for free promotion methods, your app's popularity affects whatever monetization method you choose. Don't expect to make a lot of money by selling ad space to third parties if your app isn't famous enough: not enough users will see the ads.
In addition to user engagement, your revenue also depends on how users tolerate ads and banners in your app.
To Contents ↑
1. Enable Google ads for app developers and publishers
Google AdMob Network is Google's affiliate program for app owners. It offers developers and publishers a number of options for monetizing their apps. You can choose between native ads, banners, interstitials, rewarded ads, and other ad formats and integrate them into your app.
Your app's popularity and user engagement directly affect the amount of money you can make using AdMob. Like AdSense, it isn't the simplest way to monetize mobile traffic. The tiniest misstep can result in your account and app being suspended. So what's a better and more reliable option?
To Contents ↑
2. Monetize Android apps and APK files with Direct Link
You can use Adsterra to create a lightweight ad format and place ads anywhere in your Android app via a one-way link. Direct Link is a straightforward ad format containing several Adsterra advertiser's landing pages. You add the Direct Link to your Android app, users click on it, and Adsterra directs them to the most relevant landing page. There's no need to include a banner space or a push format. The Link can be added to any element within your app. These elements could be:
Texts (especially those with active verbs: "click," "go," "visit," etc.)
Pictures, icons, GIFs
Buttons, and text links.
To Contents ↑
How to add your app to Adsterra and choose Direct Link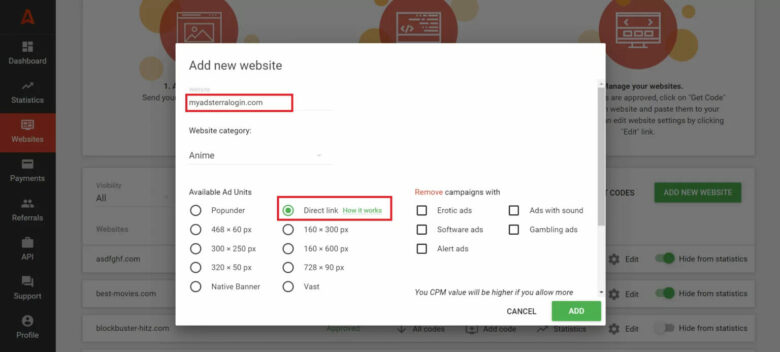 How do you get a direct link for monetizing your app or social traffic?
To Contents ↑
Step 1: Create a Link by registering/logging in
1.1 Create an Adsterra publisher account or log in.
1.2 On the vertical toolbar, go to the Direct Links tab.
1.3 Select ADD NEW DIRECT LINK from the drop-down menu.
1.4 Select your traffic type (or link category) in the pop-up window, then check ads you want to remove from your feed (if necessary).
1.5 When you're finished, click ADD. Your request is currently awaiting approval.
Allow us a few moments to make sure everything is in order.
To Contents ↑
Step 2: Get the Adsterra Direct Link code
You can now take the script/code from Adsterra and embed it in your app or use it to capitalize on social traffic. Find it on your Publishers account's Direct Links page. Check that the status is Active when you open it: the code is still being verified if the status is Pending.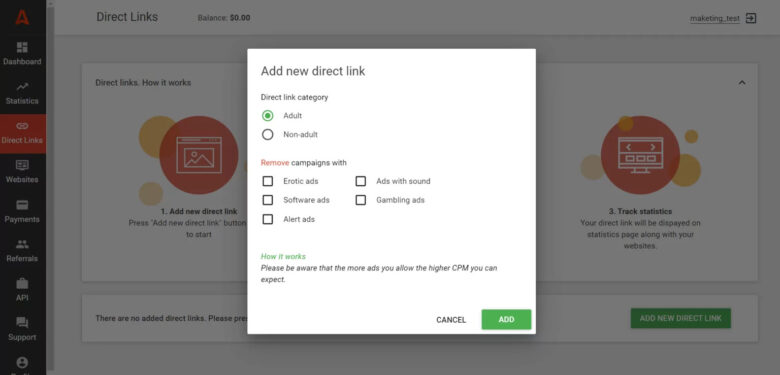 You can also find your Direct Link code in your inbox. Just check your email and copy the code.


To Contents ↑
In-app advertising
In-app advertising is the most common method of making money with free apps and probably the easiest to implement via third-party ad networks. If you need some convincing, here are mobile ads spending stats in 2022 and expected in 2024 from Statista.
$336 billion in the year 2022
In 2024, $412 billion is expected.
There's nothing wrong with monetizing your apps with ads, irrespective of their purpose or function. Like bloggers and website owners, app publishers only have to add ads in their apps or use affiliate marketing to earn money.
App owners are usually paid when app users click or interact with the ad, depending on the pricing option/conversion goal. Publishers generally use four different types of display ads to monetize their apps.
To Contents ↑
Interstitials
Interstitials are full-screen pop-ups that appear at specific times. Users can close the ad by pressing the X button at the upper left or right corner when the ad ends. For example, an ad appears when users edit and save a photo to their gallery. Gaana, a great model of app monetization, uses this method.
Banner ads
These display ads come in various sizes and appear at the top or bottom of the app screen. They are usually small and discreet, allowing users to use the app freely.
In-app video ads
When playing mobile games like candy crush, sometimes you have to watch a video to pass a level faster and easier. These ads appear automatically and are typically used as a reward video in exchange for in-app rewards. For example, app users can obtain app currency by watching an ad video to unlock game levels or buy additional features. This is the most popular app revenue model for game apps.
Native ads
Native ads are integrated into the app to appear natural. It is most commonly used to promote an affiliate product or another mobile app. However, keep in mind that their revenue can be quite low. Native ads are the most disliked by users, even though mobile app developers consider them the best strategy.
This method's main benefit is its high retention rate because users are rewarded for watching these ads. It works best for top-grossing apps and the gaming apps market because gamers enjoy getting free stuff, and the effective cost per mille is higher than other methods.
| | |
| --- | --- |
| Pros | Cons |
| CTR contributes to your app's primary revenue. | This model works best with apps that have a large user base. |
| In-app ads have a better chance of reaching the intended audience. | Irrelevant ads—if your ads are entirely unrelated to the app category's context. |
| Ads aid in the measurement of user interaction. | Online users easily ignore unappealing ads. |
| Video ads are more popular than social media networking, web browsing, or audio ads in terms of traffic. | It may cause user navigation to be disrupted in the app. |
To Contents ↑
Subscriptions
App publishers can choose to provide free content in their apps for a limited time before charging users a subscription fee that gives them access to the entire app without restrictions.
Most free app publishers use this common strategy of providing a free trial period before charging a subscription fee to users who want to access the app's features. Cloud services, audio, and video streaming, and online news services use the subscription strategy.
This new format helps app publishers charge a recurring fee rather than a one-time fee. However, only 5% of the most successful apps use a subscription revenue model or develop subscription-based mobile apps.
Let's compare the benefits and drawbacks of the subscription app monetization strategy.
| | |
| --- | --- |
| Pros | Cons |
| It's a good model for cloud services like Spotify that provide audio and video content. | You must keep innovating new features and content for app subscribers. |
| A more engaged and serious audience will use the app's functionality. | Changing from a one-time fee to a monthly payment can cause serious resentment among current users. |
| As a result, you'll have a more consistent income. | A free trial period is required and may require adjustments. |
| The app is rewarded in the Apple Store if it keeps customers for a more extended period. | Small businesses are unlikely to generate enough value to justify monthly payments. |
To Contents ↑
In-app purchases
The in-app purchase model allows users to make purchases directly from within free mobile apps, and it's usually a simple process. It also permits users to sell virtual goods directly from the app.
In-app purchases allow access to special features like power ups, restricted levels, and extra features, improving faster and better user interaction of the best free game apps, such as Clash of Clans and Angry Birds.
Generally, game publishers use this model due to availability of digital currency. Most games offer multiple game currencies like gems, coins, and gold.
As a result, UK agencies and advertisers invest the majority of their advertising budgets on phones. In-app ads are more effective than mobile browser ads by increasing engagement and an effective method for generating revenue.
To Contents ↑
Sponsorship
Sponsorship in mobile applications can be an efficient app monetization strategy, when an app publisher creates the right niche app for a targeted audience and launches it on behalf of another company.
The first step is to create a list of organizations and brands that can benefit from the partnership. App publishers, like website owners, must think about sponsors who have the same target audience as the app's.
The Home Depot sponsorship on the Weather Channel App is a good example of how to generate revenue from apps through sponsorship deals – the animated app background behind the temperature measurement is a sponsored advertisement.
To Contents ↑
Referral marketing
Referral marketing is a strategy for increasing revenue opportunities by promoting a third-party product or service. App publishers can promote or sell affiliates' products or services depending on the number of clicks or installs. Pop-up ads are a good option.
Publishers use various referral marketing models to grow their businesses.
Cost per acquisition or Cost per action (CPA): You can choose from a variety of affiliate networks to promote your free mobile app. It allows you to earn money by promoting other apps, advertising products with pop-ups, or promoting apps through an in-app store.
Cost per click (CPC): This revenue model is dependent on the number of clicks on a displayed ad. For this model, you can join successful networks like Adfonic or Google's AdMob. They provide both text and display options for advertisements.
Cost per view (CPV): This model works with the number of ad interactions or video views. In smartphones, they use video and interstitial ads to create natural breaks between game sessions.
Cost per install (CPI): It is a relatively new marketing strategy that is similar to CPA (cost per acquisition). Revenue is dependent on each install of the advertised app in your free app.
Chartboost and Playhaven are examples of platforms that offer such software to integrate into your app. The fee for this network varies between $0.80 and $3.00, and online affiliate networks offer various campaigns for generating global traffic while promoting other apps.
To Contents ↑
Collecting and selling data
Apps collect a lot of data from users, such as user behavior or other app usage. Free app publishers can make profits by selling their users' behavior data because many researchers in various fields want access to these user behavioral data. Such data may include users' email addresses, social media accounts, and personal preferences.
This model can be beneficial in two ways. You can either track users' interactions and sell the information to companies and researchers or use the raw data personally.
To Contents ↑
Freemium upsell
In freemium upsell, freemium apps are those available to download for free but contain paid features. It requires in-app purchases to access these premium features.
Users can download the app for free and upgrade to full functionality by purchasing if they like the content. This strategy can easily attract many new users because premium features are optional.
Additionally, custom iOS and Android app development services provide various options for creating free apps, which business owners are taking advantage of to generate revenue and attract customers.
Furthermore, education, health and sports applications widely use this strategy, allowing users to obtain premium features at a cost.
To Contents ↑
Transaction fees
The most effective way to monetize your apps on the app store. It's incredibly viable for apps that function as a platform for digital transactions. For example, you can charge transaction fees if your mobile app allows third parties to sell their products and online purchases are successful. Using this method, you can make money from your mobile apps without spending a lot.
Crowdfunding
Crowdfunding, which is relatively new in the industry, is another monetization method for free apps. In this method, startups and businesses post their ideas on crowdfunding platforms such as Kickstarter, Patreon, Crowd Supply, and Chuffed to generate funds for developing and promoting their app.
That means you can create an app for your non-profit or religious institution and organize fundraisers or a crowdfunding campaign for a purpose, allowing people across the world to contribute to your target.
Tips for choosing the best app monetization strategy
Know your app's purpose/feature
You must first determine your app type before deciding on any of the monetization options. What problem does your app solve, and how?
Subscription models are ideal for content and service apps, while single-purpose, gaming, and shopping apps are unlikely to benefit from this monetization method.
Analyze your competitors
Competitive analysis is not always limited to an app's features, functionalities, and design. You can quickly determine the monetization business model for your app by thoroughly analyzing similar competitors. Consider the following questions: How do your competitors make money? What are the benefits of their monetization models? Is there any loophole that you could exploit?
Know your target market
You must learn about your target audience to earn online revenue through app monetization strategies. After going over all of these ways to make money from free apps, you're almost ready to turn your concept into an app.
Developing an app is like creating a website: they demand resources and competent assistance. You can find freelance app developers to help you get started.
FAQ
How much revenue do apps generate?
The top 200 apps on the play Store earn an average of $82,500 per day. However, this decreases dramatically, with the average income in the top 800 apps falling to around $3,500.
What is the average revenue per ad for apps?
The average revenue per ad impression from banner ads in in-app advertising is just $0.10, interstitial ads make a little more at $1-$3, and longer video ads earn the most at $5-$10.
What is the revenue generated by free apps?
Around 70% of apps contain advertising that generates revenue based on the number of times a user sees something, clicks on it, or installs it. The famous 'Flappy Bird' app, for example, used this model and earned an average of $50k per day while topping the charts.
What is the average revenue per download for apps?
The average revenue per app download varies greatly, but it's usually between $0.60 and $1.20.
How much is the revenue generated by dating apps?
As you might expect, Tinder makes the most money, at $1,469 per minute or $88,143 per hour. Bumble is in second place, earning $172 per minute.
What is the revenue generated by Android apps?
Even though Android has the largest market share in the mobile industry (75.82% vs. 22.9% for iOS), iOS apps account for roughly two-thirds of app revenue. However, Android apps are expected to generate $45 billion in revenue by 2021.
Final thoughts
With so many ways to monetize apps, it's important to remember that each method has its own advantages and disadvantages. However, experimenting with these strategies and observing competitors is a good first step.
Now you know how much money you can make from an app, how to make money with a new app idea, and how to make money from free apps. So, consider the app structure and target audience before deciding on a monetization strategy when working with a reputable app development company.
Do you know how much you can earn with ads on your web, app, or social traffic? With Adsterra, you can generate revenue simply by placing an ad code. While offering competitive terms and high CPM rates, we safeguard against malware and are here to support you 24/7. Take Adsterra to a test drive.