Android APK files and apps have sharply spiked in popularity. So why not turn a profit from promoting those? No matter how valuable a digital product is, it will be buried in oblivion without quality promotion. This guide will help APK developers and owners build a dependable advertising strategy, while affiliate marketers will get clues on setting up successful CPA campaigns. If you're wondering how to advertise Android APK files or apps and getting paid highly, then jump in!
What's the difference between Android APK files and apps?
APK or Application Package Kit is, basically, a compilation that consists of an application's essential parts (including source code, icons, images, video, audio, etc.) bundled into a single lightweight file. This package distributes the app conveniently, without making anybody download, store, and install multiple files.

An application, in turn, is the mobile software that is, basically, the final product users get when they download and install it on the device. Many people find this difference pretty vague — "I get apps from the app marketplace, don't I? What's APK all about?" Apps and APKs serve similar goals. However, they differ by the concept.

A mobile application is a piece of software to install on any mobile OS, and an APK file can be installed only on Android-based devices. APKs are collections of many files wrapped together for installation or distribution purposes. In fact, when you install an app on Android, you use APK just as if you were unpacking the .EXE file to install a program on Windows.

So how to advertise Android APK files? You should announce your offer clearly and embrace all marketing channels and platforms that your potential customers use.
To Contents ↑
How to advertise Android APK and apps | Top ways for developers and advertisers
All apps you install from Google Play Store are served to your device via APK files. Thus, the most well-tried ways to advertise APKs are the same with apps. Let's take a look at them.
Deliver your APK ads to millions of users. Target by country, device, OS type, and OS version.
Publish on Play Store properly
How detailed yet concise is your app's description on the Play Store? What about the icon — is it attention-grabbing enough to excite a potential user? Advertising your app and its APK, start from the beginning — make sure the app's page on the Play Store looks complete, descriptive, and motivating. All in all, make sure that your app's Play Store page has the following:
Visuals
Visuals — a high-resolution icon, feature graphic, and app screenshots are the default elements you must upload to get your app published. Your main effort here should be choosing the screenshots and videos that demonstrate your product in the most favorable light while outlining specific features. Remember to check with official requirements and guidelines. The app's icon should match the product's purpose or simply stick in the memory.
Name and description
Spy on your competitors' pages and check which values the state. Make your description catchy yet focused on particular opportunities your product provides. Avoid placing tech advantages above material benefits users will get. Look for the top keywords used in your niche and try inserting one keyword in the product name and a couple more — in the description.

Play Store is a trustworthy source of inspiration. You will find diamond ideas there. Look at the headings, screenshots, key features highlighted in similar products.
Translations
Based on the target audience demographics you are focusing on, make sure to provide translations of your content in other required languages.
Rate your app
open Play Console, select your app, go to Store presence, and then to Content rating to fill out a questionnaire and get your app rated. Otherwise, your APK will be listed as Unrated, weakening your TA impact.
Publish on Play Store properly
It's great not to miss the opportunity to publish your APK on other well-known app resources. In particular, you can publish on the following sites:
These particular resources can become important sources of extra traffic and definitely boost your APK marketing strategy.
Design and launch a landing page
While having a neat and powerful Play Store page is good, leading users to a perfectly designed landing page can power your conversions fiercely. Indeed, a strong lander requires hours of work, but it helps you get the edge over your competitors. It's here where you can expose testimonials, provide extra proofs, use any sort of arguments to make users install the app.
What a powerful lander should include? Find some insights in this guide to creating landing pages.
Launch early public beta tests
Letting potential users check out and spot bugs in an incomplete application can give a great push of traffic from the early days of your APK's existence. In particular, this should do the trick and bring you a good number of installs from the first day of publishing. Not only that but the beta version users will also help point out any significant flaws and issues your app may be having.

Beta testing is a widespread and popular practice among software publishers of all kinds. And we don't see why you should miss out on this way to advertise Android APK files or apps.
Work on SEO research and promotion
SEO is crucial across all promotional sectors in any industry for any product. And proper search engine optimization goes for APKs and apps posted in the Play Store as well. To gather the most efficient keywords and phrases without diving into manual competitor research, you can use free tools like Google Ads keyword planner.

Alyternatively, ou can opt for paid services that help you gather more in-depth statistics from Play Market, Bing, Google, YouTube, and other targeted resources, which include:
Keywordtool.io – a tool that has a limited free version but it is enough to assess its capacity.
Keyword Keg – another helpful web service that offers a
Once a good base of solid keywords is gathered, you can start integrating them with your text descriptions for the ultimate SEO effect.
Set up an email newsletter
Email marketing remains among the top efficient advertising and promotion spaces. And it is among the best ways to advertise Android APK or apps, too. You can efficiently use email to your advantage for tackling the target audience of your application directly. Thus, an email manager like Mailchimp can be used to create, configure, and launch an automated newsletter directed at a specific database of addresses.
Highlight your app on Android-related forums
Make sure you highlight your application excitingly and regularly enough to raise some hype and gain some clout on social media. Apart from our favorite social networks, don't miss out on telling everybody what you have in store on a bunch of themed web resources. These can include forums and review websites, such as:
Use the Freemium model
Emphasizing that your application is entirely free of charge, you create an excellent motivation for a broad audience of users to try it. But you can go further and offer freemium opportunities, enabling users to enjoy all the basic features while taking extra payments for all the advanced stuff.

You just need to outline the free account limits. It will also be a great idea to offer a free trial of the full-feature solution to give users a taste of what they can buy. The main thing here is to focus heavily on customer success and regularly remind and motivate users to upgrade their free plans.
Promote app installs via Facebook Ads
Creating a Facebook Ads page, you get a specific app install promotion feature out-of-the-box, which allows targeting particular audiences of users, using numerous other targeting filters, and even using your email list. What's good here is that Facebook Ads will enable you to pick the campaign objective (app install), so your ads will be delivered to those users who are more likely to convert.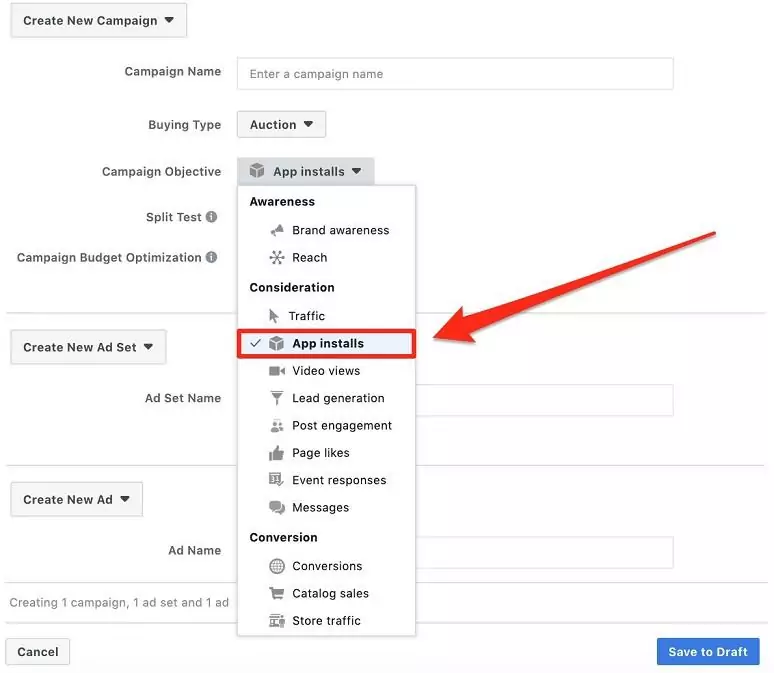 To Contents ↑
How to advertise Android APK offers if you're an affiliate marketer
Adsterra is a powerful advertising platform where you can promote APKs and Android apps with huge profits, like in this case study of making ROI 400% with a shopping app in Indonesia.
Many affiliates hunt highly paid offers on an affiliate network and rush to set up a campaign on Adsterra. But before you start buying traffic, some prep work wouldn't go amiss. So what's crucial to check?
Offer restrictions
Payouts promised may be too alluring, but if your advertiser requires complex conversions (e.g., paid subscription), ask yourself if you can provide enough conversions to make at least positive ROI in the end.

Next, pay attention to GEO restrictions. The cost of Tier-1 traffic (US, UK, CA) is higher compared to that of Tier-3. If there are limits to the number of conversions for the test period, the advertiser won't pay you for driving extra conversions within this timeframe.
You should also carefully examine any other extra checks and verifications, as they may affect your profits in the end.
To Contents ↑
Landing page
It's you who is responsible for conversions, but you can't do anything with a poorly designed landing page or a shallow ad copy on a Play Store. Thus, make sure the landing has the potential to convert users.

Another reason to check the target lander is to get some insights for your ad campaign. You will have to design a seamless flow between an ad creative and a landing page. Failing this, you will see excellent CTR (click-through-rates) but very few conversions.

Pre-warming users before they reach the landing is usually a winning strategy, especially when you feel that the final lander is not persuasive enough. You can always ask Adsterra managers to share leading pre-landers or look for those on AdPlexity.
To Contents ↑
Ad formats to advertise Android APK and apps
If you advertise Android APK or apps, you need to choose the most native formats. While Popunders are a universal traffic source for any ads, you should consider alternative ad formats.
Social Bar breaks boundaries in advertising, offering you both In-Page Push creatives and some powerful CTR-boosting templates. Over 20 pre-designed and ready-to-launch styles where you will need to add only icons and texts. Bulk tests of up to 15 creatives ensure you pick the most effective ones.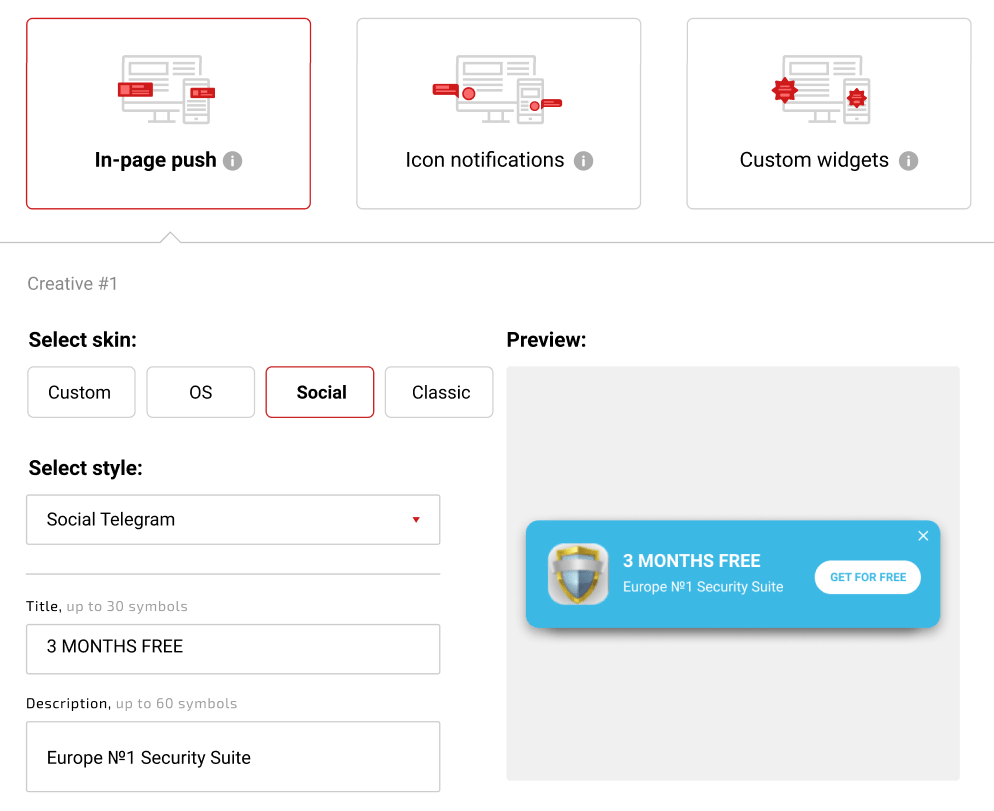 To Contents ↑
What you need to know when you advertise Android APK or apps with Adsterra
These were the basic prep work tips, and now we're moving to insights in buying traffic. How will you plan your Android APK advertising on Adsterra?
1. PRE-LAUNCH STAGE
First, you will need to register as an advertiser and hit Campaigns → Create from the hamburger menu. It's reasonable to put funds first, but you can submit a campaign for verification without topping up your account.
Conversion flow and pricing
Usually, you advertise Android APK / apps with a CPA (cost-per-action) pricing model. Why's that? When you pick an offer from your affiliate network, you read through requirements, and in most cases, you will have to drive simple conversions: installs, trials, sign-ups. These conversions come soon after you launch the campaign, so paying strictly for target actions, not for ad impressions (like you do with the CPM pricing) is reasonable. The CPC (cost-per-click) model also pays well, but when you're sure that the landing page is strong enough to convert users.

As a rule of thumb, you should pick the most affordable pricing model (CPM) for the most complicated conversions (like purchases or deposits). And vice versa, the CPA pricing model is more cost-effective for fast conversions.

To Contents ↑
Ad units
Popunder Ad Format is the friendliest one both for beginner and pro affiliates. You have access to tons of impressions (about 2BN weekly) that don't cost much. Adsterra offers you a beneficial tool — Traffic Chart — to check the number of impressions on your GEO and the recommended bid. You can buy traffic with CPM, CPC, and CPA pricing when launching on our Self-Service Platform.

Social Bar in-page push ads are super-native for promoting Android APK files. Traffic volumes are some 1,5BN weekly. You can choose between CPC or CPM models when on the Self-Service Platform.
To Contents ↑
Bidding and budget allocation
Typically, your bid, in the beginning, should not be much higher than the recommended ones. Intelligent algorithms inside Adsterra Traffic Estimator assess average bids and competitors' activities and advise you on the best starting bid.

Don't try to overbid from the start; you risk draining your budgets. Only after the campaign proves to engage users and convert well, it's reasonable to increase a bid to get more traffic.

If you don't feel confident advertising on unexplored traffic, use Daily Limits to avoid overspending.
To Contents ↑
Targeting
Even if you are skilled enough in advertising apps and APKs offers, we recommend you to target broad on a new traffic source to exclude over-optimization and traffic loss. So avoid using your black- and whitelists from the start. You can apply for those to Adsterra managers later 😉
Creatives
Remember to translate all your creatives to local languages, or add two versions — in English and the local language — to your A/B test. With Social Bar in-page push ads, choosing high-contrast icons or neat illustrations with no visual clutter is better. Choose the PNG format if possible. The preview mode will have a dark background, but on publishers' websites, everything will be ok.

Creatives should not mislead users. Otherwise, you will get high CTRs but poor conversions. When we say "misleading," we mean promising something users won't get (a bonus). Urging users might be an effective strategy if you're not too pushy in your messages.

For more insights, read the guide to making highly converting creatives shared by the Adsterra Head of CPA.
To Contents ↑
2. TIPS FOR RUNNING ANDROID APK CAMPAIGNS
As we've discussed, with the CPA pricing, your conversions will come soon after you launch the campaign. Keep an eye on your conversions, balancing them with CTRs. If the latter ones are great but users don't convert, you will need to think of adding a pre-lander. Check if you don't mislead users in creatives.
Remember to refresh your creatives and pre-landers. It's pretty often when you will not need to tweak the campaign settings but to add new visuals or messages.
Each new GEO you add requires a new ad campaign. Multi-geo campaigns blur the results making it hard to guess which traffic source you should exclude and which to send to a whitelist.
For CPA campaigns, conversion tracking is a must. So please add tracking tags required by Adsterra.
Example: "https://ads.com/in.php?placementid=##PLACEMENT_ID##&action=##SUB_ID_SHORT(action)##"
(here: ##PLACEMENT_ID## – puts a unique ID to each traffic source; ##SUB_ID_SHORT(action)## – tracks all conversions)
To Contents ↑
3. ANDROID APK CAMPAIGN OPTIMIZATION
Blacklisting and whitelisting are vital tactics in optimization. Affiliate pros recommend excluding all IPs from Amazon AliExpress and other giants when you work with Popunder ads.
As for traffic sources with top-level conversions, you need to place higher rates for them. Ask your manager how much you should add to your payout to get more traffic with no second-guessing.
While blacklists are pretty radical tools, Adsterra Custom Bid allows for selective bidding. You don't exclude traffic sources that send you fewer conversions and traffic, you pay them less, and vice versa – you increase bids for those sources that make you more profit.
Consider adding alternative traffic types. When you advertise mobile apps, add non-mainstream traffic that allows for showing explicit content. This audience is quite tech-savvy and uses various types of VPNs, utilities, and apps.
Communication with your manager should be your No1 priority. You will be surprised how many insights they can serve: average bids, pre-landers examples, tips on creatives, trends within each specific GEO
To Contents ↑
Wrapping up
Mobile traffic returns high revenues to affiliate marketers, and promoting Android APK and apps is an up-and-coming activity.

We hope this feature helps you elaborate on advertising Android APK or apps in the most efficient ways. Meanwhile, keep in mind that Adsterra can make your and your team's life much easier with lots of traffic perfectly matching Android APK offers.

Target with 20+ settings, get clues on bidding, request custom blacklists on GEOs, and stay on top with Adsterra 💪