On average, people spend about 3.25 hours on their phones daily. Mobile advertising has quickly become one of the most powerful marketing tools available to businesses today. So, what top mobile marketing trends should you look out for? Why are they important?
The following piece covers the challenges of the upcoming future of mobile advertising trends and gives you tips on how to step ahead of the competition.
Why is mobile not only about in-app traffic?
Customers' preferences for how they want to access products or services are changing in today's market. Having a mobile-optimized website and ensuring your emails are mobile-friendly isn't nearly enough. People are buying and learning online through their mobile phones more than ever.
Mobile devices account for more than half of all web traffic. Since 2015, the number of users accessing the internet via mobile devices has increased by more than 25%.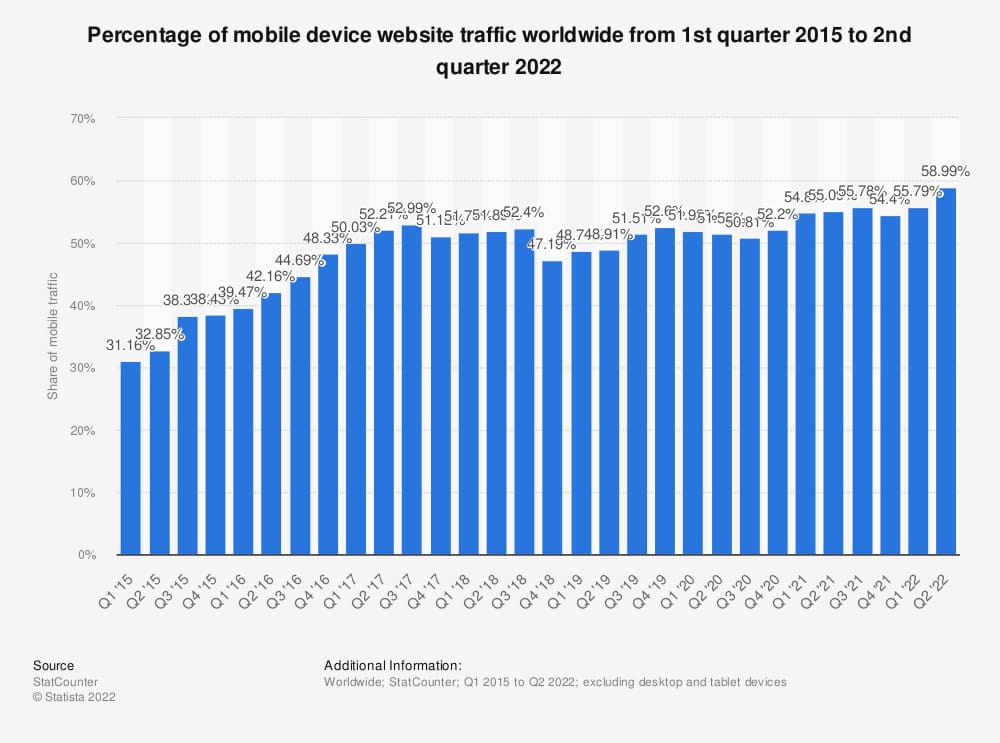 Digital marketing trends keep shifting. 90% of mobile time is spent in apps, and only 10% is used browsing the internet. While in-app traffic is a huge part of the mobile landscape, it's not the only thing that matters.
There are other ways to reach your target audience on mobile, e.g., mobile websites, blogging platforms, etc. They all have their advantages and unique benefits. For example, SMS marketing is still one of the most effective ways to reach customers. It's personal, direct, and has a high open rate and response rate.
Another great way to reach your audience is through Push Ads. They're immediate, attention-grabbing, and can help you drive more sales and engagement. Just like in-app notifications, In-Page Push ads boost your CTRs on mobile websites.
Want to try In-Page Push advertising for getting more conversions? Adsterra sends you over 2B ad views weekly!
To Contents ↑
Key mobile advertising trends you should know
The future of mobile advertising is unpredictable, with several trends always cropping up. Nevertheless, here are some trends you should know.
1. Mobile-first and user-first display ads
This mobile ad trend is popular among businesses looking to target individuals with mobile devices. Such ad formats take into account user behavior and navigation patterns. They should be native, not too salesy or pushy, but attractive and engaging.
When advertising a dating app or website, you should keep in mind these factors and choose flexible ad formats like In-Page Push or Social Bar.
You can improve conversions by using Adsterra Social Bar templates. This is the most advanced offer on the market, serving over 20+ template creatives that can meet any customer behavior pattern.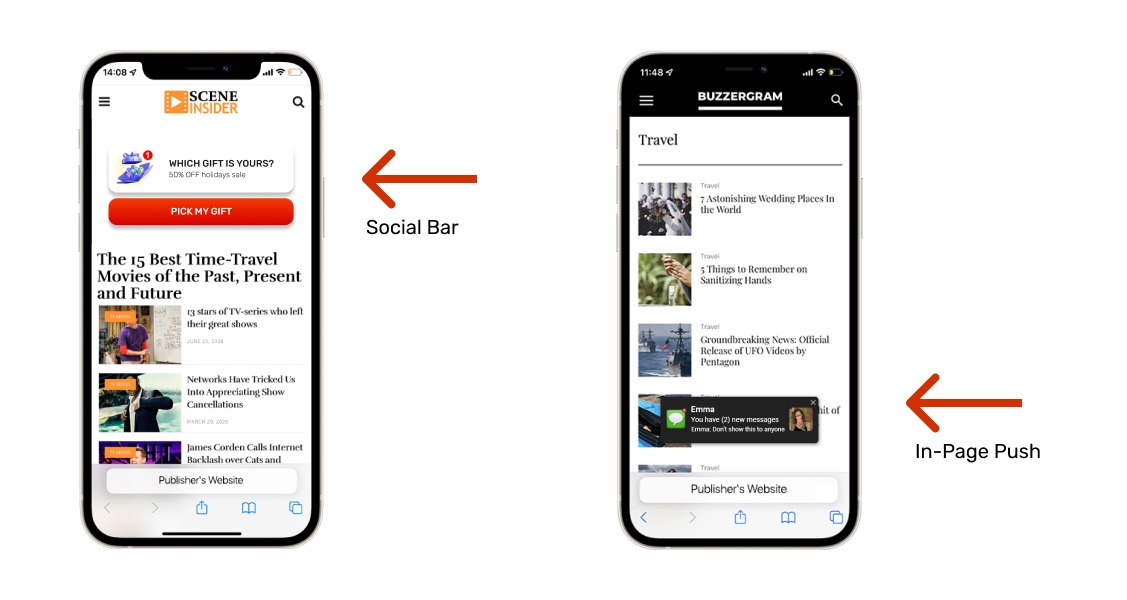 To Contents ↑
2. Rich multimedia effects in mobile ads
Rich multimedia is a type of ad that uses video, audio, and interactive elements to create a more engaging experience for the user. It's designed to capture attention and hold it for longer periods of time.
When it comes to mobile ads, incorporating rich multimedia can be the key to boosting their effectiveness. Most users browse on their smartphones or tablets when they see an ad. So it's crucial to capitalize on the smaller screen size by using multimedia to draw their attention.
The multimedia needs to be relevant to the ad and the target audience. If you're targeting luxury shoppers, for example, incorporating images or videos of high-end products will be more effective than using generic stock footage.
The ads should be short and sweet. Users are more likely to watch a short video or listen to a quick audio clip.
To Contents ↑
3. Gamification to become mainstream
Gamification is a mobile ad trend that uses game elements to engage users and encourage them to take specific actions. Games provide an engaging way for users to interact with a product or service.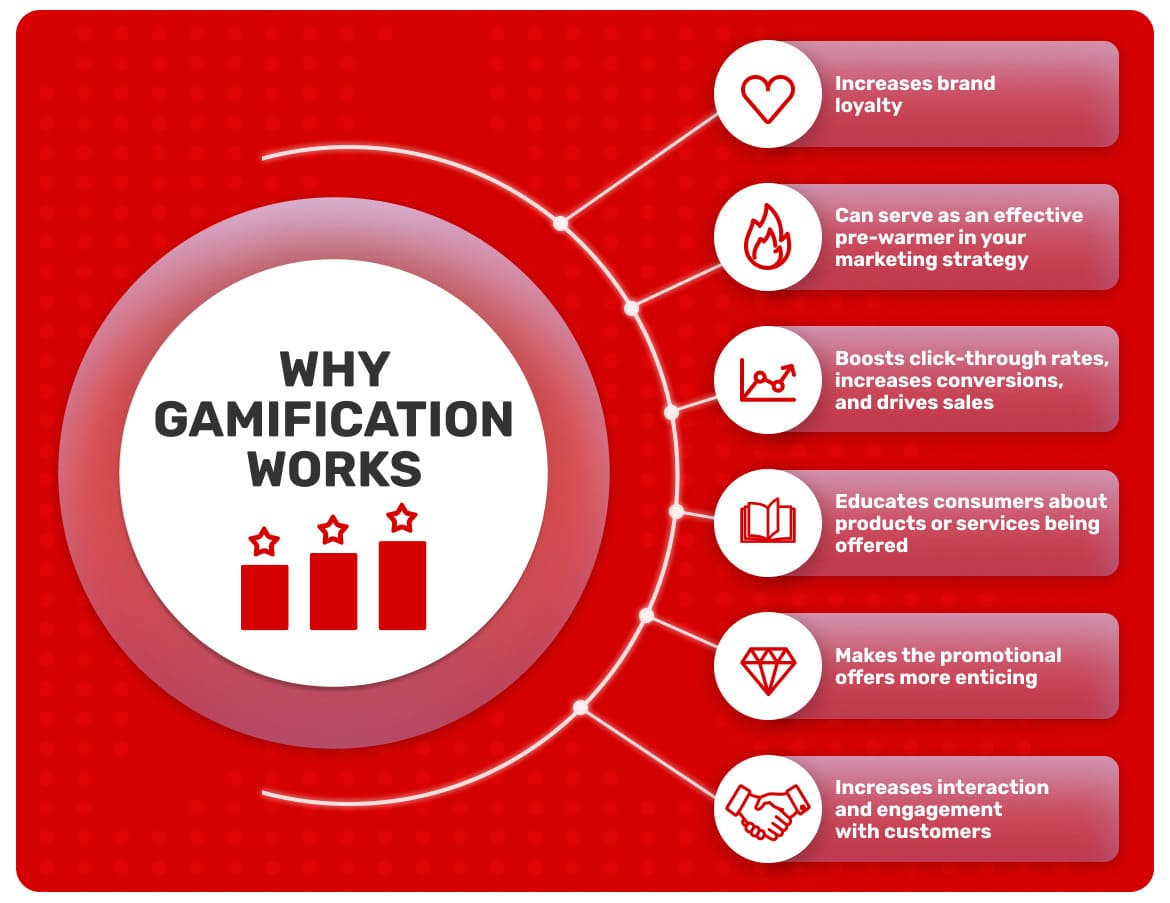 It can be used differently in mobile advertising. For example, you can offer a reward for engaging with the ad. This could be in the form of points, virtual currency, or some other reward from the app or game being advertised.
Another way to use gamification is to make the ad itself into a game. This can be done by adding challenges or tasks that need to be completed to get the reward. Or, the ad could simply be a game the user can play for a set amount of time.
If you are looking for more information about gamification in Sports and iGaming, dive in our article:
To Contents ↑
4. M-commerce is the new normal
M-commerce, or mobile commerce, is an advertising trend involving buying and selling products through a mobile device. According to Insider Intelligence, m-commerce volume will hit 42.9% of e-commerce in 2024. Mobile devices offer more convenience and accessibility than traditional shopping methods.
Mobile commerce also allows you to reach customers who cannot visit a physical store. Also, mobile payments are becoming increasingly popular among users, making it easier to accept payments from customers.
To Contents ↑
5. Visual search growth
Visual search allows users to quickly and easily find the items they want. Mobile visual search technology provides valuable data about customer interests, enabling them to refine their marketing strategy. According to Business 2 Community, over 36% of online shoppers used visual search in 2021. It also helps engage customers by delivering more personalized content tailored to serve the customers' needs.
You can also mix it with voice search optimization to enable your customers to find the products they want through it.
To Contents ↑
6. More shoppable posts on social media
Shoppable posts are among the new mobile marketing trends that make it easier for businesses to reach their target audience. 76% of individuals buy items they have seen on social media. They allow mobile users to shop directly from the platform, providing businesses with valuable data about their customer interests.
Mobile shoppable posts also offer an engaging way for users to learn more about a product or service before making a purchase.
To Contents ↑
7. Augmented reality shopping
Recent trends in mobile marketing have shown that augmented reality (AR) is becoming increasingly popular among mobile users. The market value stands at over $1 billion in 2022, and it will rise to over $9 billion by 2027. This is so because AR provides a more engaging way to interact with content.
Mobile AR offers your customers an enhanced experience, such as virtual try-on or interactive tours. It also provides valuable data about user engagement, which can be used to refine marketing strategies in m-commerce.
To Contents ↑
8. Mobile app integration for a better in-store experience
Mobile app integration allows you to create a more personalized customer experience. Rather than going to the store, people research products online with their mobile devices. You can offer custom features and services, such as product recommendations or wish lists.
As a result, you end up improving the in-store experience. According to a 2021 survey by Airship, 47% of respondents said they are likely to do 3/4 or more of their holiday shopping using smartphones. Additionally, it provides businesses with valuable data about customer engagement and can be used to refine their marketing strategy.
To Contents ↑
9. More data-heavy mobile experiences
Data-heavy mobile experiences help to gather more information about their customers. It's among the mobile phone marketing trends that offer users personalized content tailored to their interests, enabling businesses to better connect with their customers.
Furthermore, data-heavy mobile experiences allow brands to collect valuable insights about their users and to customize the user experience in the future. For example, this can tell where to place ads.
10. Live video content
Videos are a top marketing trend allowing brands to engage with their audiences in real time. Market Research Future says the global live-streaming market is projected to reach $534.37 billion.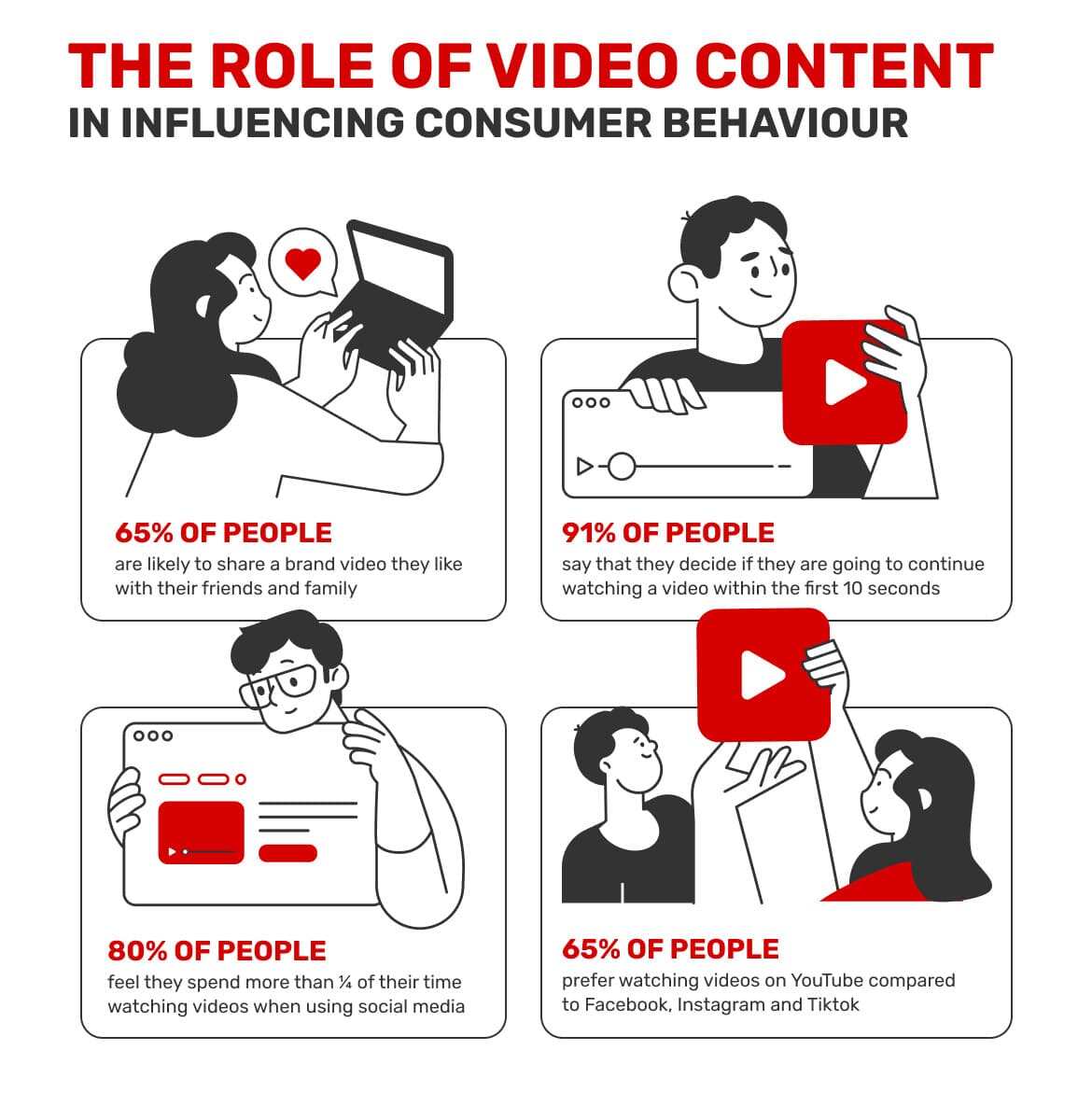 For businesses, you can host live webinars with your clients and leads and talk to them about product launches, outdoor activities, and CSR. Videos make it easy to showcase your business and help clients resonate with your brand.
Mobile live streaming helps businesses create a more personal connection with their customers, allowing them to provide up-to-date information about their products or services. It also provides businesses with valuable data about consumer engagement.
To Contents ↑
11. User-generated content
User-generated content (UGC) comes in different forms like blog posts, social media content, testimonials, reviews, surveys, case studies, videos, audios, mobile clips and more. It's an authentic and trustworthy form of content compared to brand-pushed marketing content.
UGC helps you include users in your brand journey. Once you understand what the users want and need you can satisfy their needs. 61% of marketers have included more user-generated content in their marketing in 2022.
Mobile UGC allows you to leverage your customers' experiences and provide an authentic view of the product or service. It also helps you create more with your customers and improve customer experience.
To Contents ↑
12. Mobile games as social networks
In 2021, mobile game consumer spending was worth $116.01 billion. More people are becoming interested in mobile gaming. It's an avenue where people connect and form social networks. Games provide an engaging way to connect and interact with others, building a strong community of loyal followers.
13. Chatbots
Chatbots are an effective mobile strategy as it involves 24/7 customer support. Mobile chatbots can help customers quickly and easily find the answers to their questions, providing them with a better experience. They also offer businesses valuable data about user interactions.
14. 5G optimization
5G optimization allows customers to get faster, more personalized interactions with different brands. According to GSMA, 5G coverage went up from 5% in 2019 to 17% in 2020. The 5G optimization allows 5G networks and reduces internet load times as they facilitate higher speeds.
When 5G combines with edge computing, it will solidify location-based marketing. For instance, when a user is near a supermarket, they will get notified of the latest offers through push up notifications. This allows a personalized shopping experience.
To Contents ↑
15. Messaging apps for businesses
Over 70% of surveyed global working professionals use chat apps and messenger for work. Messaging apps provide a convenient way for customers to communicate with the company. They offer valuable data about customer engagement and can be used to refine its marketing strategy.
You can sign up for various messaging platforms such as WhatsApp for Business, Facebook, and Telegram. These platforms enable you to receive instant inquiries from customers at your fingertips.
It is a great tool for businesses to create a more personalized customer experience and build a strong community of loyal followers.
To Contents ↑
16. Omnichannel/bump offers
Omnichannel, or bump, is popular in businesses that want to increase customer engagement and loyalty through mobile devices. It involves offering special discounts or rewards to customers based on their in-store and online activity.
77% of strong omnichannel companies store customer data across different channels on desktop and mobile devices. It helps create a more personalized customer experience and build strong relationships with clients.
To Contents ↑
17. Native advertising
Native advertising is another mobile marketing trend. This marketing strategy serves ads tailored to the interests of their users, enabling them to deliver more personalized experiences.
47% of marketers are confident about how effective native advertising is. It helps businesses create a more effective and efficient way of reaching their target audience.
To Contents ↑
18. Location-based advertising
84% of digital marketers already use location-based advertising in their marketing campaigns. This mobile advertising trend enables businesses to target potential customers based on their current physical location. Moreover, it allows brands to improve their ROI by only showing content to consumers who are likely to be interested in their products and services.
To Contents ↑
19. Mobile ad networks
Mobile ad networks are platforms that allow advertisers to reach mobile users through targeted campaigns. They offer the ability to create targeted campaigns based on various criteria and metrics. Mobile ad networks are essential for advertisers to reach their desired audiences with the right message and maximize their return on investment.
If you are an advertiser and want to reach a larger audience, join Adsterra.
To Contents ↑
Mobile advertising thought leaders
Mobile advertising is changing rapidly, and experts' thoughts are helping to inform businesses on how to best leverage the latest technologies for success. These leaders lead the way in this rapidly evolving industry, assisting businesses to discover new opportunities and remain competitive in a fast-paced market.
1. Rudy Galfi, product manager at Google
Rudi Galfi, a product manager, has experience working with mobile advertising. His expertise has been invaluable in helping businesses in the industry maximize their return on investment. Galfi is a frequent speaker at mobile advertising conferences, and his insights are highly sought-after by leading companies.
2. Andrew Graff, CEO at Allen & Gerritsen
Andrew has worked with the world's biggest brands to optimize their campaigns for maximum impact, and his knowledge of mobile technology and marketing trends is unparalleled. Graff has been featured in major publications, and his advice is sought by many companies looking to stay ahead of the curve.
3. David Stern, author and professional speaker at Are You for Real
David has been a leader in this space for over twenty years. His research into mobile advertising strategies and best practices has helped countless businesses reach their goals faster and more efficiently.
Stern has also been an early adopter of emerging mobile advertising technologies, and his insights have been invaluable for companies looking to stay ahead of the competition.
Mobile ad trends FAQ
Here are some of the mobile ad trends frequently asked questions.
1. What is the CTR of mobile advertising?
Click through rate for mobile advertising is the number of clicks the ad gets divided by impressions (how many times the ad is shown).

Mobile advertising CTRs can range from as low as 0.1% to over 20%, depending on the ad's content. Social Bar ads can return CTRs up to 30%.
To Contents ↑
2. Is it true that mobile marketing is the killer of display advertising?
No, it is not true. Mobile marketing and display advertising are both valuable tools in the marketing world and can work together to create a successful campaign. Both of these tools have their own benefits and can be used to target different audiences, so neither one is a clear "killer" of the other.
There is no better way to meet your KPIs and your return on investment than joining Adsettra.
To Contents ↑
3. Is it worth focusing only on mobile traffic?
Higher mobile traffic makes social media marketing easier, leads to higher google rankings and helps you reach users easily. It is so because most people carry their phones everywhere and have a personal attachment to their phones. Also, younger people use their smartphones more than desktops.
Depending on your target audience, you may use only mobile traffic. However, it's more suggested to diversify on other devices such as computers and tv to reach a higher audience.
4. What will happen to Popunder advertising?
Popunder advertising appears behind the active window in a mobile or desktop device. It will continue being effective in 2023 as it is more delicate and less intrusive.
Popunders have higher click-through rates than traditional display ads and are more likely to convert into sales. Furthermore, they are also more effective on mobile devices than traditional display ads, due to the more streamlined user experience.
To Contents ↑
Conclusion
By leveraging the latest strategies and technologies, companies can maximize their mobile advertising efforts, reach their desired audiences and increase their ROI. As the industry continues to grow over the next few years, the mobile marketing trends discussed in this article will become even more critical, so keep an eye on high-quality mobile traffic with Adsterra!