Mobile advertising trends are aligned with customer behavior patterns, user experience, and user interfaces. Did it help you to understand those trends deeper? Hardly! That's why you're here. In this introduction to mobile marketing vitals for 2022, we share some core aspects of promoting products and services to smartphone users. We'll cover the main user models of interaction inside mobile devices, making clear how to catch their attention and engage in buying more. But first, let's talk about when and why.
Why mobile is the future of advertising and marketing
Customers' preferences for how they want to access products or services are changing in today's market: they're no longer visiting websites via computers. Having a mobile-optimized website and making sure your emails are mobile-friendly isn't nearly enough.
Mobile devices account for more than half of all web traffic. Since the beginning of 2015, the number of users accessing the internet via their mobile devices has increased by more than 20%.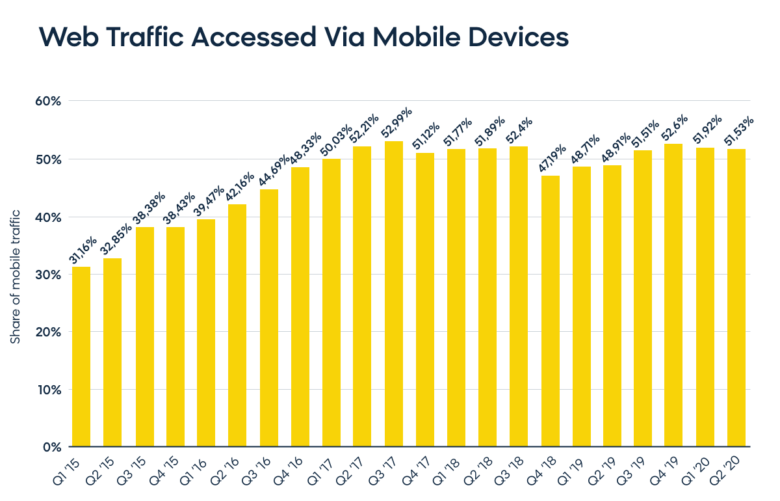 As smartphones and tablets become more affordable worldwide, this number will only rise. According to the Ericsson Mobility Report, which provides industry-leading projections and trend analysis in the mobile industry, mobile devices will account for roughly 75% of web traffic by 2025.
If Ericsson's prediction comes true, mobile web traffic will have increased by nearly 45% in ten years. That means that any business with an online presence should start focusing on mobile advertising right away.
To Contents ↑
How big is mobile advertising and why should you care?
Views of mobile ads are clearly increasing as more people use smartphones year after year. For businesses, investing in mobile advertising increases sales and revenue.
But how big is the mobile advertising market? According to the most recent data, mobile ad spending in the United States alone is expected to reach $137.13 billion in 2022, surpassing $100 billion for the first time in 2021. This includes display ads to email, lead generation, and mobile search on smartphones and tablets.
This represents a massive 16.86% increase in mobile ad spending year over year, down from 2021's 22.15% growth rate.
To Contents ↑
Which mobile user pattern should advertisers take into account in 2022
Mobile advertising is not always about using only progressive new means of promoting products. Advertisers should reassess some well-known promotional techniques that gather pace in the mobile-driven world. Let's focus on the most vital ones and see how you can adapt them to your advertising strategy.
Social streaming and live messaging
Social video streaming became mainstream in 2020, so there is nothing special here. But here's how advertisers can harness this trend to make users convert:
On social media platforms:
User-generated video content (you ask your customers to live stream reviews or the "unpacking" process of a product).
In-app ads (paid Instagram stories and Reels, TikTok ads, and more).
Branded commercials (the most expensive means, it now also demands decent creativity).
When using a display ad network:
Pick ad formats that imitate social streaming.
Choose engaging, informal copy over standard marketing formulas.
Use at least 4-5 different creatives to convert users.
Even a simple icon that inherits social media patterns can engage users. Like in this Social Bar template, we picked only the photo while Adsterra added the animation.
Most users can't ignore live messages. Why not use them to wrap up your ads? Here again, we used one of 20 Social Bar templates. The Live Message skin fits eCommerce, Dating, Apps and Software, Sweeps, and many other verticals.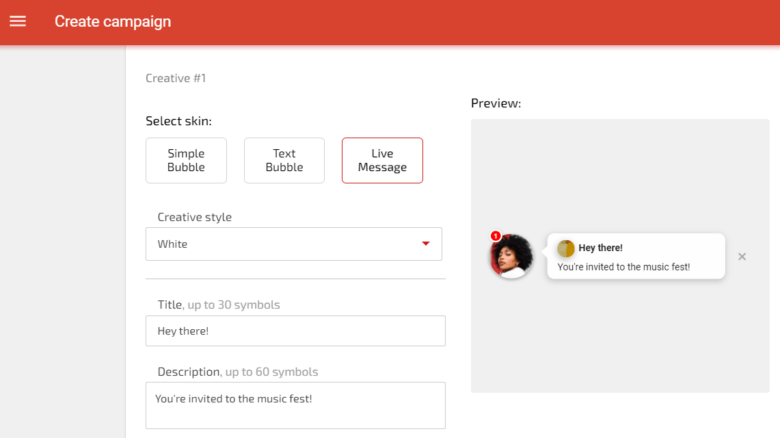 To Contents ↑
Native ad content
What is "native?" Speaking of ads, it's something that does not appear salesy, irritating, or too commercial. Advertisers can use native ads to deliver creatives that blend in with the publisher's content naturally. With minimal disruption to the user experience, mobile native ads match the website's form, function, and style. Since their relevance and personalization, well-targeted native ads behave consistently and generate more audience engagement.
Advertisers should refuse high-pressure, bold approaches to promoting products and focus on those ad formats that can fit the content. Which ones?
Native banners are the future of mobile advertising in terms of mobile blogs and multi-page websites. They perfectly fit a web page, staying noticeable but not annoying. Native banners are click boosters, but they also pump up conversions as users don't think of them as commercials.
Widgets, icons, and chat heads: these all are the imitation of mobile experiences. Advertisers should look for ways to stitch their messages to the smartphones' screens natively.
Mobile Interstitials don't seem to be native at all, but still, they're massively used as they fit screens and can be easily closed.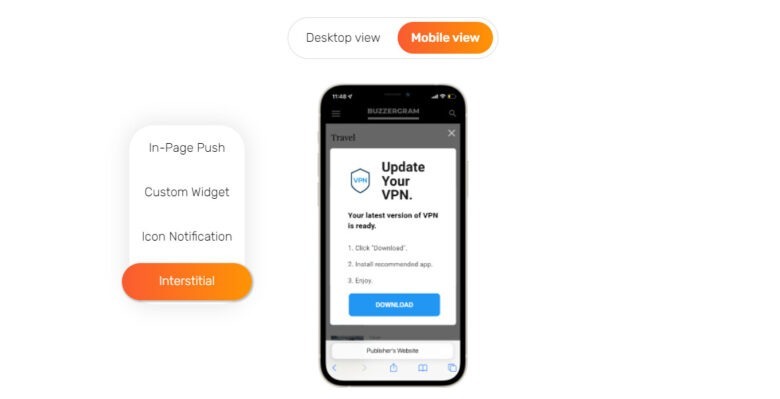 Adsterra recommends experimenting with different options, analyzing the results, and drawing conclusions to determine which native mobile ad format is best for you.
To Contents ↑
Personalization in content and settings
Living in a world of messaging apps and private chats, users don't want to see a dull banner stating "Best dating platform in the US" or get yet another push notification in English when they're in a non-English-speaking country. Every smartphone has GPS, allowing advertisers to send hyper-local content to customers using GPS location data from smartphones and mobile devices (tablets, smartwatches).
First off, advertisers should use user-oriented copy speaking the language of benefits, pain points, and problem-solving. For example, when addressing users during the covid times, they can "Flirt with girls from %CITY% staying at home."
The second is making mobile ads as personal as possible by using geolocation. Any Adsterra advertiser can create a campaign and target users by browser language. You can show ads in the audience's language, even if they have a different geo-location. For example, you can show ads in French for French people living in the US.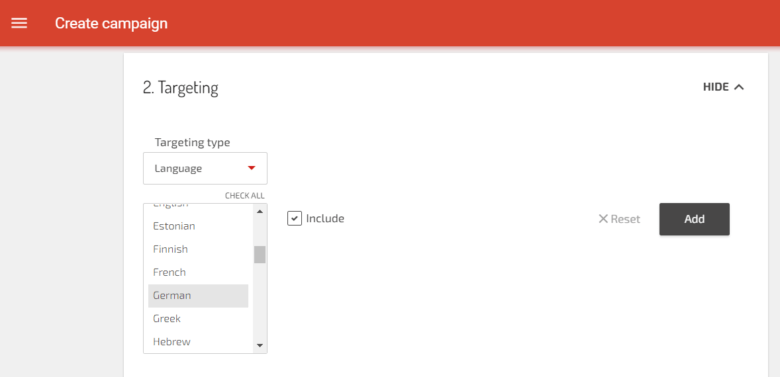 The third is the appearance of your offer. Mobile users will be more likely to believe a dating ad that looks like a message from a close friend rather than a large promo picture with the CLICK HERE CTA button.
To Contents ↑
Gamification
This might be the most apparent mobile advertising trend to follow in 2022. With the gaming industry evolving, other markets mimic its engagement techniques. If you're promoting a product inside a video game, you should immerse the user into your ad without interrupting their gaming process.
Speaking of non-in-app advertising methods — like when you advertise via display ad networks — we advise using rich-media formats that allow for trivia gamification. Upload a short movie trailer to tease users, launch a YES/NO game, or simply offer users to choose the best option. All those scenarios require ad customization; so it's better to ensure your ad network supports rich-media formats.
Here are a couple of fully customized Social Bar ads that Adsterra designers created for our partners. They all involve interaction, prompting users to finish their journey on a landing page.
To Contents ↑
Advertising in apps and games
Smartphone users are now spending more time on mobile apps than ever before. By the end of 2022, the total number of mobile app downloads will be 258 billion, up 45% from five years ago. Revenues from mobile apps are expected to reach $935,2 billion by 2023.
These downloads aren't just for social media apps like Facebook and Instagram, WhatsApp, or Snapchat. Mobile games will be among the most popular app categories.
In-game ads in the form of banners or short commercials can be easily integrated into the gameplay. Native, rewarded, and playable ads are the most popular in-game creative formats, while static banners are more prevalent in dating and social apps.
To Contents ↑
Interactive videos
Playable ads are the future of mobile game advertising because 46% of leading app developers prefer them for monetization. These ads last from 15 seconds to one minute and serve as a game demo. Users can try out the new gameplay, test it, and engage with it using this ad unit. After a brief demonstration, users can click the call-to-action button to download the full game. Playable ads have incredibly high conversion rates, eCPMs, and engagement rates.
Rewarded mobile ads
Marketers are also becoming more interested in full-screen immersive mobile ad formats. In these ads, viewers can flip and scroll through various media creatives, including text, images, videos, and other content. Immersive ads load quickly and are optimized for mobile devices.
Choose interactive mobile ad formats that provide a full-screen user experience with clicks, swipes, and enlargement. Make sure you provide real value to users with rewarded ads: game progress, free in-game items, functionality, etc.
Mobile ad networks
When choosing a mobile ad network, you need to consider the presence of ad formats that look native on mobile devices and the UX of these formats. Mobile ad networks are not necessarily those that offer in-app advertising. The main thing is that their ad settings consider the same points we examined above.
Here are some tips on choosing a display advertising network:
Ad formats adapt to mobile phone screens.
There's a lot of mobile traffic in the network. In Adsterra, you can immediately estimate these volumes using the smart tools Traffic Chart and Traffic Estimator.
Option to target by device type and OS is available.
Their ad templates consider mobile user patterns.
They offer the ability to customize ad creatives.
To Contents ↑
Conclusion
The future of mobile advertising remains bright as people actively cling to mobile technologies. Users are unlikely to drastically alter their online behavior, which provides advertisers with excellent advertising opportunities. With more businesses trying out native, video, playable, and immersive ad formats, there's no doubt that native advertising will handle mobile advertising well into 2026.
Audience mobility is mostly a model for how people consume content. Think about how modern users communicate: surprise them, gamify your ads, and use native formats with a good user experience. You can always use Adsterra to test them.