TV series are things we all love and fall for. Unless we have to advertise them while running our next affiliate campaign. Doubts dismissed! Today we are going to dig into a Mobile Subscriptions case study where one of Adsterra's partners defines how to set up and optimize a perfect popunder campaign for TV series on mobile traffic. The offer contains some restrictions like targeting by one specific mobile carrier, but we will turn them into advantages. And, finally, the reward will be ours. 6 days of driving mobile traffic to the offer with a $5 payout for subscription resulted in $346 profit. And that was only the first try!
Core data for Mobile Carrier Subscriptions case study
Traffic type: Popunder by Adsterra.com
Affiliate network: Adsterra CPA Affiliate Network
Offer: Mainstream Mobile Subscription
Time period: January – February (7 days)
GEO: ZA
Spent: $583.5
Income: $930

Profit: $346.5

ROI: 59.38%
Choosing the affiliate network
Hello everyone! 
Today we're testing a new affiliate network from Adsterra! They promise us increased payments, reliable offers, etc.
Well, let's try to do some work with the offer and see how well it goes.
Let's get started!
Choosing an offer, GEO and traffic source
Okay, this time I decided to take a pretty simple type of offer — mobile subscriptions. TV series are hugely popular in South Africa, so these types of offers with TV series subscriptions are not uncommon. In my opinion, these are the easiest to work with and the most predictable campaigns.

We have the following restrictions: 
Carrier: Vodacom. No incent, No fraud, No bot, No adult.
Conversion type: CPA.
Vertical: Non adult
Device format: Mobile
OS type: Android, iOS
Payment for each confirmed subscription — $5
A screenshot of the final landing: 
Strategy
Some time ago I already dealt with subscriptions in South Africa and I know that Adsterra has a lot of traffic. At that time I was steadily getting my money and conversions, so there are no worries. 
After talking to my manager I decided to set the payout at $5 for every 1000 impressions. This would be the best payout to get enough traffic. 
Keep in mind that Adsterra has a feature that allows you to predict how much traffic you are getting when creating a campaign. You can always know in advance how much traffic you are going to get so you can calculate your budget in more detail.
Creatives
Since we are working with popunder, it is important to choose the right preland, which will filter out the bots and unnecessary traffic that we do not need. 
Do not forget to take into account all those requirements, which are written in the offer, otherwise you risk to earn nothing. 
In case of ZA subscriptions it's quite simple and no prelands are required, the subscriptions go well without them. Especially if you have a blacklist at hand, which you got from running a test campaign.
But still, if you're launching on your own, I suggest you put a preland to avoid problems. 
Here's an example of a preland you can use: Prelands that show that you have to download an app, register, etc. to continue watching the video are perfect. 
Of course, it's important to keep in mind that this is a questionable creative, which may not be approved by the affiliate and conversions won't count. That's why I once again remind you of the importance of looking at all the conditions of the offer in advance and only then taking it to work.
If you want to increase the convertibility of your offer — you can always make a preland with content that awaits the user on the page. In our case — it's a TV series. Take some frames from the series, or a similar movie, shove it all into a GIF image and it will do wonders on ZA.
Don't forget that when you buy a domain, you have to choose a domain name which will represent the essence of the offer. No numerical values in the URL, please, or it will negatively affect the convertibility.
Let's proceed with the construction of our notification. Initially, I took images that can be associated with the preland, otherwise confusion may arise and the user will close the page without seeing the desired utility. Here are the examples of my creatives:
Optimization
Stage 1 (Custom Bids on Placements)
Always use various features and a broad toolset that the platform provides! Here, I'm talking about an improved version of whitelist that allows you to put increased bid on the most successful placements. Great for saving money and earning some more!
Step 2 (Disabling preland)
If you notice that most of your traffic is pure and there are no bots present — you can safely disable your preland and just use landing. You are free to do that with subscriptions — conversion rates will not suffer much from this action, but you can not return the unreached leads.
Post-optimization
So, all in all we have: Android and iOS targeting, mainstream traffic, mobile devices, carrier — Vodacom.
Screenshot of the final settings: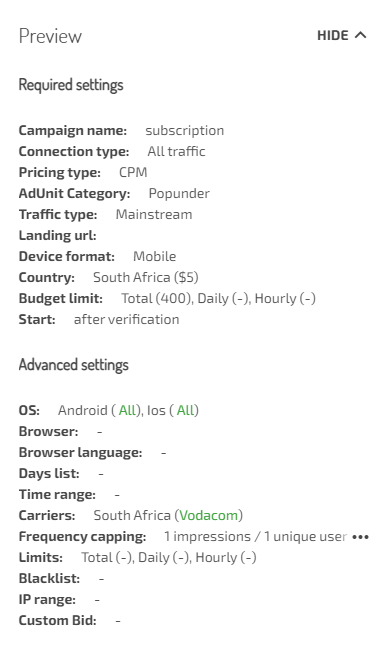 Screenshot of the Adsterra stats:
Total spent at Adsterra on all days:  $583.5.

Screenshot from Adsterra CPA affiliate network:
Total income: $930.
Profit: $930 – $583.5 = $346.5.
ROI 59.38%.

Conclusion
As you can see, subscriptions in South Africa still work. Be sure to try it, the combination is alive, working and making money. 
Additionally, I would like to note that I really liked the new affiliate from Adsterra. Manager is very responsive and resolved all of my questions and difficulties that I had at first. 
I highly recommend it!
Will you go for your own Mobile Subscriptions case study? Or, you feel you're more skilled in running Finance and Utility offers? Whatever it will be, rely on Adsterra traffic. With over 18K publishers on board, we deliver top CTRs on all GEOs. Our experts are online to advise on how to target to save funds and win maximum conversions.