Let's start with a little excuse for this "Adsterra earning trick" clickbait headline. Many YouTubers use it to share exciting tips for making big bucks with our ad network. Some, on the contrary, use it to spill black hat techniques, which don't actually work cause we ban all such activities. We at Adsterra don't support any of the shady methods and can prove you can earn a lot working honestly.

Today's case study will be more about such inspiration, not about a step-by-step tactic. Kishwar Shahzad, a hard-working webmaster, agreed to contribute to our blog and tell his story of doing business with Adsterra.
---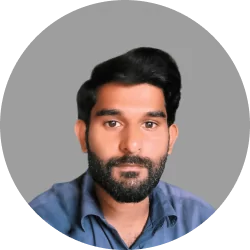 Kishwar Shahzad, blogger and webmaster
---
Hello,

I'm Kishwar Shahzad, and I've been into making money online for 4 years already. Not so long ago, I got to know Adsterra, which has become my passive income source. I will tell you about my strategies and Adsterra earning tricks now.
Two things you need for ad monetization
All beginners are wondering what they must do to start making profits. There will be a shortcut to huge incomes from the start, you know. But you can make your job easier. Here is what I can advise.
1. Don't focus on website traffic only
I think many newbies make one fatal mistake. They read about this or that way of earning and rush to try it out without thinking of their resources. Sometimes, you don't have to move from zero, and you can use the assets you have. For me, such assets were my skills in managing social traffic. I run Facebook and Twitter blogs about finance. They're now my main channels of getting money. I will tell you how a bit later.
2. Try eCPM
We all are looking for well-known CPM advertising networks, and that's ok, but I also recommend you try those networks with eCPM. What do I mean by this? You will get paid higher when users click on ads or buy something from ads. These actions have a bigger price if you compare them to impressions.

Adsterra has one of the best eCPM rates on the market, it sent me $2,000 monthly revenue recently. I must warn you that eCPM depends on what users do. Like CPM, it may change a lot. One day you earn $800, the next $4, and the day after $1,000.
Social traffic and ad monetization
I've been talking about social traffic above. The two blogs I run on Twitter and on Facebook are about finance topics. I did a keyword research to find less competitive phrases, because if you start from zero and target high-competitive keywords, big bloggers will eat all traffic.

I post every day. What I do first is check what's trending today in my main geos, the US, Canada, the UK, and Australia. Why these countries? These are so-called Tier-1 countries with the best-paid traffic. It means, if you send this traffic, your CPMs and eCPMs are usually among the highest.

Here is one great tip: use Twitter Advanced Search. It will help you a lot in trend research.

My blog posts are based on this formula: an exciting headline and a short intro that spices up the interest. I never tell the story in my posts. I promise some sensation or some scandal, or even some shocking news. Why? To make users click. And when they click, they land on a middle web page where I placed Direct Links! And here is my Adsterra earning trick in three simple steps.
Adsterra earning trick with Direct Link
To put it simply, you will need the following:
A piece of news that generates many clicks,
One web page to lead all those who click on your news. Here you will tell the whole news and trending sensations you promised to show on your social media blog.
And finally, you need Adsterra Direct Link on this web page and a very catchy headline or picture to make users click.
It will not work if you create a blank page. Think of pleasing users with catchy content. This is easier than it may seem.

Now let me tell you about how to get Direct Links. They are nothing but simple links, and you will be able to add them to text pieces or pictures. Adsterra has a complete guide to making profits from these advertisements.
1. Create a Publisher's account. You will have to enter and confirm your email. So don't forget about it.
2. Here is the Publisher's account. You need to click the Direct Links on the vertical menu. Then click the CREATE DIRECT LINK button.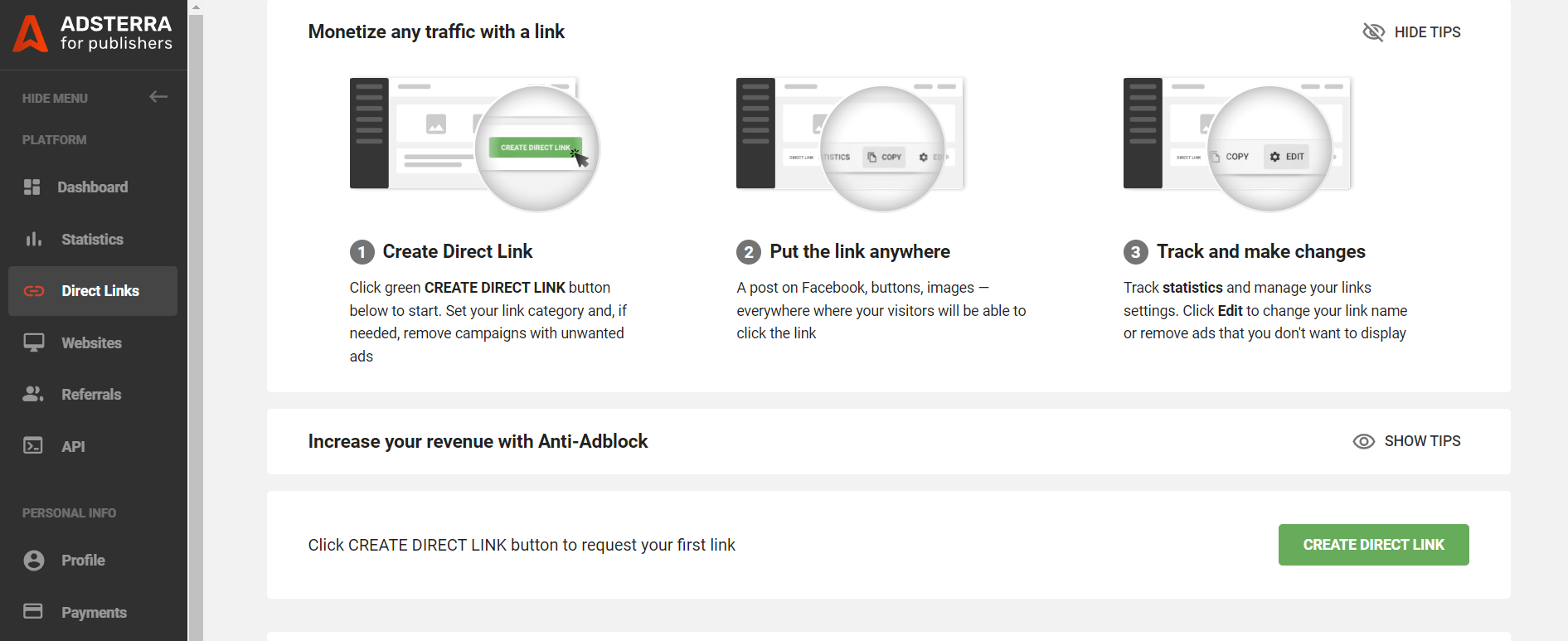 3. Set your Link's parameters. I recommend you not to exclude any ad types because a variety of advertisements guarantee you a higher income.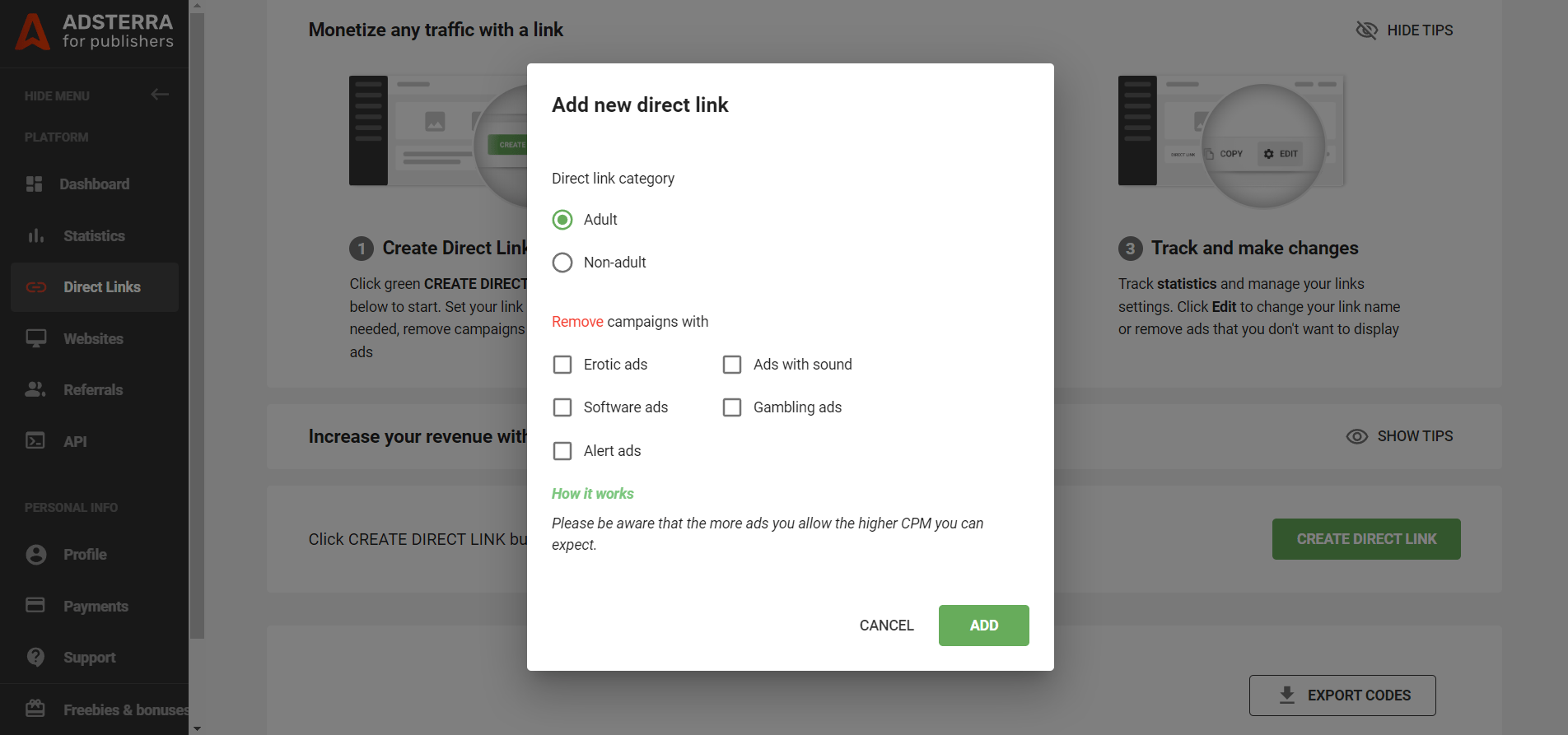 4. Click ADD and wait till your new ad code appears on the Direct Links page. Its status must be Active. Now Copy and place this code anywhere where users will be able to click it.

My Adsterra payments (with proofs)
I made $2,100 in 2 days only. This was when eCPM worked full blast. Users came to my Twitter and then landed on a halfway page with Direct Links. They must have made some orders or purchases because my CPM rose to $26.

Another positive factor is the volume of traffic. As you can see, I managed to create viral posts that generated over 50,000 views.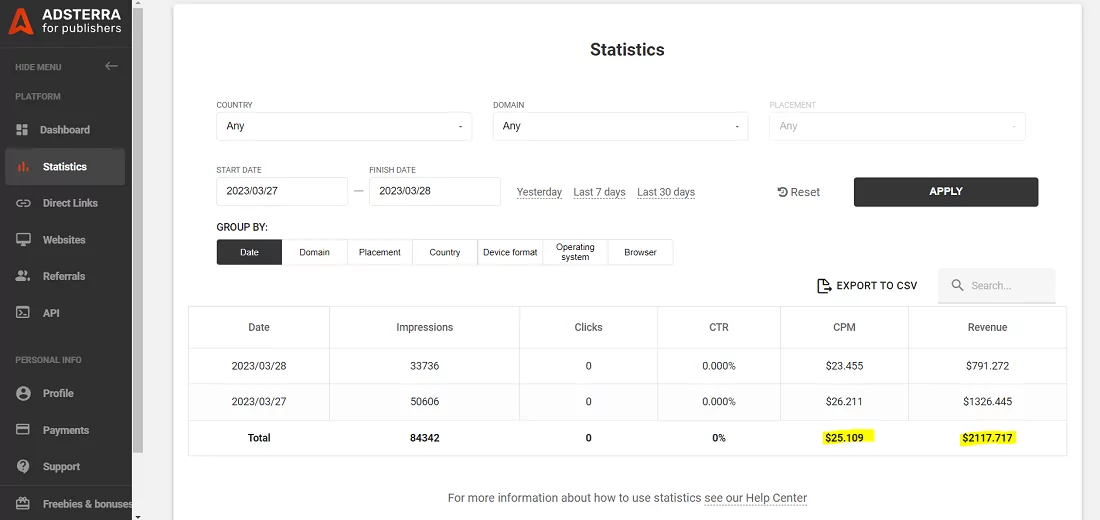 I'll be honest with you, so I'm sharing another screenshot with lower payouts. I made $100 in 4 days, and it was because I was not getting many impressions these days. My posts didn't become viral.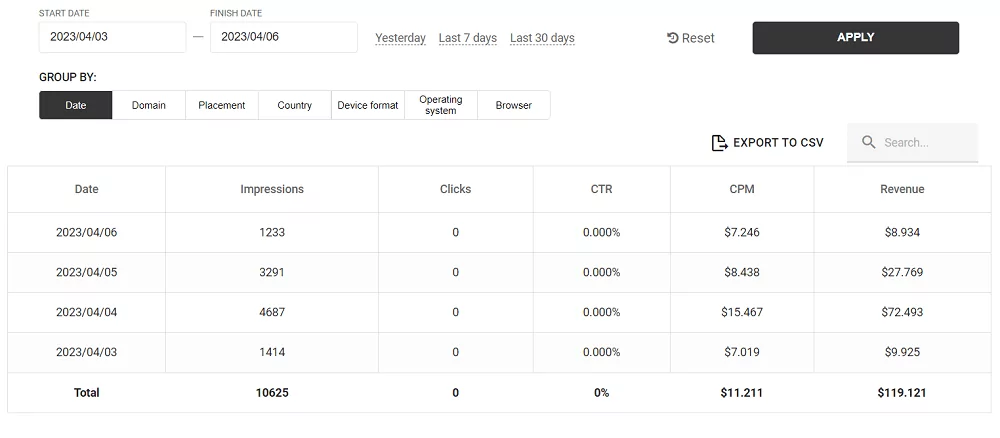 As you can see, your CPM is not a stable figure, and if you create trending content and know where to put ads, good revenues will come soon. Adsterra won't set any limits to CPM rates, and this means anyone can grow earnings steadily.
How do I track Adsterra payments?
I feel I can rely on Adsterra because they show me every transaction. I know when they're going to pay me next and track Adsterra payments. These are not random dates. They make transactions twice a month on fixed dates if they do not fall on Cyprus holidays or weekends because their organization is based in Cyprus.

I took a screenshot to prove my words. It shows one payment finished and one to be sent. I took this screenshot earlier before I got the second payout.

Additional revenues with website traffic
My last advice to you will be: never give up and try as many ways to earn as possible. I started with something familiar, like social media blogging, but now I'm trying to monetize a blog about health and pharma related to Pakistan.

I chose Popunder and Social Bar for ad monetization. They don't conflict because Popunders are not visible on my website. Social Bar is tricky: it demonstrates an entirely new banner or notification above the website content each time a user updates the page. These ads don't make you feel bored like those static pictures in the header part of the page. Take a look at some examples.

The first Social Bar is like a big notification. 90% of my traffic comes from mobile devices, but I use a desktop screenshot to demonstrate the ad.
The second ad looks like a message from your friend in a chat.

And one more example is an Interstitial. These ads will cover the whole web page. I can imagine they're the most effective ones.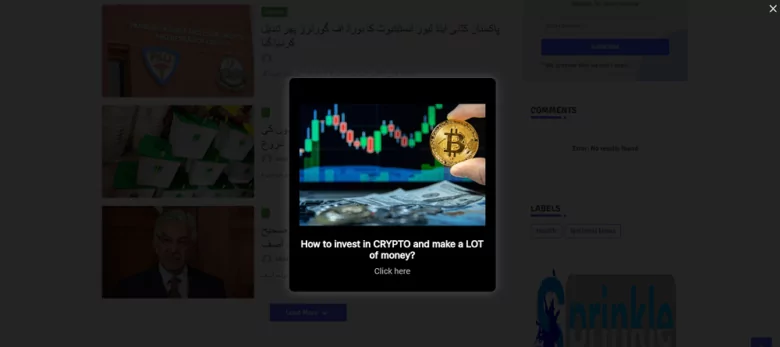 My recommendations
In the end, I want to say you should work hard to see your first earnings start flowing. Keep going and learn as much as possible about your niche's viral social posts.

Don't forget about mobile traffic. More and more people prefer shopping and gaming from their mobiles, and you can earn a lot on this trend.

There were days when I couldn't understand how this or that Adsterra setting worked. My manager always helped me. Remember, you're not alone!
There's almost nothing to add to this inspiring story. We're thankful to Kishwar Shahzad for being genuine about the complexity of moneymaking and the excellent prospects for growing passive income. We have only one thing left—invite you to join Adsterra and try profitable ad formats!