We'll let you in on a big secret that most ratings keep avoiding. Although you can find fixed CPM rates on the market, cost per mille is a dynamic metric in most cases. You should choose the best CPM network for publishers based on the ad network's reliability and not its average rate.

Trustworthy ad networks always outline their terms and conditions for publishers to make everything clear from the start. We've done a research for you and collected some facts and figures that will help you make your choice today.
Before we start: What is CPM?
CPM, also known as cost per mille, is a pricing method used in advertising. It helps calculate how much you earn per thousand ad impressions on your website.
However, this metric isn't very practical for publishers. When they view their CPM, they are looking at the average cost they receive for every 1,000 ad views. Nevertheless, the exact price of each advertisement can differ greatly in some cases. That's why publishers should rely more on eCPM.
Effective cost per thousand impressions (eCPM) takes into account both the number of impressions and the revenue generated from those impressions. As a result, it provides a more accurate picture of the actual profitability of an ad campaign.
If you want to gain a better understanding of eCPM, check our previous article:
To Contents ↑
How does CPM work?
As stated earlier, it works by charging a rate for every thousand impressions served. An impression is defined as when a web page or advertisement is loaded in the browser, and one user viewing the page or ad is counted as one impression.
When an ad is served, the advertiser pays for every 1,000 impressions it receives. This pricing model works well for advertisers as it allows them to control the cost of their campaigns. And at the same time, it also allows publishers to monetize their content by charging for their ad space.
How to calculate CPM?
This is the standard formula for calculating a publisher's CPM:

CPM isn't typically used in isolation. It is usually combined with other metrics to get a better understanding of the overall profitability of a campaign.
To Contents ↑
Which ad impression impacts a publisher's income?
Industry standards for recording impressions have evolved significantly over the last two decades.
The MRC (in collaboration with the IAB Emerging Innovations Task Force) published the Viewable Ad Impression Measurement Guidelines in June 2014. This guideline defined an ad as "viewable" if at least 50% of its pixels were visible on the in-focus browser tab for at least one second (Image & Text ads) and two seconds (for video ads).
October 2017: The MRC/IAB/MMA/MMTF released updated impression-based guidelines across desktop display, mobile web, and mobile application (in-app) environments, formalizing "begin to render" display ad impression measurement criteria.
When searching for the best CPM ad network for publishers, you should find out how they count impressions. Transparency is the key to profitability, and since you're here, you can find out everything about How Adsterra Counts 1000 Impressions: CPM for Publishers Explained.
To Contents ↑
Major factors affecting CPM rates
Let's briefly discuss major factors that can affect CPM rates for publishers.
WEBSITE PROFILE
Website niche,
Keywords/ search intent,
SERP position,
Traffic volume,
Download speed,
Mobile-friendly UI.
ON-PAGE SEO & UX
Ad viewability,
Ad density (quantity),
CTR (click-through-rate),
Ad format,
Ad frequency,
Page navigation.
TRAFFIC/USERS
GEO Device, OS, Browser,
Ad format,
New VS active users,
Session duration,
Engagement (clicks & conversions).
AGENDA & TRENDS
Recurrent events,
Seasonality,
Competition,
Advertisers' budgets,
Quarterly buying cycle,
Force majeure.
First, there are factors that publishers cannot control but can anticipate and prepare for accordingly.
To Contents ↑
GEO & Location
CPM rates correlate with the GDP of the country where content is served. Advertisers are less likely to bid for impressions in countries with lower consumer spending power, i.e., tier-3 GEOs.
Also, rates differ depending on how advanced the local online advertising industry, so CPM rates in English-speaking countries are considerably higher.
Seasons
CPM rates are heavily influenced by the date and time your ads are scheduled to run. Most publishers know that demand will be lower in January as advertisers round up their budgets and holiday campaigns.
Anything that boosts consumer spending, such as holidays, sporting events, or Black Friday, will drive up CPM rates.
Device type
The more information you have about a user, the more effective your ad campaign is. Even though mobile has surpassed desktop traffic, desktop CPMs are higher due to their higher conversion rates. Mobile device type also affects the rates. Advertisers are often willing to pay more for iOS and Mac impressions.
We all know that Apple phones are expensive, i.e., Apple users are more likely to have disposable income. In addition, some online products are only available on specific devices, so advertisers tend to pay more just to reach a target audience. Besides audience demographics, ad serving techniques can significantly impact CPMs.Interesting read: How to Deal With Low CPM. A Publisher's Checklist.
To Contents ↑
Placements
The higher your ad's CPM rate, the more impressions it will have. This means that CPMs are highest in content-rich, center-of-the-page ads and banners just below the fold. The darker areas on this screen map indicate which placements generate the highest CPM.
Ad format
Your ad's format dictates where it can be displayed and how users will see it. Video ads typically require so much of the user's attention; therefore, they have higher CPM rates. Not many readers are willing to watch a video ad in the middle of reading an article. The opposite is fair for Native Banners: users willingly interact with them while reading blog posts and articles.

To Contents ↑
Interactive ads
Interactive ads help capture user attention for a fraction of a second it takes to register a viewable impression, resulting in a higher CTR. More complex formats like customized In-Page Push (or Social Bar) can draw higher CPMs for these reasons.
Let's talk about the growing popularity of Interstitial ads. These are full-screen ads that are easy to close on mobile and desktop. Publishers especially love them because they're not annoying like pop-ups and bring high CTR, which means the CPM can increase, too.
To Contents ↑
Ad viewability
An ad is viewable when at least 50% of the ad's pixels are in the viewport for a second or more. Users must be engaged with the page rather than just scrolling through it for this to happen. Publishers with low ad viewability scores have a hard time attracting high CPMs. Ad networks recognize this and offer campaigns where advertisers only pay for verified, viewable impressions.
Offering 100% viewability leads to a significant rise in CPM rates, but it can take publishers a long time to register such impressions. Users scroll slowly on pages with a lot of content, so placing ads at the bottom of the first viewport ensures that they will be visible for the entire time a user spends reading a screen's worth of content.
To Contents ↑
User information
The more information advertisers have about their target audience, the more likely they'll convert them. The more information your audience leaves behind, whether through cookies or first-party data, the higher CPMs you'll be able to demand.
For example, suppose you show an advertiser that your audience is passionate about technology, has seen content related to their product and is in their target market. In that case, advertisers will compete to reach this audience.
Buyer's journey
People rarely purchase something online the first time they see it. This means that before converting, users will consult multiple sources, read reviews, and weigh professional advice. Advertisers will be willing to pay higher CPMs for impressions at this stage if the user is down the conversion funnel process, such as checking reviews.
Here you can see how the article provides advertisers with impressions from a specific audience when they are ready to buy. Because of the competition from relevant advertisers, CPMs for this content will be much higher.
Amount of ad units
You can increase CPMs by reducing the number of ad units while maintaining a well-unified experience — but you only have a few buyers. To find the optimum range between CPM and the number of ads, test, and experiment using ARPU to see how any changes will affect your bottom line. It is worth learning how to combine advertising formats so you can diversify your revenues without getting users annoyed.
Brand safety
Brand safety refers to two things for advertisers: ensuring that their ads are not subject to ad fraud (bot clicks or content replacement) and that their ads do not appear next to offensive content.
According to Integral Ad Science, advertisers who do not filter for fraud lose as much as 22% of their impressions to invalid traffic. Then there's the matter of the adverse news. Brands don't want their ads to get lost in a mix of bad news.
Some advertisers offer higher rates for Quality Cost Per Mile to ensure brand safety. Only viewable, brand-safe impressions are counted by QCPM, and impressions are frequency-capped to prevent them from appearing too often. This is an excellent illustration of how a low CPM does not always mean a good deal for advertisers. A page crammed with low-value, low-quality ad placements will always be worse for the reader experience and the publisher's revenue than one with fewer, higher-quality, high-CPM ads.
To Contents ↑
Why use CPM?
The CPM advertising package benefits publishers by allowing them to generate revenue easily by simply placing ads on their sites. Users don't have to interact with the ads for publishers to earn.
The other advantage CPM ads have is constantly rising revenue. CPM advertising offers publishers a steady source of income that generally increases over time as the website's traffic grows.
What are the best CPM ad networks for publishers in 2023?
Criteo
Criteo helps you achieve high fill rates and get matched with top advertisers. Their solutions intelligently match the highest CPMs with your high-quality content provided that you send over 100,000 page views per month. Simplify your ad server setup and get more revenue from Criteo's high-quality roster of over 15,000 advertisers worldwide.
Criteo has a global network of 21,000+ servers responding to over 120 billion requests per day in milliseconds, allowing you to reach customers no matter where they are. There are no hidden costs or ambiguous bidding mechanisms. You can eliminate third-party fees and keep the full value of Criteo-purchased standard display ads, native ads, and even ad-blocked inventory.
To Contents ↑
Features
Requirements: 100,000 page views per month;
Tracking campaign results;
Custom banners;
Mobile, social, and desktop support;
Minimum payment: $150;
Payment methods: PayPal, Check and Wire Transfer;
Payment Frequency: first week of the month;
Monetization Options: CPC, CPM;
Support Email: No Support.
Adsterra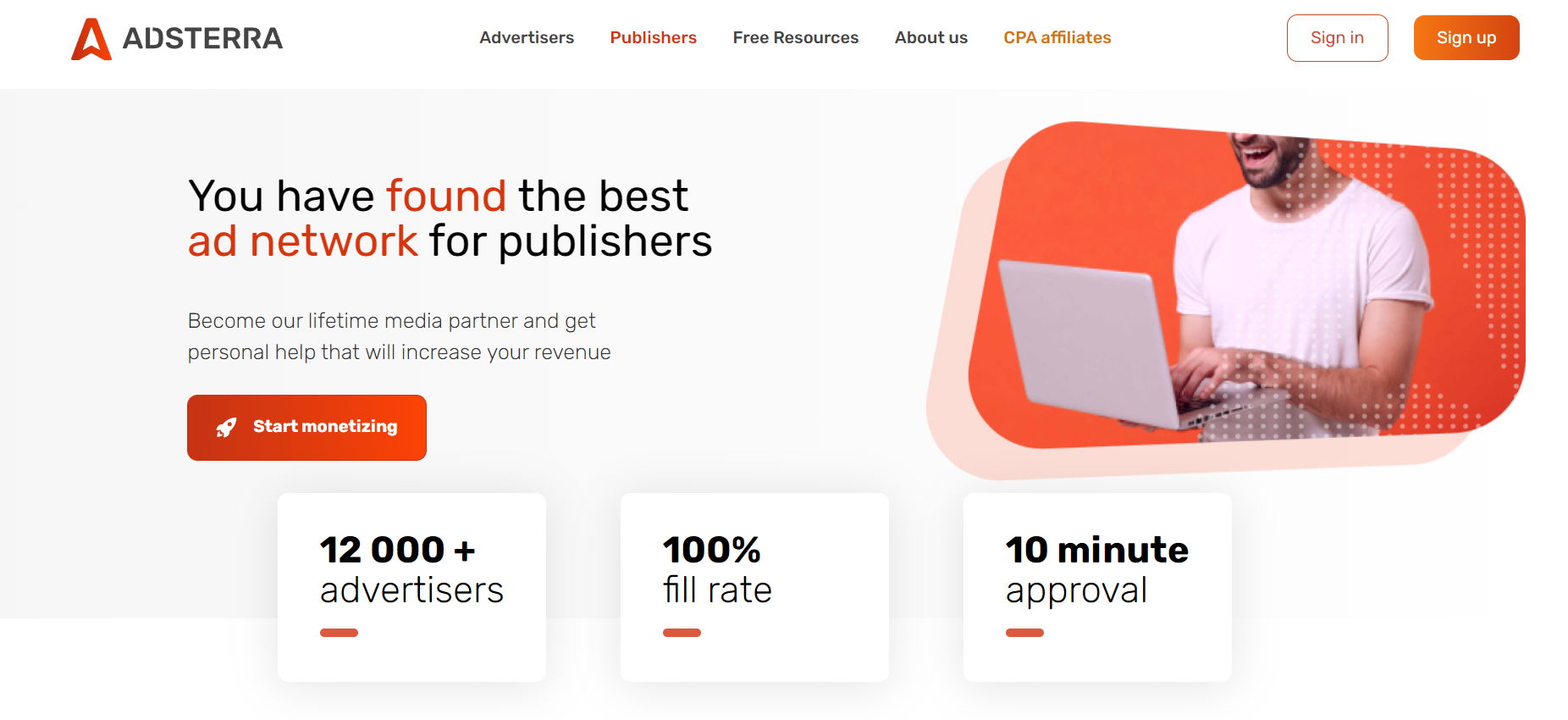 Adsterra is another best CPM ad network for publishers and advertisers with over $54 million yearly payouts. The ad network has no entry limits, so any website or social traffic provider can join. Adsterra is famous for its partner care approach that has been praised many times on Trustpilot and other rating agencies. Read Customer Service Reviews of adsterra.com
To Contents ↑
Key figures and facts about Adsterra
Over 30B impressions monthly;
Over 12K direct advertisers with 1BN conversions per year;
21K trusted publishers;
248 GEOs,
Live chat support for all partners.
Core benefits for publishers
Fast website approval. Being a competitive Adsense alternative, Adsterra offers a prompt approval soon after you register;
Payment methods: Bitcoin, Tether, Wire Transfer, Paxum, PayPal, and WebMoney;
Payment Frequency: automated payouts (NET-15);
Minimum payment: $5 (for Paxum and Webmoney);
Monetization ad formats: Popunder, Social Bar (or In-Page Push ads), Native Ads, Adsterra VAST video ads, and Display Banners;
Partner Care program: Expert managers and support team;
Extra Income Referral Program: you earn additional 5% from each referral;
Anti-malware protection: robust in-house and third party security solutions.
To Contents ↑
PopMyAds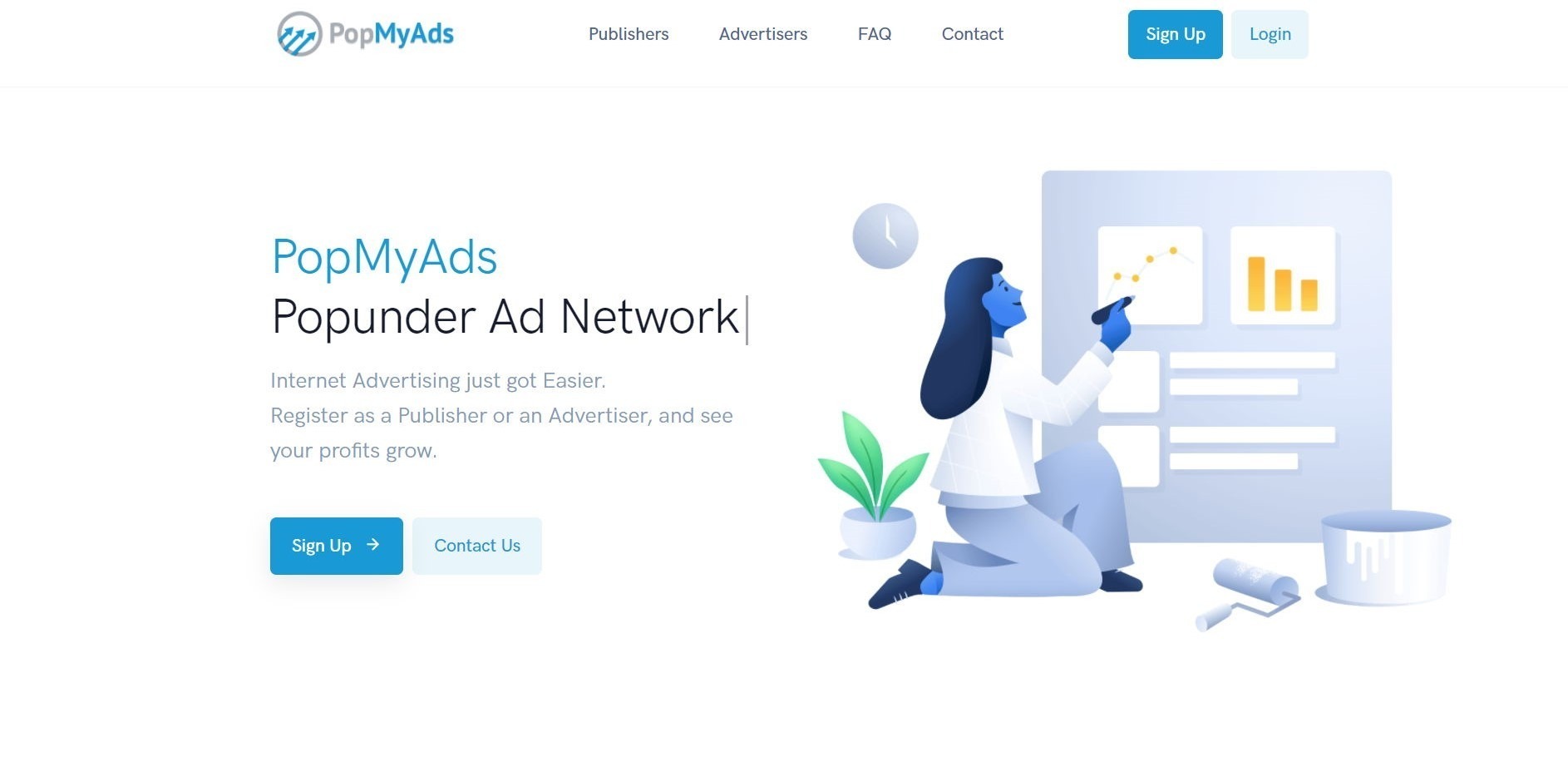 A huge pop-under ad network with over 300 million monthly visitors. Their CPM rates vary according to website niche, audience country, and geographical factors. PopMyAds offers great ratios for impressions, a good revenue CPM program, and an innovative anti-fraud system that filters out bad traffic.
To Contents ↑
Core features
Payment methods: Paypal, Payza, Wire transfer;
Minimum withdrawal: $5;
Wire transfer – minimal withdrawal is $500;
Ad formats: pop-up and pop-under ads;
Customer support: 24/7 clients' support;
Payment frequency: Upon publisher's request.
Hilltopad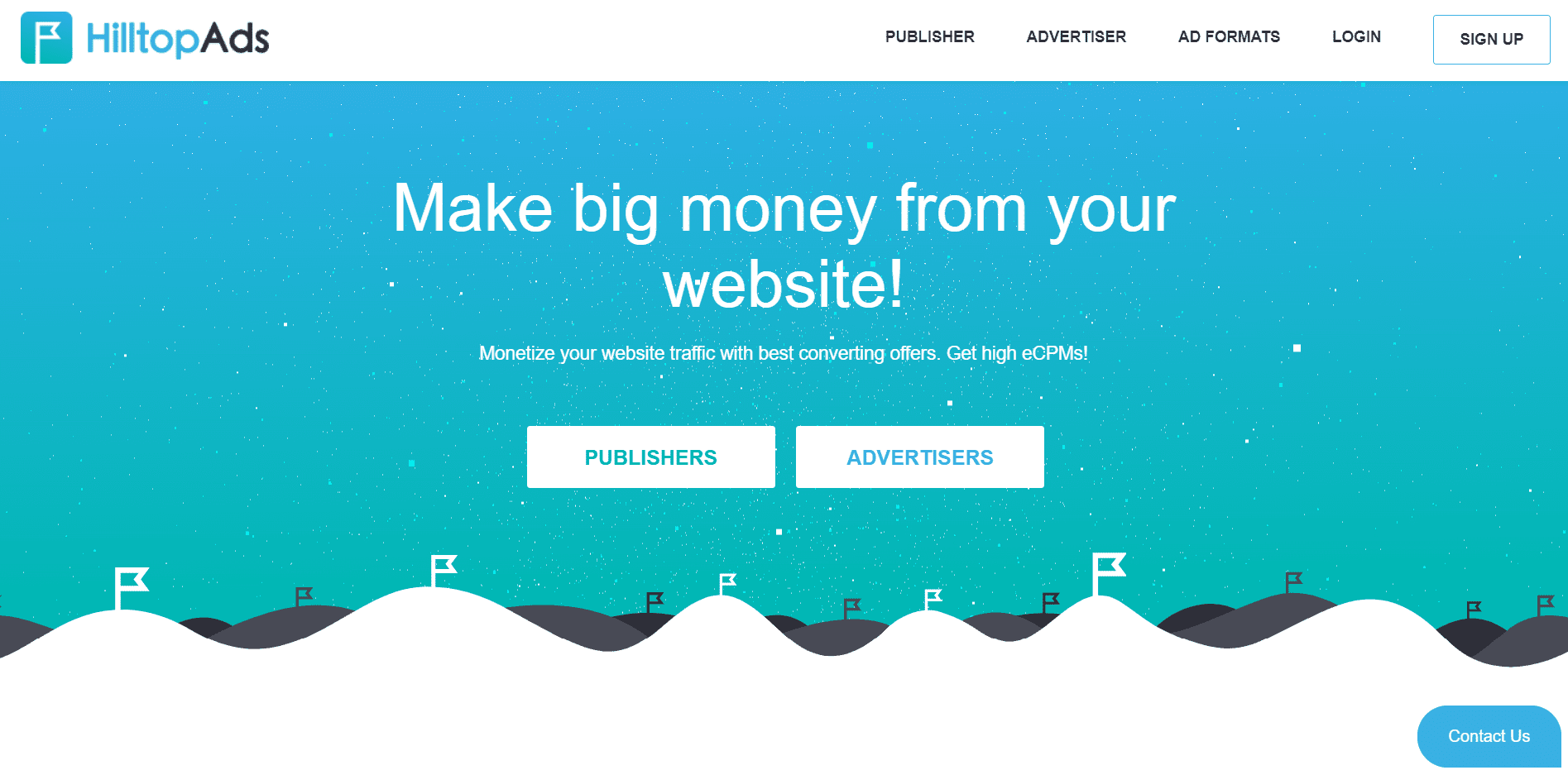 Hilltopad offers various high-converting ad units that are tailored to your website and device to monetize your traffic. Choose from a variety of formats such as pop ads, banners, in-video ads, native ads, and more.
Core features
Minimum payment: $50;
Payment methods:
Payment regularity: Net 7 days;
Monetization options: CPM, CPA and CPC;
Requirements: 5,000 unique Page Views Per Day;
Support Email: 24/7 qualified support;
Advertising formats: push notifications, video ads, native ads, pops, direct links, display banners.
To Contents ↑
VDX.tv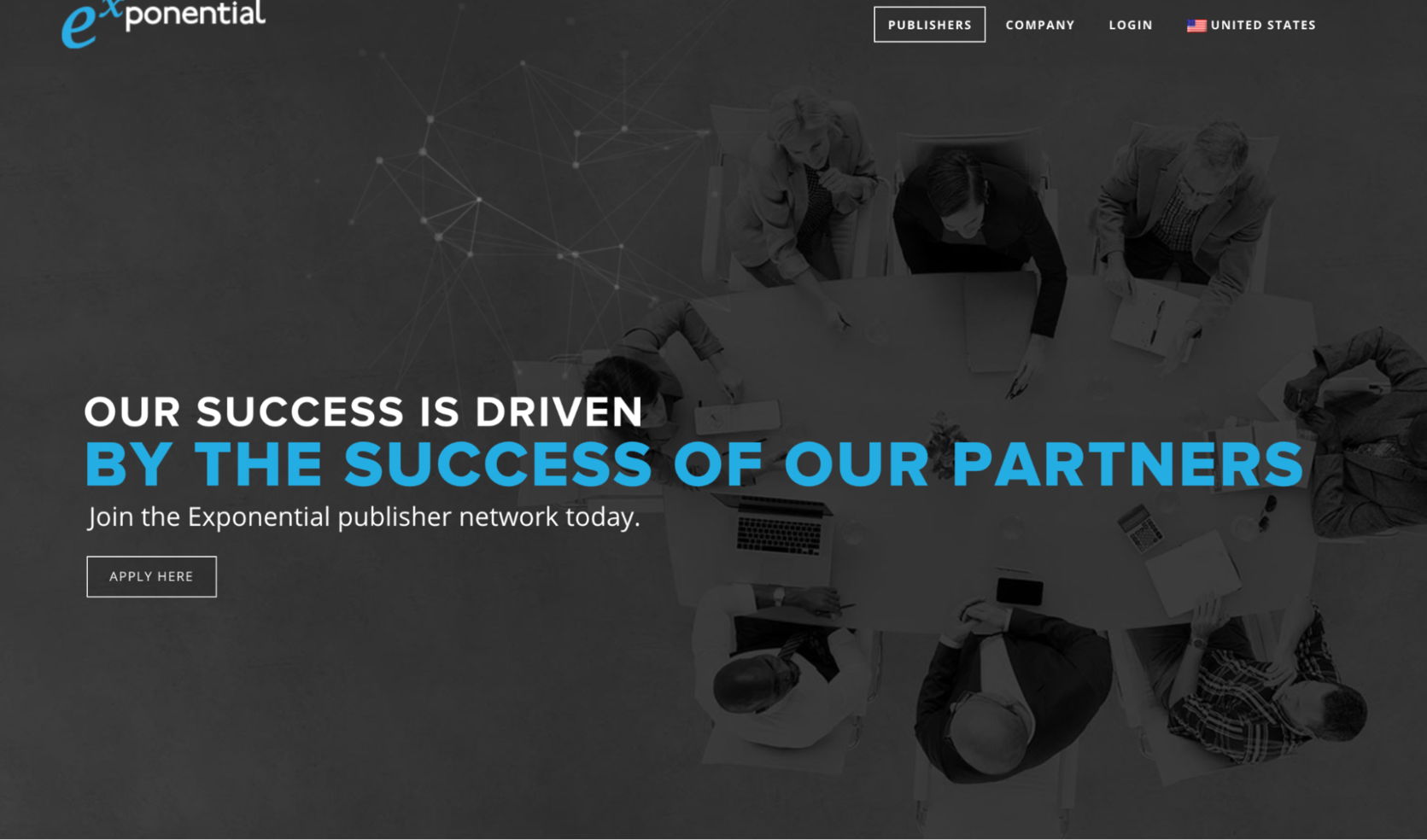 VDX offers website-friendly ad formats that improve user experience. It selects publishers by setting up the entry to 500K monthly pageviews. VDX allows users to choose among various ad formats such as in-stream, display and mobile. They offer satisfactory CPM while publishers can earn 55 percent of their ad serving revenue after registration.
Core features
Variety of ad formats for mobile, in-app, desktop, and table (pre-rolls and rising stars);
Context-friendly targeted ads adapt easily to inventory design;
Generates real-time performance statistics via custom reports for global advertisers in top countries like the USA and United Kingdom.
Minimum payment: $50;
Payment regularity: Net 45 days;
Payment methods: PayPal and bank check;
Requirements: 500,000 monthly pageviews.
To Contents ↑
Revcontent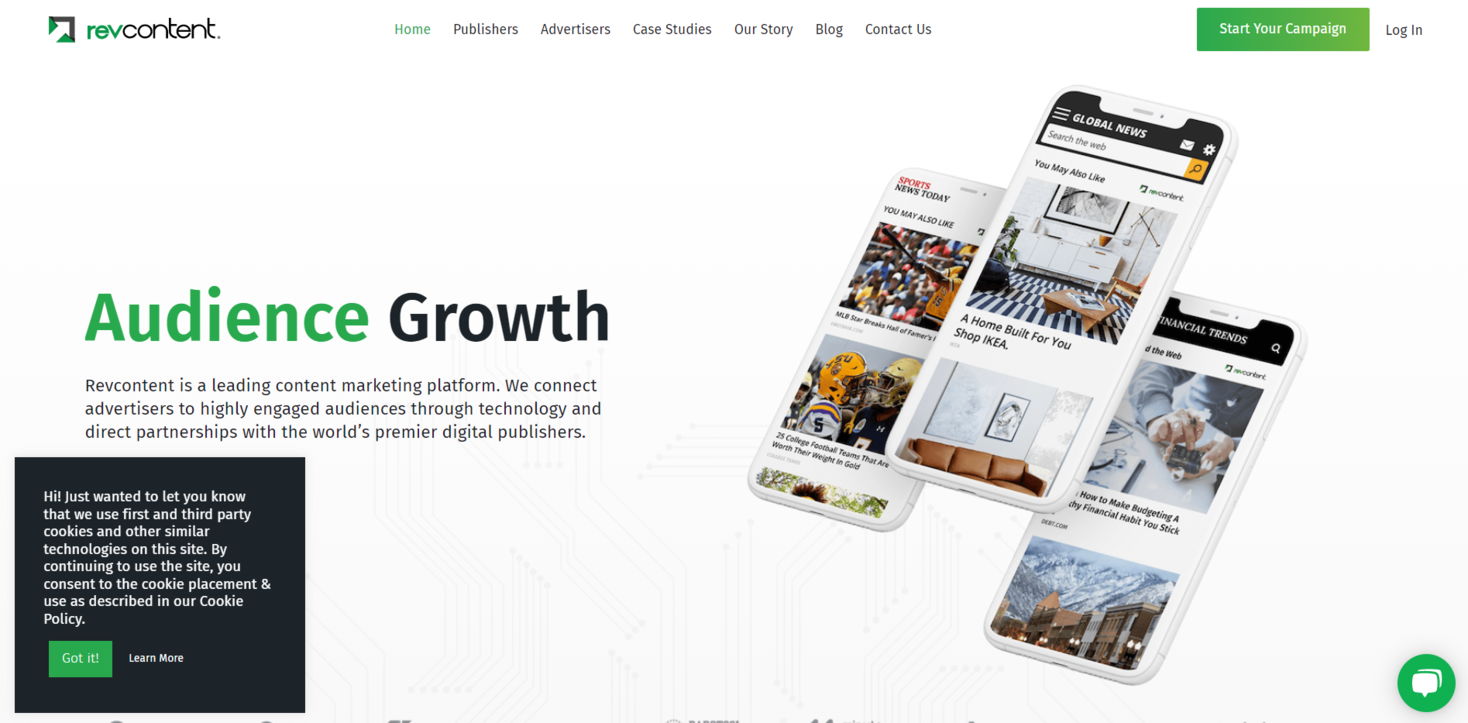 Revcontent is a native ad platform for top publishers that pays every 30 days with a $50 minimum withdrawal. You can monetize by implementing header bidding and serving native ads for mobile apps. It has an audience insight feature for improving CTR and revenue. Also, publishers can design their sponsored content feed using a customizable widget.
Core features
Minimum payment: $50;
Payment regularity: Net 30 days;
Monetization options: CPC and CPM;
Requirements: 50,000 pageviews per month;
Support Email: No support;
Monetization options exist for both desktop and mobile apps;
Advertising formats: In-feed, In-article, and Recommended Widgets.
To Contents ↑
Adblade Network
Adblade's proprietary technology provides you a roadmap of CPM rates for every placement within your inventory. You can meet all display ad requirements with Adblade, including standard IAB units and Adblade's proprietary NewsBullets®, a premium unit that performs 3x better.
Adblade has received AdSafe's highest brand-safety rating, making them a top choice for premium advertisers, so you can expect top brands to buy your inventory.
They provide you with the tools you need to safeguard your inventory so you never have to worry about inappropriate advertisers buying your inventory.
Core features
Minimum payment: $100;
Payment regularity: Net 30 days;
Monetization options: CPC and CPM;
Requirements: 5,000 pageviews per month;
No support Email;
Payment method: Paypal and bank transfer.
To Contents ↑
BuySellAds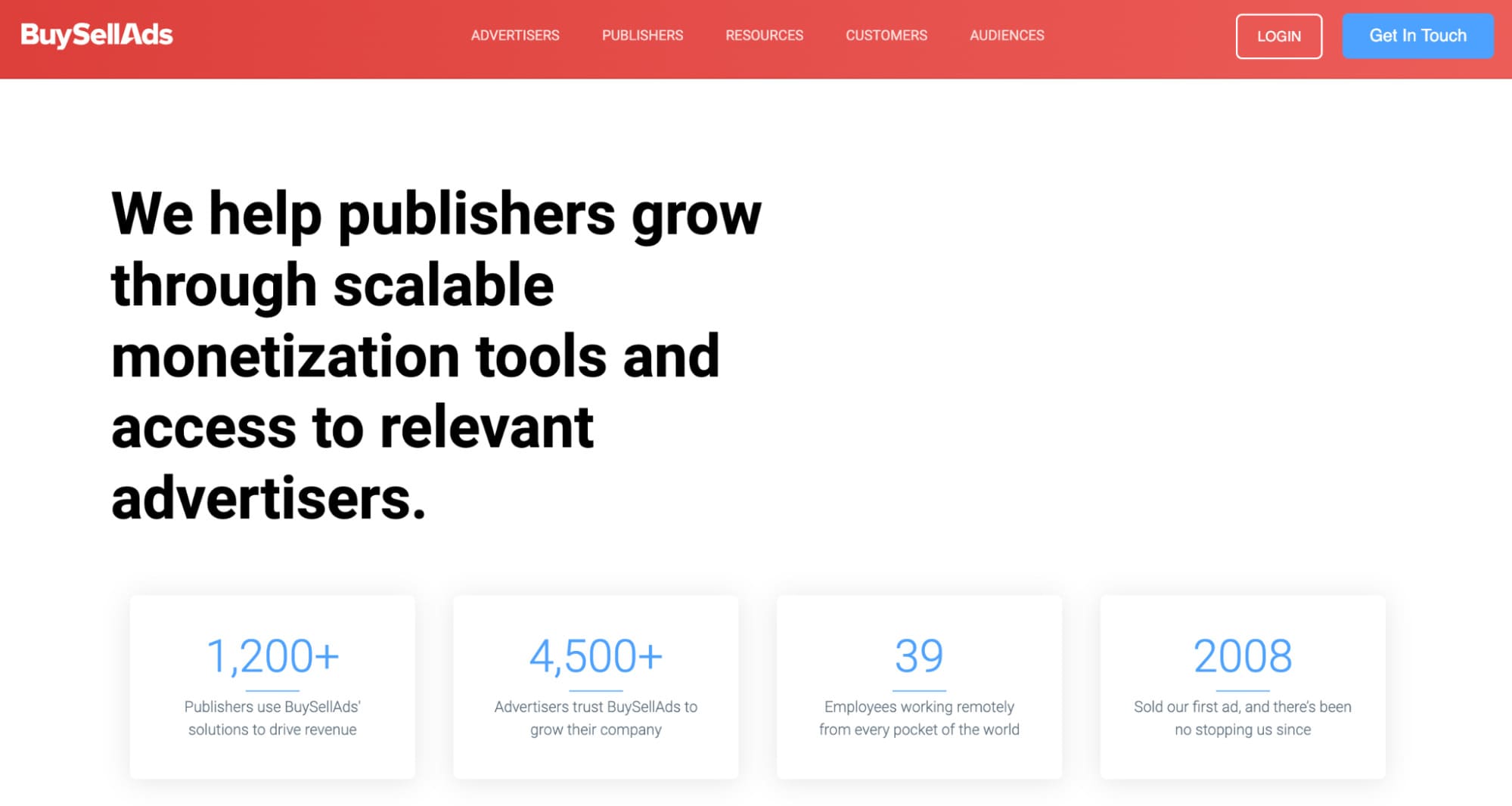 BuySellAds builds advertising solutions for marketers and publishers. It's one of the most reputable CPM ad networks. Publishers get profit through native performance networks, enterprise solutions, and the marketplace.
Core features
Power to reject advertisements;
No initial sign-up fee;
Monetization ad formats: display advertising, native advertising, podcast, sponsored content, email;
Payment methods: wire transfer ($500 minimum), Paypal ($20 minimum), cheque ($50 minimum);
Payment frequency: 2 withdrawals per month.
To Contents ↑
Adcash

Adcash is another high-paying CPM ad network. It's a global online platform for affiliates, media buyers, and publishers. This high-performance CPM network enables advertisers to reach a global audience and enables publishers to monetize their sites easily.
Core features
No limit to the number of traffic to get approval;
21 verticals;
Payment methods: Skrill, wire transfer, Webmoney, Bitcoin, and Payooner;
Minimum payment: 25 USD/EUR.
To Contents ↑
PropellerAds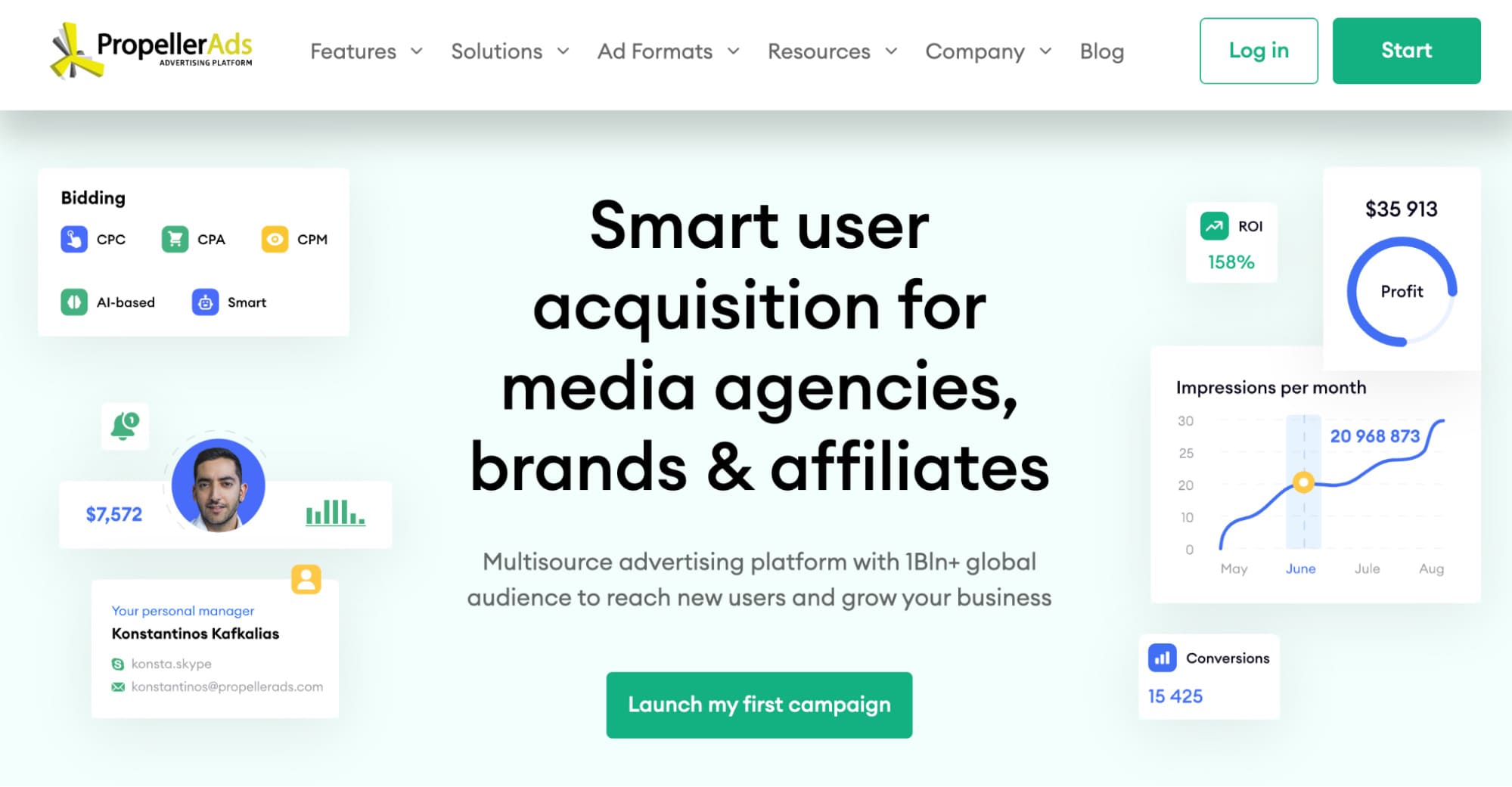 PropellerAds is another global advertising network that boasts of a 1B+ monthly audience. It allows publishers to monetize traffic with high eCPM rates by placing various advertising codes.
Core features
Payment methods: PayPal, ePayments, WebMoney, Payoneer, Skrill, and wire transfer;
No minimum traffic to join the platform;
Minimum payment: $5;
CPM ad network for low-traffic websites;
Payment frequency: once a week;
Monetization ad formats include Onclick, Push Notifications, and In-Page Push.
To Contents ↑
ExoClick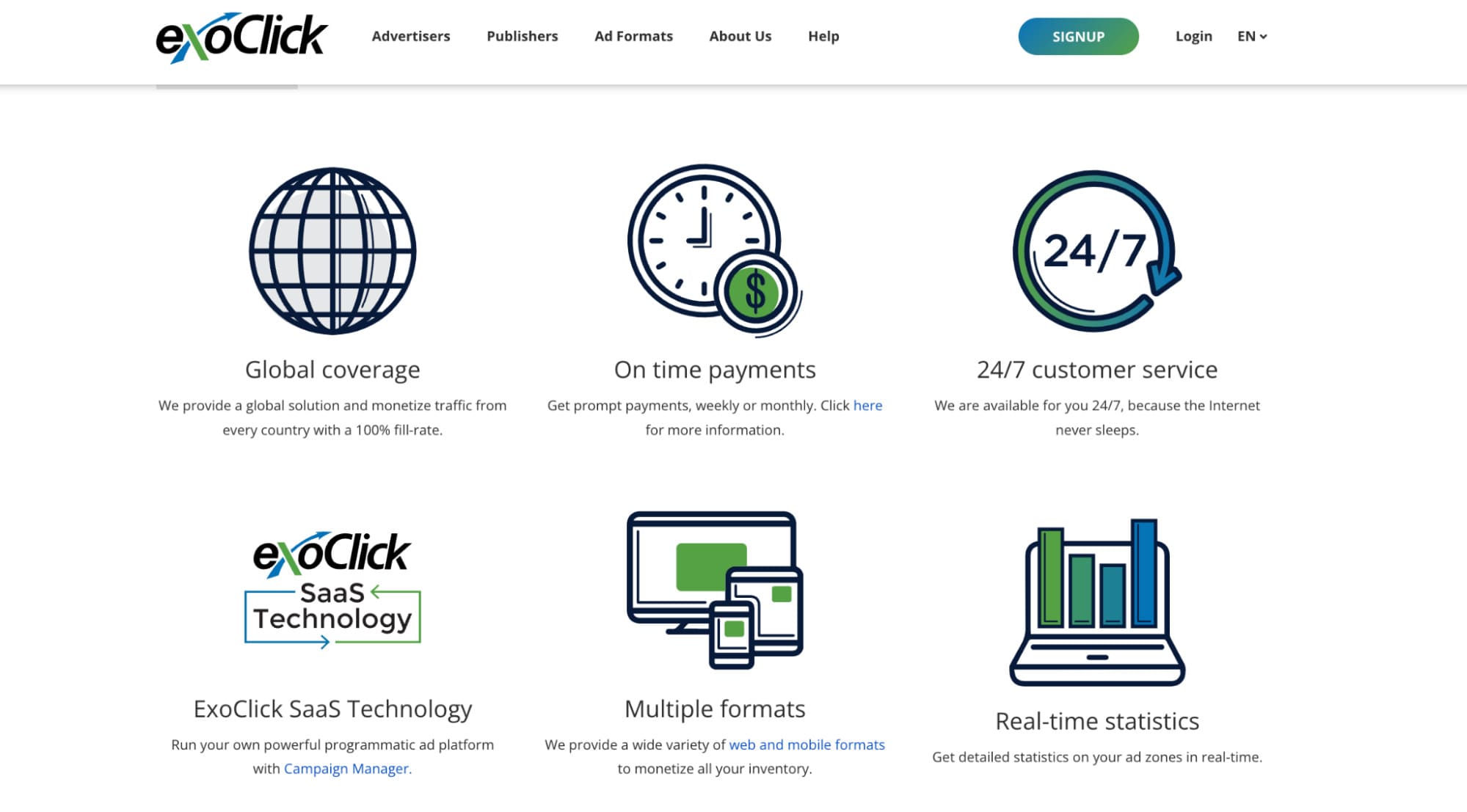 ExoClick is another best CPM ad network for publishers in our list. Its property software offers 20+ different ad formats, behavioral retargeting, and optimizing targeting to improve ROI.
Core features
No minimum traffic requirement;
Suitable for adult payment;
Payment frequency: weekly and monthly payments;
Monetization ad formats: banners, popunder, sticky messages, and video slider
Payment methods: wire transfer, cryptocurrency, Paxum.
To Contents ↑
Benefits of CPM advertising
Profitable in every way (for Publishers)
Publishers may find CPM incredibly lucrative, as they can earn money simply by placing ad codes on their websites. This approach is easier than making money with affiliate marketing, when you are paid commissions only for purchases.

However, CPM rates aren't as high as other models, so if you want to make money from your website via ad revenue, you'll need a lot of web traffic or highly-demanded social traffic. There are also ways to capitalize on paid Facebook traffic that many Adsterra publishers use.
To Contents ↑
Cheaper brand awareness and recognition (for advertisers)
Some advertisers may conclude that setting up a CPM-based campaign is pointless because impressions aren't as important as clicks, installations, and purchases. But that's partly true. Advertisers can buy the same traffic via CPA and CPC models, while publishers will be getting higher payouts if their traffic returns conversions (for CPA) and clicks (for CPC.)
CPM ads are an excellent way to build a strong following and raise brand awareness. Customers rarely patronize companies they've never heard of before, even after seeing well-created ads. Building brand awareness is a better strategy than focusing on conversions right away.
It's also a good idea to use CPM to generate complex conversions like deposits or credit card submits. Earlier we shared guides on promoting Ecommerce products and Crypto offers.
To Contents ↑
CPM ad network FAQs
Here are CPM ad network frequently asked questions.
What is a CPM network?
CPM stands for cost-per-mille, and a CPM network is an online advertising platform where businesses and websites can purchase advertising space from publishers. CPM networks serve as intermediaries between advertisers, who are looking to reach their target audience, and publishers, who are looking to monetize their web traffic.
Which ad network has the highest CPM?
Several networks have high CPM, including:
Adsterra;
PropellerAds;
Criteo;
Adcash;
PopMyAds.
Before settling for one, keep in mind that CPM is a very volatile rate. It depends on traffic quality, seasonality, GEO, and many other factors. You can't say that one or another ad network will always pay you the highest unless you work hard growing traffic volumes and its quality.
Why has my CPM dropped?
There are several potential reasons why your CPM has dropped. It could be due to changes in your target audience, low user engagement, seasonal changes, or low competition for traffic.
Can I have a high income with a smaller CPM?
Yes, you can! For example, if you have a high amount of quality website traffic that converts, then you can make a good amount of money from a smaller CPM, which can even increase during peak sales.
Many advertisers take into account the number of conversions, paying higher for traffic that has the best conversion rate. That's why publishers should count eCPM as it reveals the real income from ads, not only the current CPM rate. With Adsterra, you can check your eCPM from your publisher's account.
To Contents ↑
Where to find the best-paid traffic with the highest rates?
Traffic is volatile, but if you know how to manage it, for example, quickly build up the volume of impressions from a certain GEO, you can increase your income rapidly. For such publishers, we have an updated selection of GEOs and parameters with the highest payouts.
Conclusion
If you want to find the best CPM network that understands your needs and can help you maximize your ad revenue, join Adsterra. Our enhanced security, an automated Self-Serve platform, top-tier support, an innovative Anti-Adblock solution, and multiple payment options are all available for you. You will easily test several different ad placement options to figure out which ones bring in the most passive income.