Did you know that Nike initially paid the creator of their swoosh logo only $35 for the design? When you agree to a fixed reward of $35 for contributing to a campaign, you won't get a dollar more than that even if the campaign generates millions of dollars. This example is the opposite of RevShare. Today you'll learn how to get recurring payouts for your affiliate marketing activities.
The Revenue Sharing model fits both webmasters with powerful organic traffic (classic affiliate marketing) and CPA marketers skilled in buying traffic and converting leads into purchases.
Let's dive in!
What is RevShare in affiliate marketing?
Driving traffic and earning a commission on each conversion is a common method to make money as an affiliate marketer. This commission can be paid out per CPA, CPL, CPV, CPC, etc. These are fixed payouts you get for one conversion.
The CPA model may support upselling, too, but you get paid once most times. And you can guess that with a Revenue Sharing model, you will be paid several times within a certain period or via lifetime RevShare models.
Do you think about high-paying CPA offers, including some RevShare exclusives? Turn to Adsterra CPA Network and enjoy risk-free, super fast payouts.
RevShare combines the words revenue and sharing.
Revenue Share (RevShare) is a revenue model in which advertisers share a percentage of their revenue with affiliates. The standard affiliate commission can range from 1% to 75%, or even 90% on some platforms. The commission is calculated not only on the initial purchase but also on any upsells the customer purchases.
To Contents ↑
RevShare example based on an expert's mini-interview
Ok, we found out that RevShare is a payout model that allows you to receive a percentage of all the money spent on the advertiser's website by the traffic you send. In other words, actual sales conversion activates your payout.
Let's pick an example from the iGaming vertical, as it's one of the most beneficial for affiliates. You've attracted players to join and spend money in an online platform. Within a period (usually a month), players will cash in and take chances, while the platform will make a profit.
If the online gaming house makes a net profit of $1000 from the players you attracted and the RevShare is 50%, your revenue will be $500. Sounds amazing, right?
Next month, if the online gaming house makes more money, your share will also increase. Online gaming and financial platforms can share their profit with webmasters/affiliates on a lifetime basis, i.e., during the user's lifecycle or for a particular period. The average rates in the market are 40-50%. This turns into a decent passive income for an affiliate in the long run.
Remember that online gaming platforms are not always in the black and may have a negative balance. If such is the case, a webmaster will not get any income within a pay period.
One more specification about the iGaming RevShare model. Advertisers share their net profit or NGR — a financial indicator that determines the net gaming income minus other costs and taxes.
To Contents ↑
CPA vs. RevShare
Cost Per Action (CPA) is an affiliate revenue model in which vendors pay affiliates a fixed commission (per action). In CPA affiliate marketing, the most common type of actions are downloads, installs, trials, sales, credit card submissions, and more. With the CPA model, each time a customer converts, you (the affiliate) receive a fixed amount regardless of the total order value.
Unlike CPA, which provides affiliates with a one-time payment for making users convert on the advertiser's website or landing, RevShare plans provide a lifetime incentive. You can expect to keep earning commissions if the users you attracted keep buying from the advertiser.
To Contents ↑
What you get with RevShare as an affiliate
1. The best payout model for long-term passive income
You may be asking, "Why would any affiliate choose a RevShare payout program over CPA or CPL offers? Affiliate marketing appeals to people who want to make quick money. That is why most entered this industry. CPA and CPC payment methods are perceived as faster and more secure. Affiliates prefer CPA because they don't have to wait for deposits or purchases; conversions may come as super-quick app downloads and leads or opt-ins and signups.
2. Revenue share may offer better commissions
RevShare model rewards your efforts with a huge advantage compared to any other payout method: you can earn long-term income with RevShare because there are no caps or limits.
Here's a good example of how much more profitable RevShare can become if you're willing to wait.
Interactive websites like video streaming websites with paid subscriptions are your ideal vertical if you're considering joining RevShare. Nothing compares to online interaction, so you can also succeed in online gaming, niche video sites, and iGaming apps and platforms. First-time anonymous users become registered members, who then become paying members by buying tokens. And you get a cut of all that cash every time.
To Contents ↑
How do you know if RevShare is right for you?
The RevShare model is ideal for maximizing affiliate commissions while generating ongoing income. Each time your referrals complete a successful conversion, you earn a percentage.
Choose RevShare if you are confident in your lead generation abilities and willing to invest for long-term profits. Also, choosing RevShare means accepting to perform more challenging work in attracting clients/referrals for advertisers.
RevShare does not offer one-time (low-level) commissions but relatively medium- and long-term (but more rewarding) financial rewards. Prepare for a situation where you may not earn anything for the first month, but make a lot over the next 12 months.
To Contents ↑
What is your RevShare percentage calculated on?
There are several methods for determining your RevShare percentage. For certain RevShare plans, calculating the rate depends on the revenue generated by your client/referral for the advertiser (whether gross or net).
For other types, instead of a percentage of revenues, you as an affiliate marketer may be paid a fixed dollar amount per purchase by your referral (irrespective of price changes). Whichever option you choose, read the agreement terms thoroughly to avoid misinterpretations.
Also, some RevShare plans claim to be "lifetime," while others are only valid for a limited time, such as 12 months.
Before deciding, clarify details, especially if your referrals are long-term. Check the reviews about the affiliate program or CPA network you partner with. A powerful network will connect you only with trusted advertisers and guarantee automated payouts.
Read some forums and visit affiliate discussions about CPA networks. It's a good sign if your chosen network has accounts on Affise and AffiliateFix. Just in case, many CPA networks are sharing hot offers via affiliate marketing communities.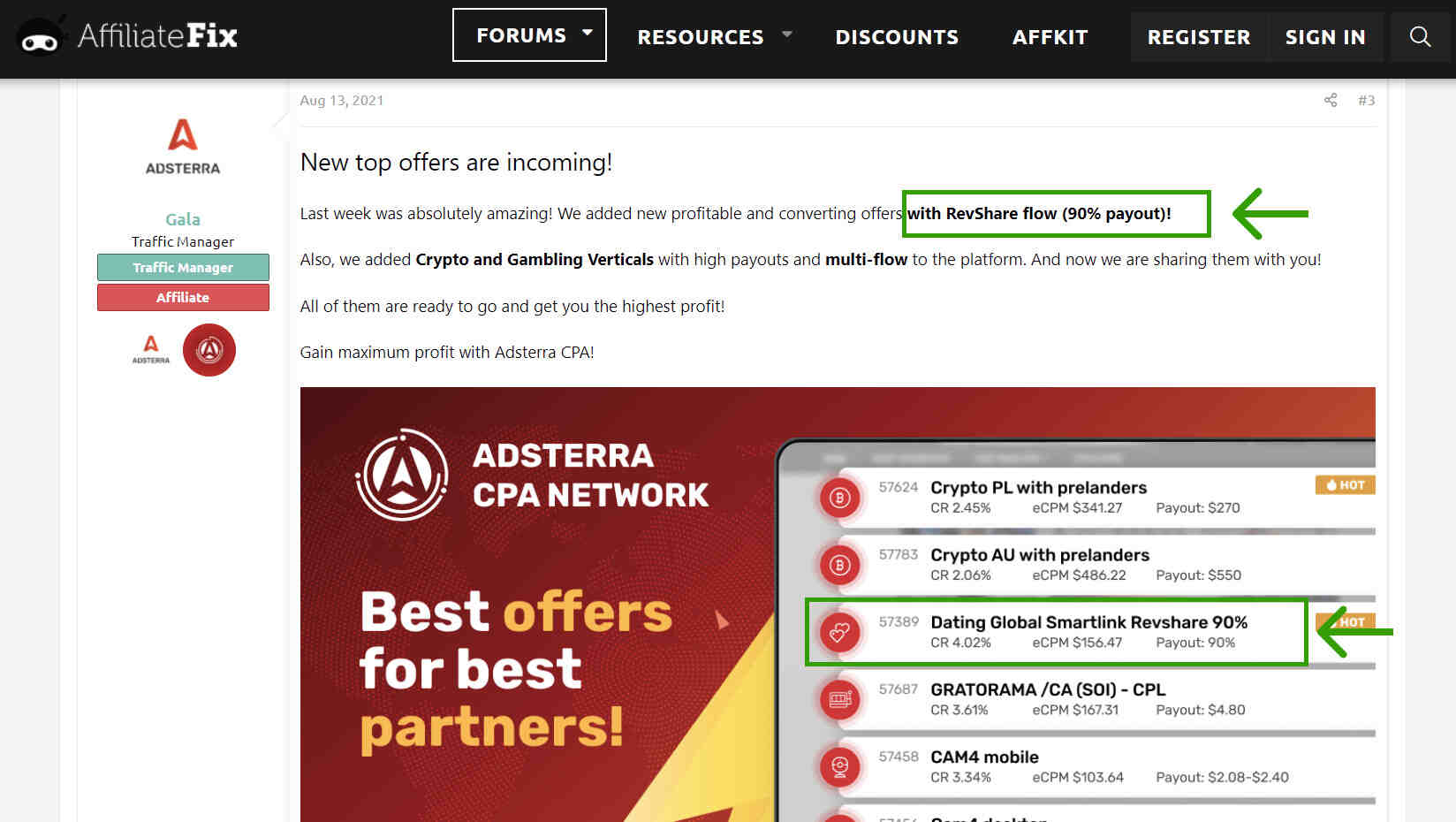 To Contents ↑
Conclusion
Experienced affiliate marketers will have different income expectations than those who enter the market. To keep their business running, affiliates need quick returns and a lot of cash flow. Therefore going 100% RevShare is both impractical and unattractive to them. We recommend approaching RevShare the same way you would any other investment: by diversifying.
Sending a small percentage (5, 10, or even 15%) of your quality, highly targeted traffic to a RevShare offer and the rest to CPL or CPA offers is a smart move. Still, it's also the best way to achieve your long-term passive income goals without affecting your short-term cash flow.
All it takes is a little patience and some high-quality traffic. And by the way, we also have some killer high-converting CPA and RevShare offers here, in the Adsterra CPA Network 😉