"Why do I have low CPM?" Frank answers and handy tips for publishers
A publisher's revenue depends on how much money advertisers are ready to pay for their offers' impressions on the website. And the CPM rate has traditionally been equal to the pulse rate here — the higher your CPM is, the more your traffic costs, the bigger your profit is. All seems clear until this rate starts going down.
This post is going to be a helpful overview of the "low CPM" issue. We've worked out a checklist of  possible reasons for drops in cost-per-thousand-impressions figures and a cheat-sheet on how to troubleshoot them.
But initially, we must figure out how CPM is defined, by whom, and how often.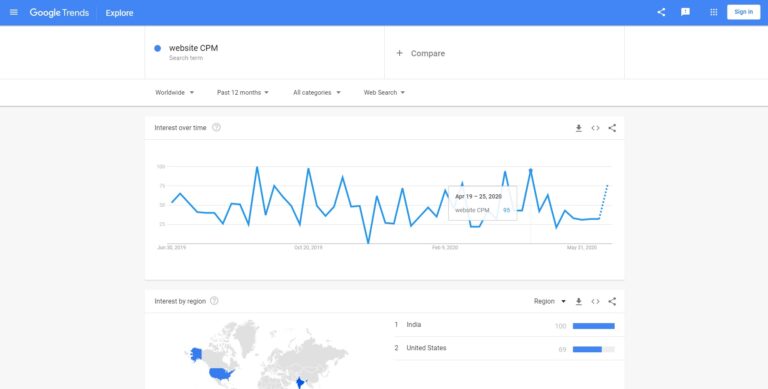 Who decides on the CPM rate for publishers?
In the ecosystem
ADVERTISER ↔️ AD NETWORK ↔️ PUBLISHER,
it is only one group that determines how much the "mille" will cost — the advertisers. They might bid highly for your traffic, and they might lose their interest. Ad networks indicate those changes and update their
cost-for-thousand impressions
rates for publishers.
Advertisers come up with a solution to bid more or less by taking into account multiple factors. These factors are tightly linked and influence each other. Let's list the most substantial so you could get the whole picture.
Why do advertisers pay less or more for traffic?
How to raise chances to make money with CPM?
A publisher's checklist
First, let's exclude some major technical troubles that could ruin the whole website performance, and eventually, make your revenues drop to zero.
1. Correctly place ads on your website
1.1 Make sure you've copied the whole code to place on your website.
1.2 Place the code as recommended by your ad network. At Adsterra, we have helpful tips on the dashboard.

1.3 Rely on the copy-paste method. Don't try to enter or edit the scripts manually. Otherwise, you may make a typo and waste long hours trying to find the roots of the problem while your website will be losing money. 
1.4 Don't forget to generate a new code after switching your site from HTTP to HTTPS.
1.5 To place several similar banners, get unique codes, as they contain different IDs. So, don't put one code 2 times if you want 2 banners to rotate on a webpage.
1.6 Check your platform specifications. If you use code optimization plugins like WP minify plugins for Wordpress, make sure they don't add any additional data to the ad script. The same rule for text editors that tend to add or replace pieces of code. 
---
🎁 Use our step-by-step guide for a smooth start in website monetization.
---
2. Get to know your traffic to improve CPM
2.1 Traffic seasonality
Remember that advertisers' bids rely on seasonality? When the peak season comes, your traffic should be ready to meet the demand. How to make sure?  
Use Google Analytics report to check up in what periods your website attrects more visitors.  

Compare the traffic peaks and drops you found with the

CPM metrics

in Adsterra. What if you were driving more traffic during the fruitful seasons?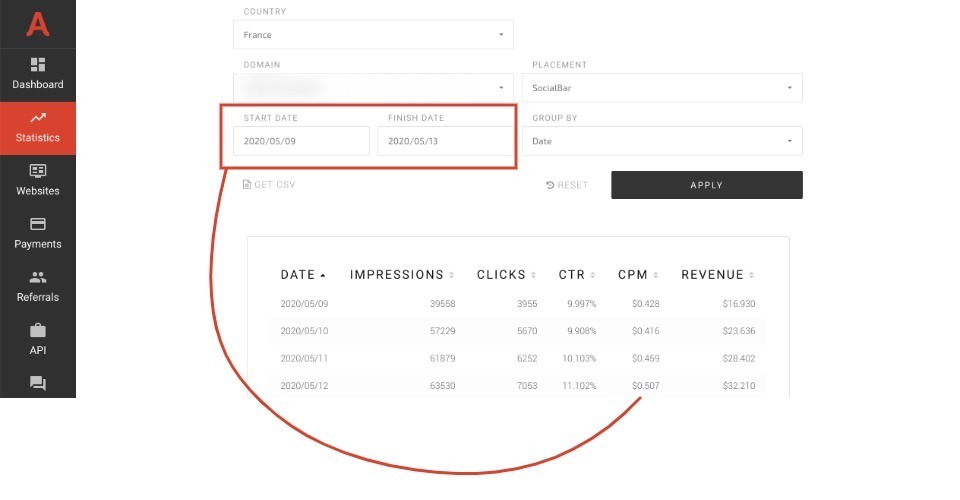 You may also find out that you had always earned more when there were fewer visitors. Then you've got a ready-made strategy — to grow the traffic volume in the exact intervals of the highest demand.
2.2 Traffic geos and types
Investigate all the aspects of your traffic as if you were Sherlock! A couple of clicks, and Google Analytics reports will reveal the OS types, devices, carriers, countries, etc. Perhaps, the number of visitors hasn't changed, but you've lost a loaf of the audience from particular countries or mobile users. 
Compare your findings with your statistics at Adsterra where you can pinch the CPM rates by countries and dates. To improve the situation, you might need to diversify your geo-sources.

2.3 User engagement 
The more time visitors spend time on your website, the more they are likely to interact with ads (click on them), and the more you will be paid. Advertisers are unwilling to pay for dull traffic. Your website analytics system probably builds such behavioral metrics as Page Views and Average Time on Page, They unveil how engaging your content is. Google Analytics builds a straightforward Frequency & Recency report with helpful figures based on your traffic. 
2.4 Number of unique users
If over 80% of website visitors are your loyal audience or returning visitors, advertisers may eventually cut down your CPM. Why so? It is unlikely that one user will react to similar ads several times, so when advertisers squeeze the maximum from the traffic, they expect an influx of new users. 
Another possible reason for sliding down your CPM is "ad blindness". Loyal users tend to ignore ads when they meet them over and over again, while the newcomers are more likely to be attracted.
2.5 Overall traffic quality 
No matter how many visitors you have, advertisers are determined to pay for measurable and trustworthy traffic. If you have recently bought traffic from unreliable sources, your revenues will soon fade. 
Be careful with:
proxy traffic

as it is ghost traffic for advertisers because of the hidden IPs and false geos. 

bulk traffic acquisition

as its quality may damage your core metrics (engagement, page views) and dramatically affect

cost-per-thousand impressions

.

unreliable link exchanges

that can bring you low-quality referral traffic or even bot traffic. 
3. Masterfully place ads to gain higher CPM
Some publishers think of monetization as of a single-shot activity. They pick an ad type, choose a place to put it, and then forget about it. That's a weak tactics. You can earn more and gain higher bids if you control and operate your ad formats. Let's list some typical pitfalls that lead to income losses.
Instead of Summary. Focus on Your Revenues
There are numerous contributors to the revenue decrease, but they reveal plenty of opportunities to grow your income as well. First, exclude the most obvious reasons like technical issues and those mistakes with ad placements. Audience analysis will take a lot of time, so keep patient, and soon it'll bring you some insights on how to compete for higher bids.
Rely on all data, not just CPM metrics. Nothing should convince you more than your revenue figures. On your dashboard, you always can assess how many clicks users made within a given amount of impressions.
If you have just started monetizing, your primary cost-per-mille might be higher, as advertisers haven't assessed it yet. Usually, it takes up to 3 weeks to balance rates & bids within an ad network.
Never give up on researching and enhancing your audience engagement as it is the core factor for better website performance.
Adsterra has always been among the best paying CPM networks. We are known for our partner care approach; your dedicated manager is always by your side to help with settings, advise on strategy, and provide guides and manuals.