"You guys are killing the market, we get 50% revenue from Adsterra only"…"The best CPM rates, the best team ever"…"Más que una plataforma, es una familia." These are acknowledgements we spotted while celebrating Adsterra's 9th birthday. Though these were birthday wishes, people included the most powerful words of appreciation. So, if you want to answer the question "why choose Adsterra?", it's better to listen to those who monetize with us.
A global celebration turned into the most powerful unity
Adsterra has been operating in the ad-tech market since 2013, and we're proud of having the warmest community of partners worldwide. To share our love and appreciation, we set up a digital party that started with sharing birthday wishes and ended up with hanging out in the Metaverse (you're also welcome, use this entry code LSX845).

Though the idea behind was about having fun and, maybe, going wild a little, we were touched by the number of deep and hearted acknowledgments we received. From the US to Ghana, people highlighted why they rely on Adsterra when making a profit. So what do they appreciate most? Let's find out.
Why choose Adsterra? Let's ask those who monetize traffic
If you ever wanted to grow business in a strong community, if you ever wanted to find a reliable and caring partner to fast forward you to the new heights, maybe, you're about to make your dream come true. Just read what publishers from all over the world say about making a profit with Adsterra.
1. You earn a lot when you work a lot: great CPM and revenues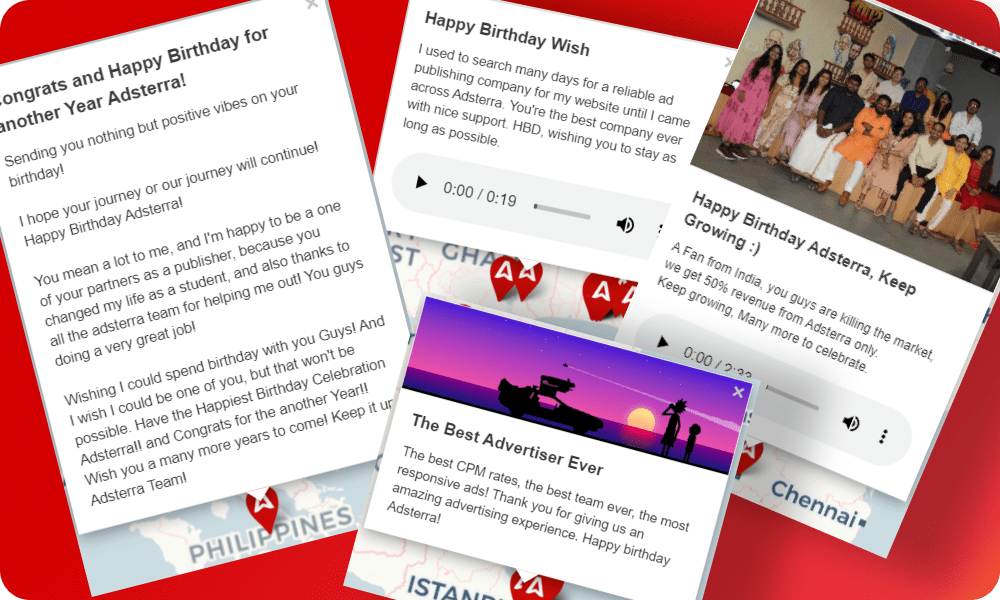 One of the most influential AdSense alternatives, Adsterra has been serving genuine traffic and offers for over 9 years.

Adsterra is an excellent choice for affiliates looking to expand their revenue sources and for publishers aiming at higher CPM rates. AI algorithms ensure high eCPM for website owners.

eCPM estimates the quality of traffic, counting ad views, clicks, and conversions. So, publishers who send genuine traffic that converts continually grow income with us. Webmasters whose traffic comes from several geos can gain extra by sending hot ad views at the best CPM rates.
2. You're in the family of caring experts and pros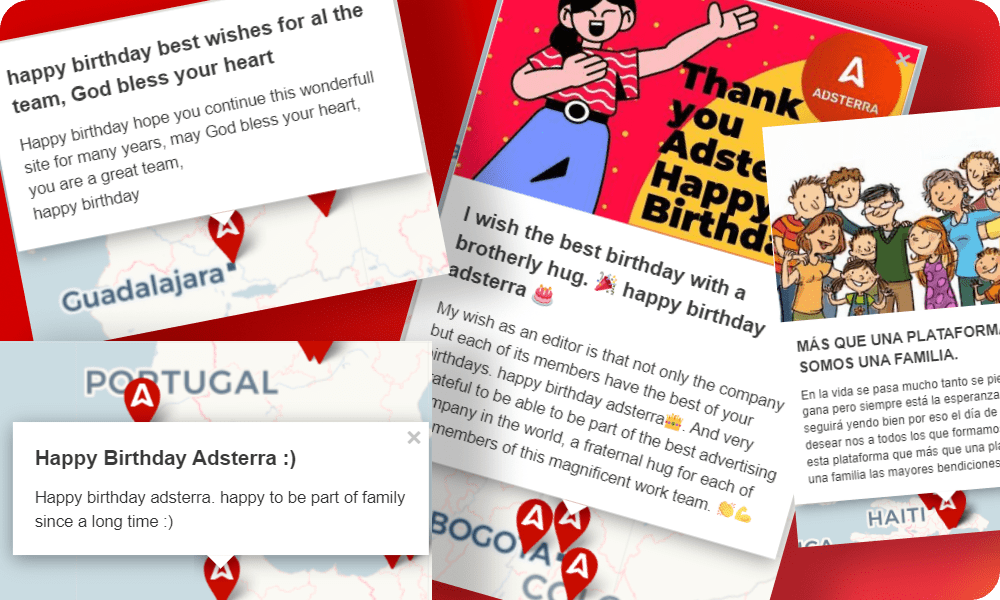 You might land on a robust platform with up-to-date ad formats and nice payouts. But what if it will never assist you, or you will be stuck with all these settings? Not with Adsterra. Both beginner and pro affiliates and publishers get quick responses, advice, and enjoy life hacks.

Thanks to the unique Partner Care program, Adsterra delivers friendly support to every partner. Our support team is in the live chat, assisting you in adding ad codes and choosing the most profitable ad format. Expert managers will willingly share tips and tricks for your successful monetization strategy.

Adsterra experts go online, sharing guides, tutorials, and insider tips for achieving better payouts and developing website SEO. We outsource SEO experts to publish definitive courses on website traffic growth and content creation.
3. It's your territory of growth and achievements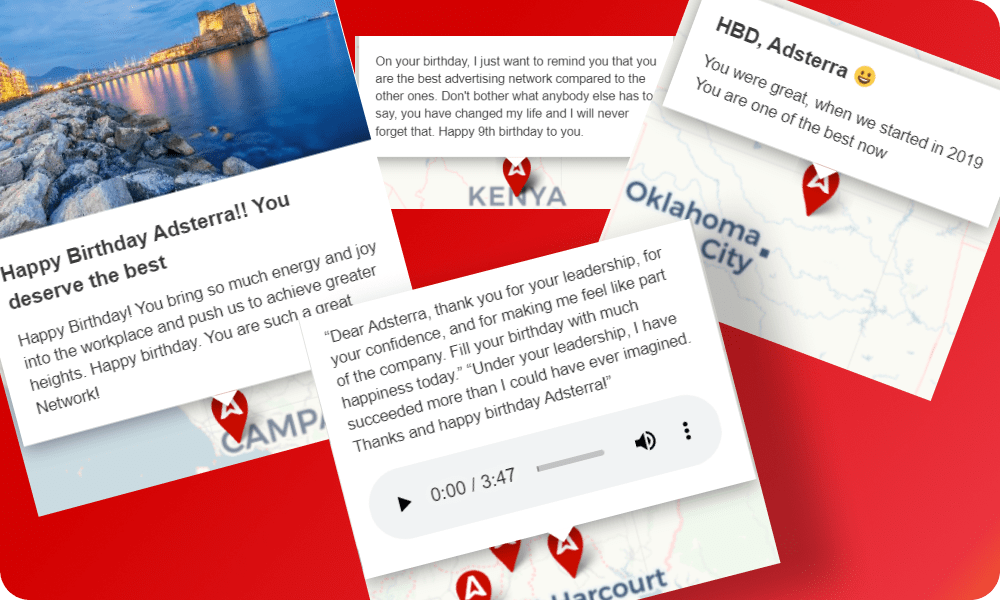 One-dayer partnership? Not with Adsterra! You come here with your timely goals, growing and achieving with us from year to year. The strive for a long partnership is in our DNA. That's one of the critical differentiators all of our partners highlight.

Anyone can create an account for free. Our partners have access to the full set of the Platform's features right after the registration. Publishers who have worked with Adsterra for many years spotlight our reliability in delivering statistics and payments. We provide regular automated payouts with detailed transaction data that you can check in your account at any moment.

Adsterra has always praised achievements, and we encourage our partners who make either small steps or giant leaps to higher revenues. Star bloggers and online entrepreneurs come to our blog to share their expertise.
It's you who turns things around. Adsterra is here to put you forward
If you're not looking for get-billionaire-overnight solutions (which are always shady), you're in the right place. You can become a high-ticket publisher with Adsterra's assistance. Here you have a complete set of ad formats and tools to start growing business instantly.
Benefits for publishers
Vast pool of advertisers with 20K+ campaigns and exclusive offers running at a time
100% fill rate with quality ads
High and stable CPM rates
Flexible settings that help control ad volumes, frequency, verticals, and formats.
Regular, automated payouts twice a month on fixed days
Minimum withdrawal $5 (for Paxum and WebMoney)
Various payment methods: PayPal, Bitcoin, WebMoney, Paxum, Tether, Wire Transfer
Transparent and detailed real-time stats
Anti-AdBlock feature that helps improve ad earnings by up to 35%
5% referral program with regular payouts
Super-fast live chat support; personal managers for managed accounts.
When you choose Adsterra, you enter the family and the community of passionate pros. We believe in adding value to everything we do, and we are happy to welcome those who think the same. Join now!