Sweepstakes offers are called "the oldest" and "evergreen," but the vertical seem to have evolved embracing new traffic types. Since the pandemic outburst, mobile content consumption has been evolving massively. But will these users convert? Is it worth targeting iOS users? Can a beginner earn over $100 on running a giveaway offer? In the case study from our partner, you get first-hand tips on how to make a profit from a Sweepstake PIN Submit offer with Adsterra popunder ads. Learn which pre-landers are consumed better, what bid will be just the thing to win conversions, and how to optimize your campaign so to save more money.
Core data for the Sweepstakes PIN Submit case study 
Traffic type: Popunder by Adsterra.com 
Offer: Mainstream Sweepstakes
Time period: February 09–15
GEO: ZA
Spent: $361.8
Income: $482.4
Profit: $120.6
ROI: 33.3%
Choosing GEO and traffic source
Hello everyone! 
Tonight we have a great case study on a GEO that has already become mainstream — South Africa. I'll show you some great results and give you tips on how to work with the offer.
Let's move on!
Choosing an offer
Sweepstakes are one of the most popular types of offers. In our case, we're dealing with a subscription to an iPhone 11 giveaway, which is one of the hottest and best-working offers at the moment.
More info about the offer:

Conversion type: CPA.
Vertical: Sweepstakes Pin Submit
Device format: Mobile
OS type: Android, iOS
Payment for each registration — $1.2
Screenshot of the final landing: 
Strategy
Before you start working with an offer, ask your manager about competitors for this offer type on your desired GEO. In my case, the competition on ZA is high, so you need to be careful when choosing a payout. 
So, after a brief conversation with the manager, I decided to start working with an offer on CPA model with a 0.9$ bid for each registration. IMHO, this is the most successful option in this case, which will help me not waste a lot of budget. 
Let's move on to the choice of creatives.
Creatives
The importance of the choice of creatives on the popunder-traffic is caused not only by how many conversions we will get in the end, but also by the amount of unnecessary traffic and bots we will cut off. Therefore, it is necessary to approach this issue wisely.
Let's try to pick the prelends that will perform best.
Here's a list of examples: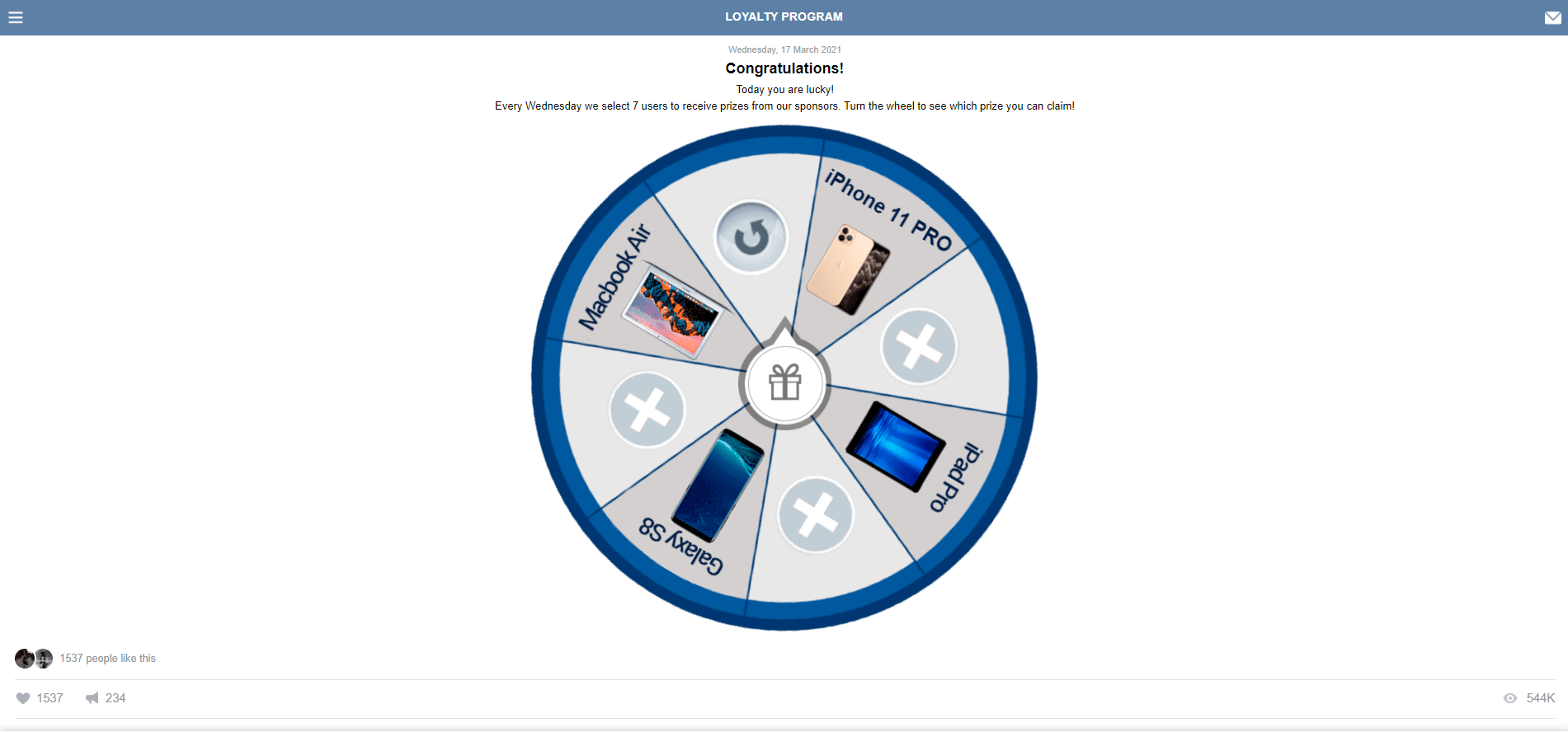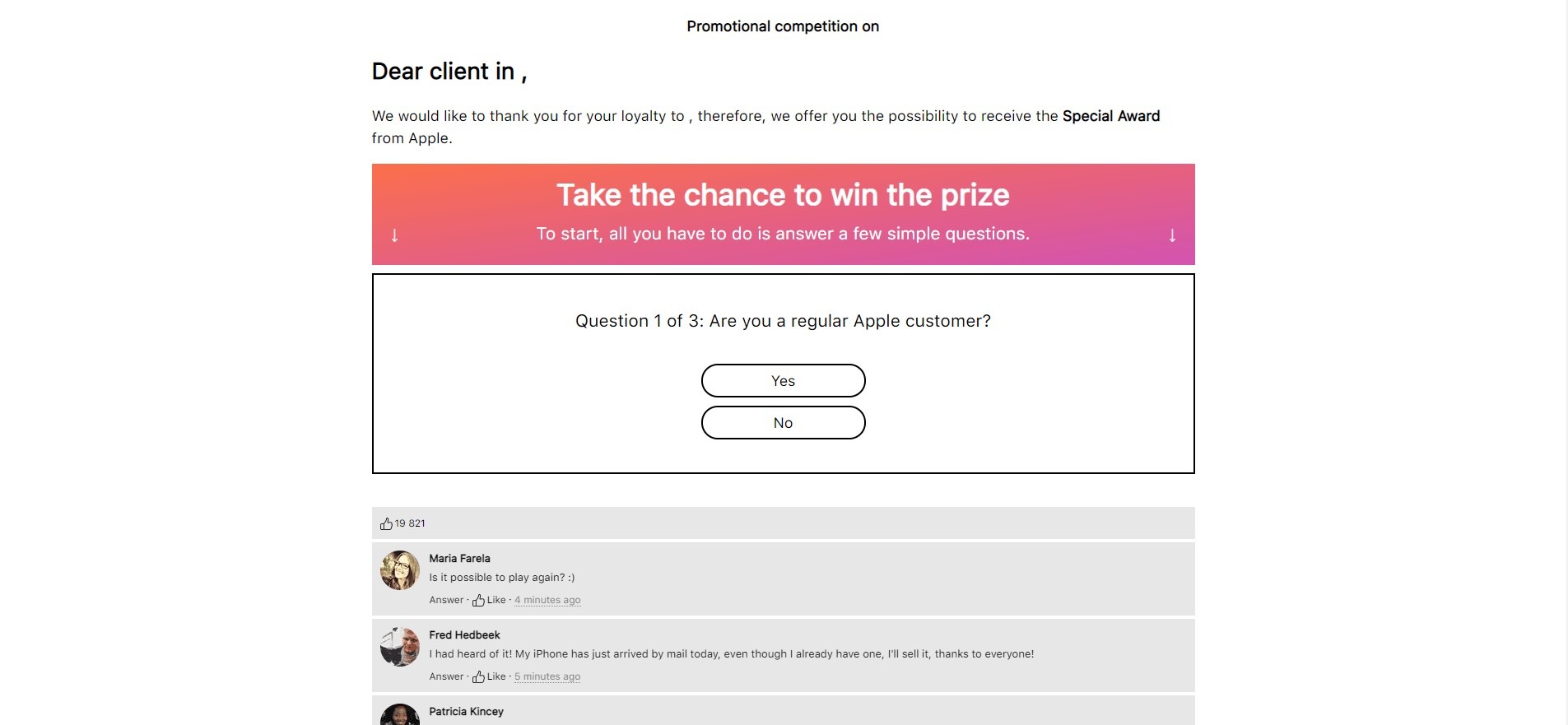 In my experience, the most converting prelands are dynamic ones, where you have to take surveys, spin roulettes to win, etc.
Keep in mind that in most cases you won't be allowed using branding elements on your pre-landers. Look carefully through the offer's restrictions and pick pre-landers in accordance with them.
Don't forget that the convertibility is also affected by having alerts and sound effects on the preland. Such additions almost always have a positive effect on the likelihood of conversion. But I advise you to not get carried away with a large number of alerts, everything should be in moderation.
Optimization
Step 1 (Changing prelands)
When working with Sweepstakes, be sure to change your prelends. If you see that something is going down — just switch to a new preland. All manipulations with prelands are better be done at the test campaign stage, so as not to waste your budget. 
A little hint: you can use all the prelends you have, and gradually disable those that have the smallest conversion percentage.
Stage 2 (Custom bids on placements)
Already a familiar feature from Adsterra, which I described in one of the previous cases. Allows you to use an improved version of the usual blacklist, where rates can be distributed on individual placements. This allows you to not increase the payment on the entire campaign, but do it only for the most converting placements.
Post-optimization
Overall settings: targeting on Android and iOS; mainstream traffic; mobile devices.
A screenshot of the final settings: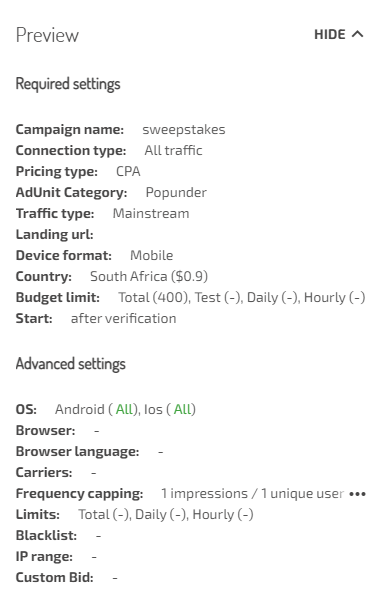 Results
Screenshot from Adsterra:

Profit
Spent a total of $361.8 in Adsterra on all days.
Income $482.4.
Profit $482.4 – $361.8 = $120.6.
ROI 33.3%.
A screenshot from the affiliate program:

Conclusion
So, summing it all up, we can say that the sweeps are easy enough to handle, but steadily bringing small but stable profits.
Even though there is a lot of competition on ZA, we were able to get the necessary number of impressions and conversions to put the campaign in profit. 
The combination is alive and converts well, I think we could've spun it a little longer and raised the bid by a bit. 
That's all for now!
Practice makes perfect, and we know you will never cease to upgrade your expertise. A profit of $120 is just a beginning 🙂 With our Mobile Carrier Subscriptions case study you will learn how to earn over $300 in 5 days. Dive into details of the Cryptocurrency case study to find out how to make an ROI of 268%. Or go for this story when the Social Bar ad format helped achieve ROI 190%.

Whichever example you choose, Adsterra traffic is at your service. Once you step into it, get ready to earn!