Affiliate marketing accounts for up to 15% of all revenue in the digital media industry. It has become the backbone of many businesses, particularly in the retail sector. Several brands say affiliate marketing generates 20% of their e-commerce revenue, sometimes just months after launching their programs.
For example, since its inception, eToro, a social investment network, has reportedly paid out $87 million in commissions to its affiliates. According to SimilarWeb, affiliates account for 6% of Amazon's massive 2.5 billion monthly online visits.
However, there will be crooks looking to cheat wherever there is money. Estimates of how much affiliate fraud costs the global economy each year vary because some fraud goes undetected or unreported. For example, according to Business of Apps, fraud estimates range between $34 billion and $6.5 billion per year.
So in this article, we're going to discuss familiar and new affiliate marketing scams, and how to protect your business from them.
Is affiliate marketing legit?
Yes, of course. This is a business where marketers earn commissions from conversions or sales, and brands can promote their products and services. Thanks to online tracking that links sales to affiliates, advertisers pay only when a conversion occurs. Affiliates include independent third-party websites, such as travel blogs, information pages, and interest groups willing to display ads links in exchange for a commission. However, in the digital world, any activity can turn out to be dubious.
To Contents ↑
How can affiliate marketing scams affect advertisers?
Affiliate marketing fraud has a huge impact on advertisers. Depending on the type of fraud, how long it goes undetected, and the size of the affiliate campaign, the exact amount of damage can vary. The following are some of the possible consequences of affiliate fraud:
Lower return on investment
When scammers infest your affiliate program, the return on investment (ROI) dramatically drops because they'll provide fake leads that will not convert into customers. This lowers your lead-to-customer conversion rate and the amount of business generated per ad dollar spent.
Negative publicity
Participating in an affiliate scam can harm a company's reputation in many ways. For example, contacting fraudulently generated contacts can result in negative publicity as people complain about receiving unwanted marketing messages. It may give the impression that your company is willing to force sales using stolen information. If regulators impose fines under the Telephone Consumer Protection Act of 1991 (TCPA), your company will be portrayed in a negative light. This bad publicity can turn off potential customers and business partners.
Losses incurred directly in the form of money
Scams in marketing take money from businesses without providing any real value, leading to wasted funds that could be better spent on display advertising. Furthermore, if regulators find that marketing calls to fraudulently-added leads violate TCPA guidelines, you could face a $500 to $1,500 fine per call made to the fake leads.
Erodes legitimate affiliates' trust
Some affiliate fraud techniques cause legitimate leads to be misattributed. They take credit for leads and pay the fraudster rather than the affiliate who promoted your brand. Trustworthy affiliates may become frustrated due to not being compensated for the leads they generate. And when they leave the program, they often advise their colleagues to do the same.
Affiliate marketing scams can result in a loss of marketing performance, wasted ad spend, and reputational damage, all of which are compelling reasons to create fraud-resistant affiliate campaigns.
To Contents ↑
Common Affiliate Marketing Scams
Get-rich-quick schemes aren't exclusive to affiliate marketing, but they remain a real problem in the affiliate marketing world. New affiliate marketers are eager to learn how to make a lot of money online, so if someone tells them they can make thousands of dollars with little time and effort, they'll take notice.
Fortunately, affiliate scams like this are easy to spot because they usually demand a large upfront payment in exchange for a "guaranteed, 100% effective money-making scheme." You need to stay away from such offers and work with proven CPA networks, where such promises are prohibited.
Pay-to-Join Initiatives
Most affiliate programs are completely free to sign up for. Why would a company ask you to pay for the privilege of recruiting new affiliate marketers? A few will ask for a small deposit to weed out spammy applicants, but it will rarely be more than a few dollars.
When you come across an affiliate program that charges a fee to join, you should immediately leave. Before entering your credit card or PayPal information, do your homework by:
Performing a Google search on the company in question;
Ask questions in forums like AffiliateFix and affLIFT;
Keep an eye out for negative feedback in reviews.
Misleading claims
Decent CPA networks and programs will not refer to a public offer as an exclusive offer. If the offer is private, it will be made public after further verification and is typically only available to advanced affiliates. The rewards in these offers are higher, of course. Always check with your CPA network to see if they have such deals and what you'll need to work with them.
To Contents ↑
Common affiliate fraud techniques
We'll discuss affiliates' dishonesty, resulting in false conversions and leads being sent to advertisers. Such players are banned from CPA networks like Adsterra CPA Network, with no possibility of account recovery.
• Human deception
Some troll farms employ many people to click on ads, fill out forms, and perform other tasks on your website. Because there are real people behind the screen rather than an automated bot, this fraud is often more difficult to detect. Human fraudsters, for example, can easily avoid the "honeypot" form fields that frequently trip up bots because they will not see them.
• Bots traffic
Some dishonest affiliates will use bot traffic to generate fake leads and clicks to make a quick buck in an affiliate marketing campaign. Bot attacks can take many forms, such as using widely distributed automated botnets to fill out forms on your website or using screen-refreshing bots to increase impressions.
• Fraudulent transactions
This goes beyond simply taking credit for generating a lead to actually carrying out a fraudulent transaction with stolen credit card information. When carried out by an affiliate, this type of fraud can result in lost ad revenue, product loss, and credit card chargebacks. In other words, you would be paying a con artist to defraud you.
• Hijacking URLs
A fraudster may set up a website or name a product or service similar to your company's website to claim credit for organic or direct traffic. When visitors visit the fraudulent website, a cookie is placed in their browser and redirected to your site. This allows the fraudster to claim credit for driving traffic to your website every time someone types an incorrect URL into their browser or clicks on the wrong page in their browser's search engine results page (SERP). Although URL hijacking is a subset of cookie stuffing, it is distinct enough to be mentioned separately.
• Cookie stuffing
Browser cookies are an essential feature that enables tracking. Cookie stuffing involves placing multiple cookies (third-party cookies) from various advertisers on a visitor's computer. The scammer earns a commission when the visitor visits any of those advertisers' sites and converts even though they did not bring them to that site.
• False attribution (app installs)
Similarly, attribution fraud occurs when fraudsters take credit for conversions they did not generate. Attribution fraud manipulates the "last-click-attribution" model, causing an organic install to be associated with the fraudster. In 2018, Google launched a new campaign against Cheetah Mobile's File Manager and the Kika Keyboard because they were part of a growing trend of falsely crediting app installs by creating fake clicks.
How to spot scams in affiliate marketing
You need to know how to spot affiliate marketing scams like those mentioned above if you want to avoid them.
You should always avoid anything that sounds too good to be true as a general rule. But this isn't the only way to distinguish a scam from a legitimate affiliate program.
These are some common red flags in our experience:
Poor quality stock photography;
Multiple versions of one affiliate network's site with similar content;
Lots of talk about making a lot of money;
Poor quality page copy;
Endless website redirections.
To Contents ↑
How to avoid affiliate marketing scams
Testimonials
You should definitely request testimonials from the company. Don't trust the reviews they publish themselves on their website. Ask for names and email addresses of people you can contact to learn more about how the program worked for them.
If you come across some negative reviews, don't be put off. Some people are simply not suited to certain programs. Things will most likely be fine because there is more good than bad. You can also use these testimonials to get tips on what to do and avoid.
Free signups
If you have to pay to join, it could be an internet marketing scam or a multi-level marketing program.
Company's track record
The company's history should indicate if they're trustworthy or not. Go through their website to see if you can locate the necessary information. Good affiliate programs have a track record and have been around for a long time. It'll be around in a few months if it's a good program.
Customer support and physical address
You should be able to contact the affiliate program's support if you have any questions or concerns. They should also provide marketing advice for their products. A genuine company will always want you to succeed because they'll perform better if you do well. It should have a toll-free phone number and a customer support email address.
Sending the company an email with some basic questions is a good test. If it takes them weeks to respond, you should think twice about going ahead with this venture. If they have communication issues, they could have other internal issues.
To Contents ↑
Search results
A quick online search will reveal the legitimacy of any affiliate program. A well-known scam will always have complaints and reviews from angry victims. Even if there aren't a lot of complaints, five or so negative comments should be enough to make you avoid it.
You can even use Google to determine whether or not a particular affiliate program is genuine.
Transparent payments
An affiliate program that pays unrealistic commissions, similar to get-rich-quick schemes, could be a scam. True, there are legitimate affiliate programs that payout well. For example, affiliates in the Bluehost affiliate program can earn a one-time payout of up to $65+.
A tiered pricing structure allows Hostinger to pay up to $150 per sale.
Wix compensates affiliates with $100 for each sale. As you can see, the payouts are substantial, but some requirements must be met. If an affiliate program offers a commission with no restrictions, think twice about joining.
Adsterra CPA Network undertakes all financial risks by paying its affiliates earlier than advertisers approve conversions. That's why trusted affiliates can get payouts two to three times faster than they're used to.
To Contents ↑
Anti-fraud policy
The ad networks you work with, as well as the CPA networks you use, should have official rules or an anti-malware stance that will help you understand how they treat fraudulent traffic and unscrupulous advertising.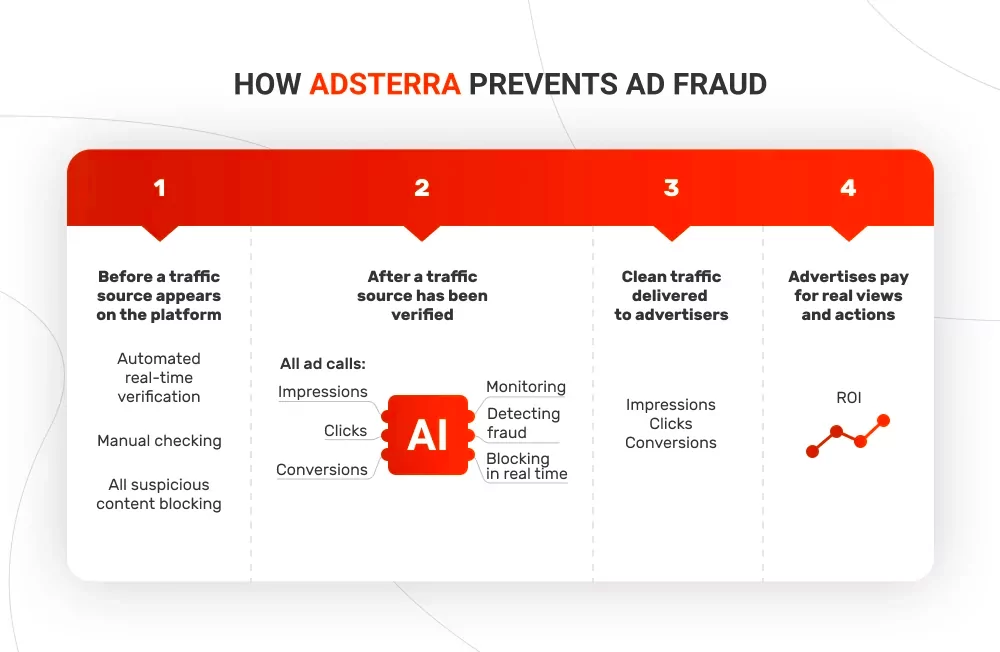 Adsterra's algorithms use various scanning techniques to monitor each traffic source constantly. They can recognize a redirect attempt and flag it as suspicious. When the algorithms detect fake traffic, they check all impressions from that source and block it.
Learn more about our anti-fraud system here.
To Contents ↑
Conclusion
Fraud prevention should be a top priority for any company conducting an online marketing campaign. Many anti-fraud techniques are largely reactive, addressing fraud only after it has caused significant damage.
Looking into your marketing analytics can help you detect fraud effectively. Unfortunately, due to the time it takes to conduct a manual review, fraudsters may be able to escape with their stolen gains before you can shut them down.
To combat affiliate fraud, your company needs a solution that can check for fraud in real-time and identify fake leads before paying affiliates for bad traffic.
With Adsterra's fraud detection systems, you can stop fraud before it hurts your marketing, prove the source of the scam, and back up your findings with data to resolve any disputes.
Are you ready to reduce the cost of your affiliate marketing campaigns while also protecting your brand from fraud? Contact Adsterra right away.