Trends come, and trends go, and who knows what they hold? Not only can you guess, but use all chances for gaining a competitive advantage. We don't urge you to reverse your 2023 website monetization strategy, as we believe that well-tested ad formats and traffic sources will keep making a profit. But how about giving a try to several techniques that can uplift your ad earnings?

This time, you will learn some flagship strategies that will drive the market in 2023 and help publishers diversify their income sources. 
1.Website niches that will gain momentum in 2023
Trending publishers' categories from 2021 will keep gaining traction in 2022. We at Adsterra are seeing an ever-increasing demand for traffic from social media, and we will highlight this trend later in the post. As for the booming website niches, 2023 will put forward:
Entertainment
Streaming services (especially sports-related)
Movies
Downloads
Video hosting
Anime
All-in-one tools and services
News
2. Mobile ads and mobile traffic will return higher CPMs
Mobile traffic has become an enormous CPM driver after warming up over the past two years. It will continue growing in volumes and payouts, of course. You can track this trend by looking at Adsterra's CPM rates.

Though desktop ad views are still highly paid, advertisers are ready to pay more for mobile users. Let's pinch some data to prove: as of January, the CPM rate for Nigerian desktop traffic was $1.4 while payments for mobile users reached $3.8. That's not a rare case, actually.
Spicing up this subject, we can say that Android traffic is catching up with iOS.
With mobile traffic at its peak, publishers serving mobile-friendly, good-looking ads will turn websites into cash machines.

Still, we don't urge you to forget about desktop users. If 80% of your income comes from desktop traffic, 2022 won't cut off this stream. At the same time, we recommend keeping an eye on your Google Analytics reports and checking mobile traffic volume 🙂
Mobile or desktop? Adsterra publishers enjoy fair and regular payouts regardless of the traffic type. Join the team of passionate pros!
To Contents ↑
3. Publishers will make even more money on sports traffic
Those of you who looked forward to growing earnings on sports traffic were more than right. If you can boast of having a sports-oriented website, this is your year. Advertisers and affiliates will be hunting for quality traffic. THERE WILL BE LOTS OF SPORTS BETTING CAMPAIGNS from NHL and Winter Olympics to Super Bowl and World Cup. To forecast which countries advertisers will highly demand, you can regularly check with our Sports Affiliate Marketing updates.
To Contents ↑
4. Facebook traffic will lead, with TikTok as the second runner
Social traffic has been returning big money over the past two years. You needn't own a website here, but a landing page to drive traffic you purchased. Yes, the point is to focus on paid traffic as you can target any geos and groups of users, playing with bids and testing one traffic slice by another.

The winning formula is to create a high-converting landing page with ads that will open on-click or automatically download on hover. Read this practical guide to generating earnings with Facebook and Direct Link. We hope it makes all essential steps crystal-clear.

TikTok traffic is more than welcomed by advertisers though not easy to obtain. The flow can be the same: you will need a connecting landing page with ad formats placed there. You'd better not put ad links inside your TikTok posts or on the profile page.
To Contents ↑
5. Voice search: the new way to grow organic traffic
Get ready to boost traffic with new techniques! Voice search is a no-hype anymore: users speak out their search requests more and more often. Over 90% of businesses invest in voice tech.

Although we don't believe that voice search will replace traditional googling, you can use it to drive more traffic while the competition is not stiff.

One thing that's particularly nice in this 2023 website monetization strategy is that you can adapt your website to voice search pretty fast. Use longer keywords that are more conversational rather than blunt search phrases. Look through Quora and Reddit to find spoken phrases people use when interested in your website niche. With these six strategies from the Voice Search Optimization Success guide, you can get more life hacks.
To Contents ↑
6. The real impact of Core Web Vitals, particularly CLS
Google is pretty serious about the mobile-first experience, and its Core Web Vitals will only gather pace. Let's be realistic: you won't lose your search positions overnight if your website doesn't meet all of Google's requirements. We believe that solid websites will keep their positions, but you should pay attention to some metrics that concern advertising.

The CLS (or Cumulative Layout Shift) refers to how stable your website is. It's a totally user-centric parameter as it tracks if the screen shifts or moves while the user's visit. This means that slowly downloading banners or DIY pop-ups that appear in the first seconds of a user's session can make the CLS metric plummet.

Large images and sliders that unfold for ages and make the page blink and text hop are damaging CLS.

Thus, publishers will need to carefully select ad networks choosing those that serve UX-friendly ad formats. Just in case, Popunder ads are still the safest ad unit as they download in a separate tab of the browser.
To Contents ↑
7. Some ad formats will celebrate a soar in popularity and payouts
The publisher's website monetization strategy in 2023 will heavily depend on which ad units they put on websites. And you probably have already guessed all of them right. Advertising formats must match all trends we mentioned here. Let's list the main requirements:
mobile-friendliness;
fast loading with no or minor layout shifts;
user-friendliness;
gamification or entertaining features;
a more prolonged eye contact.
So which ad formats are safe for user experience, catchy enough to gain CTRs, and browser-friendly to keep your SERP high?
To Contents ↑
Popunders
Why has the evergreen format become the trending one for 2022? Mainly because it perfectly matches the most strict UX requirements:
Pop ads don't overlap the content;
They don't lead to layout shifts;
Pops don't occupy any extra space on the page making users "free from ads."
Adsterra Popunder traffic has grown to 2.2 billion impressions weekly, and publishers seem to have been earning a lot in 2021, as we paid them $20BN more than compared to 2020.
To Contents ↑
In-Page Push
Web Push ads will keep their positions, but they will not be accessible for all publishers with Google's ever-increasing restrictions. Thousands of web push notifications will be blocked as Google is persistent in protecting users from unwanted ads. However, it is rather challenging to define which ads are undesirable, as we usually are not eager to watch any of them, right?

In-Page Push ads have become the most powerful and genuine reply to browsers' sanctions. These ads look neat and friendly, not demanding any subscriptions.

An advanced variation of In-Page Push is Social Bar, which gives publishers a combo profit. Social Bar counts various creatives that will engage users like Instagram Stories, TikTok short videos, or even chat heads. Increased CTRs, along with all browser compatibility, is what webmasters like the most about it.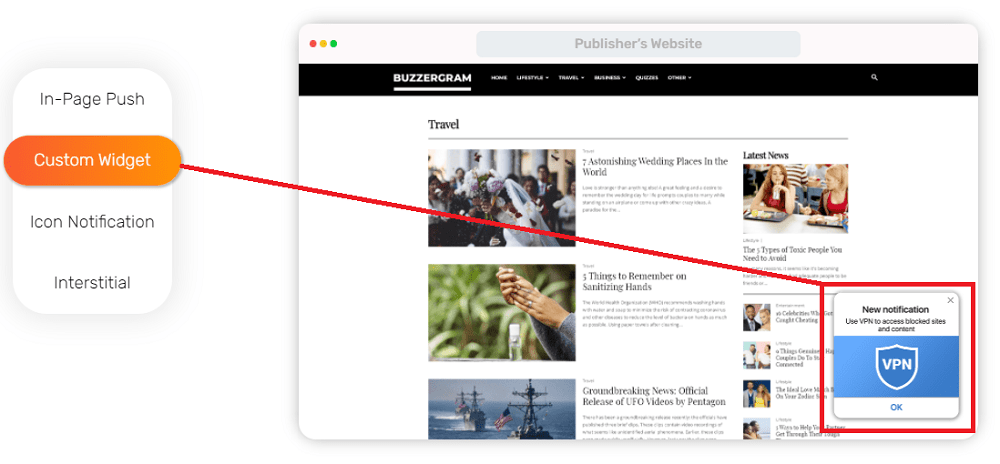 To Contents ↑
Interstitials
Google has been very optimistic about Interstitials making them appear on millions of websites. Interstitials are full-screen ads that unfold, blurring the main page's content. But users proved to like them more than classic pop-ups. What's the point? Interstitials are fair: they cover the page with a bright promotional banner, but users can easily close it and return to reading — the page will remain the same. Adsterra publishers have enjoyed Interstitials since the first decade of 2021; it comes with Social Bar ad format.
To Contents ↑
8. Apps and Games will flood the advertising feed
We expect that with the Metaverse idea paired with AR/VR tech evolving, lots of mobile apps and game developers will advertise their products with ad networks. If you're one of those publishers whose audience is fond of gaming, you have all chances to rev up your monetization speed.

The number of TikTok and Aliexpress rivaling apps will continue appearing. In 2021, some decent aspiring apps had been advertised locally in India, Indonesia, and South Africa. Such offers are usually high-paying; therefore publishers can expect to grow their revenues.
FAQs about 2022 website monetization strategy
Summing up all we found out about the successful website monetization strategy, let's answer some questions that often arise.
1. Can I safely mix ad formats on a website?
We believe you need to combine ads to diversify the income. However, we recommend starting from one user-friendly ad format adding others after a short test. Popunder paired with In-Page Push works like a well-oiled machine.

Try picking the least intrusive units like Popunders with In-Page Push, Direct Link with In-Page Push (Popunder), Interstitial with Native Banners. Avoid ads with the same impact or look alike: Display Banner + Native Banner or Interstitials + Pop-ups. 

2. Will payouts for Banner Ads decrease?
They don't seem to fade, so keep calm and monetize 😉 We're not those ad networks that brainwash publishers trying to feed them super-new ad formats. If you earn a lot with banners, you will continue to profit in 2022. But trends are something that may give a tremendous impulse for growth. Try adding Social Bar along with banners just to try them out.
3. You don't mention video ads; will they be trending?
Video content moves into top gear, and your website monetization strategy in 2023 could include VAST ads also. What's complex about making a profit with video advertising is supporting a fast-loading website with powerful hosting behind it and choosing the right video player. Here, in the VAST money making guide, you can find all the ins and outs. So, video advertising is great but not crucial for staying profitable in 2023.
4. What blog and website niches are traditionally well paid at Adsterra?
Publishers from diverse niches and categories have earned with Adsterra since 2013 as we serve universal ads that can fit any website profile. Like, for instance, lots of URL Shorteners cooperate with Adsterra. Webmasters owning Books, News, and Entertainment sites have adapted Popunders, Social Bar, and Display Banners. Publishers running Video streaming platforms were among the first to try In-Page Push.
Now you have some clues to start generating more ad earnings. If you have doubts or concerns about which ad formats will suit you best, you can drop us a line in the live chat. Our managers are online 24/7 in the live chat.