Do you want to manage your revenues and steadily grow the cash flow? If so, you need a monetization strategy to empower you with a clear goal and accurate means. You don't have to reverse your current plans for earning online with your website or blog. It's just about giving a try to several techniques that can increase your profits.

This time, you will learn some flagship monetization strategies that drive the market and help publishers diversify their income sources. But let's start with the basics.
What is a monetization strategy?
A monetization strategy is a global plan for generating earnings from your website, blog, social media account, or app. It sets out one or several primary ways of making money online:
what you will profit from (e.g., sell web traffic or sell online courses);
how you will turn a profit.
There are several proven monetization strategies:
Sell ad space on your website
Sell ad impressions coming from your social traffic
Offer paid access to your inventory
Promote third-party products by placing affiliate links
Offer in-app purchases
and others.
To Contents ↑
How do you develop a monetization strategy?
When you develop any strategy, you basically do the following:
analyze potential efforts, or how much time and resources you will need;
divide your plan into several stages or steps with timing.
By doing this, you devise tactics or a sequence of actions you need to undertake to meet your goals.
What is an example of a monetization strategy?
As mentioned above, you must outline HOW you will earn with a website, blog, or social media account. This will be your big plan. Then, you put effort into achieving it by applying various techniques.

As an example of a website monetization strategy, we took a success story told by one of Adsterra's publishers. Ayoub Ajaba is a master of generating massive organic traffic to his gaming blog. But it hasn't always been like that. He has mastered his own monetization model by defining:
Ayoub Ajaba discovered that getting traffic from Google would take plenty of time, so he focused on Bing. Then, he chose Native Banners to place on the website, taking into account his audience's preferences and the ad format's specifics. Eventually, a beginner entrepreneur made $945.
Now that you're aware of the benefits any strategic approach can give let's move on to the next part. We're now going to observe how you can enrich your monetization strategy and what you should include in your business growth global plan in 2023.
To Contents ↑
1. If you're only starting off, choose the right niche
Let's talk about trending website categories that have gained traction. We at Adsterra are seeing an ever-increasing demand for traffic from social media, and we will highlight this trend later in the post. As for the booming website niches, we can put forward the following:
Entertainment
Streaming services (especially sports-related)
Movies
News
Downloads
Video hosting
Anime and Fandoms
All-in-one tools and services
Is a blog niche enough to ensure you stable profits? As you might have guessed, the answer is "no." Your monetization model must include certain knowledge of your audience and ways of driving massive traffic to your website. Which ones? Let's find out!
To Contents ↑
2. Add mobile traffic and mobile-friendly ads
Mobile traffic has become a true CPM driver. It will continue growing in volumes and payouts in the next years.

Though desktop ad views are still highly paid, advertisers are ready to pay more for mobile users. Not always, not for every ad view, but still, this trend is tangible. Let's check, maybe? As of Adsterra stats, in July 2023, CPM rates for Mozambique social traffic coming from mobiles were about $12, while this traffic from destop devices cost around $2.

With mobile traffic at its peak, publishers serving mobile-friendly, good-looking ads will turn websites into cash machines. Spicing up this subject, we can say that Android traffic is catching up with iOS.

If 80% of your income comes from desktop traffic, you will still gain highly. But if you can add mobile traffic off this stream, why not?
Mobile or desktop? Adsterra publishers enjoy fair and regular payouts regardless of the traffic type. Join the team of passionate pros!
To Contents ↑
3. Consider adding sports traffic
There is no such thing as "sports traffic," indeed. But if your website niche relates to Sporting Fixtures or News, Entertainment, or Streaming niches, you're the lucky winner. These website categories can boast of attracting lots of iGaming advertisers willing to promote their offers.

From the World Cup matches to UFC fights, advertisers send tons of ad offers with highets payouts for users who sign up and put deposits on their gaming platforms.

To profit from sports-related traffic, you need a monetization strategy comprising sources of iGaming and Sports ads. Thankfully, you have lots of ad networks cooperating with iGaming operators. One of them is Adsterra 🙂
To Contents ↑
4. Use non-standard ways to earn from social traffic
Social traffic has been returning big money over the past two years. The winning monetization model we want to discuss today is not about promoting a Facebook page.

So what's the secret formula for getting extra income with social traffic? It looks like this:
You create a blog where you place ad codes (e.g., Popunder ads)
Then, you create a social media post promoting a piece of news on your blog
Your followers start visiting a blog post where they can view ads as well
You increase organic traffic and get paid higher for every 1,000 ad views!
Read this practical guide to generating earnings with Facebook and Direct Link. We hope it makes all essential steps crystal-clear.

Facebook is one of many platforms you can apply this earning strategy to. Advertisers willingly pay for any social traffic: Instagram, Twitter, Snapchat, Pinterest, and others.
To Contents ↑
5. Optimize for voice search
Voice search is a no-hype anymore: people perform over 1B monthly voice searches. Such queries are usually longer and don't "sound" like classic SEO phrases. They're more natural. People use spoken language as if they were asking a friend. Compare: "pancakes recipe no flour" and "How to I make pancakes without flour?"

The good news is that you can profit from voice search without changing your general SEO strategy. You can enrich current content with voice search key phrases, and that's it! How to find such phrases? You can look at the People Also Ask section in Google's search results or refer to Semrush, which provides a block of questions related to your key phrase. Look through Quora and Reddit to find spoken phrases people use when interested in your website niche. For more life hacks, check our Voice Search Optimization Success guide.

Although we don't believe that voice search will replace traditional googling, you can use it to drive more traffic while the competition is not stiff.

To Contents ↑
6. Act outside the stiff competition: Geos with high CPM
We got used to Tier-based revenues where Tier-1 traffic principally comes from the US, UK, Australia, and Canada. According to Benedict Evans, we all need to rethink this concept paying attention to new leaders. Let's call them Prime-Tier countries. If you can generate massive and quality traffic from these geos, your revenues may compare with those who fight for every visitor from classic tiers.

According to Evans's research, these new Prime-Tier countries are China and India.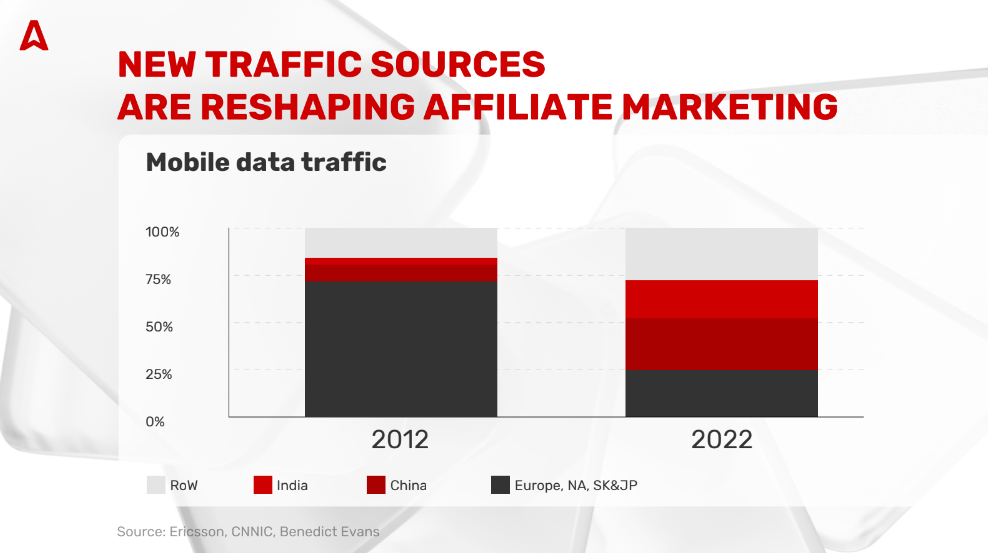 Adsetrra can add South Africa, Indonesia, and Brazil to this list. CPM rates for South-African traffic are comparable to the US ones. Ad impressions from Brazil are less rewarding. But publishers dealing with this traffic (and Latin America in general) can achieve their monetization goals by sending impressions in higher volumes.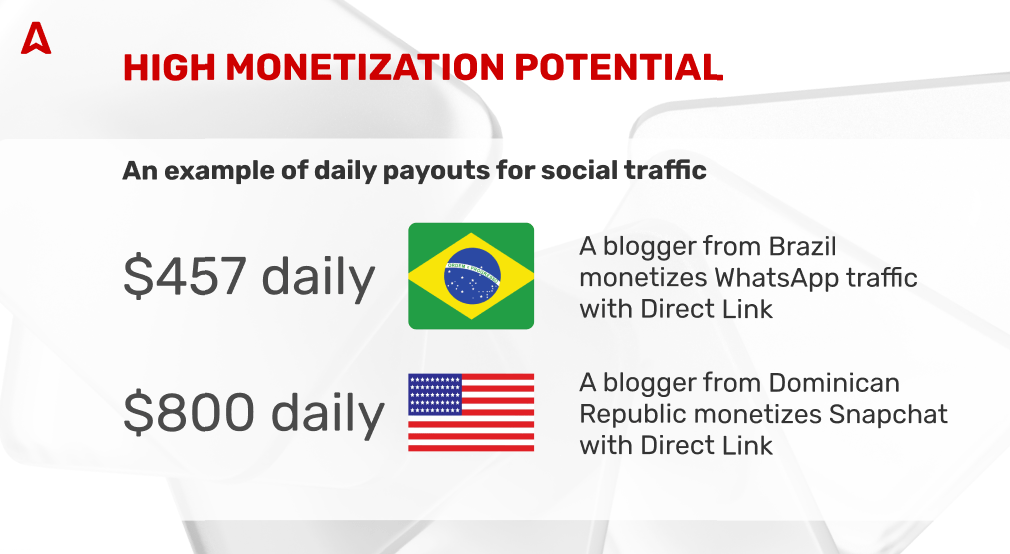 To Contents ↑
7. Choose user-friendly but engaging display ads
The publisher's website monetization strategy in 2023 heavily depends on which ad units they put on websites. Advertising formats must match all trends we mentioned here. Let's list the main requirements:
mobile-friendliness;
fast loading with no or minor layout shifts;
user-friendliness;
gamification or entertaining features;
a longer eye contact.
So which ad formats are safe for user experience, catchy enough to gain CTRs, and browser-friendly to keep your SERP high?
To Contents ↑
Popunders
Why has the evergreen format become the trending one? Mainly because it perfectly matches the most strict UX requirements:
Pop ads don't overlap the content;
They don't lead to layout shifts;
Pops don't occupy any extra space on the page making users "free from ads."
Adsterra Popunder traffic has grown to 2.5 billion impressions weekly as publishers love this non-intrusive format.
In-Page Push
Web Push ads will keep their positions, but they will not be accessible for all publishers with Google's ever-increasing restrictions. Thousands of web push notifications will be blocked as Google is persistent in protecting users from unwanted ads. However, it is rather challenging to define which ads are undesirable, as we usually are not eager to watch any of them, right?

In-Page Push ads have become the most powerful and genuine reply to browsers' sanctions. These ads look neat and friendly, not demanding any subscriptions.

An advanced variation of In-Page Push is Social Bar, which gives publishers a combo profit. Social Bar counts various creatives that will engage users like Instagram Stories, TikTok short videos, or even chat heads. Increased CTRs, along with all browser compatibility, is what webmasters like the most about it.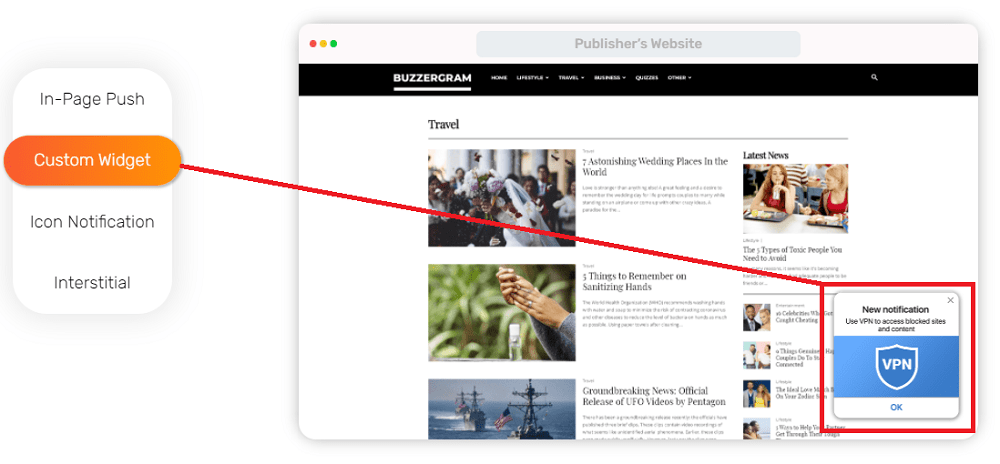 To Contents ↑
Interstitials
Google has been very optimistic about Interstitials making them appear on millions of websites. Interstitials are full-screen ads that unfold, blurring the main page's content. But users proved to like them more than classic pop-ups. What's the point? Interstitials are fair: they cover the page with a bright promotional banner, but users can easily close it and return to reading — the page will remain the same. Adsterra publishers have enjoyed Interstitials since the first decade of 2021; it comes with Social Bar ad format.
To Contents ↑
8. Focus on sociable audiences and digital natives
Just like ads promoting sports competitions, the number of ad offers promoting mobile and communication apps is projected to increase. To boost your site's revenue, target young individuals who enjoy connecting with like-minded peers, playing games, and learning from the convenience of their smartphones. If your website users will click on such ads and convert into leads, your CPM rates will soar.

We expect the number of TikTok and Aliexpress rivaling apps to grow in 2023-2024. Some of them like Hipi, Fika, Snackvideo have already created a stir amon affiliate marketers.
FAQs about 2023 website monetization strategy
Summing up all we found out about the successful website monetization strategy, let's answer some questions that often arise.
1. Is mixing ad formats is a good monetization strategy?

We believe you need to combine ads to diversify the income. However, we recommend starting from one user-friendly ad format adding others after a short test. Popunder paired with In-Page Push works like a well-oiled machine.

Try picking the least intrusive units like Popunders with In-Page Push, Direct Link with In-Page Push (Popunder), Interstitial with Native Banners. Avoid ads with the same visual impact: Display Banner + Native Banner or Interstitials + Pop-ups. 

2. Will payouts for Banner Ads decrease?

They don't seem to fade, so keep calm and monetize 😉 We're not those ad networks that brainwash publishers trying to feed them super-new ad formats. If you earn a lot with banners, you will continue to profit in 2023. But trends are something that may give a tremendous impulse for growth. Try adding Social Bar along with banners just to try them out.
3. Why do you need a monetization strategy?

The benefits of a monetization strategy are apparent. Above all, it helps you increase revenues. If you don't know where you're going and how you should act to generate more money, your gains may come, but they'll be accidental and uncontrollable.

When you can predict the effect and control every step, you can manage the cash flow and combat any obstacles appearing.
4. What blog and website niches are traditionally well paid at Adsterra?

Publishers from diverse niches and categories have earned with Adsterra since 2013 as we serve universal ads that can fit any website profile. Like, for instance, lots of URL Shorteners cooperate with Adsterra. Webmasters owning Books, News, and Entertainment sites have adapted Popunders, Social Bar, and Display Banners. Publishers running Video streaming platforms were among the first to try In-Page Push.
Now you have some clues to start generating a higher revenues. Which ads will you add to your strategy? If you have doubts or concerns, you can drop us a line in the live chat. Our managers are online 24/7 in the live chat.