Christmas is over, the new year holidays have passed, and now the marketing world is moving on to the next big marketing event: Valentine's Day. Advertisers and publishers worldwide are rushing to meet market demand, as they do with every other seasonal hype.
Considering the rising troubles with the omicron covid variant, most people will shop online this Valentine 2022, presenting affiliate marketers and advertisers with a bigger business opportunity than previous Valentine's seasons. However, you need to research how to boost your Valentine's Day campaigns.
In this article, we'll discuss the most important Valentine's day advertising tips, which verticals and ad formats fit Valentine's day, and provide some display ads inspiration for this lovely holiday.
Is advertising with Valentine's Day in mind worth it in 2022?
Yes, absolutely! According to Statista, US citizens spent $27.4 billion on Valentine's Day last year, and sales were up $6.7 billion from the previous year. In addition, 32% of survey respondents chose to do their Valentine's Day shopping online.
Running Valentine's Day-related ad campaigns is a must for every digital advertiser.
What target audience should advertisers focus on?
According to Statista's data, the top spenders on Valentine's Day are aged 35 to 44, followed by those aged 25 to 34, and then 45 to 54. In addition, men are typically expected to spend twice as much as women.
So you have your first target audience right there: men aged 34 to 44. The best strategy here is to choose offers based on the preferences of each age and gender group, then tailor the ad copy and creatives to the target audience.
Most Valentine's Day gifts are gifted to partners. However, gifts for other family members, friends, coworkers, and pets are frequently purchased on Valentine's Day.
To Contents ↑
What are the TOP gift trends for Valentine's Day 2022?
Understanding which Valentine's Day gifts are the most popular will reveal which holiday promotions will be the most popular. But what people plan to buy for others and what they'd love to receive can be quite different. Here's a table comparing both:
To Contents ↑
Where to run Valentine's Day ad campaigns?
Let's take a look at which countries spend the most on Valentine's Day gifts. Here's a breakdown by GEO (from the highest to the lowest average spend per person):
English speaking countries: The US, the UK, Canada, Australia, New Zealand;
European countries: Germany, France, Italy, Spain, Sweden;
Others: India, Argentina, Mexico, South Africa.
You should be careful with Indonesia and Saudi Arabia. Countries like Iran still celebrate Valentine's Day, but we recommend delicate advertising that is respectful and conservative. Don't go overboard with the topic of relationships.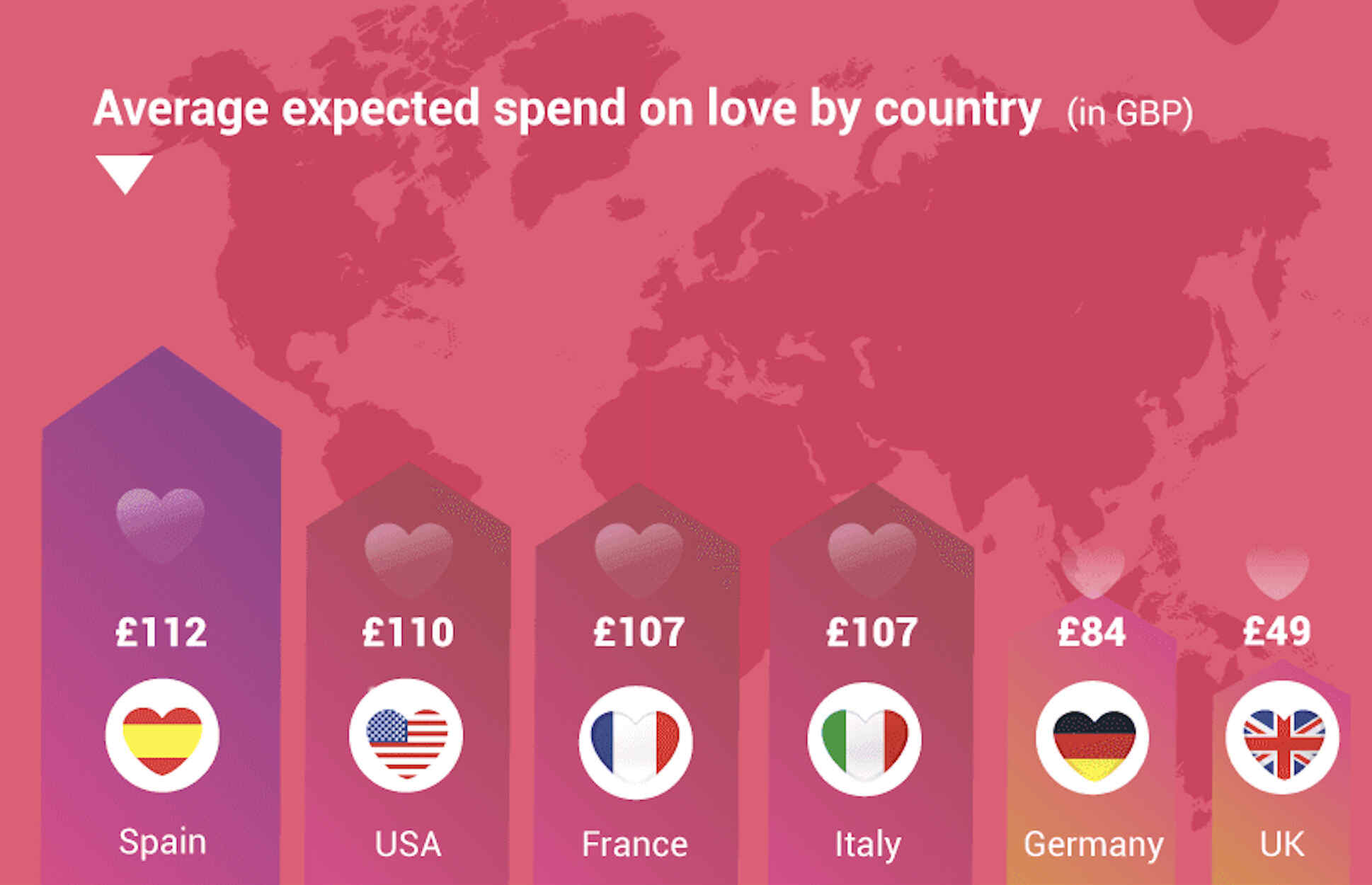 Advertisers should still check whether GEOs in these categories convert with their campaigns. That's why testing should be at the top of your to-do list. It'll help you figure out what campaign setup works best and where to scale up by identifying the best-performing traffic units for a given campaign. It also stops you from going over your budget by excluding the underperformers.
It's also a good idea to ask your traffic source for a whitelist of top-performing sources and GEOs.
| | |
| --- | --- |
| Adsterra managers monitor best-performing traffic sources, and they will help you out with marking them, as well as with choosing the right payout for conversions. | RUN YOUR BEST ADS |
Remember to double-check that the information you've provided corresponds to your campaign's setup.
Once you've figured out what you want to promote and where you want to promote it, the next step is finding out how to do it correctly. We recommend selecting an ad format, a vertical, and the appropriate targeting type for this Valentine's Day marketing campaign. Then, after a period of testing, bid on the best-performing units while ignoring those that poorly convert.
To Contents ↑
Which verticals work best for Valentine's Day advertising?
Your promoted offers, like any other season-specific marketing campaign, must be appropriate for the occasion. You must have your offers and verticals aligned with the Valentine's Day theme and what people need for this occasion — i.e., Valentine's Day demand.
Based on industry data, current search, and online retail trends, the following verticals and offers are most effective around Valentine's Day.
Ecommerce vertical includes offers related to:
Gift cards/coupons/vouchers,
Subscriptions to streaming services with films and TV series;
Jewelry,
Sweepstakes,
Electronics: smartphones, games, Go pro,
Clothing and accessories,
Niche toys shopping.
Travel vertical: Offers promoting Valentine's Day trips, hotel discounts, and transportation, among other things.
Dating vertical: Both mainstream and non-mainstream dating perform exceptionally well.
Nutra and Health & Beauty verticals include enhancement products, beauty-related products, and cosmetic treatments.
Learn more about other high-converting verticals in our article about the best affiliate niches that every smart affiliate marketer should consider.
To Contents ↑
Which marketing channels are most effective for Valentine's Day 2022?
The proper ad format for your Valentine's Day campaigns must reflect current demand. Depending on the vertical/offer you wish to promote, various ad formats may be suggested.
Pop traffic
You can use pop-under traffic to promote any verticals/offers we mentioned above. Popunder typically offers large volumes of available traffic at quite affordable prices. So it's an excellent ad format, to begin with, if you're running broad campaigns to measure available traffic. No creatives here: you lead users right to your landing page or a pre-lander.
Pop ads are great as you can buy traffic with the CPM (cost-per-thousand impressions) model for E-commerce offers. As for Sweepstakes and St. Valentine's Day lotteries, your choice will fall for CPA traffic (cost-per-action).
To Contents ↑
In-Page Push and Social Bar creatives
In-Page Push is a better user-friendly alternative to web push. Ads are displayed on desktop and mobile browsers, including iOS. You can select ads that resemble classic notifications from Windows, macOS, iOS, and Android. Or stick with hit templates that resemble messages from social media platforms.
In-Page Push ads best practices
No visual clutter or extra details;
High-quality images,
High contrast (icon VS background),
Enticing messages with call to action (Dating, Sweeps, Ecommerce);
Clear CTA if you use a template with a button.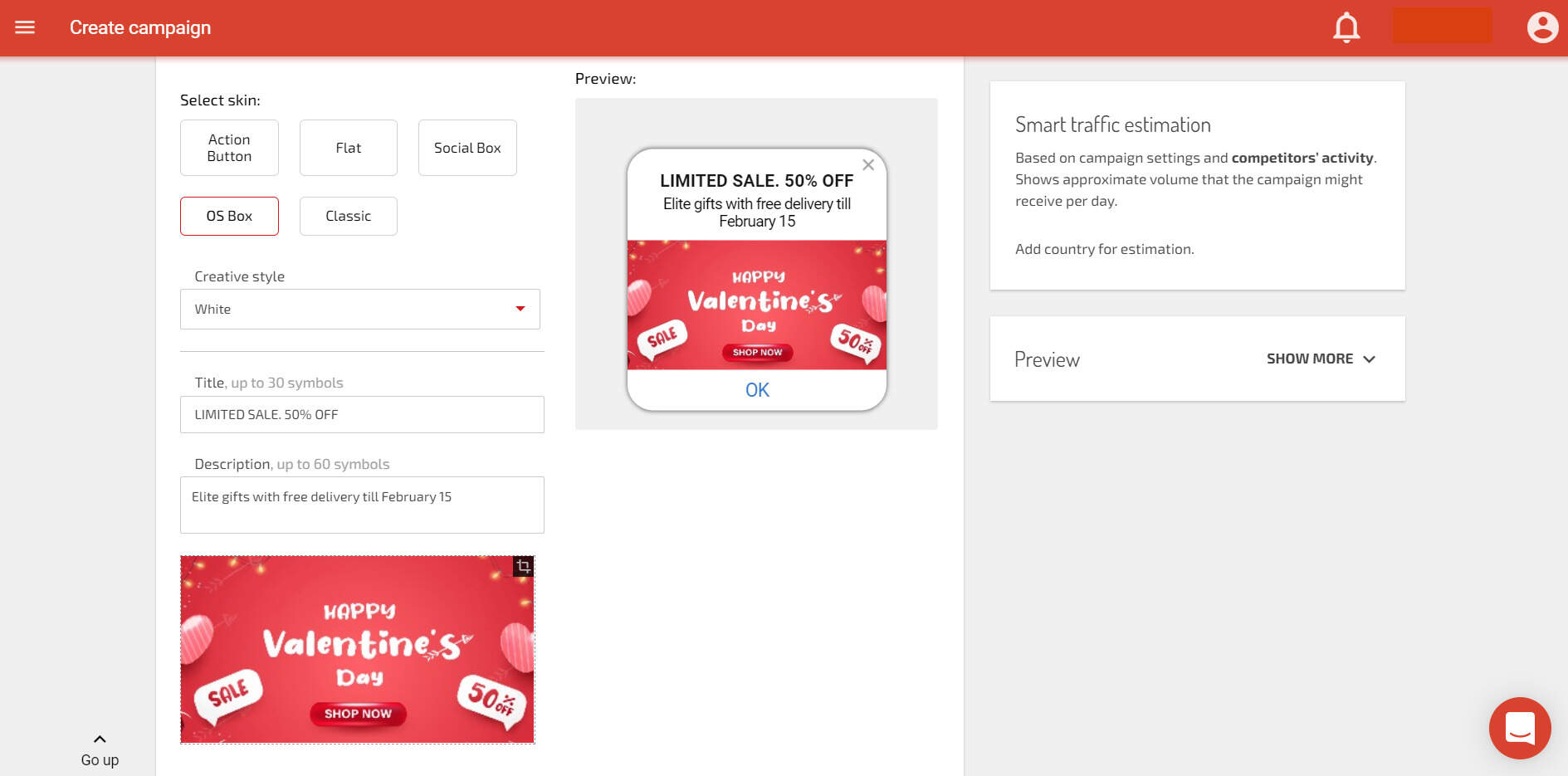 Here's an example of the iOS-friendly template creative you can use on the Adsterra Platform. Want to test all of them? Visit: https://beta.partners.adsterra.com/signup/
To Contents ↑
How does keyword targeting affect Valentine's Day campaigns?
Keyword targeting may be a trigger for bringing your ads impressions during season/occasion-bound purchasing. Consider the following scenario: a user goes online to search for gaming consoles. If you include these keywords in your list and submit it, the algorithm will link them to your ads. This process demonstrates the importance of keyword targeting in identifying consumer demand and matching the right offers to the right users. The best part is that it's automatic in response to user-initiated searches.
TOP Valentine's Day marketing tips
While matching your ads to the season is not a new concept, it is certainly worth doing it repeatedly and sooner!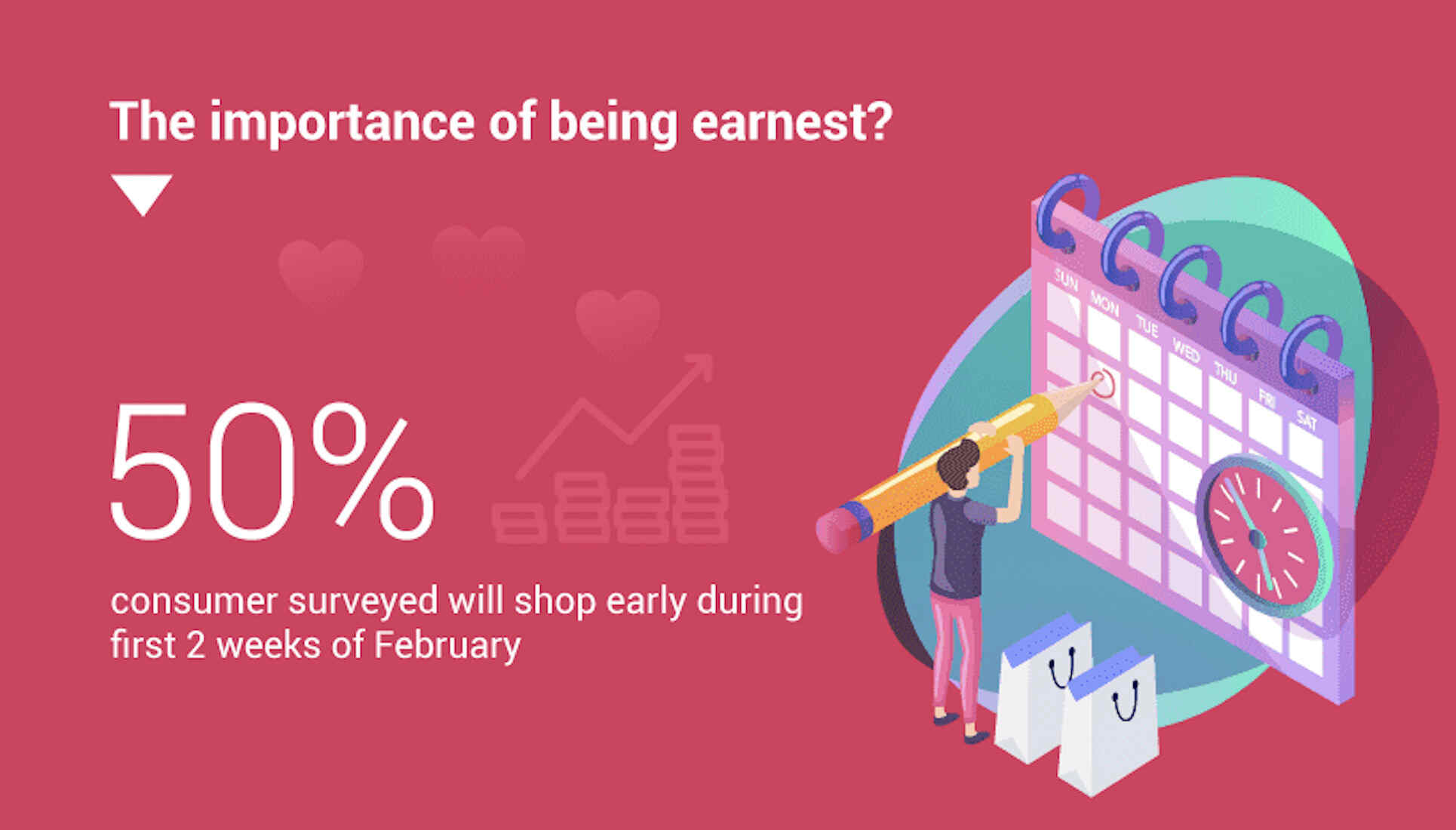 Follow our recommendations for affiliate marketing ad campaigns and make your ad spread the love! Here's how to do it:
Use all shades of red or pink in your ads to give them a Valentine's Day feel;
All images/icons of hearts, flowers, candy, and gifts are acceptable. Emojis are also extremely popular among the younger gen;
Create a sense of urgency;
Keep your icons and images simple if you're going for in-page push traffic;
Use spy tools to sneak a peek at what your competition is up to;
Regardless of the ad format you choose, it would help if you always ran tests on your ad copy and traffic segments simultaneously. Choose the ones that work best for you and stick with them;
Rotate your creatives and keep an eye on the targeting and filtering options to avoid market saturation and ad fatigue. More actionable tips for ad visuals and copy from our Head of CPA Dept.
To Contents ↑
Personalization
Your campaign success may depend on how well your targeting works. Knowing your audience is just as important as targeting the right GEOs, regions, times of Day, frequency filtering, and so on. You can contact Adsterra managers to add variables to your ad texts that will help make them personalized. This works great for Dating apps, platforms, and services.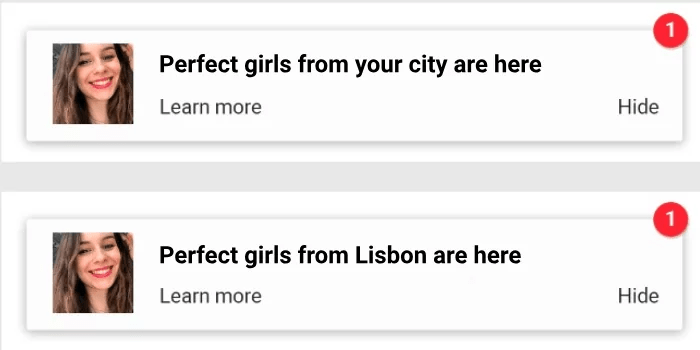 To Contents ↑
Storytelling
Use the language of love, or give people what they need. See what people are looking for and change your copy to match.
You can use quotes, famous headlines, or trendy slogans.
Valentine's Day is just around the corner!
Romance on Demand.
Find that perfect gift before Valentine's Day!
Love is often the solution.
Find it before Valentine's Day comes or before Valentine's Day offer expires!
A Place to Hang Your Heart. Five creative, unusual, cheap, clever, expensive, original, unique Valentine's Gift Ideas!
We know what today's men/women want to get for Valentine's Day.
To Contents ↑
Why does using the right language make such a difference?
Don't forget to use proper language: one that your target audience can relate to and engage with.
Even though English is the most widely used language in the digital world, having your ads speak to users in their native tongue could be a game-changer. And, since no one expects advertisers to be multilingual, simply use one of the many online translation tools. But it's always a good idea to double-check the translation.
We've also provided some of the most inventive and amusing ideas if you're looking for some inspiration.
Summary
Here's an overview of recent Valentine's day statistics from these reputable sources:
To Contents ↑
How will people celebrate Valentine's Day?
68.8% –– Celebrate with significant other;
15.0% –– Get something special;
12.5% –– Spend time with friends and family;
3.8% –– Purchase anti valentines day gifts.
To Contents ↑
What are the top spending categories for Valentine's Day?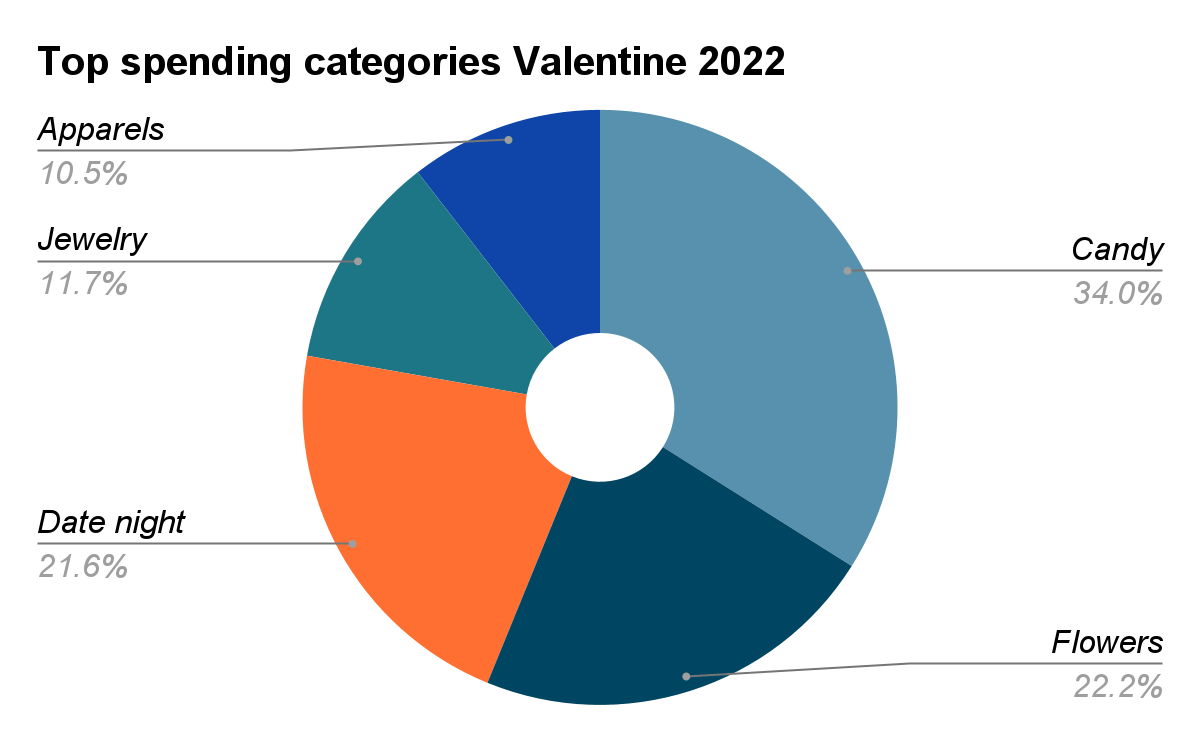 To Contents ↑
Who will buy a gift?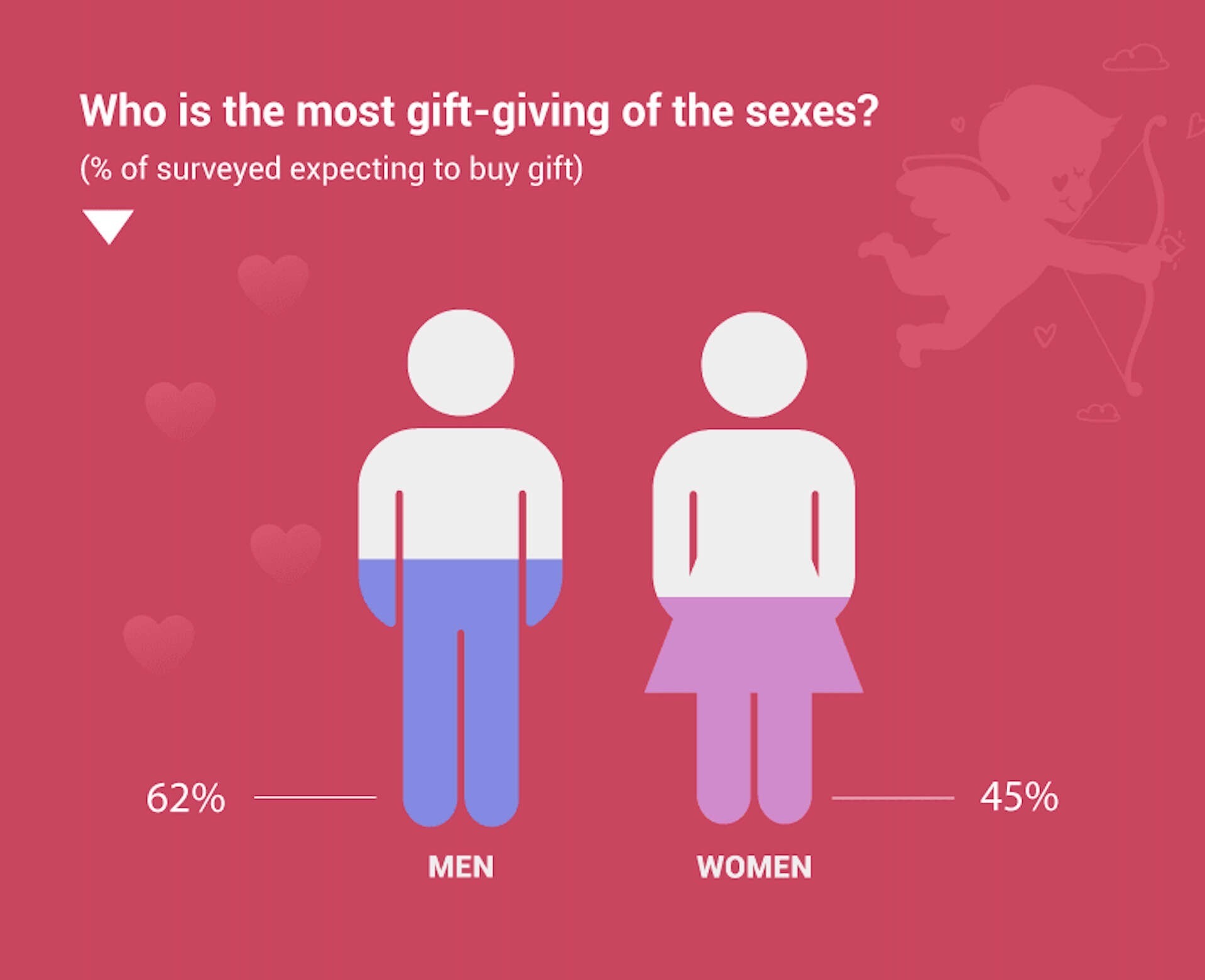 62% of men plan to buy Valentine's gifts, compared to only 45% of women who plan to do the same;
According to various data sources, more than half of all spending is done for a significant other, around 60%;
Gifts for family and friends account for approximately 25% of the total spending on Valentine's;
Around 10% of Valentine's Day spending is spent on gifts for the recipient;
3.8% of purchases fall into the category of anti-spend.
To Contents ↑
Who will likely receive a gift?

To Contents ↑
Conclusion
Valentine's Day is about love in general, not just in couples. People adore their friends, children, coworkers, pets, and themselves, giving you plenty of opportunities to connect with them through emotion, regardless of their relationship status. We at Adsterra want you to fall in love with your ROI with our CPM, CPC, or CPA traffic. Use all opportunities to set up and launch high-converting campaigns.