Push notification ad networks help advertisers and affiliates connect with their audiences in native ways. Push Ads (Web and In-Page) are now the go-to strategy for targeted ad campaigns on most devices, OS, and browsers.
As the market saturates, choosing the right option for your needs becomes harder. Let's examine the best Push Notification ad networks to see what kind of push traffic they offer.
What are Push Ads?
Push Ads are advertisements that appear in the form of on-screen alerts. They usually have a title, an icon, a small illustration, and a description. The description's length depends on your ad network.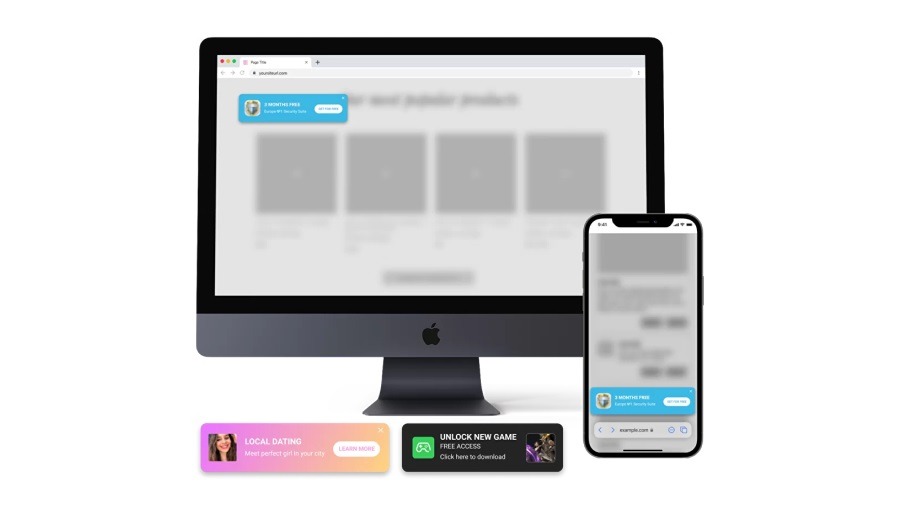 Push Ads are further classified into Web Push notifications and In-Page Push ads. Although both types share the same appearance and characteristics, they are fundamentally different in how they work.
We published a comprehensive Push advertising guide, explaining their differences and how each of them works
To Contents ↑
Push Ads: In-Page Push vs. Web Push
You might've seen some ad networks offering In-Page Push instead of Web Push as the more profitable and reliable format. Well, there's a great reason to believe that In-Page Pushes are the more suitable option. We compared which ads are better, Web Push or In-Page Push? and you'll be amazed by our findings.
Push Notifications vs. Push Ads Notifications
Push notifications are generated directly from apps that users download on their phones and are designed as a method of internal communication. They're not affiliated with the affiliate marketing industry but are frequently used for marketing purposes.
Meanwhile, Push Ads notifications are online ads that come from websites and are meant to bring people to those sites. They can be seen on both desktop and mobile devices. So, any publisher can enable push advertising on their websites for users who have signed up for it.
Push notifications and push ads notifications are both forms of Internet-based communication, but they should not be confused. They both take the form of small instant messages and are quick and discreet. Still, push ads notifications serve marketing purposes and are designed to look like push notifications.
To Contents ↑
What is a push notification ad network?
Push notification ad networks aggregate online ad inventory from publishers, who have added push ads codes, and sell it to advertisers, usually in real time.
Advertisers and publishers can join such push ad networks and start trading based on the dashboards of such ad networks:
Advertisers tell the network what type of push traffic to buy, for how much, where, and when (targeting options).
Publishers mainly have only to register their websites and put an advertising code that will pull ads from advertisers. In some ad networks, publishers may set minimum CPMs, but most of them will agree to host all ads with all payouts. Filtering ad types is another option publishers can use. They can remove ads with sensitive content, for instance.
To Contents ↑
How to choose a suitable push ad network
Push ad networks vary, so there's no universal formula for choosing one. Affiliate marketing vendors create a variety of real-time push traffic technologies. To buy high-quality traffic, first, determine your goals and needs.
Payment model
If brand awareness is your primary goal, aim for the most daily impressions. The CPM revenue model is the best option because you pay for 1,000 impressions. Impressions are cheaper than clicks, but if your ad is attractive, you'll get more clicks from 1,000 impressions. Choose ad networks with transparent pricing. They must provide you with current CPM rates. It's great when you have access to traffic volumes and recommended bids for your targets.
To Contents ↑
Traffic quality
Push traffic buyers are looking for bot-free, viewable, easily convertible impressions. The ad network platform must have traffic safety scanners to monitor and protect the system from fraudsters.
Platform features
From the advertiser's side, push traffic volumes are not the only thing to track down. You may have seen a dozen sales decks from ad networks listing awesome features. But there's only one way to ensure — sign up and tweak these features.
Targeting options;
Bidding configuration;
Budget limits;
Tracking tokens;
Black- and whitelisting.
What's the best push notification ad network for 2022?
Affiliates who have clearly-defined target audiences may want to serve push notifications only in specific GEOs or devices, like iOS / Android or Windows / MacOS X. In that case, review this list of the best push ad networks to see if any meet your needs.
1. Adsterra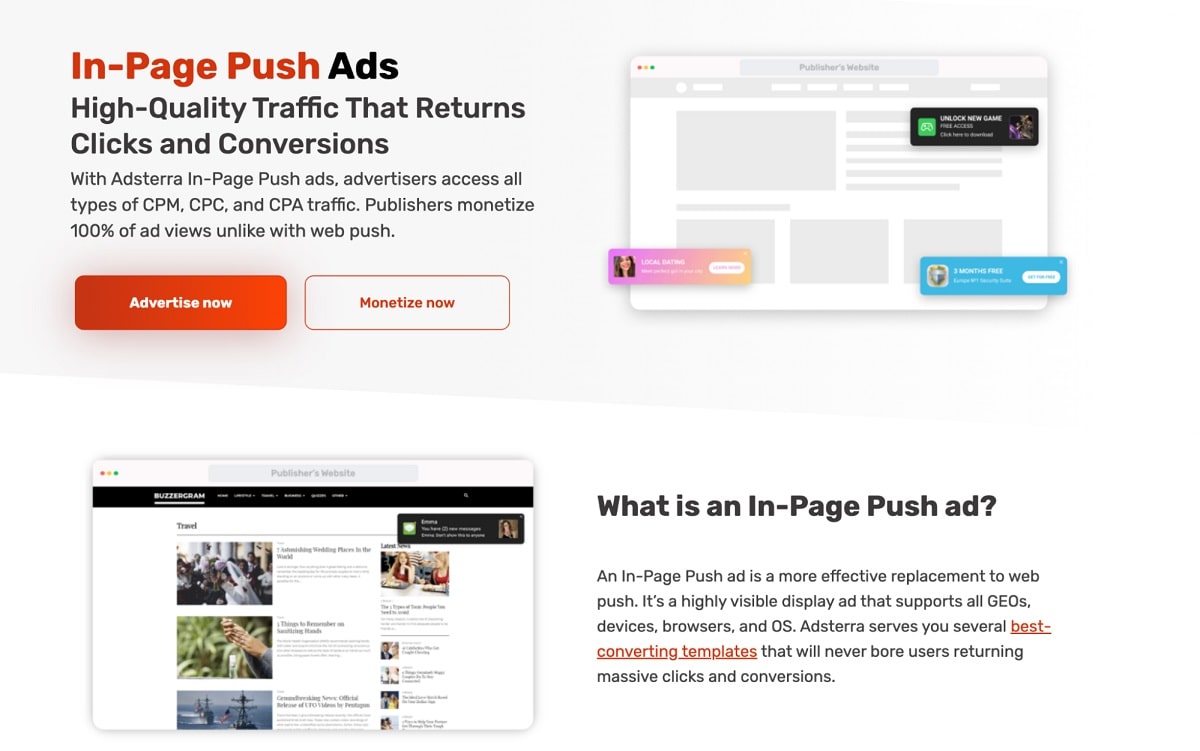 Adsterra is one of the largest networks serving 1.7 billion weekly impressions of In-Page Push traffic from direct publishers. The platform provides affiliates with unique traffic sources from 21,000 direct publishers. Affiliates benefit from running CPA, CPC, and CPM campaigns on VPN/Utility, Apps, Dating, iGaming, Sweeps, and E-commerce verticals.
To Contents ↑
Features
Partner Care. The network is notable for its attitude to partners. The in-house Partner Care program includes expert advice and prompt support for every advertiser and affiliate.
Smart bidding tools. Affiliates can use a built-in Traffic Estimator tool to place the most competitive bid.
Three levels of security. A three-level security system protects the advertising ecosystem (third-party protection tools and in-house mechanisms).
20+ targeting and optimization options: User activity, GEO, OS, Device & Connection type, SP/Carrier, Browser, and Language. Additionally, this advanced self-serve platform allows for custom bidding and black- and whitelisting.
Outstanding delivery with 30% CTRs
Adsterra serves over 1.5B weekly Push Ad views. And it has developed In-Page templates for advertisers, which adapt to any marketing strategy.
Advanced technology
While common In-Page Push ads look the same from one ad network to another, Adsterra enhanced its looks to meet digital natives' expectations. Social Bar advances your campaign with 20+ templates. You can apply animated widgets, icons, large images, and OS-native designs.
Social Bar can serve Push Ads and more advanced visuals. They provide an imposing range of ad inventory, targeting options, and payment systems.
To Contents ↑
2. SmartyAds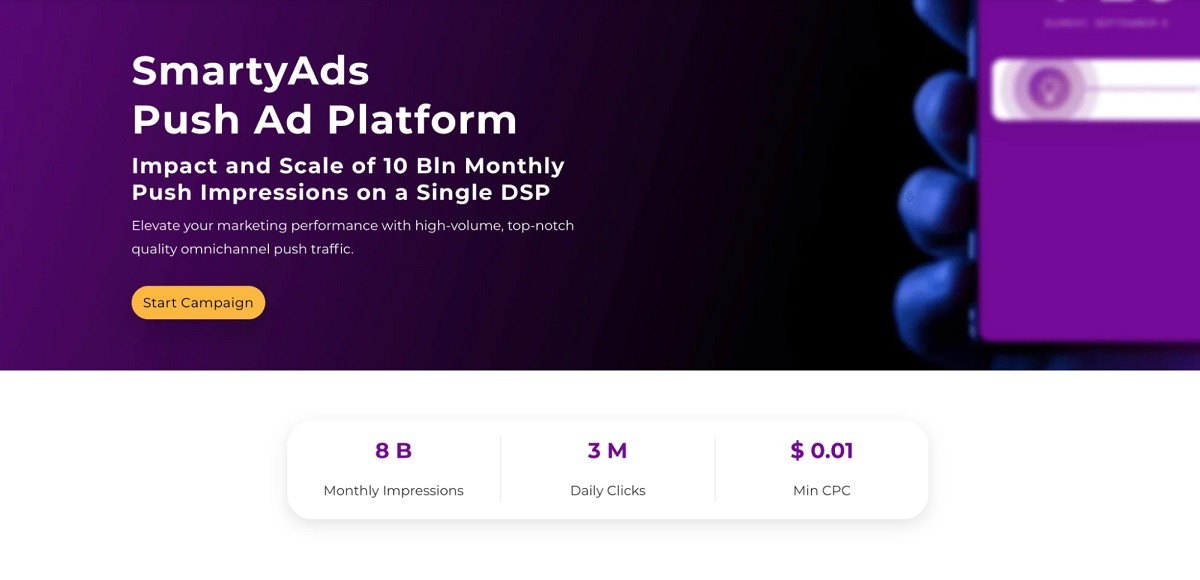 SmartyAds develops programmatic media-buying platforms for affiliates to buy web push traffic. Their demand-side platform serves billions of monthly impressions based on CPM and CPC payment models. SmartyAds top traffic sources are the US, India, Israel, UK, Canada, and other countries.
Features
Cross-environment ad push notifications. The platform supports in-app, mobile, and desktop web push notifications. Affiliates can also use video, banner, native, rich media, CTV, and other digital ads. The clean dashboard makes it easy to adjust ad sizes, formats, and resolutions for all screen types.
RTB, PMP, direct deals. Advertisers can use RTB, private marketplace, and direct deals (to access exclusive inventory).
Precise targeting. 30+ ad campaign targeting options (GEO, age, gender, OS, browser, device, connection type) ensure your push notification ad reaches the right audiences.
Automated UI/UX reports. The platform automates affiliate marketing campaigns and performance reports.
SmartyAds is a push traffic source serving all types of push notification ads in different environments, which is essential for reach. CPM ad networks benefit affiliate marketing campaigns because the cost per impression is cheaper than cost-per-click. The platform also offers CPC, where you pay for clicks (which is good for performance marketing campaigns).
To Contents ↑
3. PropellerAds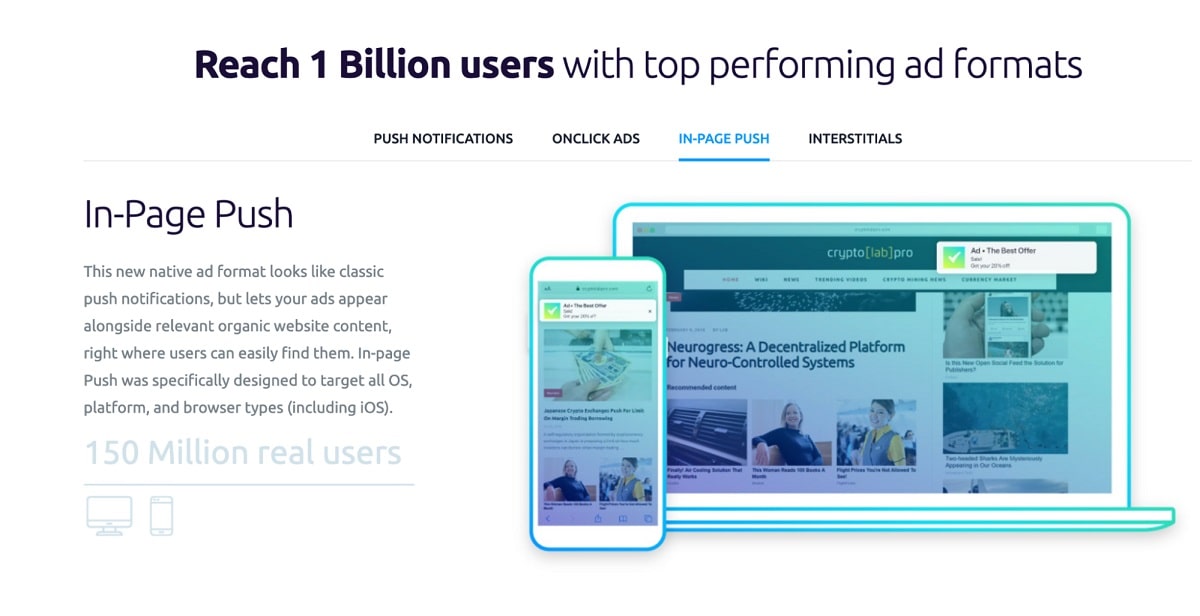 PropellerAds is one of the largest push networks with 250 million monthly users offering extensive optimization opportunities for Push Ads. Targeting, reporting, and campaign controls help affiliates monetize push advertising.
Features
Extensive pricing models. This network uses CPM, CPC, and CPA goal pricing.
Auto optimization. Smart AI optimizes creative settings to boost conversions.
Reporting. Real-time reporting lets affiliates track traffic and campaign performance.
PropellerAds can satisfy experienced and new push affiliates. They have a self-serve platform, but a reliable support team can help with campaign tuning and other questions.
To Contents ↑
4. EvaDav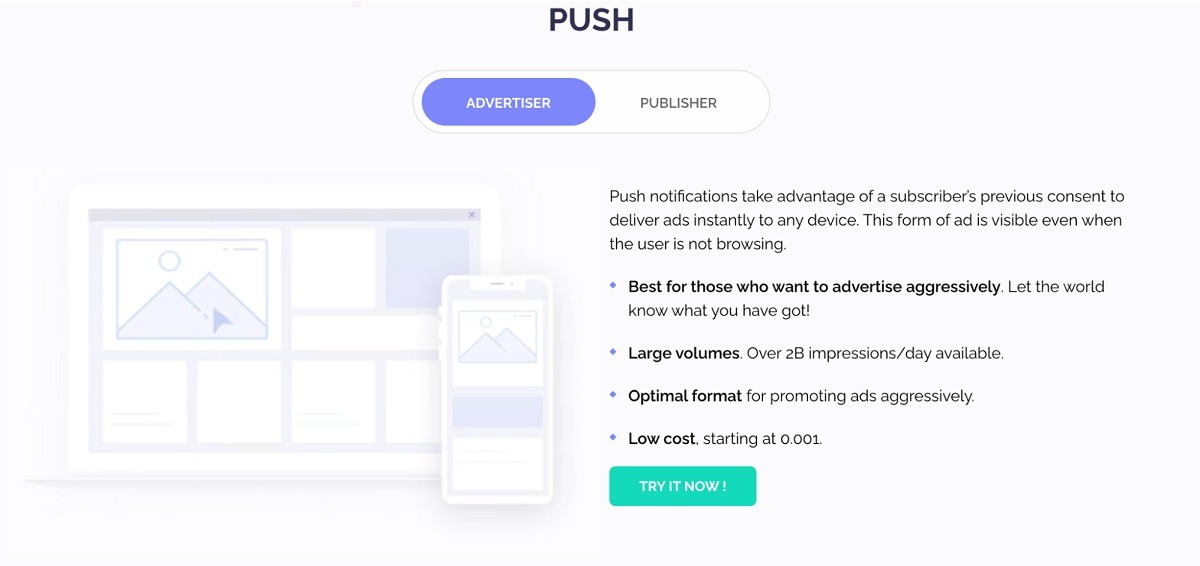 EvaDav is a CPM and CPC network specializing in Web Push Ads and other CPA and affiliate-friendly formats. Their platform delivers 2+ billion impressions daily. Affiliates can manage their campaigns and incomes with this platform.
Features
Global. With programmatic algorithms, the platform can deliver your ads globally, focusing on the US, RU, IN, China, Europe, and other countries.
Intuitive admin panel. Set up campaigns, configure them, verify traffic, and track performance from one panel.
Minimum budget threshold. The platform allows you to start your campaigns with a $100 budget minimum.
Price optimization. Bidding algorithms ensure your prices are competitive enough to win impressions.
EvaDav is a good option for affiliates who want to maximize push campaigns and serve other creatives. You can choose formats and pricing models that fit your marketing goals.
To Contents ↑
5. RichAds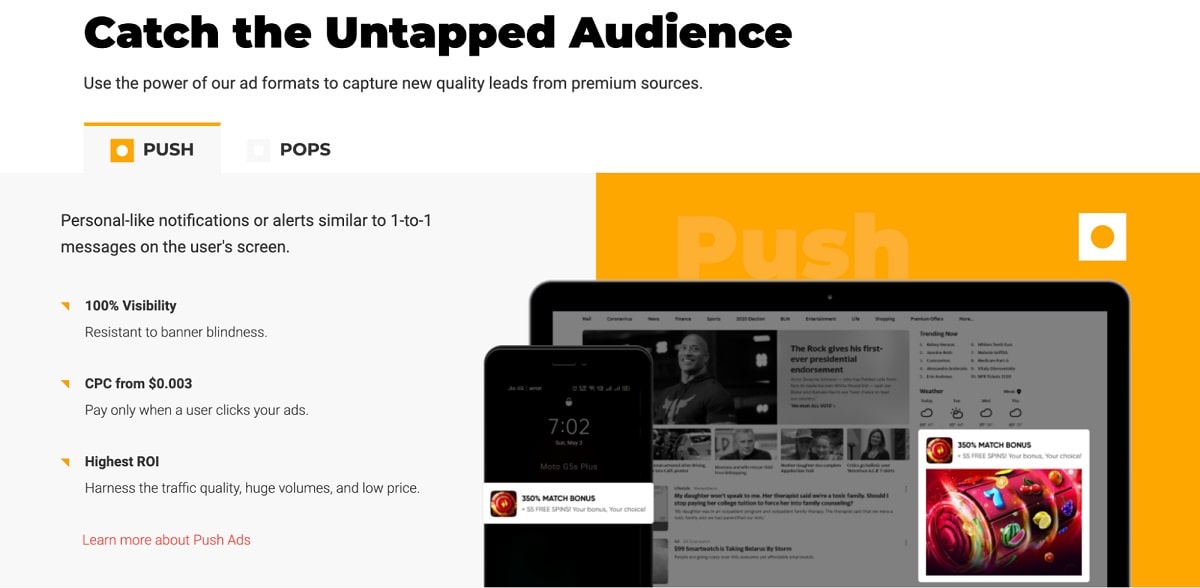 RichAds offers high-quality web push traffic in high volumes worldwide. This CPC push notification platform delivers highly targeted push and pop ads and other ad units. It covers popular business verticals, including VPN & Antiviruses, Finance, iGaming, Sweepstakes, Dating, and more.
Features
A support team of ad experts. Personal account managers help with onboarding, ad creatives, campaign management, traffic insights, and more.
Calendar push format. Provides high-quality push traffic from iOS and macOS devices.
Lots of targeting options. You can target the ad using 17 options (country, OS, browser, device, browser language, connection type, carrier name, operating system, IP, and so on).
RichAds ad network provides quality traffic for a broad reach in specific business categories (like Dating and iGaming).
To Contents ↑
6. Adcash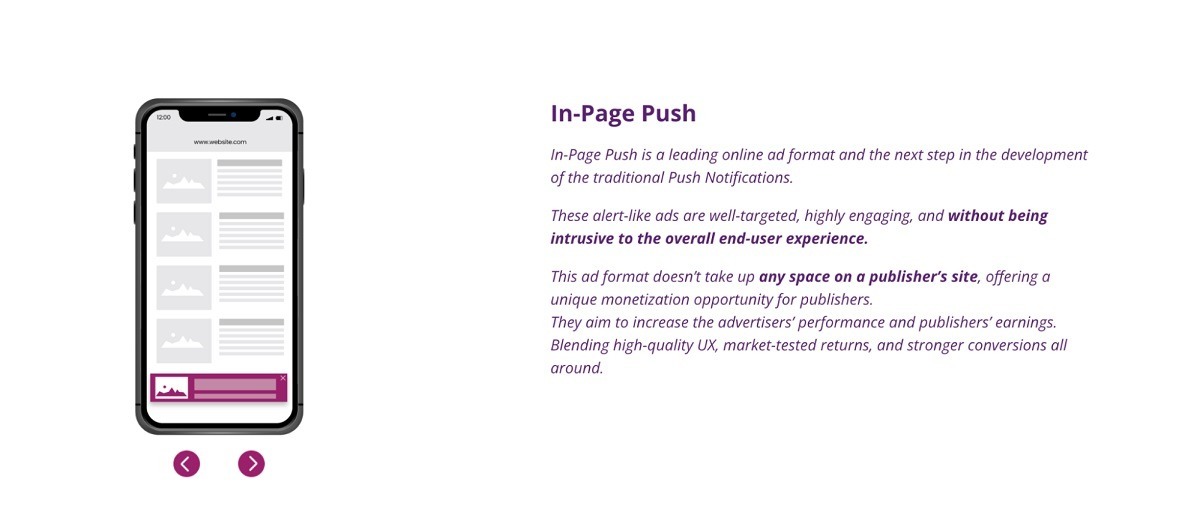 Affiliates use Adcash as a DSP for push notifications. Like the options described above, it offers affiliates various tools to broaden your campaign's reach and execute affiliate marketing campaigns flawlessly. The platform serves 200 million impressions daily and has been on the market since 2009.
Features
Push optimization controls. Affiliates can optimize their Push Ads' size, resolution, and delivery.
Convenient dashboard. Affiliates can trade with 200+ SSPs and Adcash's supply partners in one dashboard.
Reporting system. Real-time reporting alerts you to your campaign performance.
Smart bidding technology. Automatic bid adjustments capture only the best deals.
Adcash is a good option for affiliates looking for high-quality traffic sources, exclusive inventory, and supply partners. Their traffic security guarantees a fraud-free advertising ecosystem. This platform is also good for affiliates who need a lot of support because of their account manager.
To Contents ↑
7. Coinis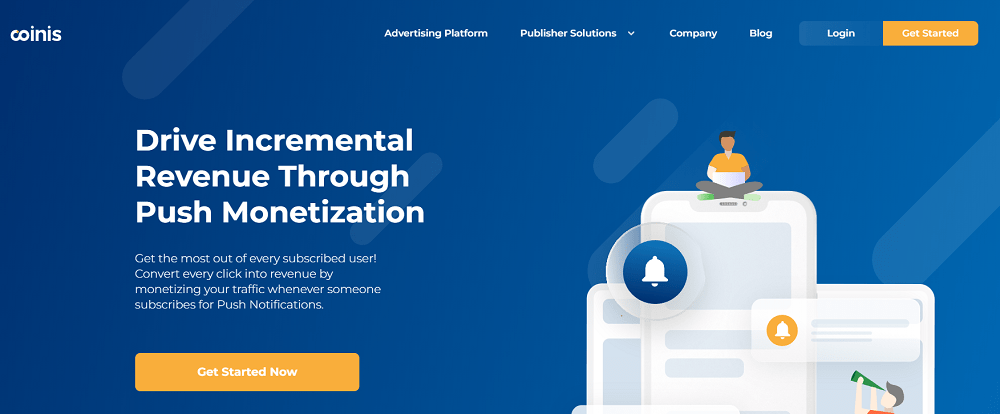 Aiming to earn from push traffic, you should also look at Coinis. It's an acknowledgeable and powerful monetization platform for publishers and affiliates, serving traffic to over 150M push subscribers.
Features
Global coverage. The platform operates in 220 countries providing affiliates and publishers an opportunity to monetize any traffic.
User-friendly interface. Coinis is proud of having an app for publishers. All its products enable easy navigation through vital stats, tabs, and reports.
Monetization on all devices. The platform allows you to earn from desktop inventory and mobile apps (WEB + SDK).
Convenient earning models. With Coinis, publishers can profit from every subscriber (Cost-Per-Subscriber model) or try a RevShare model when getting paid whenever the ad is displayed to a subscriber.
Coinis delivers AI-powered solutions that connect advertisers to high-intent audiences. Affiliates get over 2K of high-class offers, while publishers enjoy high eRPMs.
To Contents ↑
8. AdMaven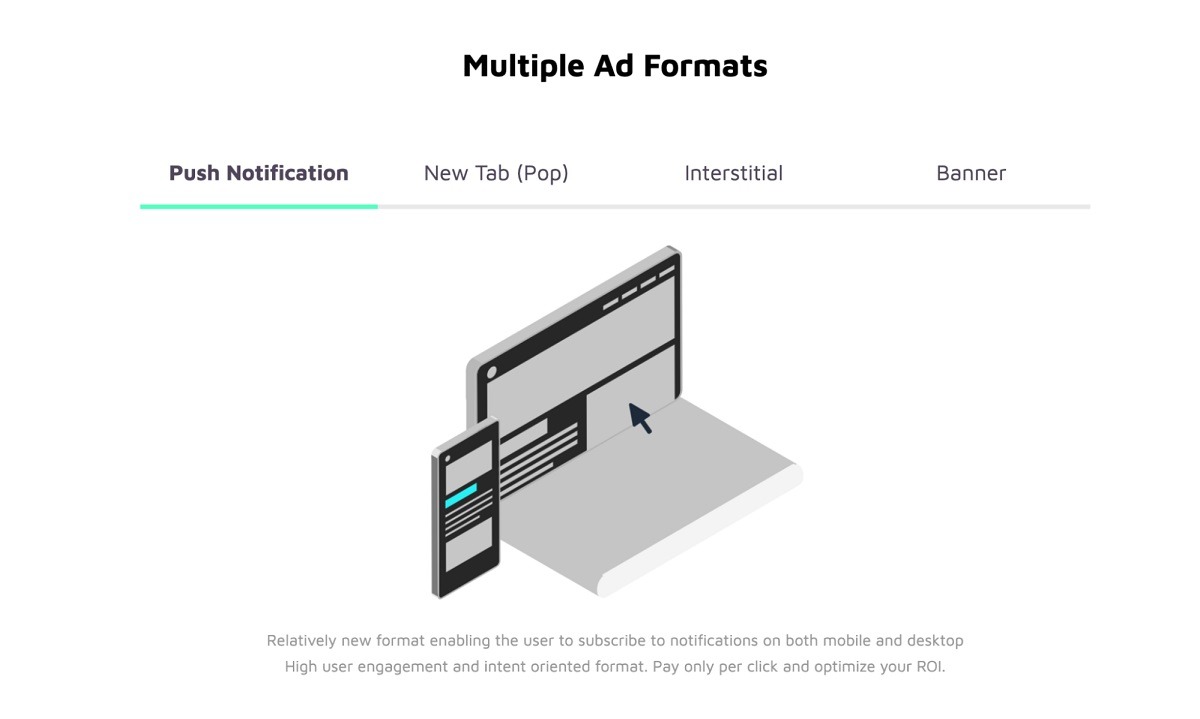 AdMaven offers push notifications and Popunder ads and boasts 2.5 million daily impressions in most top-tier countries. This platform provides quality, safe impressions from direct publishers.
Features
Lots of push formats. They offer pushes and Popunders in all sizes and resolutions to diversify your media mix.
Account manager support. The platform offers managed services and assistance for campaign tuning.
Auto optimization. Ad-Maven optimizes any ad format's rendering and performance.
Safety. The platform protects traffic sources with in-house and third-party tools.
AdMaven is a good choice for affiliates seeking highly-converting traffic in certain niches. Robust targeting options and auto-optimization can be configured individually or with an account manager. AdMaven is suitable for both experienced and new affiliates.
To Contents ↑
9. DatsPush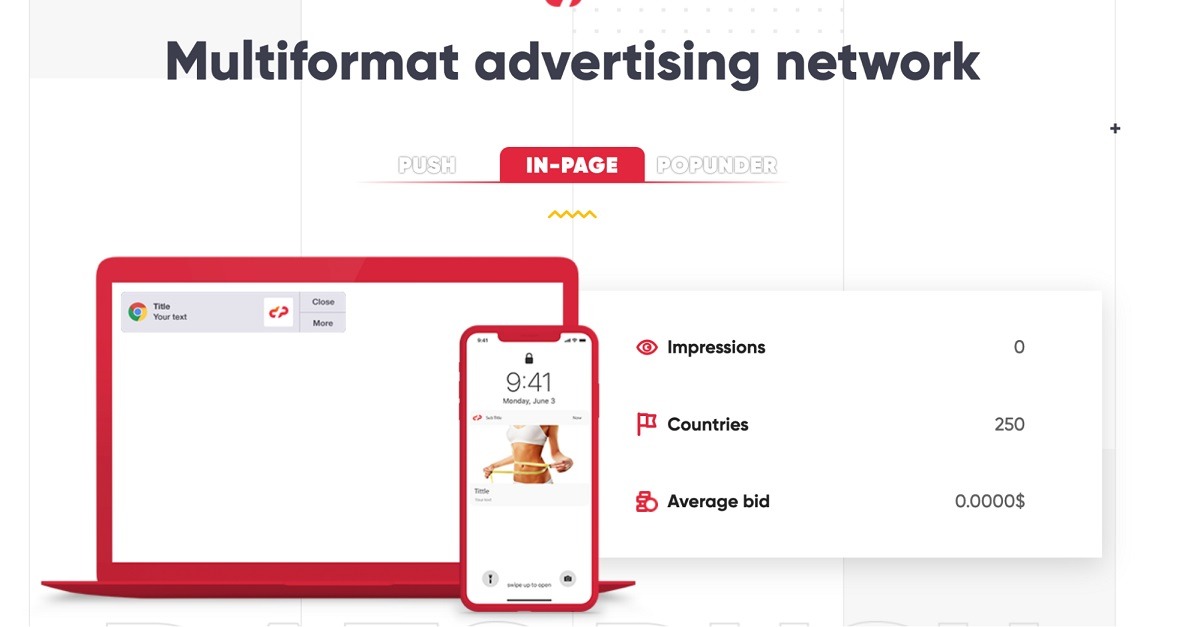 DatsPush is a new advertising network that has become a nice traffic source for omnichannel push campaigns. Unlike other options on the list, this one gets 24 million clicks per day. This CPC network is a self-serve platform that can help you launch affiliate marketing campaigns.
Features
Ad variety. The platform lets you run push advertising campaigns and In-Page, Popunder, and native formats.
Targeting options. Targeting options include Web/Mobile, GEO, Carrier/IP, Browser/Platform, Black/White lists, Source/Audience, and more.
Payment flexibility. The platform's dashboard funding minimum is $50 per campaign. Bidding begins at 0.001$.
Automated rules. The platform uses automated rules to optimize campaign flow, apply blacklists, and apply filters.
Global reach. The platform serves thousands of impressions in 250 countries.
DatsPush generates massive traffic for affiliates looking for affordable push rates. Self-serve, but with a strong support team if you have questions. This network's $50 minimum deposit is ideal for affiliates with small advertising budgets.
To Contents ↑
10. SelfAdvertiser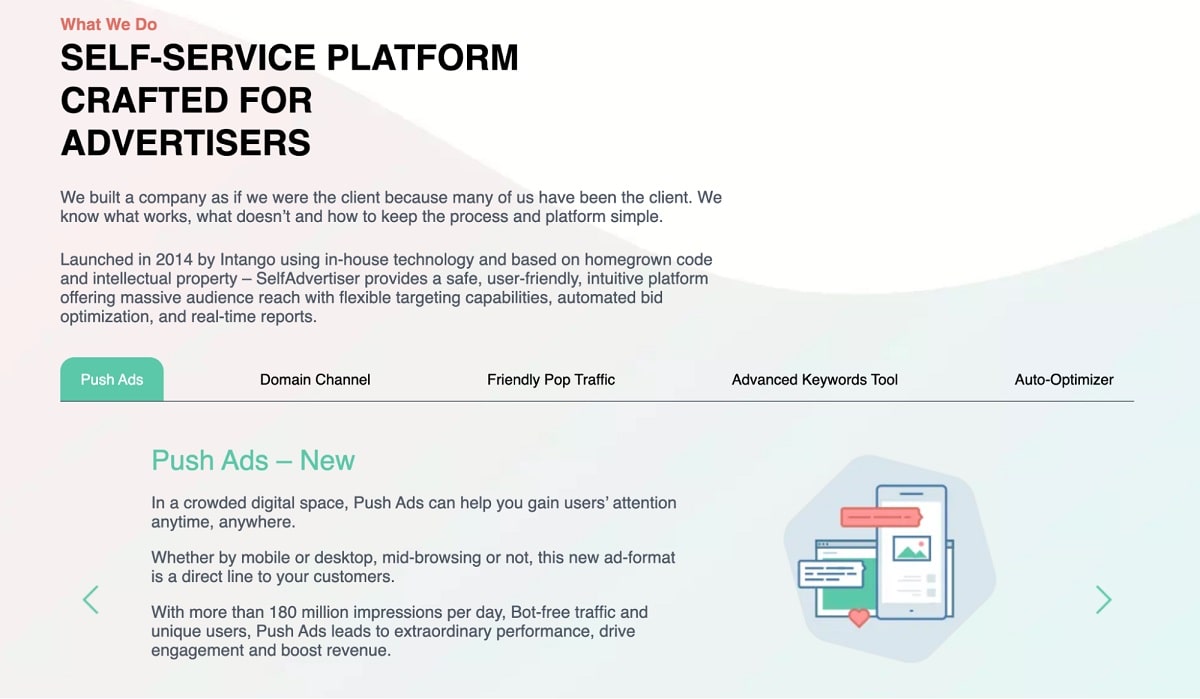 SelfAdvertiser uses push and pop traffic and offers advertisers high-quality impressions. This push network didn't specialize until 2019. Today's features can impress even seasoned affiliates.
Features
Geographic reach. The platform serves 180 million push ad impressions daily across top GEOs and channels.
User-friendly dashboard. The dashboard's interface is straightforward. Its easy navigation and logic make campaign management simple.
Optimization. The platform lets users optimize traffic flow with filters, targeting options, and performance statistics. The platform also has bid optimization.
Smart targeting. Smart targeting channels push impressions to the right people, time, and screens (Carrier, ISP, OS, GEO, Browser, Type & Version, Connection, and so on).
Reporting. Campaign stats in the reporting section let you quickly see your push traffic.
SelfAdvertiser is a good option for maximizing desktop and mobile push traffic because it has campaign tuning and optimization features. This is ideal for experienced affiliates who understand push traffic and how to optimize campaigns.
To Contents ↑
11. HilltopAds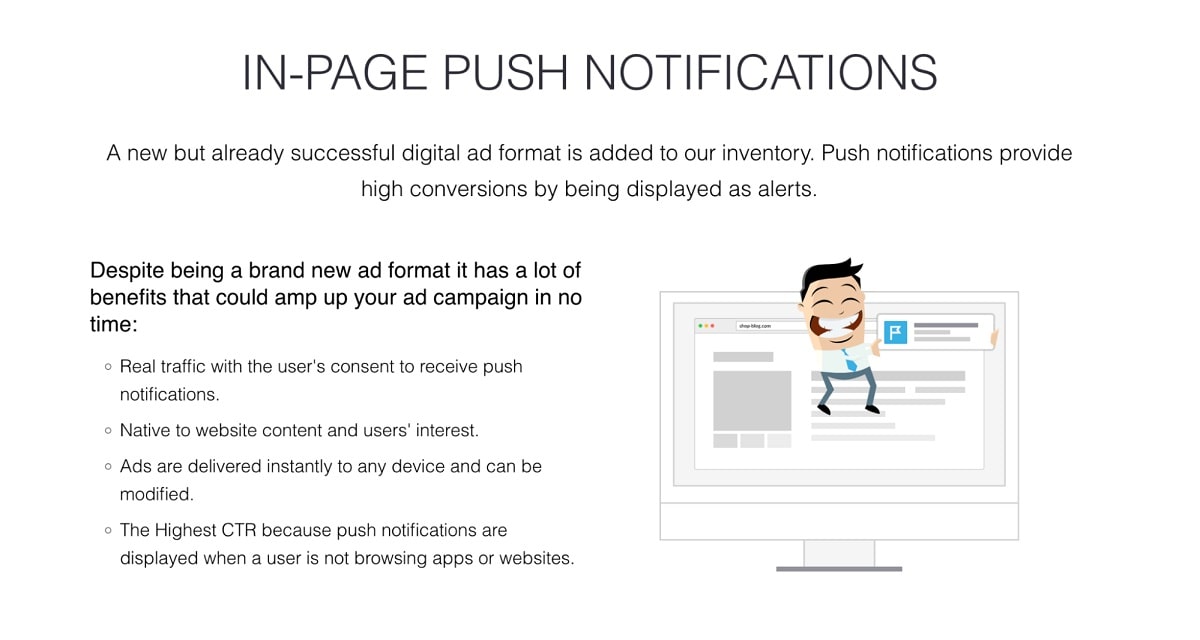 HilltopAds grew from a Popunder traffic network. It's a CPM/CPA push network with its own ad servers and RTB bidder. HilltopAds's self-serve platform features optimization controls, targeting, eCPM optimization, and traffic from direct publishers to boost your campaigns.
Features
Direct traffic. The platform has direct traffic sources and works with global publishers.
Precise targeting. Affiliates can target by Carriers, OS, Browser, Device, GEO, retargeting, dayparting, keyword, and more.
Verified traffic. Anti-fraud traffic safety providers and filters fight malware, bots, and invalid traffic to make traffic viewable.
Payment flexibility. Affiliates and advertisers can use Bitcoins, ePayments, Wire, WebMoney, EpayService, and Paxum.
Affiliates and advertisers who want Push Ads and other formats will love HilltopAds. Targeting options, filters, and budget settings personalize each campaign to meet marketing goals.
To Contents ↑
Conclusions
A large number of impressions is a plus, but it may be difficult to get a high ROI from them. That's why it's critical that the advertising network helps you make the most of your traffic.
Targeting options, profitable pricing, transparency in bid evaluation, and expert assistance are all features you should look for on an ad network. At Adsterra, we offer exactly these functionalities, and we look forward to partnering with you.