The dreadful Chrome 80 update crisis in early 2020 resulted in an unexpected plot twist: the emergence of In-Page Push ads. Although this ad format is relatively new, it is grabbing lots of attention.
In-Page Push ads, or IPP, are similar to Web Push notifications, but they are more effective because they don't require users to opt in. Additionally, they address some issues that advertisers have with Web Push.
Keep reading to learn why an In-Page Push ad campaign might just be what you've been missing.
What are In-Page Push ads?
They are display ads designed to look like notifications. In-Page Push ads appear directly on publishers' websites. This ad format is available to all users on all devices, including iOS, which is its main advantage.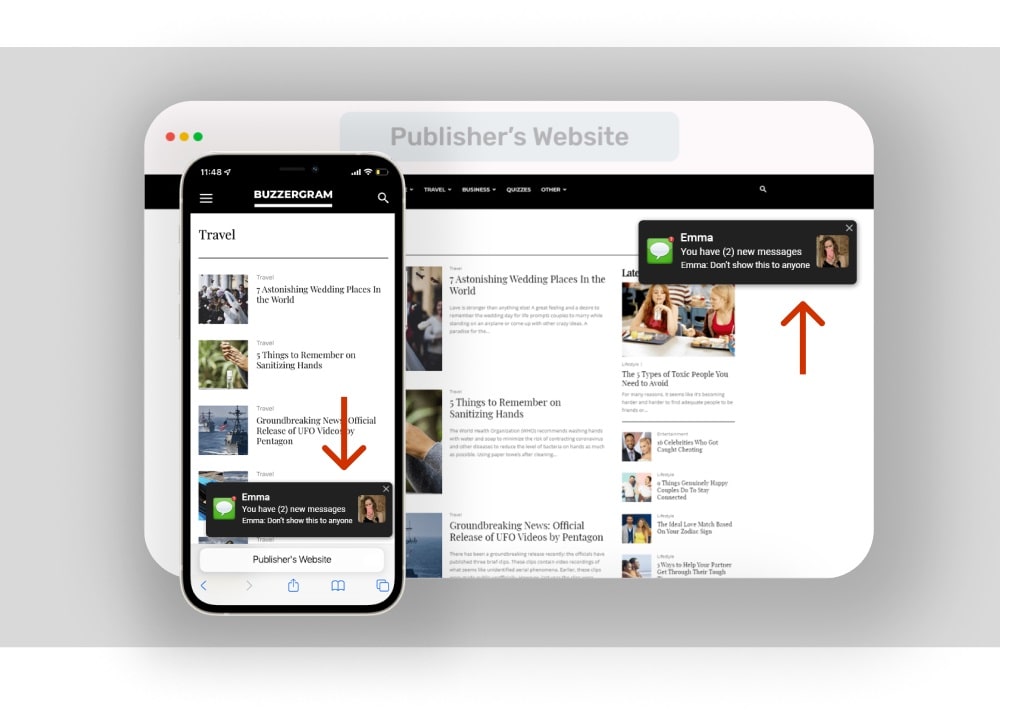 We've outlined the main characteristics of In-Page Push ads to help you get a better picture:
In-Page Push ads are served like classic banners but are designed to look and behave like native push notifications.
This format is compatible with all desktop and mobile devices, including iOS.
These ads appear directly on the publisher's website.
CPC is the most common pricing model for In-Page Push ads.
They don't face the same Google technical constraints as web Push ads.
To Contents ↑
How do In-Page Push ads work?
In-Page Push ads are designed to be very compelling and entertaining. Since they're created to look like a system notification, people trust them more than other display ad types, overcoming users' banner ad blindness.
Advertisers can start using In-Page Push ads in their marketing campaigns through an ad network like Adsterra. Then they choose the In-Page Push ad format and design ad creatives. With Adsterra, they can pick a suitable template and upload only images, icons, and texts.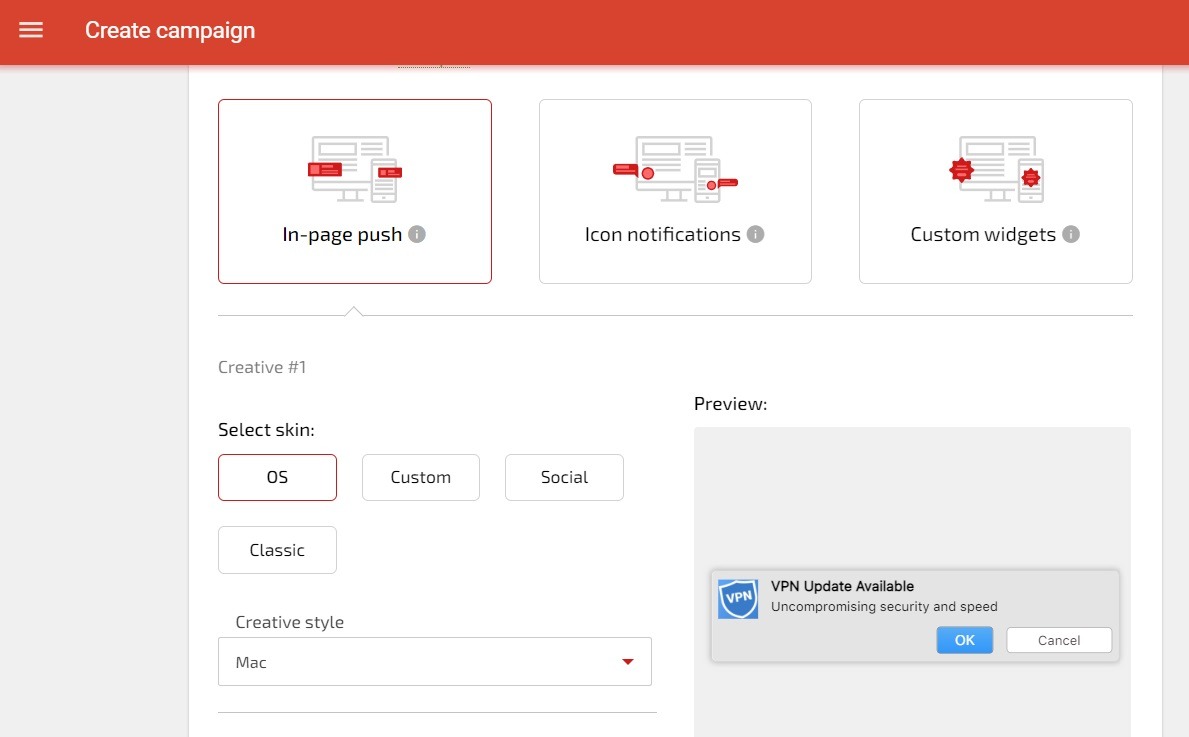 Then, they select a target audience by GEO, device, OS, and other targeting settings. Finally, advertisers must pick a competitive bid (aka price) for their target.
The ad network will then show the In-Page Push ads to viewers on thematically-relevant publishers' websites that have embedded the In-Page Push ad format codes.
Users visit the website, and the In-Page Push ad pops up. They click on it and head to the advertiser's landing page. The publisher makes revenue from all ad views, clicks, and conversions users perform. And the user hopefully converts on the landing page.
To Contents ↑
Web Push vs. In-Page Push traffic: what's the difference?
There's no denying that the two ad formats have a lot in common. The visual aspect, a user-friendly format, and the campaign creation process are all similar. Despite their similarities, In-Page Push ads and Web Push notifications are based on two distinct types of traffic and have a few key differences, which we've greatly explored in this article: Which Ads Are Better, Web Push or In-Page Push?
Here's a comparison of In-Page Push and Web Push traffic.
| Features | In-Page Push ads | Web Push notifications |
| --- | --- | --- |
| Ad format | Banner Ads | Push notifications |
| Requirement | No user subscription | Subscription required |
| Where does the ad appear? | On-site | Can be delivered on a user's device |
| Devices | iOS, Android, Desktop | Android, Desktop |
| Immediate ad display | Yes | No |
| Versatile targeting | Yes | Yes |
| Non-intrusive design | Yes | Yes |
| CPC model | Yes | Yes |
| Ad Blocking | No | Yes |
| | | |
To Contents ↑
Benefits of running In-Page Push campaigns
You understand what In-Page Push traffic is and its characteristics, but the main question remains. What are the advantages of running In-Page Push campaigns? Let's go over some of them.
1. No subscription required
Users not needing to subscribe to see In-Page Push ads is its most appealing feature for both advertisers and publishers.
2. This format bypasses all browser restrictions
The Chrome 80 update caused a lot of trouble in the advertising community by negatively affecting most display ad formats at the time. In-Page Push ads seem to be a great solution to changes brought by browser updates.
3. Broader reach compared to Web Push ads
In-Page Push ads reach a much larger audience than Web Push notifications because it's available for every type of device. The design is intended to catch users' attention by displaying ads in a non-intrusive yet familiar and trusted format.
4. More traffic types
In-Page Push traffic consists of a wider traffic range, including iOS users and those who use ad-blockers. In the past, iPhone users could be left out of the push advertising world. But now, In-Page Push campaigns introduce advertisers to this diverse and highly interactive traffic.
5. Advertisers can pay for clicks and conversions
In-Page Push ads are available on a CPC (Cost-Per-Click), CPM, and CPA basis. The CPC cost model allows advertisers to pay only for actual clicks. Given that In-Page Push ads are not limited to subscribed users, this appears to be a fair way of obtaining more qualified users.
6. In-Page Push Ads overcome banner blindness
In-Page Push ads are like device notifications, so users are not yet "immune" to them. They also have no negative impact on the user experience, leading to a higher CTR than Popups.
7. Higher average CTR than Web Push
In-Page Push ads receive more clicks than Web Push because users actively engage with the webpage when the ad is displayed. Consider switching to In-Page Push ads if you want to increase engagement.
If you're already convinced that In-Page Push ads are just for you, don't hesitate to use what you've learned — start your campaign today!
To Contents ↑
The downsides of In-Page Push campaigns
Even though In-Page Push ads are fantastic, they have some disadvantages:
Lower volumes compared to Web Push
Since it's a new ad format, In-Page Push will need some time to reach the inventory volume associated with other traditional display ad formats.
No User Lifecycle targeting
While Web Push ads allow for targeting users depending on when they've subscribed to getting notifications, In-Page formats simply deliver ads to all website visitors.
Top 5 In-Page Push traffic sources in 2022
These are the best ad networks on the market, offering In-Page Push traffic to advertisers of almost any vertical.
1. Adsterra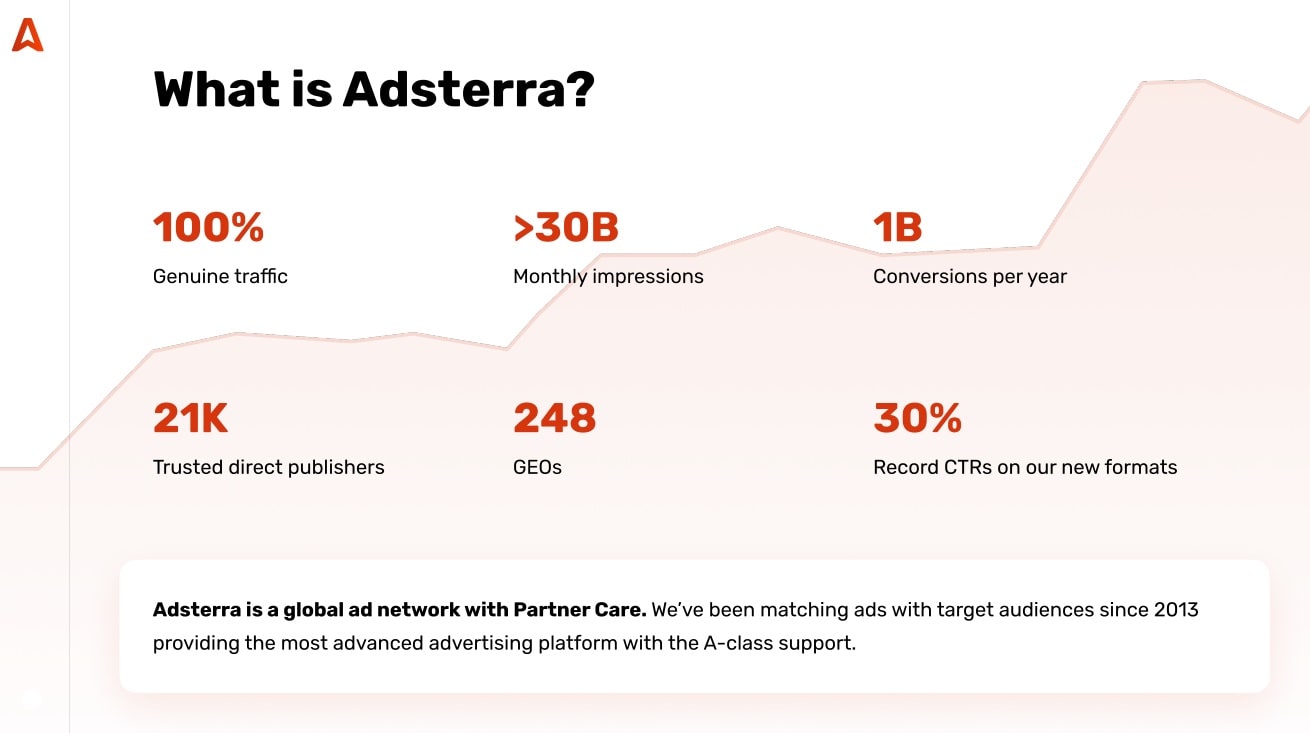 Adsterra delivers genuine In-Page Push traffic of over 1.7B impressions weekly for all verticals, including VPNs & Mobile Utilities, Software, Apps, Sweeps, iGaming, and Subscriptions. Under the hood, you can utilize the network's AI-based tools to assess your bidding strategy and apply all of its 20+ targeting options.
To Contents ↑
What else do advertisers get?
Over 10 creative templates with proven 30% CTRs;
Outstanding performance across all browsers, devices, and OS;
Adsterra's Social Bar with even more innovative designs;
CPM, CPC, and CPA pricing;
Three-level security involving anti-fraud and anti-malware solutions to guarantee clean traffic.
Global coverage with sharp targeting by device, OS, browser, language, time range, connection type, and more.
Advantages for publishers:
All traffic is paid for because browsers don't block these ads;
Increased CTRs may result in higher CPM rates;
100% fill rate for publishers;
A variety of creative formats ensures a high number of ad views;
Ads appear neat and friendly, and they do not irritate users.
To Contents ↑
2. TrafficStars
TrafficStars focuses on increasing CTR values by including top In-Page Push designs for popular verticals. You'll need to activate their new interactive Push designs from the menu to get custom designs that drive clicks and conversions.
They offer Push traffic suited for Dating, Poker, Casino, iGaming, Antivirus & Utility verticals. Launching an In-Page Push ad campaign on their platform is simple, and optimization is handled automatically by the platform's Artificial Neural Network algorithm.
TrafficStars provides smart targeting and pricing, which helps keep campaign costs low while increasing user engagement. The network integrates well with popular tracking tools, and affiliates can use dynamic parameters to see which ad placements perform best.
To Contents ↑
3. PropellerAds
Propeller Ads provides full and self-serve platforms with appealing targeting options, simple campaign creation, and in-depth reporting that work in unison to help you create and optimize your IPP campaigns.
You can reach a global audience while remaining confident that your ads are being shown to real users. Options for targeting include user activity, location, device and connection types, mobile service provider, and language & browser.
To Contents ↑
4. Adcash
Adcash is a self-service DSP that provides powerful performance tools and advanced innovative ad technology to ensure flawless campaign execution and control.
They offer In-Page Push alongside pop, interstitial, and Banner Ads. you can create global campaigns and access over 200+ leading SSPs and Adcash's exclusive publishers from a single interface. Adcash has one of the most comprehensive targeting options, including GEOs,
SSPs, keywords, website categories, connection types, and mobile carriers.
Using their built-in advanced macros, you can also make your ads more relevant to your users. Campaign setup is simple, and you can have your entire In-Page Push campaign up and running in under 3 minutes.
To Contents ↑
5. EvaDav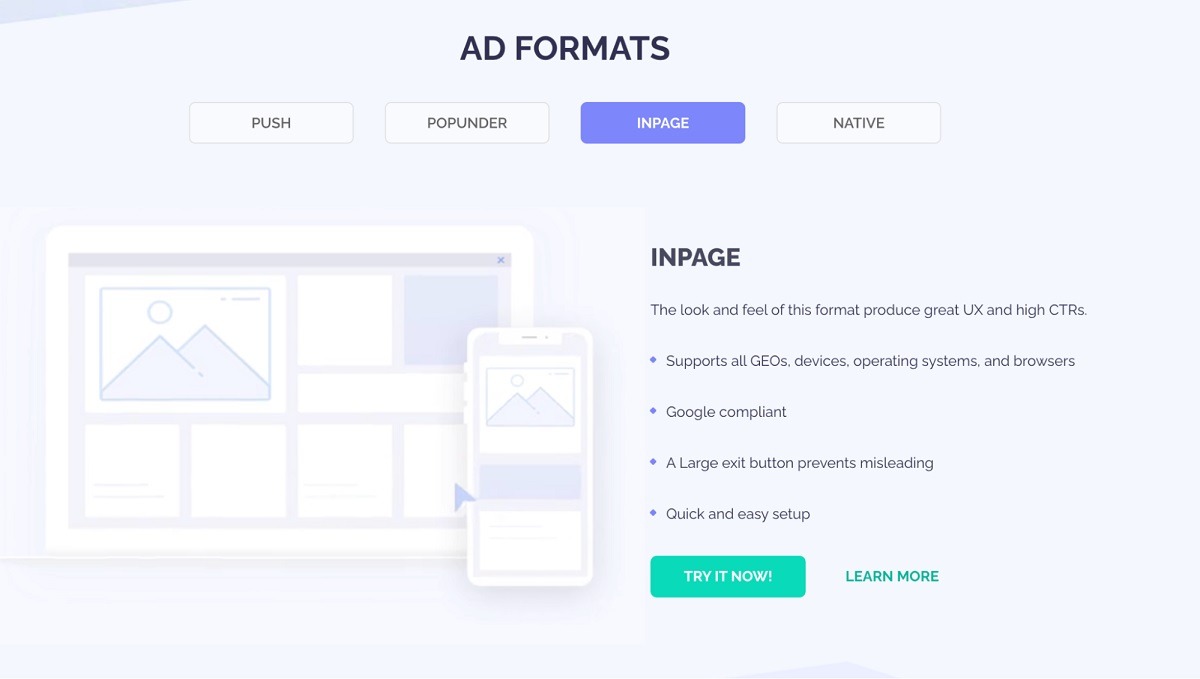 EvaDav is an excellent In-Page Push network for affiliates looking to expand their Push campaigns. You'll find ad tech solutions and high-converting traffic in every GEO. They also use predictive audience behavioral algorithms to ensure that your ads are shown to the right audience at the right time.
In terms of volume, the network accounts for 1 billion push notification ads monthly. Most of this is concentrated in the United States, Russia, and India. Still, China, Europe, and other global GEOs are well represented.
EvaDav has established itself as a network with a positive reputation among affiliate marketers. They also have a straightforward and intuitive interface that makes setting up campaigns quick and effortless. This is crucial if you want to test multiple campaigns and targeting options.
To Contents ↑
What are the best In-Page Push ad niches for 2022?
Some verticals perform better than others, but ad format doesn't determine your campaign's success. However, considering its similarity to Web Push traffic and the abundance of mobile traffic, we can outline several trending verticals and offer types for IPP.
Here is a list of offers that well with In-Page Push traffic:
VPN,
Apps,
Antivirus / Cleaners,
Sweeps,
Mobile Subscriptions,
Lead Generation,
Shops,
Sports,
iGaming,
Dating.
As we've already mentioned, finding offers that work well with In-Page Push should be accessible to any advertiser who has experience with web Push campaigns. Only this time, there's a new demographic to target: iPhone users.
As a result, looking for iOS offers and other mobile and desktop devices for In-Page Push traffic could be a great way to reach a new audience of users.
To Contents ↑
Tips for launching your first In-Page Push campaign
Running In-Page Push ad campaigns is simple, but you might need some tips to help you get better results from your ads.
1. Differentiate between In-Page Push and Web Push ad campaigns
While you can apply the same strategy and creatives, we don't recommend it because these two ad formats perform differently. Differentiating them lets you get a more accurate sense of each format's performance and make changes as needed. In-Page Push ads are a powerful tool for increasing website traffic and improving affiliate offer conversions on its own.
2. Don't go overboard with ad creatives
Even the best traffic will not help your campaign if your ad copy and creatives are poor. Although most advertising guides advise you to be as creative as possible (and they are correct), you must exercise caution regarding In-Page Push advertising. This is because Push-like creatives have very little space for both the creative and your offer.
It's best to keep your message concise and clear by stating your product/service's values and benefits instead of boasting about them. We recommend matching your creatives with the final landing page to avoid misleading users or scaring them off.
To Contents ↑
3. Configure postback tracking
Accurate tracking is essential for proper optimization, so set up postback tracking to monitor your conversions and ROI effectively. Check the ad network's documentation on setting postback tracking for your campaigns.
4. Select appropriate creatives to attract the right audience
Even though In-Page Push ads allow you to target OS, devices, and more; you will still have to adapt your creatives to local audiences. Please mind translating your texts to local languages. When targeting those using iOS, Android, Windows or other OS, you should pick the most native template.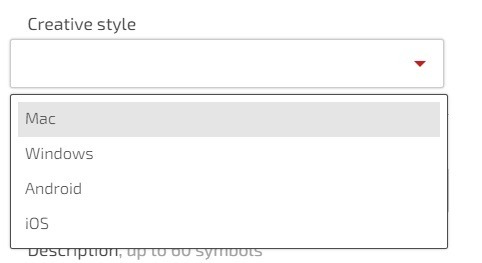 To Contents ↑
Conclusion
In-Page Push ads are one of the newest ad formats available today. If you're looking for new ways to increase revenue without investing too much time or money, get ahead of the game and start running an in-page campaign today.