Your regular job may help you pay for the things you need. But a side job you can do from home will make a big difference in your finances and give you the freedom you've always wanted.
There are many ways to make money in your spare time, depending on your skills and what you need. So, here are the most promising side hustle ideas to make extra money remotely.
How to start a side hustle from home?
If you already have some ideas for side jobs you could do from home, here's how to figure out which one would be best for you. It can be helpful to spend some time thinking about the skills you need for your side business:
1. Are you prepared for a side hustle or remote part-time job?
Assessing whether you are willing to work remotely to support your side hustle is important. Remote work gives many workers personal freedom. A home office and fuzzy slippers are the perks of working from home. Some may enjoy not having pesky coworkers around. Here's what you need to succeed:
Self-motivation
Without coworkers or a boss, you should have an internal drive to be productive and achieve goals. Perfectionism, accomplishment, external incentives, and avoiding failure motivate people. Knowing what motivates you will help you do your best work.
Self-organization
Self-starters with little supervision must be organized. This includes managing projects, communication, and time. Many platforms help freelancers streamline project management and communication. We recommend developing your system to track tasks and responsibilities using digital tools or a notebook.
Tech-savvy knowledge
You should be able to use software like Slack, Trello, Teams, or other virtual tools because you'll have to join Zoom calls, respond to online group threads, or edit documents. Remote workers also need a computer, internet, and phone.
Adaptability
Every professional has days when a project derails, or there are multiple fires to put out. Anyone who has worked from home knows that on top of work stress, you may have to deal with kids, pets, or the internet going out. This is unfortunate.
Effective workers aren't discouraged by home issues. They have the time and project management skills to solve problems, adapt quickly, and complete the job remotely.
2. Evaluate your expertise in your chosen field and related skills
For example, if you want to run a thematic blog and make money from advertising, then you need to be able to write a lot and often. We published some case studies on how challenging yet incredibly lucrative it is to blog about software or entertainment.
If you're starting your own dropshipping business on a website, you'll probably need primary accounting and tax reporting knowledge. Look for competitors in the same field, and see how their business is organized. You will need to provide the same services as them or even better.
To Contents ↑
3. Choose which side job you want
Freelance work that can be done from home includes temporary jobs for big companies, consulting, solo creative projects like an Etsy shop, passive income opportunities like investing, and working for an agency that will give you work and take a cut of the profit. When making this choice, think about the following:
How long do you have to look for a new job? 
Do you already have a full-time job, and this would be extra? 
Are you looking for something to help you get a permanent job?
Do you have any degrees or certifications, or is this more of an experiment to see if you can make money from a hobby?
Do you want to start a side business or work as a freelancer with no set hours or responsibilities?
Freelancing gives you more freedom, but it also has shorter deadlines and less room for creativity. Starting your own business gives you more freedom and control, but it also takes more work at the beginning.
New "side hustlers" often make a big mistake by taking on more than they can handle. When you agree to them, new projects and extra money sound great, but when the deadline comes, you may find that you took on more than you could handle. Make sure you have time for the side job you choose to do from home.
To Contents ↑
4. Choose a side job that generates passive income
Setting up a passive income source is a great way to make money from home without actively working. This includes any work that doesn't require a lot of time and effort. Some things that count as passive income are:
Investing money in the stock or crypto market;
Getting involved with an affiliate or referral program;
Influencer/content creator on Instagram;
Getting passive income from placing ads.
Many YouTubers and bloggers write and make videos for fun. Still, they can partner with advertisers or affiliate marketing programs to make money on top of what they're already doing. Do you have any interests or hobbies that might interest other people?
To Contents ↑
5. Consider a small online business
You can start a business by offering services like personal styling, consulting, custom art, or making an online store. This guide to starting a business shows you what you need to do to start a business from home:
An idea,
A business plan,
A company's name,
Get a tax ID,
A website.
Depending on how big and complicated your business is, you might want to talk to an accountant to ensure you have everything set up right so you can work from home and make money.
To Contents ↑
6. List suitable freelance job sites and resources
Check out some of the platforms where you can freelance:
You can also use "remote" and "freelance" as search terms on popular job sites like Indeed, Monster, and LinkedIn. WeWorkRemotely and Remote.co are the best places to find freelance work. Thousands of people looking for extra work visit these sites daily to look for jobs and apply for them. 
But if you're just starting, you might want to focus on building your portfolio and skills on Fiverr or Upwork first since it's easier to get your first few clients on those sites.
To Contents ↑
Making a portfolio for freelance job opportunities
You can make a portfolio or personal website so potential employers can quickly judge your skills. Many people have the same skills as you in the freelance economy, so make a simple, high-quality portfolio to show potential clients why you stand out. This will also help you show off your skills quickly.
A portfolio usually has a resume or list of skills, examples of your work, and information on how to get in touch with you. It can be an online PDF, a website, or an interactive page on a website. Keep your up-to-date with new projects, and get permission from clients before showing off work you've done for them.
Get online and start finding new clients right away! With the right tools, effort, and drive, anyone can work from home and make money online as a side job to save for a home improvement, a vacation, or anything else.
To Contents ↑
7 good ways to make money on the side in 2023
However, if you don't have any ideas on how to make extra cash, we want to give you a gentle push. This list of suggestions below will help you come up with some ideas for your side hustle.
1. Become an affiliate marketer to make money
Affiliate marketing is one side hustle that pays well over time. But you'll need to learn how it works before you can start making money with it. 
Finding the right brand to work with is just as important as finding the right offer to promote. If you start affiliate marketing for an ecommerce store, your commission will probably be lower than if you just drop shipped the products yourself. But some other industries pay affiliates a lot of money if they bring new customers.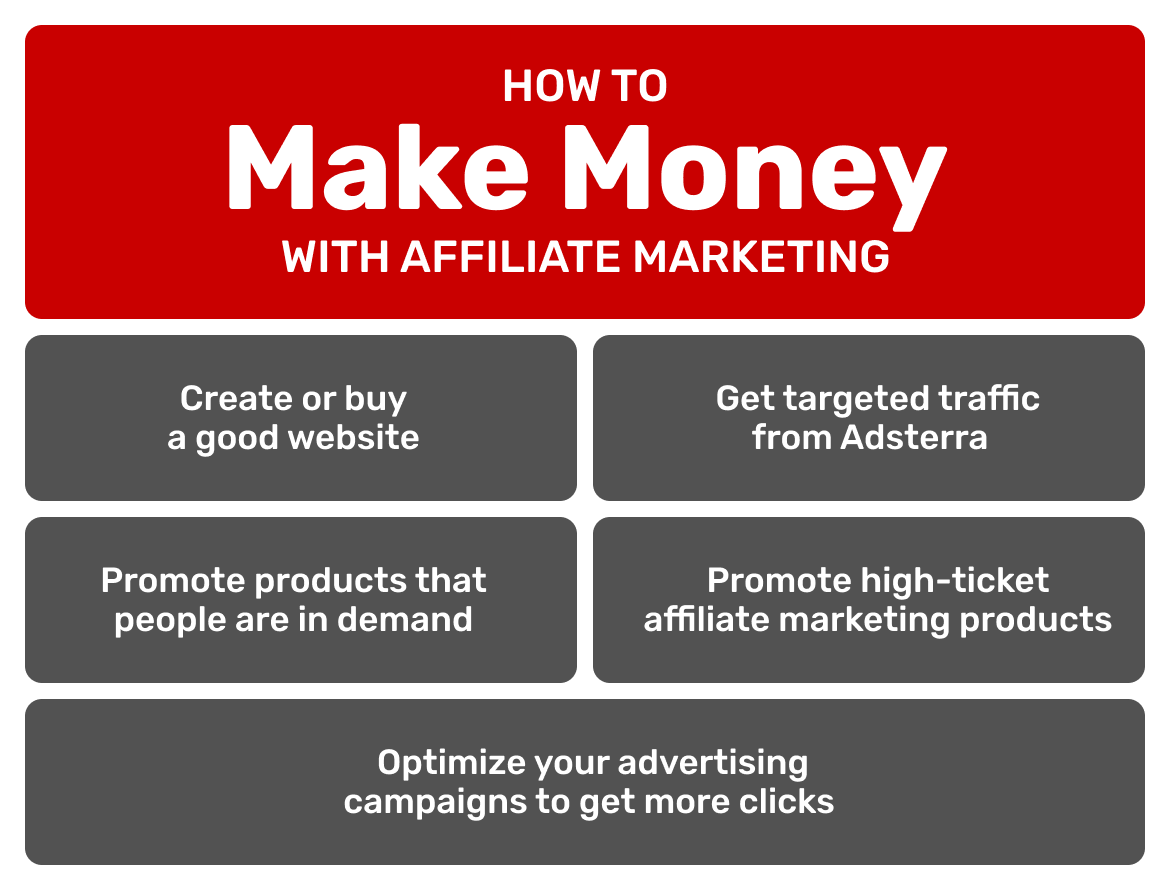 How much money can you make from affiliate marketing? It depends on the offer you're promoting, your affiliate network, and the type of conversion required.
Ask the affiliate program for tools you can use to help market their product. For example, you could offer a free lead magnet or tool to encourage people to buy the product. A piece of content can help a potential customer move from a "cold lead" to a "warm lead," which gives you a better chance of making money with this side gig. Or, you can work as an intermediary, promoting other brands' offers for commission (known as CPA marketing).
To Contents ↑
Additional resources
If you believe affiliate marketing is for you, and you want to learn more about Adsterra's affiliate marketing opportunities, check out our CPA Affiliate Network with hundreds of high-paying offers.
To Contents ↑
2. Start a dropshipping business that sells products from other companies
Dropshipping is one of the best ways to make extra money. It lets you sell a product directly to a customer without buying any stock. 
Why is that so cool? You don't need a big budget for start-up costs, so your risk is low. This is a win-win situation for both the manufacturer who has the stock and sends it straight to the customer and you. Your main focus will be marketing and providing customer service. That's why this is a good choice if you know a lot about marketing and want a side job that uses your skills. 
Dropshipping can be used to sell in almost any niche. And if you're creative, you can come up with all kinds of fantastic business ideas. 
For example, you can start a business based on any of your interests. Do you enjoy buying things for your kitchen? Or maybe you have found a unique wireless phone charger? You can use these ideas to start your own product store. If you enjoy applying makeup, you can dropship beauty products and build a social media following by showing people how to do their makeup. 
How much money can a drop shipper make? That depends on how hard you work on your business and how well you market it.
To Contents ↑
3. Start freelancing
Does your main job's pay fluctuate? You could try doing freelance work to keep your income steady. These could be gigs on Fiverr or small freelance jobs you get on Upwork. 
One week, you might make T-shirt mock-ups for a client, and the next, you might help someone build their brand awareness. Your projects could be very different from one another. But this could be the perfect side job for you if you like to change things up and try something new.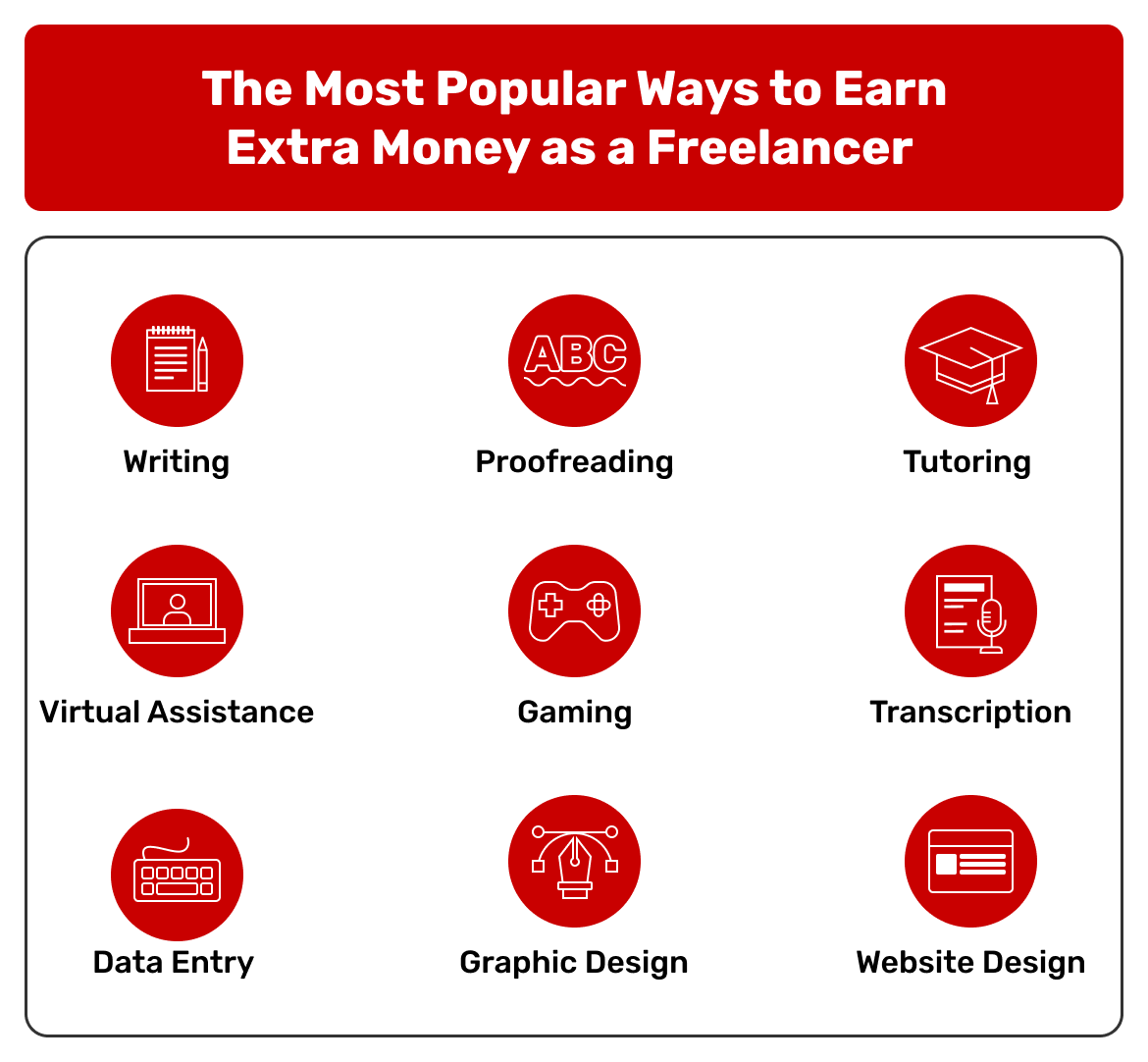 How much can you make doing this job on the side? Depending on your side jobs and the platform you use, you could make anywhere from $30 to $2000 a month. The secret to being successful here is to charge clients based on the value you bring. 
Most freelancers don't charge enough, which means they burn out quickly and don't make much money. The simplest freelance jobs tend to require a lot of time and little payouts. 
One of Adsterra's successful publishers admitted that for 2 months of filling surveys, he earned only 6 dollars. But by adding ad codes and displaying ads on his website advertising on the site, he makes an average income of $180 on his publisher account. Here's his success story: Ruben Colón: I'll Show You a Direct Way to Earn From Snapchat.
To Contents ↑
4. Earn from placing ads on your website or blog
One of the best side jobs you can do from home or anywhere else in the world is blogging. It lets you build a personal brand and own your asset simultaneously. You can even write about the things you love. When you start a blog in a familiar niche, you can reach people interested in the same things you are. 
People often run part-time blogs about business, NFTs, and cars, among other things. You can monetize your blog by including affiliate links in your posts or linking to your online store where you sell dropshipping products.
How much money can you make if you do something like this on the side? At first, you won't make much money. But some bloggers who keep going after the first few years have made enough money to quit their jobs and blog full-time.
If you're really into blogging, you can mix it with dropshipping to start making money from your asset even before you have a big audience.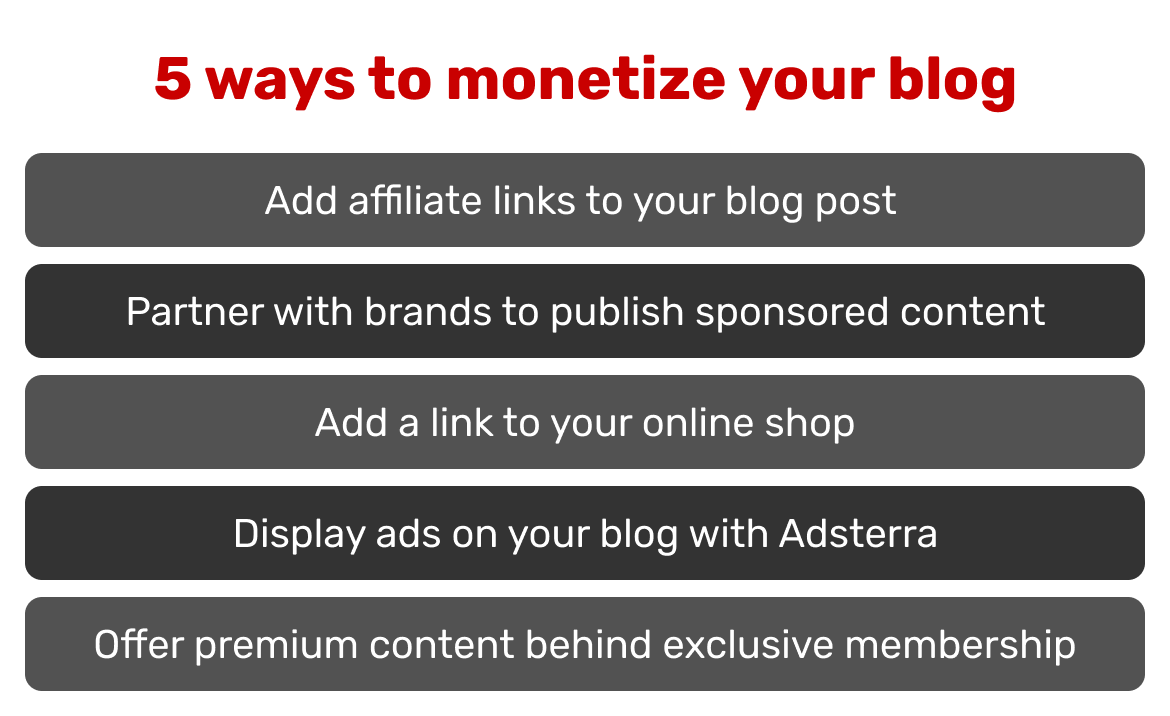 As your blog grows, you can use ad codes to make money off your blog traffic and make even more sales. If you put out regular, high-quality content, you may have a few "home-run" posts that get a lot of traffic and are easier to make money from than a few direct sales. You can also read about how get paid to post ads in our article if you want to know more.
To Contents ↑
5. Create and sell informational products
If you're looking for good ways to make money on the side, selling information products could be a good choice. For this side job to work, you need to research, spend time, and have good marketing skills. Are there things you know much about that are very popular now? 
You may have found a popular topic about which there isn't enough information. Create content around these opportunities to make money from them. You can start making money by selling courses or putting out books on Amazon.
How much can you make selling information products? It depends on the niche, how you do your marketing and several other things. But this side job can make a few thousand dollars every month. The key is making many different contents (ebooks, courses, etc.) that repeatedly make you money.
For this side business, focus on niches where people have big problems they need to solve. If Сcrypto is your niche, you can make an ebook about investment plans or a trading strategy. Suppose people are desperate to find a solution to a burning problem. In that case, you can add value by helping them find a solution.
To Contents ↑
6. Start a YouTube channel
It's much easier to start a side business on YouTube. Even if you don't meet the requirements for the YouTube Partner Program, you can still make money on YouTube. 
First, YouTube is all about videos, and video content is arguably the most interesting type of content. A Wyzol study from 2021 showed that, on average, people watch 18 hours of videos per week.
People are 2x as likely to share videos with their friends as they are to share any other kind of content. 96% of consumers have watched a video about a product or service to learn more about it.
Business Insider reports that YouTube creators can earn a decent amount with as few as 1900 subscribers. But there's a lot to learn if you want to turn your videos into a business that makes money. Amateur YouTubers will want to learn how to use YouTube well to grow a channel, use search engine optimization (SEO), have a marketing plan, and shoot and edit videos.
The Professional YouTuber course is an excellent place to start learning these skills because it covers all of the above.
To Contents ↑
How much can you make on YouTube?
Your YouTube revenue depends on your acceptance into the YouTube Partner Program (YPP).
First, let's talk about YPP. To be accepted, you must meet several requirements:
Follow YouTube's guidelines.
Live somewhere where you can get YPP.
Achieve over 4,000 hours of video views in the past year.
Have more than 1,000 subscribers.
Have a Google AdSense account.
Once accepted into YPP, you can put ads in your videos and start making money from AdSense. It has a standard payout rate of 68% for all types of content, so if your channel makes $100 in ad revenue, you'll get $68 in total.
The more views your video gets, the more money you earn. Most advertisers pay about $0.18 per ad view, so if 1,000 people watch your video, you can make about $18. That's a $3 to $5 cost per 1,000 views (CPM).
You can use a tool like Social Blade's YouTube Money Calculator to get a quick idea of how much money your channel could theoretically make.
To Contents ↑
7. Make money with NFTs
Let's start with the basics. NFT (non-fungible tokens) is a non-interchangeable token. Each NFT is unique and exists in a single copy, meaning that it can't be divided, and all information about its author, buyer, and transactions is securely stored in the blockchain.
What can I buy as an NFT?
NFTs can be anything, from images to music. Hundreds of NFT collections are being minted daily and every few days, a collection's value soars by almost 5 to 20 times. NFTs are often sold on specialized marketplaces such as OpenSea.
There are two strategies for earning money on NFT.
The first is to buy NFTs during a sale or on the secondary market and wait for the collection's value to increase.
The second is to buy one during the drop and instantly sell if the price is higher than the initial cost.
However, not all collections will appreciate in value over time.
To Contents ↑
Conclusion
Your side job can help you make money online and bring in some extra cash each month. But it can also help you learn new skills, build your personal brand or portfolio, and gain more freedom. So, just have fun! Start a business or try out a new hobby you've always been interested in. 
A side job is your best chance to live life as you want. Nothing is stopping you from making your dreams come true with a little more money in your pocket, and if you think running ads on your website is the most suitable option for you, Adsterra has your back! And you have at least one totally risk-free side hustle: placing ads on your website and getting paid for ad views, clicks, and conversions. 
Another way will demand traffic buying skills from you. But if you have ever worked as a traffic manager or PPC manager, you will find your goldmine in CPA affiliate marketing.