Attracting visitors to a lander can be quite challenging, but what about warming them up beforehand so that they are more likely to register on your lander? You might think it's difficult, but it's actually not as hard as it seems.
While many affiliates avoid this type of conversion, we've got a secret recipe that one of our Adsterra partner affiliates shared to help you make good money with registrations. It's not magic, just experience that we're happy to pass on to you. So, are you ready to learn how to run an iGaming Android offer and make a $600 profit in just five days?
You will find out now:
Which payment model to choose for IN traffic.
The soft KPIs to look for in the offer's conversion flow.
Which triggers to use in your creatives.
How to target Android users (hint: don't forget to exclude older versions).
Let's rock!
Case study data: a CPA iGaming Android offer
Traffic type: Social Bar CPC
Traffic source: Adsterra
Offer:

iGaming [All traffic types]

Time period: June 09–15
GEO: IN
Spent: $338.40
Income: $1009.40
Profit: $671
ROI: 198%
Hey everyone!
Today's case will be about working with iGaming offers with simple flow! Let's try it on a popular Social Bar format, and at the same time try to find all the places where you can slip up while using it. 
Let's roll!
Choosing an offer
This iGaming offer for Android traffic was found on an aggregator, as usual. At some point I started getting nostalgic for the days when there were a bunch of Rummy offers for India on simple flow, offers that always paid for themselves. This time I found something similar 🙂 Ladies and gentlemen, meet another Rummy Circle offer! Let's see what we have to work with:
Conversion type: CPA
Flow: Install APK + Register
Soft KPI: Deposit rate in 7 days of 5%.
Vertical: iGaming
Device format: Mobile
OS type: Android only
States to be targeted: Maharashtra, Karnataka & Gujarat ONLY.
Payment for each registration — $2.45
Screenshot of the final landing  (desktop english version):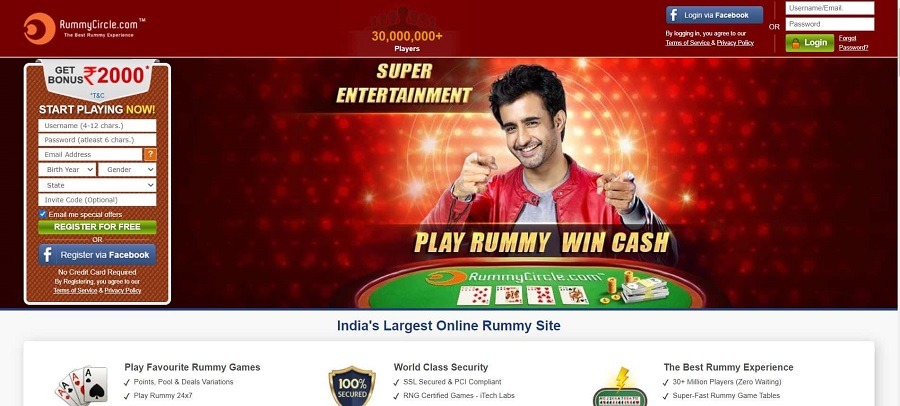 Strategy
Well, let's think about it. There is a lot of cheap traffic in India, which is great for CPC model. You can easily drive traffic at minimum bid, the amount of traffic will be great, but just in case I'll pay a little more — $ 0.002 per click. 
iGaming offers are quite difficult to work with, because they require careful attention to their campaigns, offers, conditions, etc. 
Our offer is quite simple compared to other possible offers from this vertical. That's what the Soft KPI tells us. A Soft KPI is a KPI that is desirable but not required to be met. If you don't meet it, you still get paid, which is not the case with Hard KPIs, where the conditions must be met in full. 
But note that we don't just have an install requirement, but further registration in the app. 
I won't even write about me talking to my manager about competitors and similar offers, you already know everything about that 🙂
Creatives
Let's think hard about creatives. How do we use the format so that it brings us the most money? Of course, flood creatives with lots of cash and jackpots! 
In India, a large segment of the population is not high-income, but, paradoxically, they are mostly the players. So I suggest we focus on them. What does a player need? Of course, the promise of bonuses and winnings. In our case, I was happy to find a welcome bonus on the main page of RummyCircle (2000 rupees) that can be used in our creatives!
Among a lot of Social Bar's templates, you can find ones that fit us perfectly – dynamic templates, notifications, etc., they convert fiercely on such offers and verticals.
We are dealing with India, and based on my experience I can tell you right away that you can test two parallel campaigns in English and Hindi from the start. You don't want to lose and/or mix your audience at all.
Important note
Note that if the platform you promote is only available in English, the creatives should also be in English. Otherwise, we run the risk of losing some of the attracted traffic: users will simply get confused and leave without bringing us any money.
I suggest a quick run through my examples of creatives, which I made for illustration: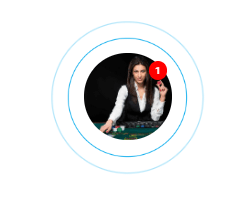 I made some simple creatives to give you an example, so you can get the general idea. I wrote about signup bonuses, jackpot and winnings, and that RummyCircle is the best online gaming platform in India, of course 🙂
Prelander is a must, this condition must be met to increase the likelihood of conversion. Be sure to fill it with lots of interactive stuff: slots, roulette, cards, etc. The presence of prelend not only protects us from danger in the form of bots and others, but also helps the user to make the conversion. 
Example of a prelender:
Optimization
So, ideally, we would have two campaigns for two languages: English and Hindi. In this case, we are talking only about Hindi, make no mistake.
By the way, it's important to say that the SSP platform does not allow you to target by geolocation, so you need to add this extra targeting through your manager. Targeting to three states severely limits the amount of traffic, but have no fear, there will be enough of it, you can be sure. 
You have to be careful with the iGaming vertical and turn off the creatives, which give us nothing but empty clicks.
Disable Android versions below 4.0, the APK file may just not open on older phones. 
Blacklist sites that give us nothing. Better to lose some traffic than a lot of money.
Post optimization
Overall:
mobile targeting; Android 4.0 or higher;
$0.002 per click bid;
Hindi language;
states targeting: Maharashtra, Karnataka & Gujarat (added via manager, this setting is missing in the screenshot, but was added later)
Screenshot of the final settings: 
Results of my campaign for an iGaming Android offer
Screenshot from Adsterra:
Total spent at Adsterra for all days: $338.4.
Total income $1009.4.
Profit $671.
ROI 198%

One day I stopped seeing Rummy in the list of affiliate offers and got very sad. The results will tell you why 🙂
Offers are still bombastic, this format opens up a lot of opportunities, which should be taken as soon as possible.
Do not forget about my advice, they will be useful, even if you are an experienced affiliate. 
Good luck, and don't forget to share your results!
iGaming is an evergreen vertical, but with more and more affiliates entering the market, competition for users is becoming tougher. The key to success is practice. Keep practicing by reading our previous case study on running an iGaming offer with Popunder traffic. Or, if you're just starting out in affiliate marketing, check out our helpful, definitive guide on using Adsterra traffic to advertise iGaming and Sports offers for maximum profit.
As you can see, Adsterra traffic is cost-effective, and you can run successful campaigns with more than just iGaming offers. So, let's get rockin' and start making some cash!