Blogs are a great way to start earning a good income, and you should be making money from yours. So if you're a beginner looking to make money from your new blog, strap in. We've provided different techniques to achieving blogging success in 2022 and making money from your blog through ads and affiliate programs.
Content
How to start making money blogging
1. Choose a profitable blogging niche
Sometimes neither passion nor expertise equals profit. Creating premium content on topics very few people care about will earn you their respects and not money.
If you're wondering which blogging niches generate the most revenue, check out our article on how much money websites make from advertising. The rule of thumb is to keep the balance between speed, quality/value, and profit. What does it mean? You should be capable to create non-generic, valuable content pretty fast, on a regular basis. In addition, this content must resonate with numerous readers — not necessarily massive traffic — but extensive enough to bring you new visitors again and again.
2. Build your credibility in your niche
No matter if you're a public figure, an office worker or a freelancer starting your small business at home: you should take care of your reputation. Let's say you want to blog about cryptocurrencies. You post interesting and valid articles about the crypto market every two days or more. More searchers flock to your website from SERPs or social media to read your content. Your blog's traffic and popularity grow.
Over time you'll become a popular figure in the crypto space and a source of rational, well-written content on cryptocurrencies. Once you've established your credibility, businesses and other bloggers may approach you about co-authoring and writing affiliate articles. You could charge to speak at conferences or online spaces.
Suppose you've already started with a few topics on your niche. In that case, you can continuously optimize your content and take a reader-centric approach. Managing a blog requires loads of resources, but you'll get your reward in the long run.
3. Choose a traffic source (organic search or social media)
Between focusing on-page SEO and growing your social media presence, building an online presence is hectic. According to Business Insider, Google and Facebook account for the vast majority of traffic to written blog content.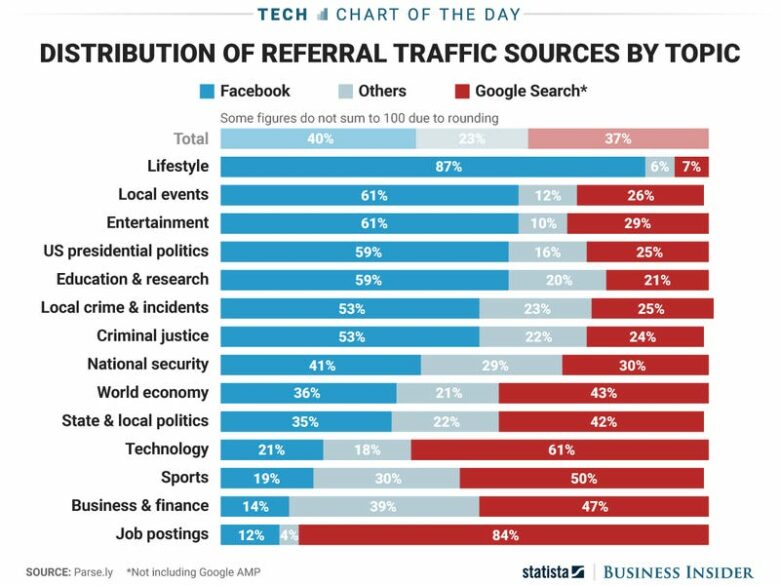 So, how do you take advantage of them? If your blog posts are about pets, parenting, self-improvement, movies, e.t.c., you'd want to focus on Facebook.
Why? Such topics are difficult to rank for on organic search results. However, you can find an audience for them (amongst your friends and family) on Facebook.
Suppose you write about things people actively search for on Google, for example, Product reviews, how-to guides, and specific questions they would ask an expert. In that case, you should concentrate on SEO.
4. Create quality content
You cannot make money from a blog that no one reads. After all, your audience generates revenue for you by click on your ads or purchase products you recommend through affiliate links. Always prioritize your readers' needs. What type of content do they want to see? Is there a content angle no one else is writing about? Is your content well optimized for search engines?
Avoid repeating other people's talking points in your blog posts. Introduce a new aspect to whatever topic you're writing about.
5. Build relationships with readers and bloggers
Creating a successful blog relies on relationships — with sponsors, affiliate partners, other bloggers, and readers. As a beginner, you don't have to worry much about sponsors and affiliate partners. Focus on building a relationship with your readers, and they'll always want to hear your opinions on every topic.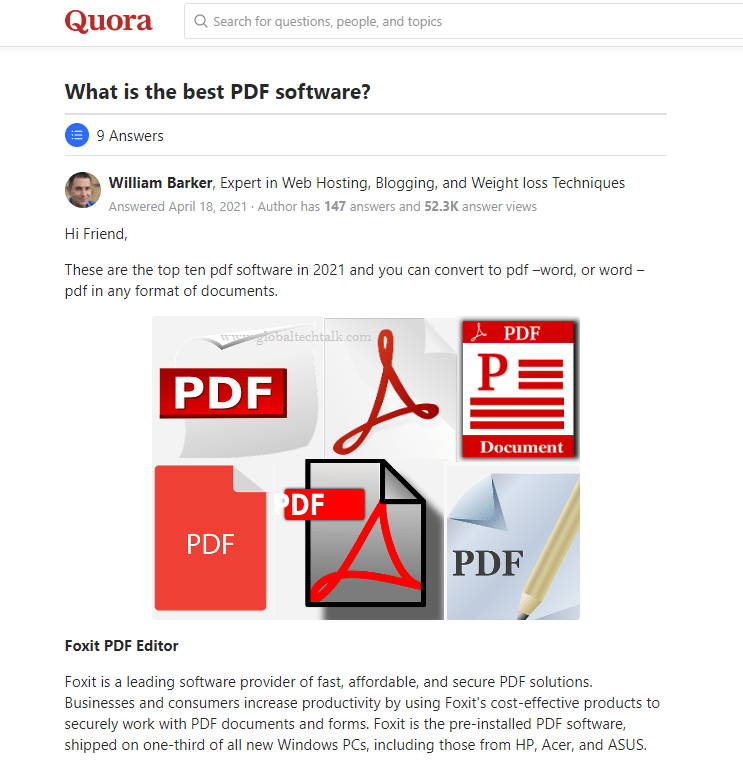 Spend some time on forums (Quora, Reddit, LinkedIn) and other blogs sharing your opinions, articles, and build relationships with readers there.
6. Grow your email list
The size of a blog's email list indicates how much revenue it rakes in.
The general rule is that you can expect to make a minimum of $1 per subscriber per month. So if you have 1000 email subscribers, you can earn up to $1000 per month.
Emails help retain your monthly views by refunneling readers to your new blog posts. Growing your email list is a priority, and there are several ways you can go about that. Use pop-ups that ask for a user's email in exchange for more exciting information, deals, and updates. For better conversion rates, this pop-up should appear as the visitor scrolls towards the end of the article. You can also put an email subscription field in your website's footer.
With link-building, you'll also be reaching out to similar blogs to create new connections. Outreach involves cultivating relationships to publish guest posts on authoritative sites in your niche. These posts will give your blog a higher Domain Authority (DA) via backlinks, which is still the best way to improve your organic search ranking.
Once you've compiled a list of 50-100 potential contacts (similar blogs) and it's time to begin your email outreach.
Ask if they'd like to participate in mutual link-building using a format like this:
"We write ten guest posts per month and would be happy to link to your website in our content. We'd also love to contribute to your blog and can pitch some topic ideas that your audience will enjoy."
When your contact responds to your email and is interested in a guest post, you must pitch the ideal topic.
Here are four main criteria for pitching a guest post:
Your content does not yet exist on their website. You can check if your topic idea exists on your contact's blog by searching site:blog.com topic on Google.
Your topic and target keywords have SEO value. Use Ahrefs site explorer to see which organic keywords they're missing out on.
The topic corresponds to your area of expertise. You should write intelligently about the subject and use guest blogging to increase your influence in your niche.
The topic is relevant to the audience's interests. Analyze their editorial guidelines, observe how they write their blog posts, and try to match the style guide.

Monetizing your blog
The next step to making money from your blog is by monetizing its content. As always, there are many ways to go about monetization. Let's discuss how to monetize your blog.
Affiliate marketing
What is Affiliate Marketing? Affiliate marketing is the system of earning money for marketing or promoting another person's or company's products in your content. You (the affiliate) search for products you enjoy, write an article about them, and then earn profits from each sale through your link.
Let's break affiliate marketing down into several steps:
An advertiser or company has a product/service they want to sell.
You reach out to them, or they reach out to you to discuss an affiliate partnership.
The advertiser/company agrees to pay you a commission on each product sold if the buyer came from your website.
The advertiser gives you a unique link that tracks your affiliate code – letting them know a buyer purchased through your link.
You can include your affiliate link on your website through banner ads or in articles related to that product.
When a user clicks on your affiliate link and purchases the product you recommended, you earn a commission.
You can fully utilize affiliate marketing through ad networks or form private partnerships with advertisers and businesses with an affiliate program.
It all sounds exciting, but before jumping into affiliate marketing, you must understand your audience's willingness to buy. Don't waste valuable time and resources on promoting products that don't align with your audience's interests. For example, a tech blog promoting diapers and baby toys or a fitness blog promoting casinos is terrible for business.
Understanding your readers' demographics can help you know what products they could be interested in. In other words, affiliate programs provide market research. You learn what your target audience wants to buy and also make money from your blog.
Monetize your blog with CPC or CPM ads
Affiliate marketing takes much longer, and your revenue here depends on how much sales your affiliate link generates via sales. On the other hand, placing ad codes on your website is much faster, and you can earn per ad impression and click. We've broken down the two popular types of ads you can host on your websites.
CPC/PPC Ads: Cost per click ( or pay per click) ads are a type of ad that appears in banners in your content or on the web page's sidebar. You earn money each time your blog readers click on the ad banners. Unlike affiliate ads, they don't have to purchase the product or service. You get paid for every unique intentional or unintentional click.
CPM Ads: Cost per thousand (CPM), or cost per mile, refers to the price of 1,000 ad impressions on one web page. For example, if a blogger charges $3.00 CPM, that means an advertiser must pay $3.00 for every 1,000 impressions of its ad. CPM ads are also placed in banners and sidebars, but your readers only have to see them, unlike CPC ads.
Google AdSense is the most common ad network for placing CPC and CPM ads. However, it is convenient because you don't need to contact advertisers. The downside to using Google AdSense is that most of the ads shown on your website are irrelevant and miss your audience's interest. Fortunately, with Adsterra, you fully harness your CPM and CPC profits by showing relevant ads in different formats: Popunder, Social Bar, Native Ads, Banners, and more.

Sell private ads
When your blog has enough organic traffic and an impressive engagement rate, advertisers may approach you and ask to place their ads on your website. In this case, you can set your ad rates, bypass the middlemen (ad networks) and make more money from ads.
You can sell private advertisements in the form of CPC banners, buttons, or affiliate links. You can also charge a one-time fee for a link in your posts. You can also earn money by writing sponsored posts where you discuss or review the advertiser's product or service (without the need for affiliate links). If you host banner ads, you could charge the advertiser monthly.
Sell digital products
When you've gathered experience from affiliate marketing, private ads, and CPC/CPM, you can consider selling digital products. We mean eBooks, online courses/workshops, NFTs, digital media, and more.
Step 1: Discover what your readers are buying or which ads do they click often.
Step 2: Create an account on a marketplace (Amazon, Fiverr, Udemy, Skillshare) or get your own eCommerce website (Shopify). You have to ensure that you sell on a platform where readers can easily access and purchase your product.
Step 3: Promote your digital products by writing about them in your blog, offering discounts, and giving updates.
Selling freelance services
Freelancing is time and labor-intensive but also a very lucrative source of income. If you're excellent at something like website design, you can use your blog as a lead mechanism to get clients. In this case, you don't need 10,000 readers per month or run click-bait ads.
Freelancing is so profitable that even successful bloggers like Neil Patel run a freelance business alongside blogging.
So if you're a freelance writer, designer, photographer, programmer, or you can provide a digital service, you might want to consider this freelancing from day one.
You have to embed a contact form on your blog posts so potential clients can reach out to you.
Donations
Donation is a new method of making money from your content. You may have noticed a Buy Me a Coffee – PayPal Donation WordPress Plugin on some blogs lately. It's an ingenious idea that allows your readers to make a PayPal donation at the end of each post. The developers behind the plugin propose that asking people to donate money for a specific reason increases donations by 200 percent.

Donations are an exciting concept that seems to be working to some extent for those trying it.
Asking for donations can work for bloggers if:
They have a loyal audience. The more dedicated your readers are, the more likely they will be willing to donate to you (big or small).
They create high-value content. Bloggers who make in-depth, valuable, and engaging content are more likely to receive tips as a reward for satisfying their readers.
They have a large audience. A certain percentage of readers will always respond to a request for donations. As a result, a larger audience will undoubtedly result in many people responding to your invitation to donate.
They don't monetize in other ways. Readers are more likely to r donate if they don't think you're already making a lot of money from your blog through ads and affiliate programs.

Sell memberships to exclusive content
Another way to make money is to sell memberships to restricted areas of your website. A career blog, for example, might charge $15 monthly to readers to gain access to their job board. You can sell memberships to a startup business blog's forums, where people can get personalized advice about their business.
The key point here is that your exclusive membership must be more valuable than whatever your visitors can get for free elsewhere.
How much money can you make blogging?
Bloggers make money in a variety of ways. Successful bloggers can earn well into the seven figures per year, whereas unsuccessful bloggers may earn nothing at all.
So if you've picked a niche for your blog, written your content, and created a timeline for blog monetization. Here's what else you can do:
You want to publish five-pillar blog posts. Pillar posts are long, detailed articles that are useful, actionable, well-written, and engaging. They're filled with relevant images to support the points you're making in the text.
Fill in essential web pages like your About Page, Start Here Page, Contact Page, Consulting Page, Resources Page, Email Opt-In Page, etc.
Set up email marketing software with opt-ins in your sidebar, blog posts, and pop-ups.
Hire a content writer or freelancer to assist with your guest postings for backlinks.

How to make money blogging FAQ
Q: Can you make a living blogging?
A: Yes, you can make a living from blogging, and it can be very profitable. However, the harsh reality is that the vast majority of beginner bloggers do not earn enough money to support themselves. So you must have an alternative source of income while your blog grows.
Q: How do beginner bloggers make money?
A: It may take some time to begin earning an income if you are starting. It would help if you offered freelancing services in the early stages to earn a higher income in exchange for your time. Because traffic is low at first, converting your visitors into clients with a higher-priced offer makes the most sense.
You can then add affiliate links, digital products, and ads to your blog once you have a steady flow of income and traffic to your website.
Conclusion
You can increase your blog's revenue potential by selecting the right niche based on market factors. You can also strengthen your backlink acquisition and Domain Authority by scaling your content strategy, conducting SEO on-site audits, and outsourcing aspects of your guest posting process. Finally, by implementing the proper blog monetization strategies from the start, you can make much money as a blogger in 5 months days rather than years.

Another important point: Blogging is not necessarily the only way to monetize your skills and content. Adsterra works with many successful entrepreneurs who do not blog but successfully monetize their services. This includes book and music catalogs, retail aggregators, and other valuable web services.