Blogs are a good way to earn income while doing something you are passionate about. Many people have blogs but don't know how to generate revenue from them. There are over 600 million blogs on the web, yet one-third of bloggers don't earn money at all.
This article will provide details on how to make money blogging. We will explain different techniques for making money from a blog and help you decide the best one to adopt.
What are the best ways to make money blogging
There are endless methods of monetizing a blog. Advertising is the most common one that almost every blogger uses.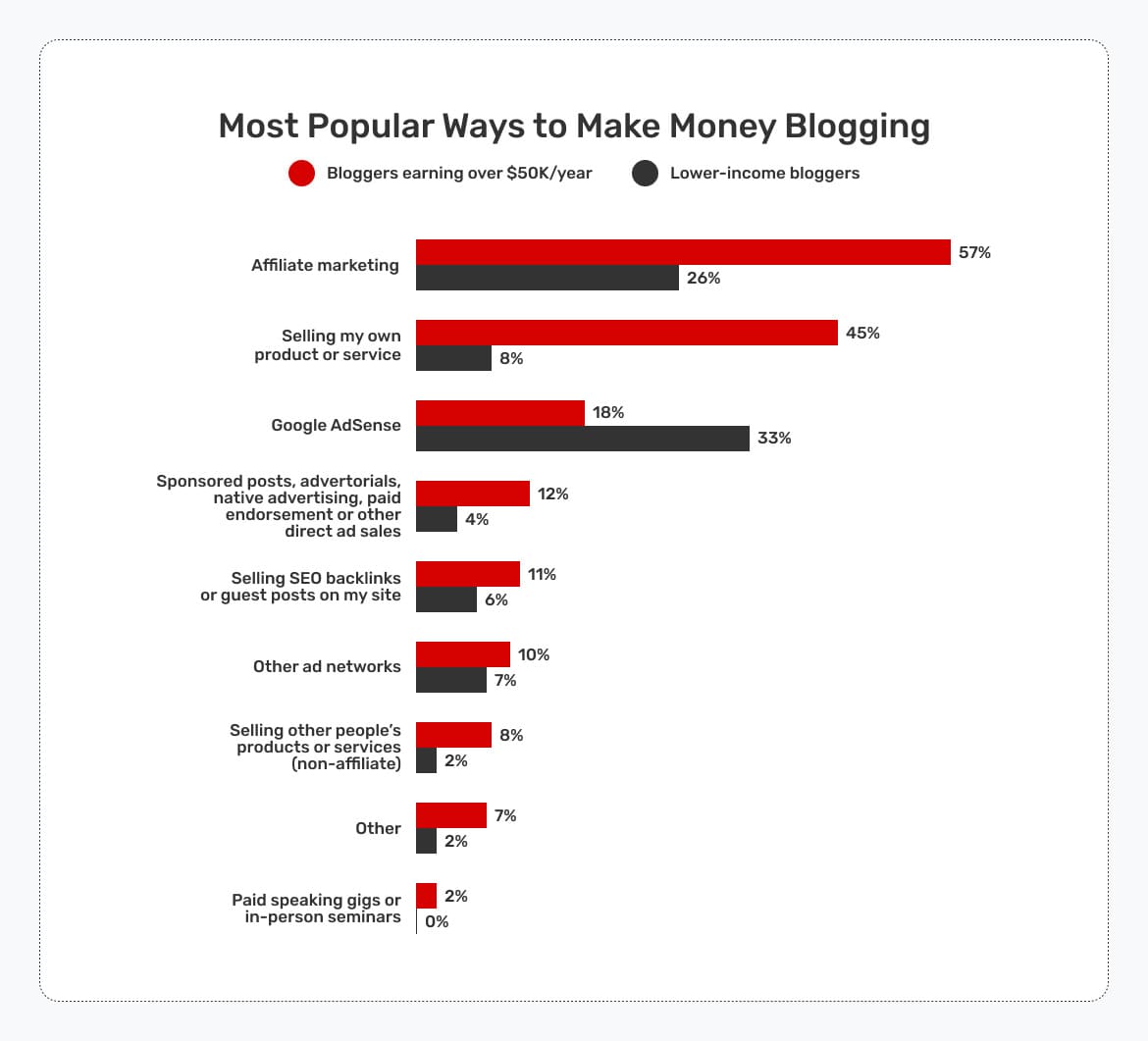 Though placing ads is a reliable method, there are many more that can generate higher revenue if you play your cards right. For example, charging brands for sponsored posts, getting paid for product reviews, writing an e-book, creating a paid membership, etc.
Note that earning money from a blog is hard work. You first have to start a blog and grow the traffic to a point where you can get considerable income. Increasing the traffic is the hardest part, but revenue tends to come easier after that. For more information on this, you can read our guide on how to start a blog and make it successful.
Adsterra lets you earn money from your blog traffic easily. With over 13,000 reputable advertisers on our network, you can be sure of getting constant advertisements on your blog and earning a steady income.
To Contents ↑
Step 1: build your online presence
Online presence refers to your existence and findability across the web. To create a successful blog, it is important to first establish an online following before you focus on monetization.
Blogs with unstable traffic flow will hardly earn big money. You can start getting a stable income by sending certain amounts of traffic on a regular basis. That demands a strategic approach like the one Adsterra publisher, Achile Anne, has developed.
To Contents ↑
Choose a "balanced" blogging niche
An essential thing to consider in blogging for money is to select a good niche or topic to focus on. Some niches are more profitable than others, e.g., blogs about personal finance or health advice earn much more income than art blogs.
But, it doesn't imply that you should go with the most profitable niche even if you have no passion for it. There should be a healthy balance between your passion and the income you can get.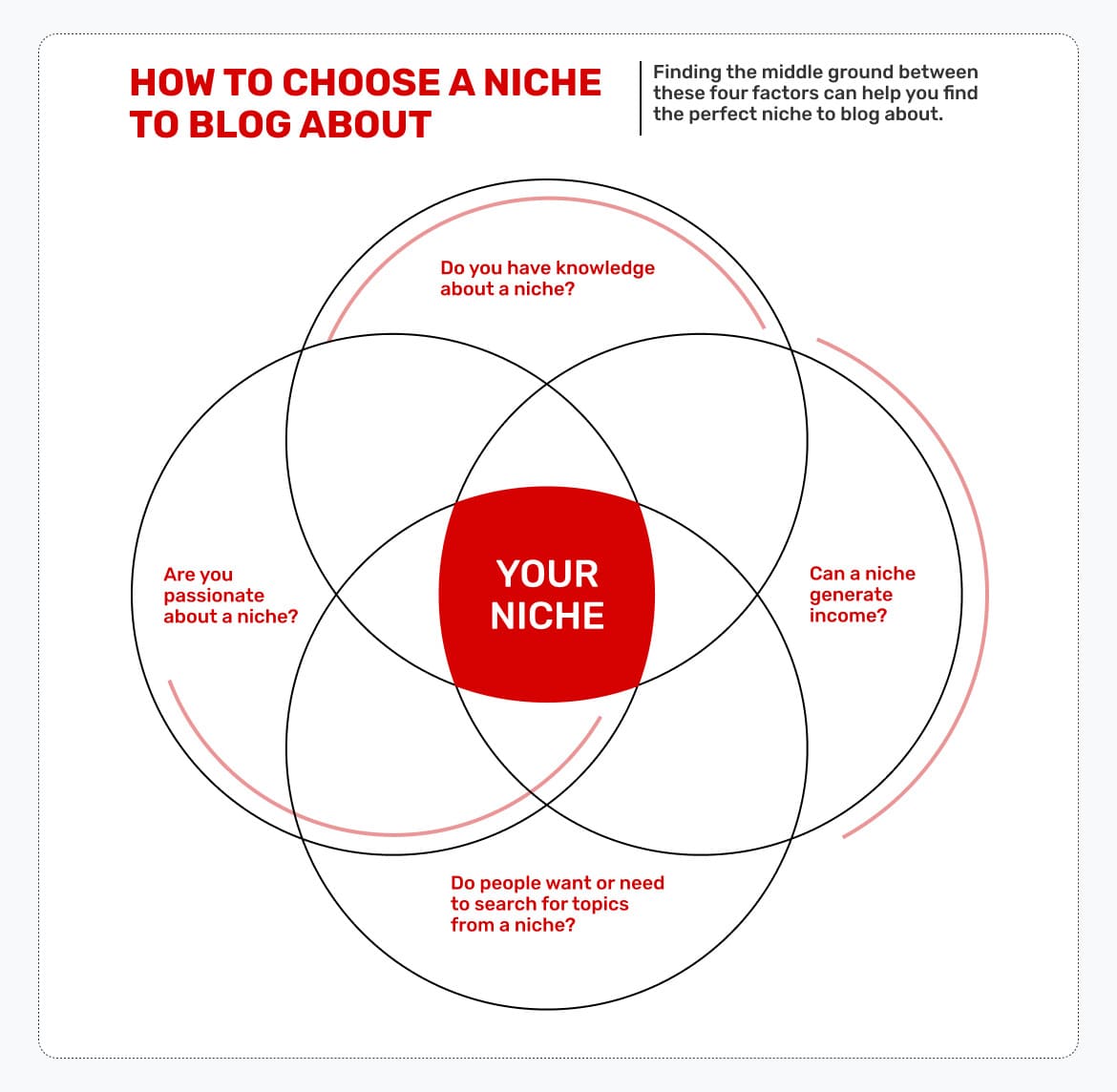 Note that the most profitable niches have the highest competition, making it harder to break into and build a large following. Choosing them may reduce your chances of success, whereas the topic you are passionate about may have lesser competition.
Check if the niche you are eyeing is profitable. Are there dedicated ad networks or affiliate programs for it? What is the average amount earned per click? You can check various marketing websites or advertising blogs for this information. If the niche you're considering is very profitable, you might want to avoid it because of intense competition.
An alternative move is to set up several narrow-niche blogs and create super-expert content that you are competent enough to generate. That is what we offered in our earlier article "Are You a Blogopreneur?"
To Contents ↑
How do you choose a good niche to blog about?
The first step to choosing a good niche is to select something you're passionate and knowledgeable about. You need the passion to write wholeheartedly and knowledge to ensure you provide factual and interesting content to your readers.
Not all niches are lucrative, so you must balance your passion and knowledge with choosing something people often search for. Popular niches are lucrative because many people look for relevant content on search engines and social media platforms.
You can draw inspiration from things around you. Check out popular blogs and websites on the topics you like and see what type of articles they're writing. You can also get blog content ideas from books, your physical environment, casual conversations, etc.
To Contents ↑
Who is your audience?
Your audience is the group of readers your content appeals to the most. It's the cohort that'll gain a lot from reading your articles and will likely come back for more. Always consider the audience when writing articles. Put yourself in their shoes and ask yourself what content you want to view on a blog online. This will help you build credibility for your own blog and gain a substantial audience.
Build credibility in your niche
Reputation matters to anyone and everyone. Once you have chosen your niche, the next thing to focus on is building your reputation. If you post interesting articles, people will likely flock to read your content. Other blogs may also link back to your articles, which helps you build respect from readers and increases your search engine rankings.
With a good reputation, other popular blogs can approach you about commercial partnerships. Brands will be willing to advertise on your blog with sponsored posts and product reviews. It will unlock more streams of income and boost your chances of making money blogging.
Here is a case study of a blogger who chose news reporting as his niche; "I chose a news website because I'm very good at turning celebrities' social media pictures into fully readable and viral news. And that's a winning move in the 21st century." He makes up to $80 daily from advertising powered by Adsterra.
To Contents ↑
Choose a traffic source
There are many sources to generate traffic for a blog. According to Statista, Google and Facebook account for the majority of traffic referrals to websites.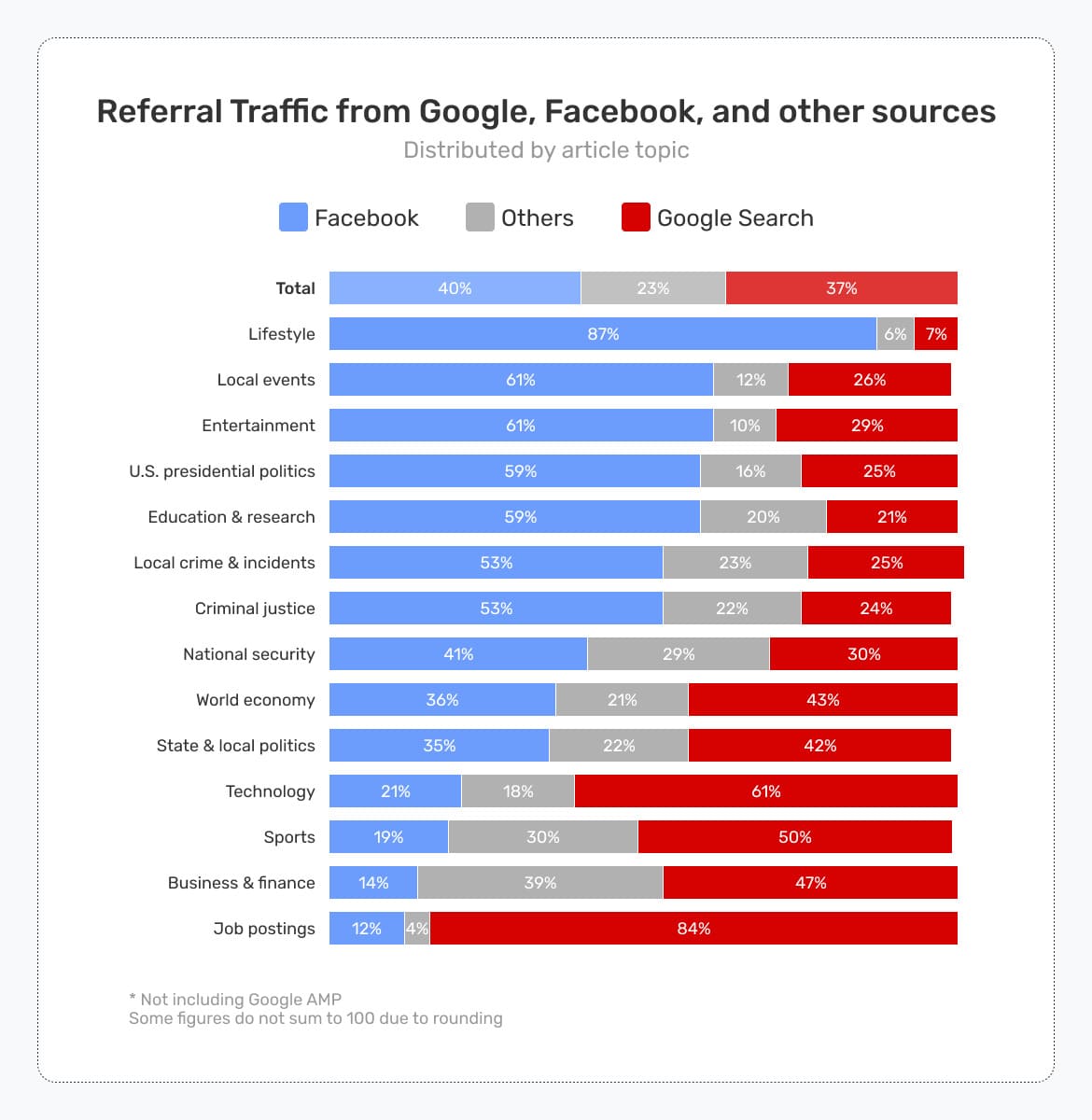 It is advisable to pick a few sources and focus on getting the maximum amount of traffic from them. The chart above shows that search engines and social media are the primary referral sources for most topics, so it is wise to focus on them.
For instance, if you run a business news blog, it is wise to focus more on search engine optimization to generate organic traffic. In contrast, if you run an entertainment blog, it is better to focus on traffic from social media platforms like Facebook and Twitter.
To Contents ↑
Create quality content
Quality content is necessary to attract people to your blog. No one wants to read content that does not add value to them or, at worst, is false and misleading. Put yourself in the shoes of your readers. What type of content would they like to see? Is the content optimized well to appear on search engines?
A smart strategy to attract readers is to create exclusive content, which refers to content that the reader can not access elsewhere. For example, if you run a business blog, you can put together an investigative piece on a company or an early scoop about a business deal that will be announced in the future. This will make readers appreciate your blog and other websites to link back to your content.
You may have heard of ChatGPT, an artificial intelligence tool that has taken the world by storm. This tool can help you write high-quality content that drives engagement. You can also use several free AI tools to help you generate content faster:
To Contents ↑
Write compelling content for readers
You must write blog content that your target audience wants to read. Ensure you provide factual information that'll be helpful to your readers. Make the articles interesting by using a conversational tone; this way, your readers will feel like you're talking directly to them. Use catchy headlines to draw their attention because this is the most challenging part of getting traffic for your blog content.
Consider Akerele Oluwatobiloba Emmanuel, a blogger who built a large following by writing compelling entertainment and news content for a Nigerian audience. He makes up to $50 daily from this blog.
To Contents ↑
Build relationships with readers and bloggers
It is a good thing to build relationships with your readers and fellow bloggers as a beginner. This way, readers will be willing to hear your opinions about things related to your niche. Other bloggers will also be willing to link back to your site and help improve its rankings.
You can set up an official profile on popular websites like Twitter, Quora, Reddit, etc. Participate in discussions related to your niche and respond to other people's comments. This helps you build long-lasting and profitable relationships in your area of interest.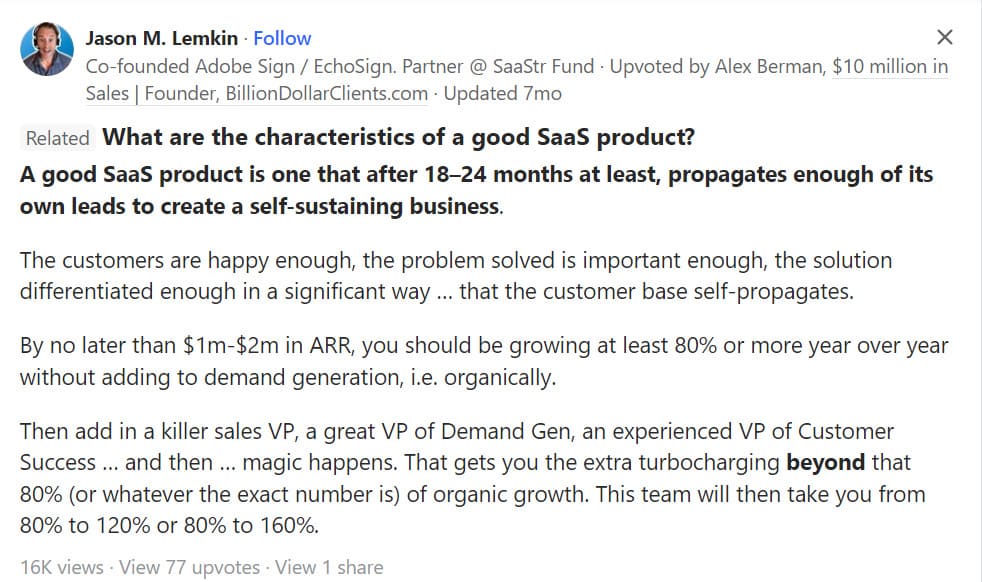 To Contents ↑
Grow your email list
You might have observed that most popular blogs have email newsletters; they do this to remain acquainted with readers. You should endeavor to grow your email list as much as you can.
The most common way to do that is to insert popups requesting email addresses from visitors. You can even add a perk or a deal to entice the visitor to provide their email. Likewise, you can insert the email registration form in a static position on your website, e.g., the footer.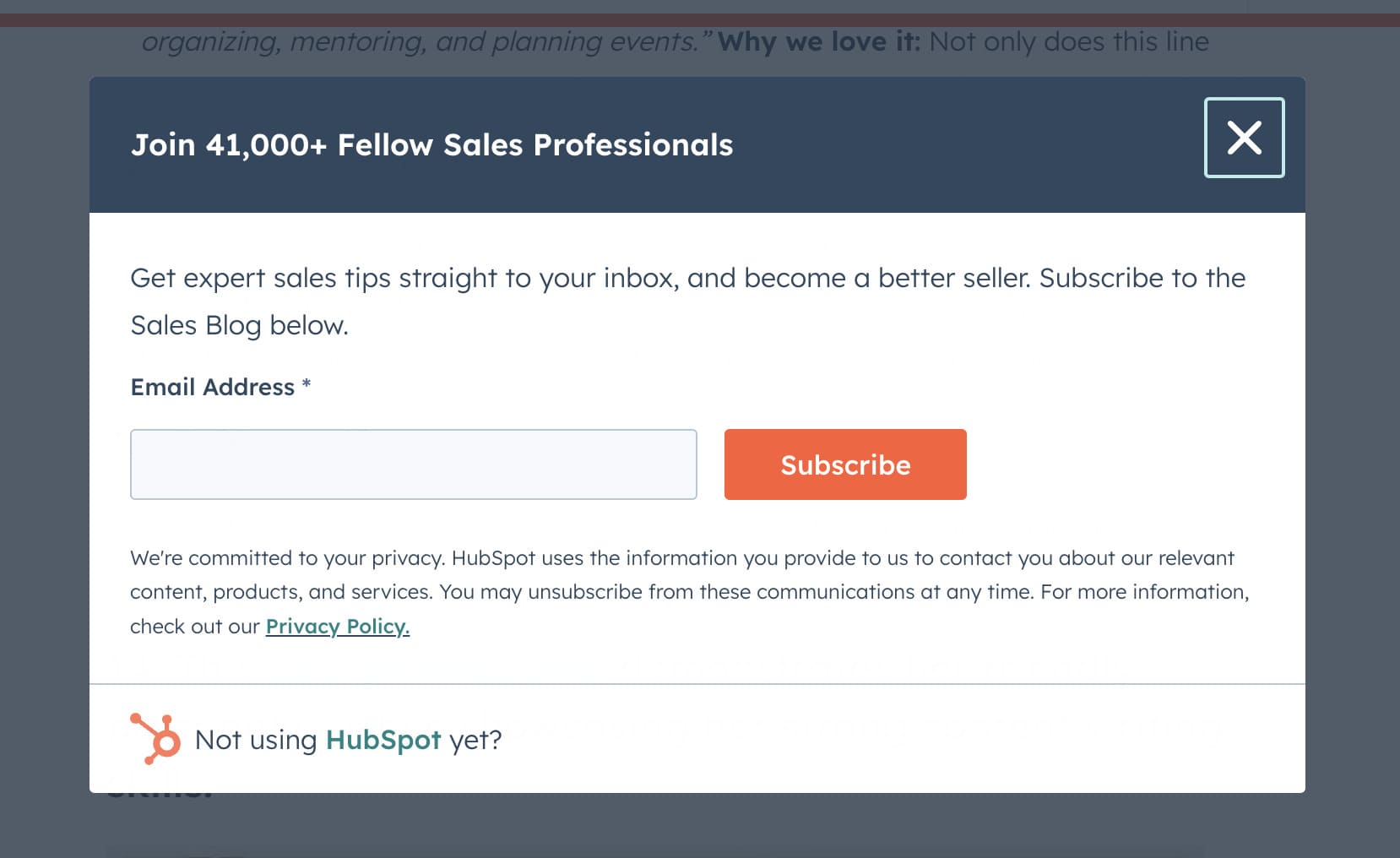 The higher the number of email subscribers, the better the chances of making money with a blog.
To Contents ↑
Build your backlink profile
Backlinks are incoming hyperlinks from another web page to yours. They improve your rankings on search engines like Google and give you a more solid reputation among readers.
To build your backlink profile, you can reach out to blogs that are similar to yours and ask the owners if they are interested in link-building activities. Here is an example of a format to follow:
"We write ten guest posts per month and would be happy to link to your website in our content. We'd also love to contribute to your blog and can pitch some topic ideas that your audience will enjoy."
Of course, not everyone would respond. But, the few that respond can be worth it and help you boost your organic search rankings.
To Contents ↑
Step 2: making money from a blog
The procedures we mentioned above will help you build a significant online following. The next step is to monetize this following and earn income for the hard work you spent in growing your blog's traffic.
There are many ways to make money blogging. They include everything from display advertising to one-on-one consulting to running special ad campaigns for brands.
Ad networks
An ad network is a digital platform that serves as a middleman between an advertiser and a blog publisher. The benefit of using an ad network is that you do not need to spend time and effort chasing advertisers; they are already registered on the network, so you only need to connect your site to get ads placed.
There are many ad networks out there to choose from. Adsterra is one good example, with over 13,000 advertisers and 28,000 publishers registered. You can choose from different types of ads including Banners, Popunders, Native ads, etc.
Different networks have different traffic requirements to join. For instance, one might demand at least 10,000 monthly page views while another requires 100,000+. Some do not have any minimum traffic requirements. Adsterra doesn't set any entry barriers to the number of ad impressions you deliver, however, the more abundant and genuine traffic you send, the more chances to get higher payouts. The good news is that Adsterra takes into account how your traffic converts, so even publishers who send non-massive traffic can earn a lot.
You can join Adsterra and begin earning money from your blog in a few steps. We provide a 100% fill rate on all ad slots on your website.
To Contents ↑
Affiliate marketing
Affiliate marketing is a system where you advertise a product for an online retailer and earn a commission on each sale coming from your referral. The affiliate (publisher) drives traffic to an online merchant's website. If the traffic converts into a sale, the publisher will earn a fixed percentage of that sale. Let us break it down into simpler steps:
A retailer has a product they want to sell.
You reach out to them to start an affiliate partnership.
The retailer agrees to pay you a fixed commission if the buyer comes from your blog.
The retailer gives you a unique link with tracking parameters.
You insert the link on your website.
A user clicks on the link on your website and proceeds to buy the retailer's product.
You earn a commission from the sale.
Advertisers are constantly looking out for affiliates they can partner with to spread the word about their products. You can find them on dedicated affiliate ad networks or reach out to retailers directly.
A smart way to earn income this way is to write a product review and include your affiliate links throughout it. When someone reads the review, they might be interested in buying the product and follow your link to do that, then you get a commission.
Ensure you promote products that are relevant to your target audience. Irrelevant promotions will likely not convert into a sale. For example, a gadget review blog should not be promoting makeup products.
To Contents ↑
Display ads for blogs to earn money
Display ads are graphic advertisements that appear on a webpage. They combine text and visual elements with a call-to-action button that leads to the advertiser's website. It is the most common type of advertising for blog content.
Display ads can come in many formats on a blog post, including Banners, Native Ads, Popunders, etc. We'll explain these formats below.
Banners
Banner ads occupy a single spot on your website, usually at the top or bottom. It can be a static image or an animation with a hyperlink that takes the reader to the advertiser's web page. Advertisers usually pay per click or per thousand views.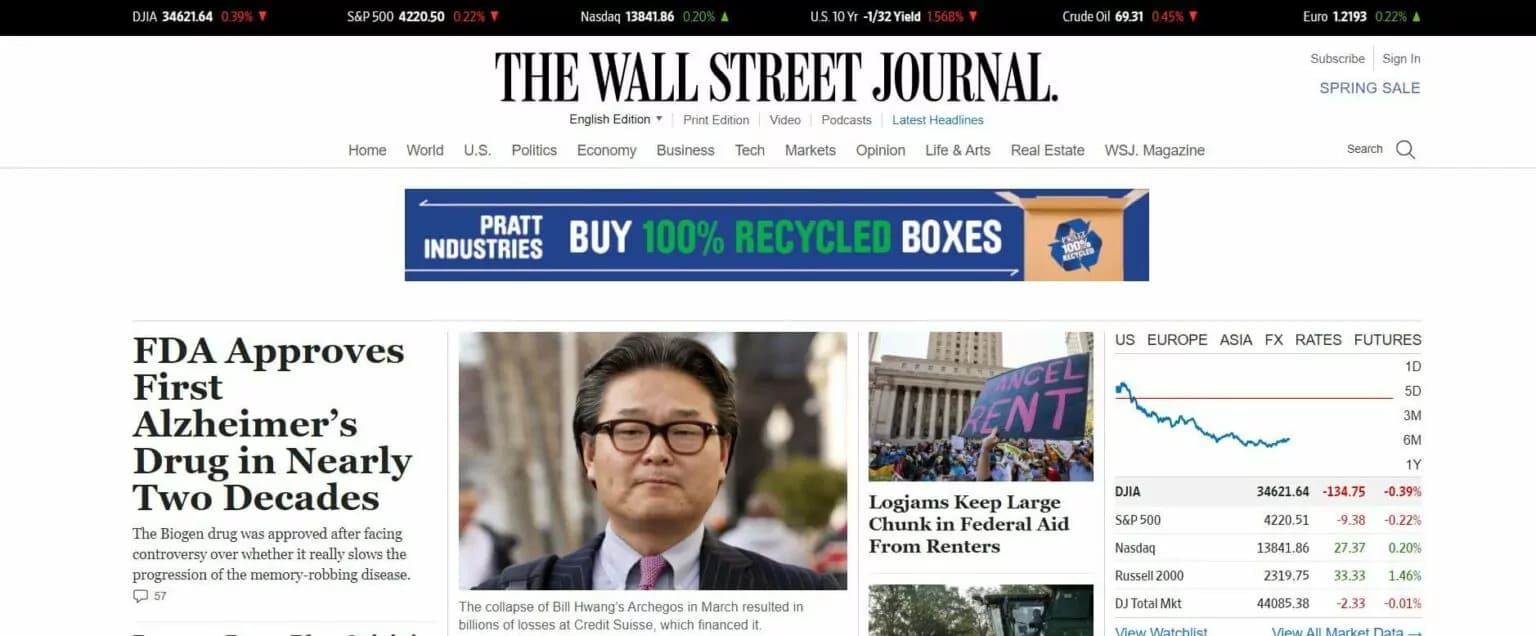 To Contents ↑
Popunders
Popunder ads appear behind the user's current browser tab. The user will only see the ad after they have closed their browser tab. It is less disruptive and interruptive than pop-up ads that appear when the user is still on the webpage.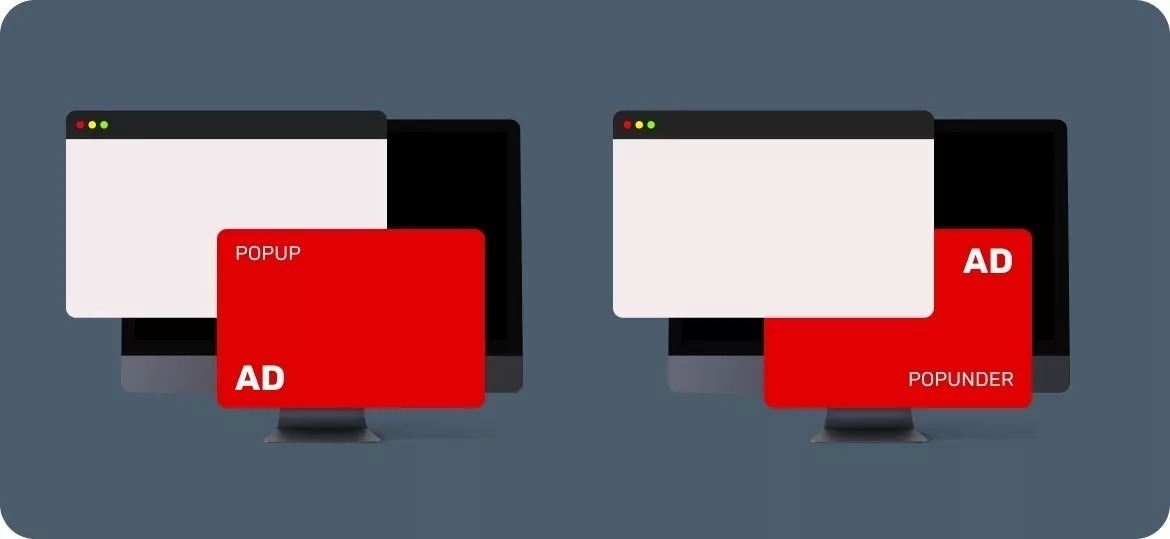 To Contents ↑
Social Bar
Social Bar ads appear in the form of a push notification on your website. You can place them in any position and customize their shapes and colors. You can make the ads look neat and native for every operating system. This type of ad is known to generate 10-30X more click-through rates than web push ads.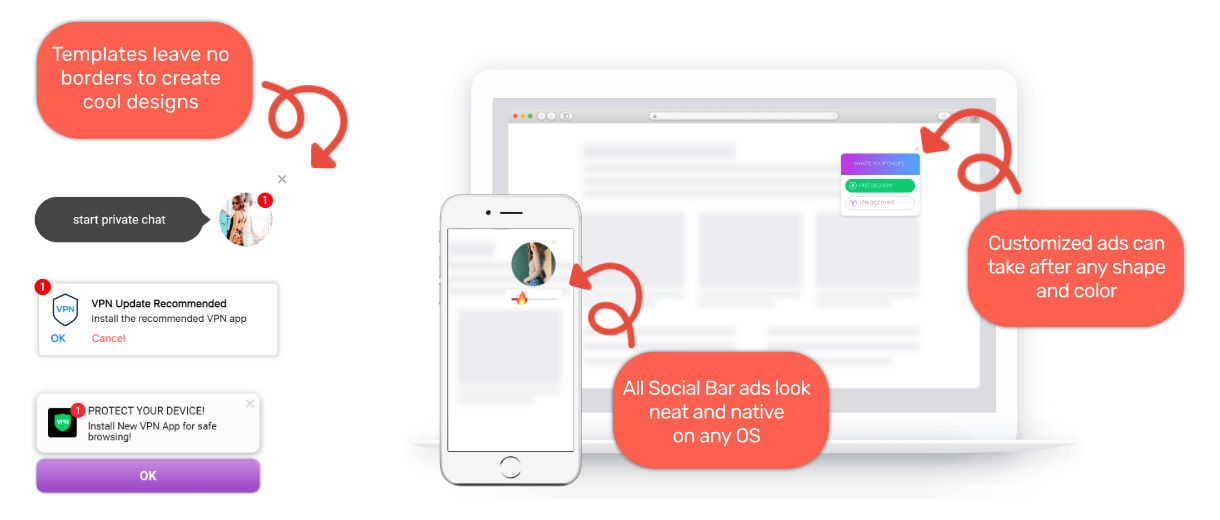 To Contents ↑
In-Page Push ads
In-Page Push ads look like push notifications but are displayed directly on a website. They are fully responsive for desktops, tablets, and mobile devices. They enjoy several advantages over traditional web push ads, including not requiring a subscription and instant delivery.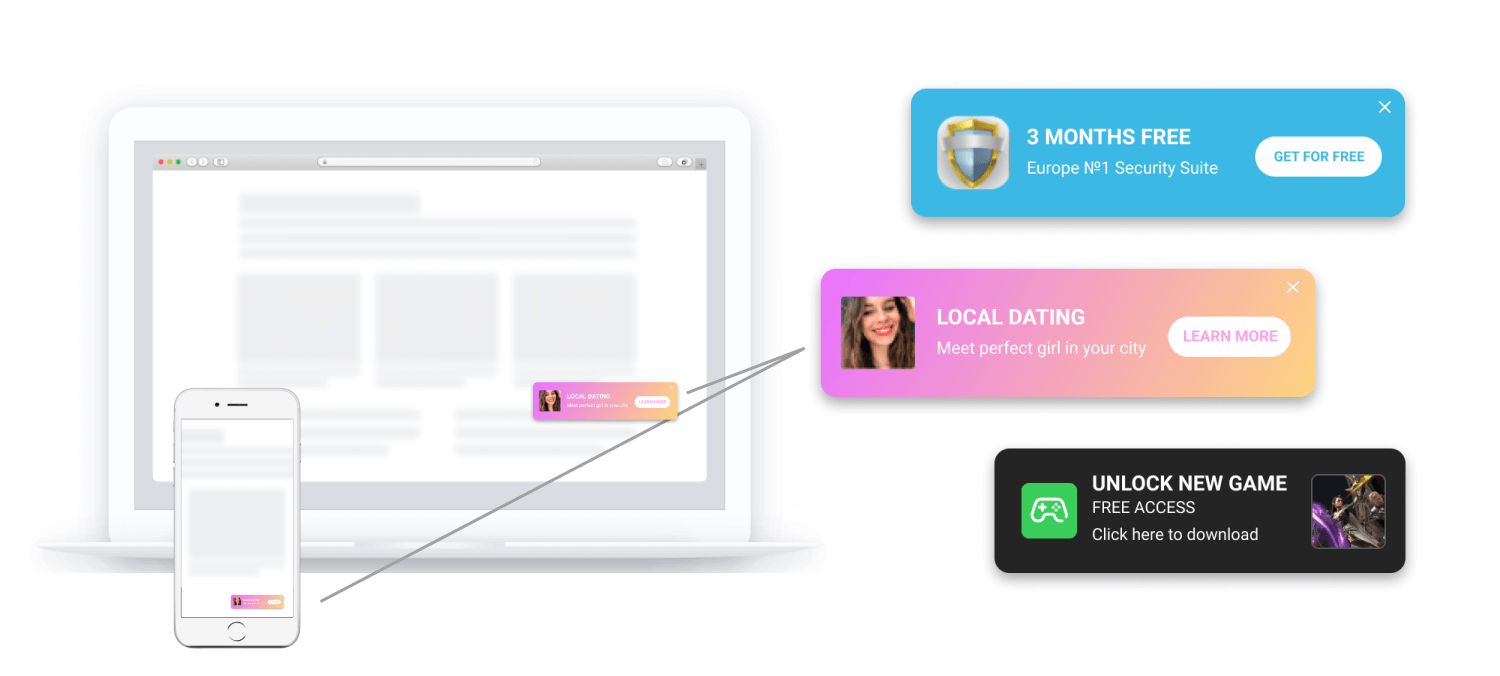 To Contents ↑
Native ads
A Native ad is designed to resemble your blog's editorial content. It blends very well with your website such that the reader may not even notice it is an ad. This is the least intrusive type of ad.
To Contents ↑
Sell digital products
One of the smart ways of making money with a blog is to sell digital products to your audience. This is only feasible after you have built a large following. Examples of digital products you can sell include e-books, online courses, workbooks, printables, etc.
For example, if you run a digital marketing blog, you can create and sell courses that teach people how to be effective digital marketers. You can also write an e-book on the same topic and market it to your readers.
Popular blogs regularly host virtual workshops for their readers to come together and learn from industry experts. This is just another example of selling a digital product to earn income, and the amount you can make from this can be considerably higher than what you will make from advertising.
To Contents ↑
How to launch your first online course?
The first step of launching online courses is choosing the topic you want to focus on. Some topics within your niche are more popular than others, so beware of the competition you would face. After choosing a topic, the next step is to choose a format for your online courses. It could be a mini-course that takes a few hours to complete, a multi-day course, or a professional masterclass that takes weeks to months.
After choosing the format, you should create the required content for your online courses. Advertise the online courses to your readers before launching so that they can anticipate something from you. You may test the course with a small group of readers before launching it to a wide audience. If done well, it can help you build a profitable blog.
To Contents ↑
Sell physical products
Selling physical products is yet another strategic way of making money from blogging. A successful case study on this monetization method comes from Into The Gloss, a popular makeup blog. After gaining a large following, it began selling branded makeup products to its readers. That business morphed into Glossier, a popular beauty products retailer with over $100 million in annual revenue.
The key is to sell products that are very relevant to your target audience, as demonstrated in the case study above. If you run a tech blog, you can sell gadgets; if you run a fashion blog, you can sell clothes and accessories; if you run a cosmetic blog, it will be wise to sell cosmetic products, etc.
Selling physical products will require you to build an online store. The good thing is that there are many ready-made tools that let you do this, e.g., Shopify, BigCommerce, and WooCommerce.
To Contents ↑
Consulting/сoaching
This may not be conducive for everyone, but another way to earn money blogging is by offering consultation and coaching services to your readers. Let's say, you run a popular interior design blog. As an expert in the sector, you can charge money for consulting sessions for people who want to design their homes. Depending on your niche, you can make hundreds to thousands of dollars from this.
If you choose this method, it is advisable to advertise your consulting services right on the blog where readers will see them. It takes only a little percentage of them to convert into customers to earn considerable money.
To Contents ↑
Sponsored reviews
Almost everyone has read one product review or the other but may not be aware that a review they read was actually sponsored by the product's manufacturer. Bloggers can charge money to review specific products related to their niche. For instance, if you run a beauty & makeup blog, you are free to charge brands a fee to review their products.
Brands are willing to pay top dollar for this service because it brings exposure to them. On your end, it gives you the chance to demonstrate new products to your audience and keep them engaged. How much you will charge for a sponsored review depends on your level of traffic and the engagement of your audience. But, do not be afraid to demand as much as you think you are worth.
To Contents ↑
Run campaigns for brands
If your blog becomes popular, some brands may get in touch with you to run campaigns and get exposed to your audience. Similarly, you can reach out to brands to see if they are interested in advertising campaigns.
The brand can choose the ad formats they want, or you can work together with their staff to see what works best. After all, it is your blog and you are more familiar with your audience than they are.
Some brands may like your website enough and demand to be an exclusive advertiser for a specific period. Either way, it is wise to put in as much effort to ensure the success of the ad campaign. Positive results can make more advertisers knock on the door.
Adsterra has a vast pool of advertisers running high-quality campaigns. It supports multiple ad formats including Banners, Native ads, Popunders, In-Page push, etc.
To Contents ↑
Offer paid subscriptions
Paid subscriptions are a creative way of making money with a blog. Here, you monetize your audience directly by charging readers to access specific content. You can continue to post regular content that anyone can read and have a separate premium section only available to paid subscribers.
The main advantage of this model is that subscription revenue tends to be stable. It also makes it easy to forecast how much revenue you are expecting as the number of paid subscribers grows. However, this model is only suitable if you have built a large following with free content and garnered some loyal readers willing to pay for more. If you adopt this model with a new blog, it will likely be unsuccessful.
To Contents ↑
Freelance writing
Freelance writing is another opportunity to make money with a blog albeit indirectly. You can offer your services to individuals or companies that need articles written. Your blog is an indication that you are actually skilled at writing and will likely offer good value to them. You can seek freelance jobs within or outside your niche, although the former will likely be more enjoyable.
You may contact companies directly to see if they are interested in your writing services or apply through the many freelance gig platforms out there, e.g., Fiverr and Upwork.
To Contents ↑
Produce a podcast and get a sponsor
Podcasting has boomed in recent years and you can take advantage of this boom to earn money blogging. You can start a podcast relevant to your niche and promote it to your readers. If the podcast gets a significant audience, you can find a sponsor willing to pay money to advertise to that audience.
There are various distribution tools, e.g., Anchor, that let you upload podcasts to multiple streaming platforms from a single dashboard. There are also dedicated ad networks for finding podcast sponsors, e.g., AdvertiseCast.
To Contents ↑
How to make money from a blog — FAQs
How do beginner bloggers make money?
The most common way for beginner bloggers to make money is through advertising. They sign up on ad networks and earn money each time an advertisement is clicked or viewed on their website.
Advertising is the simplest way to make money from blogging as it literally means getting passive income from real users watching ads on your web pages. Beginners can switch to the other, more complex methods mentioned in this list after growing their blog and getting a significant following.
How many views do you need to make money on a blog?
There is no minimum number of views required to earn revenue from your blog. Some advertising networks may have minimum traffic requirements, but there are many more that don't impose such requirements. Thus, you can start making money from blogging regardless of your traffic level and increase the revenue as your traffic grows.
Is it realistic to make money from a blog?
Yes, it is realistic to make money from a blog. There are endless examples of popular blogs that make money through advertising or other methods, e.g., TechCrunch, Mashable, Into The Gloss, etc. The higher the level of traffic, the higher the amount you can make.
In the beginning, you will likely make little amounts. If your blog becomes more popular, then you might make enough to work on it full-time.
Adsterra bloggers can boast of having fair CPM rates and no limits to their earnings growth. They know how important is to send quality traffic that can return, say $800 daily revenues
To Contents ↑
How long does it take to make money from a blog?
There is no exact timeframe for earning money from a blog. If you hit the right niche, you can get traffic and start earning money in a short period. Others may have to wait for many months before getting enough traffic to make considerable money. The time frame depends on your unique circumstances.
What are the most popular blogging platforms?
The most popular blogging platforms include WordPress, Ghost, Blogger, Medium, and LinkedIn.
WordPress is the most popular worldwide; the software is free but you will have to pay for hosting. Blogger is a free tool offered by Google. Medium is free to use and pays out some money to writers based on their traffic. Ghost is an open-source platform with a large library of extensions. LinkedIn is best known as a business social network but also doubles as a blogging platform.
To Contents ↑
How often should I blog to make money?
Blogging regularly helps keep you at a high position in search rankings. Most experts agree that you should post at least two to four times a week to gain traction.
Your type of blog also plays a part in how often you should post. For example, a news website should make multiple posts a day to keep up with competitors, while other types can get away with posting less frequently.
Is blogging a good way to make money?
Yes, blogging can earn you considerable revenue if done right. You can monetize your own blog in the different ways that we've explained. The good news is that you don't need a large audience to earn income. A profitable blog depends more on the quality than the quantity of its readers. Yet, note that blogging is not easy money. Building a substantial following for your own blog and monetizing it requires a lot of work.
Conclusion
Blogging is one of the best ways to make money online while doing something you enjoy. We have listed the best methods to make money from blogging and how to maximize your income from each method.
Making money from blogging is not a one-day job. You will have to spend considerable time and effort growing your audience before generating worthwhile income. However, if successful, you will look back and smile at your efforts. Adsterra is an excellent ad network to monetize your blog from the start and earn more revenue as you get higher traffic.