Prior to meeting with your web designer, grab some paper and draw out what you want your landing page to look like, following these 5 steps. You will need to make sure your design works with the actual copy, so it is important to write your draft first.
Step #1 – Identify your audience
Ensure the landing page speaks to a specific audience. Understand what is the problem, what is the need, what your target audience wants, and what you have.
Write your copy with a specific visitor in mind.
Driving traffic to your landing page using various ad campaigns requires you to create several different landing pages. They can all be similar, but have different headlines and copies that should be finely adjusted to the ad associated with them.
Step #2 – Define your most wanted action
Your most wanted action or MWA is the one action you want people to do on your landing page.
This will depend on your product and also what is your strategy. Usually, if you have a complicated or expensive product, the best method is to get their email address and then begin to form a relationship via email.
However, if you are selling a straightforward or inexpensive product, the smarter option is to go directly for the sell.
Step #3 – Describe your message
https://www.agst.co/: The visitors' attention is directed towards the motto without any distractions
You understand your audience, the problem your audience has, and the solution you can offer them. Now you must craft that into a message that is easy to understand. It is hard to know what will work, so you can suggest a few hypotheses and split-test them all to find which will be the most successful.
A good motto to remember is, "Clarity always trumps persuasion."
Step #4 – Design a landing page
The desired action is in place – check, you understand your target audience – check, you have a hypothesis about which offer they are going to like – check. Now you need to design a landing page that motivates them to take action.
First, you need to create a list of the elements you ought to have on your landing page.
Your landing page should have these elements:
Your company logo
A headline that will speak to the targeted audience
A quick explanation of the offer above the fold
An image of the product or service you offer
If needed, a longer explanation of your offer below the fold
A simple form. The best ones have only 1 to 3 fields
A 'subscription' or 'buy' button depending on what your pre-defined response is
A link to your privacy policy
Remember, asking the visitor to fill in fewer fields means they are more likely to do so. More fields equals more friction created, which reduces the likelihood of them completing the form.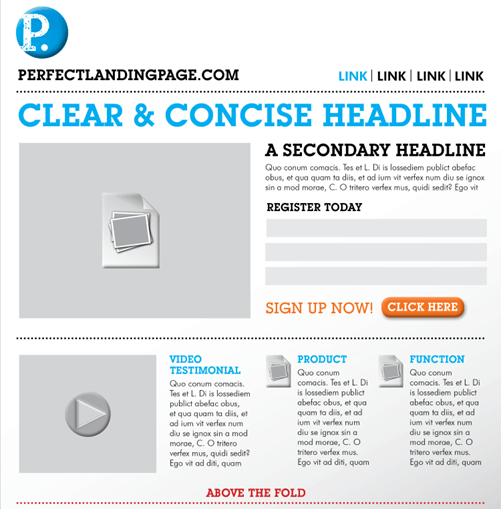 Image credit: Gavin Llewellyn via Flickr
What to exclude from your landing page:
Forms that are scarily big, with unnecessary fields, like fax or title
A clear fields button
A navigation menu
Pictures/images that are not relevant to the offer
Links to other areas of your site
Text that is hard to read – minimum size should be 12 pts
A "Click here to read more" link
There are exceptions to every rule, but this info is a good place to start.
Step #5 – Put it all together
Once you have your page layout and copy created, you need to pull it all together and then upload it to your website. Simple URLs that are easily recognized are the best. It can be a good idea to register a whole new domain for the landing page.
If your landing page is about job offers on the oil fields, your URL might be www.oilfieldjobs.com. These URLs often generate an above-average click-through rate on targeted Google PPC ads. That is because someone who types in "oil field job offers" is likely going to click on the ad that has a URL with these keywords.
Length of a landing page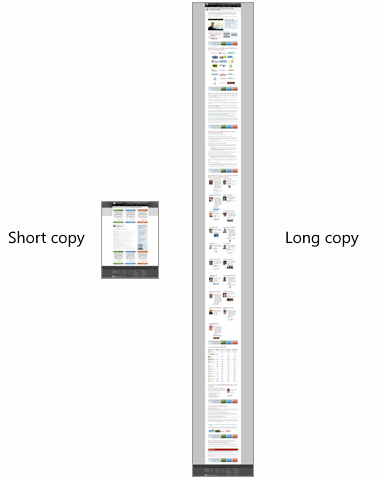 Image credit: Conversion Rate Experts
There is no "one size for all" tip. Generally, for free offerings, a short copy is better, and for more complex copy, or for those with a request for payment, a longer copy usually performs better. The higher the cost, the longer the copy.
There are three factors that are important to the effectiveness of your landing page's copy length:
The initial degree of anxiety over a product or company
The nature of the visitor's motivation
The level of cost/commitment linked to your conversion
Usually, short copy performs better if the offer is free, really cheap, or not intimidating. Also, short copies provide better results with impulse purchases.
Long copies perform better if the offer is complex or expensive. If analysis or rational thinking are factors for making a purchase, a longer copy does better because it helps to build a compelling case by adding testimonials, proof, and explanations. Long copies are helpful with products where additional information can help a person make up their mind.
Test, test, test, and then test some more
Once you have everything up and running, you need to test how effective the landing page is based on the desired response. Create a minimum of two alternate versions of your landing page, then test and measure their conversion rate during a real online ad campaign. Once you have gained some actionable data, use it to improve your landing page and repeat this process until you get desirable result.
We suggest you various ad formats and smart targeting options to test your landing page. With Adsterra you get direct access to premium publishers and real-time statistics to track your campaign data.

[su_button url="https://partners.adsterra.com/signup" target="_blank" target="blank" style="flat" background="#B84228″ size="8″ center="yes" radius="5″]Sign Up[/su_button]