Since 2007, mobile advertising spend has grown from $265 million to $190 billion in 2019. There's a good reason why smartphones are a lucrative platform for advertisers. We spend more time on mobile devices, tend to engage with apps considerably more, and carry them around everywhere we go.
In this post, we will take a look at one of the most popular types of mobile advertising — the native one. You will find out
what is mobile native advertising
, what types of formats advertisers can choose for campaigns, and how mobile native ads will evolve in the next 5-7 years.
What Is Mobile Native Advertising?
By definition, a native ad is the one that blends with the type of platform it's featured in. It may sound complicated, so let's take a look at a couple of real-life native mobile advertising examples.
Social media feed ads. Sponsored posts that look like they are a part of your organic feeds are an example of native ads since it takes time to distinguish an ad from the content people from your network share. 


Recommended articles on a content blog are often sponsored as well, however, readers might struggle to differentiate genuine and advertising articles.


Google listings on the ranking page. The first and last couple of listings you see on a search page are native as well since these sponsored ads blend with the organic feed well.
Since mobile versions of most websites differ drastically from desktop layouts, this impact CTRs, and placement of your content.
Let's take a look at the differences between desktop and native mobile ads:
Advantages of Mobile Native Ads
As smartphone penetration gathers pace and native advertising on mobile reigns supreme in the content world, more business owners and publishers alike consider harnessing it.
There are, in fact, multiple benefits that make the impact of mobile native ads worth the trouble of integration — take a closer look at the advantages the ad type offers advertisers and publishers.
Mobile native advertising benefits for advertisers:
Using the format users know and enjoy. If a website visitor loves the platform for its feed-like interface and is used to the layout, seeing an ad that matches the style of the website will make interacting with sponsored content effortless and enjoyable. That's why native ads have considerably higher CTRs and engagement rates than on-the-nose pop-ups and bulky banners.


Native content is often consumed unconsciously. Website users interact with the whole content. As a result, by the time prospective clients realize they are looking at an ad, the company's name and the offer are ingrained firmly in their minds.


Millennials love mobile native ads. There's no denying that most marketing campaigns target primarily millennials. By now, this generation is financially secure, understands its needs clearer, and is ready to spend money on reaching their goals. According to statistics, mobile native ads are the type of content millennials love more than other ad formats — 80% admitted that in-feed ads offered an overall good user experience.


Mobile native advertising benefits for publishers

Keep your reader base unaffected. Since native ads are non-invasive, website visitors will not be put off from exploring the platform (as is the case with pop-ups and flashy banners).


No strain on website performance. While other, flashier types of ads tend to slow content platforms down a ton, that's not the case for native ads. No matter how many sponsored posts you publish, the loading speed and user experience will not be affected.


Editors can publish relevant posts. Native ads do a great job of blending with the organic content — sometimes they can be creative and make for worthwhile standalone content. By putting creative thought in a native mobile app, you will not only keep recurring visitors but will likely acquire new ones as well.
Mobile Native Advertising: Types and Formats
Although native advertising is an emerging trend, there are plenty of formats business owners use to promote their brands. 
Let's take a closer look at the most popular content types used for mobile native advertising both for advertisers and publishers: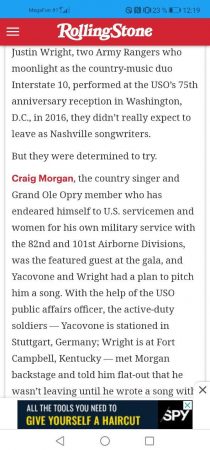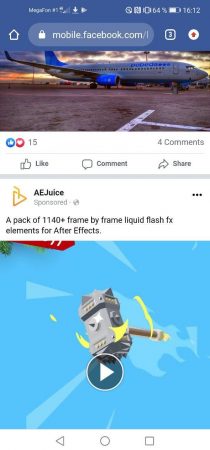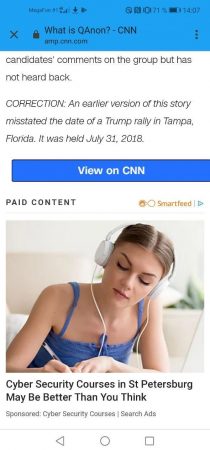 4 Tips For Mobile Native Advertising
Although traditional advertising is quite successful on mobile devices, the surge of advertisers eager to conquer smartphone users will lead to an increased number of people installing ad-blocking extensions.
To make sure your ads make it through the cutthroat competition, use the following tips to master the art and science of mobile native advertising. 
1. Make your ad indistinguishable from organic content
Most users trust the platforms they visit frequently and will click on the content that's similar to posts they've chosen before. That's why, as an advertiser, you want to keep the tone and visual style of your sponsored post consistent with what the publisher offers up to date.
To make sure your post blends in seamlessly, use these simple strategies:
Create a list of 4-5 organic posts that resonated with you (be it because they are funny, informative, or have epic visuals). 

Create a list of posts that resonated with the audience and determine what common traits let these articles perform better than others. 

Make a list of 3-4 sponsored ads that performed well and determine what contributed to their success.
With this data in mind, it will be easier to research, outline, and design a killer native ad. Once your post is ready, run it past the editorial team and find out if it's cohesive with the platform's publishing practices. 
2. Prepare your website for traffic
If you choose mobile native advertising, it means smartphone users will be the ones to visit your website. Hence, you don't want them to get disappointed by the lack of responsivness and user-friendliness.
Before starting a mobile native advertising campaign, tick these checkboxes:
Layouts and dynamic serving.

"Viewpoint" meta-tag. 

HTML, CSS, and JavaScript instead of Flash. 

Larger fonts (at least 14 px). The same for buttons and links. 

Great content hierarchy. 
3. Create reusable ad templates
Advertisers talk a lot about creativity and originality in coming up with concepts. However, at the end of the day, most professionals value feasibility a great deal — an ability to create a high-quality ad at a higher speed, regardless of the location or a number of available employees.
To make sure you don't have bottlenecks when creating ads, try to make them as reusable as possible. Use design templates, a defined structure, create a thought-out editorial plan to make sure you are never short on sponsored post ideas — this will save you a lot of time during ad design, allowing you to focus on brainstorming and looking for new promotion tools instead. 
4. Tap in the same platform repeatedly
"Once is never enough" is a popular saying among marketers. It took marketing professionals some time to realize that it's too early to judge the potential of a platform or an ad type based on one campaign.
Giving your ad a second try is a reasonable move since it allows users who've seen the post once warm up to the brand and be ready to get to know the company. 
Future of Mobile Native Advertising
You may have previously heard the claims "Future of native advertising is mobile" or "Future of mobile advertising is native". However, rather than stating the obvious, let's find out what's waiting for mobile native ads a couple of years down the line.
In our opinion, these are the innovations advertisers and publishers can benefit from once mobile native ads fully mature:
Surgically precise targeting thanks to the interaction of IoT and BLE beacons — business owners will be able to reach out to more bypassers and attract 2-3 times more foot traffic using online ads. 

The rise of in-game ads.

According to statistics

, 80% of users are happy with sponsored ads as a way to get in-game currency. Considering the rapidly growing bounce rate for other ad types (banners, sponsored ads), native in-game apps will likely get to their peak in the next 3-5 years. 

Paid feed takes over organic reach. This is happening to all social media and search engines and will stay true in the future. Since the competition among native advertisers for high-frequency keywords grows, search engine companies will likely go as far as to dedicate the entire top page to sponsored offers. Such a change will make more business owners consider paying for PPC rather than investing in organic SEO. 

Superior tracking and reporting. The infrastructure for mobile advertising is picking up an impressive growth pace and will likely keep it for the entire decade. In the future, the advertisers will be able to get in-depth data on content platforms and social media audiences before posting sponsored ads. The detail of campaign-tracking will improve as well.
Conclusion
Mobile native advertising is about the most promising sponsored content format marketers can come up with. It makes the most out of people's daily habits, is non-intrusive, and appeals to one of the fastest-growing audience segments — smartphone users.
Since there are so many platforms to choose from and things to take into consideration when launching a campaign, sooner than later, business owners will need the help of a professional marketing team.
At Adsterra, we help advertisers launch revenue-driving campaigns, avoid ad fraud, assist publishers in integrating ad placements while retaining readers. SMB advertisers and publishers trive on our direct link format that seamlessly integrates into any type of content: text, buttons, or images. Larger enterprises rely on responsive display and push ad formats.
Whether you want to spread the word about your business or make the most out of your inventory, become our partner and get access to high-quality traffic and smart campaigns optimization.