What is web traffic, and how does it work? Even those who work with it sometimes can't explain it in simple words. The absence of a clear and accessible explanation gives birth to doubts: is it at all profitable to buy website traffic and generally work in this area?
Let's sort this question out, dot the i's and cross the t's: why should you buy website visitors, and why do over 9 000 000 advertisers already do pay for targeted traffic?
To buy website traffic means what?
Long story short, buying traffic = attracting visitors. It is a set of all possible advertising strategies you can use and invest in to drive people to your site. 
The more sources you use, the more traffic you receive. Your task as an advertiser is to choose optimally profitable ways that do cost their efforts. Your choice will depend on each offer's specifics: the product itself, GEO, pricing model etc. 
Who buys website traffic?
Publishers buy traffic to use it for their landing pages or websites. It contains a referral link or some ad for the product. Of course, publishers do monetize via organic traffic, but organic: a) isn't the only way possible to gain profit b) doesn't work that well, especially for multi-geo websites or, for example, streaming platforms. So buying traffic for website works as an additional tool for most publishers. 
Affiliate marketers (also publishers) lead organic and paid traffic to the content they create to promote a product. They put affiliate links in product reviews or listicles and then drive massive traffic to these articles. Those users who click an affiliate link will land on an advertising page. These pages promote products from affiliate programs, Amazon, Bluehost etc. This promotion has the target to attract an audience that is really interested in the product, so the conversion in the purchases is to be high. It is vital as publishers' affiliates get paid for sales directly.
CPA affiliate marketers buy traffic for another purpose: they don't have their own websites or landing pages, so they send the traffic to others'. As affiliates, they take offers like those provided by the CPA affiliate network and go buy the required traffic via Google, Facebook, or Adsterra. As they make money on ROI, affiliate marketers do their best to spend as little as possible to have the biggest conversion. 
To Contents ↑
Is buying website traffic a usual practice?
Totally yes. It is absolutely fine and normal as it is the sense of the working process. The point is it is important to buy real traffic and avoid blackhat SEO techniques. Otherwise, the buying itself will turn into a dubious process. 
The irony is that it is possible to buy high-converting traffic only via whitehat methods and a thoughtful approach. Scamming may seem a quick and easy way to gain traffic, but it is only a facade behind which you find reputation troubles and vain spendings.
To Contents ↑
The reasons behind buying web traffic
Online presence is no longer a trend but is already an everyday reality. This industry is growing and obviously doesn't plan to stop. But why do people keep buying traffic, and what are the main profits behind it? Here are a few main reasons, basically the same for every traffic buyer. 
To make more money
Is it a secret that we all work for profit? Hardly yes, so cards on the table: it is a way to profit. A publisher's primary motivation for spending money on buying traffic is to drive traffic so as to earn more money, and so on and so on. It is a neverending process and a great support to organic traffic.
To expand the area of your target audience
It is expensive when it comes to Tier-1, but it works well on the helpful content. Also, if you have a news or reviews website, you can buy traffic from countries with financially suitable auditory; and promoting content about the USA movie stars looks fitting for English-speaking countries etc. To ease the process of finding the best GEO you may use Adsterra Traffic chart.
To Contents ↑
To study users' behavior and reactions
Spend little to earn more — that is the point. Organic content gives accurate results, but it takes a lot of time. Paid traffic will immediately show you whether the strategy is working well on the chosen auditory. Such an approach helps improve your campaigns as you start understanding your converting audience better and gain the ability to make it more efficient every subsequent time.
To gain the loyalty of the audience
Besides money, every project can gain something else: loyalty and trust. Depending on the product format you try to sell, you may count on the auditory's comeback for the new purchase. Those users who didn't finish the purchase process are most likely in your point of interest too. So if you invest both money and effort in making your content useful, friendly, honest, persuasive, and reliable, people will remember it, trust it, and be back to receive more of it. 
To do your work ethically and effectively
The previous point is very connected with this one: buying quality targeted traffic makes your work both effective and ethical. It is an investment in your brand's positioning and approach. Every year ethical approach starts to be valued more and more primarily because of the quantity of content on the Net. Making your campaigns as humane as possible pays off! For some traffic buyers, that may be a surprise. But no one can argue that it is better to invest resources in thought out from all sides content once than to make something with no diligence in a blind hope to make money on it.
To Contents ↑
Pros of buying website traffic
Buying traffic has several advantages, and choosing one is not easy (and not necessary). Let's consider some pros that seem suitable regardless of the type of product you are to offer and the type of website you are to promote.
Quicker results
The speed with which you gain traffic organically and by paying for it is incomparable. SEO campaigns are effective, but the sources you have to spend on them are impressive too. If you have time to wait for organic, it's always up to you, but purchasing traffic will surely surprise you with how quickly it works.
However, it still requires effort, as it is not enough just to buy bulk traffic. You are to build links, create content, and do keyword research because buying traffic doesn't cancel SEO importance. But don't you agree that the rich result inspires to continue working much more than any other?
Locate a receptive audience
The quality audience is everything. Quality here means people who will do more than just take a look around your website. The best option is when customers return after making a purchase, but mainly we aim at those who are sincerely interested in our product.
That is where buying traffic comes in: thanks to its targeting, you can expand your audience and at the same time not lose its concentration. So you buy real website traffic which is close to organic one in its quality but much faster!
Extend your reach
Visibility is a thing for not only new websites, but they doubtlessly need it more than old ones. So instead of waiting to be put in the search range naturally, you can just buy more traffic to lead. That is how new websites become known and recognizable brands: nothing can boost it better than buying traffic. 
Cons of buying website traffic
As anything, buying traffic has some obstacles that need to be considered before starting to work. First and foremost, be sure that your plan doesn't consider sponsored traffic only if your aim is a long-term campaign. But let's start from the beginning. 
Short-term investment
One of the main differences between organic and paid traffic is that organic is a thing for extended play. In contrast, purchased traffic should be utilized as an additional source for short-term investments. 
Why so? Because this source of visitors will dry right after you stop paying for it. It is organic traffic that attracts customers with no additional support, not purchased one. 
Buying website traffic can be costly
It is more of mechanics than a con. Buying traffic is like playing in the financial market unless with much fewer risks: you will not get profit for nothing, only for investment. But it is crucial to plan your financial strategy and count all the terms so not to leave with no results but spent money.
Clickbait strategies
Talking again about the quality of the product you offer, traffic to buy is also a product you are offered with. So your task is to avoid getting caught on a clickbait heading if someone promises you a guaranteed result with no work needed. Clickbait leads to a click but no more, so don't risk your reputation. It just won't give your website any valuable results.
Possible scams
Before you choose your traffic source, we highly recommend doing research. Cooperate only with proven and trusted companies, and be sure to always read the reviews about those you want to work with. There is a pretty high chance this will save you from wasting your time and money.
Tactics to avoid whey buying traffic
Sometimes it seems there is one mysterious thing called traffic that doesn't have any types or kinds. But expert publishers know that the term traffic unites many tactics and sources, and some of them are better than the others. 
Clickbaiting
Clickbaiting is an ad or link that promises one thing and delivers the user to something completely different after clicking on it. Yes, it attracts attention, and there is a high chance it would lead to a click. But is it worth it if a click is all you get? Mislead people won't buy a product you try to sell them but will probably hate you for wasting their time. Clickbaits are a feature of a low-quality campaign and products, and yet it's always up to you to decide, we cannot advise you to deal with it. 
Buy fraud traffic and ad clicks
This type of fraud is for PPC (pay per click). It generates fraudulent charges through frequent clicks and may use a person, a program, or a special script. This is widespread among young publishers and newcomers, who cannot research the consequences of such actions. 
If an ad network detects invalid traffic on your account, it likely leads to disabling such an account. Networks pay a lot of attention to anti-fraud and system protection to provide only high-quality traffic, so it's very short-sighted to risk it all for almost nothing.
To Contents ↑
Misleading visitors
It's close to clickbait but not precisely the same. The thing is, you should never mislead your customers, which means you have to take care of your ad being informative and providing a complete picture of what you are selling. Any AC-LP (ad creative-landing page) mismatch is also a reason to block your account. There is simply no need for a low-quality and disengaging audience as it doesn't bring any profit.
Why should publishers buy web traffic
There are two types of people when it comes to traffic purchase.
We can say for sure that there is no need to be scared of buying traffic if your choice is whitehat techniques. That means you don't buy website clicks or followers. On the contrary, blackhat methods are not only judged by the public but also usually lead to quick and severe punishment from both networks you work with and search engines. 
Get more audience from the Tier you want
The most desired is Tier-1. It is also the most expensive, but there is a high chance to profit from helpful content. But don't underestimate other Tiers, as they work very nicely for some niches. For example, sweepstakes offers work impressively well for Tier-3. 
Expand the GEO of your target audience
Imagine: you have a website with gadget reviews or a news resource. It is logical and wise to purchase traffic from countries with high enough average income to afford the devices your content tells about. Your articles' language also makes sense: the best target audience should have it as native.
A quick way to research user behavior and reaction to ads
Once again: organic content takes time. Paid traffic has an advantage over it: it works fast. That means you can use it to test the theories to not waste money and time on what's not working. It will help you better understand your actual target audience: whether they need the exact product you offer, what challenges they face, etc. So besides grossing purchasing, traffic also helps you improve your future campaigns. 
More advantages over organic traffic
Purchased traffic also is a better choice in terms of SEO. You will account for total website visits in a longer perspective via organic traffic. Paid traffic allows you to achieve the following:
More focused targeting

Higher chance of multiple conversions

More precise and understandable spendings

Higher growth speed.
Increase your brand awareness with paid traffic
This point is for you if your website is new or not very well-known. Help it appear at the top of the search and get ahead of the competition! Thanks to the possibility of using the most competitive keywords, you will act very targeted and with the maximum chance of success. Paid traffic is the only way to increase your brand awareness in the shortest time possible.
Buying traffic from publishers
Adsterra cooperates with 28 000+ publishers who supply direct traffic for your campaigns. All you need to gain access to all the resources is a simple registration process.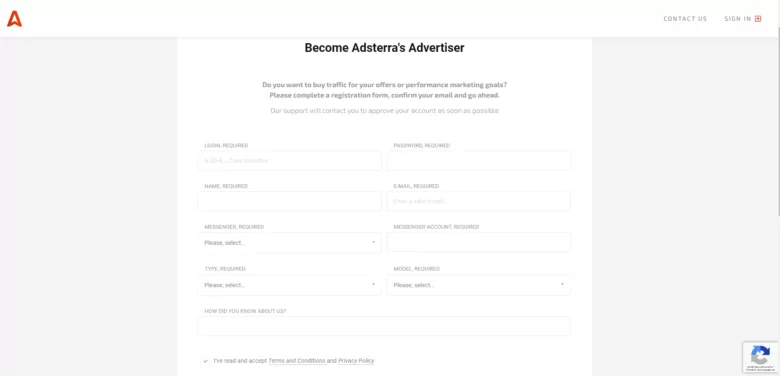 After registration, every advertiser can choose the preferred traffic types (CPA, CPC, CPM, CPI, or CPL) to work with. Feel free to operate pricing models to gain broader reach and larger ROI for every needed vertical and ad format. That's it, now you can create campaigns and start earning already!
Adsterra offers the following ad formats:
Popunder

Social bar

In-Page Push

Native Banners

Video Ads

Banners. 
There are also automated options for getting traffic via RTB, retaining users with Smart Retargeting Tool, and many other special features for your profit. 
Advertisers all over the world choose Adsterra because of the following: 
Three-Level Security thanks to innovative in-house and third-party fraud systems

Self-Serve Platform for an easy-to-use experience if you want to work with no manager

Partner Care approach with 24/7 multilingual online chat and individual analysis-based suggestions on the most effective ad format and/or settings

Multiple Ad Formats for making more money via all possible ways

Tailored Payment Options with quicker familiarizing with the system and lightning-fast moderation 

Anti-Adblock to increase your revenue by an average of 35% and never stop earning even when detected by ad-stopping plugins.

To Contents ↑
How to buy traffic for your website?
Here are a few vital rules to follow while buying traffic for your website. They may seem simple, but it's highly recommended to check all of them before purchase so as to help your campaign hit the spot.
Make sure the traffic is feasible
Before any purchase operation, learn the niche. Buying traffic should be cost-effective, and its purchase better be justified by quality content. Otherwise, it'd be a waste of money. So first, check if you have something good enough to offer to your target audience and then buy high quality traffic to lead it.
Learn about the restrictions
Following all the restrictions saves you time and money. There is no 100% guarantee anyways, but you can significantly raise your chance of success if you study all the possible pitfalls first and make your campaign as exact as possible. 
Check transparency
As it is an entirely online process, you cannot be sure of full transparency from day 1. That means you have to understand the whole mechanics and have a realistic expectation of the results and their measurability. We advise you to avoid services with:
Bots

Domain redirects

Expired domains

Automated traffic.
Your best choice is paying for impressions or clicks, as it is easier to follow. Any big and trusted PPC ad network will do as well.
Separate targeted and untargeted traffic
Do you know the difference between these two? Although it may seem obvious, we want to emphasize it again: choose traffic you can filter with critical parameters. These are country, device, OS, time range etc. Otherwise, your chance of gaining customers from such traffic would be much lower. Also, pay attention to this factor for PPC ads. Untargeted traffic, although it can be attractively cheap, is ineffective.
Pay wisely
Terms of the agreement are no less important than the exact cost and refund policy. Results depend on what you are paying for, so don't chase the lowest price. Quality traffic that doesn't violate any terms and conditions would cost, and that's ok. Your task is to study the terms you are offered and get ready for work.
Use analytics and metrics
Before making a purchase find out if the company you want to cooperate with provides any analytics and metrics. Alas, many sellers don't, but that doesn't mean you shouldn't be interested in results' dynamics tracking. We advise using third-party analytics as an addition to the provider's real-time statistics. Google Analytics works just fine and also lets you consider referrals and demographics. 
Do a feedback research
Reviews tell a lot. Before signing any contract for cooperation, do some research concerning reviews from service customers and be sure to pay attention to negative ones especially. Start from any search engine you prefer and visit reputable top-range forums to find the most relevant and trustworthy opinions.
To Contents ↑
What is paid vs organic traffic?
We've already considered paid and organic traffic issues from some aspects. Now let's take a closer look at this comparison and sum it up.
| | |
| --- | --- |
| Organic traffic | Paid traffic |
| free | requires money |
| takes time | fast |
| gives the most realistic result | can be used for audience research |
| can be the only traffic source | does its best as an additional option |
| finds its audience naturally and by keywords | needs to be strictly targeted |
| increases brand awareness gradually | perfect for quick brand awareness rise |
Organic and paid traffic comparison
In a nutshell, these are two different approaches, and no one is better than the other. Successful marketers mix and combine them to make their campaigns the most effective from all sides. 
To Contents ↑
Examples of paid traffic sources
There are plenty of traffic sources out there, so let's list the most widespread of them. You are free to choose any option that seems best for your business.
Google Ads
Used to be known as Google AdWords, now Google Ads is among the best and most effective sources of paid traffic. It is especially handy for PPC and native ad campaigns. 
Google stands for legitimate advertising only, so your product must correspond to all the requirements. The more accurately you understand your target audience, the better. 
This source supports the following ad formats: 
Text

Banner (Google Display)

App promo

Video

Call-only

Product shopping.
Now let's follow some alternatives. 
To Contents ↑
Facebook traffic
Facebook shares popularity with Google. As Facebook's a social media, it is a preferable site for publishers to boost posts through the audience. 
Paid Facebook traffic helps expand the audience reach by conveniently informing about valuable content available. It is easy to gain a high-quality audience without spending much. Viewable impressions are Facebook's main thing to sell. So the big advantage is the availability of promotions for an affordable price. Perfect for good content and known type of auditory.
To talk about cons, Facebook has a harsh policy about banning, so you must be very cautious about formats and creatives.
This source supports the following ad formats:
Banner ads

Image

Video

Carousel.
To Contents ↑
Ad Networks
We'll talk about ad networks as a thing. The difference between it and a traffic source is that an ad network can sell your traffic directly. The best ad networks follow all advertisers' requirements: from exact traffic volumes to precise targeting options. 
Traffic sources as well include organic traffic. It originates from such platforms as blogs, forums, and social media websites. 
Talking about Adsterra precisely, we are a self-serve network. Our special approach is to assist affiliate marketers in converting traffic into leads and sales. Each ad network has its list of available formats; we have a whole variety for publishers, affiliate marketers, and ad agencies. 
To Contents ↑
Conclusion
We've done our best to collect information and answer all possible questions about buying web traffic. We aimed to explain the mechanics of traffic purchase and highlight its special capabilities. It's still always up to you to buy internet traffic or not; by now, we hope you have a clearer understanding of what kind of promotion your website needs. 
So if it is the paid traffic you are looking for now, be sure Adsterra is happy to help you get started.
To Contents ↑
Buy website traffic — FAQs
Is buying traffic a good idea?
Yes, it is good in several ways as it helps both earn more and learn your audience. 
Is buying traffic good for SEO?
Any development and promotion of your website are good for SEO. And it is perfect that you think about SEO, as it is one of the vital things to take care of when launching your website or campaign. Here we have some handy data about SEO strategy, highly recommended for reading!
Where can I buy traffic from?
That is what Adsterra exists for! Of course, you can choose any network you like and want. So we'll just say that we cooperate with 28K+ direct publishers and 13K+ advertisers today, and we are grateful to each and every one of them for their trust.
What if I want to sell traffic?
One of the major criteria for choosing an ad network to work with is fast approval and verification. Adsterra is known for its high CPM rates, hassle-free registration process, and asap website adding that takes only 10 minutes. 
After signing up, every new publisher goes through a quick approval process, and the work may begin! As soon as you log in, you may add a new website to work with.

All statuses of the website and domain approval are shown on the Websites page so that you can track it anytime. You also can track:
• Impressions
• Clicks
• CTR
• CPM
• Revenue.

These are the types available right after verification:
• Popunder
• Social Bar (Push Ads)
• Native Banner
• Smart Direct Link
• Display Banner.

Also, you can use your referral link to gain some passive income and chat with our Support team. These features are as well available in your Profile.
How do I get website traffic quickly?
Organic traffic for a new website will take time, even if you use SEO and make the content really helpful. In this case you can read about how to start if you are aimed at organic traffic.

But buying website traffic is always a way to speed things up. Also, it won't be extra to use email marketing. Stay tuned: we are to tell you about more strategy tips soon in our blog!
Is it worth buying web traffic for a new website?
It is essential to buy traffic for new websites! Organic traffic is terrific, but it takes time you can save by buying traffic. So even if the content is really helpful and you are sure users would appreciate it, help your website grow and become noticeable as soon as possible.