Advertisement is a great way to earn money from your blog, website, or app. Many brands are willing to pay top dollar to showcase themselves to an audience, and you can render your services and get paid for advertising.
You can get paid by advertising a brand on your blog or website. You can also showcase brands on your social media pages. There are many other ways to get paid for advertising, and this article will discuss them.
How to get paid for advertising on your blog or website
Advertisement is the most common way for website and blog publishers to make money. Brands are ever willing to advertise themselves, and you can offer to connect them with your audience for a fee.
Try visiting any random website or blog; there'll likely be an ad there. The ads can come in many formats, including display ads, video ads, guest posts, sponsorships, etc. Finding advertisers can be difficult, but ad networks handle that part for publishers.
1. Ad network
An ad network is a platform that connects advertisers to websites seeking to host advertisements. It aggregates advertising spaces supplied by website publishers and matches them with demand from advertisers.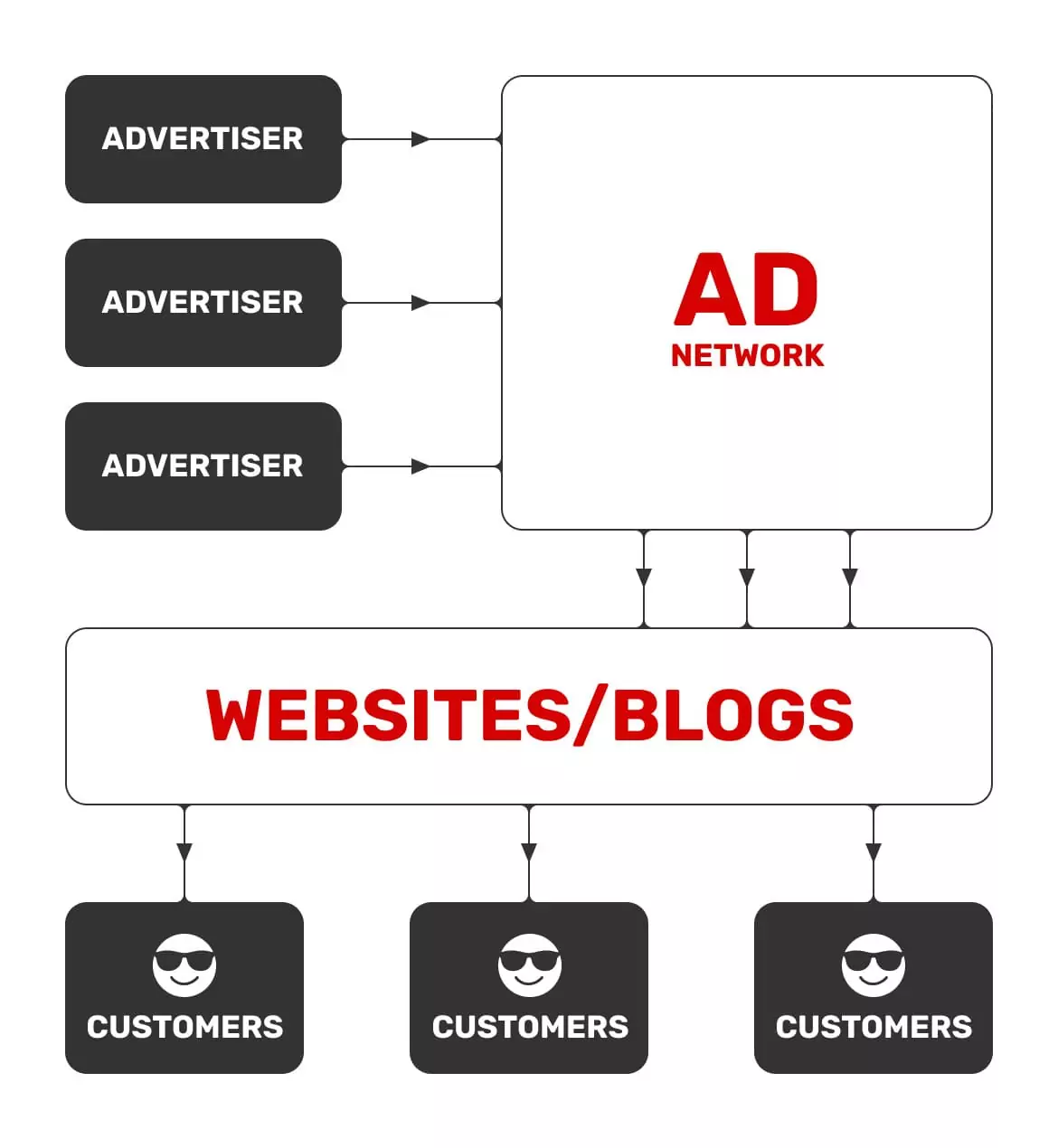 Without an ad network, you would have to pitch to potential advertisers directly, which can take a lot of time and effort. But an ad network gives you access to brands that have already shown interest in placing ads, and you're free to work with the ones you want.
Adsterra is a territory of growth for thousands of website owners. Our platform gives you access to over 13,000 advertisers offering high-paying ads.
To Contents ↑
How to post ads and get paid using ad networks
There are specific steps to take if you want to make money from an ad network. You first have to find a suitable ad network for your website and register. The network will review your site and decide whether to accept you. Requirements vary, but most networks look at traffic, the volume of content, and the niche. Afterward, you have to choose your desired ad formats and monitor your earnings.
Adsterra offers fast approval times for publishers and has no minimum traffic requirements.
To Contents ↑
Choose an ad network
You should find a suitable ad network that fits your website. Some networks are generic, while others serve various website niches. Before signing up, you should check the requirements of the network and be sure of meeting them. Then, you can register and wait for a review and approval.
To Contents ↑
Choose ad formats
After getting approved, you'd need to pick the ad formats that fit your website. The ones on Adsterra include.
Popunder: An ad appearing on the full screen behind an active browser window. The visitor will only see it after closing the browser window.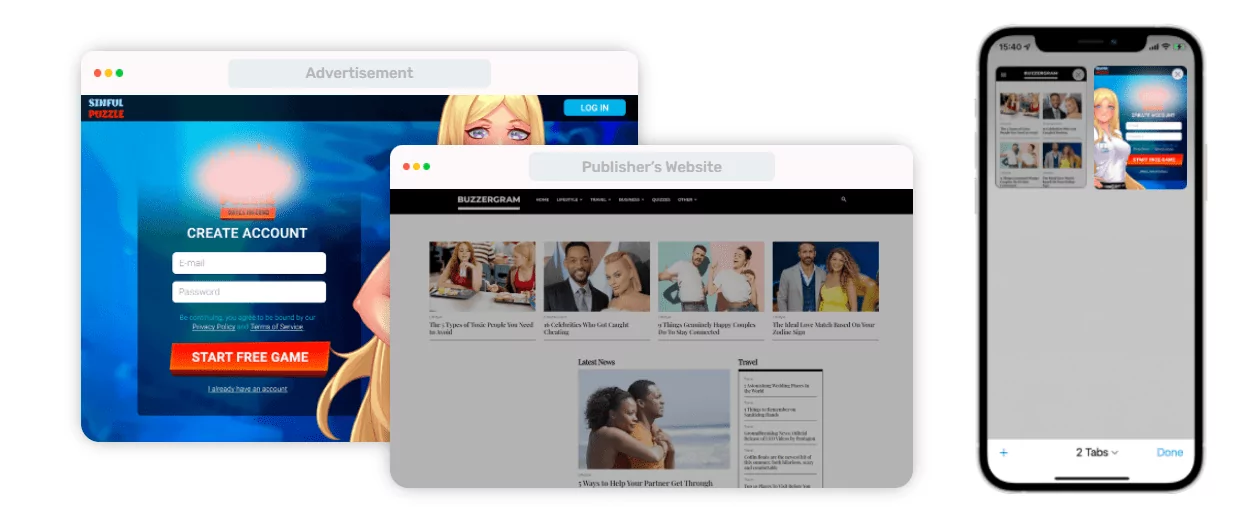 Social Bar: An ad designed to appear like a push notification. It can appear as an icon notification, custom widget, or In-Page Push.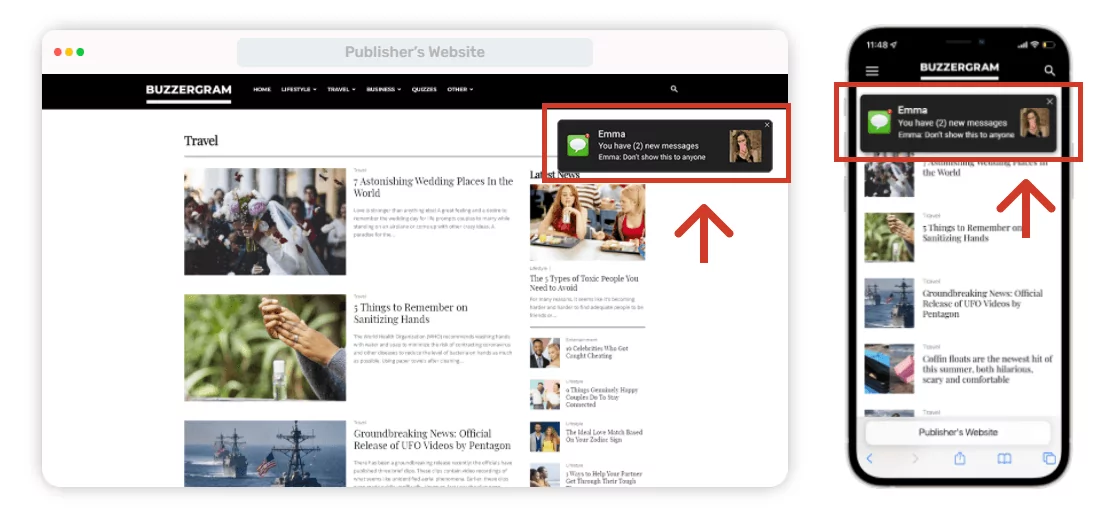 Native Ad: This type of ad matches your website's look, feel, and function. It could be a Native Banner ad, a native video ad, a guest post, etc.
Banner: A simple image with a call to action and a link to the advertiser's webpage.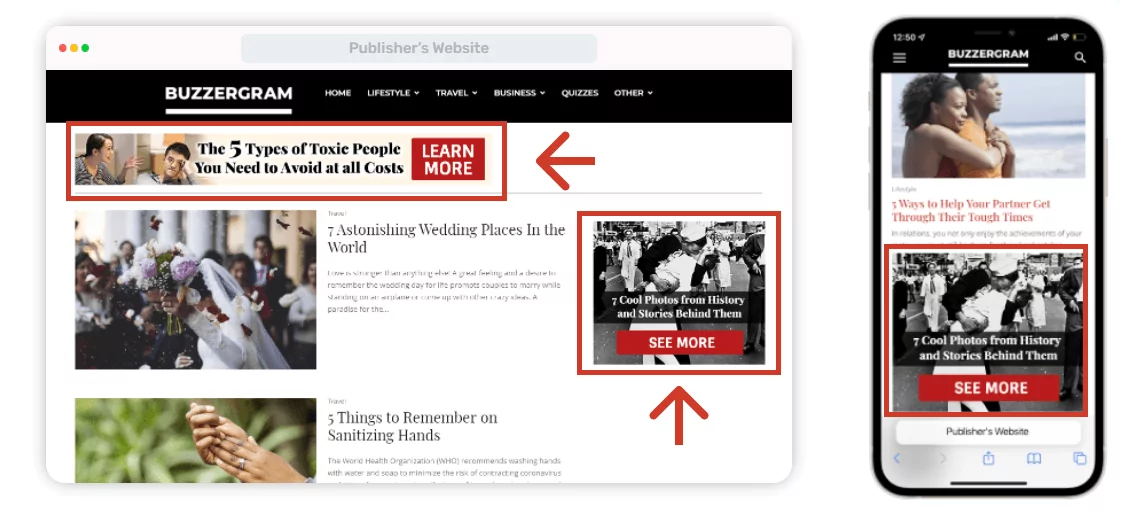 Smart Direct Link: A link that takes the user to a separate offers page, and Adsterra's smart algorithm will decide what offers to show. You may not even have a website to work with Direct Links.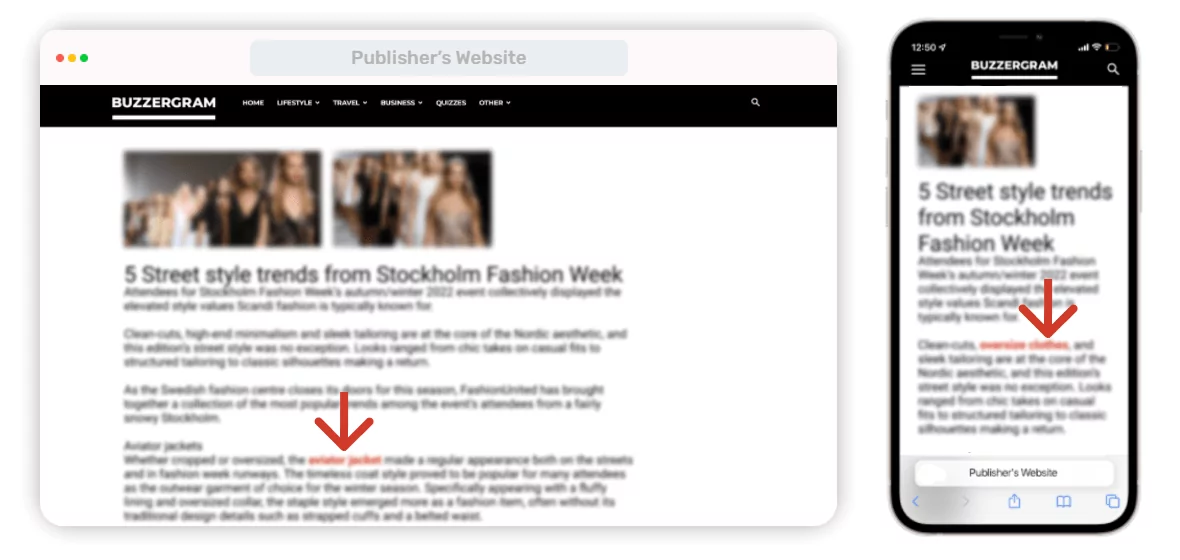 To Contents ↑
Optimize your ads
Your ads won't be perfect at the first placement. Hence, optimizing them to fit well with your site is essential. Select the most visible yet non-intrusive banner sizes. Customize Native Banners to be more cohesive with your site's content. Decide the combinations of ad formats you want to place on your site and the positions to place them.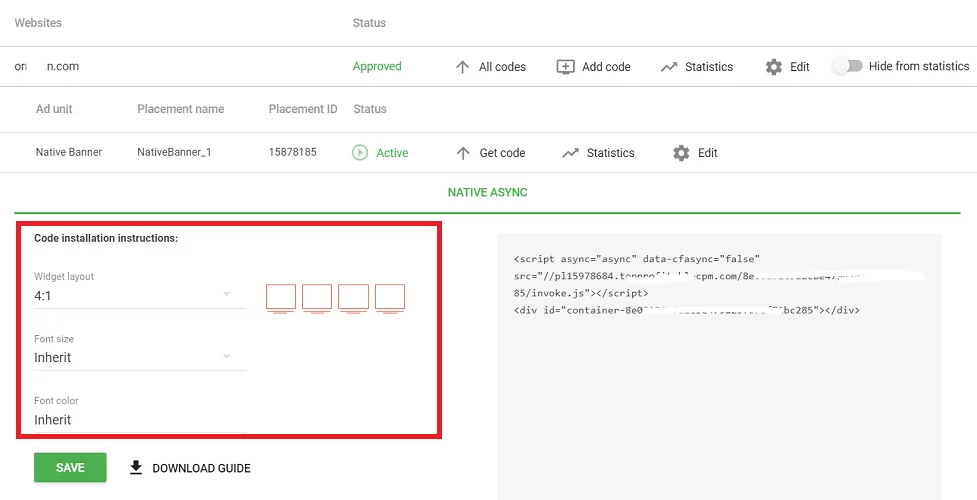 To Contents ↑
Monitor your earnings
Most ad networks provide a dashboard where you can monitor how much you earn from ads. You should keep tabs on your earnings and make adjustments to maximize your revenue. Yet, that doesn't mean you should fill your whole site with ads in a way that'll irritate the user. It's more of testing different ad formats to see which ones deliver the highest earnings and sticking to those ones.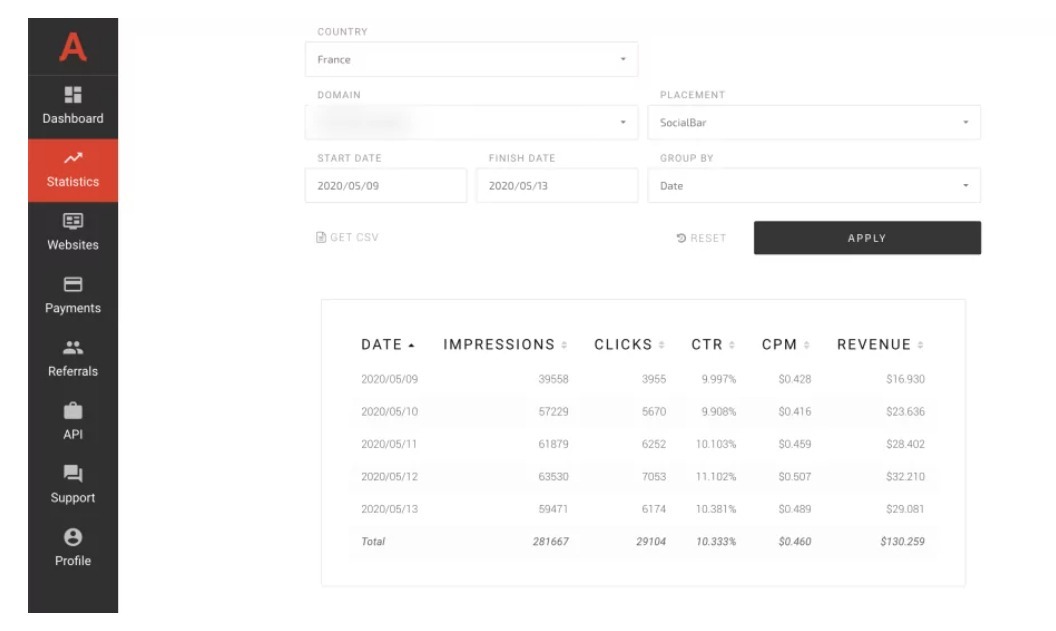 To Contents ↑
2. Affiliate marketing
Affiliate marketing is a process where publishers promote a product and earn commissions on every sale originating from their promotion. Here's a step-by-step explanation:
You register on an affiliate marketing platform.
You look for a brand or an advertiser with an offer, and you generate a unique affiliate/referral link to promote this offer on your website. This link will have a tracking ID enabling the retail partner to monitor every referral from your website.
You place the affiliate link in your website.
A reader clicks on the affiliate link, heads to the retailer's site, and purchases the product.
The retailer pays you a specific percentage of the sale.
There are many affiliate marketing niches that pay top dollar, e.g., finance and software products. If you need to learn more about the affiliate marketing business and connect with experts, there are many forums that can help you.
To Contents ↑
3. Sponsored posts
Sponsored posts represent another good way to make money from ads. If your blog ranks high on search engines for specific keywords and phrases, that means people will likely visit your website whenever searching for those terms.
You can take advantage of your high search rankings by offering sponsored posts. Brands are willing to pay for posts on your website to drive traffic for their product or service.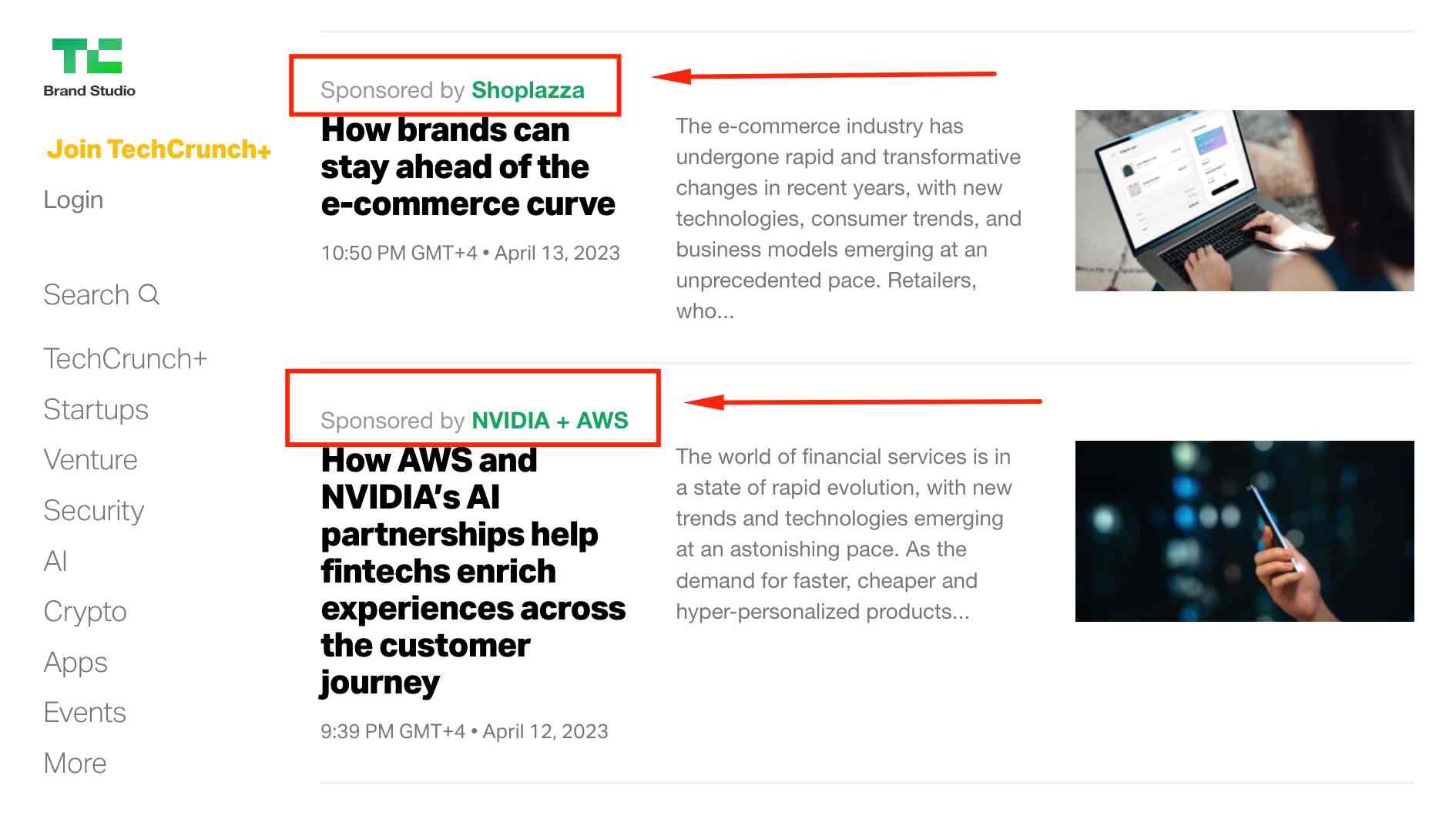 You can charge brands for each sponsored post as a whole or per word. You may also work out a commission structure and receive a percentage of any sale generated by the sponsored posts.
A good way to find brands willing to pay for sponsored posts is to include a media kit on your website. This media kit will show metrics about your website (monthly views, no. of users, etc.) and will pitch to advertisers what they can gain from working with you. Also, include contact information so that interested advertisers can reach out to you, and you can post ads to make money.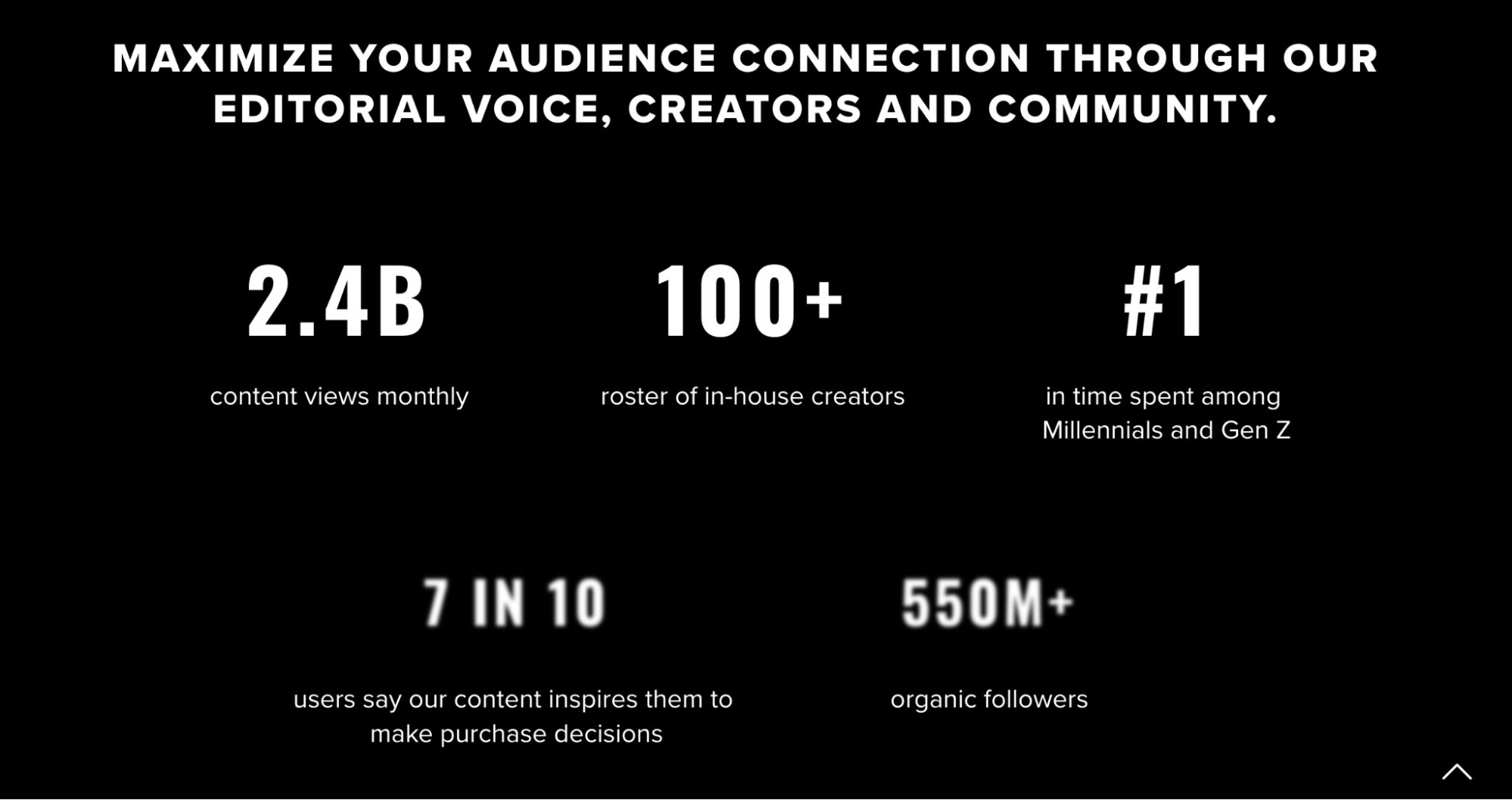 To Contents ↑
4. Create a news hub with ChatGPT
Running a blog enables you to share your thoughts, ideas, and opinions with others. However, if you have specific industry knowledge, you can take a step further and start a news hub. For instance, you might be a popular financial analyst or a fitness blogger or a sports commentator or whatsoever. You can create a news website and post articles frequently to attract readers.
ChatGPT, the popular artificial intelligence tool, can be of help. You can use it to generate news snippets and articles. However, the article will need some edits and fact-checking. If you build a successful news hub within a trending niche, you'll likely find advertisers willing to spend hundreds or even thousands of dollars each month on ad placements. Learn more on how to make money with Chat GPT.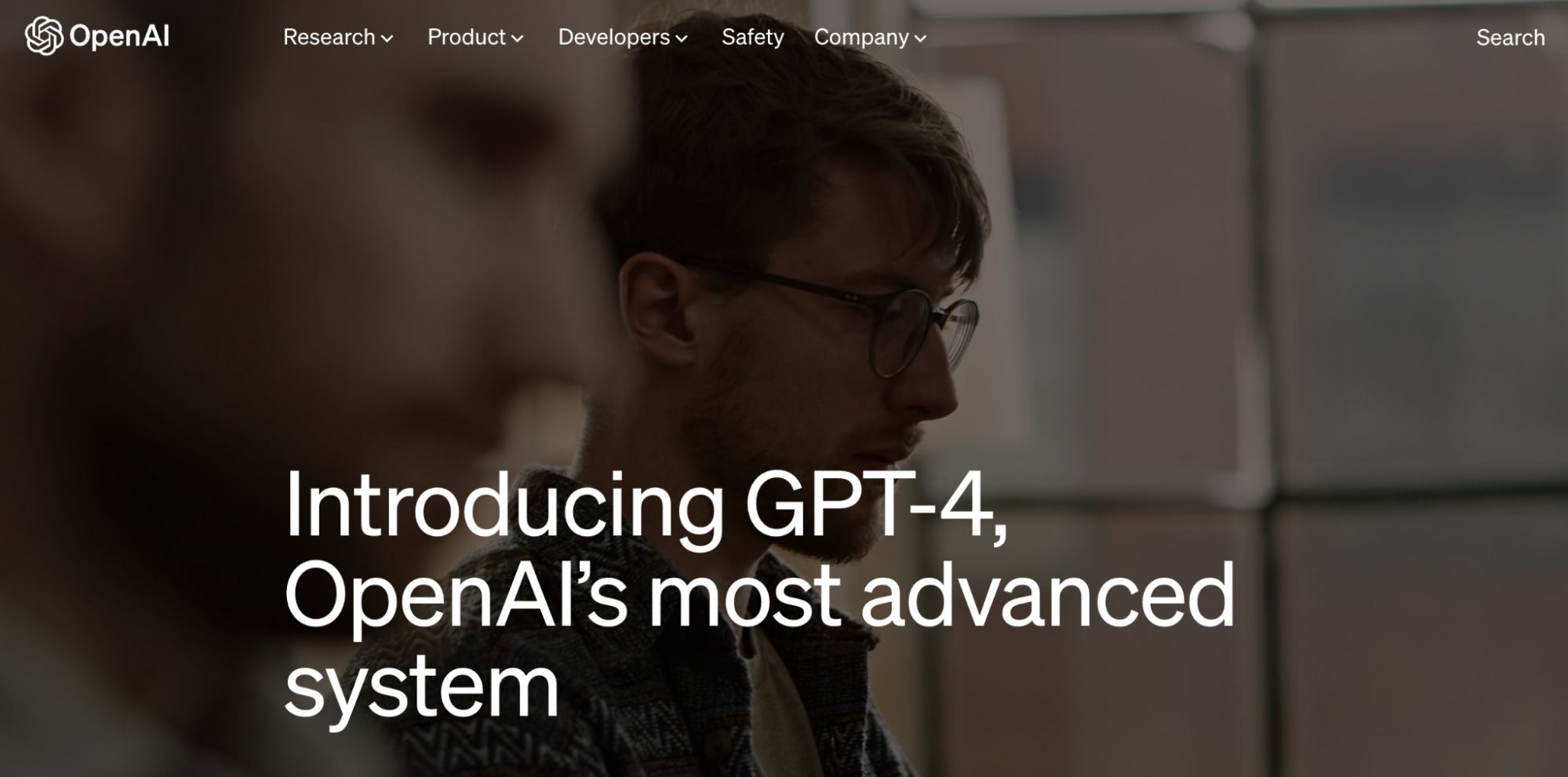 To Contents ↑
5. Newsletters
Newsletters are periodical emails that you send to subscribers, and they present another good opportunity for posting ads to make money. If you run a popular blog or website, you can insert a form to collect readers' email addresses and send them newsletters. Your newsletters can include advertisements from brands that want to showcase themselves to your subscribers.
Your newsletters must be high-quality if you want subscribers to open them. Use creative introductions, write engaging content, and send emails consistently. There are currently over 4 billion active email users, and that number is increasing, meaning that newsletters have much more growth potential.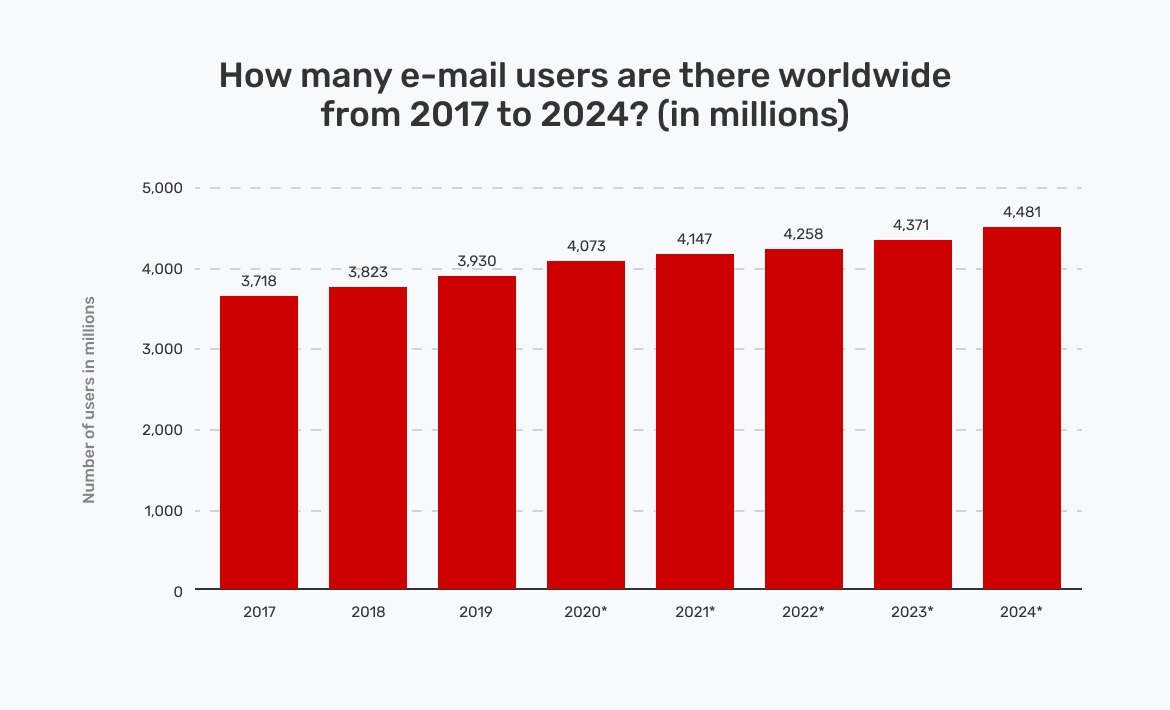 To Contents ↑
How to get paid to advertise on social media
It's advisable to have social media pages for your website or blog. This will help you build a social following with your audience and connect with new readers. It will also help drive traffic to your site.
Another good thing about having social media pages is that you can also monetize them. You can get paid to post ads online on your social media page just as you would on your website.
Facebook
Facebook is the world's most popular social network, with nearly 3 billion monthly active users. You can create a dedicated Facebook page for your site and connect with your fans and subscribers.
There are several ways to monetize your Facebook page. You can use it to promote affiliate products and earn commissions on each sale. You can also sell your own physical products by running Facebook ads. Similarly, you can run ads for digital products such as e-books.
A little-known yet profitable way is to earn extra money leading your Facebook traffic to a blog or landing page with ad codes. How about adding $2,000 monthly?
To Contents ↑
Instagram
Instagram is another very popular social media platform, with over 1 billion active users. The platform revolves around sharing photos and videos. It's famous for having Instagram influencers, which refer to popular accounts with a high followership. Brands partner with influencers to advertise their products.
You can grow your Instagram account and become an influencer. With a considerable number of followers, you can make money placing ads for different brands.
To Contents ↑
Twitter
Twitter has over 300 million active users worldwide. The platform revolves around posting short messages known as tweets with a maximum of 280 characters.
You can get paid to post ads online on your Twitter account just as it works on Instagram. In fact, there are Twitter influencers, although not as prevalent as those on Instagram.
With a popular Twitter account, you can charge brands to advertise to your followers and earn significant revenue.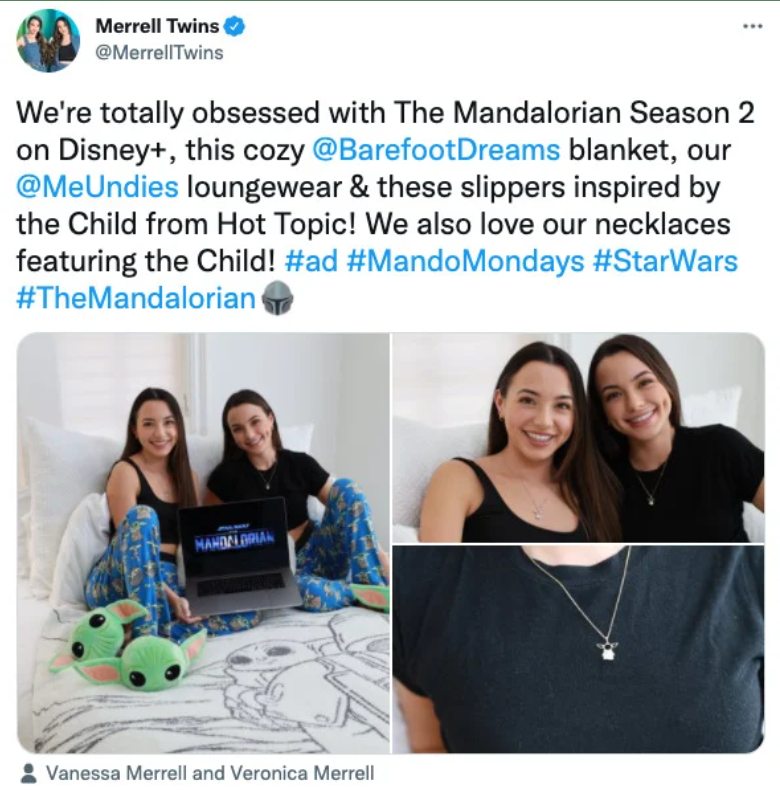 To Contents ↑
Pinterest
Pinterest is primarily an image-sharing service. It revolves around using "pins" to share photos you discover online and GIFs and videos on a smaller scale. Just like with other social media platforms, you can build a followership for your Pinterest account. With considerable followership, you can charge brands money to pin their content on your profile and drive traffic to their websites.
YouTube
Almost everyone knows YouTube, the number one platform for sharing videos. You can post videos related to your website's content and build a fanbase. With many subscribers, there'll hardly be a shortage of brands willing to advertise to your audience. An advantage of getting paid to post ads on YouTube is that you can charge a much higher price than you'd do for other social media platforms.
Other ways to make money posting ads
There are other creative ways of posting ads to make money apart from ad networks, social media, newsletters, sponsorships, and the like. For example, you can start a podcast to discuss content related to your website and advertise for brands on it. You can also offer your expertise to brands that need to market their products. Likewise, you can drive traffic to landing pages and earn money for each signup.
Freelance
There are countless brands that want to advertise their products but aren't good at it. They need advertising experts to help them do that effectively, and you can render your services to them. You can sell your marketing expertise and also offer ad management services on a retainer. This is one of many creative side hustle ideas for website publishers to earn extra income.
Drive social traffic to a landing page
Speaking of Direct Links, the principle of getting extra revenue works like this: you run a social media account with a significant following, so you drive social traffic to your (not someone else's) landing page or blog with ad codes and generate leads or more ad views.
To Contents ↑
Podcasts
Podcasts are audio recordings that people listen to on their devices, primarily on their smartphones. There are countless podcasts covering different topics, and you're free to start one for something related to your website. Brands advertise on podcasts the same way they do on a website, and you can make money posting ads on yours. If this interests you, see our guide for how to publish a podcast.
How to get paid for advertising — FAQs
How do you choose which way to get paid for posting ads?
The first thing to consider is your type of website or app. Some ad strategies best fit specific types of websites, e.g., native ads work very well with news sites, and affiliate marketing works best with product review sites. You're free to test different methods to see which ones generate the most revenue and stick to them.
How much can you make posting ads?
There's no perfect answer to this question. You can make anything from $50 to $800 or more daily from posting ads depending on your traffic, niche, and the brands you work with, among many other factors. Many publishers even make tens or hundreds of thousands of dollars from selling advertisements.
What are the benefits of getting paid to post ads?
The main benefit of getting paid to post ads is accruing income to support your website. A website takes significant time and money to launch and maintain, so earning a profit from their site is the goal of every publisher. Getting paid motivates you to grow your website and serve your audience better.
To Contents ↑
Conclusion
There are few things as fulfilling to publishers as earning income from their websites or apps. Advertising is the most common way to monetize a site, and there are various ways of earning money from it, which we have explained.
An ad network makes it easy to find advertisers to place ads on your site. Adsterra gives you access to thousands of direct advertisers willing to showcase their products and services on your web pages.