Tracking marketing campaigns is almost a health-related activity. But bluntly tracking is kind of old hat. When running CPC/CPA campaigns, you not only need a 360-degree vision of your costs and the audience's reactions but also make use of all those signals in your cost strategy and targeting. Therefore, Adsterra has partnered with Voluum. With many of our advertisers rely on this smart tracker, we couldn't miss the opportunity to offer them the most prominent campaign optimization tricks. We are going to briefly observe the critical steps required for successful integration. For more practical use, we will cover four use cases you can profit from right after the integration. Read this quick guide to catch how you can stay one step ahead of your competition.
We want you to profit from our integration from the very beginning. So, please find your exclusive partner 37% OFF Voluum plan in the end of this guide.
What will Adsterra & Voluum integration help you with?
A renowned tracking solution, Voluum offers advertisers and affiliates mission-critical features to check their campaigns' pulse and optimize ad spendings. You can now analyze almost any meaningful change in the health of your ads. By adding your Adsterra campaigns to Voluum, you will be able to react faster, get loads of insights, and automate routine actions. Like what?
Сheck your campaigns' statuses
Synchronize costs
Pause/Activate your Adsterra campaigns
Mark your ads performance and get alerts for each marker
Create blacklists & whitelists
Create any rule to track your campaigns and automate decision making.
Ok, these were just features with no obvious benefits behind. Later on, we'll shortlist the top use cases for this integration so that you could figure out all your opportunities. And now, let's move on to the "how to" part.
How to process integration: your Adsterra account
It's almost a one-click integration. Ok, 5 clicks are required to get the Adsterra API token. Please follow these steps.
Sign in to Adsterra.
Once you're in, hit the hamburger icon in the upper left corner.
From the left control panel, choose Tracking → API.
Click the GENERATE NEW TOKEN button.

Copy the token to the clipboard. We'll need it later when we'll be adding the integration to your Voluum account.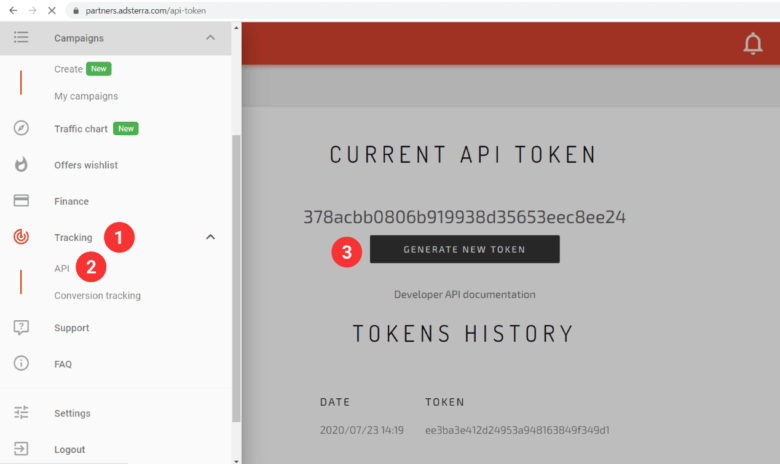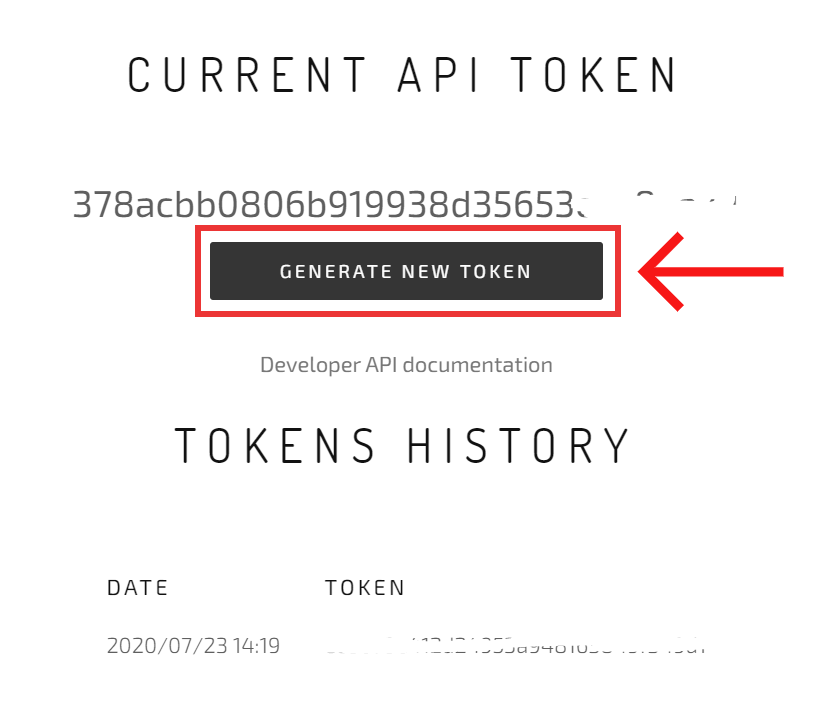 How to process integration: your Voluum account
Let's see how you can easily set up the integration on Voluum's account.
Choose the AUTOMIZER module from the upper menu

3. Hit the Integrations tab (it may also be the Traffic sources tab).
4. Hit the Add integration (or Add Traffic source) button.
5. On the page, you see various traffic sources. Find Adsterra and hit the Add integration button.
6. On the pop-up window, paste the API token code you generated before in the API token field.
8. Here, you also have two optional toggles.
– You can estimate your costs for periods between data synchronization. The estimations take into account the last 24HRS dataset. After the data is synchronized, the estimated costs will be replaced by the actual ones.
– You can decide if you want your Adsterra campaigns to be automatically matched.
9. Hit the Add integration button once again.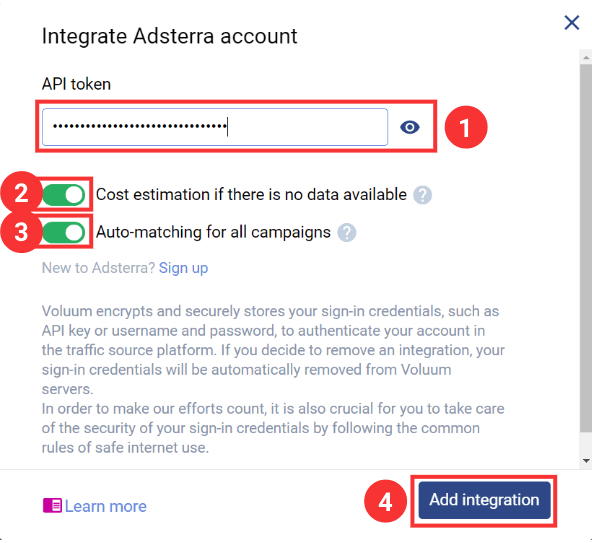 4 use cases you can use right now to advance your campaigns' performance
Case #1
Get alerted when your campaign doesn't perform as you need
Make Voluum Automizer tool alert you each time it detects the unwanted traffic performance. All you need is to set up the rule when the tracker shall notify you on desktop or mobile device.
Profit: impressive cost savings with less time spent on checking your campaign health. You remain one step ahead of your competition when you can react to each signal at the speed of light.
Case #2
Make lightning-fast changes to your bids and win traffic with Adsterra
Once Voluum marks a meaningful change in your campaign performance, you can react by reassessing your bids and targets on your Adsterra account. How exactly? With Adsterra smart tools for traffic monitoring and estimation.
Traffic Chart
On your Adsterra account, find the Traffic Chart tab. Here you discover GEOs with maximum traffic filtering them by device, traffic type, or OS. It's the pulse of trends. Use these insights to edit your underperforming global campaigns or to shift to other countries.
Read this guide to take full advantage of Traffic Chart.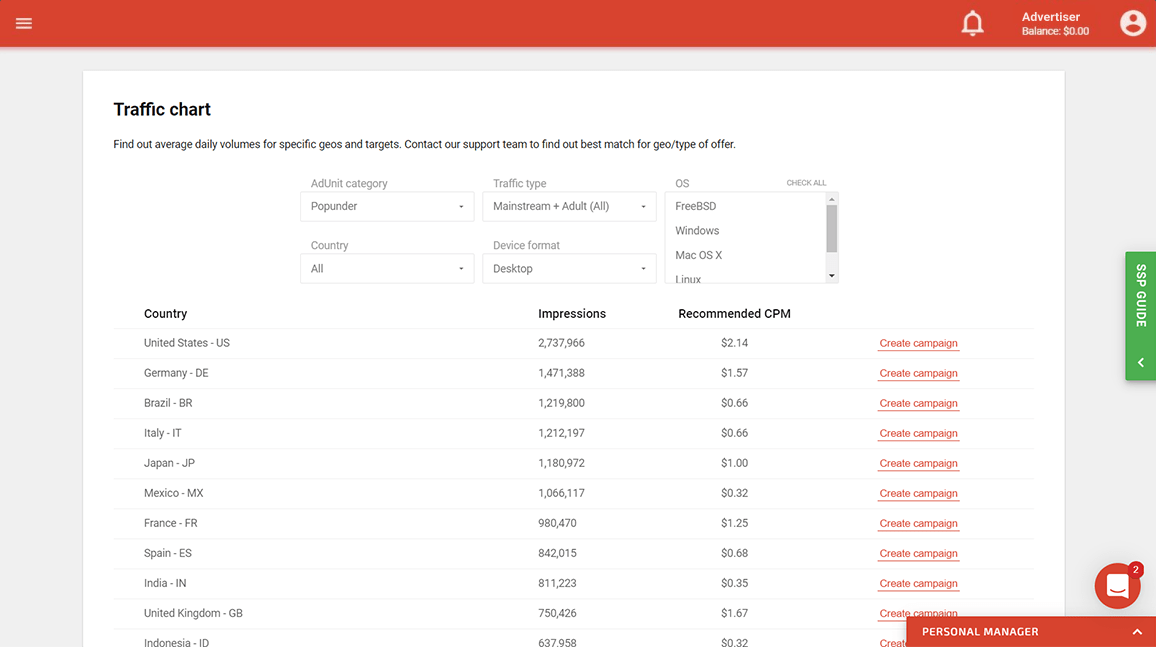 Smart Traffic Estimation
When you're editing your campaign after being alerted by Voluum, use the tool's hints. It assesses the overall competition within this geo and targets advising you on the best bidding strategy. Explore our guide to Adsterra Traffic Estimator to find out more hints.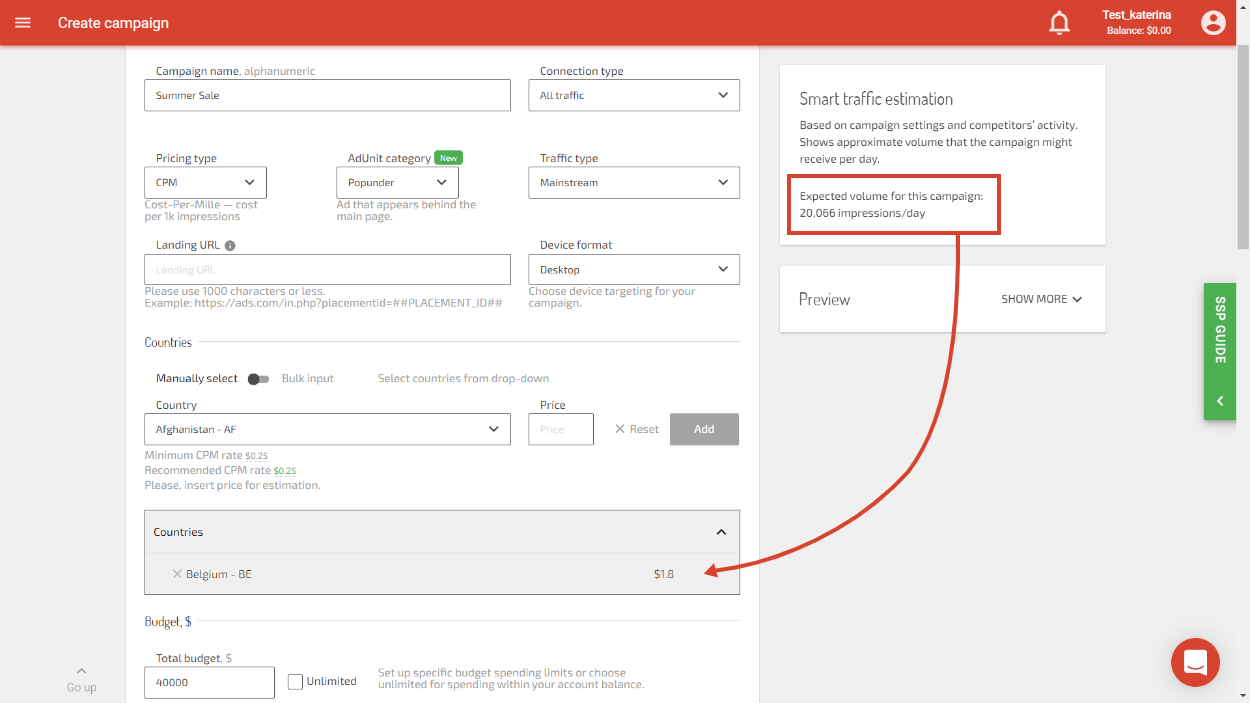 Profit: instant campaign boosting; with Voluum data and Adsterra smart optimization tools, you calibrate your campaigns till they reach their peak of conversions.
Case #3
Automatically pause underperforming keywords without stopping the campaign
With Voluum, you can set up a rule to pause the campaign if the keyword from your target has brought zero conversions within N hours. You can make this rule cost-sensitive as well.
Profit: a granular approach to your campaigns and substantial time saving as you don't have to check what keywords perform worse manually.
Case #4
Check your ROI health within shorter periods to save budgets
With Voluum, you can set up a rule to pause the campaign if the keyword from your target has brought zero conversions within N hours. You can make this rule cost-sensitive as well.
Profit: a granular approach to your campaigns and substantial time saving as you don't have to check what keywords perform worse manually.
Brand safety and more advantages from Voluum
Voluum AFK
Launching successful landing pages, you normally don't want them to be copied by someone else. Voluum provides you with an Anti-Fraud Kit that protects your materials from copycats and fraudsters.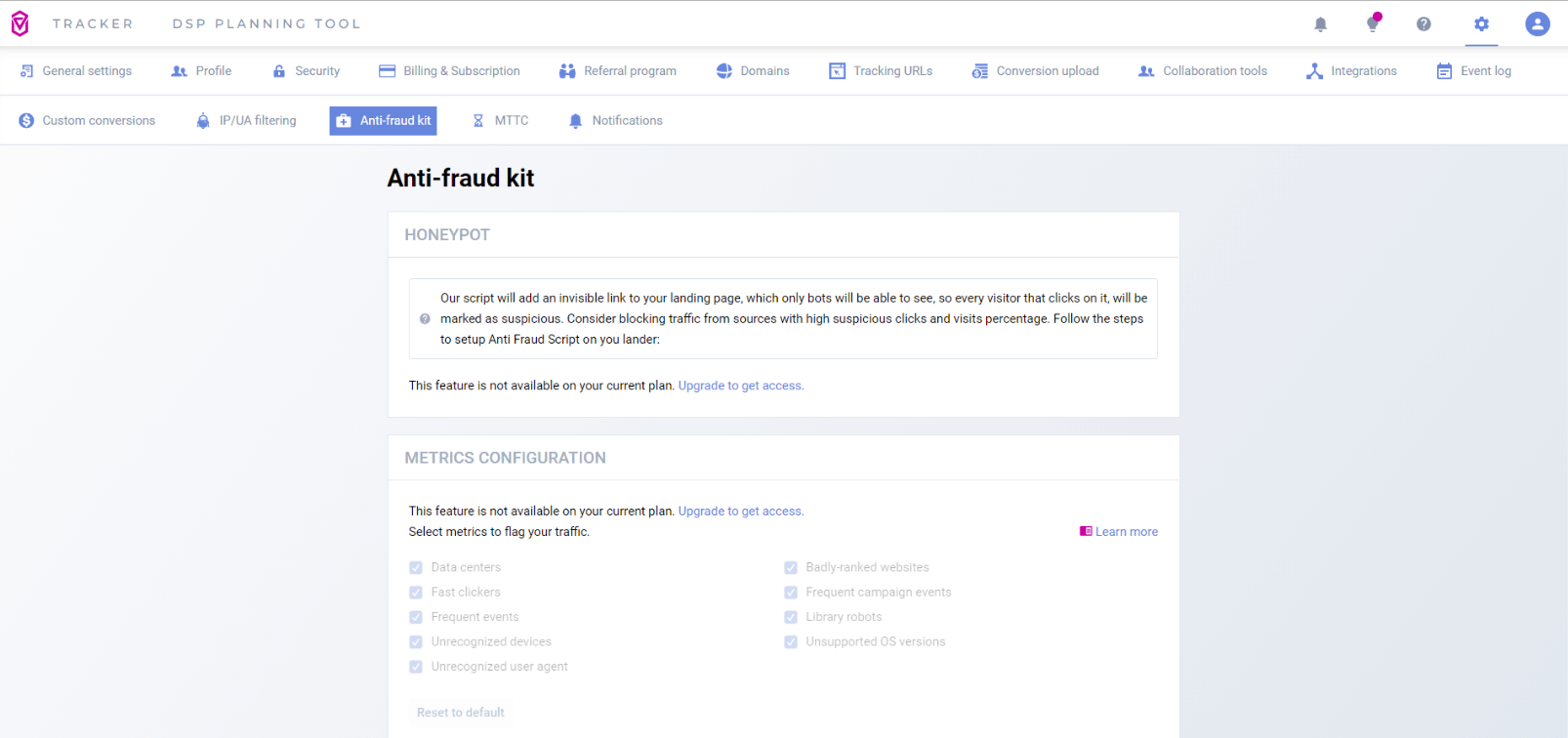 Blacklisting/Whitelisting
You might have already used Adsterra's blacklists/whitelists setting. If not, we strongly recommend to give it a try. You can prioritize traffic sources that perform great or exclude those that don't fly high within each campaign.
With Voluum integration, you extend your black/whitelisting. Your lists contain dimension values (e.g., placement IDs). And you can use these lists in the rules as a condition. Conditions will consider whether the given dimension IS on the list or IS NOT on the list. Then, your rule will check the given dimension and launch a set of actions you need.
Control and support
Add to the benefits given those handy desktop and mobile alerts to keep your conversions under control. And tons of tutorials to fine-tune your tracking with any flow you need!
How to claim your partner 37% OFF Voluum plan
Now that we have outlined the most common advantages of the integration, we want you to start your smarter tracking as smoothly as possible.
With this link, you get an exclusive partner discount. Start tracking for as little as $62/mo. Or save up to 37% on the annual plan.