Affiliate marketing is a multibillion-dollar sector that powers a great deal of commerce on the web. According to Statista, affiliate marketing spending in the U.S. alone topped $8 billion in 2022, compared to $5.4 billion in 2017.
You may have products to advertise but do not know how to get in touch with the right affiliate marketers that will help you promote them. Online forums are one of the best ways to do that, and this article will show you the best affiliate marketing forums globally.
Top affiliate marketing forums
There are dozens of affiliate forums that you can choose from. Some are free, while some require payment to be a registered member. Most forums are in English, but you can find some in many other languages. They are good venues to learn about the best affiliate marketing practices, get firsthand hacks, and stay ahead of trends. The top ones include:

StackThatMoney (STM) was founded in 2011 as a place for the affiliate marketing community to connect and keep up with industry trends. It has since grown into one of the most popular platforms in the sector. On this platform, you can connect with industry experts with a lot of know-how. There are many categories and discussion topics to participate in, including a dedicated thread for Adsterra.
STM is more than just a forum. It has become a broader initiative with regular conferences, networking events, and meetups around the globe.
Membership: $99 per month.
To Contents ↑
Pros
Access to industry experts;
Access to global events and conferences for affiliates.
Cons
Costly though it is worth it.
Adsterra lets you obtain high-converting traffic for your affiliate campaigns with different ad formats including Popunders and Social Bar. Adsterra CPA Network allows for cherry-picking highly paid offers from credible advertisers. Choose a platform that best suits your needs.
To Contents ↑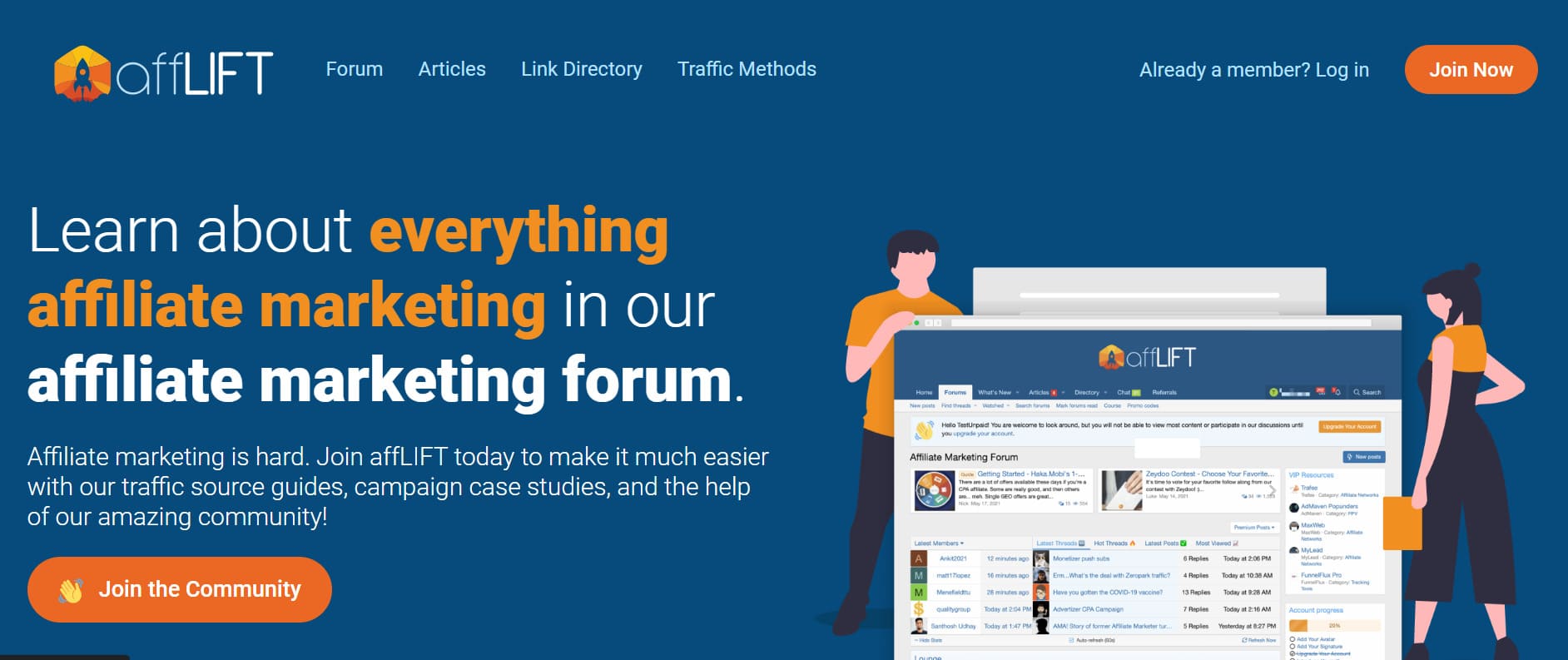 AffLIFT is one of the largest forums for affiliates, with over 70,000 registered members. As a member, you can interact with many other marketers around the globe to get tips and tutorials for effective advertising. You can find many categories of discussions, e.g., a section of the site focused on social marketing and another on Popups and redirects.
AffLIFT has both free and paid membership tiers. You can join at no cost, but you have to pay to unlock premium features, such as case studies, guides, and courses.
Membership: Free or paid ($20 per month, $100 for six months, or $350 for a lifetime subscription).
Pros
Free tier available;
Affordable paid tier.
Cons
Limited user base;
Geared toward newbies.
To Contents ↑
AffiliateFix is a forum with a large and active user base. You can ask questions and expect to get them answered. You can also find members willing to engage in thoughtful discussions related to the affiliate sector. There is a dedicated Business section where advertisers can find potential clients and marketers to promote their products. You can participate in many discussion threads, e.g., the Adsterra thread.
This platform is suitable for both beginners and experts. It has free and paid tiers, with the latter giving you access to the AFF Tool Kit, a collection of marketing resources and advice.
Membership: Free or paid ($199 lifetime membership for a premium individual user and a $1,497 lifetime membership for a company user).
Pros
Free tier available;
Active user base;
Helpful guides and articles.
Cons
To Contents ↑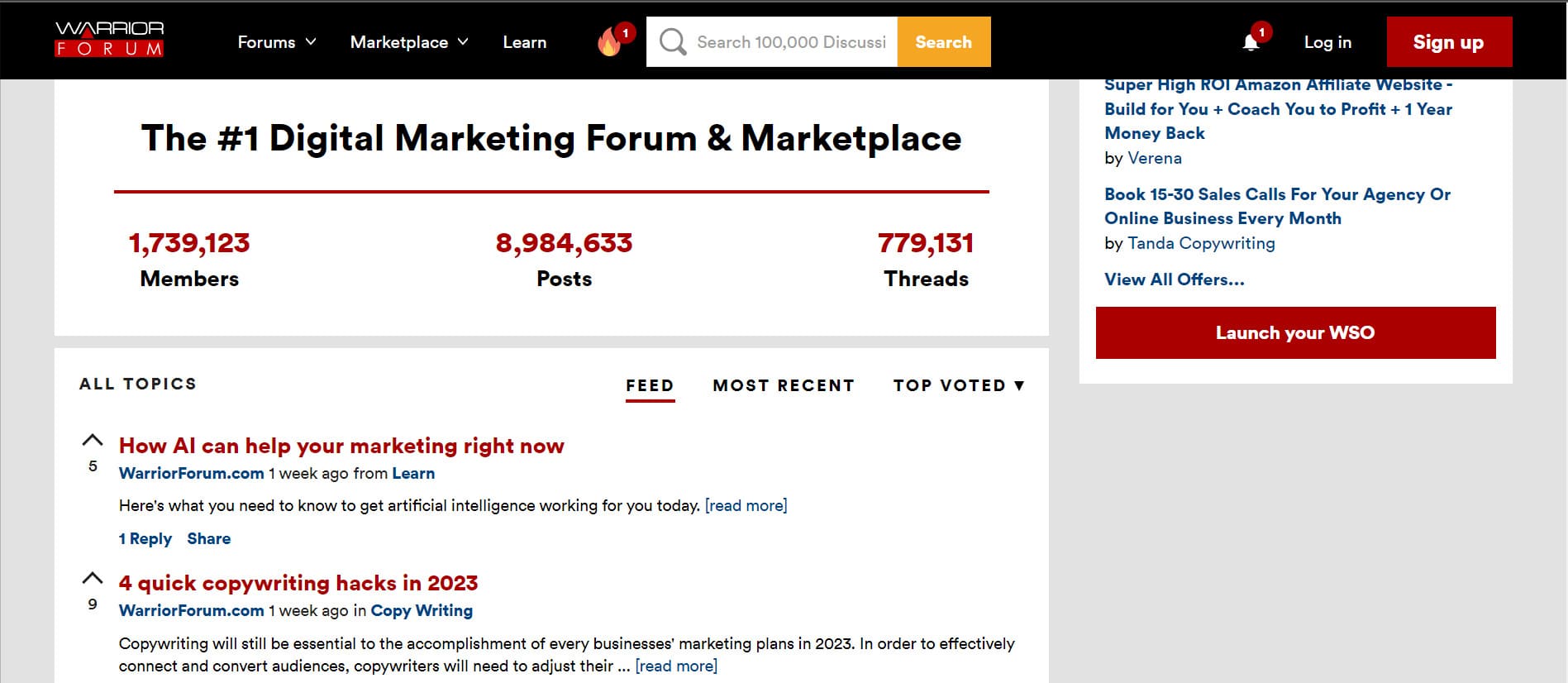 Warrior Forum is one of the largest online marketing communities, with over 1.7 million registered members. It covers many aspects of digital advertising, with affiliate marketing being just one of its categories. This platform has a section where advertisers can post their affiliate offers and connect with expert marketers willing to take them up.
You can find many things on this website ranging from product reviews to how-to articles and case studies. There are also regular "ask me anything" threads where you can ask senior marketing experts questions and receive answers. Registration is free but does not give you access to all features; you need a $97 per year premium subscription for that.
Membership: Free and paid ($97 per year).
Pros
A lot of valuable information;
Affordable paid tier.
Cons
Some may find the interface a bit outdated and cluttered.
To Contents ↑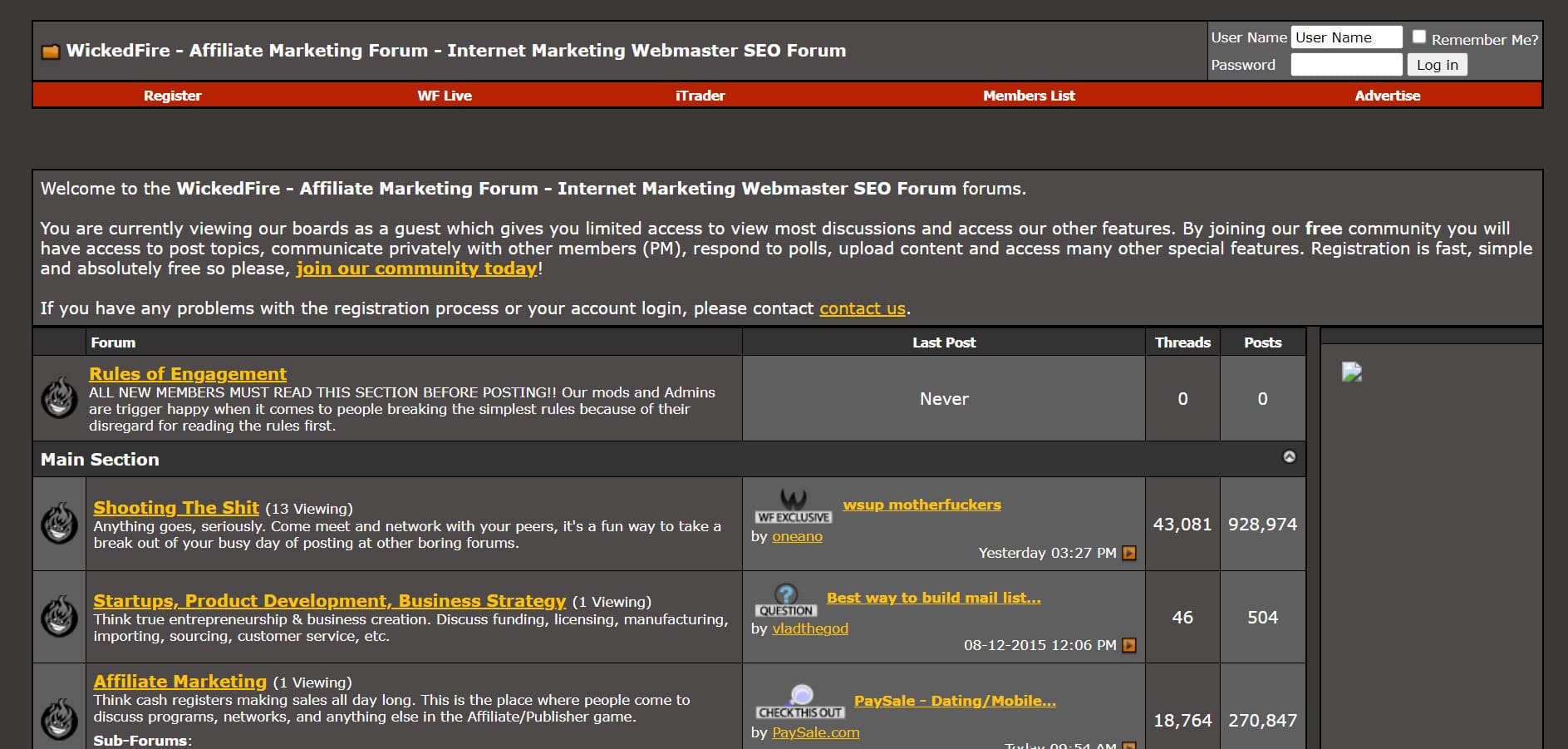 WickedFire is one of the top forums in this sector. You can interact with members and participate in discussion threads about various topics, e.g., search engine advertising, generating traffic, web design & programming, etc. It has a reasonable balance of beginners and experts to learn from. This platform is entirely free, unlike many of its rivals.
Membership: Free.
Pros
Free for all members;
It has an advertising marketplace.
Cons
To Contents ↑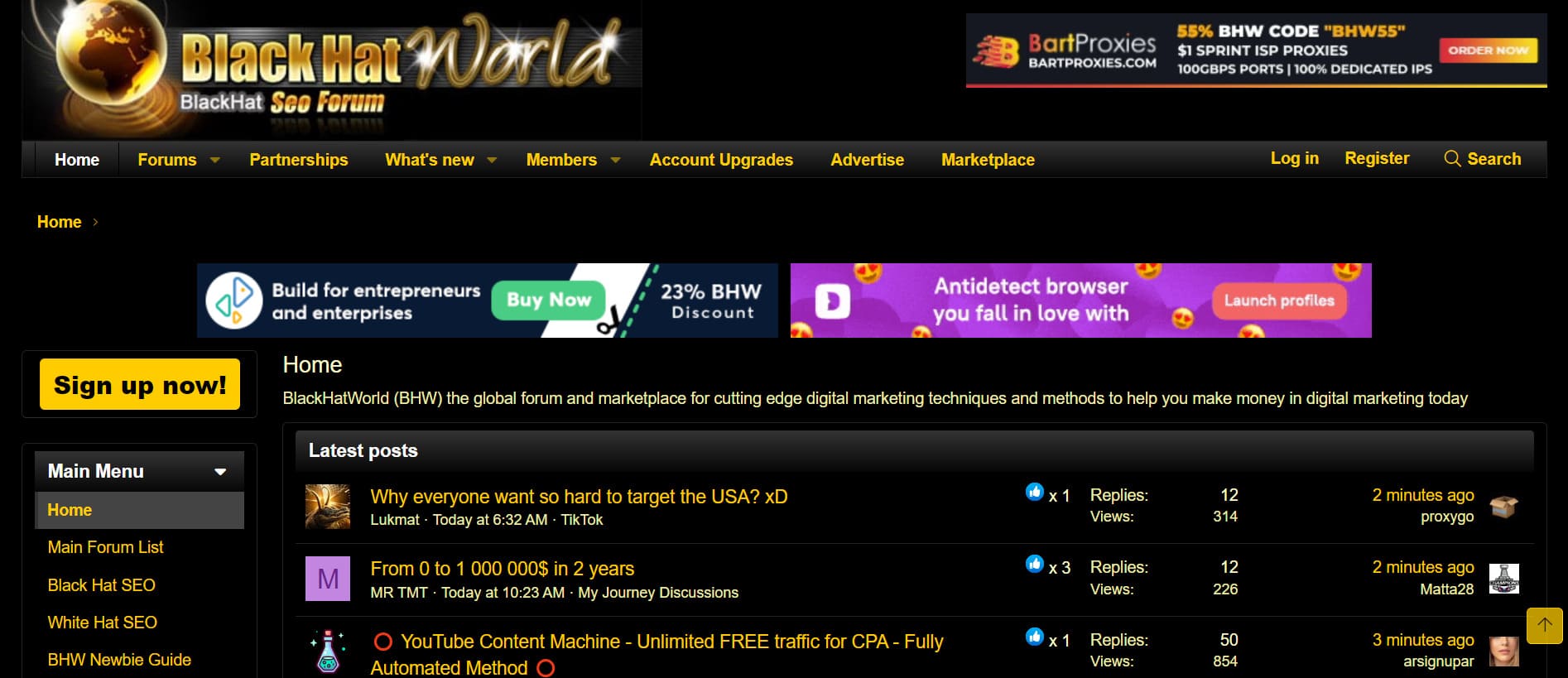 Despite the phrase "black hat", this platform is not all about questionable affiliate promotion techniques even though that is present. You can find a lot of information on discussion threads about valid promotion methods and add yours if you wish. As an advertiser, you will be happy to know that this site has a marketplace where you can hire people to promote your products.
Membership: Free.
Pros
A very active community;
A bustling advertising marketplace.
Cons
Caution is required because questionable activities and techniques are also discussed here.
To Contents ↑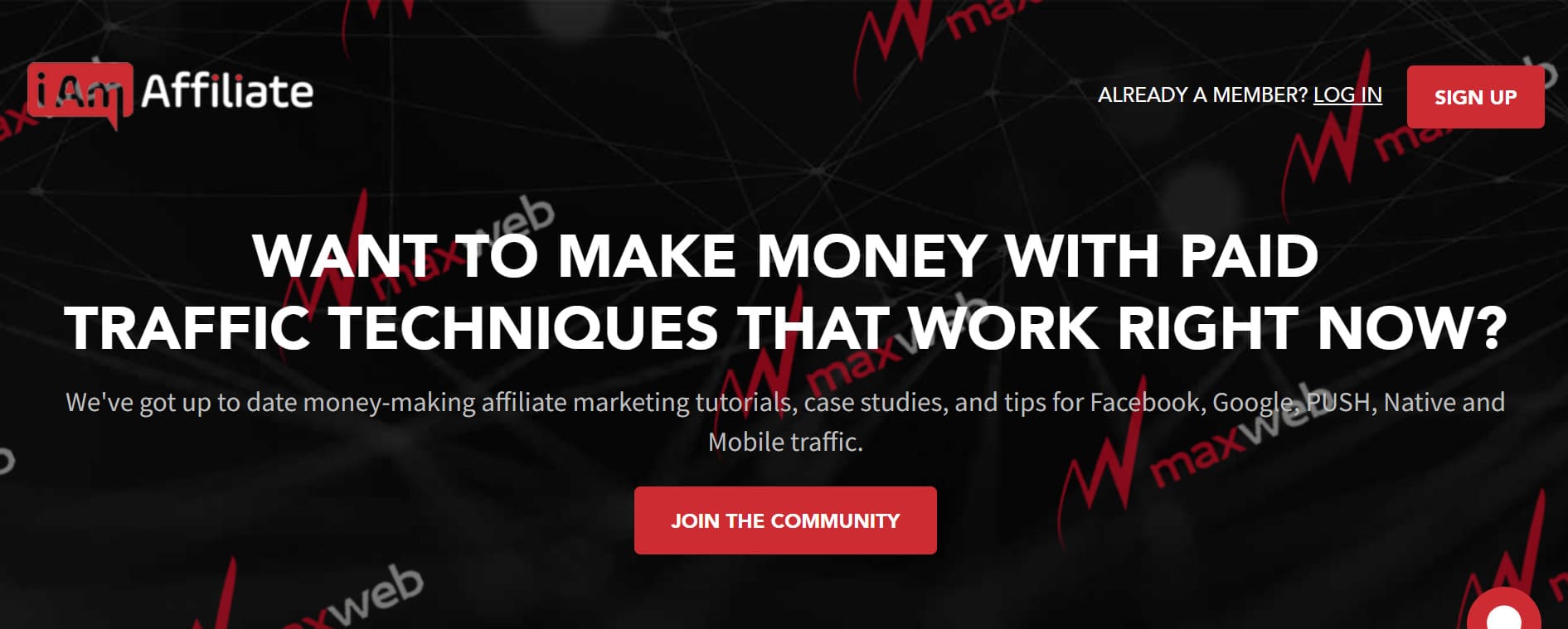 iAmAffiliate is a popular website where you can access many resources to boost your marketing efforts. As an advertiser, you can participate in numerous discussion threads to learn the ins and outs of the sector. You can find a lot of articles, case studies, and guides to learn from and apply the lessons for your own products.
There is a unique "follow along campaigns" feature that lets you follow expert marketers and see how they execute their campaigns and possibly imitate them.
Membership: Paid ($49.95 per month or $495 per year).
To Contents ↑
Pros
Case studies to learn from;
1-on-1 coaching.
Cons
Expensive;
Small user base (less than 2,000 members).
To Contents ↑

CPA refers to cost-per-action, a payment model employed by marketers where they earn money for each specified action, e.g., a sale. This is one of the best CPA marketing forums where you can learn a lot about using this payment model to advertise your products. There is also a directory for advertisers to connect with users willing to promote their products.
Member: Free.
Pros
No payment required;
An active and growing community.
Cons
To Contents ↑

Forobeta is the most popular community for Spanish digital marketers. It is a very active forum where you can ask questions and get instant or near-instant responses from members. It has the best user interface out of the platforms on this list, making it easy to navigate and understand. This website is very helpful if the Spanish-speaking market is your target audience.
Membership: Free.
Pros
Active user base;
User-friendly.
Cons
To Contents ↑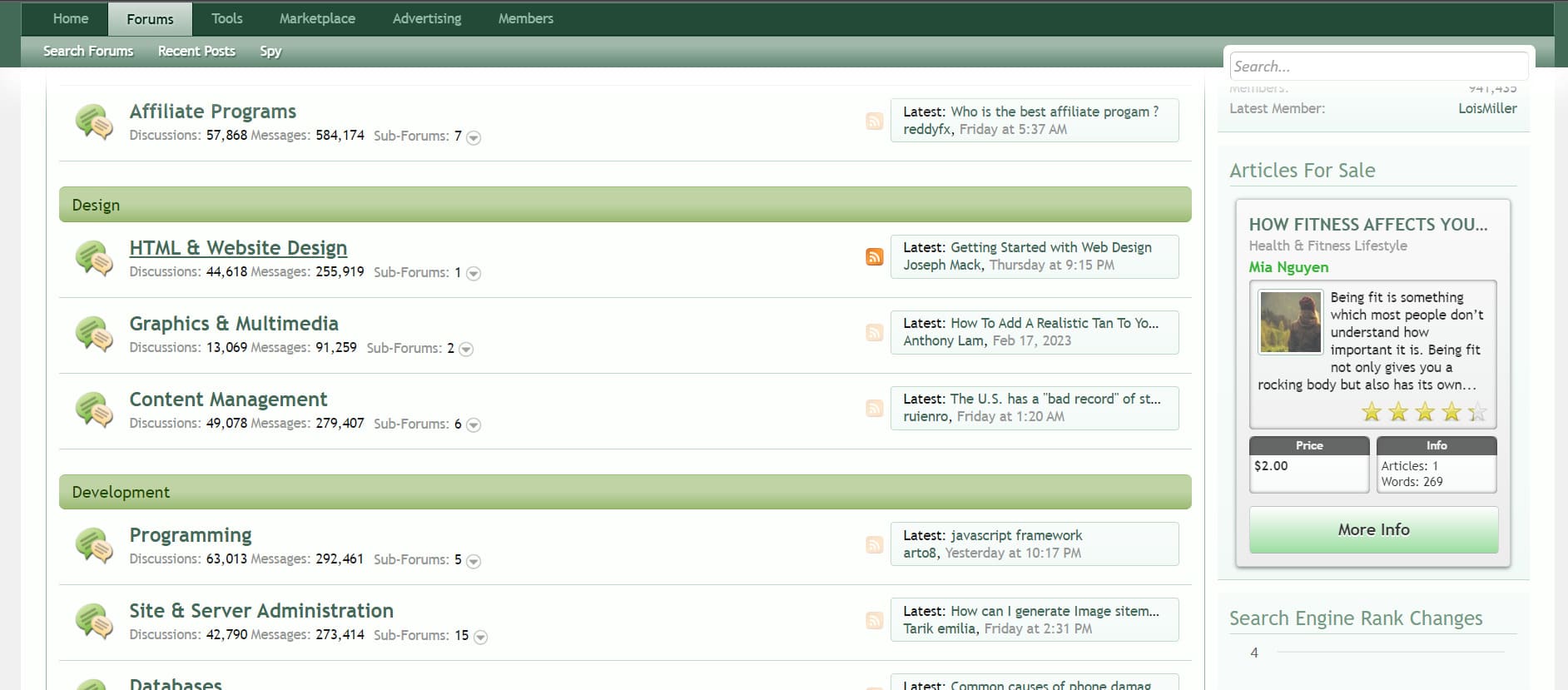 Digital Point is a community of marketers and webmasters that discuss various topics related to their industry, including affiliate advertising. You can join these discussion threads to learn and also add value to the community, e.g., the Adsterra thread. There is a marketplace where you can find websites to advertise on and pay the owners directly.
Membership: Free.
Pros
Numerous topics;
No cost to register;
Direct advertising marketplace.
Cons
Geared towards beginners;
Not directly related to affiliate marketing.
Adsterra works with 28,000+ direct publishers sending over 30 impressions monthly to your affiliate offers. While Adsterra CPA Network is your surefire source of premium direct offers.
To Contents ↑

WJunction is an online community for webmasters. It has forums for different web-related topics, including affiliate programs. Advertisers can post their offers and connect with expert marketers willing to help them promote their products. The platform is very user-friendly and registration is free. However, the user base is not as large and active as some other platforms on this list.
Membership: Free.
Pros
Free to use;
User-friendly.
Cons
To Contents ↑
Affiliate marketing forums — FAQs
Why should you join an affiliate forum?
Joining an affiliate forum is a great way to connect with experts and learn the ins and outs of the sector. It also presents an opportunity for advertisers to find experts that can help them with product promotion. There are many platforms you can join, and we took our time to identify and list the best ones.
What is the structure of affiliate marketing forums?
They follow a directory structure with different categories and topics to choose from. An administrator or multiple ones oversee the platform, create the rules, and ensure the website works as expected. Appointed moderators also ensure discussions stay on-topic and restrict or ban users who violate the rules.
How do top affiliate marketers leverage forums?
The top marketers use the forums to interact with the affiliate marketing community and build a network and a formidable reputation. You can find them participating in discussions and hosting "ask me anything" threads. They also use the opportunity to connect with advertisers and earn money for promoting products.
What are the differences between free and paid affiliate marketing forums?
The free platforms charge no money to become a registered member. In contrast, the paid platforms charge monthly, annual, or lifetime registration fees. Some platforms combine both strategies, offering a free tier with limited features and a paid plan that unlocks all the features.
How do you profit from affiliate marketing forums?
You can gain a lot of knowledge on these forums that will help you advertise better and earn more sales from your products and services. You can also connect with the top experts in your niche to market your product effectively and attract customers. It also helps to participate in discussions and build a good reputation as an advertiser.
Conclusion
Affiliate advertising is the foundation of a great deal of commercial activities on the internet. If you connect with the right promoters and use a good strategy, you can generate a lot of sales for your products. Forums are one of the easiest ways to connect with the right people, and we have identified the best ones for you. Adsterra is registered on some of these forums, e.t., affLIFT and AffiliateFix, which makes it easy to contact our staff.