The hardest part of starting an affiliate marketing business is making a website that gets a lot of good traffic, that's why already-established websites sell for up to 40 times its monthly revenue. And that can be too expensive for the average marketer. Which raises the question, "What if you could do affiliate marketing without a website?" You can do it if you know how to get people to click on your links and stream conversions.
You'll most likely excel at affiliate marketing if you have a website or blog. However, you can still be successful without one. But there are some major issues with that method:
If you don't have your own website, it can be hard or even impossible to get people to find you through search engines.
You're not creating an asset, which makes you less visible if branding is important to you.
It makes you very vulnerable to algorithmic changes made by social media sites.
Most affiliate programs only accept marketers who have their own websites. In this case, you'll have to rely on CPA networks.
But if you want to get into affiliate marketing even though you don't have a website, here's how to do it.
To Contents ↑
How do you get started as an affiliate marketer?
Looking at the basics of affiliate marketing, you'll realize that none of them require you to have a website. To start, you need three key "ingredients":
An audience: a group of people who are interested in what you have to offer.
An offer: a product or service that solves a problem or helps people reach a goal.
A traffic source is a way to bring that audience to the offer you're trying to sell.
Most of the time, your affiliate marketing activities revolve around a website but you might have an email marketing newsletter and social media accounts. Still, these are just extra ways for people to find their website.
But there's no reason you can't cut out the middleman and promote offers directly from social media sites, email newsletters, and many other places.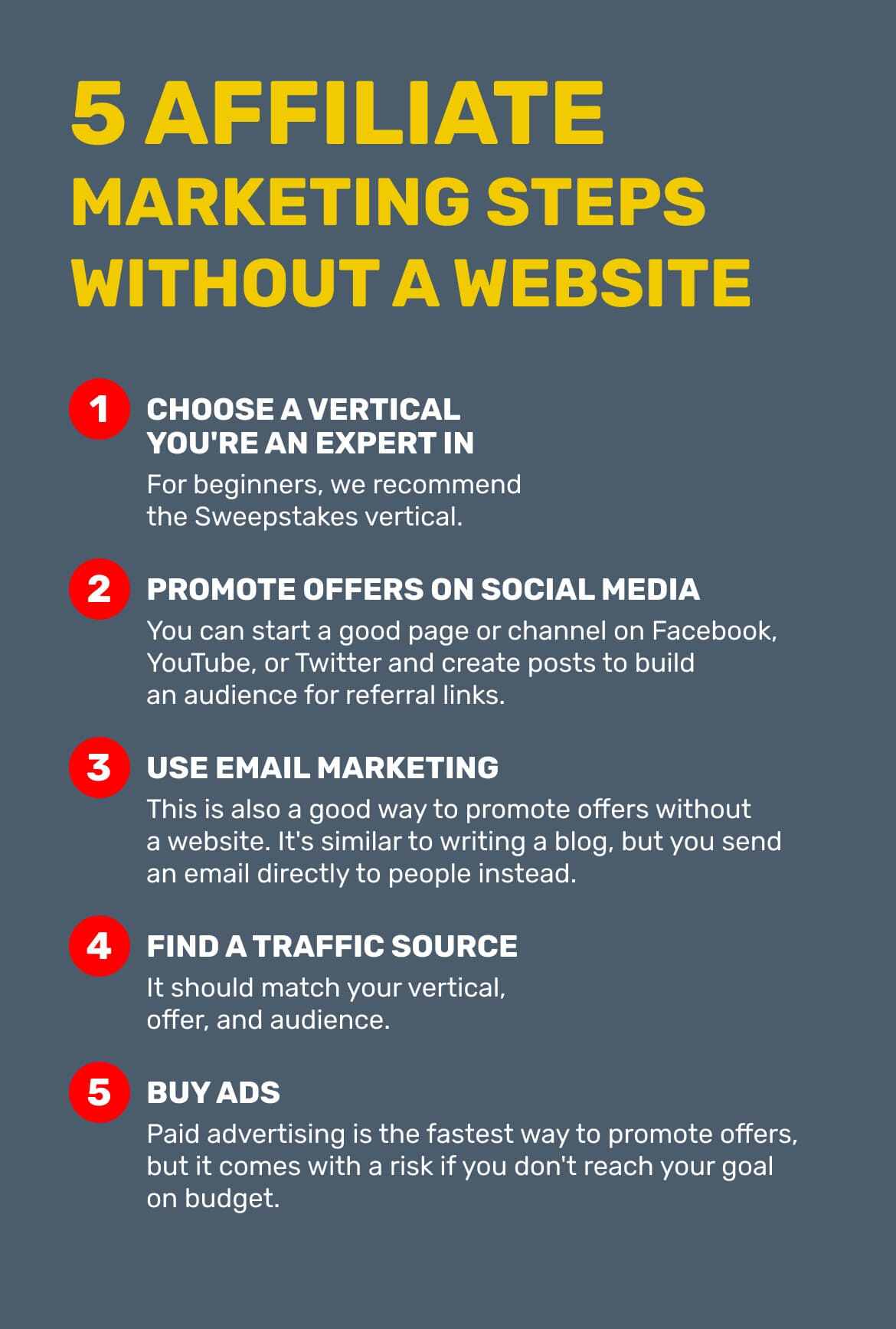 To Contents ↑
4 steps to getting started as an affiliate marketer
Here are a few easy steps to promote CPA offers.
1. Join a CPA network
Start with a network like Adsterra CPA where you can get paid biweekly and promote a wide range of offers without needing a website. If Adsterra accepts you— if you meet the terms and conditions—you'll get an account manager who can tell you which offers are doing well in your niche.
The next step is to find your audience. One easy way to start is to use paid search traffic or paid social traffic. However major search engines and social media platforms do not allow you to promote offers that belong to some verticals. The most viable option in this case is to use advertising networks. Popular ad networks often a lot of traffic and advanced targeting options. We suggest starting with Popunder and Push advertising because it's easy to set up and launch campaigns with it. You can get more cheap traffic with Adsterra Push.
To Contents ↑
2. Pick an offer to promote
If you're new to affiliate marketing and don't have a website, we recommend promoting Sweepstakes. People love to win free stuff, and if you promote products that people want, like smartphones, laptops, or gaming consoles, you can reach the most people.
If you can't decide on a vertical or an offer, you can join online communities or groups on different social media sites. Online forums are the best way to get the most up-to-date advice on what to sell and where to find it. You can check out some of the best offers on Adsterra's website.
To Contents ↑
3. Start an affiliate marketing campaign
You won't be able to make money unless you spend a lot of time setting up, polishing, and optimizing your campaigns. But let's start from the beginning. You can promote the best offers for days and not get any results unless you optimize. Optimization involves looking at the data from your campaigns and picking out the best pieces of traffic.
Your affiliate marketing should also be centered on testing strategies, offers, online marketing tools, keywords, sources, ad networks, and other platforms. You should keep these optimization strategies in mind no matter what your niche is:
Focus on one vertical, but try out a few similar offers.
Wait a few days before making changes to the campaign to get more information.
If the ROI is slightly negative, it means that the campaign still has potential, and you should bid more on profitable sources or targets.
Start your new promising career with the most caring ad network that delivers first class services for affiliate marketers!
To Contents ↑
Do landing pages help affiliate marketers?
Even if you don't have a website, you can still do affiliate marketing, but you'll probably need a landing page that's just for you. A lander is basically a simple website with just one page that helps you sell affiliate products.
Why do landing pages matter so much?
They give you a place to send traffic from other sources, which increases conversions. With a landing page, you can add a lot of convincing text and images showing why your promoting products or services are perfect for your audience.
It looks more natural to post a link to a landing page than to link directly from your Instagram bio or YouTube intro.
You could also use landing pages to gather leads. A good way to build an email marketing list is to add a lead form to your custom landing page. And once you have a few thousand email addresses on your list, you can send offers directly to their inboxes.
However you don't need your own landing pages. You can send traffic from your offer directly to the advertiser's landing page.
To Contents ↑
6 ways to do affiliate marketing without a website or blog
Now that we've established that you can do affiliate marketing without a website, it's time to talk about some of the best methods you can use. Results will depend on how good your plan is and how well you carry it out.
1. Use social media
Affiliate marketing doesn't require you to have a blog or website, but you do need to have a presence online. Facebook, Twitter, and Instagram can be a good start, as long as you have a group of people who might be interested in clicking on the links you post.
The key is to write posts that get people's attention and make them want to click. Most importantly, ensure that your social media posts have useful information and visual elements to draw people in.
Also, ensure that your content fits your niche. If you post something that has nothing to do with it, such content could turn people away. To earn your audience's trust, your posts must be interesting and useful to them. You can also buy traffic from social media with Banner Ads, Tweets, Facebook ads, status updates, and so on.
To Contents ↑
2. Create an ebook
An ebook is another good way to get people to click on your offer links (promoted on social media or forums). Even though this option takes more work, a successful ebook can have long-lasting effects if done right.
The most important thing to do when making an ebook is to choose a topic you know a lot about. You should never write an ebook just to put some links in it. Your readers will know you're just hustling.
Ebooks give your readers information that will help them. You want your readers to believe the information you've given them. If they think the information you have given them is useful, they should be willing to click on your links.
To Contents ↑
3. Promote via forums or online communities
There are many online forums and communities on the internet now, and they are great places to promote affiliate links. Find a forum where people talk about things related to the product you want to sell.
Read the rules of the community or forum to know what kinds of affiliate link posts are allowed. Once you've found a good forum or community, you should be actively engaged.
Active engagement means talking to people, answering their questions, and finding solutions to their problems. You can put your links in these kinds of conversations. Over time, people in the community will learn to trust you and will be more likely to click on the links you post.
To Contents ↑
4. Use YouTube videos
One of the best places to advertise offers is YouTube. And all you need to start is a YouTube account. Most people think that to be successful with affiliate marketing on YouTube, you have to be a YouTube star with thousands of followers. But that's not true.
As long as the videos you post are interesting, useful, and creative, you should have no trouble being successful. Make sure your videos are about the products or services you're trying to sell and put your links in the description. Don't forget that YouTube requires you to tell viewers that you're promoting affiliate links.
5. Use paid ads on search engines
If you do affiliate marketing but don't have a website, it's challenging to get free traffic from search engines. As a result, many marketers without websites rely on search ads to bring in customers.
Pay-per-click (PPC) ads are paid ads since you bid on keywords related to the products you're promoting. Google puts PPC ads at the top and bottom of the page with search engine results, and the word "Ad" is used to draw attention to them, so searchers know when clicking on a paid link instead of a natural (free) one.
PPC ads are easy to set up: you have to write interesting ad copy, link to your landing page, and set a budget. But there is a problem with paying for search traffic. In many niches of affiliate marketing, the margins aren't very big. Each sale might only bring in a few dollars. And remember that only a small number of people who click on your ads will buy.

So, you can't pay a lot of money for every click. Wordstream's benchmarking data shows that the average cost per click in some niches is $8 or more. You can't keep doing that unless you get huge commissions and a high conversion rate.
To Contents ↑
6. Go on podcasts
Podcasts are not the most obvious way to do affiliate marketing without a website. And since they're audio based, they are not the best way to promote offers. But podcasts have too many fans to be ignored.
3/5 of US consumers listen to audio podcasts, up from 57% in 2021, according to Statista. So what can you do to join in? The easiest way to do this is to talk about affiliate products on a podcast and put links to those products in the show notes.
This is a guide about making money via affiliate marketing without a website, but reading guides and articles alone have never led anyone to large earnings. So you can start practicing while learning the tricks of the trade: earn as you learn, isn't it great?
To Contents ↑
Tips to making money as an affiliate without a website
This article gives you enough ideas to start affiliate marketing immediately, even if you don't have a website. But before you jump in, you should read these top tips:
1. Narrow your niche
If your niche is too broad, you'll be directly competing with bigger publishers, making it much harder to get good traffic. But if you narrow your niche too much, you'll make it harder for people to find you.
Try to find a smaller market within a larger market. For example, you could focus on Lenovo laptops or accessories instead of becoming a computer hardware affiliate.

Check out our list of the best niches for affiliate marketing if you need some ideas.
2. Look for affiliate programs that don't require you to have a website
If an affiliate program requires you to have your website, you have no choice but to look for a different one. Here are networks and programs that work with affiliate marketers without a website so you don't waste time.
Adsterra
Adsterra CPA is a multi-vertical global CPA network that provides exclusive and direct offers to affiliates of all types, including those with only a single landing page.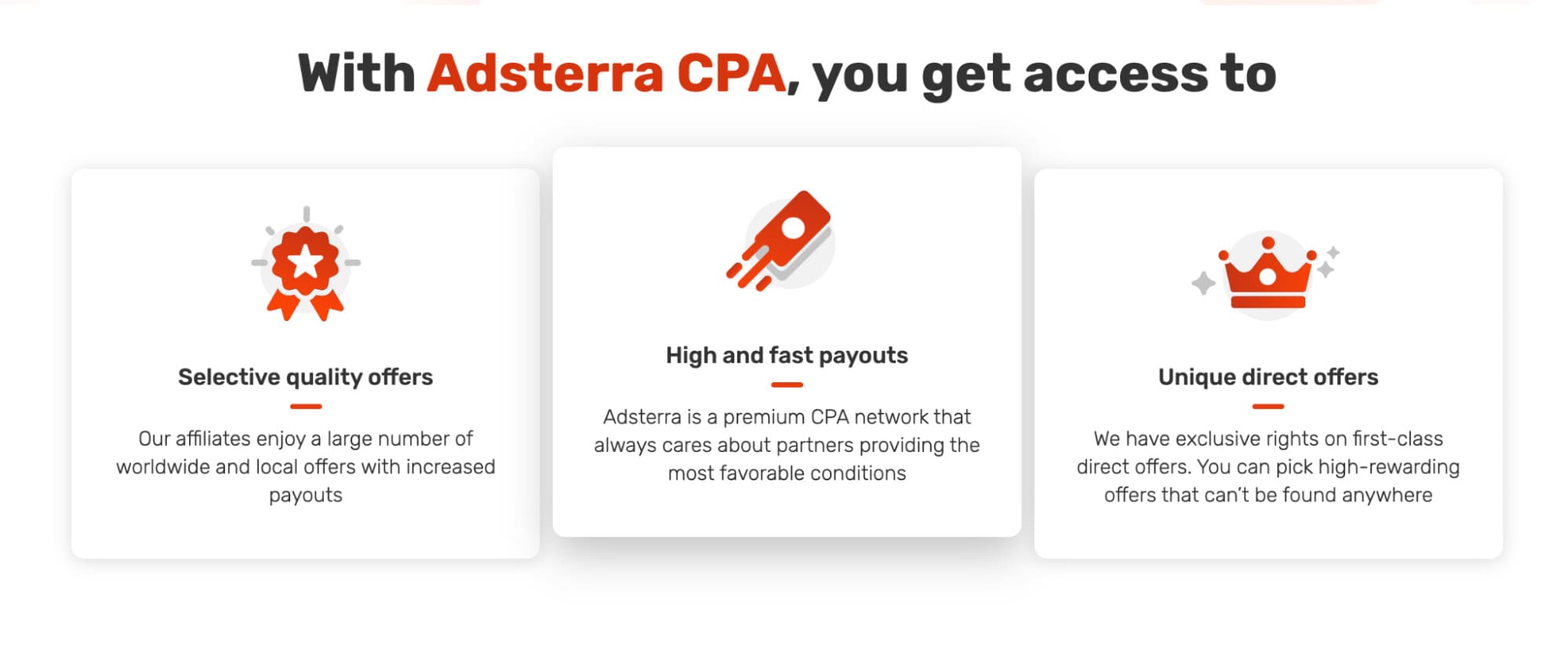 With over 200 high-converting offers, minimum payouts as low as $5 and models like CPA, CPI, CPL, and RevShare flow, it's the best option on the market today! At Adsterra CPA, you get a personal manager available 24/7. Don't hesitate to join!
To Contents ↑
ClickBank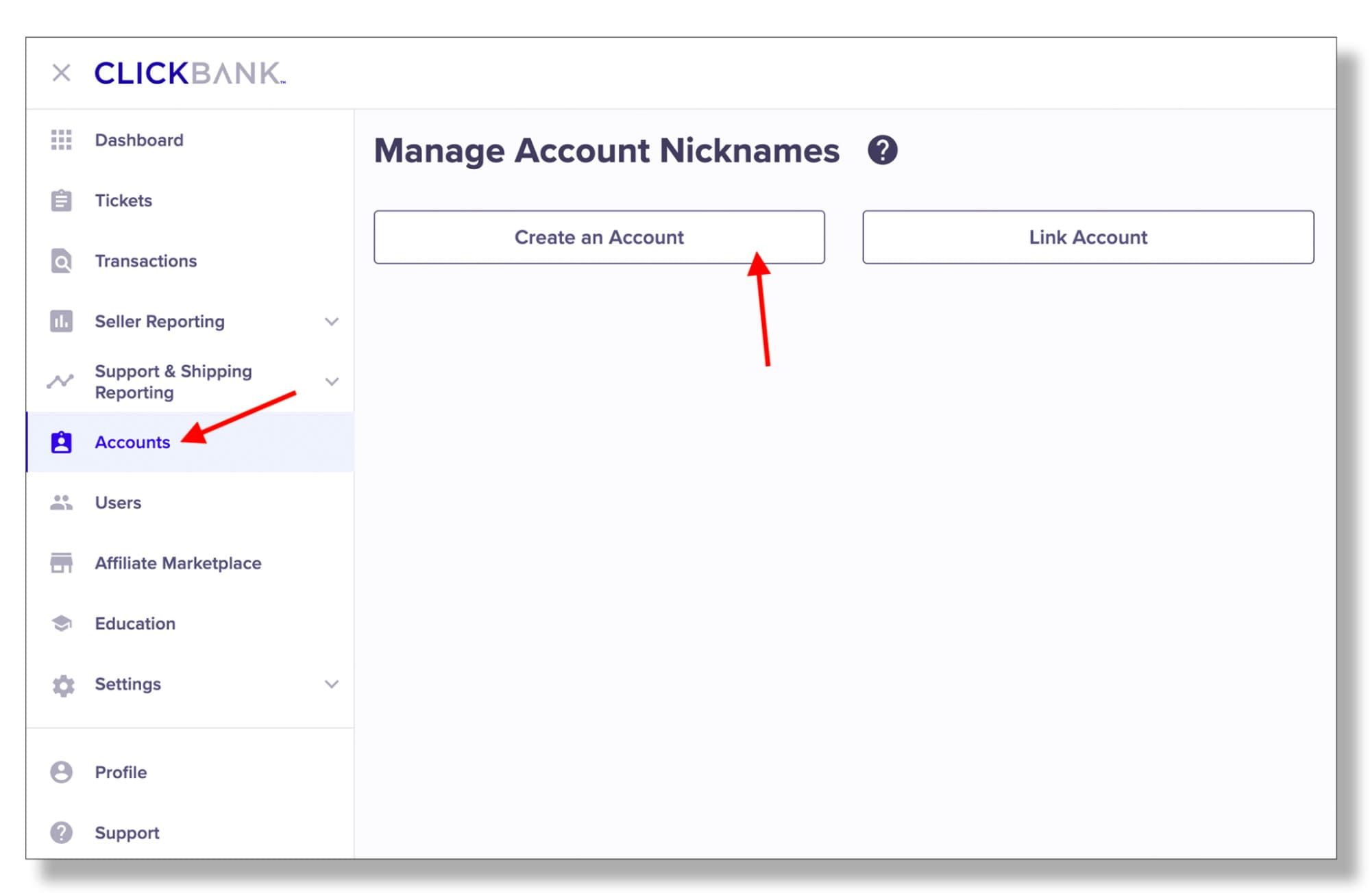 ClickBank focuses on revenue share and CPA affiliate programs in the eCommerce space. It has more than 100,000 sellers and pays a commission of up to $150 per sale.
To Contents ↑
Amazon Associates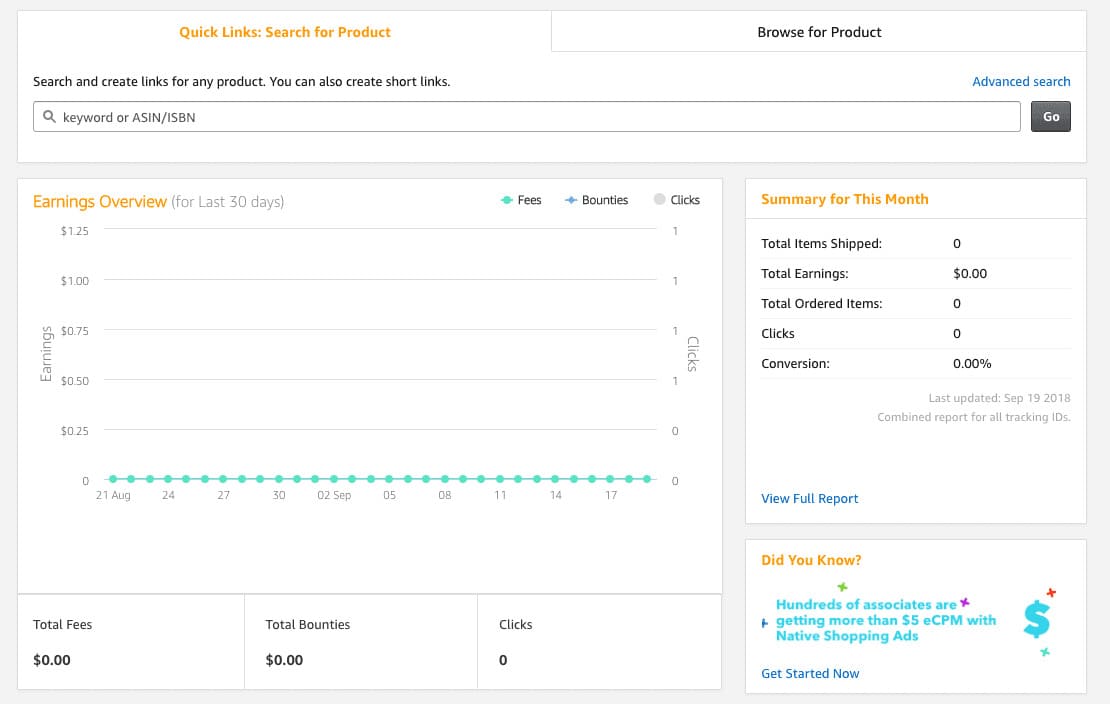 Amazon Associates is likely the biggest affiliate program in the world. The eCommerce marketplace sells just about everything under the sun, consumers trust it a lot, and it has high conversion rates. However, Amazon's commissions aren't the best.
To Contents ↑
ShareASale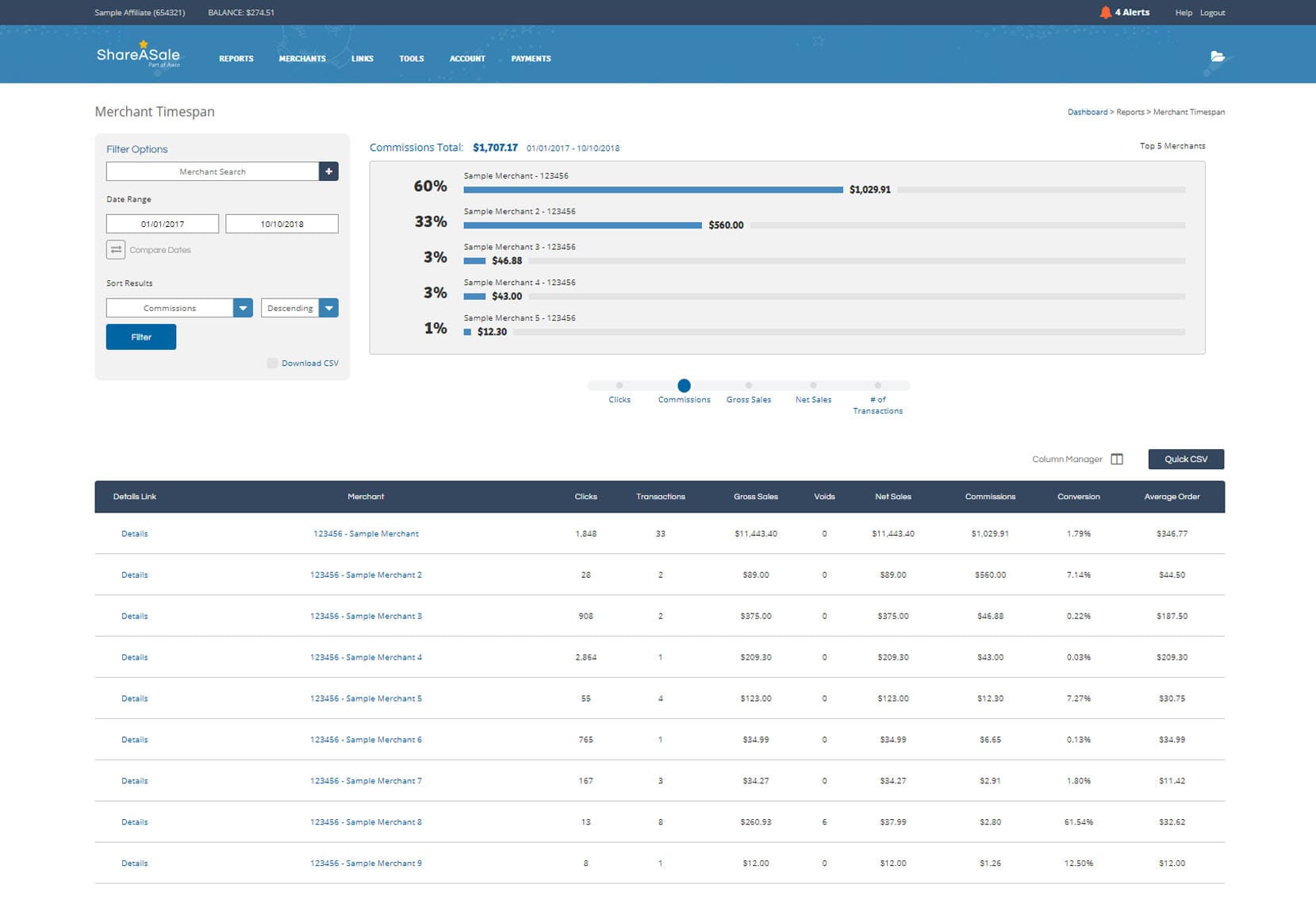 ShareASale works with over 21,000 brands in 39 consumer categories, such as Allbirds, Etsy, and Reebok. Last year, the network paid out $1.3 billion in commissions, so it's a good way to make money.
To Contents ↑
3. Diversify your efforts
If you don't have a website, you should try as many different things as possible. For example, you should use at least 2 of the five ideas above to make a sale. If you only focus on one method, you will not get enough traffic or good enough traffic to earn a good commission.
4. Do some keyword research
Spend some time on keyword research before launching search ads. Once you've chosen a good niche and joined an affiliate marketing program, the next step is to find the right keywords.
Focus on long-tail keywords to get the most out of SERP. The competition is a little less intense, and if you target the right set of keywords on your website, you can get some good leads.
5. Write your own content
You can always hire someone else to write your content, but that's not a good idea. Instead, we recommend writing the content yourself because no one else can understand what exactly you want to say. If you can write, you can connect with your audience, which you need to do if you want to sell more.
These are just a few things you should know about affiliate marketing without a website. It's best to make a custom plan based on the affiliate niche you're going after and then work with that plan. As long as you work hard and stay focused on your goals, you won't have to wait long to start making sales!
To Contents ↑
Conclusion
You can become an affiliate marketer without owning a website. We talked about four of the best:
Learn to buy search traffic
Use paid social traffic
Partner with credible CPA networks
Pump up your skills in promoting various verticals
Track your conversions with reliable trackers.
Regardless of your direction, be consistent with your posts and give your readers, viewers, or followers new useful information. Also, keep track of your progress, be patient, and work toward running a website and blog one day. Affiliate marketing takes time and hard work, but it's worth it in the end!