Affiliate marketing can be lucrative if done right, but many interested people don't know where to start. Getting started with affiliate marketing can seem overwhelming, but it's not really so. We'll explain how to start affiliate marketing and do it effectively in this article.
What is affiliate marketing?
It is an arrangement where an online retailer pays commissions to an external promoter that refers sales to them. The promoter "affiliate" drives traffic to the advertiser's website and collects fees or commissions when someone purchases the advertiser's product.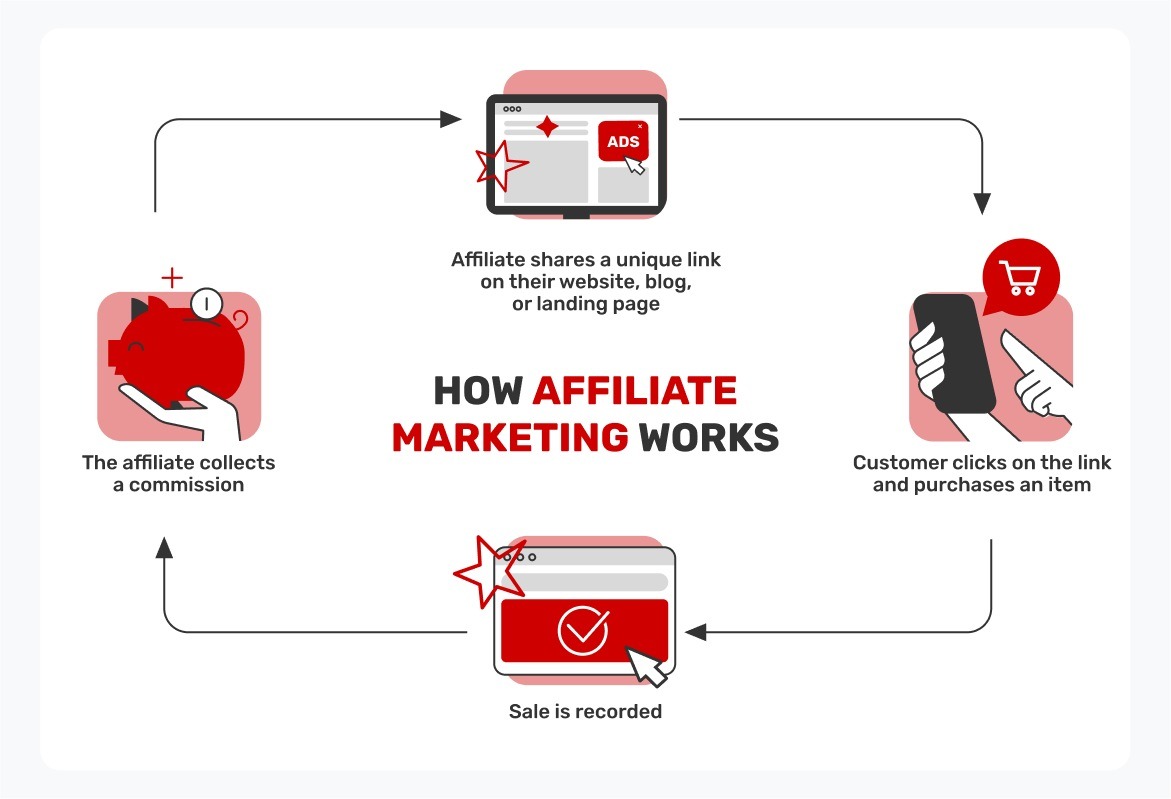 There are three main actors in affiliate marketing:
The affiliate marketers who buy traffic, lead it to the advertiser's page, and earn when it converts into purchases, deposits, or subscriptions. It's also called CPA Marketing.
The affiliate marketers who earn from putting affiliate links into their content and earning commissions when users convert via these links; they mostly use organic traffic and, less often, paid traffic.
The advertisers or brands that hire affiliates to promote products and services.
This article will focus on the first two groups.
To Contents ↑
What does affiliate marketing entail?
It's a simple arrangement: the affiliate marketer earns money by promoting the advertiser's products. The affiliate looks for a product they like and promotes it to the relevant audience. They'll earn fees whenever someone from their audience buys the products they're promoting.
The affiliate marketer can buy traffic on ad networks or run a website/blog and promote the product to their readers.
What does it take to become an affiliate marketer?
Pruning down all extra, you have two main options:
Create a website or blog in your niche and build a following;
Buy traffic on pay-per-click (PPC) or display ad networks.
1. Create a website
You can create a website or blog in your desired niche. You should choose a niche you're passionate about, as this passion would help you endure the tough times when your site is getting little traffic. Building a significant following takes considerable time and effort, so you'll need patience.
The good news is that setting up a website or blog is as easy as ever. You can use dedicated website builders like WordPress.com, Wix, Squarespace, etc.
2. Buy traffic
You can choose the alternative option of buying traffic (views, clicks, or conversions). You'll drive traffic to your advertiser's product. The goal is to make more money from the affiliate commissions than you spend on acquiring the traffic.
The key is choosing a suitable and reliable traffic source. These can be social networks, advertising networks like Google Ads, or non-mainstream ad networks that embrace loads of traffic for non-typical offers like iGaming, Sports, Dating. Adsterra is a good example of such a network, offering access to thousands of legitimate publishers in various niches besides those mentioned above: Apps, Movies, Software, Entertainment, and more. You can bid for your ads to be shown on relevant websites, and some visitors will buy the product you're advertising.
Adsterra offers access to 28,000 direct publishers. You can buy traffic with different ad formats, including Popunders, Social Bar, and In-Page Push. You can pay per action, click, or 1,000 of ad views.
To Contents ↑
3. Find products to promote
After choosing your desired traffic acquisition method, you need to find the right products to promote. Choose products that fit your niche and you're familiar with. For example, if you know a lot about electronics, it'll be easier to market such products. If you love watching Reels and meeting new people, then you understand how to promote, say, a TikTok killer app.
A gentle reminder: You can choose from dozens of high-converting and exclusive offers on the Adsterra CPA Network.
To Contents ↑
How much does it cost to start affiliate marketing?
The cost to start affiliate marketing depends on how you approach this activity. If you're buying traffic, some niches cost more to advertise than others because of competition. For example, it costs more to advertise financial services products than games because the former has many people vying for relatively few offers.
As a beginner, you should start with low-payoff offers from your affiliate network. These offers cost less to advertise because of the smaller competition. You have little experience as a beginner and might make mistakes, so it's wise to risk only small amounts. High-payoff offers can be enticing, but you don't know how to tackle them effectively as a beginner.
If you're building your own website, the costs aren't much. You can get a domain name for less than $20 annually and reliable hosting for as low as $5 monthly. The cost lies more in the time and effort you'll spend creating a steady stream of content and optimizing it to attract traffic from search engines.
To Contents ↑
How to start affiliate marketing with no money?
If you have little or no money, you can still manage to start affiliate marketing. You can register a free website on Blogger or WordPress, create SEO-optimized content and steadily grow organic traffic.

You can also start marketing to your friends, family, and colleagues. The issue is that this method isn't scalable. You can use it to start, but at some point, you have to spend money on buying traffic or building and hosting a website as free domains don't look credible.
How to start affiliate marketing?
We have finally gotten to the step-by-step guide for starting affiliate marketing. We'll break our guide into two parts:
The classic affiliate marketing model using your website or blog;
The cost-per-action (CPA) or paid traffic marketing model.
The classic model:
1. Decide on a niche
The first step is choosing the right niche to promote. It should be something that you're passionate and knowledgeable about, as it'll give you an upper hand in choosing the best products. Targeting a smaller niche is more effective than targeting broader niches. The former has less competition and leaves greater room for newcomers. For more information, you can see our list of the best niches for affiliate marketing.
It's not enough to choose something you're passionate about. You should also analyze competition and market demand for the products. Analyze your competitors to see how to stand out among them.
To Contents ↑
2. Create a website
After choosing your niche, the next step is creating a website to build an audience. You'll need a custom domain, which can cost between $10 and $100 annually depending on the popularity. You'll also need a web hosting service, and you can get reliable hosting for between $1 and $20 monthly.
You might also need to pay for an SSL certificate to secure your website, but many hosting providers give this for free. You can build your website using ready-made web-building services or hire a professional programmer and web designer to do that for you.
3. Join an affiliate program
With your website ready, it's time to join an affiliate program that fits your needs. The program should give you access to affiliate offers from many brands. It'll list the offer terms before you agree to them, including commissions and payout periods. You can choose the offers you love best.
4. Write excellent content
Great content is what attracts people to your website or blog. You should write informative content that addresses your audience's questions and helps them solve specific problems. Informative content helps your website rank high on search engines. People who read your content can also share it on social media and give you additional traffic.
The goal is to insert affiliate links into your content, and some readers can follow the link to buy your product. For example, if you're writing about the top ten Android smartphones for people to buy, you can insert affiliate links for some of them. You'll earn money if your reader follows the link to buy the smartphone you recommended.
To Contents ↑
5. Drive traffic to your website
You can drive traffic to your newly created website in many ways. You can optimize your blog posts to rank high on search engines by using specific keywords and formatting the content neatly. You can also create social media pages and interact with a broad audience. Likewise, you can participate in online forum discussions or write guest posts for other websites.
6. Track and analyze conversions from your affiliate links
Monitor the results of the affiliate links on your website. Track which pages, links, and visual elements produce the highest conversions and focus on those formats. Your affiliate program should offer a dashboard to track these metrics easily.
7. Boost conversions
You can perform experiments to boost your affiliate conversions. For example, you can use new images, add pop-ups, and use different call-to-action buttons to see which delivers the best results. The idea is to perform A/B testing to see what works best for your site.
CPA Marketing:
1. Decide on an offer type
Decide the type of offer you'll take up. Do you prefer a commission-based structure or a flat fee for each sale you generate? A commission-based structure is preferable for high-value products where a single sale can generate significant income. A flat fee is preferable for low-value sales that depend on volume to generate significant income.
2. Join an affiliate CPA network and select an offer
The next step is to join a suitable CPA network and choose the offers you want. Luckily, you have the Adsterra CPA Network at your disposal. This network gives you access to over 100 high-converting offers with commissions of 10% and upwards and bi-weekly payouts.
After joining the Adsterra CPA Network, beginners should start with easier offers like VPN products and sweepstakes contests. You can proceed to more complex niches like finance and gaming as you gain more knowledge.

The Adsterra CPA Network is the best network to find offers for these niches: VPN, Antivirus, Software, Sweepstakes, iGaming, and Finance. You can find both public and private high-paying offers from quality advertisers and enjoy frequent payouts.
To Contents ↑
3. Create a lander or use the one issued by your advertiser
You can create a landing page for your affiliate advertising. This landing page will describe the product you're advertising in a way that's easy to understand. You can use interactive visuals to make the landing page more appealing to viewers.
Sometimes, the advertiser will provide the landing page, and you only need to send traffic to it.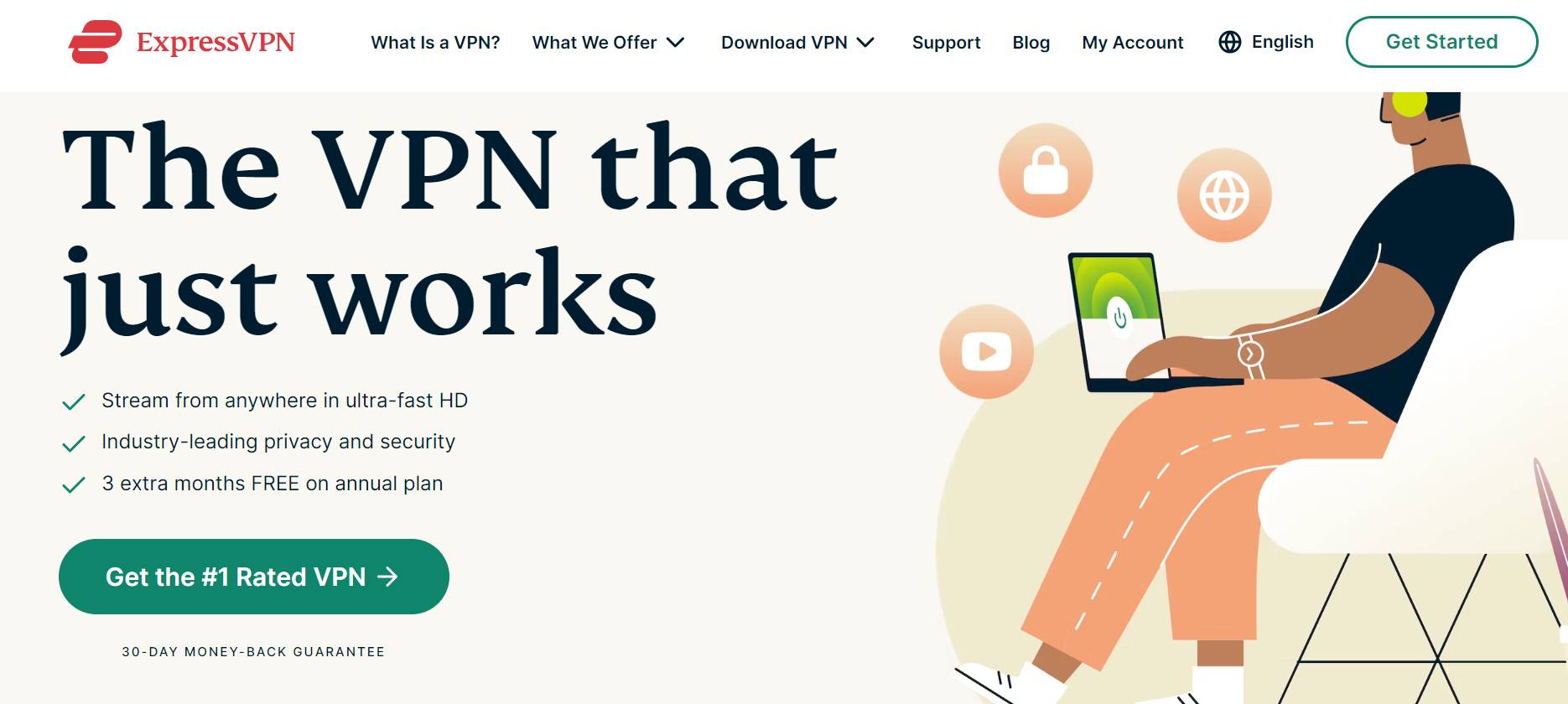 To Contents ↑
4. Find a traffic source
You need to find the best traffic sources to drive viewership for the landing page. You can use display ad networks to place ads on websites relevant to your target audience. You can also advertise on social media and target your ads effectively. Likewise, you can advertise on search engines: your ads will appear when users search for specific keywords.
5. Set up conversion tracking
You should set up the system to track the conversions from your landing page. The good news is that your CPA network will likely provide a dashboard to track conversions from your affiliate links. The website builder you used to create your landing page would also give you relevant information on each visitor, including location, operating system, web browser, etc.
6. Optimize your campaign and get more conversions
Monitor your conversions and affiliate marketing KPIs to see if you're getting the intended results. If not, it's a signal to change some things on your landing page. You can use new images, write new marketing material, add new videos, etc.
Types of affiliate marketing
We've learned the two main approaches to successful affiliate marketing: the classic and the CPA model. Now, it's time to learn about the types of affiliate marketing, which are
Unattached
Related
Involved
Unattached affiliate marketing is the basic pay-per-click marketing where you have no authority in the niche you're advertising. You have no connection to the consumer; you only drive people to your affiliate links from external traffic sources.
Related is when you have some authoritative presence online, e.g., a blog or website, but you're promoting products you don't actually use.
Involved is when you have an authoritative online presence and promote products you love and believe in. You have a clear relationship with the consumer rooted in trust and authenticity. This type takes more time and effort because you must first build credibility with your audience, but it's the most effective.
To Contents ↑
Types of affiliate marketing payouts
Affiliate commission rates and payouts come in different forms, including
Standard commission: This is a basic arrangement where you collect a fixed commission for the sales you generate.
VIP commissions: Here, the commissions differ according to the sales affiliate marketers generate. Marketers who drive higher sales get higher commissions. It's more of a one-to-one negotiation.
Tiered commissions: Here, there's a graded commission rate based on the sales you generate. For example, you might get 5% on the first $1,000, 8% on the next $5,000, 10% on the next $10,000, and so on.
Bonuses: Some brands give bonuses for an affiliate marketer's first sale. They do this to encourage the marketer to keep up their productive efforts.
To Contents ↑
Types of affiliate offers
There are endless types of affiliate offers, and we'll examine some below:
E-commerce: Driving sales for specific physical products in exchange for commissions.
Gaming: Advertising games for people to download. You'll get a fee for each download.
Software: Advertising software subscriptions. Here, you might a recurring commission every time the customer renews their subscription.
Finance: You can market financial products and get bonuses for every signup.
Sweepstakes: You can market sweepstake contests and get a commission of the prize pots.
To Contents ↑
Why should you begin affiliate marketing?
Affiliate marketing can bring in significant revenue if you play your cards right. The best part is that it doesn't take much to start. You can start with organic traffic and gradually migrate to paid traffic. Even when depending on paid traffic, you can start with low amounts and still get good results.
You can seek some affiliate marketing courses before you start so that you'll avoid trivial mistakes.
To Contents ↑
What are the best opportunities to get started with affiliate marketing?
You can join the Adsterra CPA Network to get started. This network gives you access to high-paying offers and provides frequent payouts. As a beginner, you can start with easier niches like VPN and Sweepstakes and switch to more complex niches like Finance and Utilities as you advance.
Beginners have access to 24/7 support. You can contact support staff anytime you need help with your affiliate marketing campaigns.
How to promote your affiliate offers
You can write blog posts or email newsletters and include affiliate links in them. The key is to build a loyal following willing to buy your recommended products. For example, if you build a popular cosmetics blog, you can recommend specific skincare products and include affiliate links.
The other approach is to buy traffic from an ad network like Adsterra. This method of promoting top affiliate offers is more convenient because paid ads can help you easily get a loyal audience. The drawback is that it costs more, but you can make more money than you spend on ads if you play your cards right.
To Contents ↑
Mistakes affiliate marketers should avoid
You must avoid certain affiliate marketing mistakes, especially as a beginner in this sector. They include
Promoting low-quality products that'll give you a bad reputation in the long run.
Not tracking your conversions and making frequent updates to your campaigns when needed.
Targeting keywords with excessive competition. It'll take more money, time, and effort to succeed if you do that.
Ignoring search engine optimization tactics for your content.
Setting unrealistic goals at the early stages of your campaigns.
Not using high-quality graphics in your landing pages and websites.
To Contents ↑
How to start affiliate marketing — FAQs
How do you start affiliate marketing with no audience?
If you don't have an existing audience, you can use paid ads to build one for yourself. You can buy display ads on ad networks, targeting the exact audience you wish to connect with. You can also pay for social media ads and amass a significant following. Likewise, you can advertise on search engines like Google and Bing (paid search ads).
How to start affiliate marketing without a website?
You have many options to start affiliate marketing without a website. You can use your social media pages to promote your products or services. You can also promote your products on online forums. Likewise, you can insert your affiliate links in YouTube videos. The key is to ensure you're advertising products relevant to your audience.
How to create an affiliate marketing website?
You need a domain name to make your website stand out from the rest, and you can get one for an affordable price. You also need a reliable web hosting service, which you can also get affordably. Afterward, you can choose an existing template to design your website or start from scratch if you have good web design skills.
How to start high-ticket affiliate marketing?
You need to find a suitable network that gives you access to such high-paying offers. You'll apply to join the network, and if accepted, you can start promoting such offers. Luckily, the Adsterra CPA Network gives you access to such high-paying offers, but you must be sure you are skilled enough to advertise them. Sometimes, it's better to start with a lower payout but a more feasible conversion flow. Just compare: you are paid only when a user deposits $300 or when they sign up for a trial? The payout in the first case will be much higher, but you will have to spend a lot to get at least 100 such users.
How to create affiliate marketing links?
The CPA network you chose would provide an affiliate link for every listed product. These links include tracking pixels that enable you to monitor when someone clicks on them and buys the recommended products. The results will be clear to the affiliate and advertiser, and you can claim commissions on the sales you drive.

What is an affiliate marketing program?
It is an agreement to promote a company's products and services in exchange for commissions on each sale. The company publishes its offer, and affiliate marketers can apply to join the program. The agreement is contractually binding between both parties.

What is an affiliate network or CPA network?
It is the platform that connects affiliate marketers with offers from advertisers. It is the marketplace that brings together both parties and ensures they fulfill their ends of the deal. The network handles payments and settles any dispute between the marketer and advertiser; it collects a fee for its service.

Is affiliate marketing good for beginners?
Beginners can get good results with affiliate marketing. You just need to approach it with an open mind and be willing to learn a lot in a relatively short period. You can start by promoting simple, low-paying offers before progressing to high-paying offers as you gain more experience.

How much can beginner affiliate marketers make?
There's no limit to what beginner affiliate marketers can make. It depends on many factors, including the niche and offers they select. If you play your cards right as a beginner, you can make hundreds to thousands of dollars. But, don't expect easy money; it takes time and effort to be a successful affiliate marketer.

Can I monetize traffic without affiliate marketing?

Yes, there are other ways to monetize your traffic outside of affiliate marketing. For example, you can insert display ads on your website and make money from users' views and clicks. You can also sell sponsored posts to interested advertisers. Likewise, you can sell digital products like e-books, courses, webinars, etc.

To Contents ↑
Conclusion
We have dived deep into the best way to start affiliate marketing. We explained affiliate marketing, its types, approaches, and benefits. We also provided step-by-step guides to becoming an affiliate marketer. Follow our tips, and the journey will likely be easy for you.
Above all, ensure you choose a good CPA network that gives you access to a steady stream of high-paying affiliate offers. The good news is that the Adsterra CPA Network is one of the top-class you can choose; you can sign up now and get approved in a few hours.