Affiliate marketers who parner with the ambitious Adsterra CPA Network can turn a profit with the most competitive GEOs. Today, our Case Study section will be enriched with another example of successful campaign for a CPI offer (Android Cleaner). And you can learn a lot of hacks here.
Ok, so how would you choose a Utility offer? Is it worth advertising an Android tool on the US? Which creatives will generate loads of clicks? That's what this case study from our parner is all about.
Key data for the case study of running an Android Cleaner offer
Traffic type and traffic source: SocialBar CPC by Adsterra.com

Affiliate network: Adsterra CPA Network

Offer: All traffic (Cleaner)

Time period: April 21–27

GEO: US

Spent: $756.2

Income: $1,209

Profit: $452.8

ROI: 60%
Hey, everyone!
Today we are continuing testing ads from the Adsterra Affiliate Network on Social Bar format. We have an interesting Android-based cleaner up next, let's see how it goes 😀
Let's roll!
Choosing a GEO and an offer
I found the offer in the list, while looking for something interesting with a high payout. My attention was captured by a Cleaner offer — Infinite Clean Item. One of the default cleaners for Android, there are lots of them. But here's the thing: not all of these cleaners go for CPI flow and with such a decent payout.
Of course, the danger lies in GEO. We have to set up our campaign for the US, a GEO with very strong competition.
Conversion type: CPI
Vertical: Cleaner
Device format: Mobile, Tablet
OS type: Android
Restrictions: no incent, no email, no bot
Payment for each install — $0.56
To all new partners the initial test limit is 100 conversions. After quality check limits can be exceeded.
Screenshot of the final lander: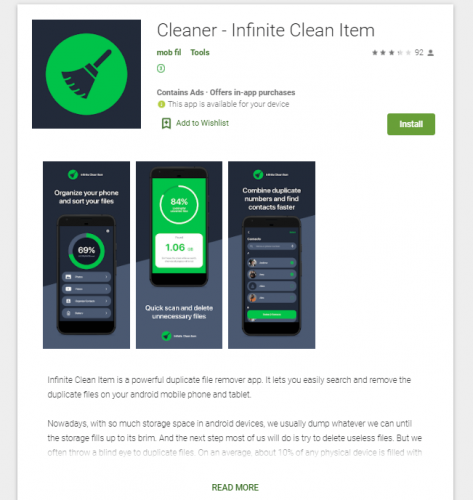 Strategy
So, I began my work by asking my personal manager about the details for dealing with this offer, possible recommendations, etc. 
Remember that when working with Social Bar, one has to create a large (and I mean large!) number of different creatives, which then need to be tested.
Finally, I decided to pour traffic by CPC model with $0.018 per click.
Creatives
When making creatives for all sorts of cleaners and antiviruses, it is important not to take up the heat too much.
Creatives that aim to warn the user that their phone or camera may not function properly, show very good results.
When testing campaign creatives, I decided to try different options. The creatives with all sorts of "ATTENTION" and other words, exclamation marks, high-quality, recognizable icons (don't use Android logos cause the platform prohibits that) proved to be the best.
In my previous VPN case study, I suggested using templates that look like system messages. This is a b-e-a-utiful option for this case too, because only a fool would ignore messages about their devices' need improvement.
These are the examples of creatives I ended up with:

In my opinion, such creatives should attract maximum attention, given the fact that they take up almost a third of the phone screen.
The prelander is already in the link, so there is no need for additional work.
Optimizing
Step 1 (Adding tablets)
Remember that you cannot launch the campaign on two devices at once in the Self Service Platform. Therefore, if you want to scale your campaign, you should add tablets by contacting your manager, which may help you to boost your traffic.
Step 2 (Optimizing Android versions)
Sometimes some offers do not have restrictions on the Android version. Don't be lazy to go to the app store and check what version the app works with. This way you can protect yourself from unnecessary non-target traffic.
Stage 3 (Removed some targets)
In the final settings screenshot you can see that iOS browsers are excluded. But by doing some more tests I found that they convert quite well. So, you can start by testing without those browsers and then include them back for scaling, just as I did.
Post optimization
Overall: Targeting mobile and tablets.
Android version 6.0 and up.
$0.018 per click bid.
English language.
Screenshot of the final settings: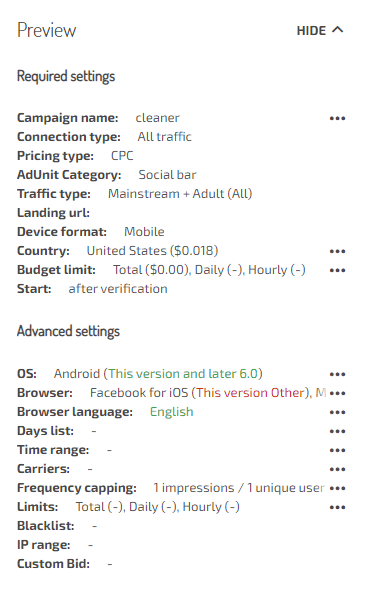 Results
Screenshot from Adsterra Ad Network:
Total spent at Adsterra for all days: $756.2
Income $1,209.
Profit: $452.8.
ROI: 60%


Summary
To sum it all up, I want to say that I actually thought it would be harder, but I came out on top even with standard optimization. Pretty good results for a test, as far as I'm concerned.
The offer converts well, CR is high, lots of traffic available and the clicks are fine too. And you can try to earn more by going with a $0.02 bid, for example.
But if you are a beginner, who wants to work with the U.S., it is a great opportunity, even with a smaller bid.
Offer works, the turnover is impressive and I think that everyone should try it themselves.
Good luck to you all!
Social Bar is a powerful ad format that can push your campaigns forward. Make use of all its templates for advertising Apps, Antiviruses, and VPNs.
On Adsterra Affiliate Network, you can find plenty of those with payouts higher than you expected. Take a chance with it or use Adsterra Ad Network as a traffic source.