According to a RiskIQ report, the number of apps has reached the point of more than 8.9 million. But stiff competition is the last challenge you face when you advertise mobile apps. As mobile devices have become commonplace, developers and affiliates should become more sophisticated, never missing a single chance to expose their offers.

How to make your mobile app stand out? There are tried-and-true ways, actually. Today, you will have a double focus on mobile app advertising: from the point of reaching an app owner and and an outstaffed pro (e.g., an affiliate marketer.) Your mobile app marketing strategy will vary depending on the means you use, but be sure you will get some powerful insights right now.
Mobile app advertising specifics
Choosing the right marketing strategy for a mobile app can make or break its success, for there are multiple types of mobile apps, for example:
Utility applications;
Games;
Productivity tools;
News outlets; 
Entertainment apps;
Educational platforms, and many more.
Each of them has a different target audience and a unique selling point. If you don't consider it in the mobile app promotion campaign, you won't get great results.
However, there are some general and helpful steps any app can undertake to advertise full blast. You can determine the best way to promote a mobile app in your particular case based on them.
To Contents ↑
25 ways to advertise mobile apps for app owners and developers
Let's review what you can do to promote mobile apps effectively:
1. Start with a clear offer
Long before you step into the advertising field, you should come up with a clear product offer. What is that? These are core values of your mobile app that state which result users will get. What differentiates an offer from a set of features is a beneficiary: users don't seek for features – they look for a problem solution.

Some typical questions to answer while you will be crafting a super-engaging offer:
what users will get/learn/achieve after they install an app;
how soon;
what differentiates this app from analogs.
E.g., "Learn Spanish in 3 months: 30 min a day; you can practice while on subway or workout."
You may also encounter the 4U method to evaluate your offer:
Useful (what the app is about and what user will get with it);
Unique (why your product is better than its competition;
Ultra-specific (a benefit that users can measure or compare);
Urgent (non-obligatory for software: terms of your offer, time limits).
2. Create a landing page
Creating a dedicated website is a great way to introduce the application to your target audience and search engines. But it is rather time-consuming when you need to get promoted faster. What helps you is a good lander or landing page where you can state your offer, list the main benefits and features, and share a product demo.

Include a detailed explanation of how the product works, if possible – with screenshots or videos. Don't forget to add a CTA and a link to an app store that hosts the application.

You can use this landing page building checklist to make sure you do everything right.
3. Feature your app on an official tech media
Tech blogs often publish articles-compilations of applications on various topics. If you can get your app on such a list, you will most likely get a flow of users interested in the field, as early adopters often rely on the opinions of experts they trust.
4. Use the right ad network
Advertising networks provide multiple options for promoting mobile-based products. They collaborate with loads of websites where you can expose your app. AI-driven advertising platforms like Adsterra will also match your offer with the most relevant potential users.

On an ad network, you choose the look of your message (aka pick a format.) With mobile applications, utilities, and APK files, it is vital to pick mobile-friendly formats or those ads that digital natives will like. The most robust ad type on the market is Social Bar. It inherits all UX patterns of progressive millennials and genzers who never leave their smartphones. You will find the best-matching taemlate for your app's promo campaign, whether it is for iOS or Android users.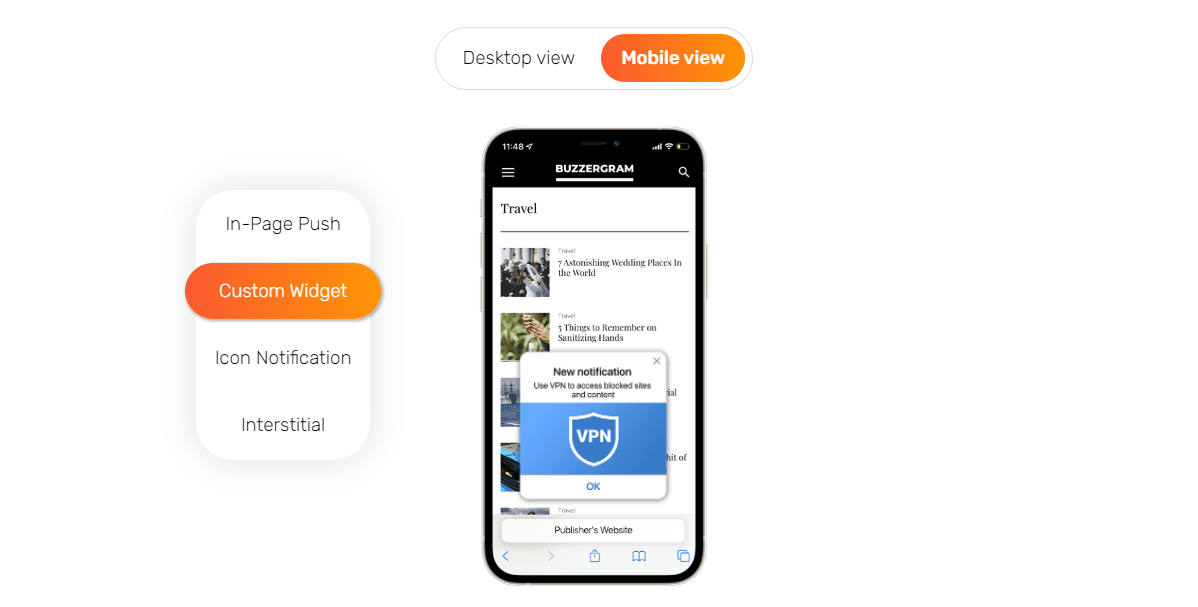 What's great about ad networks is that you can choose what you are paying for while promoting a digital product. Like, for instance, when buying ad impressions, you pay only for views (CPM pricing). It's the least costly model. With CPC pricing, you pay for clicks. And the most expensive yet the most cost-effective, is the CPA model. Here you buy conversions or user actions you are willing to pay for: downloads, installs, signups, etc. Continue reading to learn which pricing will return you the greatest effect.
5. Use social connection
Instagram and Facebook can become your platforms for sharing your app's value. It's not about directly pushing the product; it's about helping users solve everyday problems they face or providing extra tips. If your app is about learning Spanish, you could share helpful Vocabulary sets or techniques to overcome language barriers. If the product is about productivity, make sure you inspire users not less than empowering them to work harder 😉

It will help a lot if you follow your niche influencers on Twitter and mention them in your posts or ask them questions on behalf of your app's official account.

Quora is a great community to share your expertise: look through the topics users create within your niche and answer their questions.

It may sometimes help just to google search queries like — for a relaxation app — "app for sleep," or "sleep hygiene tips," "train mindfulness." You will find discussions where users share their problems and insights.
6. Create a demo video for your app
A short (around 30 seconds) demo video on your app's main features will help you get seen by people who otherwise would have never heard about you at all. You can include it on any social media platform, as well as your landing page and blog. Don't make it salesy or glossy: think of great visual storytelling and highlight the best features instead.

Make other video content
According to a study on content preference, around 54% of users would like to see brands they support releasing video content. So, why not give people what they want? Video content is flexible; the topics can range from educational to entertaining. Besides, it is easy to promote through multiple channels.
7. Create a press kit
Journalists and bloggers don't advertise mobile apps, but their expert reviews can spice up interest to your product exposing it to a vider audience. Prepare appropriate screenshots, app and company logos, a list of facts and specifications, and proper links to the socials and other resources to control the image they create of you.
8. Do multiple press releases
Now that you have everything ready, you can do press releases. The key is to promote the app on multiple relevant resources at the same time right after the launch. Make sure they clearly describe the features of the app and what problems it solves.
9. Focus on App Store Optimization (ASO)
Depending on the platform the app operates on (Android or iOS), you should focus on optimizing it for an appropriate marketplace (Google Play or Apple Store). This includes selecting a unique name, writing an engaging description with relevant keywords, adding descriptive screenshots and videos.
10. Ask for reviews and ratings
Users often rely on the opinions of their peers, so don't hesitate and ask them to rate and review your app. Any review will help you get noticed by search engines, but the positive ones will be more helpful in building a better image of your product.

On YouTube, you can search for aspiring vloggers and influencers who review new software. Though the most famous are not likely to stream about a little-known product, they can list your app in their digests, for instance.
11. Answer users personally
One of the popular methods of engaging with users is to post answers to their reviews and questions directly where they've posted them. This will show that you care about your image and value the opinions of your users.
12. Resolve critics' issues
An absolutely ideal launch is impossible – someone will always encounter problems using your app. Even if the issue is not on your end, try helping users to resolve their problems. It's a great way to earn the trust of your users. The problems you failed to fix might be helpful either – they might turn into ideas for improvement.
13. Recruit help from influencers
Influencers are a big part of our modern culture; they shape the views and opinions of many people. That's why recruiting their help is a giant leap to the success of the software. If your budget is not big enough to hire a big-shot celebrity, focus on so-called micro-influencers – who are well-known in small circles.
14. Place an offer in a CPA network
You can advertise on any GEO or with any targeting, but it can be challenging if you have never worked with this location before. So, many marketers or product owners prefer to place advertising offers in the CPA. You will need to describe your product and provide a URL of the landing page (at your page in the AppStore) to lead users. Also, it would be best if you come up with WHAT target actions you are ready to pay for. An affiliate marketer then comes to the CPA Affiliate Network, requests your offer, and launches a campaign with the targeting you mentioned. You start getting leads and installs, while an affiliate — their commission. 
15. Host a giveaway or contest
Another way to bank on people's love of free stuff is to host a giveaway. While it won't cost you a lot, you'll be able to attract many people with the promise of a prize. If your app has them, you can give away access to premium features or some sort of in-app currency.
16. Cross-promote with another app or brand
If there is an application that works well with yours or a brand related to your niche, why not cooperate? Cross-promotion will allow both of you to gain more downloads while helping the current user base benefit from using another app.
17. Don't ignore offline means
While the new marketing techniques are becoming increasingly popular, there is no reason why you should forget about the old ways. For example, add your app's QR code to business cards or to your merchandise. Or, when speaking at conferences, spare a slide to place the QR code linked to AppStore and Google Play; your listeners will willingly download the app.
18. Try to get featured on an App Discovery Service
App discovery services, like Product Hunt, are popular among tech enthusiasts. Try to get featured on their website as an app of the day or in another category to attract the tech-savvy public who likes to try new things.
19. Apply for awards
Winning an award carries a certain status that will attract curious users. There are dozens of awards you can apply to; try choosing the most appropriate for your application to have a chance at winning.
20. Use the email channel
If you have existing email newsletter subscribers, send out information about how your app can help users (mind the offer we discussed earlier). You can also use existing databases of emails to target potential users as well. Paste links to AppStore and Google Play to regular emails in the signature field. Make them visible to attract as many eyeballs as possible.
21. Start your blog
Start your own blog focusing on your app's core features and the adjacent topics if you haven't already. Building an image of an expert in a niche field will build trust in your brand. Therefore, the app will be viewed as a tool made by people that know what they are doing. You will also be able to update the users on any news or additional features coming to the app.
22. Feature a guest post
Contact a famous writer or influencer in your particular field and ask them to contribute to your blog, no matter the topic they are willing to write about. It will make your platform more credible, thus lending credibility to your app as well.
23. Produce guest posts
Contribute to tech blogs and write articles and tutorials on the topics close to your app's features. This will help you reach a wider audience and once again show off your expertise in the field. Make sure to mention the application you're promoting in the article organically, but don't make the whole post look like an advertisement.

You can also market your application on popular promotional platforms. These include Product Hunt, The Startup Pitch, Netted, Springwise, and many more.
24. Conduct a thorough analysis
An essential part of any marketing campaign is determining the results you're planning to achieve and analyzing whether you are on the right course towards achieving them. That's how you determine which methods have helped you the most and which were not effective. Thus, you will be able to adjust and continue the marketing campaign.
25. Be unique in each your public message
Last but not least – be unique and eye-catching when you advertise mobile apps. Invest in the app's icon and all grephics that help visualise the product: landers, App Store's and Google Play's previews, press kits, etc. Most ad campaigns fail to meet this goal, and don't get enough traffic.

Some tricks like innovative ad formats can help you out. With Adsterra, you have a robust, click-boosting Social Bar with over 20 template creatives. You can expose your app on thousands of websites, and people will just love it.
To Contents ↑
Expert tips on how to advertise mobile apps with ad networks
Now that you know how to promote a new mobile app when you're a direct product owner or advertiser let's take a look at some tips from our experts on how to succeed when you run an affiliate marketing campaign.
The approach is radically different as you take someone else's product and advertise it to get as many conversions as possible. With mobile app advertising, conversions might be: a signup, an install, a trial, a license purchase.
Let's find out how you can promote mobile apps and which challenges you may face.
To Contents ↑
1. PRE-LAUNCH STAGE
Registration flow
Before you start driving traffic to any offer, you need to sign up as an advertiser. It is better to fill all registration fields required, but you can submit your first test campaign for verification without payment details. After you're in, choose Campaigns → Create from the hamburger menu. And now, let's figure out which settings to apply if you have never advertised with Adsterra traffic before.
Conversion flow and pricing
Remember the conversion types we listed earlier? For a mobile app offer, they may vary: signups or double opt-ins (with email verification), app installs, trials, first credit card submissions, paid subscriptions. That's what you need to check in the initial offer! The more complex your conversion comes, the more time you will need to test traffic and the more thought-of your budgeting should be.

Usually, you advertise mobile apps with CPI conversion (cost-per-install). Installs, trials, 1 or 2-clicks, opt-ins are fast conversions.

We at Adsterra recommend the CPA pricing model as it is more cost-effective for fast conversions. You will pay only for target actions, not ad views. The CPC (cost-per-click) also pays well, but when you're sure that the landing page is strong enough to convert users.
Ad formats
Popunder Ad Format is best to start with. It sends loads of impressions (about 2BN weekly), costs less, and doesn't require extra creatives except for pre-landers. You can buy traffic with CPM, CPC, and CPA pricing when launching on our Self-Service Platform.

Social Bar ads come second when it comes to choosing the ad format. It's an innovative format with unlimited opportunities in creatives' design. With its ready-to-use templates, you save hours on launching a campaign. Traffic volumes are some 1,5BN weekly. With Mobile App offers, you choose between CPC, CPM, and CPA models.
Bidding tactics
Don't try to overbid from the start; you risk draining your budgets. Only after the campaign proves to engage users and convert well, it's reasonable to increase a bid to get more traffic.
Which bid to choose? The Adsterra Traffic Estimator shows the recommended rates right after you have picked the target GEO. You see all clues on your campaign setup page. You can add 20-30 cents to the recommended bid, that'll be enough for the start.
Targeting
Even if you are experienced enough in running Mobile App offers with other networks, we recommend you to target broad on a new traffic source to exclude over-optimization and traffic loss. So avoid using your black- and whitelists from the start. You can apply for those to Adsterra managers later 😉

Target only those iOS or Android versions that are allowed by your advertiser (see the offer's description).
Creatives
Remember to translate all your creatives to local languages, or add two versions — in English and the local language — to your A/B test. With Social Bar in-page push ads, choosing high-contrast icons or neat illustrations with no visual clutter is better. Choose the PNG format if possible. The preview mode will have a dark background, but on publishers' websites, everything will be ok.

For more insights, read the guide to making highly converting creatives shared by the Adsterra Head of CPA
To Contents ↑
2. MOBILE APP CAMPAIGN TESTS AND LAUNCH
Keep an eye on your conversions as soon as you launch your CPA campaign. As said earlier, installs and trials come fast. When they don't look at your CTRs. If they're poor, you will need to re-evaluate creatives.

With strong CTRs and low conversions, you will need to make sure you don't mislead users and, maybe, change the message of the pre-lander. And finally, look carefully at the settings; perhaps, you narrowed the targeting (see the advice above).

Remember to refresh your creatives and pre-landers. It's pretty often when you will not need to tweak the campaign settings but to add new visuals or messages.

Each new GEO you add requires a new ad campaign. Multi-geo campaigns blur the results making it hard to guess which traffic source you should exclude and which to send to a whitelist.

For CPA campaigns, conversion tracking is a must. So please add tracking tags required by Adsterra.
Example: https://ads.com/in.php?placementid=##PLACEMENT_ID##&action=##SUB_ID_SHORT(action)##
(here: ##PLACEMENT_ID## – puts a unique ID to each traffic source; ##SUB_ID_SHORT(action)## – tracks all conversions)
To Contents ↑
3. MOBILE APP CAMPAIGN OPTIMIZATION
Blacklisting and whitelisting are vital tactics in optimization. Affiliate pros recommend excluding all IPs from Amazon AliExpress and other giants when you work with Popunder ads.

As for traffic sources with top-level conversions, you definitely need to place higher rates for them. Ask your manager how much you should add to your payout to get more traffic with no second-guessing.

While blacklists are pretty radical tools, the Adsterra Custom bid allows for selective bidding. You don't exclude traffic sources that send you fewer conversions and traffic, you pay them less, and vice versa – you increase bids for those sources that make you more profit.

Consider adding alternative traffic types. When you advertise mobile apps, add non-mainstream traffic that allows for showing explicit content. This audience is quite tech-savvy and uses various types of VPNs, utilities, and apps.

Communication with your manager should be your No1 priority. You will be surprised how many insights they can serve: average bids, pre-landers examples, tips on creatives, trends within each specific GEO.
To Contents ↑
Summary: advertise mobile apps in a more progressive way
As with most things in life, you should start with the basics. Use the checklist above to come up with the first steps you can take to advertise mobile apps. It might be tempting to apply everything you've learned here at once, but that's not the best solution.

What you strongly need is a firm offer that states values, not features. A landing page and a full app description on AppStore and Google Play are vital, too.

When running an affiliate marketing CPA campaign for a mobile app, make sure you choose the conversion flow you can handle. Then, come to Adsterra and use our super-quality traffic full blast!